Choosing between the many Peak District walks can be difficult. With almost 2000 miles of footpath within the National Park, there's certainly no shortage of routes and options.
Whether your aim is to relax, socialise, exercise or something else entirely, a walk in the beautiful Peak District is always a good idea. But, you need to match the walk to what you want. With endless options for Peak District circular walks, easy routes and long trails, making a final decision won't be easy.
Luckily, this guide features a summary of the best Peak District walks divided into helpful sections for whatever type of hike you're feeling…
Short on Time? Quick Picks…
SKIP TO:
CIRCULAR WALKS | SHORT WALKS | EASY WALKS | 5+ MILE WALKS | ALL-WEATHER WALKS
Circular Walks in the Peak District
One of the best things about the Peak District is how many circular walking routes exist. Almost all landmarks, viewpoints and peaks can easily be reached by a circular route. In this part of the world, you can avoid long walks in one direction requiring you to get transport back. And, you also don't need to spend time walking back on yourself with there-and-back routes (unless you want to).
Some of the Peak District's best ridgelines and viewpoints can be reached with an enjoyable circular walk from nearby car parks. For instance, a 5.6-mile circular Mam Tor route starts in Castleton, passing different caverns and taking in the Great Ridge before returning to the charming town.
Similarly, the summit of Shining Tor can be enjoyed on circular routes from both the Cat & Fiddle Pub and Errwood Reservoir. And, Chrome Hill – ever growing in popularity – makes for a good halfway point on a 4.7-mile loop from Earl Sterndale.
Lud's Church, the 100-metre long chasm with a surprising microclimate growing in fame thanks to Tik Tok, is a short, circular walk suitable for all the family. Additionally, the nearby Roaches rock formations and ridgeline give wonderful views over the Staffordshire countryside on a circular walk from the nearest roadside park. What's more, these two Peak District hikes can be combined into one 5.7-mile, figure-of-8 loop to really maximise what you see on a day out!
And of course, there's no more of a natural circular route than walking around a lake. Well, a reservoir in the case of the Peak District since it has loads. The 6-mile walk around the northern part of Ladybower Reservoir is probably the most well-known of the reservoir walks. But, Langsett Reservoir, Agden Reservoir and Dovestone Reservoir are other popular choices with circular walks in the Peak District.
Short Walks in the Peak District
Another strong pro for walking in the Peak District is that so many top sights can be reached on a short route. These routes that are less than 3 miles in total are perfect for those short on time, with mobility issues or for walking with children.
Short Hill Walks
The shortest of short routes takes you to the peak of Mam Tor and back in just 0.7 miles! Starting from the National Trust Mam Nick Car Park, it's just a short but entirely uphill walk to the trig point. Where you'll be rewarded with 360-degree views over the Peak District and the Hope Valley.
Another short there-and-back route is to the top of Chrome Hill from nearby Glutton Bridge. At a little over 2 miles long, this route is perfect for those wanting to experience sunrise or sunset from up high. Or, for those wanting to fit this walk into a weekday evening.
A 2.8-mile there-and-back route to Shining Tor along a mostly stone path is also fun for all the family. Park at Pym Chair Car Park (for free) and follow the well-marked path all the way to the summit. Here, you'll be able to get views out over the Cheshire plains and of the high-rise buildings in Manchester.
Short Peak District Hikes to cool Places
But, it's not just peaks that can be reached on short routes. Fantastic natural attractions such as Lud's Church chasm near Gradbach and Thor's Cave near Wetton are both short walks from car parks and villages.
If it's just the amazing views you're going for, then you're also not going to want to walk far. Especially, if you're heading uphill for a panoramic lookout. Take advantage of the short Peak District walks to Bamford Edge, Baslow Edge and Stanage Edge. That way, you can save your energy for the many photos you'll want to take!
Easy Peak District Walks
Despite being called the Peak District there are in fact many, many easy and flat walks. Take your pick from walking near rivers, valleys, chasms and more…
Riverside Walks
Generally speaking, the best way to find an easy Peak District walk is to find a path alongside a river. There's certainly no shortage across the National Park.
In the southern part of the Peak District, the walk alongside the River Dove through Dovedale is very popular. Particularly in the summer months, visitors flock here to see the stepping stones and countryside views. Another option is to walk from Hartington along the River Dove through Beresford Dale and Wolfscote Dale. Furthermore, Lathkill Dale and the River Lathkill are a third option, with walks starting from just outside Monyash.
More centrally, the path through Padley Gorge is a popular option mostly under the cover of woodland. The Monsal Trail starting in Chee Dale is also one of the Peak District's most well-known walking routes. This well-maintained path is also great for cyclists and takes you across a viaduct and through tunnels on its way to Bakewell.
In the west of the Peak District, you can enjoy an easy route to Three Shires Head from Gradbach along the River Dane. Once there, you'll be at the meeting point of Cheshire, Staffordshire and Derbyshire marked by some small waterfalls.
More Easy Walks surrounded by the best of nature
But, it isn't just riverside routes that make up the easy Peak District walks. Plenty of the best natural attractions can be accessed on easy routes.
Although quite long, with the full loop totalling 6 miles, the walk around Ladybower Reservoir is entirely flat. Perfect for pushchairs, children and those that hate hills. You'll also be treated to some fantastic views of Bamford Edge and Win Hill from the viaduct.
And, for those truly wanting to surround themselves with natural wonders in every sense of the word, you can walk through the narrow chasm at Lud's Church or the rocky Winnat's Pass valley.
From Winnat's Pass, you can also take the nearby short walk to the peak of Mam Tor. Although the route from Mam Nick Car Park to Mam Tor's summit is all steps heading uphill, it's only 0.35 miles each way! Plus, the views are incredible every time you stop to catch your breath.
Best Peak District Walks Over 5 Miles
With over 1800 miles of public footpaths in the Peak District National Park, you won't have to go far to stretch your legs. The area is a hiker's paradise all year round, but particularly in the good weather months.
Long-Distance Trails
Although you may not want to complete them in their entirety, the National Park is home to a handful of long-distance trails. Shorter sections of these are perfect for a day hike but do typically mean you walk from A to B rather than complete a circular loop.
The Pennine Way is perhaps the most famous of the trails. Stretching 268 miles from Edale all the way to southern Scotland, the trail passes several Peak District highlights. These include Kinder Downfall, the highest point of Snake Pass and the Wessenden Reservoirs.
Small in comparison, the 17-mile long High Peak Trail is popular with cyclists as well as walkers. Starting in Dowlow by Pomeroy Farm, the path passes various country pubs and small villages before ending near Matlock Bath. If you're after a quite challenging one-day Peak District hike, this could be for you.
Other popular options include the Monsal Trail, which at 8.5 miles long can easily be completed in one effort. Or, the 13-mile long Tissington Trail that makes for a more strenuous Peak District day hike.
Circular Routes over 5 Miles
If you're looking to start and end in the same place rather than rely on public transport or a lift, a circular route is best. There's nothing more satisfying than finally sitting down in your car after a long walk with tired legs.
As one of only two mountains in the Peak District, it's a long slog to the top of Kinder Scout. With little route markings and a challenging walk required, this isn't one for beginners. But, for those well experienced in Peak District walks, it's certainly a bucket list place.
Shining Tor in the western Peak District can be combined with a walk through Errwood Hall on circular routes from both Errwood Reservoir and the Cat & Fiddle Pub. Similarly, a circular route from Castleton to Mam Tor passes caverns and Back Tor. But, can also be extended to include Lose Hill and Hope.
Just to the east of Mam Tor, the loop around the northern part of Ladybower Reservoir clocks up 6 miles. While the riverside walks through Lathkill Dale and along the River Dove from Hartington are also similar lengths.
Rainy or Grey Day Walks
While we all dream of perfect weather for our next Peak District walk, this part of the country isn't exactly blessed with predictable weather. Other than in winter, when rain (and snow on high ground) is almost guaranteed!
But, if you only waited for good weather, you'd only be walking in the Peak District twice a year or so! Instead, these year-round options mean you can get fresh air and a good stroll in, whatever the weather. The key is to avoid anywhere that you'd expect a view. Stay low and ideally under the cover of trees.
The 4 best options for this are Padley Gorge, Lud's Church, Three Shires Head and Lathkill Dale. Of course, they're best enjoyed in good weather, like most outdoor activities. But, these are also great for rainy and grey days, just bring a jacket and good shoes.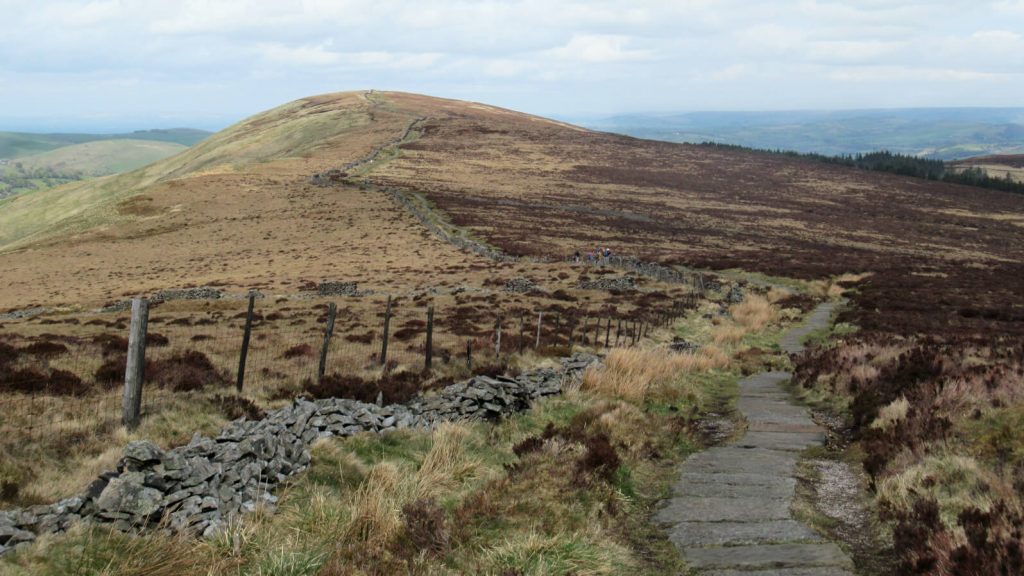 ---
Do you have any questions or want any more information on these Peak District hikes? If so, drop a comment below and I'll get back to you!
Information is correct as of July 2022 but is subject to change in future. Some photos courtesy of Adam Brookes.
---
Other Walks You May Be Interested In…
WEST YORKSHIRE: Ilkley Moor Walks (West Yorkshire): 4 Circular Routes
YORKSHIRE DALES: A Lesser-Known Malham Circular Walk (Avoid the Yorkshire Dales Crowds)
YORKSHIRE DALES: Buckden Pike Walk (The Perfect Yorkshire Dales Day Out)
LAKE DISTRICT: Old Man of Coniston Walk (Lake District): Circular 4-Peak Route
YORKSHIRE DALES: Grimwith Reservoir Walk, Yorkshire Dales (Circular Route)
YORKSHIRE DALES: A Yorkshire Dales Waterfalls Walk (4 Keld Waterfalls)
---
PIN IT FOR LATER!