Lud's Church is an other-worldly chasm in the Staffordshire countryside waiting to be explored. This short and simple but totally enthralling route is one of the best Peak District walks of its kind. Simply put, this Lud's Church walk needs to be on your must-visit!
So, this complete Lud's Church circular walk guide provides you with all the information you need for a fantastic trip out. Information on its mystical past, Ordnance Survey maps, directions and practical advice.
Last updated: December 2021. First published: June 2021.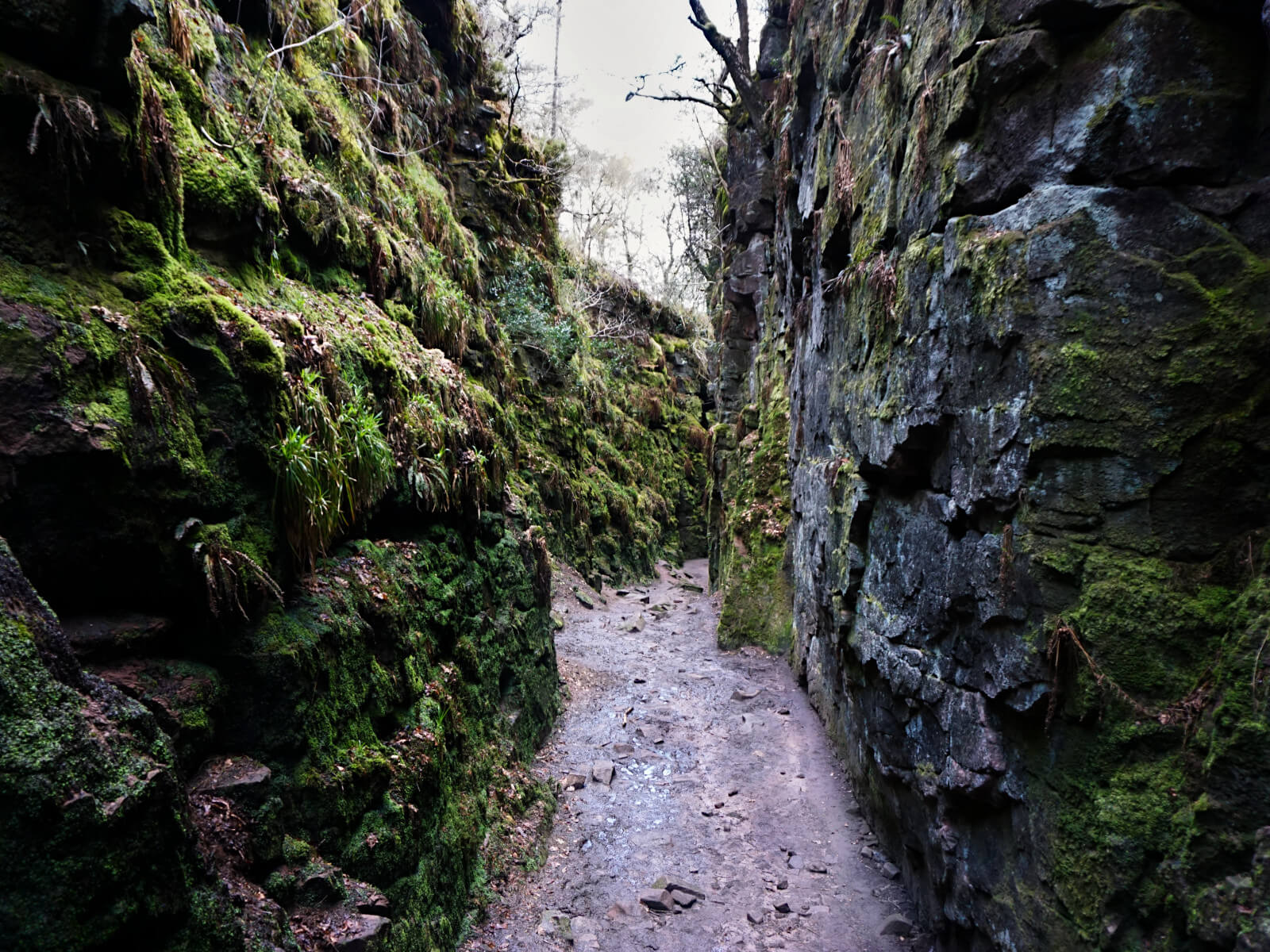 Lud's Church – What's That?
An 18-metre deep, 100-metre long, Y-shaped, moss-covered chasm created by a landslip. One that feels like it could be on another planet, in fact. Particularly, given Lud's Church has its own microclimate (humid, wet and cool) contrasting with the harsher weather typically seen in the Peak District and north of England generally. Which, makes it feel like you've been transported away from Earth instantly!
With its small nooks and cranny's in addition to the main walking route, it's a great place to explore for all the family. Does an other-worldly experience in the Peak District countryside sound like your cup of tea? If so, you'll want to keep reading to find out all about how to get there, where to park and what route to take.
Where is Lud's Church?
Lud's Church is located on the western side of the Peak District National Park. With its position in the Staffordshire Peak District, it is around a 20- to 25-minute drive from Macclesfield, Congleton and Buxton. While the closest village to Lud's Church is Gradbach.
Other popular landmarks around include The Roaches – a stunning ridgeline with cool rock formations – to the south and Hanging Stone to the north. As well as the 48-mile long Dane Valley Way stretching from Buxton to Northwich alongside the River Dane.
How to get to Lud's Church (Circular Route)
Distance: 2.1 miles/3.4 kilometres
Difficulty: Easy
Walking time: 1 hour (allow another 20-30 minutes inside Lud's Church)
Start and endpoint: Hazelwood Road-Clough Head Lane
While many walks start and end in Gradbach, passing Gradbach Mill en route. This route starts to the south of Lud's Church with fewer people on the trails. Additionally, as Gradbach is also the starting point for a walk to Three Shires Head, car parking can be an issue during weekends and holidays. Follow my guide below for the best alternative!
Lud's Church Walk Car Park
The car parking for this route is on the side of Hazelwood Road – close to where it merges with Clough Head Lane. There are no specific markers on any maps or satnav apps, so, you need to use the GPS coordinates: 53.177477, -2.007883. Make sure to check for any car parking restrictions as these can change at short notice.
Walk Start Point
From the road, head up the stone steps to the north, which are sandwiched between two wooden signposts. You'll need to squeeze through the small gap in the wall to reach the public footpath for the Lud's Church walk start point on the other side.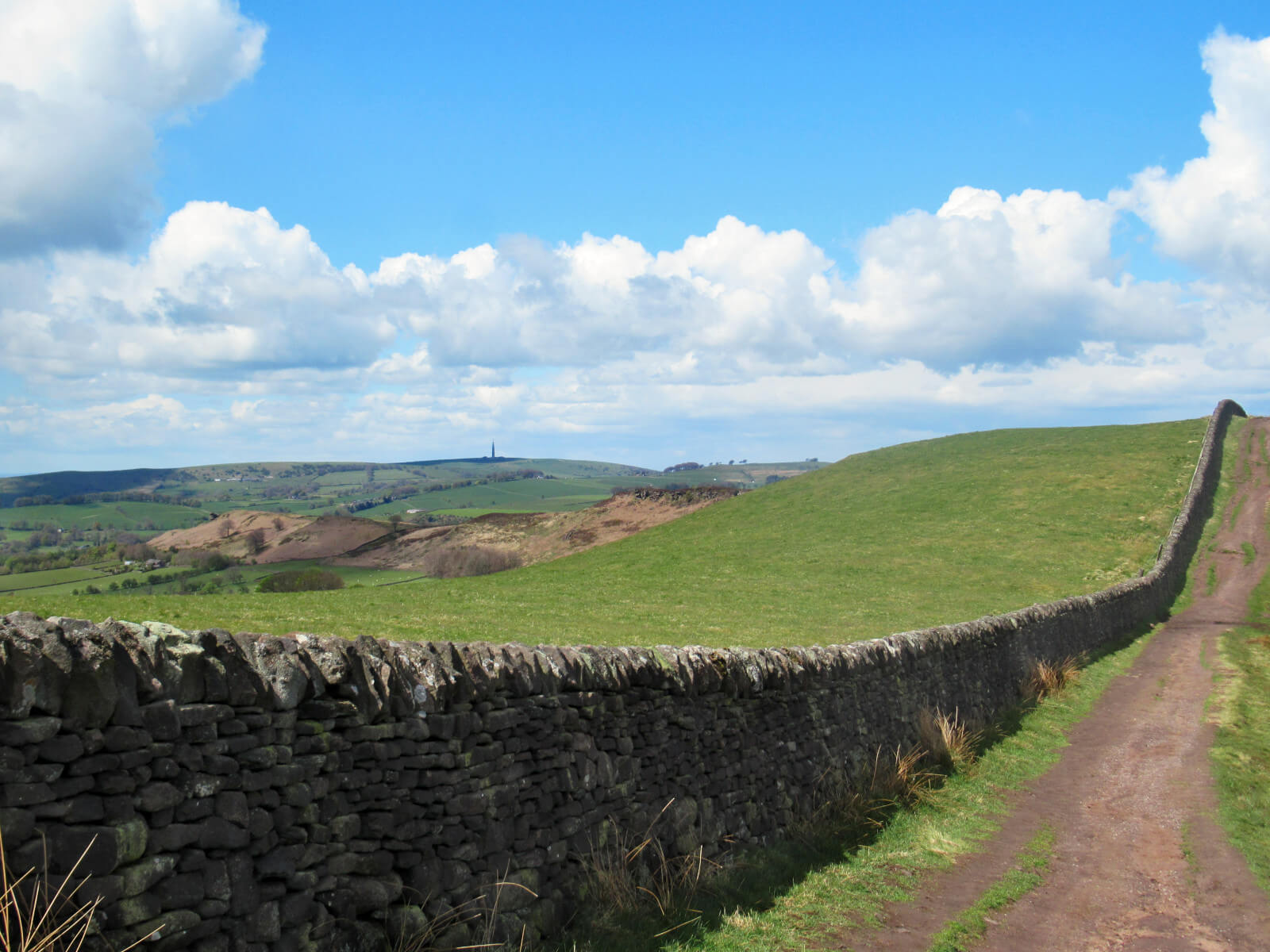 Lud's Church Walk Route Directions
This short and simple walk is easy to follow with good views of the Staffordshire countryside during the short walk to Lud's Church Peak District. Plus, there's hardly any incline either – so good for an easy walk or for little one's. Make sure to download the GPS file from the walk map above so you can keep on track!
Having passed through the gap in the walk on Hazelwood Road, you next want to pass through the gate approximately 10 metres in front of you.
After this, follow the path as it runs parallel to the drystone wall for around 800 metres. At which point, the path splits in two – take the right-hand fork.
Continue for another 300 metres and then turn right, following the sign for 'Lud's Church'.
Carry on along the relatively straight path as it enters the wooded area and then turns to the left.
Just before Lud's Church, the path becomes much clearer with planks keeping you off of the mud below.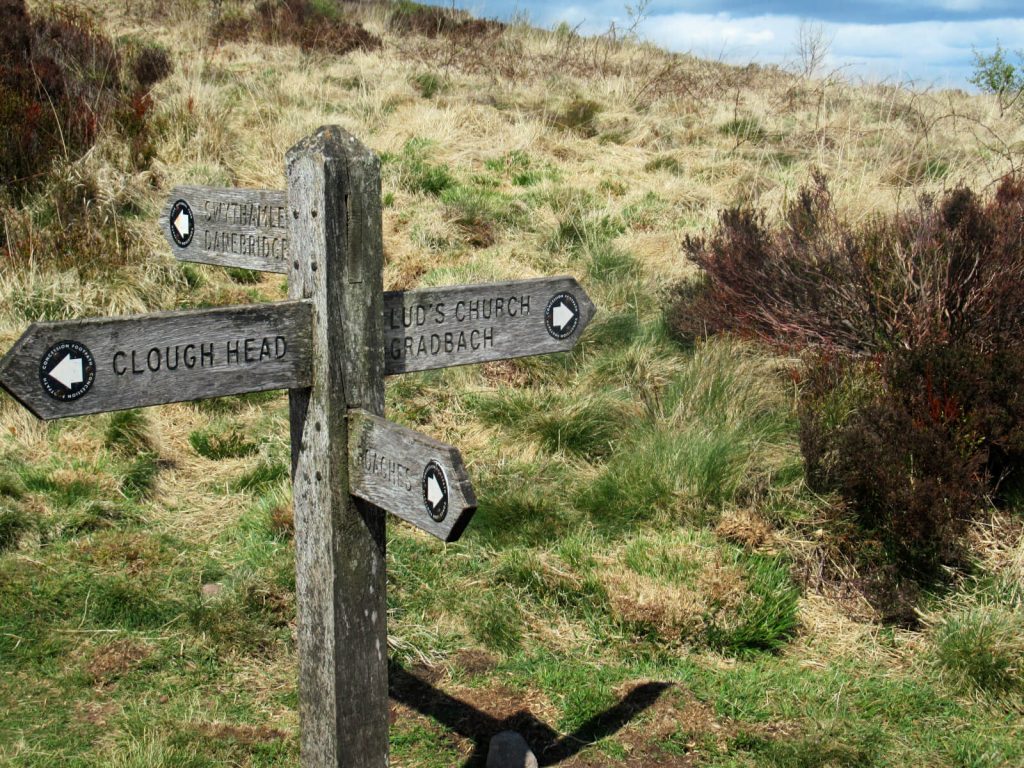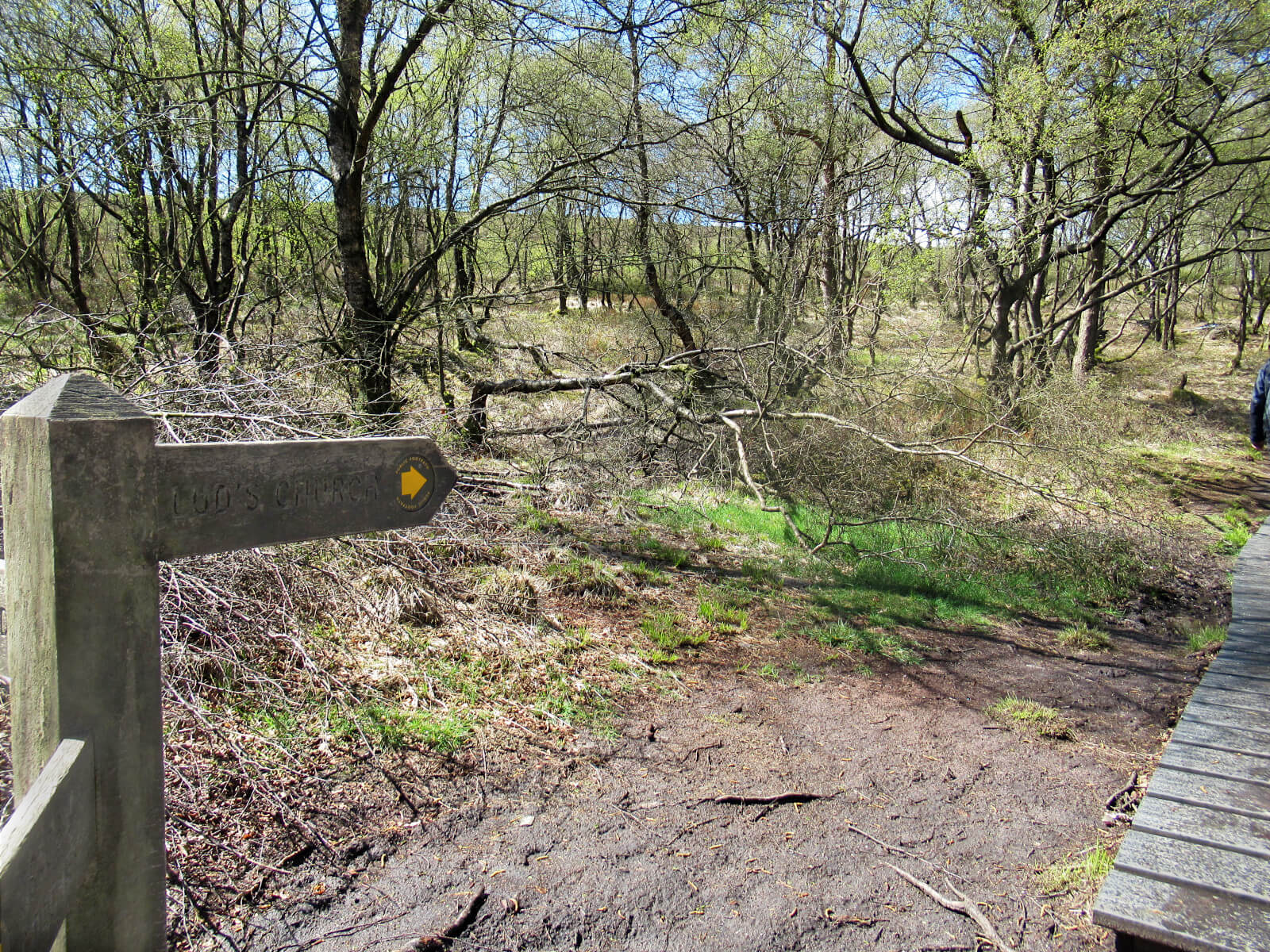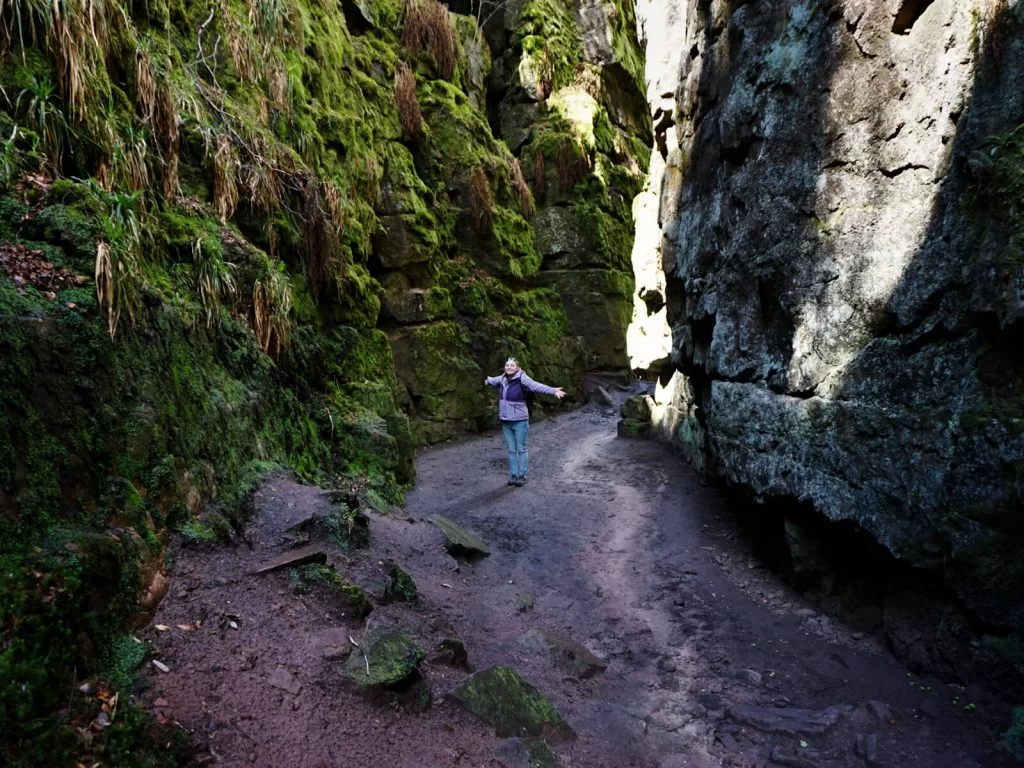 At Lud's Church, the path drops steeply down inside the chasm – transporting you instantly to an alien-like planet! The path runs the whole length of the chasm – 100 metres – with many little corners and nooks to explore. Spend some time inside taking in the surroundings and exploring before continuing the walk.
Leave the chasm through the exit at the opposite end from where you entered. Turn right when out of the chasm and keep following the path straight for 500 metres through the woodland. You could be walking in the footsteps of Robin Hood!
At this point, two paths merge but continue straight. Through the trees, you'll be able to see Gradbach across the Black Brock river. After 700 metres, take the right-hand path and then turn right again after another 100 metres.
Follow this path as it emerges from the woodland and runs straight all the way back to the start point.
And, that's it – Lud's Church short walk complete! If you still have more in the tank, you can add on an additional circular walk of the Roaches. For more information, check out the section on The Roaches and Lud's Church below!
Click the link above to download the file for use in a GPS viewer. This way you'll be able to track where you are on the route using your phone's GPS – avoiding accidental detours and providing reassurance for less experienced countryside walkers! Once you've downloaded the GPX file above, install a GPX viewer app (Google PlayStore or iPhone App Store) and load the GPX file.
Combine A Walk to The Roaches and Lud's Church Peak District
From the start and endpoint of this Lud's Church walk, you can add on a loop of The Roaches to make a figure-8 route. This walk of The Roaches is quite a bit longer (almost 6 km) and requires a lot more uphill walking (over 150 metres elevation gain), so make sure you're prepared. However, it does offer some spectacular views over the rolling hills of the Peak District National Park and nearby landmarks such as Tittesworth Reservoir.
The route that also takes in The Roaches is shown below with the marker the same start/endpoint as the circular Lud's Church walking route described above. I recommend walking in an anti-clockwise direction, this way you walk along the road first and then save the best views from the top of the Roaches to last! And, that also means you don't finish with a long uphill walk – because no one wants that!
This detailed guide to The Roaches Walk will give you all the information you need for spectacular viewpoints and rock formations!
Lud's Church History
Lud's Church, Peak District has a long and mysterious history, with perhaps as much folklore as fact in some accounts. For it is not how the place came to be that is the focus of speculation. But rather by who and for what it has been used for in the years since.
If you've made it this far you'll have realised by now that one of the most interesting facts about Lud's Church is that it is not a church! Well, at least not a church in the typical sense of a building, altar or cross. The chasm is thought to have become a place of worship for those persecuted for their beliefs or outcast by society.
While no one can know for sure, Robin Hood (and his merry men) are thought to have visited Lud's Church over 600 years ago. Additionally, the chasm is believed to have been the inspiration for The Green Chapel in the medieval poem Sir Gawain and the Green Knight.
Is Lud's Church haunted?
I didn't see any ghosts when I was there, but that doesn't mean there aren't any…
---
Do you have any questions or want any more information? If so, drop a comment below and I'll get back to you!
Information is correct as of December 2021 but is subject to change in future.
---
Other Peak District Walks You May Be Interested In…
THE ROACHES: Walk Route & Full Guide for Panoramic Views
SHINING TOR: Straight and Circular Walking Route Guides
CHROME HILL: 3 Routes to the Spectacular Summit Views
THOR'S CAVE: 4 Circular Route Options From Wetton
LATHKILL DALE: 6-Mile Waterfall Walk
PADLEY GORGE: 4-Mile Route via Millstone Edge
THREE SHIRES HEAD: 4 Route Options from Gradbach & Wildboarclough
HARTINGTON: 5.3-Mile Walk in the Peak District Countryside
MAM TOR: The Only 2 Routes You Need to Know (Straight & Circular)
LADYBOWER RESERVOIR: 6-Mile Circular Route including Derwent Dam Viewpoint
---
PIN IT FOR LATER!