Backpacking traveller, adventure seeker, writer. Currently on a dream trip through Central Asia visiting Kazakhstan, Kyrgyzstan and Uzbekistan!
I've always loved to travel. From countryside or seaside day trips in the UK to fast-paced city breaks and idyllic weeks on tropical beaches.
So, in 2021, I pressed pause on my corporate writing job to backpack around the world. A journey that is documented through the in-depth, honest and practical travel guides I write as a travel blogger.
zoegoesplaces.com is an outdoor- and adventure-focused travel blog. Mountains and volcanos, beaches and waterfalls, hiking trails and adventure sports, and so much more.
So whether you're looking for something near or far, long haul or hometown, you can find your inspiration here. There's no adventure too big or small…
Enjoy memorable and epic adventures with these 15 awesome hikes in Colombia. Mountains to jungles, half-day to 5-day trips. Find your hike...
Salento, Colombia is a small. colourful town in Quindío ever growing in popularity. Famous for coffee & tall palm trees, it's a must visit!
Mexico might not be most famous for its waterfalls. But, these 12 stunning Chiapas waterfalls are all well worth visiting! Find out more...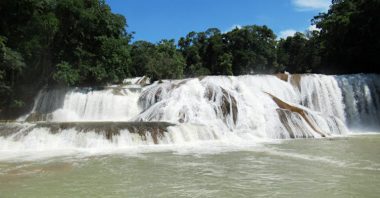 A complete guide to the 6 best Palenque waterfalls, including need to know information, entrance fees and how to get to each.
East of Santa Marta, Palomino is Colombia's most up and coming beach town. Once just a few huts is now popular with backpackers worldwide.
Misol-Ha Waterfall: Palenque's best & closest cascada, reachable by tour or colectivo. Plan your trip today with this complete guide...
Looking for an established blog to help your business or brand grow?