Backpacking traveller, adventure seeker, writer. Currently on a dream trip through Central Asia visiting Kazakhstan, Kyrgyzstan and Uzbekistan!
I've always loved to travel. From countryside or seaside day trips in the UK to fast-paced city breaks and idyllic weeks on tropical beaches.
So, in 2021, I pressed pause on my corporate writing job to backpack around the world. A journey that is documented through the in-depth, honest and practical travel guides I write as a travel blogger.
zoegoesplaces.com is an outdoor- and adventure-focused travel blog. Mountains and volcanos, beaches and waterfalls, hiking trails and adventure sports, and so much more.
So whether you're looking for something near or far, long haul or hometown, you can find your inspiration here. There's no adventure too big or small…
A complete 2022 guide to Bamford Edge in the Peak District: Parking, Public Transport Links, Facilities, Walking Routes, Climbing and more!
4 easy-to-follow Thor's Cave walk routes starting from Wetton village in the Peak District. Maps, directions & parking info are all included!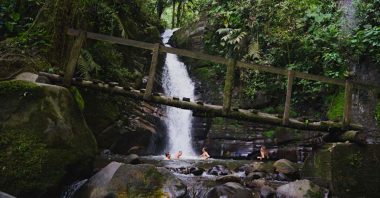 Find your next adventure with this guide to 11 of the best waterfalls in Colombia including hidden gems and the most popular falls.
Looking for an established blog to help your business or brand grow?