The Lake District National Park is one of the most scenic areas in the British Isles. And, what better way to enjoy such natural beauty than with a walk through the countryside to the top of a mountain… This Old Man of Coniston walk is the perfect answer!
Old Man Coniston is a popular peak in the Lake District's southern fells with its incredible views and challenging route. This circular walk route takes you up three slightly lower peaks as well as the Old Man to offer the best views of the summit from all angles.
This post has all the information you need to enjoy a day out to Old Man of Coniston including maps, photos, step-by-step instructions and answers to all your FAQs!
Last updated: December 2021. First published: April 2021.
Some of the links below are affiliate links, meaning, at no additional cost to you, I may earn a small commission if you click through and make a qualifying purchase.
Old Man of Coniston Route
Distance: 6.3 miles/10.1 kilometres
Elevation gain: 699 metres (cumulative)
Difficulty: Moderate
Walking time: 3 to 4 hours
Realistic total time: 4 to 6 hours
Start and endpoint: Walna Scar Car Park
Realistic total time includes stopping for snack breaks, photographs and to enjoy the view.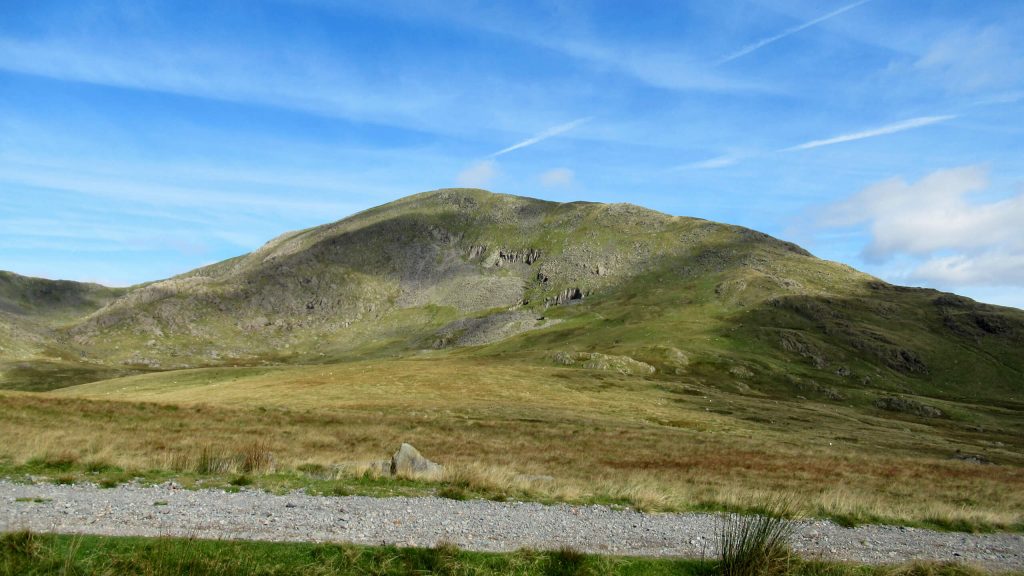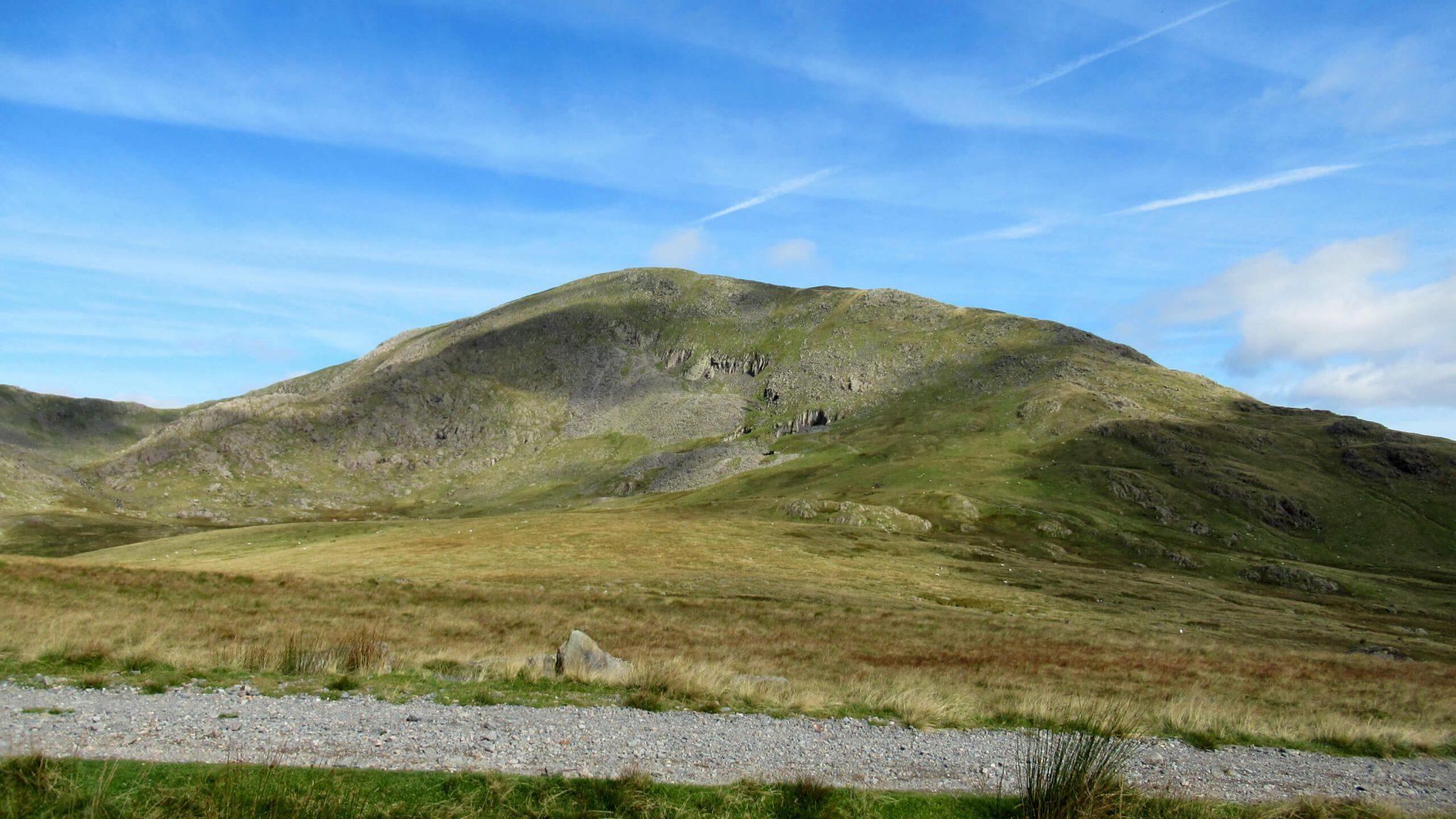 Where do I start the Old Man of Coniston Walk from?
The Old Man Coniston circular walk route starts (and ends) at Walna Scar Car Park. However, if the Walna Scar Car Park is full, you will need to park at Old Station Car Park on the outskirts of Coniston village and start your walk from there. Parking at Old Station Car Park does add on over a mile to the round trip walking distance, however, with a steep uphill walk to Walna Scar.
If you're using a Sat Nav or Google Maps to get to the start of the walk, you won't be able to use a postcode. As this covers a large rural area and won't take you to the exact place you need to be. Search by name and you should be able to find both on Google Maps.
Old Man of Coniston Parking
At Walna Scar Car Park, charges apply from 9 am to 6 pm, 7 days a week including bank holidays. Parking fees are £4 for up to 4 hours and £8 for up to 9 hours. You can pay by card or cash at the machine. To note, Walna Scar Car Park used to be free, but charges were introduced in 2021.
The alternative option is to park at Old Station Car Park in Coniston village. Parking charges also apply from 9 am to 6 pm, 365 days a year. The charges are £2.50, for up to 2 hours, £4.50 for up to 4 hours and £7 for up to 9 hours, card and cash accepted.
Old Man of Coniston Circular Walk Maps
From Walna Scar car park to Old Man Coniston via this circular 4-peak route is 6.3 miles. I would recommend heading in a clockwise direction along Walna Scar Road so that the summit of the Old Man of Coniston is your last peak.
Honestly, the views at the top of the Old Man are better than the other three peaks, so you'll want to save this to last!
If you do start at the Old Station Car Park, the route is 8.0 miles (12.9 km) in total. From the car park, head north along Old Furness Road to the cross junction. Then, head left (west) uphill (it's the track with national speed limit signs on either side).
Click the link above to download the file for use in a GPS viewer. This way you'll be able to track where you are on the route using your phone's GPS – avoiding accidental detours and providing reassurance for less experienced countryside walkers! Once you've downloaded the GPX file above, install a GPX viewer app (Google PlayStore or iPhone App Store) and load the GPX file.
Old Man of Coniston Walk: Circular Route Directions
Walna Scar Car Park to Brown Pike (682m)
Head west out of Walna Scar Car Park along Walna Scar Road. The path heads straight along a fairly gentle incline. After about 1 mile, the path forks in two – keep straight.
Follow the path straight for another mile, where it will turn sharply to the right with a steep ascent. At the top of this peak, you'll be at Brown Pike. Here, you'll be able to look north along the ridgeline and see Buck Pike and Dow Crag ahead, as well as seeing the summit of the Old Man of Coniston on your right.
Luckily, from here there are no complex instructions needed, you can follow the same path to the top of Old Man Coniston!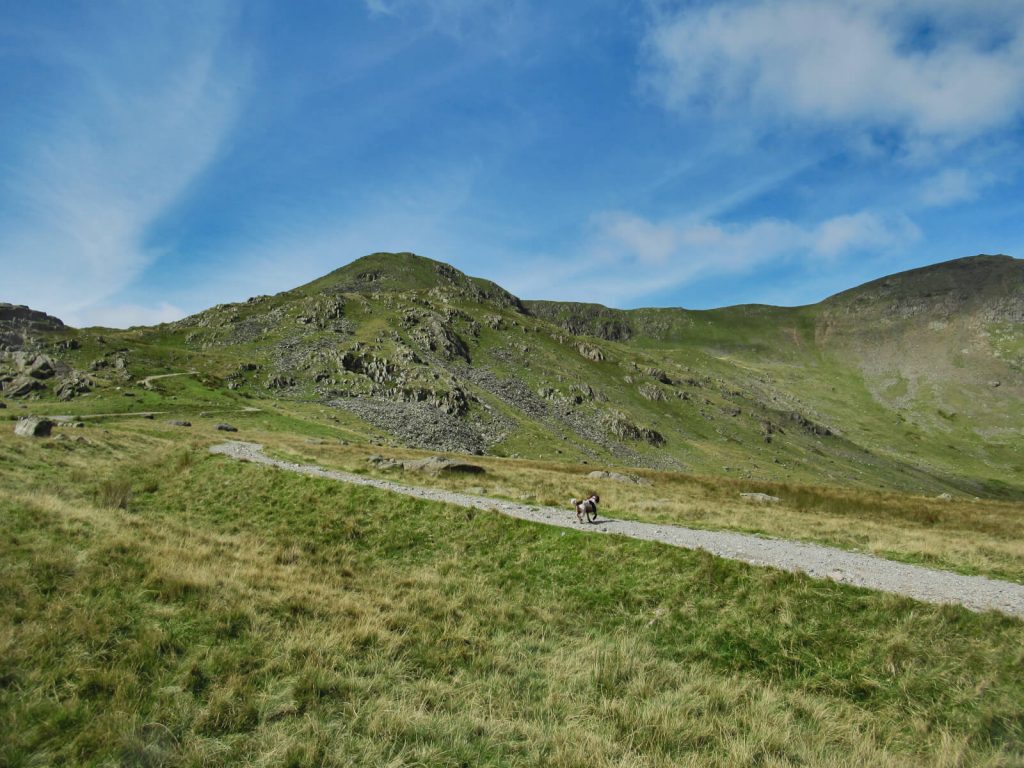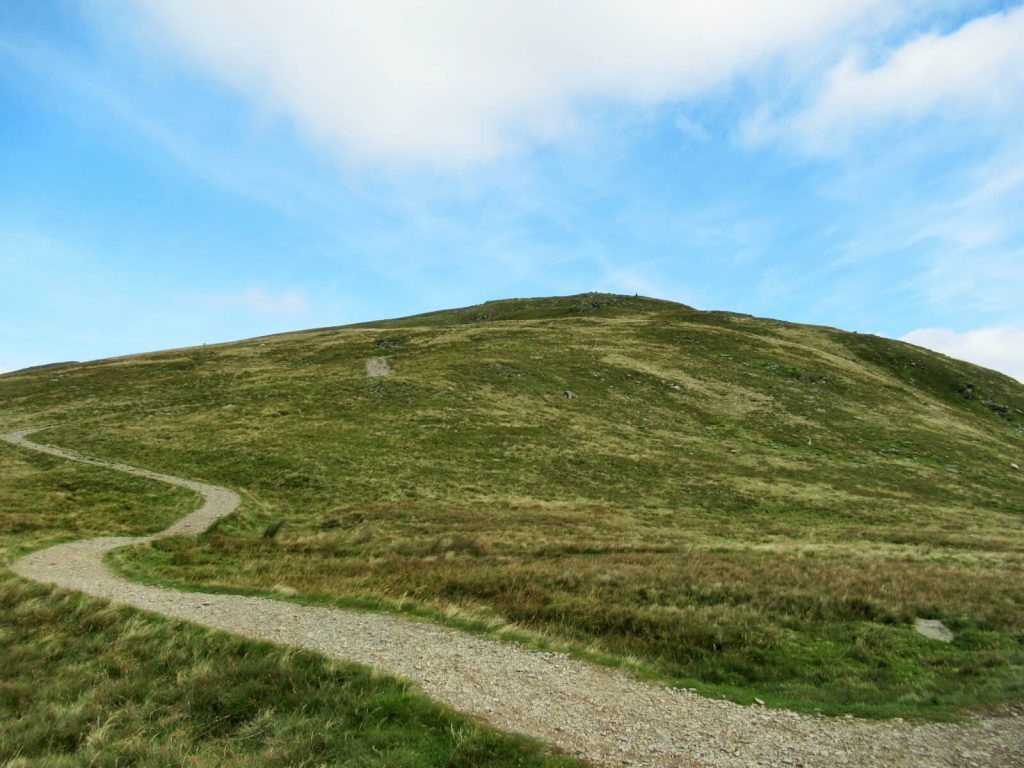 Brown Pike to Buck Pike (744m
From Brown Pike, continue along the ridgeline. There's no let-up between the peaks, as you'll gain just over 40 metres of elevation in just 0.4 miles.
The peak of Buck Pike isn't too obvious, as there isn't any marking. But, the terrain does level out for a short distance.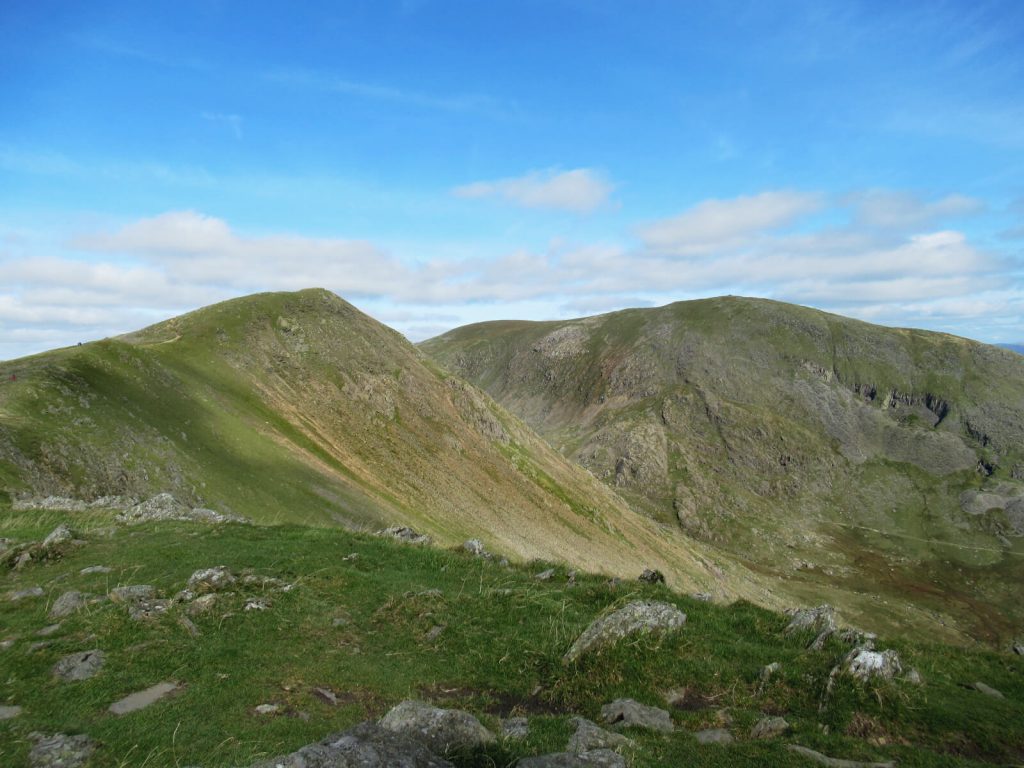 Buck Pike to Dow Crag (778m)
The third peak of the route is just a further 0.3 miles north of Buck Pike. The ascent to Dow Crag is steady and you'll want to enjoy this relatively flat part before the climb to the main summit begins!
Striking rock formations mark the peak of Dow Crag. Plus, you'll know when you're there as there is no more hill left to walk up! At Dow Crag, you'll have fantastic views of the western part of the Lake District National Park, including Scafell Pike.
And, on a clear day, you'll be able to see the Cumbrian coastline and the Irish Sea… Because getting top quality views of a Nuclear Power Station is on everyone's bucket list, right?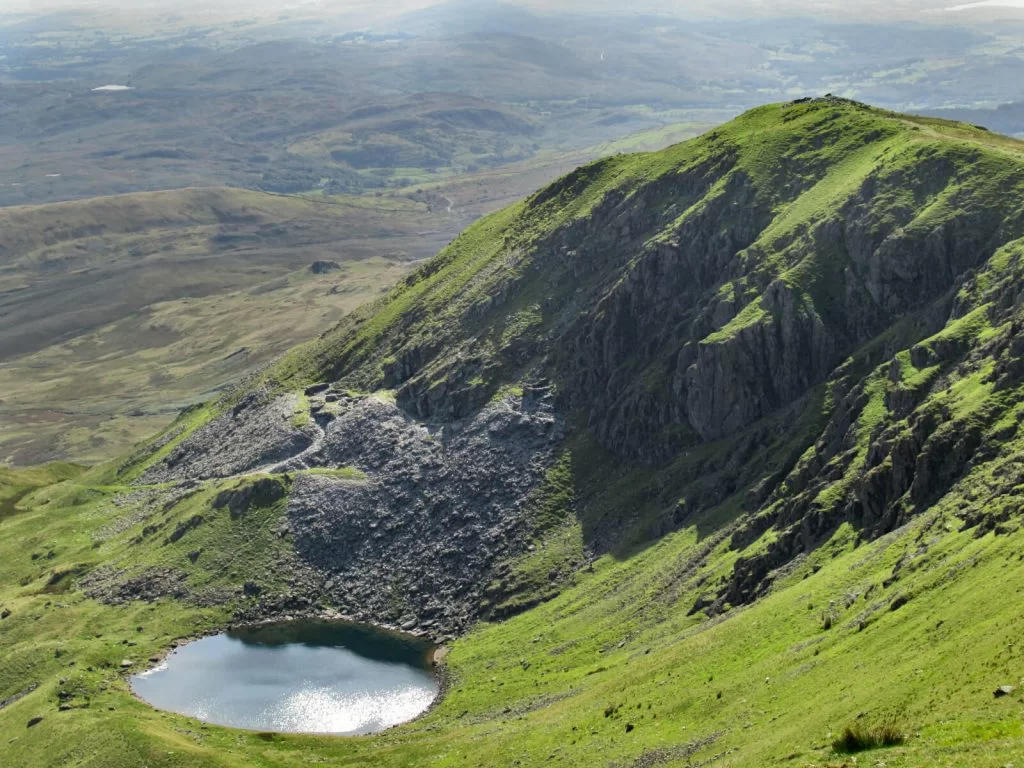 Dow Crag to the Old Man of Coniston Summit (803m)
Numbers can be deceiving and that is certainly the case when comparing the summit elevations of Dow Crag and Old Man of Coniston! The elevations of the two peaks have a difference of just a few metres. But, the walking route requires you to descend almost 120 metres from Dow Crag before gaining another 130 metres of elevation to the peak of Old Man Coniston.
The total walking distance between Dow Crag and the summit of Old Man Coniston is just 1 mile. But, the fun of the steep downhill descent over just 0.4 miles is soon replaced by the slow pain of the remaining 0.6-mile, steady slog to the trig point marker of the Old Man of Coniston.
Old Man of Coniston Summit to Walna Scar Car Park
From the summit, the views are simply spectacular. To the west, you'll see the three peaks you've already covered – Brown Pike, Buck Pike and Dow Crag. Then, there's Coniston Water, Lake Windemere and the Yorkshire Dales National Park in the distance to the east.
When you've finished taking in the views, it's time to start the descent back to the car park. The path down from Coniston's Old Man zig-zags down to Low Water and is much less clearly trodden than earlier parts of this route. That, combined with the loose rock underfoot can make this challenging, particularly in less ideal weather or with less suitable footwear.
The edge of Low Water is a great place for a rest. You'll be straining your neck looking almost vertically upwards at the summit of Old Man Coniston. Hard to believe you were there just minutes ago! From Low Water, the path continues (much more clearly marked from here) past the old quarry and mines. The remains of the pulley systems as well as the heaps (literal mounds) of slate are quite the sight!
Continue along the path until it turns to the right, back towards Walna Scar Car Park. From here, the path is fairly flat and you'll be making good time and progress to a well-deserved sit-down! Back at Walna Scar, you can look back on Old Man Coniston and feel totally satisfied in completing the walk!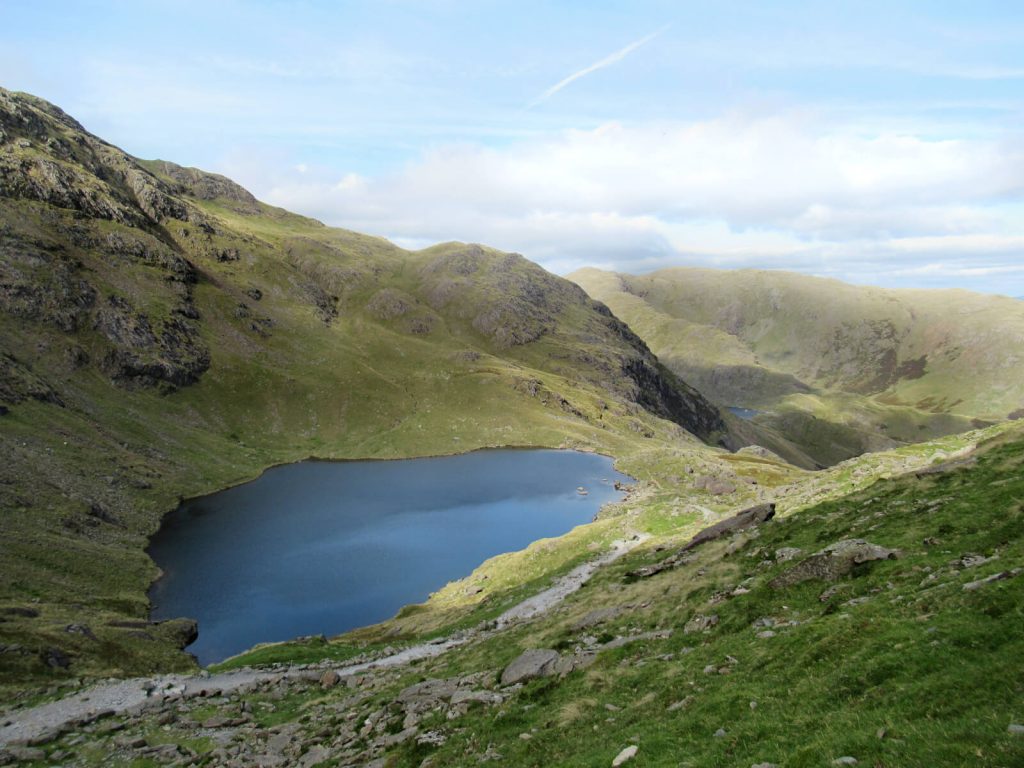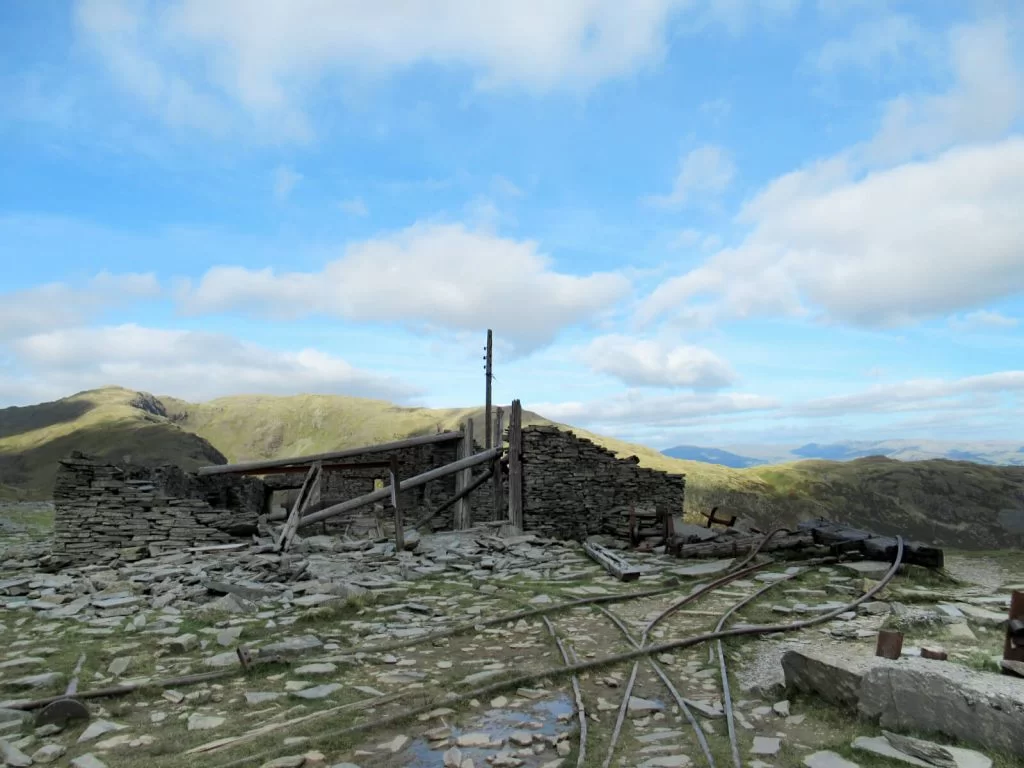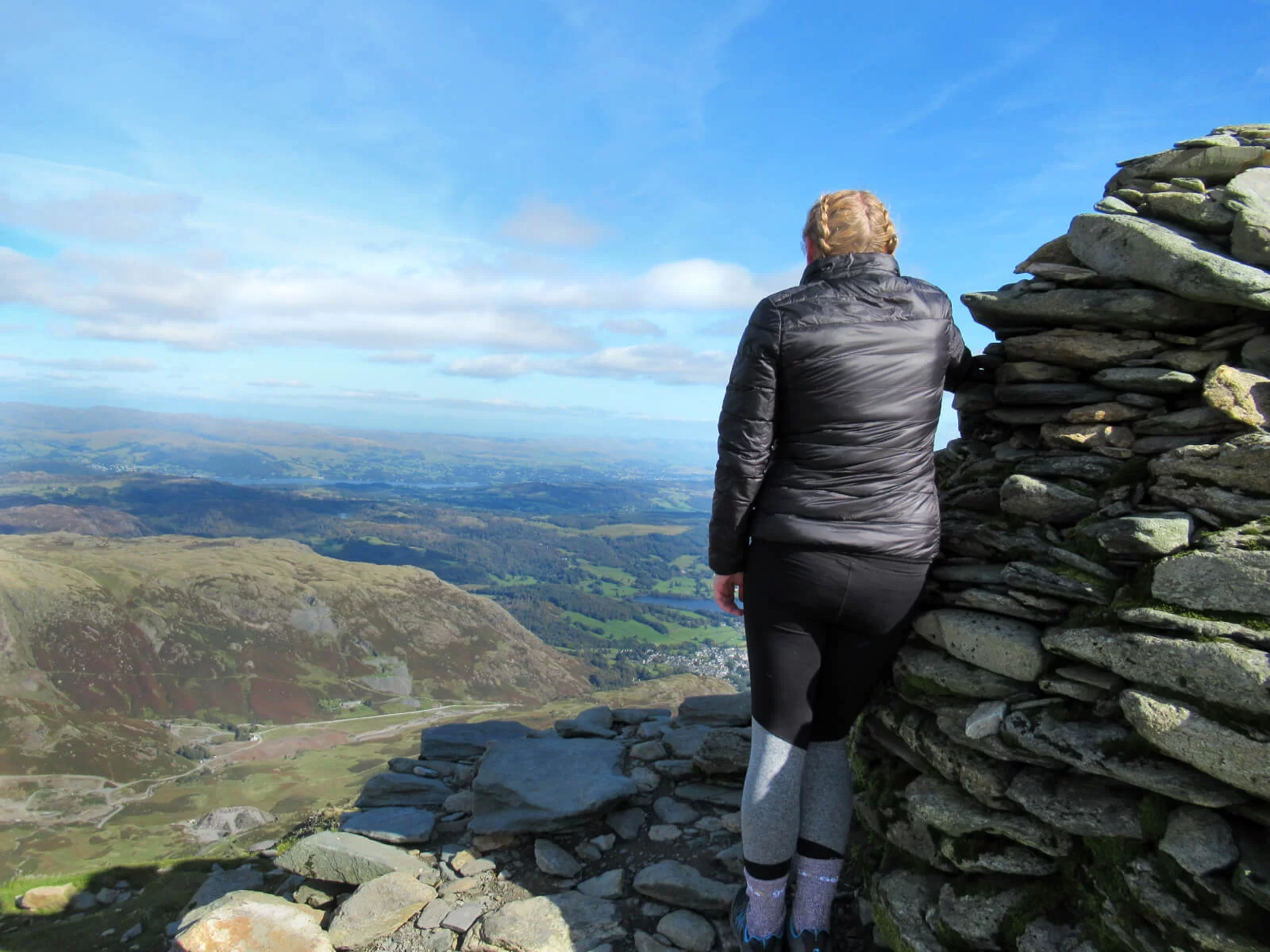 Old Man of Coniston Walk Review (circular route)
"One of the best walks I've ever been on!"
This Old Man of Coniston circular walk route to the summit is honestly one of the best walks I've been on! It's challenging – with a sustained ascent and a long distance to cover.
In particular, no scrambling or climbing with your hands is required and I never felt like I wouldn't make it. I knew I just had to keep going and telling myself it would be worth it!
It's easily one of the best walks in the Lake District, if not across the whole of northern England for its balance of views, challenge, location and popularity.
For transparency, I did get lucky with the weather as I walked up on a clear day in September. It was also a weekday, so it may well be busier on weekends, but I only saw a handful of other groups.
Having said that, with nearby Scafell Pike being the highest mountain in England, crowds are typically drawn there instead.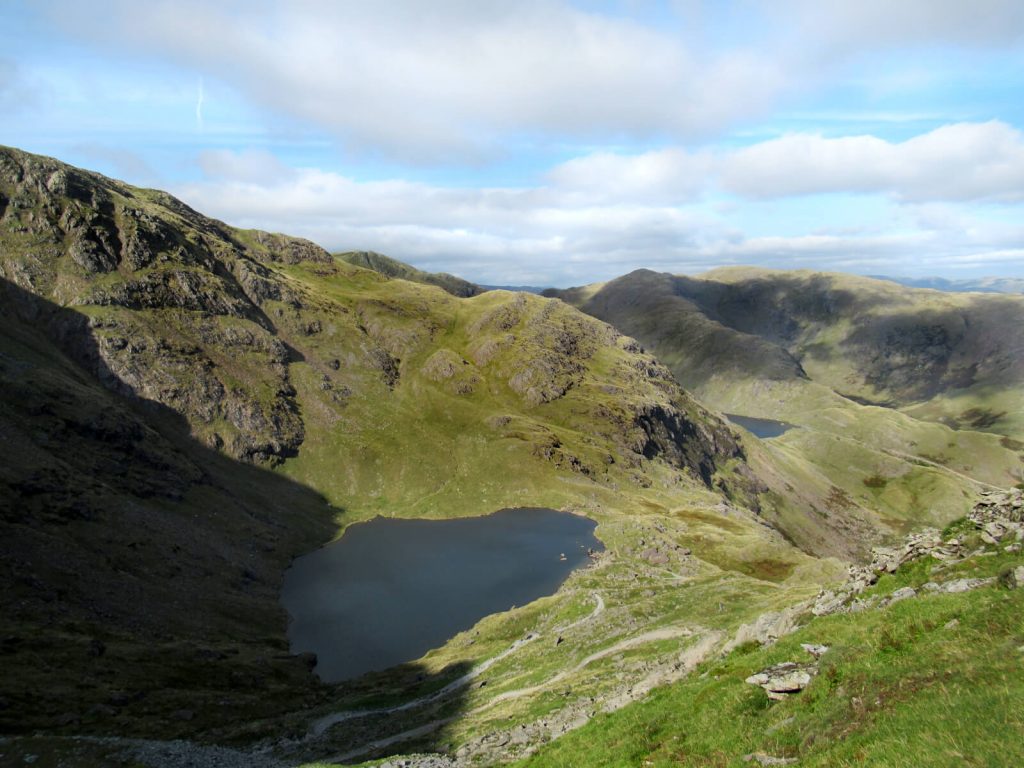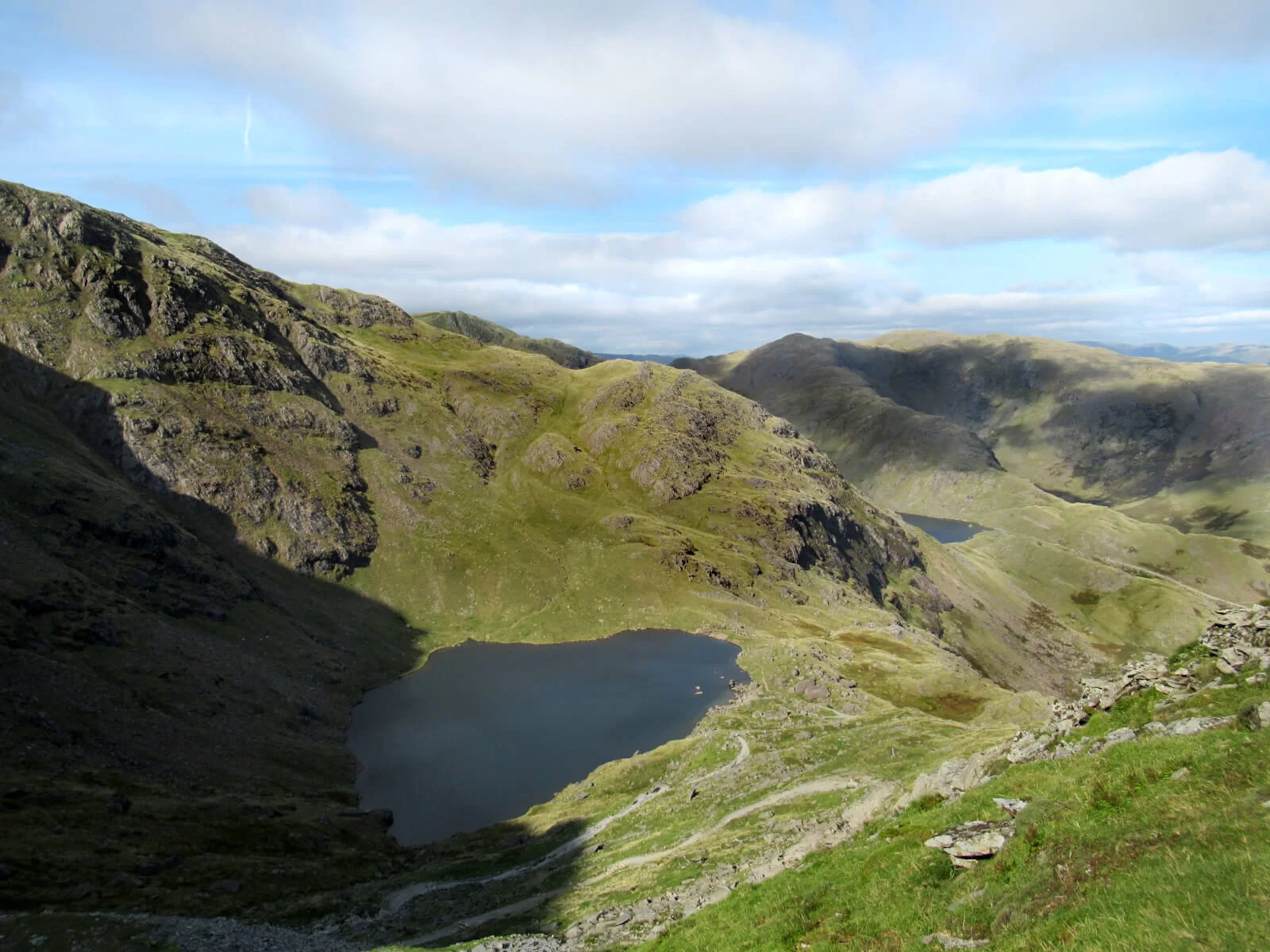 FAQs
How long does it take to walk up the Old Man of Coniston?
At a fairly good pace without stopping, then for this circular route, the Old Man Coniston walk time is about 3 to 3.5 hours. Realistically though, for the average person enjoying this walk, I would allow 5 to 6 hours.
If you just wanted to walk directly to the summit of Old Man of Coniston from Walna Scar Car Park and back again, then the shortest route is 2 miles each way. And, this would take maybe 2 to 2.5 hours non-stop.
Is the Old Man of Coniston an easy walk?
When combining the elevation gain, distance and conditions underfoot, then the Old Man Coniston circular walk is not easy.
Think of it as a full day commitment rather than something to do for a few hours. I was exhausted the evening after climbing the mountain and my legs ached for a couple of days!
How hard is the Old Man of Coniston Walk?
Whilst this route is not the easiest climb, it is certainly not the most difficult. I would describe the Old Man of Coniston difficulty as moderate.
A reasonable level of fitness and coming prepared with water, snacks and appropriate, weather-suitable clothing are the best way to ensure a successful walk to the summit and back.
What are the best hotels near Old Man of Coniston?
There are plenty of accommodation options in the village of Coniston. Staying here would also mean you don't need to drive to the start point.
However, Coniston is also just a short 20-minute drive from the towns of Ambleside and Windermere as well as being around 40 minutes from the larger towns of Keswick and Kendal.
Whilst Coniston is a beautiful village located next to Coniston Water, there is perhaps more to do and see in the other towns mentioned above, making them better for an extended stay. For more ideas of what to do across the Lake District, check out this post from My Travel Scrapbook.
Is the Old Man of Coniston a mountain?
Yes, in the UK any peak over 600 metres of elevation is classed as a mountain. At 803 metres, it clearly meets this definition.
Is the Old Man of Coniston a Wainwright?
Yes! The Wainwrights are a list of 214 fells in the Lake District that featured in Alfred Wainwright's Pictorial Guide to the Lakeland Fells published in the 1950s and 1960s. The 7-part book series groups the different areas of the Lake District and Old Man Coniston is part of the Southern Fells, along with Scafell Pike.
Are Brown Pike, Buck Pike and Dow Crag wainwrights?
Dow Crag is also a Wainwright, grouped in the Southern Fells too, but the others are not. The reason for this is likely the lack of prominence from Brown Pike and Buck Pike to Dow Crag. Brown Pike and Buck Pike are more staggered steps on the ascent to Dow Crag than standalone fells.
---
Prices and offerings mentioned are correct as of December 2021 but are subject to change in future.
---
More UK Walks for You to Try…
WEST YORKSHIRE: Ilkley Moor Walks (West Yorkshire): 4 Circular Routes
YORKSHIRE DALES: A Lesser-Known Malham Circular Walk (Avoid the Yorkshire Dales Crowds)
YORKSHIRE DALES: Buckden Pike Walk (The Perfect Yorkshire Dales Day Out)
PEAK DISTRICT: 12 Peak District Walks (Routes + Maps) [2021 Guide]
YORKSHIRE DALES: Grimwith Reservoir Walk, Yorkshire Dales (Circular Route)
YORKSHIRE DALES: A Yorkshire Dales Waterfalls Walk (4 Waterfalls in 1 Mile)
---
PIN IT FOR LATER!