If you're looking for a scenic and quiet yet challenging circular walk in the Yorkshire Dales National Park, then this Buckden Pike walk is for you. The summit of Buckden Pike offers stunning views over North Yorkshire but doesn't attract the visitor numbers of the three peaks and other popular spots.
This guide walks you through the circular route step-by-step and with pictures. Plus, it answers all your frequently asked questions to ensure a wonderful Yorkshire Dales day out!
Last updated: February 2022. First Published: March 2021.
Distance: 5.5 miles/8.9 kilometres
Elevation gain: 473 metres
Difficulty: Moderate
Walking time: 2 to 3 hours
Start and endpoint: Buckden Car Park
Buckden Pike Walk Map
Click the link above to download the file for use in a GPS viewer. This way you'll be able to track where you are on the route using your phone's GPS – avoiding accidental detours and providing reassurance for less experienced countryside walkers! Once you've downloaded the GPX file above, install a GPX viewer app (Google PlayStore or iPhone App Store) and load the GPX file.
Contents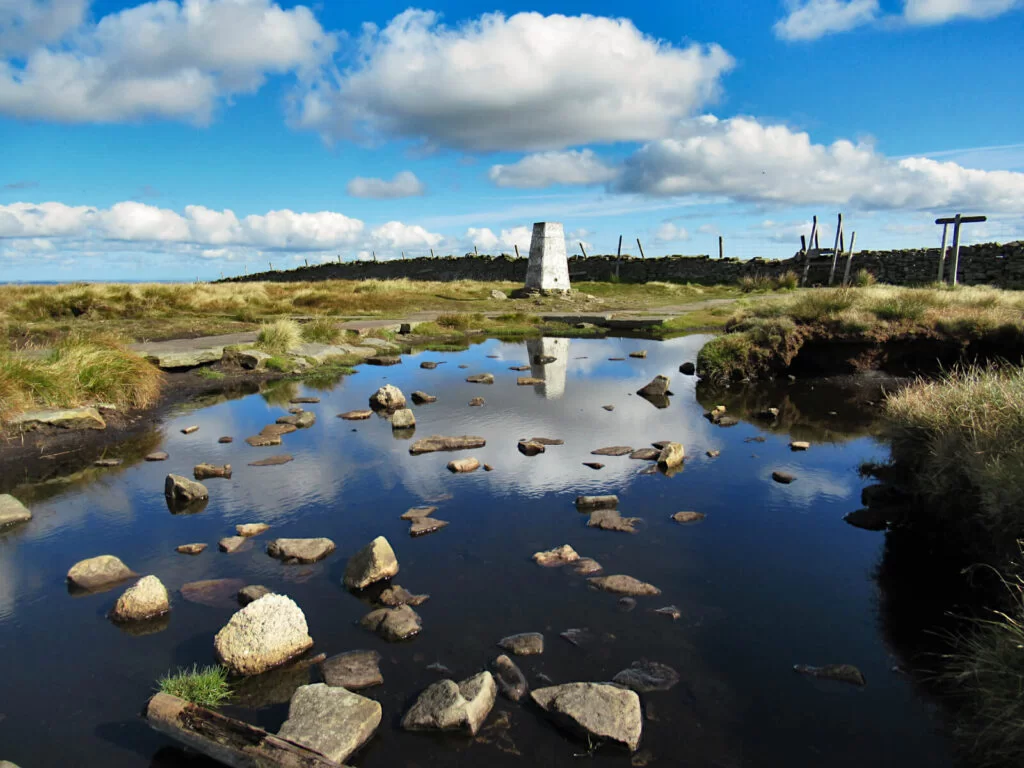 Where is Buckden Pike Yorkshire Dales?
Buckden Pike is located at the heart of the Yorkshire Dales, north of Grassington. The town of Buckden, where most routes start and finish, is approximately 20 miles from Skipton along the scenic roads of Upper Wharfedale. Driving time from Skipton is around 30 mins and from Leeds is around 90 mins.
Buckden Pike Walk Route
Buckden Pike Car Park and Start Point
Public car parking is available in Buckden Car Park, on the north side of the village. This is also the start point of the walk.
The cost of parking for one day is £4.80 and you can pay by card on the machine.
To navigate to Buckden Car Park use the following postcode: BD23 5JA, Ordnance Survey Grid Reference: SD 94229 77341 or GPS coordinates: 54.191872, -2.089735.
Difficulty & Distance
I would say the Buckden Pike difficulty is moderate for a couple of reasons. Firstly, there is a sustained steep ascent from the very start. And secondly, the descent from the top is not well-trodden at first and requires some experience in navigating. Conditions underfoot are sometimes challenging due to loose rocks from the disused mines.
This Buckden Pike circular walk route is 5.5 miles long. Whether you consider this a short walk or not, is up to you. But, including time stopping to rest and enjoy the view, the walk can easily take 4 hours to complete.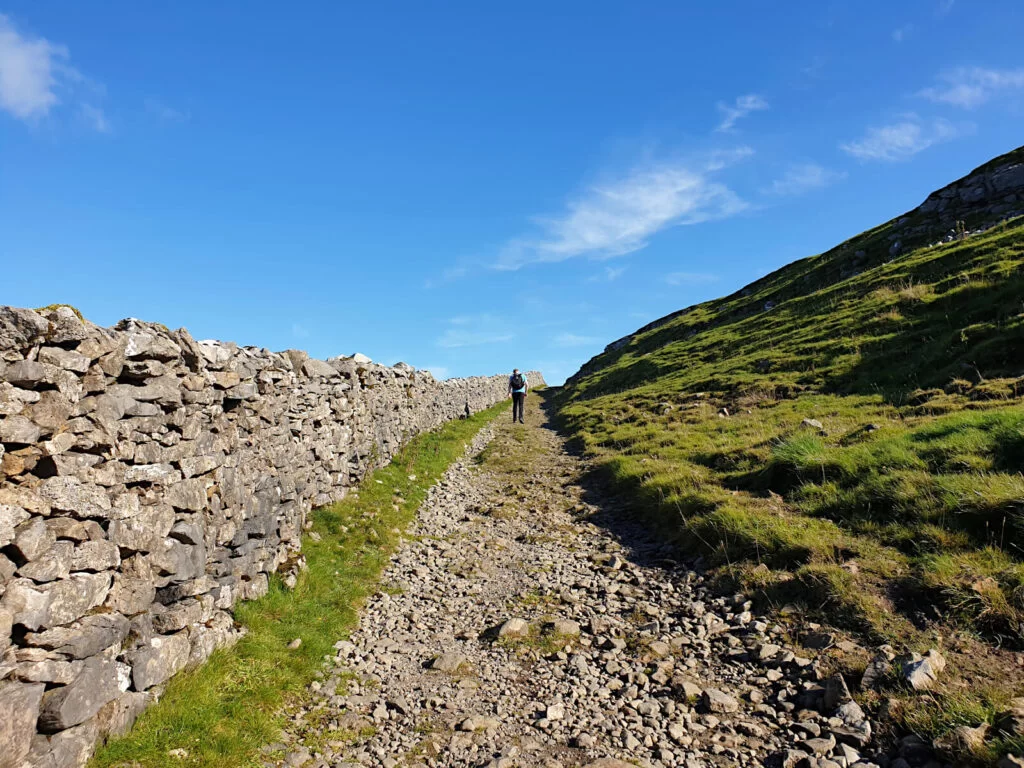 Directions
Buckden Pike Walk: Stage 1 (Car Park to Summit)
Your journey to the summit starts by heading north out of the Buckden Pike car park. Consider this fair warning that it is steep from the get-go. It's certainly a good way to blow off the cobwebs and get yourself moving after the journey here.
From the path entrance, keep heading uphill and follow the track until you reach a split in the path (first picture below). Keep left at the split, pass the drystone wall and then head right immediately after the wall.
Next, the well-trodden path crosses diagonally through the fields. Additionally, the gaps in the drystone walls where the paths cross help keep you on track. This section isn't as steep as the initial climb out of the car park, yet, it's still deceivingly tiring!
Keep following the trodden grass path as it becomes a more obvious dirt footpath as you continue uphill. It may feel like you're almost at the top only to see more of Buckden Pike appear into view! Don't forget to look back on yourself during this section from the Buckden Pike car park to the Summit. The scenery behind you is spectacular, particularly on a clear day!
Eventually, after a steep step section you will reach the summit of Buckden Pike… And, it's even more rewarding for the hard work that's gone into walking up there! You'll know you're at the top of Buckden Pike Yorkshire Dales when you see the concrete trig point and stone markings.
The view from the top is simply stunning. On a clear day, you can see for miles over North Yorkshire and the Yorkshire Dales National Park. The distinctive shape of Pen-y-ghent as well as Ingleborough and Whernside are visible in the distance. My sheer exhaustion on climbing one mountain suddenly put the thought of climbing these Yorkshire Three Peaks in one day into perspective!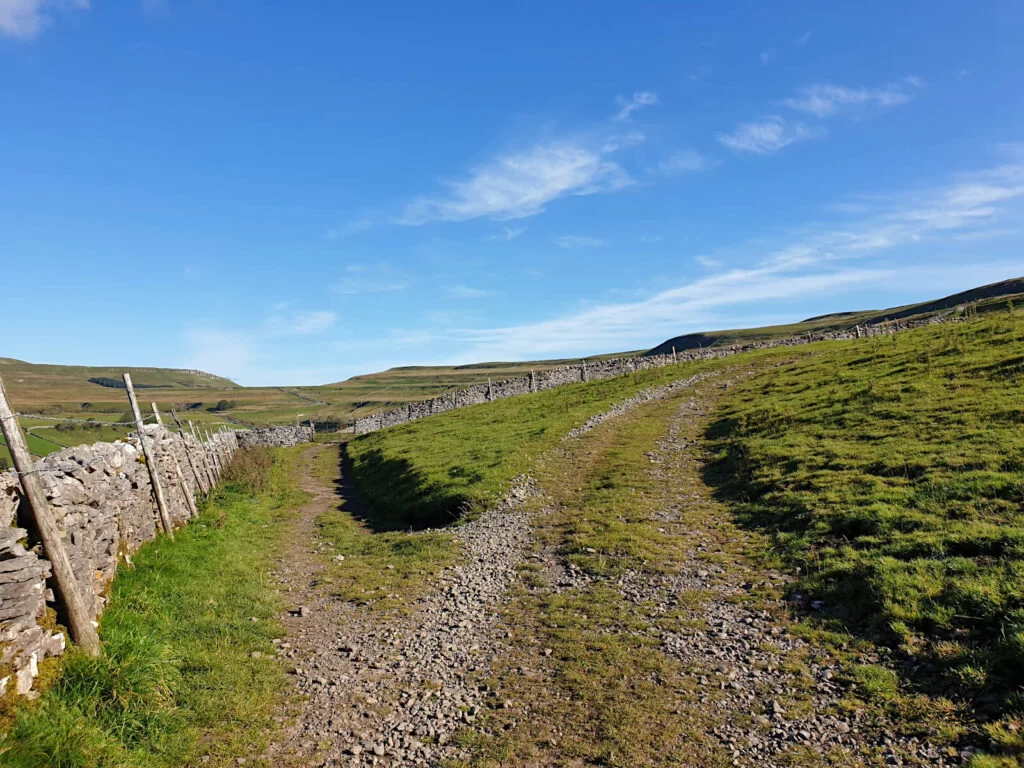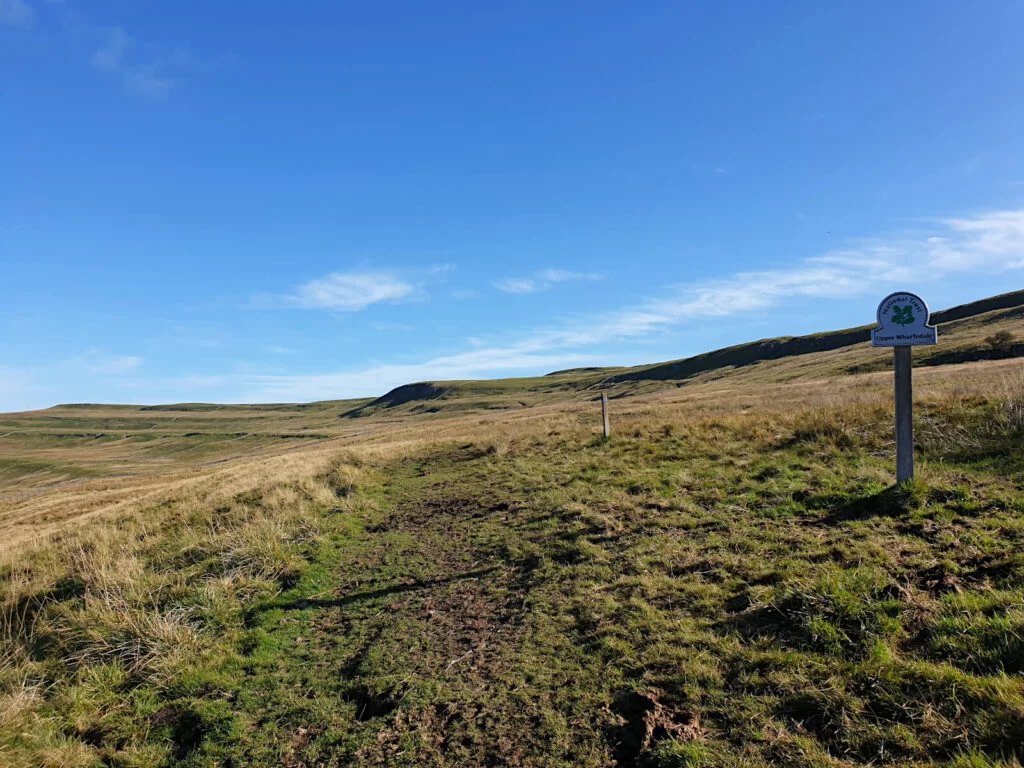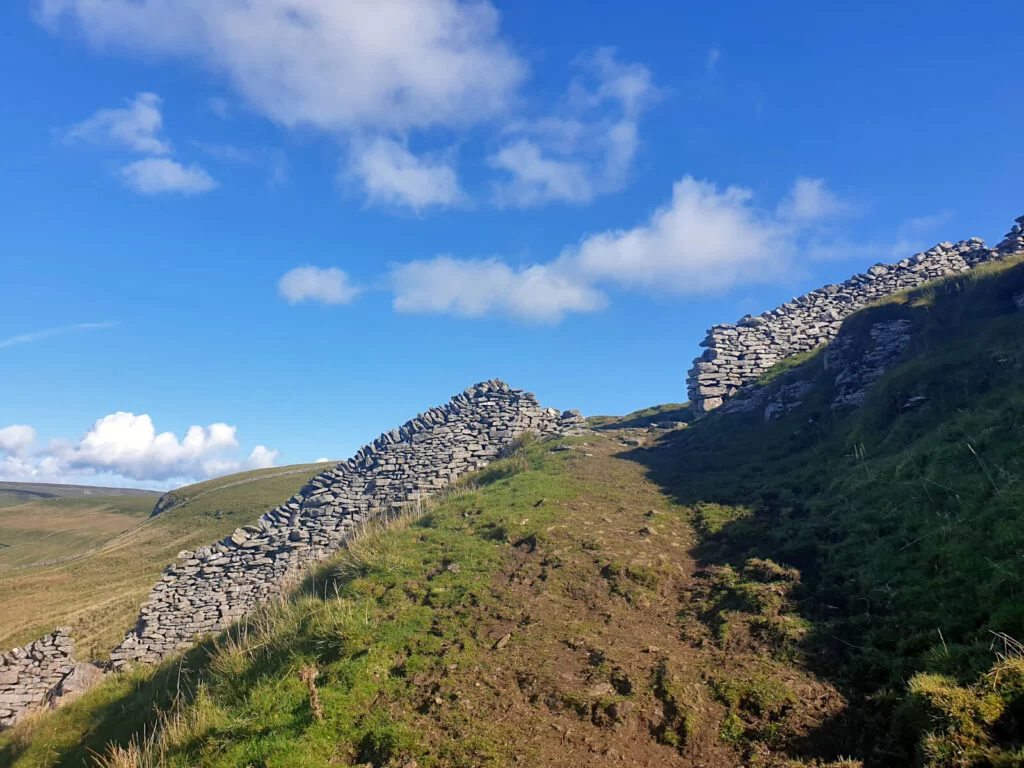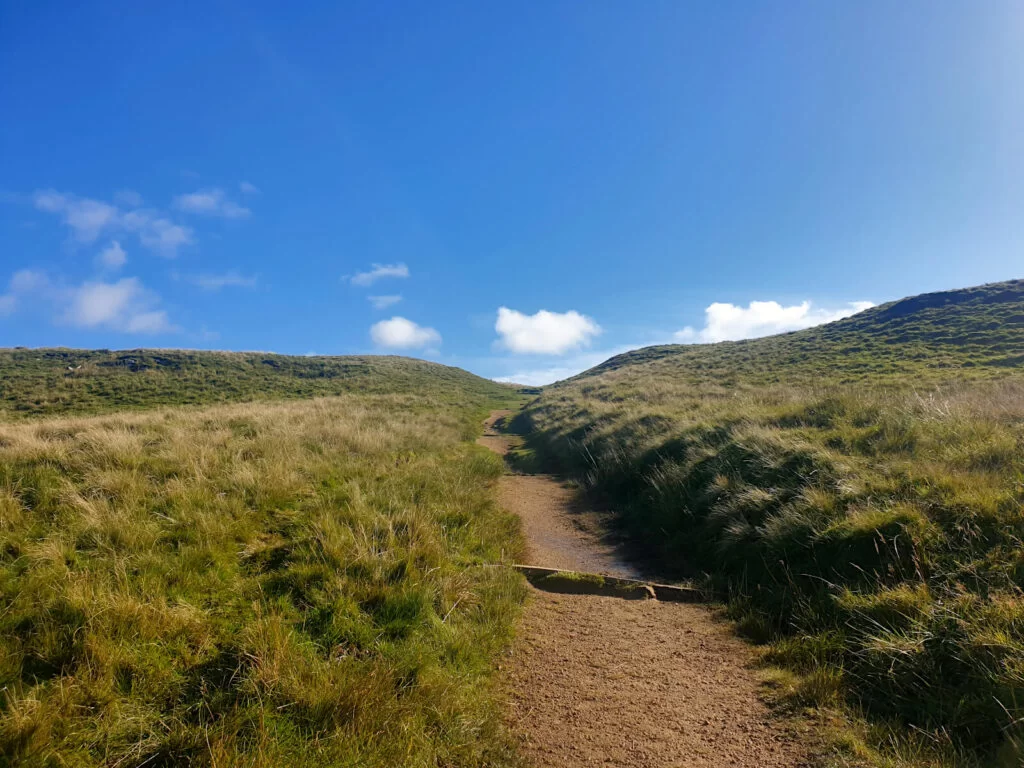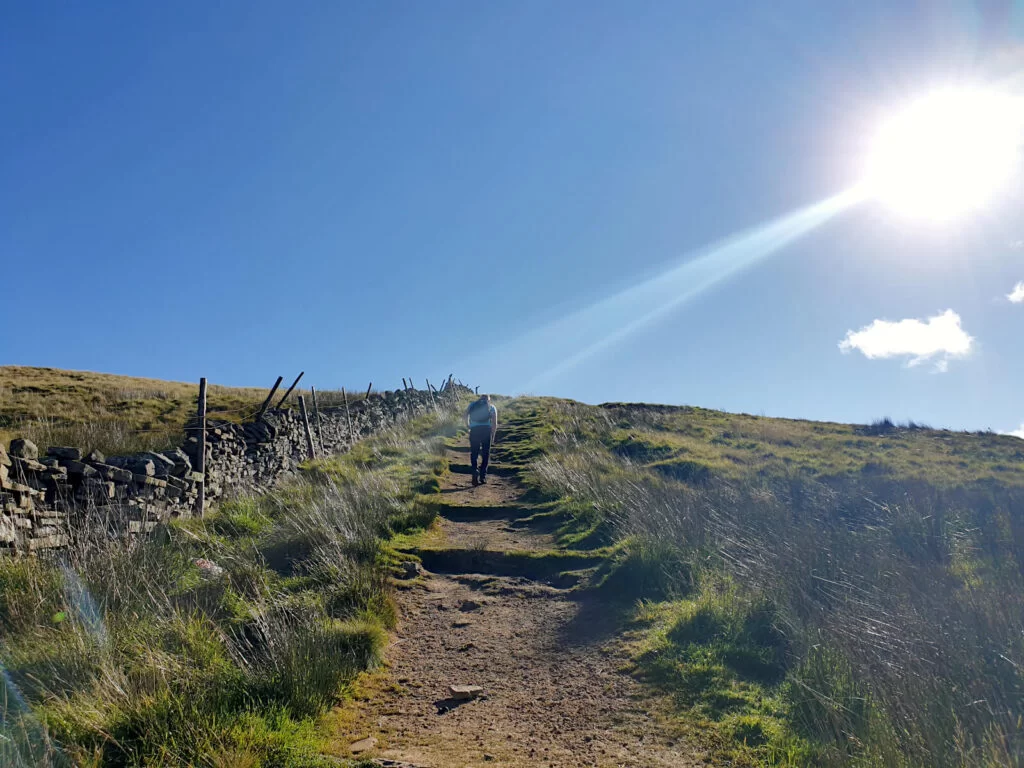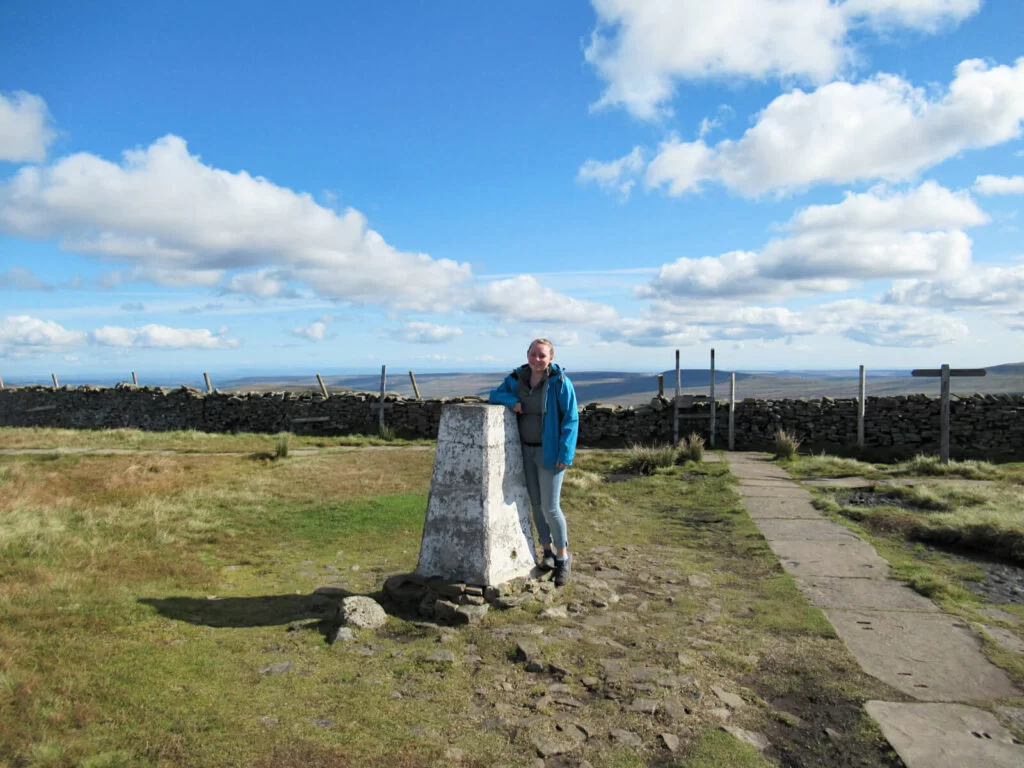 Buckden Pike Walk: Stage 2 (Summit to the Polish Memorial)
The next stage of this Buckden Pike circular walk is to head along the ridge of Buckden Pike to the Polish War Memorial. After the long uphill climb to the summit, this flat section will be a breeze!
The Polish War Memorial is about 750 meters south of the summit. A small but poignant memorial to the 5 Polish soldiers killed when their plane crashed into the hillside mid-snowstorm in 1942.
Miraculously, one other person survived the crash and managed to navigate down off the mountain in heavy snow and with a broken ankle to get to safety.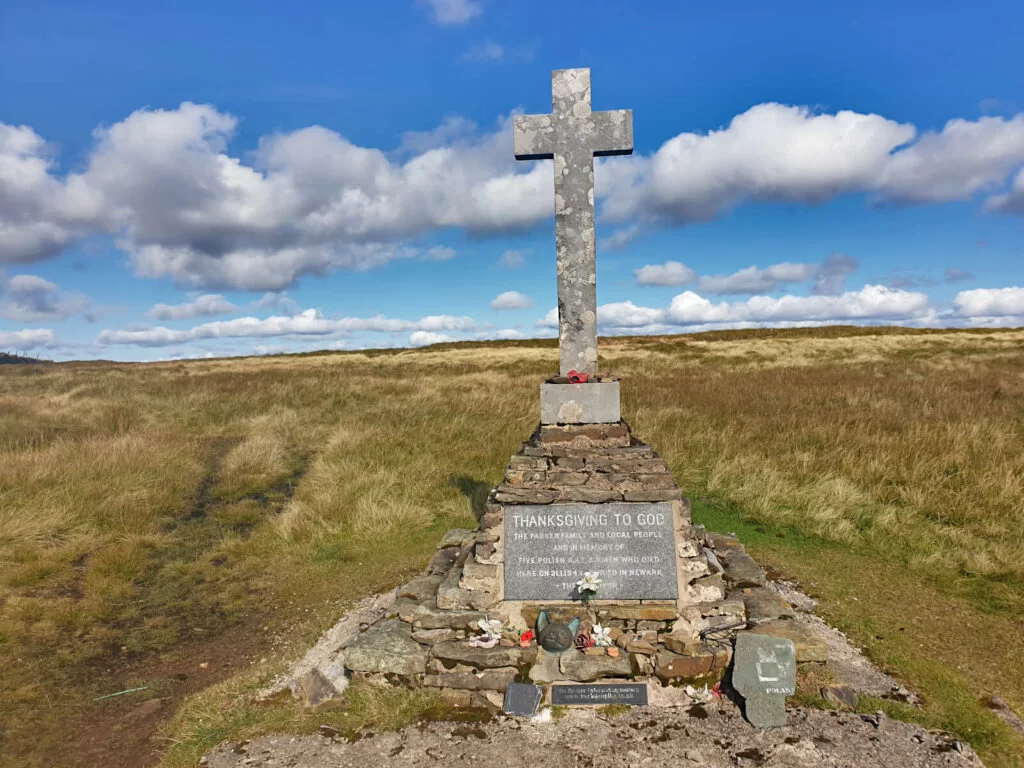 Buckden Pike Walk: Stage 3 (Polish War Memorial to the Car Park)
The path back to Buckden from the Polish War Memorial is much less obvious. Plus, with lots of loose rock from the lead mines it can be quite tricky and requires some concentration.
I was very grateful for the GPX navigation at this stage. Even when I had no phone signal, the app told me where I was and how far off course I was. Which, was a few hundred metres at times so it was reassuring to know I was heading back on track!
Head back on yourself along the ridgeline until you reach the next drystone wall along from the war memorial, that is perpendicular to the path.
Turn left off of the path and walk alongside the dry stone wall for 400 metres. You'll start to see an old lead mine come into view further downhill, start to walk diagonally towards this. From here, you'll have to navigate the downhill terrain and boggy areas, so you'll likely be weaving and zig-zagging.
Once you reach the path, turn left and continue walking downhill. After 1.5 kilometres, the path splits in two – turn right to head back towards Buckden Yorkshire.
The path runs all the way to Buckden Beck at the point where it enters the village. You'll have to cross the shallow water, then turn right onto the road. At this point, you should see the car park just ahead of you.
Time for a well-deserved sit down – or maybe even a drink in the nearby The Buck Inn pub!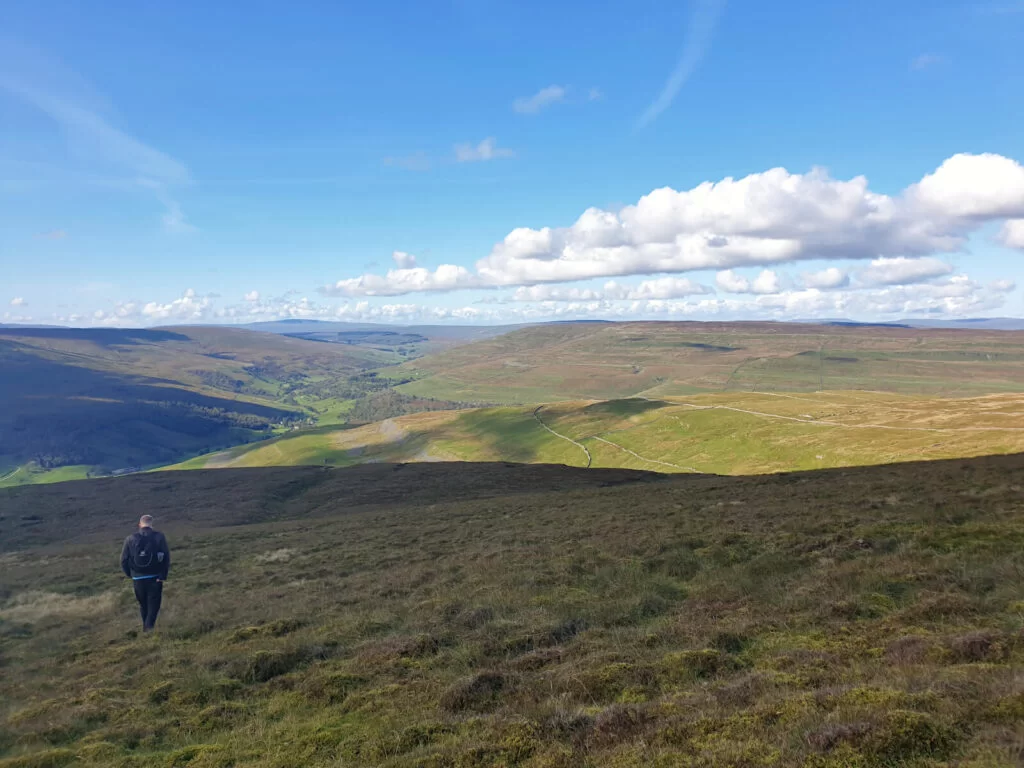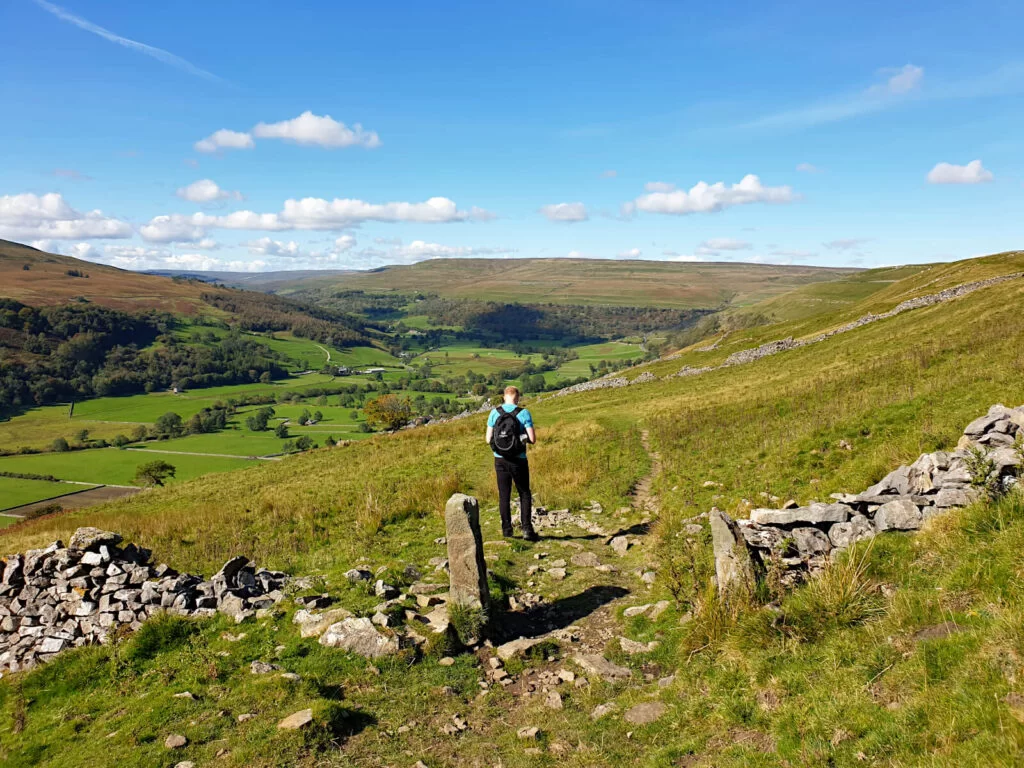 ---
FAQs
Is Buckden Pike a mountain?
Yes, Buckden Pike Yorkshire Dales is classified as a mountain. In the UK, 610 metres/2000 feet is the threshold used to differentiate hills from mountains.
The word pike is old northern English for a hill with a peaked top. Perhaps, the most famous pike is Scafell Pike – England's highest mountain and the jewel of the Lake District.
How high is Buckden Pike?
The summit of Buckden Pike is 702 metres above sea level. In fact, Buckden Pike's height makes it the 7th highest peak in the Yorkshire Dales. Just 34 metres off being the tallest mountain in the national park.
Are there toilets at Buckden Pike?
Yes, a public toilet block is next to Buckden Pike Car Park. These toilets are free to use and are kept in a clean condition.
Is there a shop or pub in Buckden?
A shop and a pub! A small village store (named Buckden Village Stores) is located near the entrance to the car park. Also, The Buck Inn is a pub that serves food at lunchtime (midday to 2.30pm) and dinner time (6 to 8.30pm). It is open all day (midday onwards) and has plenty of outdoor seating for sunny days!
Will I see waterfalls on this Buckden Pike walk?
This Buckden Pike circular walk sadly does not pass any waterfalls!
However, there are waterfalls on Buckden Pike. For instance, one Buckden Pike waterfall walk you could take is to head directly from Buckden village to the summit via Buckden Beck. This more strenuous and scrambling route is steep and boggy. Mud and Routes describe this waterfall route in detail.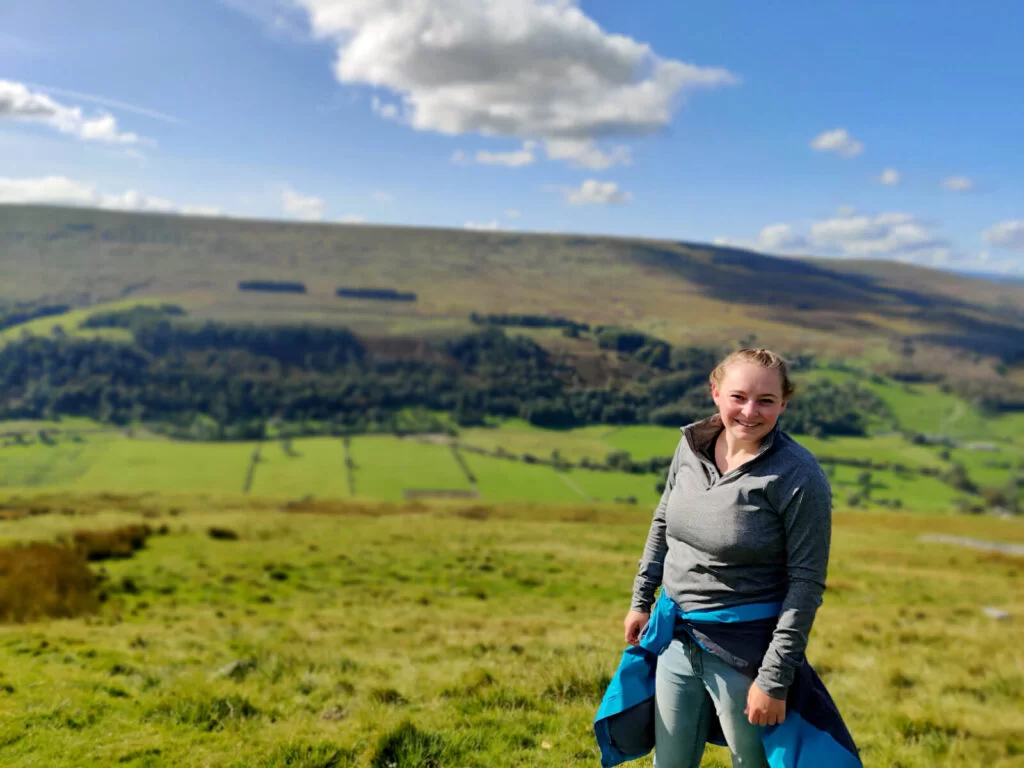 ---
If you have any questions or want any more information drop a comment below and I'll get back to you!
Prices and offerings mentioned are correct as of February 2022 but are subject to change in future.
---
More Walks You Might Be Interested In…
WEST YORKSHIRE: Ilkley Moor Walks (West Yorkshire): 4 Circular Routes
YORKSHIRE DALES: Malham Cove, Yorkshire Dales (Ultimate Visitor's Guide + Info)
YORKSHIRE DALES: Little Known Malham Walk to Malham Cove, Janet's Foss & Gordale Scar
PEAK DISTRICT: 12 Peak District Walks (Routes + Maps)
LAKE DISTRICT: Old Man of Coniston Walk (Lake District): Circular 4-Peak Route
YORKSHIRE DALES: Grimwith Reservoir Walk, Yorkshire Dales (Circular Route)
YORKSHIRE DALES: A Yorkshire Dales Waterfalls Walk (4 Keld Waterfalls)
---
PIN IT FOR LATER!