There are plenty of Mam Tor walks and finding the right one can be difficult. And, that's why I've compiled this to-the-point guide on the only 2 routes you need to know.
First, is the Mam Tor short walk – a straight route that takes you to the top and back, in the quickest route possible. Perfect for those that just want the views.
Second, is a Mam Tor circular walk from Castleton seeing the best spots in less than 6 miles/3 hours. The walking route takes in Castleton, the summit, the Great Ridge and Back Tor – the perfect half-day out!
Both Mam Tor walking routes come with downloadable GPS files so you can track the route on your smartphone without the internet too. Additionally, in the spirit of making this guide as useful as possible, I've also included information on parking, accommodation and travel options. Then, at the end of the post, there's plenty of FAQs to make sure I've covered as much as possible to help you plan your day out!
If Mam Tor isn't on your must-visit list, it will be after reading this post!
Some of the links below are affiliate links, meaning, at no additional cost to you, I may earn a small commission if you click through and make a qualifying purchase.
Where is Mam Tor?
Located at the heart of the Peak District National Park, Mam Tor is a close neighbour to many other spectacular natural attractions. To name but a few, these include Kinder Scout, Bamford Edge, Ladybower Reservoir, Winnats Pass and Win Hill.
The nearest villages to the famous hill are Edale and Castleton – one of the most beautiful towns in the Peak District. Although, it is just a short drive from the nearby larger towns of Chapel-en-le-Frith, Buxton, Glossop, New Mills, as well as being within an hour of Sheffield, Stockport, Stoke-on-Trent and Manchester.
Mam Tor Walks: Straight Route
Distance: 0.7 miles/1.1 kilometres
Elevation Gain: 70 metres
Difficulty: Easy
Walking time: 30 minutes
Start and endpoint: Mam Nick Car Park
At less than one mile, this walk holds the record for the shortest walk time on this website! But, as a strong believer in not gatekeeping travel or the countryside, I think it is important to highlight that this route exists!
Not everyone wants to or is physically capable of long walks over uneven terrain in uncertain weather. So, if you're looking for a Mam Tor short walk – this is the one for you! Although I warn you now, the steps to the top won't be easy…
Car Parking and Start Point
This short Mam Tor walk starts (and ends) at Mam Nick Car Park (GPS coordinates: 53.345530, -1.815729).
The car park is owned by the National Trust and parking is free for members or for those with blue badges. For everyone else, parking costs £3 for the day and the only payment method is Pay by (Smart) Phone – no cash or card payments are accepted on site. The National Trust website advises that if you are unable to pay due to having no signal, they encourage you to make a donation when you get home to their Peak District Appeal.
As with all car parks at beauty spots, spaces can fill up quickly on weekends, bank holidays and during school holidays. If travelling on those days, I'd recommend arriving early or late in the day as parking is particularly limited here.
Alternatively, parking is available on Old Mam Tor Road near Blue John Cavern, but please park responsibly as buses operate along this route.
Mam Tor Short Walk Directions
The path to the summit starts at the back of Mam Nick Car Park. Keep to the path as it runs parallel to the small country road.
You'll soon see the steps to the top on your right-hand side, behind a small fence. Just the small matter of climbing them separates you from the incredible views of the Peak area!
After a well-earned celebratory photo at the trig point summit, there are three key views to enjoy…

First, is over the Hope Valley including Castleton and Hope.
Secondly, looking over the Great Ridge towards Back Tor and Lose Hill – the path along the ridgeline makes for a great photo.
And, the third, is behind you looking back towards Chapel-en-le-Frith, with another scenic ridgeline and the sparse Peak District countryside to the north.

If you want to extend your Mam Tor short walk, you can walk along the Great Ridge to Hollins Cross or Back Tor. Otherwise, simply head back down the steps and retrace your steps back to Mam Nick Car Park.
Mission Accomplished!
Click the link above to download the file for use in a GPS viewer. This way you'll be able to track where you are on the route using your phone's GPS – avoiding accidental detours and providing reassurance for less experienced countryside walkers! Once you've downloaded the GPX file above, install a GPX viewer app (Google PlayStore or iPhone App Store) and load the GPX file.
---
Mam Tor Walks: Circular Route
Distance: 5.6 miles/9.0 kilometres
Elevation Gain: 396 metres
Difficulty: Moderate
Walking time: 3 hours
Start and endpoint: All Day Car Park next to Castleton Garage on Buxton Road, Castleton
This circular route is one of my favourite Peak District walks and my absolute favourite Mam Tor route! You'll be treated to the narrow streets of Castleton, views of the Hope Valley, the summit of Mam Tor, the Great Ridge and Back Tor! All of that in a walking time of less than 3 hours… So, I won't keep you waiting anymore!
Car Parking and Start Point
For this Mam Tor circular walk, the route starts and ends at the car park next to Castleton Garage on Buxton Road (in Castleton). I can't for the life of me find out if this car park has a name, so here's the Google pin, GPS coordinates (53.34273, -1.77908) and Ordnance Survey grid reference (SK 14773 82906)
Parking here costs £4 for 2 to 4 hours or £6 for over 4 hours (up to 10 hours). Payment by card or cash is accepted at the machines. While the car park has a lot of spaces, it can still fill up quickly on bank holiday weekends and on particularly summery days.
Mam Tor Circular Walk Directions
Stage 1: Castleton to Mam Tor
First, head to the back of the car park and turn right after the gate. Follow the road up until it narrows into a small path between a stone wall and some bushes (first picture below).
Keep following the path (look right for the best views!) all the way until it meets the road (Arthurs Way), opposite Speedwell Cavern.
Pass through the small entrance next to the Speedwell Cavern sign and follow the trodden path, heading first towards the gap in the drystone wall. The path is easy to follow and next joins a concrete path leading up to Treak Cliff Cavern.
Next, the path snakes around the back of the cavern (clearly signposted) and continues uphill, slowly turning to the left. Once you pass through the fence, head towards the road and building (Blue John Cavern) on the right-hand side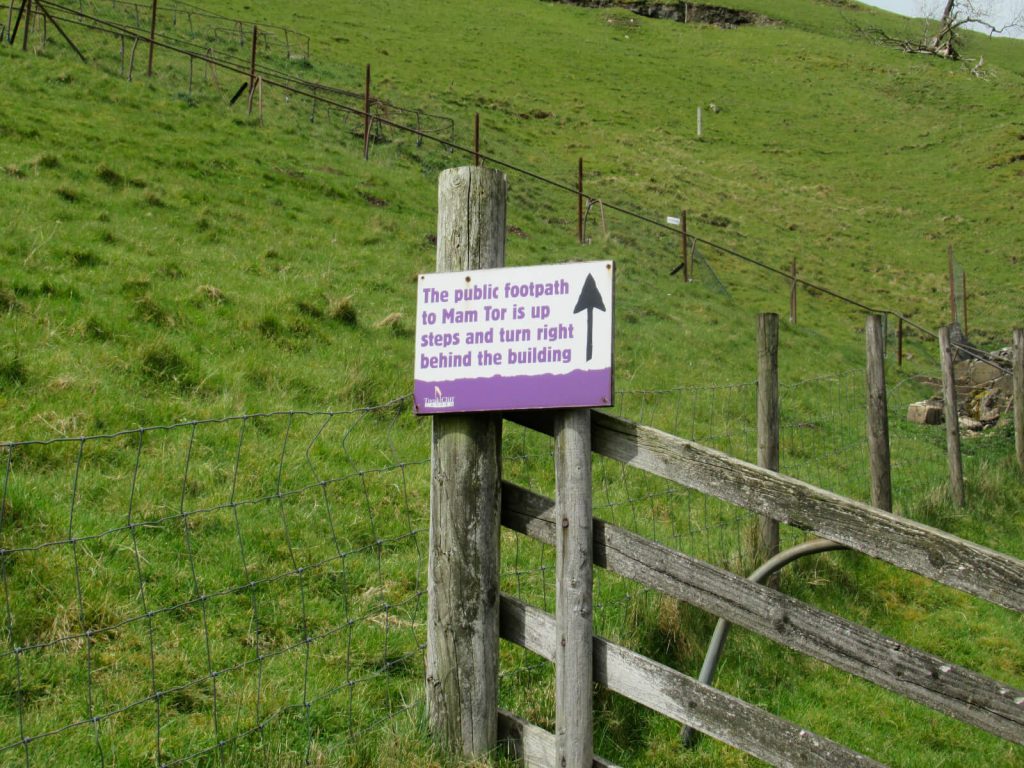 Pass through the gate and join the small road at Blue John Cavern and then turn left onto Old Mam Tor Road. Follow the road round until you see a large wooden fence on the right, enter through this.
Continue to follow the well-trodden path as it climbs uphill. Keep going until the path almost meets the road, turn right and you'll see the steps to the summit in front of you!
The stairs are a slog but even before you're at the top the views are worth it! Don't forget to look back behind too…
A trig point marks the summit and you can breathe a sigh of relief that (most of) the hard uphill walking is complete! Enjoy the views over Castleton and towards Kinder Scout – you've deserved it!
Stage 2: The Great Ridge
From the peak, the Great Ridge is clearly visible along the hilltop – and, this is where you're heading next. Follow the path along and you'll be practically skipping on those downhill stretches feeling light as a feather!
You'll first pass Hollins Cross, marked only by a small stone cylinder in the middle of the path. Keep going as the path starts to climb uphill again and soon you'll be at the base of the stairs to Back Tor.
Unfortunately, these steps are even tougher than the ones to the top of Mam Tor. They're much more rugged and you need to find a good path for you across the rocks. However, the views will make it all worthwhile!
At the top, you'll be treated to unspoiled views of Edale and Kinder Scout in the background. If you're lucky, you may even get to see a train pass through the valley on the Manchester to Sheffield line.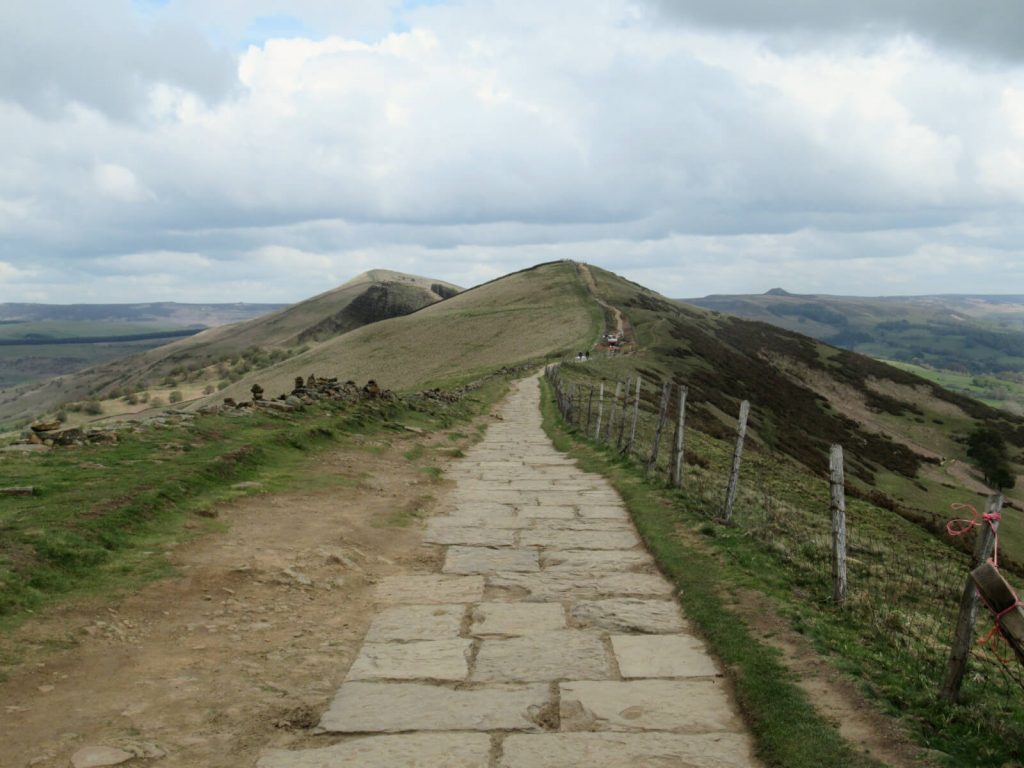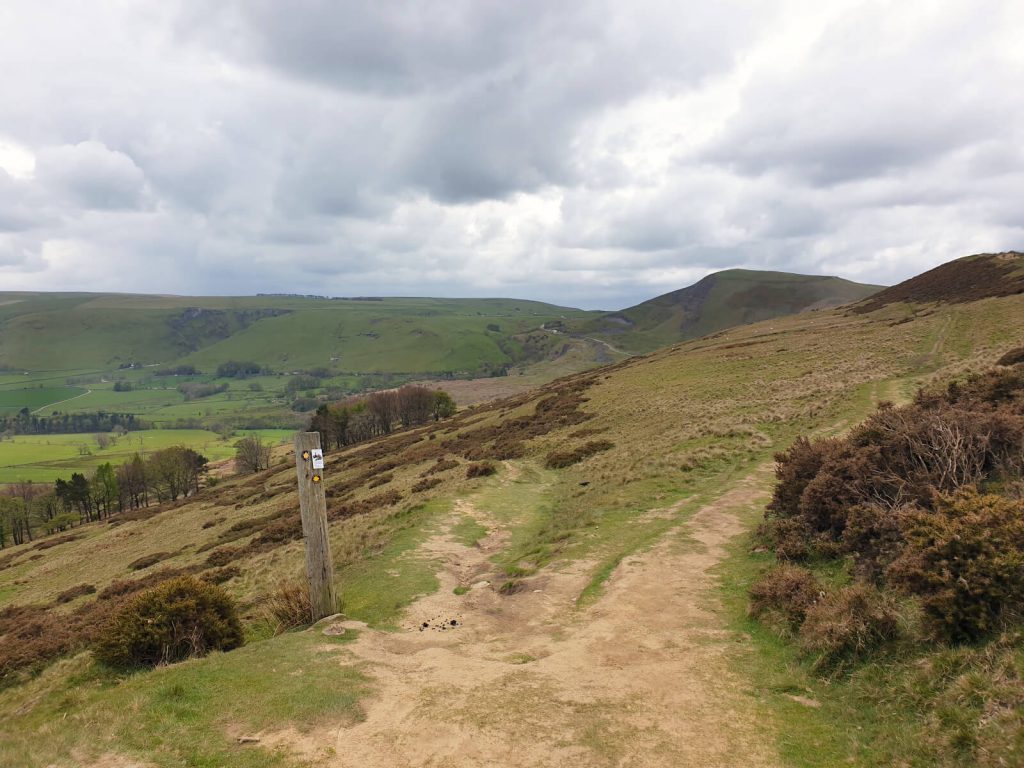 Stage 3: Back Tor to Castleton
Walk back down the steps from Back Tor and in front of you there's a sign with different paths. To the right is Edale, but you want the path to the left towards Castleton. Pass through the small gate continue almost straight (the path bears right slightly first), heading downhill.
Follow the path as it heads diagonally downhill, passing through a small section of trees. Next, the path runs parallel to a drystone wall before shortly converging with the path down from Hollins Cross.
Where these paths meet, head into the narrow pathway between the two grassy embankments. Follow the path all the way until you meet the road. Although, do be warned this path can be very wet (almost a stream) if there has been wet weather recently. In which case, I recommend trying to walk along the embankments rather than the path itself. Although you will need to weave between the trees and bushes.
Finally, keep walking straight along Hollowford Road (that becomes Millbridge and then Back Street) until you are in the centre of Castleton. Turn right onto Cross Street (with Ye Olde Nags Head on the corner). Once you cross the roundabout, you're on the home straight. The car park will be on the left just after Castleton Garage – you've definitely deserved a rest!
Click the link above to download the file for use in a GPS viewer. This way you'll be able to track where you are on the route using your phone's GPS – avoiding accidental detours and providing reassurance for less experienced countryside walkers! Once you've downloaded the GPX file above, install a GPX viewer app (Google PlayStore or iPhone App Store) and load the GPX file.
Getting to Mam Tor (And to the Top)
Mam Tor Car Park
If you want to do the walk from Castleton you'll need to park in either the car park next to Castleton Garage (cash and card accepted, £6 all day) or in Castleton Coach/Car Park (cash only, £7 all day). Both have a lot of spaces but do fill up quickly, particularly on bank holiday weekends and in school holidays (when the weather is nice). Public toilets are available next to Castleton Coach/Car Park.
Alternatively, closer Mam Tor Parking is available at Mam Nick Car Park, approximately half a mile from the summit. This National Trust car park is free for members and blue badge holders, costing £3 (pay by phone only) for all-day parking. There are no facilities at this car park and it is not within easy walking distance of Castleton
Is Mam Tor Car Park Open?
All three car parks listed above (Mam Nick and the two in Castleton) are open 24 hours a day, 365 days a year.
Nearest train station to Mam Tor
The nearest station is Edale, and it is possible to walk from Edale to the summit and Great Ridge. The closest station to Castleton is Hope.
Bus services to Castleton and Mam Tor
Two bus services run through Castleton. Travel time from Hope to Castleton is approximately 10 minutes.
The 272 (Hulleys of Baslow) runs Monday to Saturday from Sheffield to Castleton and from Castleton to Sheffield, via Bamford and Hope. The latest bus timetable is available online but you can also check out the Hulleys' website for the latest information.
Additionally, the H1 bus service (Stagecoach) operates on Saturdays and some bank holidays. The first bus of the day runs from Chesterfield with subsequent buses from Derwent to Blue John Cavern, via Hope and Castleton. Use the Stagecoach timetable tool to download the latest one.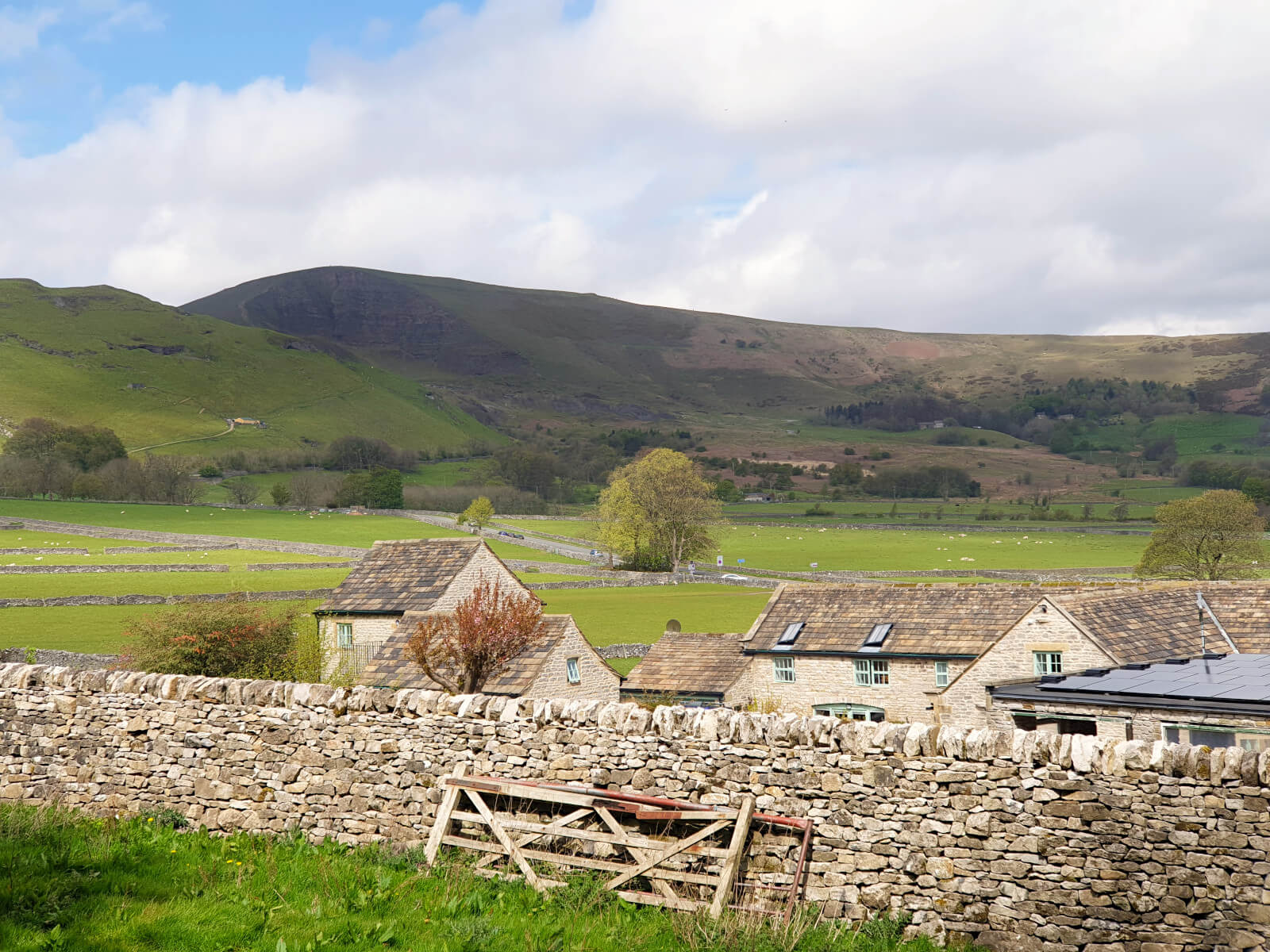 Where to Stay Near Castleton (Mam Tor)
If you're looking to extend your stay in Castleton or use its central location as a base for exploring the Peak District, there are plenty of options. The town is full of guesthouses and bed & breakfasts. Some of the top-rated options include:
The George Inn

(adults only) in the centre of Castleton has a bar and restaurant, with breakfast included for all stays.

Four Seasons Guesthouse

(formerly Four Seasons B&B) is centrally located and the property only has two rooms, offering a quiet and personalised stay

Haddock Hideaway

is also close to the centre of Castleton and has free on-site parking, as well as a hot tub that can be booked for an additional fee!
FAQs
How High is Mam Tor?
517 metres. This makes it the 23rd highest peak in the Peak District National Park.
What does Mam Tor Mean?
The name translates to Mother Hill.
Can you drive up Mam Tor?
No, not to the top. If you don't want to walk at all but still want a view of Mam Tor, the best place for this would be the end of Old Mam Tor Road. Otherwise, the highest point you can park at is Mam Nick Car Park. From there, you can walk the rest of the way to the summit using the Mam Tor short walking route described above.
Can you cycle up Mam Tor?
Yes, it's possible. But, you would need to find a route with a suitable gradient for your level of experience and bike. The routes described in this post both take the steps to the summit of Mam Tor. Additionally, I believe there may be a section of the Great Ridge that prohibits cycling, where you'd have to dismount.
Can you walk up Mam Tor with dogs?
Yes, these Mam Tor walks are both suitable for fit and healthy dogs. Particularly small dogs may need help with some of the larger steps up to Mam Tor and Back Tor. But otherwise, they will love it!
Can you walk up Mam Tor with Toddlers and/or Buggies?
Of the two routes, the straight one may be more suitable for toddlers and young children that are confident walking. The one-way distance of the straight route is approximately half a mile, most of which is up steps. Unfortunately, this means it is less suitable for buggies unless you're willing to fold it down and carry it.
---
Do you have any questions or want any more information? If so, drop a comment below and I'll get back to you!
Information and prices are correct as of July 2021 but are subject to change in future.
---
More Peak District Walks You Might Be Interested In…
SHINING TOR: Straight and Circular Walking Route Guides
CHROME HILL: 3 Routes to the Spectacular Summit Views
THE ROACHES: Walk Route & Full Guide for Panoramic Views
LUD'S CHURCH: Circular Walk Route For An Other-Worldly Experience!
LATHKILL DALE: 6-Mile Waterfall Walk
HARTINGTON: 5.3-Mile Walk in the Peak District Countryside
PADLEY GORGE: 4-Mile Route via Millstone Edge
THREE SHIRES HEAD: 4 Route Options from Gradbach & Wildboarclough
LADYBOWER RESERVOIR: 6-Mile Circular Route including Derwent Dam Viewpoint
---
PIN IT FOR LATER!