Malham Cove is one of the most visited attractions in the Yorkshire Dales. And for good reason, it's stunning, unique and offers sweeping views over the North Yorkshire countryside.
As well as being popular with climbers, many visitors come to the cove on foot to take in the natural beauty and striking landscape. And with the homely pubs and beautiful hotels, there are plenty of places to rest up after your walk.
In this guide, you'll find everything you need to know about Malham Cove Yorkshire Dales before visiting. Including where to park for free, the best hotels, other nearby attractions and how to get here by yourself or on public transport.
Some of the links below are affiliate links, meaning, at no additional cost to you, I may earn a small commission if you click through and make a qualifying purchase.
What is Malham Cove?
The cove is a huge limestone formation created around 12,000 years ago at the end of the last ice age. Measuring 80 metres in height and 300 metres across, the curved cove is an absolute giant of nature and well worth a visit.
From the bottom, the cove looks like a pretty solid limestone rock wall. But, at the top is a vast limestone pavement, made up of many individual blocks that somewhat resemble a giant puzzle. This is also what gives it the lesser-used name of Malham Rocks.
The rain continues to erode the limestone rock and the gaps between the rocks increase slowly over time. These gaps – called grykes – require constant concentration as you walk across the top to not fall down.
Connecting the top and bottom are 400 steps part of the Pennine Way. Although the walk up is slightly challenging, it only takes about 10 minutes. As such, you can easily enjoy views from above and below during your visit. And, trust me, it is well worth climbing up the Malham Cove steps for the panoramic views and unique landscape.
Once upon a time, the cove used to be a waterfall with the water flowing along Malham Beck from Malham Moor. Unfortunately, the Malham Cove waterfall doesn't exist anymore as the stream heads underground and now emerges from the base of the cove. Exceptionally heavy rain can create a temporary waterfall, although this has only happened twice in the last 200 years – most recently in December 2015!
A large cave network exists behind the cove although only 1 mile has been mapped by cavers and cave divers. This largely explains why a waterfall occurring is so rare as the cave holds huge volumes of water and transports it far underground.
Where is Malham Cove?
The cove is located 1 mile north of the village of Malham, which is in the southern part of the Yorkshire Dales National Park. The nearest towns are Grassington, Settle and Skipton.
Plan your visit
Getting there
The easiest way to get to Malham is by car, involving a scenic drive through the national park. Parking is available in Malham near the cove and other attractions.
In terms of public transport, Malham does not have a train station so the only way to get there is by bus. However, you can take the train as far as Skipton and then get the bus to Malham.
The 210 bus runs from Skipton Train Station to Malham on Mondays, Wednesdays and Fridays only. On Tuesday and Thursday, this bus service runs as the number 211. Unfortunately, there is no service over weekends.
The first bus arrives in Malham at 10.30 am and the last one leaves Malham at 1.35 pm. Although, there are only two services per operating day in each direction
The nearest train station is Settle, but there are no onward public transport links from here. Instead, travel by train to Skipton from Leeds, Carlisle, Bradford Forster Square and Morecambe with Northern Rail. Additionally, LNER operates direct trains from London Kings Cross to Skipton via Leeds once a day.
Where do you park for Malham Cove?
It isn't possible to park at Malham Cove. Instead, you'll need to park in the village of Malham and make your way on foot to the cove.
Parking is available at the Yorkshire Dales National Park Car Park behind the National Park Centre in Malham. When that's full there is overflow parking in the field opposite for the same cost.
Alternatively, Watersinks Car Park is conveniently located between Malham Tarn and Cove (but not in Malham village).
Do you have to pay to park at Malham Cove?
Unfortunately, there is no free public parking in Malham. Both the national park and overflow car parks charge £5 for all-day parking.
However, Watersinks Car Park is free and conveniently located between Malham Tarn and Cove. If you park here there is easy on-foot access to the cove from the north.
How far is Malham Cove from Car Park?
The cove is 1 mile from the National Park Centre in Malham, roughly a 20-minute walk. Alternatively, it is 1.4 miles from Watersinks Car Park to the top of the cove, a 30-minute, downhill walk.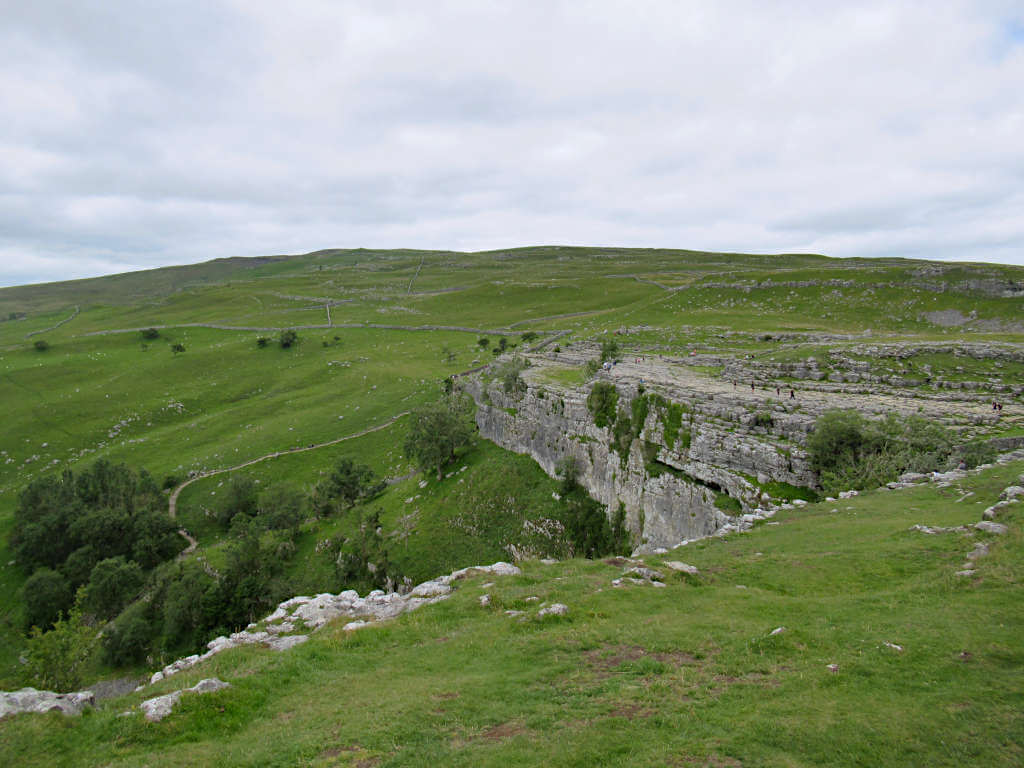 How much does it cost to visit Malham Cove Yorkshire Dales?
Nothing! It's free to visit Malham Cove. Janet's Foss and Gordale Scar are both completely free too.
How long to spend at Malham Cove?
That depends on how much you want to see of it.
Sure, you could arrive at the bottom from Malham or the top from Watersinks and spend 10 minutes taking photos and enjoying the view. But, you can also take the stairs to see both the top and bottom, stop for lunch, walk the full width and easily spend an hour there.
Does Malham Cove have toilets?
No. The nearest public toilets are 1 mile away in Malham village.
Other Nearby Attractions
Janet's Foss is a popular nearby waterfall located near the village of Malham. Tucked away in the trees, the waterfall attracts visitors all year round. And, in the summer, you can certainly expect to see people brave the chilly water for a swim in the pools.
Gordale Scar is another stunning landmark not far from the cove and village. Take a walk into the narrow gorge where you'll find a tall waterfall pouring over the rockface. During dry weather spells, it is possible to climb up next to the waterfall to explore the gorge further.
Malham Tarn is a unique lake to the north of the village and cove. Its alkaline waters are home to all sorts of flora and fauna, making it an important conservation site. This does mean you can't swim here but you can visit the Malham Tarn Estate for great countryside views.
Malham Cove Walks
If you just want to visit the cove, then this is an easy and flat walk from Malham village. The route is 1 mile each way along a well-maintained path. If you want to see the top, you'll need to climb the 400 uneven steps on the left-hand side (as you look at the cove).
Another popular option is to combine a visit to the cove with Janet's Foss and/or Gordale Scar. One option is to walk from Malham to the cove, then back on yourself before heading out east to the two waterfalls. Alternatively, enjoy a circular route, heading cross country from the top of the cove to Janet's Foss and Gordale Scar. Return via Gordale Lane back to Malham.
For a longer walk to the three attractions and with free parking at Watersinks Car Park, there is a 7.3-mile circular route taking around 4 hours. You'll find the route map, directions and more in this detailed guide to this Malham circular walk.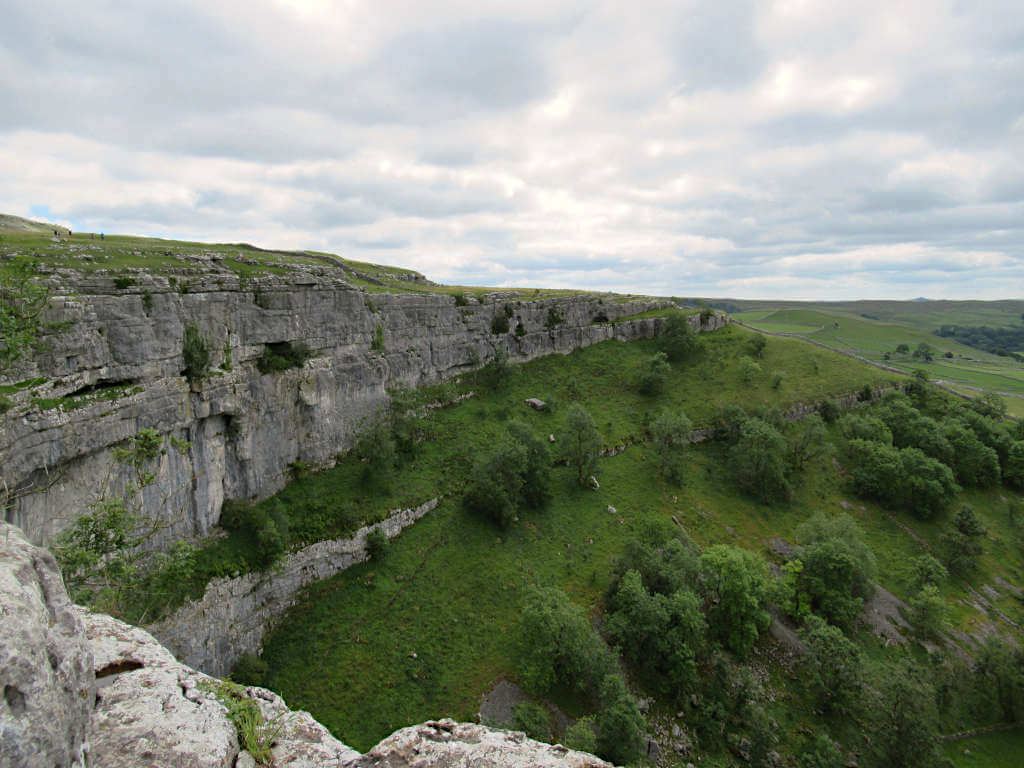 Malham Pubs
Take your pick from the two pubs in Malham: The Lister Arms and The Buck Inn. Both also serve food throughout the week.
Hotels, Holiday Homes and campsites in Malham
Despite being a small village in a rural part of the national park, Malham has a lot of accommodation options. That said, the village doesn't have any shops so make sure you bring your own necessities and food, snacks, drinks etc or be prepared to eat out every meal.
Hotels
Complete with a restaurant, bar and terrace, Beck Hall has rooms for up to 2 adults and 1 child. It's perfectly located to explore the best natural attractions around Malham and those further afield. Additionally, there is the River House B&B, which has double rooms for up to 2 people in the very centre of Malham.
The two Malham pubs also both offer accommodation. Both The Buck Malham and The Lister Arms have a range of double and twin rooms sleeping up to 2 adults. Both include hearty breakfasts with the added benefit of the pub and pub food available onsite for the rest of the day.
For more budget accommodation or larger groups, the YHA Malham Hostel has a variety of dorms, private rooms and pods. Children can stay in private rooms when accompanied, with dorms sleeping up to 6 people. The hostel also boasts a self-catering kitchen and laundry facilities.
Holiday Homes
For couples, there is a small selection of holiday homes and apartments that sleep 2 in a double room. The Hayloft at Tennant Barn includes free private parking, a kitchen and a living area in the centre of Malham. Similarly, Cove View Cottage sleeps 2 with a kitchen-living room, garden and private parking area.
For families or small groups, both Tennant Cottage and Limecroft sleep 4 people in 2 double bedrooms. Both also have a kitchen, living area and free parking.
Town Head Farm is best for larger groups. This holiday home sleeps 8 people in 2 double rooms and 2 twin rooms. The property also has a kitchen, washing machine and 2 bathrooms, as well as a garden and private parking.
Malham Campsites
Unfortunately, it's not permitted to camp on Malham Cove Yorkshire Dales. Unfortunately, no one told Hermione and Harry this when they camped here while hunting Horcruxes in the Harry Potter and the Deathly Hallows film! Rather, you'll need to make use of one of the surrounding sites.
Gordale Scar Campsite is slightly out of Malham but is well-located to explore Gordale Scar and Janet's Foss. Additionally, you can take an alternative route to the cove avoiding the most popular trail.
In Malham, Riverside Campsite Malham is the closest to the cove at the top of the village. While Malham Glamping Pods and Miresfield Farm are both a short distance along the main road in the centre of the village.
Is Malham Worth Visiting?
Absolutely! There's a reason Malham attracts so many visitors and that is its stunning natural attractions, beautiful walking trails and quintessentially British pubs. Whether you stay for a few hours or a couple of days, you'll be sure to love it.
---
If you have any questions or want any more information drop a comment below and I'll get back to you!
Prices and offerings mentioned are correct as of October 2022 but are subject to change in future.
---
More Yorkshire Walks…
MALHAM: Little Known Malham Walk to Malham Cove, Janet's Foss & Gordale Scar
BUCKDEN PIKE: Circular 5.5-Mile Route in the Yorkshire Dales
GRIMWITH RESERVOIR: Circular Walk Route
KELD: A Yorkshire Dales 4 Waterfalls Walk
ILKLEY MOOR: 4 Circular Walk Routes
---
PIN IT FOR LATER!