If you're after an alternative to the popular North Coast 500 and new Heart 200, look no further. Here is my slower-paced, 7-day Scotland road trip itinerary, which will allow you to see a new place every day without spending hours driving each day. My trip was planned to experience Hogmanay (new year) in the highlands but can be adjusted to any time of year and destination within Scotland. Complete with practical advice, the best free parking spots and free activities, be ready to save these places to your maps app!
Some of the links below are affiliate links, meaning, at no additional cost to you, I may earn a small commission if you click through and make a qualifying purchase.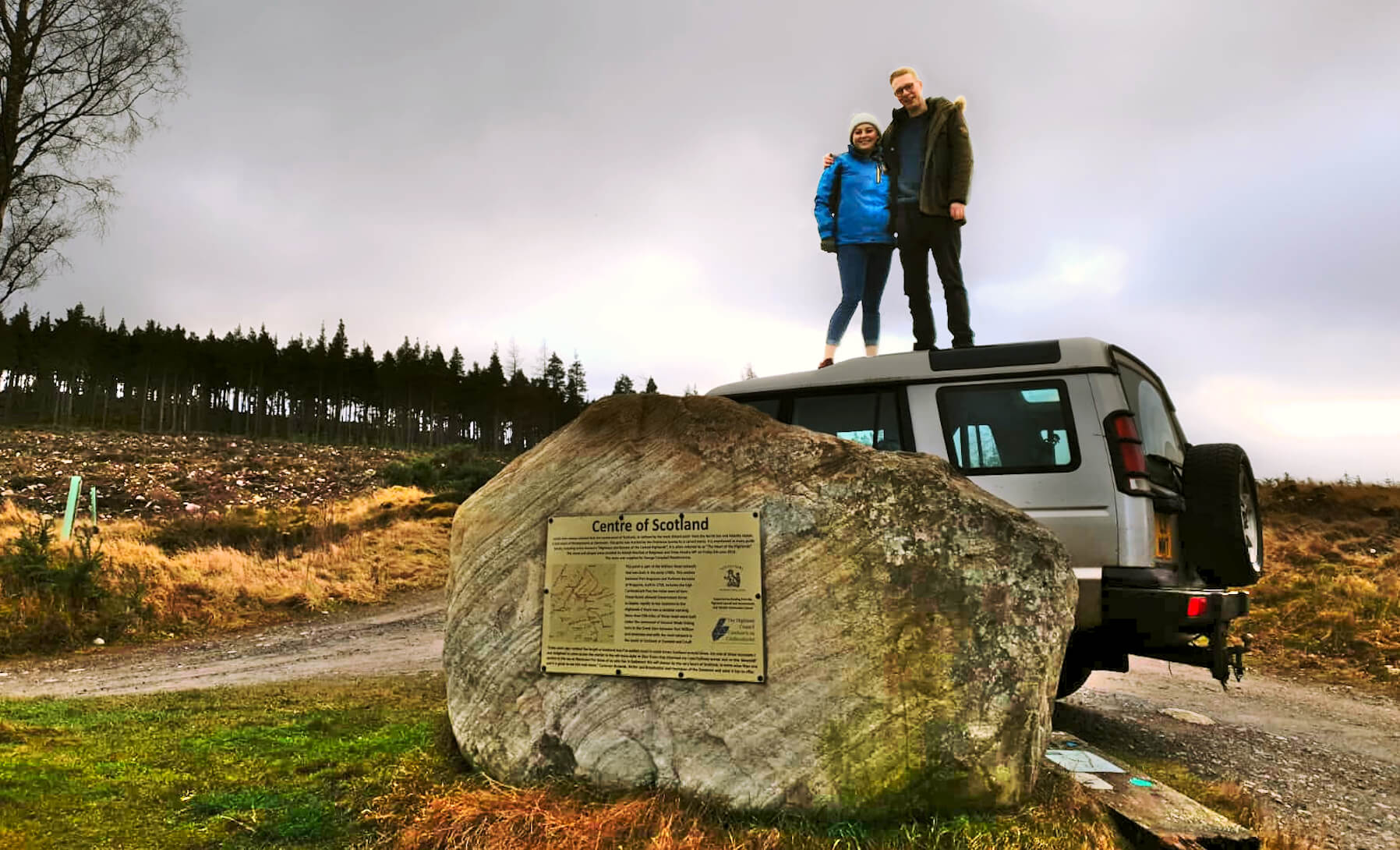 Snapshot of the Road Trip
We had planned to spend 3 nights for Hogmanay/new years in Grantown-on-Spey, located in the Cairngorms, with friends. But, to fill that awkward time between Christmas and New Year, I decided to make a week of it!
In total, this was a 1057-mile, 7-day Scotland road trip from my home in Leeds to Falkirk, Stirling, Dunblane, Grantown-on-Spey, Fort William, and Loch Lomond.
I chose the stops based on places that I could fully experience in the time I had. For example, I didn't go to Edinburgh as I wanted to have a couple of full days to truly get a feel for the city.
I left on the 28th of December and returned on the 3rd of January. I love travelling at this time of year as places are not so busy. Plus, I already had the time off work and didn't want to just sit at home eating Christmas chocolate!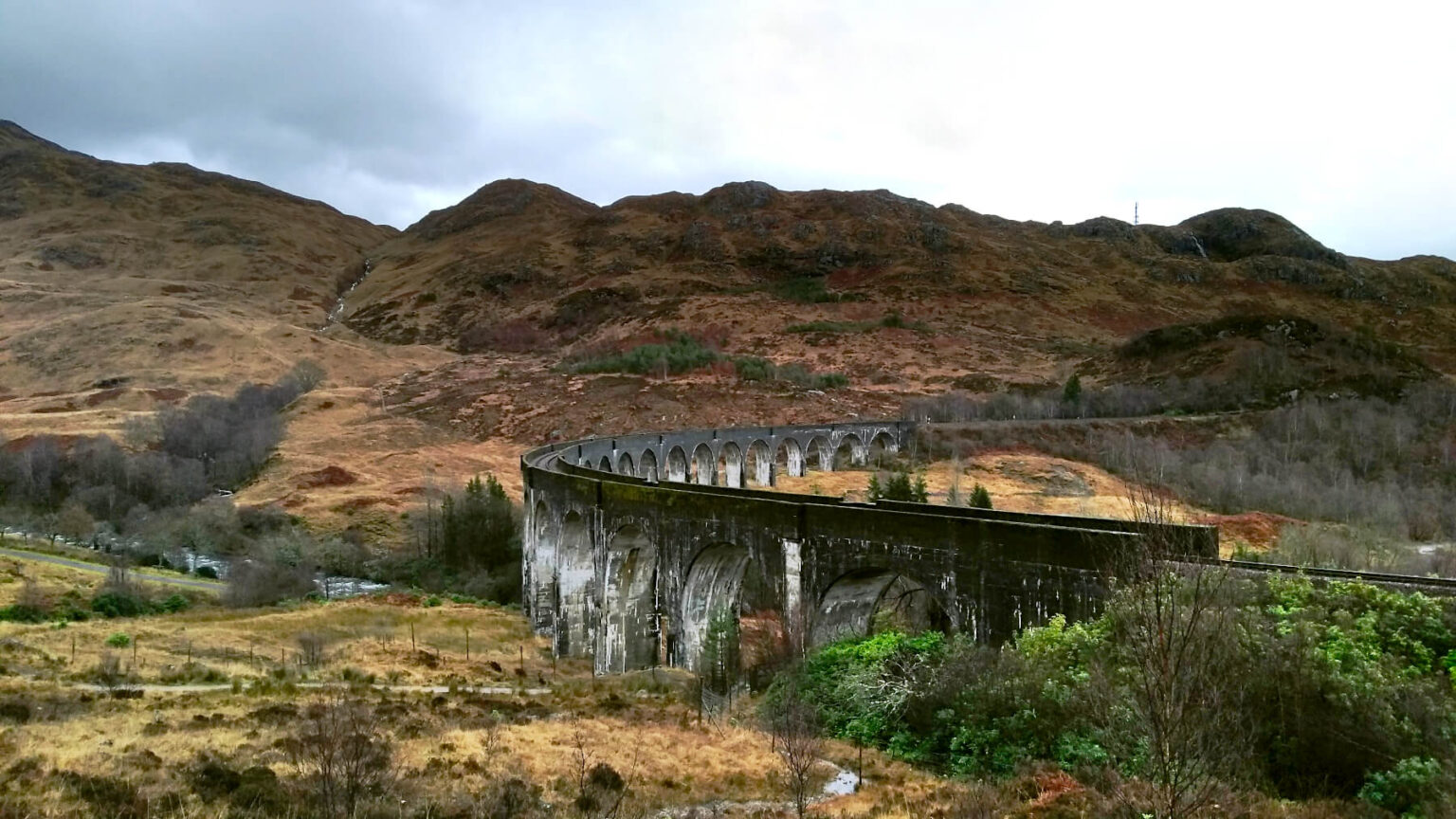 7-Day Scotland Road Trip Itinerary
---
Day 1: England to Falkirk
Where I stayed: Airbnb in Tillicoultry (2 nights)
Miles driven: 257
– – – – – – –
Bright-eyed and bushy-tailed, with a 7 am alarm just three days after Christmas, the first leg was to drive to Falkirk. Driving across the Yorkshire Dales and up the M6 offered lovely viewings as daylight broke little after 8am at that time of year. This was it, the start of the 7-day Scotland road trip!
Falkirk Wheel
The first stop was the Falkirk Wheel. I parked in the free car park on Millenium Wheel Drive. From here you follow the path and signs for a couple of minutes – walk over the railway lines, over the canal and you're at the wheel. There is a closer car park but this costs £3.50.
During the summer months, the area around the wheel is a hive of activity, with paddleboards, water zorbing and bumper boats. However, during the winter it's a lot quieter (but totally still worth a trip).
The Falkirk Wheel is unique in that it lowers boats from the raised canal to the level of the lake. But this is also no ordinary lock that drains water to lower boats. No, this magnificent feat of engineering rotates to bring boats down. It's the world's first (and only) rotating boat lock!
Boat trips along the canal run all year round if you want to take a trip on the wheel. Prices start at £9.95 for adults for a 35-minute journey. I opted to watch the wheel from dry land to truly appreciate it's splendour!
Be warned, that the rotation is actually very slow and boat trips are spontaneous particularly in the winter months. But if you're happy to wait around you're most likely catch it sooner or later.
There is also a visitor centre, cafe and gift shop, which is open 10 am to 4 pm, seven days a week.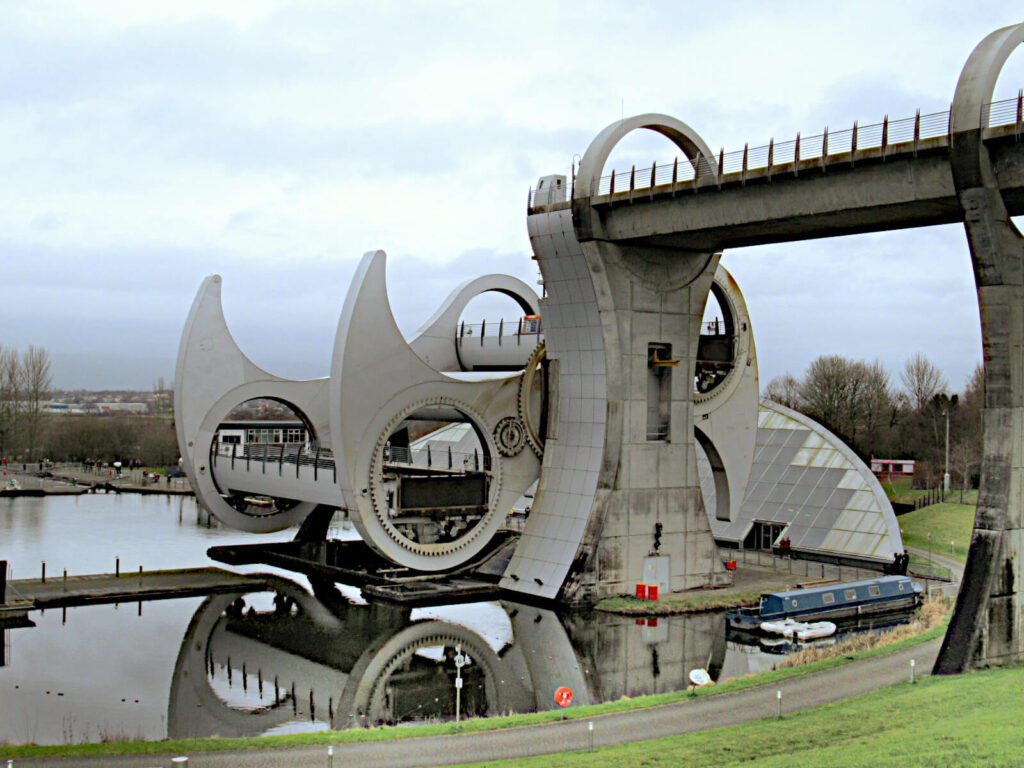 Rough Castle
Right next to the Falkirk Wheel is Rough Castle, the remains of a Roman Fort. There's not a huge amount of remains to see, but it's a nice walk nonetheless.
From behind the visitor centre, take the path up and under the canal. As the path forks, keep left and then take the next right turn. Follow the path, keeping right, until you reach some signs telling you that you've reached Rough Castle.
You'll have to walk back on yourself, back along the path, to get back to the Wheel and car park.
The Kelpies
It's just a short 15-minute, 5-mile drive from the Falkirk Wheel to The Kelpies. As you enter off the roundabout the first car park you see on the left-hand side is free. Although the car park further up the road is closer to The Kelpies, it's pay-to-park (£3).
At 30 metres high, and weighing 300 tonnes each, you can't miss The Kelpies as you walk through the Helix Park. They are positioned next to the Forth and Clyde canal, which you can walk alongside. Designed as a nod to Scotland's industrial, horse-powered past, you can walk freely around both horse heads.
As well as being spectacular to look at, you can also take a guided tour inside The Kelpies. While tours run all year round, those in the winter months are shorter and cheaper.
Next to The Kelpies is a visitor centre with a gift shop and cafe. Plus there's plenty of benches if you wanted to bring your own lunch or snacks and eat with a view.
Additionally, the park that The Kelpies are in has a large green area, a small lake, and play areas for children. So there's fun for the whole family!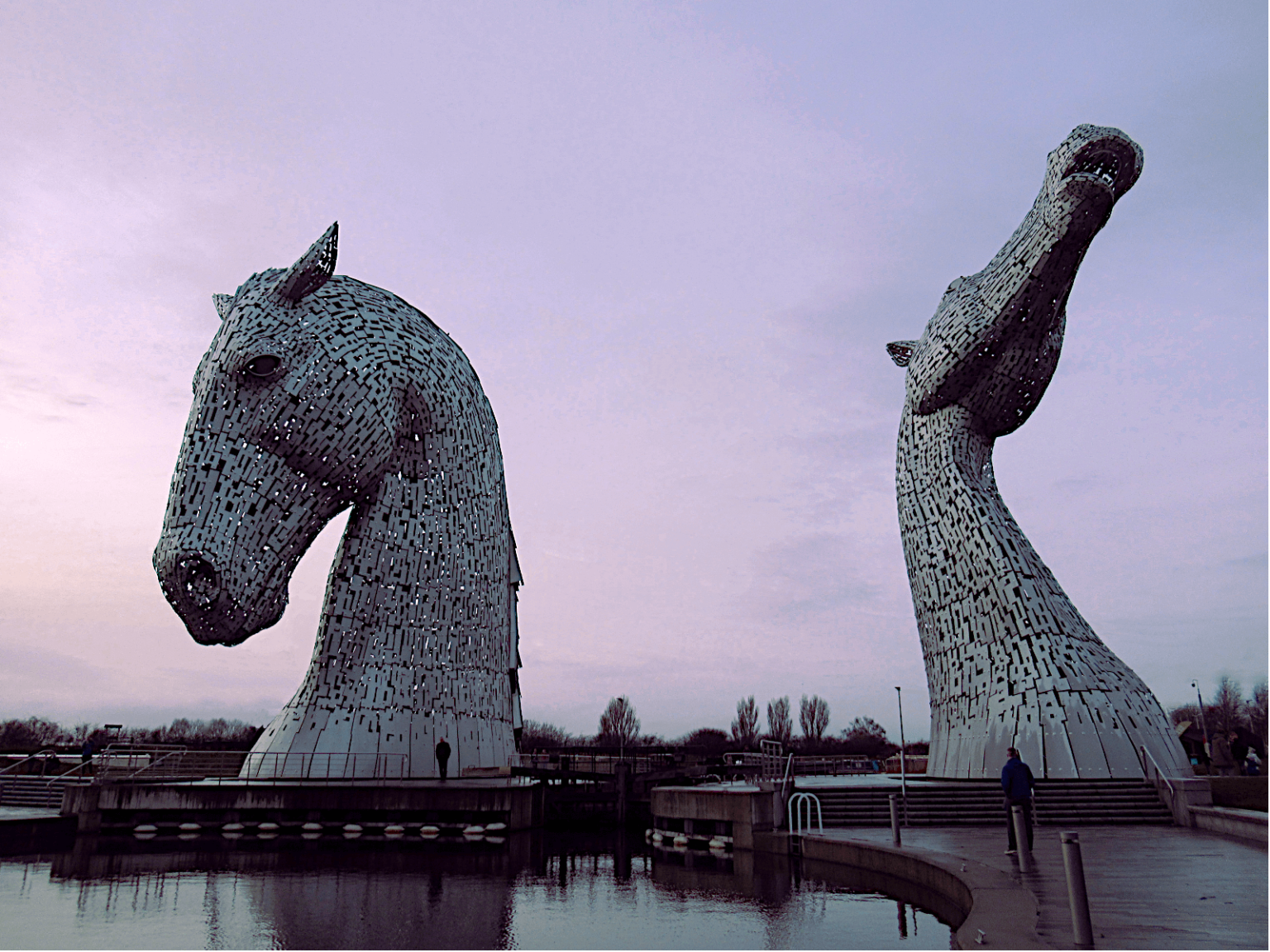 It was a short 30-minute drive to the next and final stop: the Airbnb for a long lay down! Located in Tillicoultry it's the perfect middle-ground for exploring Stirling and Falkirk. And it's a good distance into Scotland to push onto the Highlands.
If you do stay in Tillicoultry, I'd highly recommend Fabio's takeaway. I had the most amazing fish and chip shops chips! You won't be disappointed!
What Did I Miss?
There's a lot to see around Falkirk. But due to the long drive up from Leeds, I only had half a day to sightsee. Callendar House and Gardens is a great option, with indoor and outdoor options for all weathers. Also nearby is Linlithgow Palace, the remains of a 15th and 16th royal residence. Alternatively, you could visit the town of Culross, most famous for being the set of Outlander.
---
Day 2: Stirling & Dunblane
Where I stayed: Airbnb in Tillicoultry (2 nights)
Miles driven: 56
– – – – – – –
In December in Scotland, the Sun doesn't rise until about 8.30am. So there's no need for 3am alarms to catch the sunrise. However, the Sun also sets before 4pm, so you need to be up and out for daybreak to have time for sightseeing!
Promptly out the door at 8.30 for the short, 20-minute drive to Stirling, I was ready for a day of adventures! As it was a Sunday, parking was free in the car park on Forthside Way (FK8 1QZ) – it's near the Nando's and Vue Cinema.
The Beheading Stone
Using Google Maps I set off walking through the town in the direction of the Beheading Stone. It was roughly 20 minutes from the car park, and was very quiet at 9 am on a Sunday.
The Beheading Stone is placed at the top of a hill, offering 360-degree views over Stirling and beyond. The stone itself is safely out of reach behind the metal bars in the photo below. So thankfully it seems there haven't been any executions recently!
There are a couple of benches around the stone – perfect for eating breakfast or just admiring the view whilst the Sun fully rises.
Stirling Castle and The Old Town Cemetery
From the Beheading Stone, it's just a 15-minute walk to Stirling Castle. Though the Castle dates back to at least the 1100s, many of the buildings still there today are from the 1500s and 1600s.
The castle is made up of many different rooms and parts. Admission tickets are £14 for adults and the castle opens at 9.30 am every day.
As someone who is not really interested in history, I decided to skip this. Without a ticket, you can still visit the Castle's cafe and gift shop, and some of the gardens.
Another great view of the castle is in the old cemetery just across the car park. While the monuments are dated, they are magnificent nonetheless. In particular, there is a large stone pyramid (the Star Pyramid) and a 15th-century church (Holy Rude). Both are worth seeing and don't attract large crowds. Plus, there is a small mound between the two. From which you can have a great vantage point overlooking Stirling Castle and the surrounding countryside.
The Wallace Monument
A short pit stop at a pub followed, it was 12 o'clock somewhere right?! Then the next stop was the Wallace Monument, which is less than a 10-minute drive from town centre car parks. Parking at the Wallace Monument is free.
The visitor centre is located at the bottom of the hill. Here, you'll need to buy your tickets (£10.75 per adult) to go inside the Wallace Monument. However, just walking up the hill and admiring the view doesn't require a ticket.
The first task is to reach the monument itself – just a 10-minute walk up a VERY steep hill! It's scenic enough with plenty of trees and greenery, but very steep! Alternatively, there is a free shuttle minibus from the car park to the foot of the monument.
Once you've climbed the hill, there are just another 246 spiral steps up to the top of the monument! But don't worry, as the ascent is broken up by the museum that is spread over several floors. Here you'll learn about Scottish history and William Wallace himself.
But once you're at the top, all the steps will be forgotten! And you'll be rewarded with 360 views of Stirling and it's surrounding areas. As you won't be rushing back down the stairs, you can spend plenty of time looking out and taking photos!
The lookout at the top is more than large enough on a quiet day. But I imagine it could become quite difficult to move around or take good photos if it was busy. However, at about midday on a Sunday in December, I had the whole lookout to myself.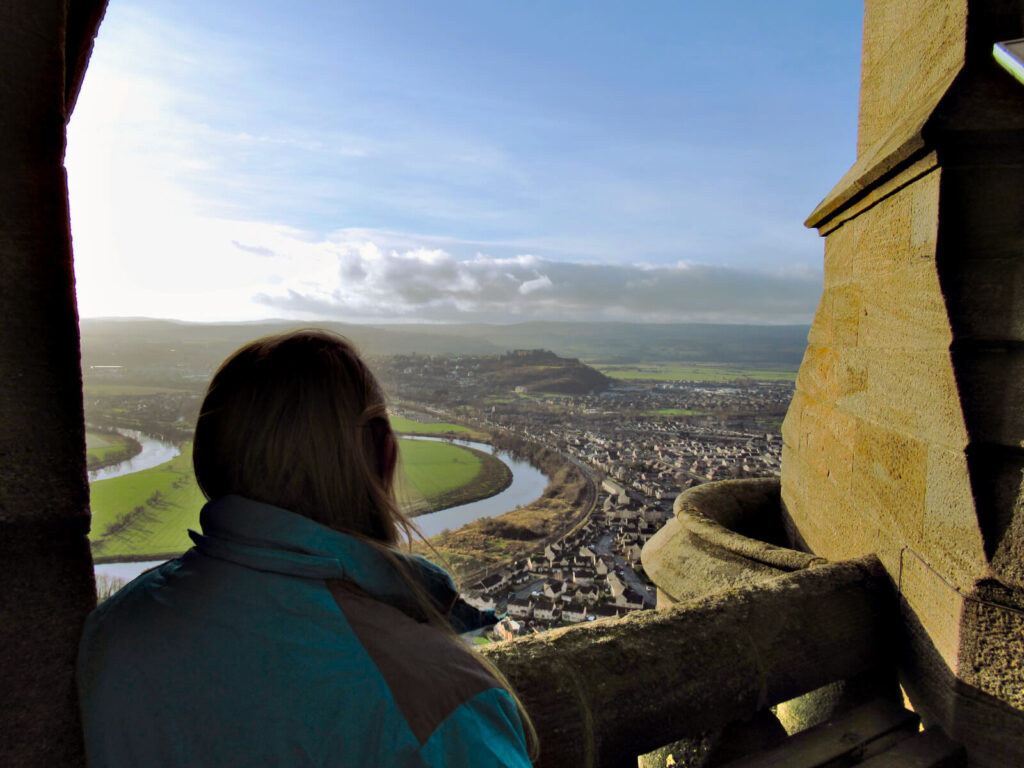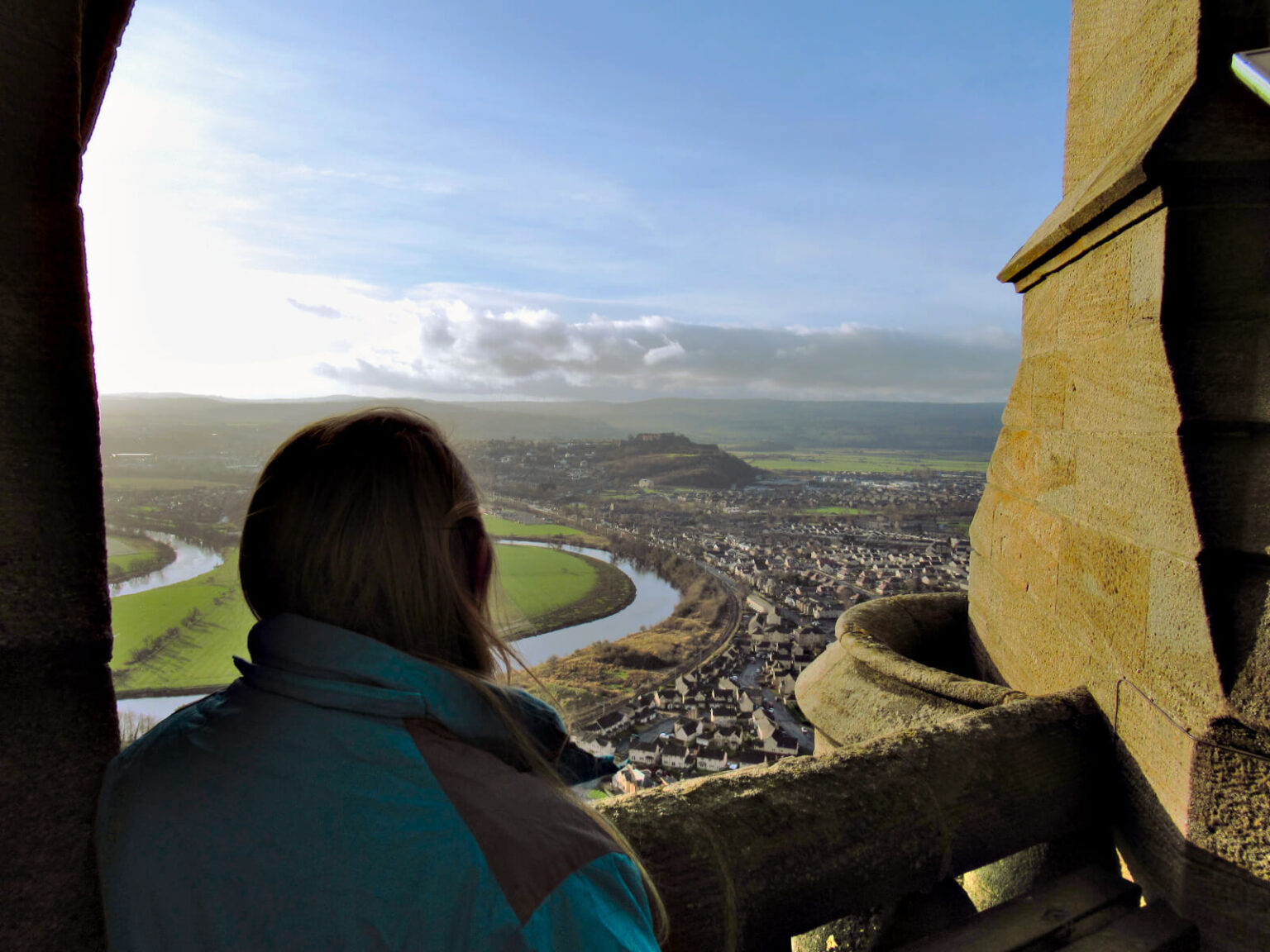 Dunblane
Since my days are equally about how much adventure I can have and when I'll be eating, the next stop was a restaurant in Dunblane for lunch. The Riverside had great vegetarian options, was reasonably priced and was cosy for a brisk December day.
Dunblane is famous for the polar opposites of the Dunblane school shooting and the Murray brothers. However, it's a small town with a lot going for it. And it's just 10 minutes drive from Stirling, so perfect for a road trip to tick off some famous landmarks.
The golden postbox and the golden telephone box… Plus the Cathedral, it's lovely!
The golden postbox and telephone box were painted after the 2012 Olympics to honour Andy Murray's gold medal. While there are gold postboxes for every Team GB 2012 Olympic gold medallist, gold telephone boxes are rare! After all, I only know of three others, in Hull, Barnsley and Eton.
Both the Cathedral and the golden postbox are within a stone's throw of each other. Plus both are listed on Google Maps so are easy to find. In fact, Dunblane high street is also very picturesque. However, being there on a Sunday meant that all the shops were closed. But if you're here during the week or on a Saturday there will be lots of quaint shops to see.
On the other hand, the golden telephone box is almost one of Dunblane's best-kept secrets. It's not listed on Google Maps and even a google search may leave you confused as to its location.
But rest assured, I am here to let you in on these secrets. Secret 1: there is actually no telephone inside. And secret 2: it's on the corner of Old Doune Road and Springfield Terrace – just north of the Tesco.
Bracklinn Falls, Callendar
The final stop of the day was to visit Bracklinn Falls, which is just 20 minutes outside of Dunblane. As the trail starts at the Bracklinn Falls Car Park it's the perfect place to park, and it's free.
The trail starts from the back of the car park and is about half a mile each way. Alternatively, there is the option to make this a longer, 3.5-mile walk. For this, head out of the car park up the hill for about 1.5 miles. Then before the gates across the road, take the path on the right. Once you've crossed over the bridge, follow the path round to the right. At this point, keep heading in the same direction for roughly another mile, until you reach the Bracklinn Falls Bridge. From here, you can join the path back to the car park.
After seeing the falls, the sun was almost set, and it was time to head back to the Airbnb. Day 2 adventures complete, 20k steps done, ready for bed!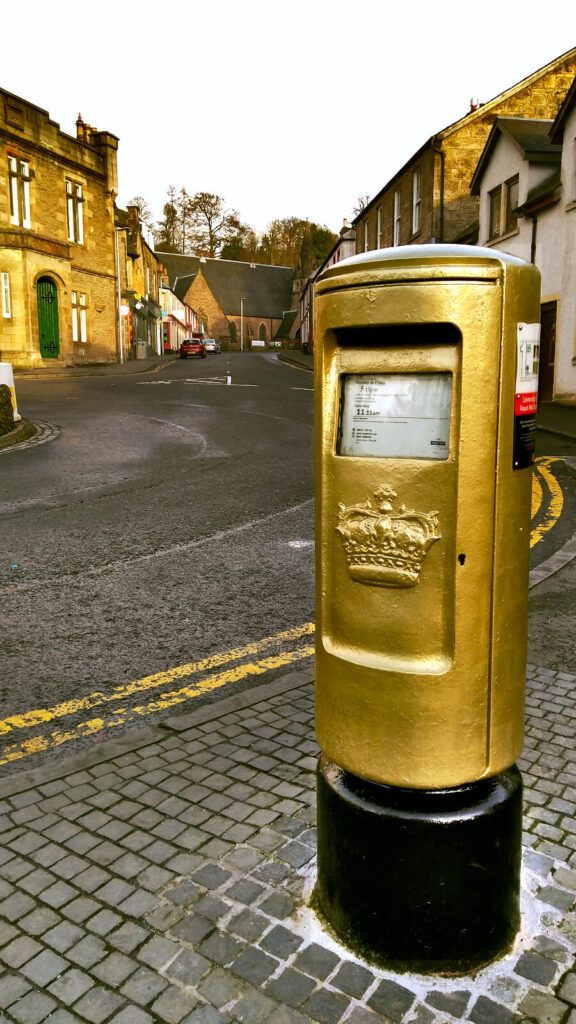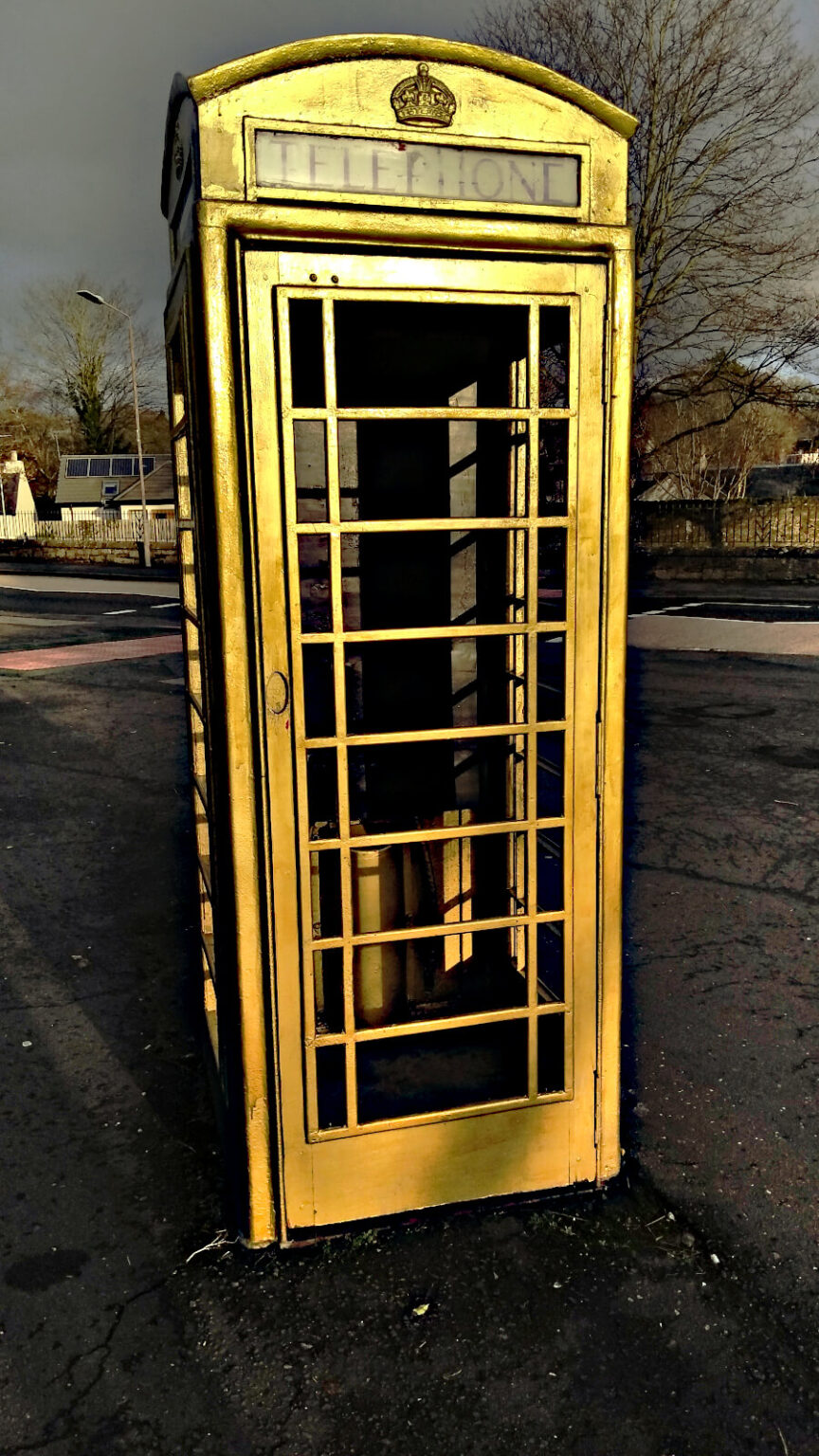 What Did I Miss?
Since I didn't spend long in Stirling town centre, there are a few places that you could visit to spend the day there. For example, The King's Knot and Stirling Old Town Jail are both near Stirling Castle. While Cambuskenneth Abbey is just across the river if remains of a 12th-century abbey are more your thing.
---
Day 3: Tillicoultry to Grantown-on-Spey
Where we stayed: Speyside Hotel, Grantown-on-Spey (3 nights)
Miles driven: 140
– – – – – – –
This was a big driving day, from Tillicoultry, through the Cairngorms National Park, and into Grantown-on-Spey. Which is where I'd spend the next three nights celebrating Hogmanay and New Year, the pinnacle of the 7-day Scotland road trip!
To break up the 2.5-hour drive, there are a few options. Originally, I'd planned to visit the Falls of Bruar, near Pitlochry. But on a recommendation, I instead opted for Pattack Falls. Although, the Dalwhinnie distillery was a close runner-up!
Choice of Waterfalls
The Falls of Bruar has a scenic circular trail taking in waterfalls and greenery. Whereas Pattack Falls has a one-direction and back on yourself nature trail alongside the waterfalls and river. Both are great stopping points to stretch your legs and offer scenic views perfect for picnics.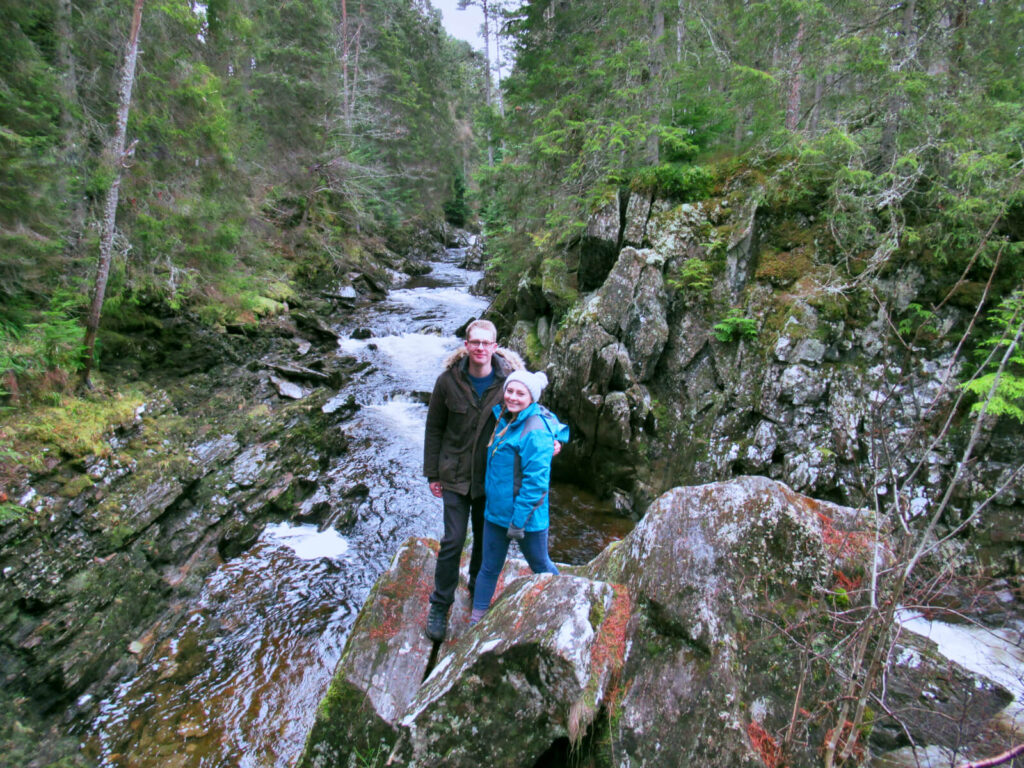 The Centre of Scotland
From Pattack Falls, the journey continued north towards Grantown-on-Spey. But this leg of the journey came with a surprise stop at the geographical centre of Scotland!
Emblazoned on the side of a rock, in the middle of absolutely nowhere, it's a great photo spot. It's not listed on Google Maps, but your best option is to search for MacPherson Memorial. From here, continue north (if heading towards the Cairngorms) for another 100 metres or so. You can't miss it – it's the size of a person and is 2 metres from the side of the road!
We checked into the beautiful Speyside Hotel in Grantown-on-Spey just before sunset and just in time for dinner. I opted for The Wee Puffin, a cosy restaurant on the High Street with a varied and vegetarian-friendly menu. Stuffed with veggie lasagne, I was definitely ready for bed before another day of exploring.
---
Day 4: Lochs of the Cairngorms National Park & Hogmanay
Where we stayed: Speyside Hotel, Grantown-on-Spey (3 nights)
Miles driven: 56
– – – – – – –
Today was the day! Today was Hogmanay! The whole point of the 7-day Scotland road trip was to be in the highlands for Hogmanay, and there I was! But before seeing in 2020, I had a full day of loch seeing planned…
Loch Garten
The first stop was Loch Garten. Undeniably, it was SPECTACULAR. Add this to your list, because, oh my, you will not be disappointed.
Ok, so you can park at the RSPB centre for free. Without a doubt, I'd recommend arriving a little bit after sunrise. This way the sun will be just above the hills to illuminate the area perfectly.
To explore the loch, there is no particular set path. But the surrounding woodland is spacious so it's no effort to head in any direction.
Having arrived first thing in the morning, the water was perfectly still. I've never seen anything quite like it. Surprisingly, Loch Garten was also completely deserted at this time. There were only a couple of campervans in the car park, and I didn't see anyone else the whole time!
Loch an Eilein
The next loch of the day was Loch an Eilein, a 30-minute drive away. Compared with Loch Garten, this is a much more popular loch to visit. Although you have to pay for parking here (£1.50 per person, max £4.50), the money is invested back in the area. As a result, there are well-maintained pathways, and you get information booklets from the car park attendant.
Loch an Eilein is perhaps most famous for having the ruins of a castle on an island in the middle. Nonetheless, the whole loch is amazingly picturesque!
Roughly an hour of walking, including stopping for photos, will get you about a third of the way around the loch and back. However, it would probably be possible to walk the full loch loop in less than 2 hours. And even less without stopping for photos.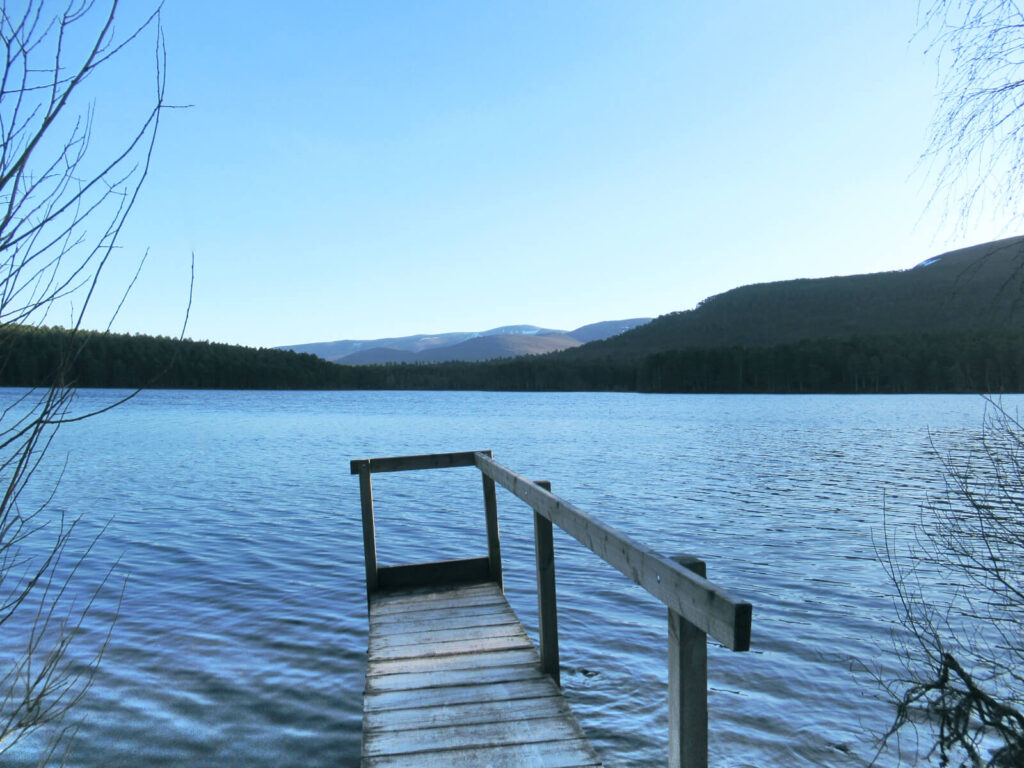 Loch Morlich
For the sake of full disclosure, the next loch I visited was Loch Insh. But, to be honest, it was nothing special and I wouldn't recommend going out of your way to go there.
The final loch of the day was Loch Morlich, which claims to be home to the highest altitude beach in the UK. And it was quite a sight to see snow-capped mountains rising up from behind a golden sand beach!
There is plenty of free parking on the side of the road at Loch Morlich. And the beachy shores mean you can walk around its edge quite easily. Even on a cold winters day, people were taking part in watersports on the loch. So I imagine that in summer it is alive with activity!
Grantown-on-Spey Hogmanay Street Party
Back at the hotel in Grantown-on-Spey, it was time to get ready to see in 2020! The street party in the centre of the town is the highlight and starts from about 11/11.30. Before that, the local pubs are overflowing with revellers getting in the party spirit.
No tickets are needed for the street party. And it is held in The Square, which is a square but is also the name of the road, you can't miss it anyway! Plus, drinks are also available to buy from a couple of tents.
Midnight is seen in with fireworks followed by a ceilidh (Scottish traditional dancing and music), with 100s of people dancing in the street! But don't worry if you don't know any of the dances – members of the fiddle band explain them before each song and people will direct you if you look lost enough! The party is rounded up by a rousing rendition of Auld Lang Syne before everyone heads off to bed.
It's a unique new year celebration, and one of only a handful of street parties of this kind in Scotland. There's nothing like this elsewhere outside of Scotland as far as I know!
Day 5: Portknockie (New Year's Day Trip from Grantown-on-Spey)
Where we stayed: Speyside Hotel, Grantown-on-Spey (3 nights)
Miles driven: 95
– – – – – – –
Day 5 of the 7-day Scotland road trip, but Day 1 of 2020! I'm not really one for new year's resolutions. Which was lucky, as none of us could've predicted how 2020 turned out!
The morning of January 1, unsurprisingly, started very quietly. And after 4 busy days (more if you include Christmas beforehand), the lay-in was more than overdue!
Because of this, a quieter day was planned. A short (50-mile each way) trip up the road to Portknockie was the perfect option.
Portknockie
Located on the Moray Firth, Portknockie is a small fishing village perched upon the cliffs. It's fishing history, and existence dates back to the 1600s and is still going today.
There are a small handful of shops, hotels and holiday homes. But the main sights are those nature made.
The first and most obvious option is to take a walk along the cliff tops and down onto the rocky beach. From both of these places, you'll get the best views of Bow Fiddle Rock. How close you can get depends on the tide – but this changes quickly so don't get caught out.
You can also make the short walk over to the dock and out along the pier. However, as a word of caution, along the pier/jetty, the ground is both wet and greasy from being a working dockyard, meaning you will slide around a LOT. Consider whether you have appropriate footwear, clothing and the weather!
The Moray Firth is also a Nature Heritage Site and is home to orcas, dolphins and puffins. Sightings of these will depend mainly on luck but also on the season. But it's sure worth keeping your eyes peeled!
No day at the seaside is complete without chips, but sadly it was closed being New Year's Day. However, you should totally make sure it's on your list.
What did I miss?
Honestly, there are so many places in the highlands that are great for a day out. The cities of Inverness and Aberdeen are both within driving distance. Then there's Balmoral Castle and ski slopes within the Cairngorms National Parks. Plus walks and mountains, or adventure activity companies. And Loch Ness is also close by.
Day 6: Grantown-on-Spey to Loch Lomond via Glenfinnan
Where we stayed: Airbnb in Garelochhead on the edge of the Loch Lomond National Park (1 night)
Miles driven: 185
– – – – – – –
Day 6 marked the start of two big days of driving, heading out of the highlands and slowly back towards Yorkshire. All while still trying to see as much of Scotland as possible!
From Grantown-on-Spey, it was a scenic 90-mile, two-hour drive to Glenfinnan. Home of the Glenfinnan Monument, and more famously, the Glenfinnan Viaduct. You know, where Harry and Ron almost fell out of the flying car in Chamber of Secrets!
Glenfinnan Monument
The Glenfinnan Monument is on the banks of Loch Shiel. It's a narrow monument inside which you climb a narrow spiral staircase to the top. And then you need to climb out of a hatch onto the lookout! Not accessibility friendly…
On any other day of the year, I imagine the views of the loch and viaduct are spectacular! However, it was near on torrential rain when I was there and I was doing my best not to slide on the stone floor. And despite being no more than 20 metres above the ground, it was cloudy on top!
It's owned by the National Trust of Scotland so members can visit the monument for free. For everyone else, it's £4 per adult. I think that's a bit much for a 20-metre high lookout tower that you wouldn't spend more than 10 minutes inside. But the guy at the tower gave as an off-the-record deal of £10 for 4 adults, otherwise, I wouldn't have bothered. Plus it costs £3 to park in the visitor centre car park!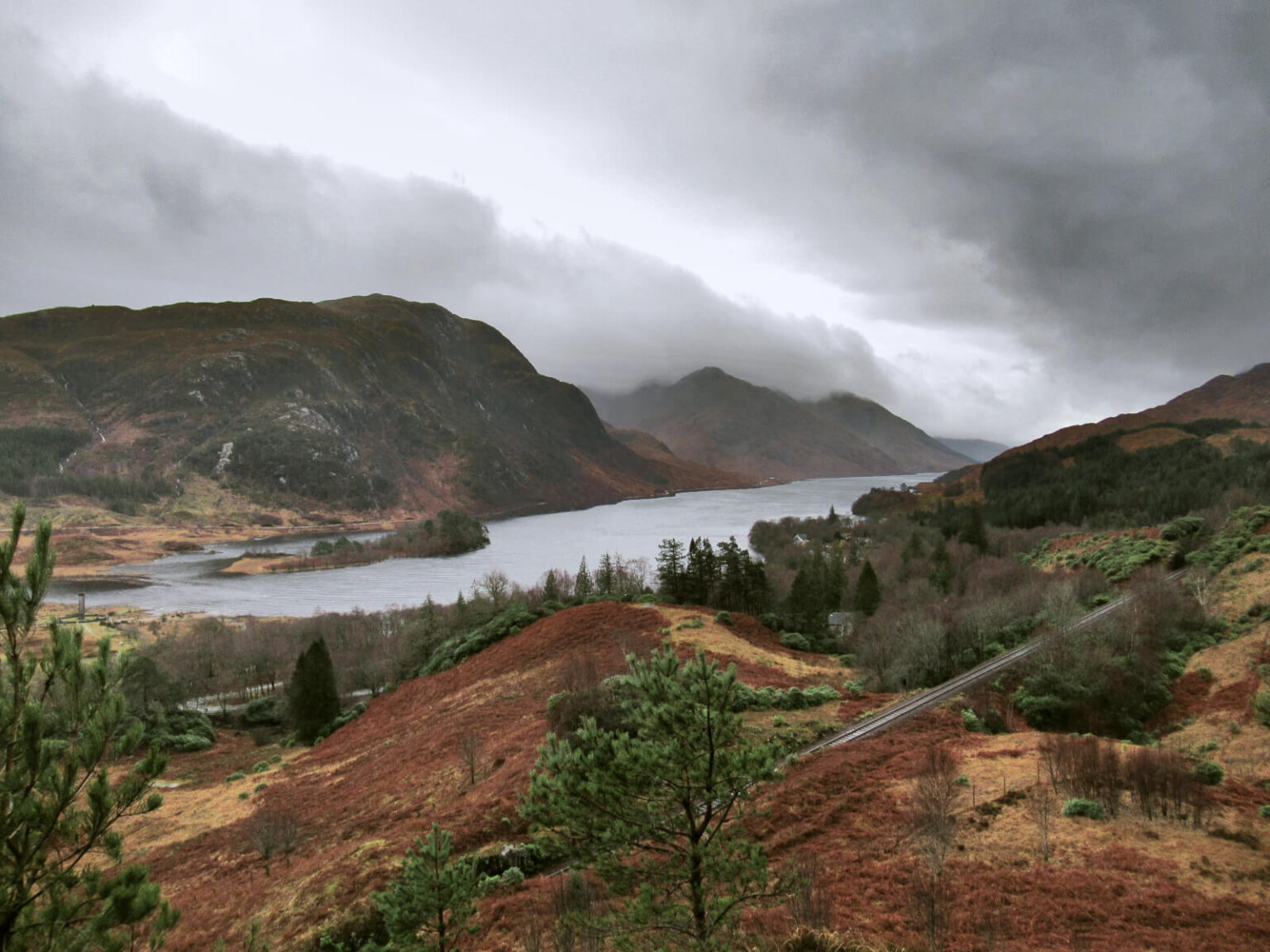 Glenfinnan Viaduct and Trail
The main attraction in Glenfinnan is the viaduct, and it's easy to see why. Sat in the valley of mountains, it has a backdrop of spectacular scenery. Made up of 21 arches and with trains still running across it daily, it's a popular place for visitors.
Slow, stopping service trains from Glasgow to Mallaig, run across the viaduct a handful of times per day, all year round. The Jacobite steam train, which is the same as that used in filming the Harry Potter series runs between April and October, between Fort William and Mallaig. These offer a great alternative view of the viaduct, although you best be ready for the view out of the window otherwise you'll miss it!
But the best way, in my opinion, to see everything without time pressure is to take the walking trail. The best trail to take starts at Glenfinnan Station, where parking is available. The trail offers three viewpoints over the viaduct, but requires some navigation of slight inclines – nothing too strenuous though! From the station, the trail is well signposted, and you just keep going until you reach the viaduct.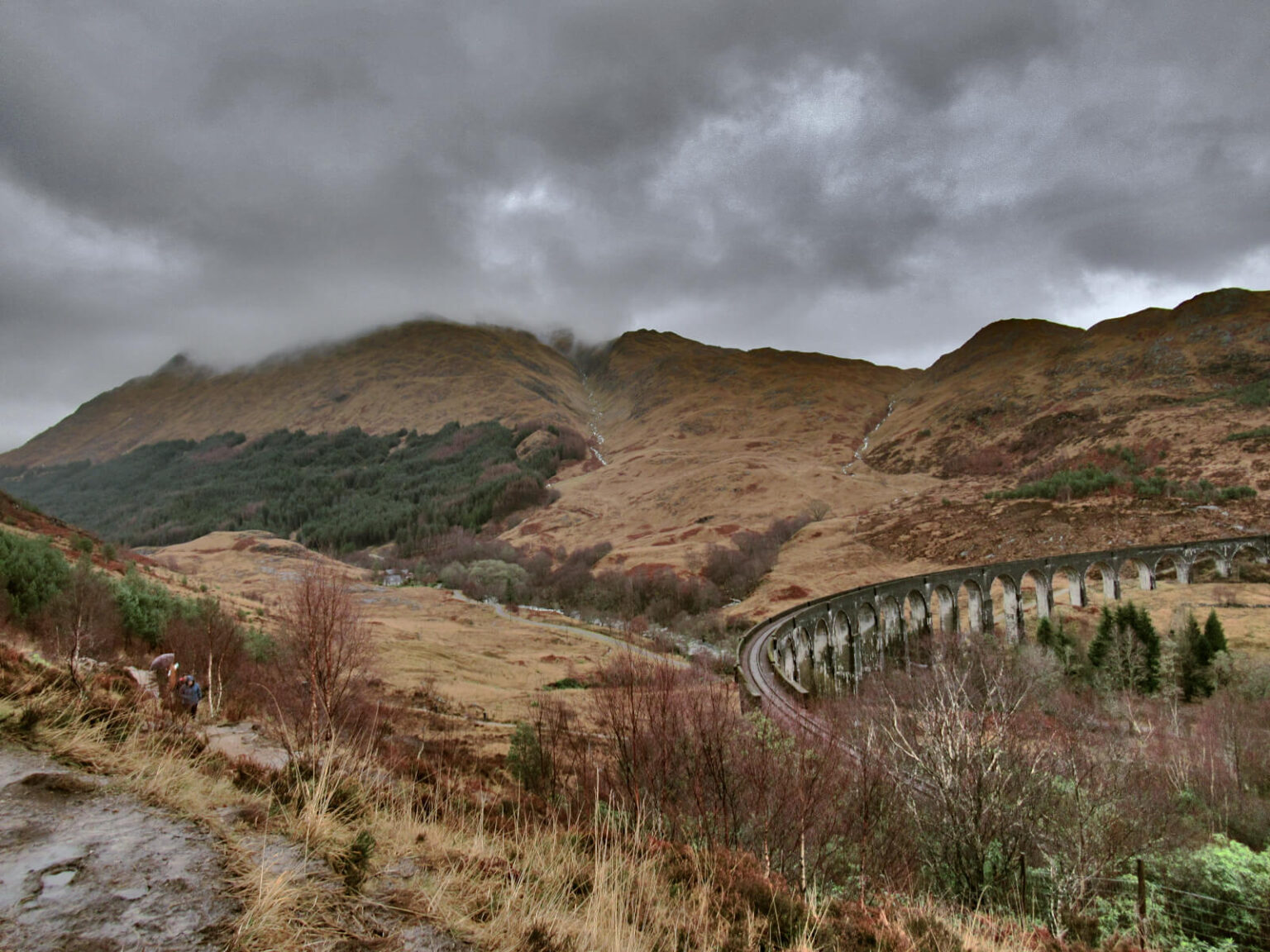 The trail then heads under the viaduct, where there is one final good viewpoint on the right-hand side. You can then follow the path back up towards the road and walk back along the road to the station.
Even in the driving rain, the views over the viaduct and valley were incredible. I can't even imagine how amazing the area must look on a clear day! It's easy to see why this place is so popular!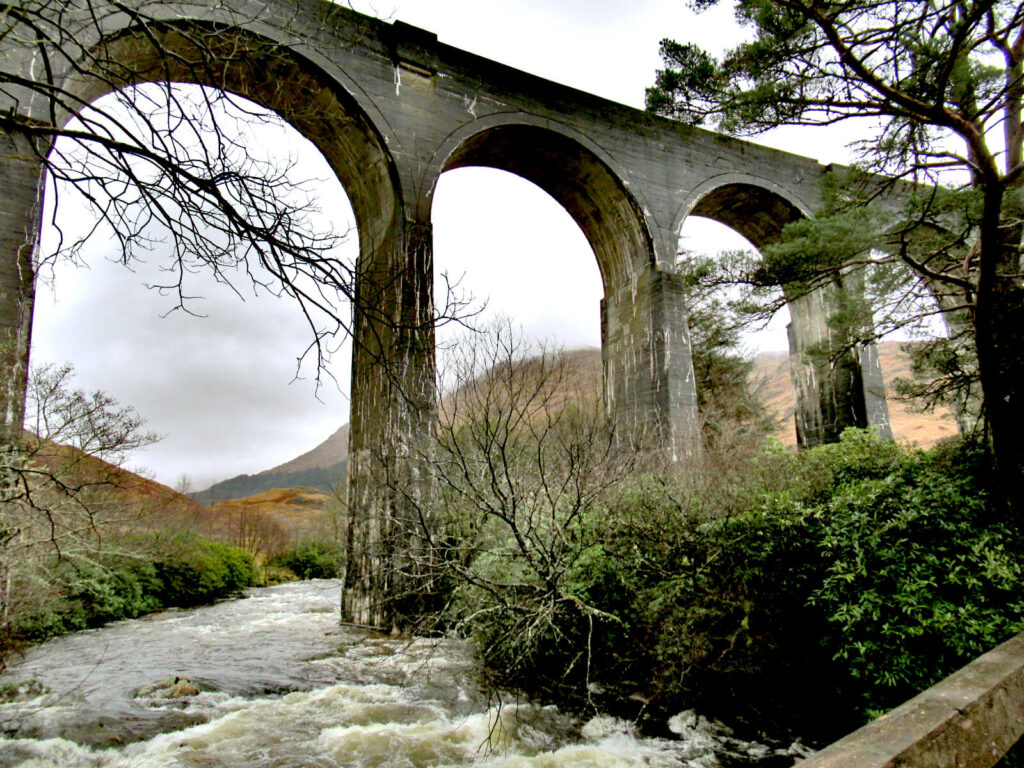 Fort William to Garelochhead
After stopping in Fort William (in a Wetherspoons, of course) to dry off, it was time for another long drive. The route from Fort William to the Airbnb I'd booked went past the picture-perfect and Instagram-famous town of Glencoe. Sadly the fading light and non-stop rain meant I didn't stop, but it would definitely be worth a visit if you have time.
Finally, we made it to the Airbnb in Garelochhead. This small village is located on the edge of the Loch Lomond and The Trossachs National Park. It's also home to a Royal Navy base and the Trident nuclear submarines, meaning that there is at least one and possibly three always there!
I ordered pizza from the takeaway and it was glorious! One of those small village takeaways that do everything, fish and chips, Indian and pizza… And somehow it's all amazing.
Day 7: Loch Lomond to Home
Where we stayed: my own bed!
Miles driven: 268
– – – – – – –
The final day of the 7-day Scotland road trip! And as much as I was looking forward to my own bed, there was Loch Lomond to explore…
The Loch Lomond and The Trossachs National Park is huge! You could spend a week here and not get bored. So rather than attempt to see lots very quickly, I picked two places to see. And then the rest are saved for another time.
Luss
The first stop was Luss on the western shoreline of Loch Lomond. It's a pretty little village with cutesy cottages and incredible views. Free on-street parking in the village meant there was only a short walk to the shore.
You can walk out onto the pier for the best views of Loch Lomond itself and the high-rising hills behind. From here you can you walk along the shore either up towards Luss Campsite, or down towards the rescue boat hut. Dependent on the tide there can be small amounts of sandy beach. But otherwise, there are paths to walk along.
If you have time you can follow the Loch Lomond Faerie Trail, which is particularly great for kids. To just walk the path is free, but for a few pounds, you can buy a map and booklet to guide you through the trail.
As a side note, Luss is particularly popular for large tour groups and coach parties to stop at. We arrived at about 9am and it was quiet, but when we were leaving an hour later it was already much busier. And this was a Friday, two days after new year… I imagine in summer months, it is heaving!
Balloch
The final stop before the long drive back to Yorkshire was the town of Balloch on the southern bank of Loch Lomond. If you park (for free) at the Loch Lomond Shores shopping centre you can walk around past the aquarium for the best views of the loch.
To prepare for the 4.5-hour journey home, I stopped for lunch at The Balloch House. It's a homely pub with fireplaces and big comfy seats, and plenty of room for dining in or just having a drink. The food was great, and it was a nice chilled ending to the whole 7-day Scotland road trip!
– – – – – – –
So that's a wrap on the 7-day Scotland road trip to experience Hogmanay in the Highlands and see lots of Scotland… There's so much to see and no right or wrong way to experience Scotland. So everyone's trips will be different. But hopefully, this guide can provide some inspiration and helpful advice if you're planning a road trip in future.
---
FAQs
What are the essentials for a 7-day Scotland Road Trip?
A reliable vehicle, breakdown cover and car supplies (eg. blanket, water, etc) just in case you do break down somewhere more isolated.
Check the weather forecast and pack for that, and worse than that… If it says rain, would you be prepared if it snowed on higher ground? I'd definitely recommend good, waterproof water shoes, and a waterproof coat and/or trousers.
Pre-plan where the petrol stations are if you're heading into more remote areas. Keep a close eye on your fuel level and work out when you'll need to get fuel. In my experience, even in the highlands, the petrol stations in towns were similar prices to those in the rest of the UK. But roadside petrol stations on A-roads or motorways were the most expensive, just as you'd expect everywhere else (but just even more expensive!).
How Many Days is Enough to See Scotland?
Well, that depends on how much you want to see! You could spend a day in Glasgow and see most of the top sights. If you're wanting to plan a whole road trip then you'll more likely to be restricted by how long you have than how much there is to see.
You could follow routes such as the Heart 200 or North Coast 500. Both of which are circular routes where you visit multiple places each day. Alternatively, you can plan your own based on places you want to visit, your travel style and budget.
I preferred staying in Tillicoultry and Grantown-on-Spey for 2 and 3 nights each, rather than moving every day. By using these as a base to explore an area I spent less time driving and felt less rushed. I think checking out of a hotel or Airbnb every morning would be stressful if you're after more of a holiday vibe!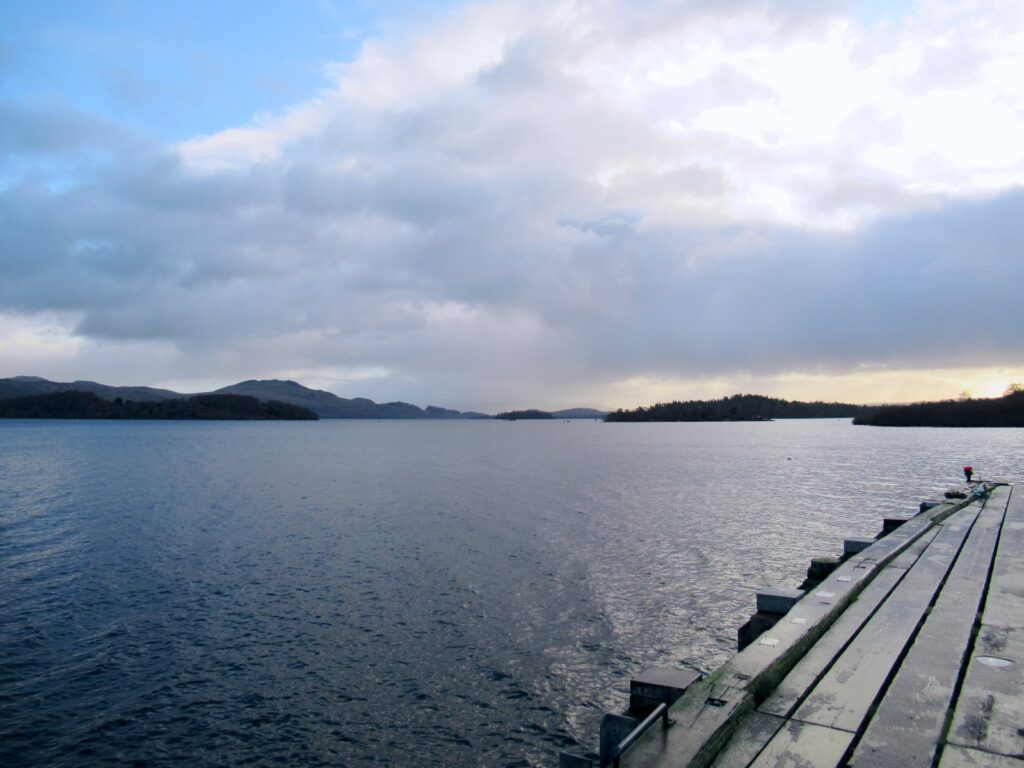 Is Scotland Expensive to Visit?
Not any more so than the rest of the UK. I think the total cost will largely be determined by how much you choose to eat out, the type of accommodation you stay in and what activities you choose to do. This is a trip you can totally do on a budget, or enjoy luxurious accommodation and restaurants, or something in between.
I didn't find supermarkets or restaurants to be any more expensive than their comparable counterparts in England. Petrol (unleaded), for example, was about 123 p/L in Leeds at the time, and at the small, non-supermarket petrol station in Grantown-on-Spey was 130 p/L. In contrast, however, a motorway petrol station was 160 p/L.
I mainly opted for free activities, and only paid for the Wallace Monument, Loch an Eilein parking and the Glenfinnan Monument throughout the whole 7-day Scotland road trip. Everything else was free and I never felt like I missed out on paid-for activities.
Is Driving in Scotland Difficult?
Not for any of the places visited during this 7-day road trip. But this will be determined by where you go and when. During this road trip, there wasn't any snow on the ground, and there was only one day of constant rain. And most of the driving was done during hours of sunlight.
Driving down dark, wet and unfamiliar country roads will be just as difficult in Scotland than as anywhere else in the UK in comparable conditions. There are, perhaps, fewer motorways so you are more likely to end up on smaller roads.
So there we have it folks, my guide to a 7-day Scotland Road Trip. The highlight was seeing in the new year in the highlands, complete with ceilidh and fiddle band. But Scotland is great to visit and explore all year round… Is it on your list yet?
If you have any questions or want any more information drop a comment below and I'll get back to you!
Prices mentioned are correct as of August 2020 but are subject to change in future.
---
PIN IT FOR LATER!