As its popularity suggests, the beautiful – and at times, serene – Lumb Hole Falls are well worth a trip into the West Yorkshire countryside to visit. But, given its rural location with no official information about getting there, parking or walks, planning a visit can be difficult – and that was certainly my experience before going.
So, if you like a walk that has a difficulty closer to easy than hard and don't mind navigating overgrown paths, this guide based on my experience is for you. Lumb Falls is also a wild swimming spot, with people most commonly going for a dip in the summer months.
Everything you need to know about how to get there, where to park, which walk to do and whether there's an entrance fee is all below…
Lumb Hole Falls: Need to Know Information
To help you plan your day out to Lumb Hole Waterfall on Crimsworth Dean Beck, here's everything you need to know. There's more on the walking routes, where to park and how to get there in the sections below.
⏰ Opening times: 24/7.
⭐ Entrance cost: Free.
↗️ Access: On foot only along steep, slippery, dirt paths through private land.
⭕ Car Parking: Roadside parking is available around 0.3 miles from the waterfall. Alternative parking is available along the A6033/Keighley Road around Pecket Well (free) and at the National Trust Midgehole Car Park (charges apply).
⏹ Shortest Walk: 0.5-mile return route.
➡️ Route conditions: Slippery, rocky path between overgrown bushes and trees.
⚪ Can you swim at Lumb Falls? Yes.
♿ Is this suitable for wheelchairs or pushchairs? No, there's a steep descent from the road along a slippery, rocky, narrow path also making this unsuitable for younger children and those with mobility issues.
❌ Facilities at the waterfall: None.
Would I recommend visiting? Absolutely, whether you want to visit on an overcast day to get out in nature. Or the sun's out and you want to cool down in the water, it's a beautiful spot that isn't that difficult to get to.
Top Lumb Falls Walks
Surrounded by the rolling hills and vast fields of the Yorkshire countryside, there are lots of ways to walk here. And lots of other places you can walk to as well.
Whichever way you want to walk, below are directions from some of the most popular starting points.
Shortest: To the Waterfall from Old Road
Distance: 0.5 miles/750 metres (there and back)
Difficulty: Easy walk with slippery underfoot conditions
Walking time: 20 to 30 minutes
Start and endpoint: Old Road
⭐ Best for: People who just want to visit the waterfall
It's just under 400 metres from the road to the waterfall, so there's not many directions. But here's what to expect.
From Old Road, turn off down the narrow path next to the hand-painted sign for Lumb Falls.
Navigate your way downhill over the slippery rocks and through the overgrown bushes until you reach the waterfall.
It'll be pretty slow going but once you emerge from the path, the waterfall is just to your right below you.
Follow the path around, and if you want to get in the water, you'll need to climb down on the other side.
---
GRAB MY LIST OF MY FAVOURITE YORKSHIRE WALKS…

➡️ Want to explore more of beautiful Yorkshire?

➡️ Wishing you knew of more great spots for walks and days out?

Save yourself the hours of research finding hidden gems and local favourites…

with this digital list of 52 beautiful Yorkshire walks full of my favourites from years of exploring.

Discover new places, spend more time in the great outdoors and have fun!

And – as a bonus – it includes 3 free trackers and challenge templates!

> > > BUY NOW FOR £2.99

> OR READ MORE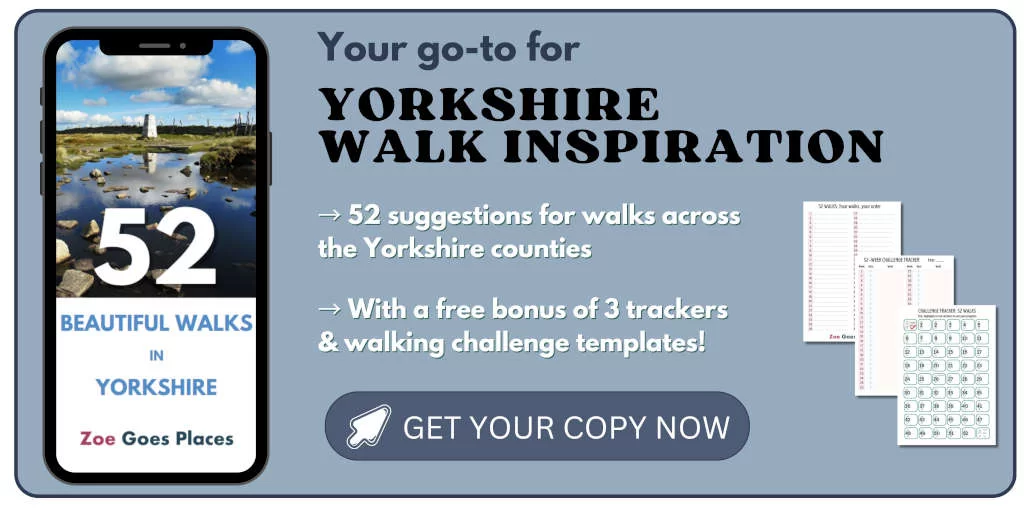 ---
PLENTY OF PARKING: From Pecket Well
Distance: 2.6 miles/4.2 kilometres
Difficulty: Easy (slippery underfoot conditions in last 300 metres)
Walking time: 1 hour
Start and endpoint: Pecket Well
⭐ Best for: A short walk, plentiful parking, walks from Hebden Bridge
There's more information below on where about you can park on the road through Pecket Well. But there's lots of choice and this Hebden Bridge waterfall walk can be followed from wherever you park…
Head away from Pecket Well going slightly uphill along Keighley Road. The pavement isn't very wide, so walk carefully along the road.
Turn left when you get to Old Road with the bus stop at the junction.
Walk along Old Road for 1 km, there's not many passing cars or vehicles here, so you can walk in the road.
Turn left onto the narrow path when you reach the hand-painted sign pointing you towards Lumb Hole Falls.
Make your way down through the overgrown bushes and over wet, slippery rocks underfoot. You'll emerge from the overgrowth just a stone's throw from the waterfall.
Follow the path to the right to access the waterfall from the top or side.
> > > Looking for more local walks? Then the calm and beautiful Withens Clough Reservoir is a great choice for an easy circular route.
EASIEST WALK: From Midgehole Car Park
Distance: 3.4 miles/5.5 kilometres
Difficulty: Easy
Walking time: 1 to 1.5 hours
Start and endpoint: Midgehole Car Park
⭐ Best for: Easiest walk, seeing Hardcastle Crags
This route to Lumb Waterfall is the easiest as there's no road and you don't have to walk down the overgrown, slippery path. Instead, you'll approach the falls from the other side after a pleasant stroll from the National Trust car park.
Starting at Midgehole Car Park, head up the road opposite the bluey-green hut – signposted as additional parking.
The road quickly turns to a path as you pass the no-entry sign for cars.
Follow the path in a straight line for 2.2 km, until you just before you reach the remains of a farm building on your left-hand side.
Turn right and follow the much less trodden path for 300 metres towards the trees.
By now, you'll probably be able to hear the waterfall and it's only a hundred metres or so until you get there.
And when you're ready, simply retrace your steps back – you can easily visit Hardcastle Crags before or after too.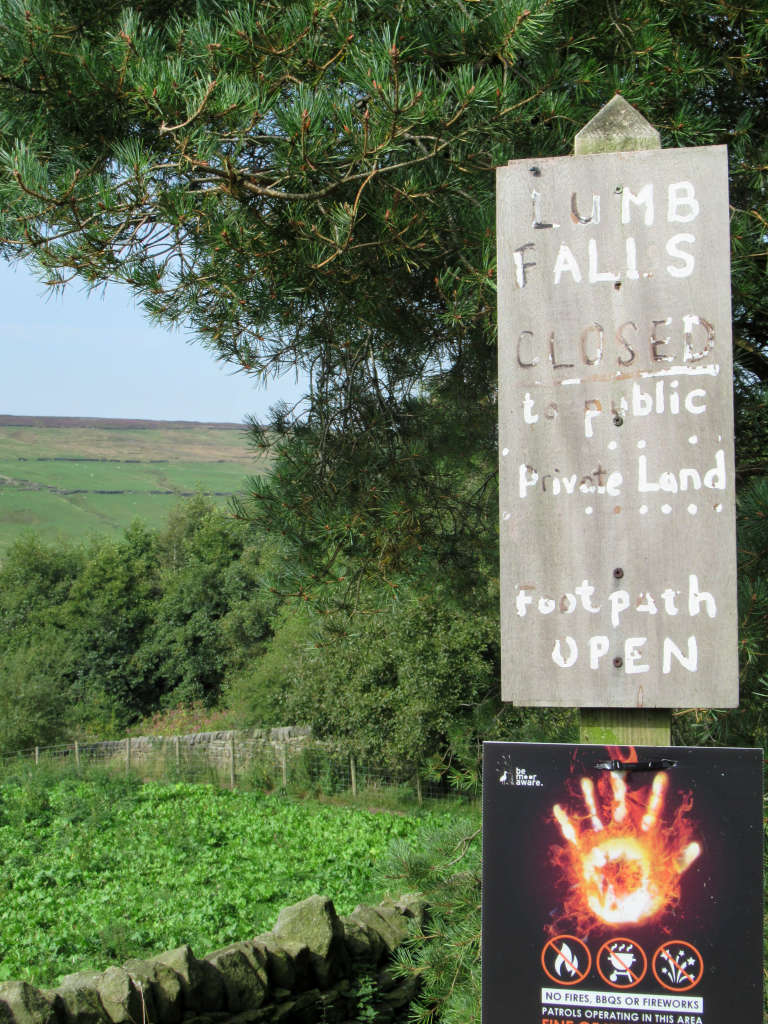 Where to Park for Lumb Hole Waterfall
It's not easy to know where to park for the waterfall since there's no official car park. Plus, it's hard to find out parking restrictions on nearby roads online.
So, I went on a mission to document the best parking spots for Lumb Hole Falls to answer this very common question…
That said, parking restrictions do change – make sure you check the signs when you arrive to avoid any problems. And as always, think of others when deciding if you can park somewhere, don't block driveways, farm gates, junctions, etc.
Closest: Old Road Layby Parking
The nearest parking to Lumb Hole Waterfall is a small layby on Old Road, right next to the start of the footpath (pictured above). There's space for about 4 cars and you'll need to park tightly to the bushes and wall to not block the road.
Importantly though, parking here technically isn't allowed – but people do it anyway. As the whole road is covered by a permit holders-only restriction.
For the exact location, use this Google Maps pin or the what3words of ///tracks.mills.opposite.
Old Road provides access to a lot of farms, so tractors and other large vehicles use the road regularly. Because of this, you need to make sure you don't block the road in any way. If you think your car is too wide for the layby, park on the A6033/Keighley Road instead.
And if you don't want to take the risk of a parking ticket, I'd recommend also parking on the A6033.
Next Best: Park in Pecket Well
You'll find plenty of free roadside parking along the A6033/Keighley Road between the Old Road junction and Pecket Well. And for city dwellers less familiar with country roads, parking is permitted anywhere when there isn't a white line along the edge of the road.
Again, don't block any driveways or farm gates. And make sure to leave enough space for the passing tractors, buses and lorries.
Extra Option: National Trust Midgehole (Hardcastle Crags) Car Park
Another option – although one that requires a longer walk to the waterfall – is to park at the National Trust Car Park near Hardcastle Crags. This is free for National Trust members, but for everyone else, this costs £5 for the day.
To find it, use this Google Maps pin or the what3words of ///youngest.princely.minerals.
How to Get to Lumb Hole Falls
Driving is the most convenient way to get to the waterfall, but it's also very straightforward using public transport. It's then a fairly easy-to-follow walking route to get to the falls since it's only accessible on foot.
By Car
Driving is the easiest way to get near to the waterfalls and there's plenty of parking around. Old Road is a single-track road that's pretty narrow but otherwise, there aren't any driving conditions out of the ordinary in the surrounding area.
By Public Transport
Unlike many of this country's best natural attractions, you can easily get to this Hebden Bridge waterfall by public transport. The 594, 595 and B3 Bronte buses all stop at the end of Old Road.
The 594 and 595 are circular routes running between Hebden Bridge and Crimsworth (a turning point just past Old Road). While the Bronte Bus B3 runs between Hebden Bridge and Keighley through Pecket Well.
Together, this means there are up to 3 buses an hour to the bus stop nearest Lumb Hole Waterfall. And means you can easily catch the train to Hebden Bridge and then take a bus to the waterfall.
From the bus stop, it takes about 30 minutes to walk to the waterfall.
---
If you have any questions or want any more information, drop a comment below and I'll get back to you!
Information is correct as of October 2023 but is subject to change in future.
---
More of the Yorkshire Outdoors…
WEST YORKSHIRE: Ilkley Moor Walks: Circular Routes (2 to 9 Miles)
YORKSHIRE DALES: Wain Wath Force (Yorkshire Dales Waterfall)
NORTH YORKSHIRE: Buckden Pike Walk (Circular 5.5-Mile Route)
YORKSHIRE DALES: Malham Cove, Yorkshire Dales (Ultimate Visitor's Guide + Info)