For a city with so much to do, particularly for adventure seekers, it's surprising that so few international tourists visit here. Off the popular backpacking route between the north coast and Bogotá via Medellin and Salento, San Gil Santander certainly pulls its weight with things to do, see and experience.
As Colombia's adventure capital, you can experience the thrill of paragliding, bungee jumping, white water rafting and more, all at budget-friendly prices. Or, enjoy a slower pace of life by visiting quiet colonial towns, hiking trails or waterfalls. Plus, the world's second largest canyon is right on San Gil's doorstep and isn't to be missed.
So, to put San Gil Colombia firmly on the map, this complete travel guide has everything you need to know to plan and enjoy your stay. The must-do activities, best restaurants, top-rated hostels and hotels and much more…
Some of the links below are affiliate links, meaning, at no additional cost to you, I may earn a small commission if you click through and make a qualifying purchase.
Where is San Gil, Colombia?
San Gil (pronounced with an H in place of the G) is located in the Colombian department of Santander. The region is located fairly centrally within the country, with Bogotá to the south and Medellin to the west.
Bucaramanga – the capital of Santander – is located 63 km to the north of San Gil. Other nearby towns include Guadalupe, Barichara and Jordan, which are all within 50 km. Additionally, Villa de Leyva and Tunja are around 110 km to the south.
How to get to San Gil Santander
With the nearest airport over 60 km away in Bucaramanga, getting to San Gil will require at least some overland travel. The town is well served by bus connections from nearby towns and cities and for longer bus journeys you can connect through Bucaramanga.
The city has two bus stations, one for local buses that drive around the city (Terminalito) and the other for bigger buses going further afield (Terminal de Transporte De San Gil). The latter of these is the main terminal and is located about a 20-minute walk or 5-minute drive from the central square. You can take a taxi to your final destination in the city for around 5,000 to 10,000 COP depending on your negotiation skills.
Bogotá to San Gil
Bogotá is the cheap international flight capital of Colombia – and maybe even South America too. As a result, many international tourists choose Bogotá as their first destination in the country.
Getting from Bogotá to San Gil by bus is cheap and easy. Tickets cost around 50,000 COP one way and the journey takes around 8 hours in practicality. Although, advertised times may be lower. But, once you experience Bogotá traffic, you'll know exactly what I mean!
Buses leave from both Terminal Salitre (entrance 3) and Terminal Norte throughout the day. Booking in advance isn't usually necessary unless you're travelling around national holidays. But it is worth checking the departure times and aiming to get yourself on one of the larger, more comfortable coaches. Use Redbus to check bus times across multiple operators and get photos of each bus type.
Villa de Leyva to San Gil
With no direct connections between Villa de Leyva and San Gil, you'll need to travel via the nearby city of Tunja. Buses from Villa de Leyva to Tunja run approximately every 15 minutes from the town's main and only bus terminal. Tickets cost 10,000 COP and the journey to Tunja takes around 1 hour.
Once you've arrived at Tunja's super fancy bus terminal, purchase a ticket from one of the offices on Floor 2 to San Gil. Tickets cost 60,000 COP and again you want to try and get on a larger, more comfortable coach-style bus. Alternatively, smaller 16-seater minibuses run along this route too. Once you have your ticket, head down to Floor 1 (ground floor) to find your bus.
The journey from Tunja to San Gil takes around 4 to 4.5 hours. Definitely grab yourself a couple of snacks and a drink before you get on the bus. Although, the buses do tend to stop for a break at a roadside cafe in Vado Real, around halfway through the journey.
Guadalupe to San Gil
Just 2 hours or so from San Gil, Guadalupe is one of Colombia's best hidden gems. This small mountain town is home to the natural phenomenon of natural plunge pools along a stream: Quebrada Las Gachas. If it's not already on your must-visit list, you should really add it now!
Starting in the main square of Guadalupe you'll need to take a small bus or 4×4 to the town of Oiba. This costs 8,000 COP per person and takes around 30 to 45 minutes. At Oiba, purchase a ticket from the small ticket office in the bus station. Tickets from Oiba to San Gil cost 15,000 COP and the journey takes just over 1 hour.
Alternatively, you can take a bus from Guadalupe's plaza to Socorro and from there take a second bus to San Gil. The total cost and journey time will be similar to travelling via Oiba.
Bucaramanga to San Gil
Located in the north of the Santander region, Bucaramanga is the gateway between the cities on Colombia's northern coast and central highlands. Long-distance buses run between Bucaramanga and Santa Marta (10 to 12 hours) and Cartagena (12 to 14 hours).
Buses from Bucaramanga to San Gil run throughout the day taking around 2.5 hours and costing 20,000 COP.
Medellin to San Gil
There's no direct connection from Medellin to San Gil. Instead, you'll need to make the 8-hour journey from Medellin to Bucaramanga (cost 65,000 COP). And then, take the bus from Bucaramanga to San Gil for 20,000 COP.
---
Things to do in San Gil Colombia
San Gil is the outdoor adventure activity capital of Colombia. And, with a full offering of adrenaline-inducing activities for thrill seekers, you won't be getting bored quickly. But if you're just travelling with an adrenaline junkie or looking for activities with your feet firmly planted on the ground, do not fear. In and around the city, there is still plenty on offer: hiking trails, waterfalls, pretty towns and more.
Visit the Chicamocha Canyon
This stunning natural beauty was nominated for the 7 New Wonders of the World contest back in 2009. Although it didn't make the final cut, this can only be a good thing for present day visitors. Because it's nowhere near as popular or well known as Machu Picchu or the Great Wall of China.
To go alongside the stunning natural views of this rugged landscape, there's also a theme park and waterpark built at the top of the canyon. And yet somehow, it doesn't feel over commercialised. The activities are good fun and the entry fees provide great value for money. You'll want to make sure you take a ride on the 6.3 km cable car across the canyon for the best views of the world's second-largest canyon.
The Chicamocha Canyon can be reached by taking a bus from San Gil's Terminalito bus station towards Panachi. A one-way fare costs 12,000 COP and the journey time is just under 2 hours along quite windy roads. Entrance to the park, cable car and waterpark costs 66,000 COP per adult, although a range of different ticket packages are available.
For more information, check out this dedicated guide to visiting the Chicamocha Canyon!
Paragliding in San Gil
Paragliding is one of the most popular things to do in San Gil. And, for good reason. The prices are low and the landscapes you fly over are stunning. These tandem flights – where you're attached to an experienced and qualified pilot – require very little from the passenger. So, you can sit back and enjoy the views during the 20- to 40-minute flight.
In San Gil Santander, you won't be able to walk more than a block without finding a tour operator offering paragliding. However, the prices are almost entirely the same across the companies. But, different packages are available so make sure you know what you're signing yourself up to.
You'll have two options of location. Firstly, you can paraglide over the incredible Chicamocha Canyon, which has a maximum depth of 2,000 metres! Or, you can opt for a shorter flight at Curití. Honestly, paragliding over the Chicamocha Canyon was a highlight of my life – you won't regret it.
Paragliding at the Chicamocha Canyon
Packages booked in San Gil generally include transport from the city to the take-off and landing spot at the canyon. However, it's also possible to book paragliding here through the Chicamocha Canyon National Park. But do note that this will take a substantial chunk away from your time in the park if you were hoping to combine the two.
Prices start at around 200,000 COP (50 USD) for the basic package of return transport, 20-minute flight (unofficially up to 40 minutes depending on conditions and number of people flying that day), water and insurance. Additional extras include doing tricks in the air, piloting yourself for a short time and extended flight time.
I couldn't think of a better use of time and money than to fly like a bird over a stunning landscape! Unlike other air-based activities such as sky diving, you don't just fall when paragliding. In fact, the pilots can use the wind and thermal currents to gain height from take-off. As a result, it's not an intense adrenaline-inducing activity. Instead, you'll calmly glide across the sky able to see for miles and miles.
Paragliding at Curití
If your budget just won't stretch to taking a flight at the Chicamocha Canyon, then you'll be pleased to know that paragliding at Curití is a cheaper alternative. The views aren't as impressive and the flight time isn't as long. But, you'll still get the paragliding, bird-like experience.
Prices start at around 100,000 COP per person (25 USD) for a 10- to 12-minute flight, insurance and round trip transport.
Bungee Jumping
You'd have to pay me a lot of money to even think about bungee jumping. And even then, I'm not sure I would be physically able to leap off a ledge connected only by an elasticated rope! But, for those braver and bolder than me, bungee jumping is hugely popular here.
Jumps of up to 140 metres are available over the Fonce River. Tickets can be booked from one of the many tour operators in San Gil and return transport is usually included. Paired jumps are also available at some locations. Minimum and maximum participant weights vary by site too.
Pack your GoPro and make sure your shoes are tied tightly. And then you're ready for a few seconds of freefall! Still, rather you than me…
Canyoning
This fun and fast-paced activity involves making your way along a river by abseiling, swimming, sliding, climbing and jumping through the water and over rocks, generally inside a narrow canyon. If you can't swim well or don't like being in water, this isn't the activity for you.
Guides, equipment, safety briefings and transport are all included and tickets can be booked in San Gil. Ask your hostel for recommendations or head to one of the many tour operator offices in the city.
Caving
Another activity not for the faint-hearted! Caving involves navigating through often small caves, narrow openings, swimming through flooded caves, vertical climbs and jumping or sliding into the next cave. All in near darkness. If you're claustrophobic or not a confident swimmer, you'll probably want to give this a miss.
Cueva de La Vaca and Cueva del Indio are the two most popular cave networks near San Gil Santander to enjoy this activity. Book in the city for the best price.
Water Rafting
White water rafting is available at 2 locations in San Gil. The first, and more extreme, is on the Suarez River to the west of the city. The second option is on the central Fonce River in the city itself, with far less intense rapids.
The rapids on the Rio Suarez are the highest grade possible – 5 out of 5. These are intense and age restrictions do apply. The ability to swim, good physical fitness and signing a complete disclaimer are also required. But, with great risk, comes great reward. Prepare to battle your way through the water over turbulent rapids where falling in is a real possibility!
On the other hand, rapids on the Rio Fonce are only graded at 2 and 3 out of 5. Making this a more suitable activity for children and older adults, as well as those less confident on the water.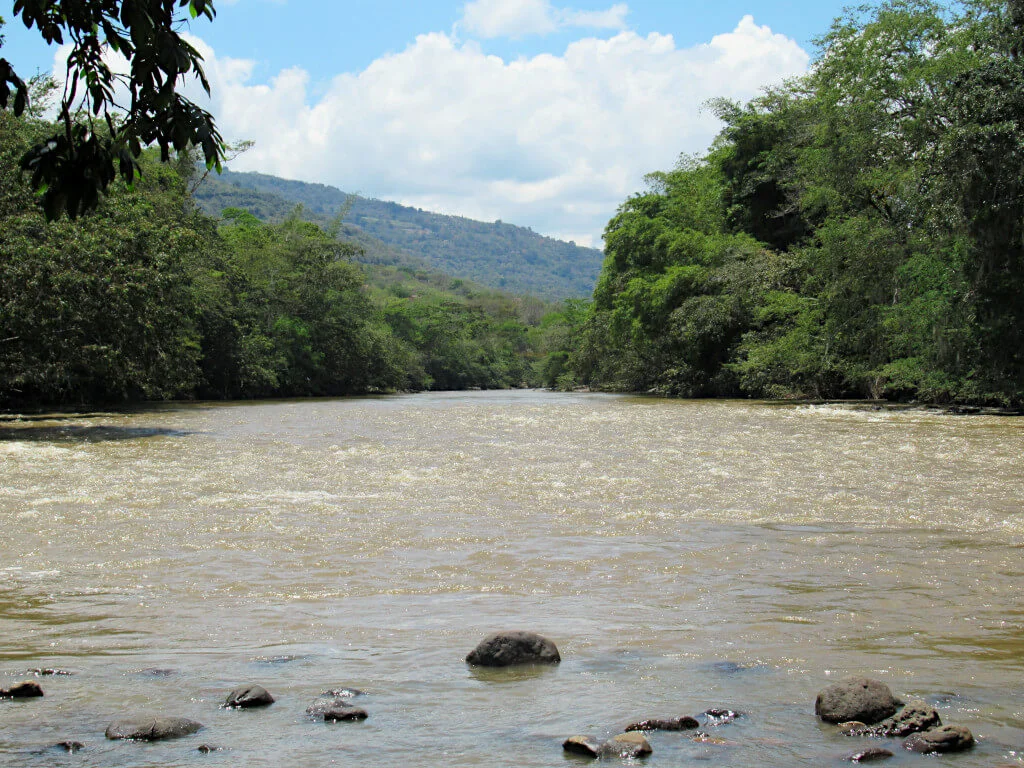 Mountain Biking
Full day mountain biking tours are pretty popular here. The most popular tour is to the Chicamocha Canyon, which includes over 50 km of downhill riding. And, you'll also visit Jordan and Curití. Two meals, snacks, full suspension bikes, guides and insurance are all included in the cost.
Other available tours include cycling to Barichara, to the Rio Suarez Canyon and to Cascada Juan Curi. Which ever you fancy, book in San Gil for the best price.
Abseiling
Also known as rappelling, abseiling is another of the top-rated things to do in San Gil. Plus, there's also torrenting – a specific type of abseiling down the face of a waterfall.
Juan Curi Waterfall to the city's south is a popular torrenting spot, tours can be booked in the city or directly onsite. While at the Chicamocha Canyon you can pick from abseiling or torrenting on the artificial waterfall at the top of the canyon.
Visit the city's viewpoints
As much as I tried to avoid walking the steep streets, I have to admit the view was worth it. The city has two points, Cerro de la Cruz on the southwestern side of the river and La Gruta in the northeast.
Temperatures in San Gil Colombia don't vary much from month to month and across the day. So no matter when you go, you're in for a sweaty walk! I wouldn't recommend visiting after dark as the climb to La Gruta was certainly a little sketchy in places.
Take a Stroll in Parque Natural El Gallineral
Located on the southeastern edge of the city, Park Gallineral is a nice place for a short walk and explore. The entrance fee is cheap at 6,000 COP (or 12,000 COP if you want to use the pool), but you don't get much for your money.
An hour is all that's really needed for a visit unless you want to swim. But, during that time, you can walk the tree-lined trails, see a group of horny tortoises, visit the coffee shop and browse the souvenir store.
Play Tejo
Best enjoyed with a group of friends (or strangers), Tejo is a game where metal discs are thrown at envelopes of gunpowder in the hope of getting an explosion!
Despite how it sounds, it's actually a very safe game. In your teams, take turns throwing your discs towards the clay pit. Maximum points are awarded if the disc lands inside the ring of gunpowder envelopes (like a bullseye), followed by getting an explosion and then just who is the closest to the middle.
Most of the hostels run Tejo nights as a social activity. For example, at Sam's VIP Hostel it's Tejo Tuesdays. Alternatively, you can just make your own way to Comite Municipal De Tejo, Zona de Participación Vecinal: Santander and join in. Beers are cheap and the staff are friendly. You can't really go wrong.
Visit Barichara
As one of Colombia's prettiest towns, it's not surprising that Barichara was one of a few spots used as inspiration for the Disney film Encanto. So, here's your chance to walk in the footsteps of Lin-Manuel Miranda and explore the best of Colombia.
With cobbled streets, colonial architecture, white buildings and a beautiful central square, you could easily stay in Barichara for a while. But, with its small size, it's perfect for a day trip or one-night stay.
Enjoy a beer in the square, wander the streets, head to the viewpoints or take a hike along the Camino Real from Barichara to Guane. Life is slow and laidback in Barichara, so take your time.
The first bus from San Gil's Terminalito to Barichara leaves at 6.15 am and the last return bus is at 7.10pm. Two to three buses run each hour, so you shouldn't be waiting long for the next. Tickets cost 6,000 COP each way and the journey takes around 45 minutes.
Visit Curití
Caving and paragliding are popular activities in Curití, often run as tours from San Gil. However, you can also take the bus from Terminalito to Curiti to explore the town and visit the natural pools along the river.
The town of Curití is small and you won't need much time to explore the artisanal shops and narrow streets. The natural pools are a 45-minute, 3.5 km walk east of the town, which luckily cool you off at the end!
Cascada Juan Curi
This beautiful waterfall is located approximately 30 minutes south of San Gil by bus. From Terminalito, take the bus towards Charala and ask to get off at the waterfall. Entrance costs 12,000 COP as of 2022.
You can either enjoy a relaxing day at the waterfall, swimming in the pools and walking along the trails. Or, you can also experience torrenting – abseiling 130 metres down the waterfall for an additional cost!
Travel Insurance
Most bloggers will use this section to get you to buy insurance through their affiliate link. But, I'm not going to do that. I'm just here to make sure you've checked that your insurance covers any activities you're going to do in San Gil, Santander.
Few policies will include cover for high-risk adventure activities as standard. For many, you'll need to add on their adventure sports package at a higher premium. And, if your insurance doesn't cover an activity, make sure you check whether a separate insurance policy is included in the cost of the package – plus what it covers.
In addition to what an insurance policy covers, you should also check the excess, repatriation coverage and whether you'll be covered to continue your treatment at home.
---
Where to Stay in San Gil
The city has no shortage of accommodation options whatever your budget – hostels, hotels and Airbnbs. While you won't find any international hotel brands here, there are still boujee apartments and hotels for the more luxury-seeking travellers.
When booking accommodation, it's important to check how central in the city you are. Unless you want a long walk or taxi ride each day, you want to be as close to the main square as possible. All of the options below are located within 3 blocks of the central plaza.
Hostels
Sam's VIP Hostel. Located in the main square itself, you can't get more central in San Gil than Sam's VIP Hostel. Plus, with a rooftop pool and sauna as well as two kitchens, good communal areas and helpful reception staff, this is a budget-friendly and good value option.
Book on Hostelworld | Book on Booking.com
Macondo Hostel. This hostel is consistently rated as one of the best in Colombia. With its small pool, spacious rooms and comfortable communal spaces, it's no wonder that travellers continue to flock to Macondo Hostel.
Book on Hostelworld | Book on Booking.com
Traveler Hostel. As the only hostel on the list that offers tents as an option, it certainly has a unique element. But, whether you're staying in a tent or a room, you'll enjoy the best of hostel life with spacious communal areas and knowledgeable staff. All within a stone's throw of the main square and Terminalito bus station.
Book on Hostelworld | Book on Booking.com
La Mansion Hostel. This is the sister hostel of Sam's VIP, meaning you get all the offerings of this popular hostel but often in a less busy environment. Located less than half a block from the main square though, you certainly won't feel like you're anywhere but in the heart of San Gil Colombia.
Book on Hostelworld | Book on Booking.com
Hotels
Hotel Boutique El Campanario. Centrally located by the city's Cathedral, this 4-star hotel is a more boujee and upmarket option compared with the many hostels around. With its stunning decoration, this is the place to unwind and relax after adventurous days out.
Check availability and book with Booking.com
Hermoso Apartamento. Travelling as a group? Then this 3-bedroom apartment with an additional sofa bed in the living room can sleep 6 people. With two bathrooms and a fully equipped kitchen, this place has everything you could need for a short-term stay.
Check availability, prices and book today with Booking.com
How Long to Stay in San Gil Santander
There are definitely more things to do in San Gil activity-wise than there are to see. So, you can really stay for as long as you want or need. Just want to go paragliding? Then, book two nights – paraglide in the morning and explore the city in the afternoon and be on your way the next day. Want to enjoy a more leisurely pace? Then stay for a week, chuck in a few activities and day trips as well as time chilling by a hostel pool in the not too hot temperatures of Santander.
Plus, you won't feel like you're missing out unless you're a massive adrenaline junky who wants to do all the activities. I could tell you paragliding is a must-do, but if you hate heights, then you won't agree. Here, you can travel at your own pace and enjoy activities up your street.
Personally, given the remote location relative to the other popular Colombian spots you'll likely be travelling to next, I'd recommend staying for at least 3 nights. As a relatively slow traveller who loves having days to just relax and enjoy being somewhere, I stayed for 7 nights and there's plenty I still didn't get round to doing.
Best Time to Visit Colombia's Adventure Capital
The temperatures in San Gil are around 30 Celsius/86 Fahrenheit all year round, but some months have more rain than others. The rainiest months are May and October, but April, September and November also see relatively high levels of rainfall. December to February are the driest months and make for an ideal time to visit.
---
Best places to Eat & Drink
The streets of central San Gil are lined with restaurants, bars and cafes. Is there a huge variety? No, definitely don't expect a full selection of different international cuisines. But, there's choice, the restaurants are generally well priced and the food is good. Here are my favourites…
The number one recommendation spot has to go to the small cafe a couple of doors along to the right of Sam's VIP Hostel. Unfortunately, I don't know the name of this amazing bakery but the croissants were incredible! Top picks include the ham and cheese croissant and the Nutella croissant. Both are so filling and so cheap.
Restaurant wise, I loved both La Rueda Pizza y Pasta and Penelope Pizzeria. The second of those has a mashed potato pizza, what's not to love?! Gringo Mike's is another popular restaurant often recommended online, but to be honest each of the 3 times (yes, I know) I ate there, I was always slightly disappointed. A Philly Cheese sandwich that was nothing like what it should be, a dry quesadilla and a meh burger, I shouldn't have kept going back. But, the portions were huuuuge and while slightly more expensive than other options available, still budget friendly.
I love eating my way around the world but eating out for 1 or 2 meals a day quickly eats into your budget (no pun intended). Making my own breakfast and lunch in the hostel kitchen not only saved money but also time spent searching for restaurants and waiting for food. Supermercado Multihogar was my go-to supermarket just a couple of blocks from the square, it's got everything you need. Additionally, Casa de Mercado market is great for fresh food, cheap eats and more.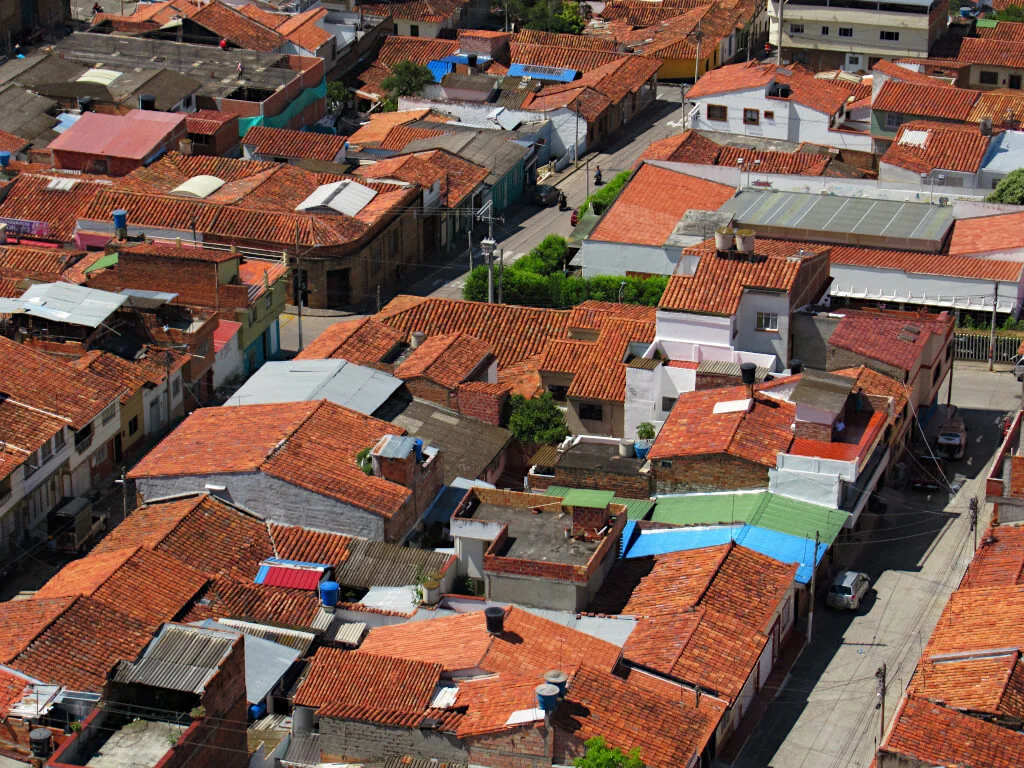 Is San Gil Safe?
Overall, yes. Are there areas I'd be less keen to visit at night? Also, yes. But being uncomfortable doesn't mean you're unsafe.
Around the square and surrounding blocks, you're unlikely to get into any issues day or night. The further from the centre you go, the more you need to keep your wits about you – as with any city. I'd avoid visiting the city's viewpoints after dark as the route is not well-lit and groups do hang around.
Where to Visit after San Gil
Despite being a small city in a fairly remote location there are good transport links to the rest of Colombia. There are long-distance buses from nearby Bucaramanga to the coastal cities of Santa Marta and Cartagena. From Santa Marta, you can visit the popular beach town of Palomino, visit the Lost City on a 3-night trek or visit the stunning Tayrona National Park. Cartagena boasts a skyline of skyscrapers as well as being the place to go to for island hopping or even sailing to Panama's San Blas islands.
To the south of the city, you'll have easy transport options to Guadalupe for Quebrada Las Gachas, Villa de Leyva for its cafe culture and the stunning Pozos Azules and Bogota that has lots to offer, including Colombia's highest waterfall!
Nearer to San Gil, you can reach the small towns of Barichara and Villanueva in the Santander countryside. Both are popular with hikers, in Barichara you can complete the short downhill trek to Guane. Or, in Villanueva, take the 15 km trail to Jordan for stunning views.
---
Do you have any questions or want any more information? If so, drop a comment below and I'll get back to you!
Information and prices are correct as of May 2022 but are subject to change in future.
---
More Colombia Travel Inspiration…
SANTANDER: Quebrada Las Gachas Guadalupe: Colombia's Best Hidden Gem
SANTANDER: Chicamocha Canyon Complete Guide | Truly Spectacular!
MEDELLIN: Comuna 13 Medellín (Guide & Recommendations For This Must-Do)
CARIBBEAN COAST: Palomino Beach (Colombia's Caribbean Coast Paradise): Ultimate Guide
CARIBBEAN COAST: Tubing in Palomino: Complete Guide to a Must-Do Activity (2022)]
CARIBBEAN COAST: Playa Taganga (Is This Santa Marta's Dirtiest Beach?)
VILLA DE LEYVA: Pozos Azules Villa de Leyva (Complete Guide to the Blue Wells)
---
PIN IT FOR LATER!