Oaxaca City and Puerto Escondido are two staple places on the backpacker route between Cancun and Mexico City. Yet, despite these two places being less than 100 miles apart they are separated by a mountain range. One which slows land travel and adds many miles to journeys. As such, many travellers have become confused at figuring out the best, most comfortable or cheapest route to get from Oaxaca to Puerto Escondido.
This complete guide on how to get to Puerto Escondido has all the transport options, their costs, comfort levels and journey times. There's even a bonus at number 6 – a stopover in San José del Pacifico, a magical town in the Oaxacan mountains.
Making the journey in the opposite direction? No worries, all these transport options also work when you're heading from Puerto Escondido to Oaxaca.
Some of the links below are affiliate links, meaning, at no additional cost to you, I may earn a small commission if you click through and make a qualifying purchase.
How to get to Puerto Escondido from Oaxaca City
Transport options are aplenty to travel between Oaxaca City and the coastal town of Puerto Escondido (and vice versa). The two places are separated by the Sierra Madre mountain range that results in journeys taking much longer than you'd expect. Particularly, given that Oaxaca City and Puerto Escondido are just 85 miles apart, as the crow flies.
The transport options below are suitable for all budgets and group sizes. So, you should have no problem finding the perfect option for you and you'll be on those Oaxaca coast beaches before you know it!
Option 1: Take a flight to Puerto Escondido
Can you fly from Oaxaca City to Puerto Escondido?
Yes, direct flights operate just a couple of times per day. But, you won't find the Oaxaca City-Puerto Escondido route on flight comparison sites or with well-known commercial airlines.
Additionally, you won't find a jumbo jet waiting for you on the tarmac. Instead, small propeller planes seating no more than around 10 people make the journey each day. While this will certainly be a unique experience, it can make for a bumpier flight and landing.
The two airlines operating the Oaxaca to Puerto Escondido flight route are Aerotucan and Aerovega. The latter of which has almost no online presence, but they are legit.
Booking & Cost
Aerotucan flights can be booked online or at Oaxaca de Juarez Airport. For Aerovega, you'll need to email [email protected] or send a WhatsApp message to the airline on +529545880062.
The price of a one-way flight starts at around 120 USD/2,500 pesos. To note, you'll want to check the luggage allowance with whichever company you book with.
Smaller planes are normally much more stringent about keeping to weight allowances, including carry-on. Excess luggage is likely to incur a costly fee to cover the increased amount of fuel needed. And, a flight is unlikely to be a suitable way to travel with a surfboard or any other bulky gear.
In all honestly, the price is not much for a near-private flying experience. Especially, if you consider the flight an activity as the views and overall experience are so cool.
Journey Time
The flight time between Oaxaca City and Puerto Escondido is only 30 minutes. And, on a clear day, you will be treated to the most majestic views of the mountains and coast.
Flying is by far the quickest way to reach Puerto Escondido. This is still true even when you factor in the additional travel time to and from the airports on either side.
Oaxaca City Airport is a 30-minute drive from the heart of the city. While Puerto Escondido Airport is just a 10-minute drive from the Centro district and closer yet to the neighbourhoods of Bacocho and Rinconada.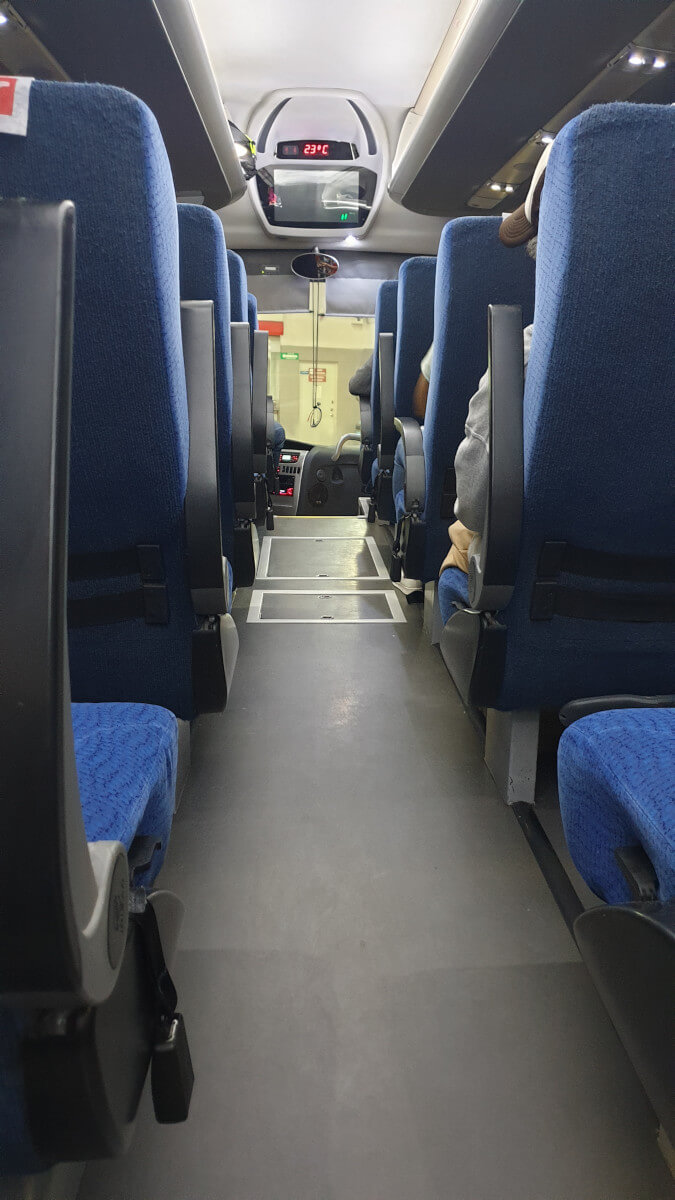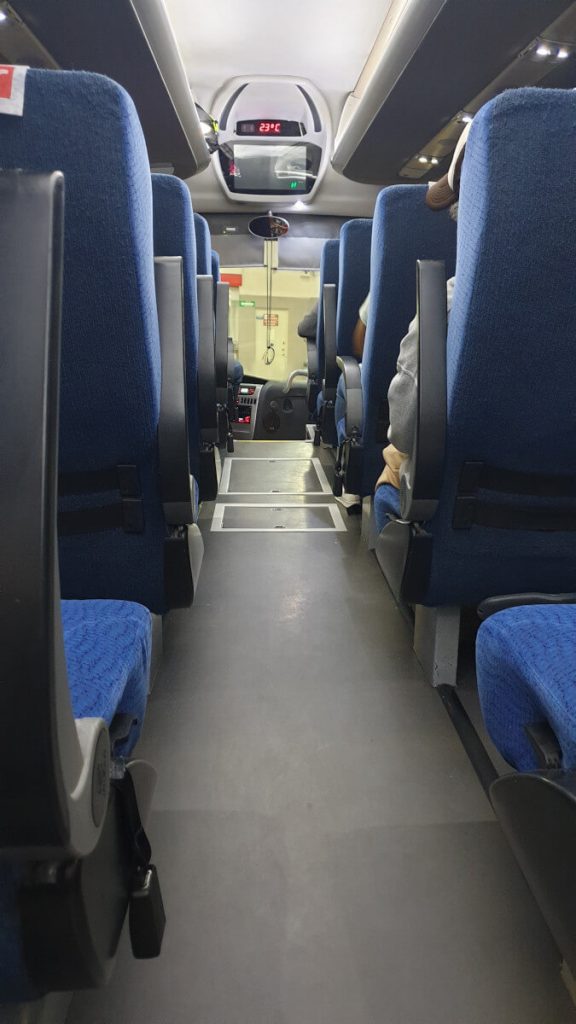 Option 2: Bus from Oaxaca to Puerto Escondido
Taking the bus to Puerto Escondido is the option that most balances budget and comfort. There are cheaper options, but you sacrifice comfort. And, there are more comfortable options, but you pay a premium for them.
Like much of Mexico, the inter-city buses are large coaches. Typically, these sit 45 to 50 people and have a large compartment for luggage under the bus. The seats recline a little but these are not lay-flat buses that are more often seen in South America and South-East Asia for long journeys.
Around 2 to 4 services a day operate on the Oaxaca to Puerto Escondido route. However, the times and prices of these services change by day, month and season, so be sure to check in advance. These buses drive along the main highways, going via Salina Cruz, as they are too large for the more direct mountain route.
Booking & Cost
You'll have the option to book with OCC (an ADO company) on their first-class buses or with ADO gl – an executive-class bus. The cost is around 500 to 600 pesos with OCC and around 700 pesos for ADO gl.
I would say that the ADO gl buses are worth paying a little extra for. Generally, they are not as full, have fewer seats so more legroom, guaranteed power sockets (including USB) and have drinks available onboard. Even though the buses avoid the main mountain pass, the route is still windy. So, any extra comfort you can get is a bonus.
I took the night bus between Oaxaca and Puerto Escondido and struggled to sleep with the windy roads and full bus. Someone had put a bottle on the shelf above the seats and it was banging about all night with every twist and turn on the road! I wish I'd taken the ADO gl bus!
With ADO, I recommend booking online as soon as you know when you want to travel. With the longer journeys, there are normally heavily discounted tickets available when booked at least a week in advance.
Journey Time
Travelling between Oaxaca City and Puerto Escondido by bus takes around 10 hours along the 500 km route. The buses typically stop at Salina Cruz and Pochutla too.
Sometimes, there is one bus that leaves in the morning, arriving in Puerto Escondido in the evening. And then there are 2 to 3 buses leaving late evening, travelling overnight to the coast. I prefer to get the latest bus possible to arrive as late in the morning as possible at my destination. I've arrived off a night bus at 7am and not been able to check-in until 3pm. And it's not nice – especially after very little sleep!
The Oaxaca bus station is slightly out of the city centre, so you'll need to factor transfer time into your journey too. Similarly for Puerto Escondido's ADO bus terminal. Although it is located centrally, many visitors stay in the Zicatela, La Punta or Rinconada neighbourhoods. All of which require onward transport.
Still looking for accommodation in Puerto Escondido?

Find the top-rated hotels, check availability and book online through booking.com or hostelworld.com
Option 3: Colectivo to Puerto Escondido through the mountains
A cheaper, though much less comfortable, option is to take a colectivo to Puerto Escondido. Colectivos are small public shuttles, which typically seat around 16 people in a minibus-style vehicle.
The seats are much closer together than on the large inter-city coaches, reducing both legroom and seat width. Additionally, colectivos make a lot of stops along the way to collect more passengers, this can add hours to long journeys.
The colectivos running between Oaxaca City and Puerto Escondido do take the more direct mountain pass route. But, this does make for a very windy and bumpy ride and many people report experiencing travel sickness. Expect to be thrown around in your seat on those hairpin bends!
As such, this is typically not a comfortable journey. But, what you sacrifice in that regard, you make up for in cost. If you are tall, prone to travel sickness or just prefer personal space on a long journey, then I'd highly recommend taking the bus over a colectivo.
How to get to from Oaxaca to Puerto Escondido by colectivo
To take a direct colectivo to Puerto Escondido, head to La Solteca S.C.L (this is the name on Google Maps, so you can find it easy).
Another, less direct option, is to take an Eclipse 70 or Lineas Unidas colectivo to Pochutla. Then, take another colectivo or an ADO bus along the coast to Puerto Escondido. This route is more time-consuming and costly, so take the direct option.
You should note though that there's a good chance your luggage will be put on the roof of the vehicle. Though it's rare for people to lose luggage, as normally everything is tied down well, you should keep all valuables and important items in a bag that you take onto the colectivo.
You'll want to take the colectivo during the day. This way, you can experience incredibly scenic views as you make your way south through the Sierra Madre mountains. However, this does mean sacrificing almost a full day for travel across the state of Oaxaca. Taking the night bus saves you the cost of a night's accommodation, doesn't take too much time from being in places but does offer almost zero in the way of countryside views.
To note, you can take colectivos at night to Puerto Escondido. But, honestly, the ride is terrifying enough on the narrow mountainside roads without adding in driving at night. Plus, if you're going to sacrifice comfort, you might as well get some incredible views in exchange. Though, there will likely be times that you are just in the clouds and can't see anything!
Cost
245 pesos. Plus travel sickness medication if you so wish. Booking in advance is not generally required but services will be busier around national holidays.
Journey Time
Depending on the number of stops to collect people, have toilet breaks and buy snacks, as well as the conditions of the roads, the journey is usually completed in around 7 to 8 hours.
Option 4: Drive to the coast from Oaxaca City
If you have your own car or already have one rented for an extended period, driving to Puerto Escondido makes perfect sense. You can leave when you like, stop when you like and it means you have your car with you on the coast. Which, is a great way to get around and explore harder to reach beaches and towns.
But, I wouldn't recommend hiring a car just to travel between Puerto Escondido and Oaxaca. It's not cost-efficient and the drive is not an easy one.
Is it safe to drive from Oaxaca to Puerto Escondido?
Most of the time when this question is asked about places in Mexico (and across Central America), it's usually car-jackings, robberies, corrupt police officers and roadblocks that people are concerned about. None of which are a real concern on the roads here. Although, some roadblocks can occur as a way of the local people protesting.
Instead, the biggest safety concern is the condition of the roads and the weather conditions. Oaxaca City is around 1500 metres above sea level, but the roads pass through towns around 2600 metres above sea level. All before dropping back down to sea level in Puerto Escondido. As such, the roads wind around the mountains with many hairpin turns and blind corners. Plus, heavy fog can reduce visibility to almost nothing and heavy rain is not uncommon.
A safer option is to follow the diversion route that the ADO buses take via Salina Cruz. However, this does extend the journey time from around 7 to 10 hours.
If you want to drive the mountain route, make the journey during the day and check the weather forecast in advance. Ideally, you'd also have experience with the roads before as well as having experience with the car (braking distance, handling etc) and driving on the right-hand side of the road (alien to us Brits and Aussies).
Cost
There are no toll roads on the mountain route from Oaxaca City to Puerto Escondido but there is on the route via Salina Cruz. Other than this, the cost will be that of your car hire and fuel. Plus snacks, you always need snacks for the journey!
Journey Time
Driving via the mountain route in your own car will take around 6.5 to 7 hours without stops. Via Salina Cruz, driving time will be around 10 hours.
RELATED POST > > > Playa Bacocho, Puerto Escondido (Complete Beach Guide)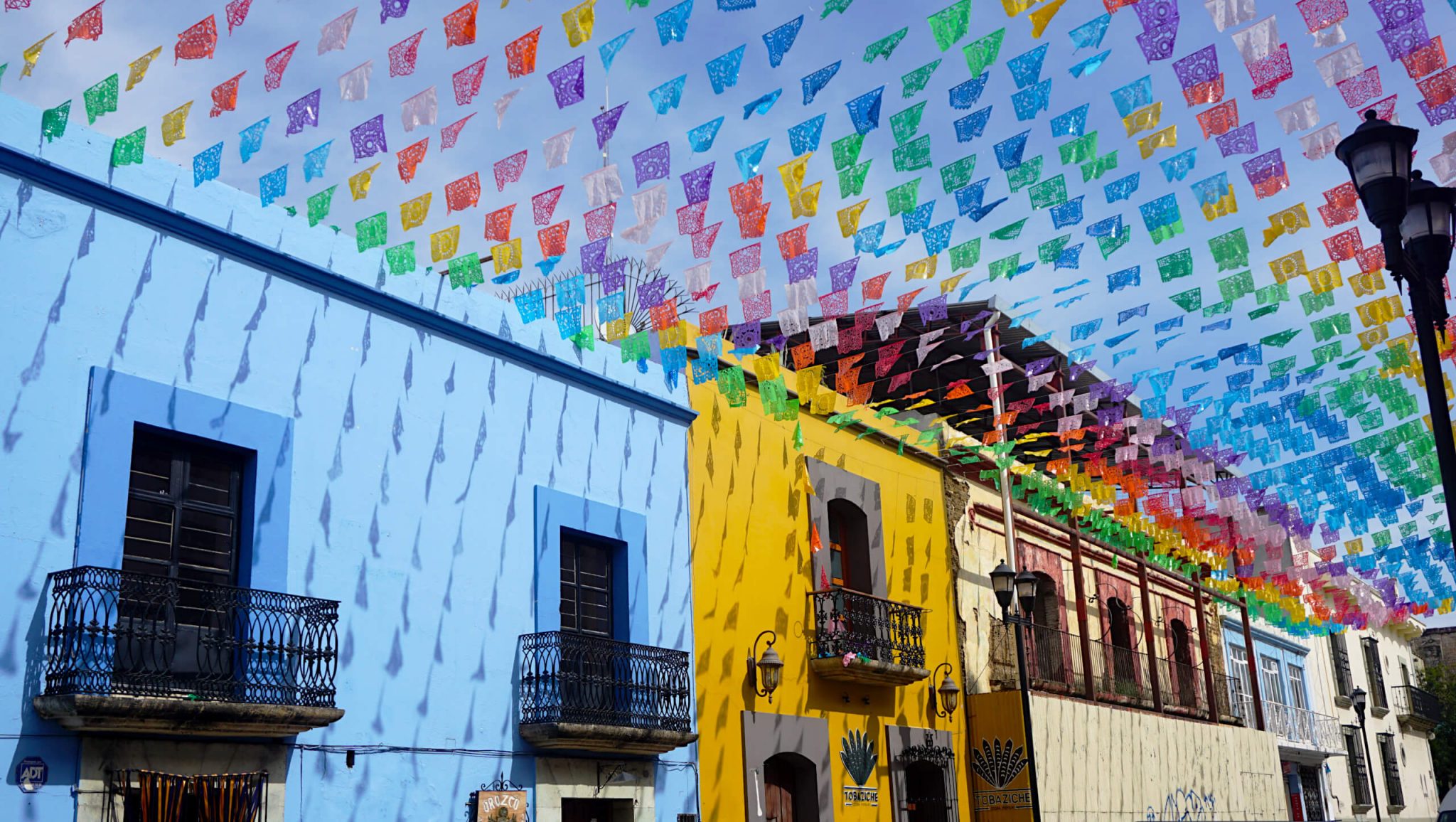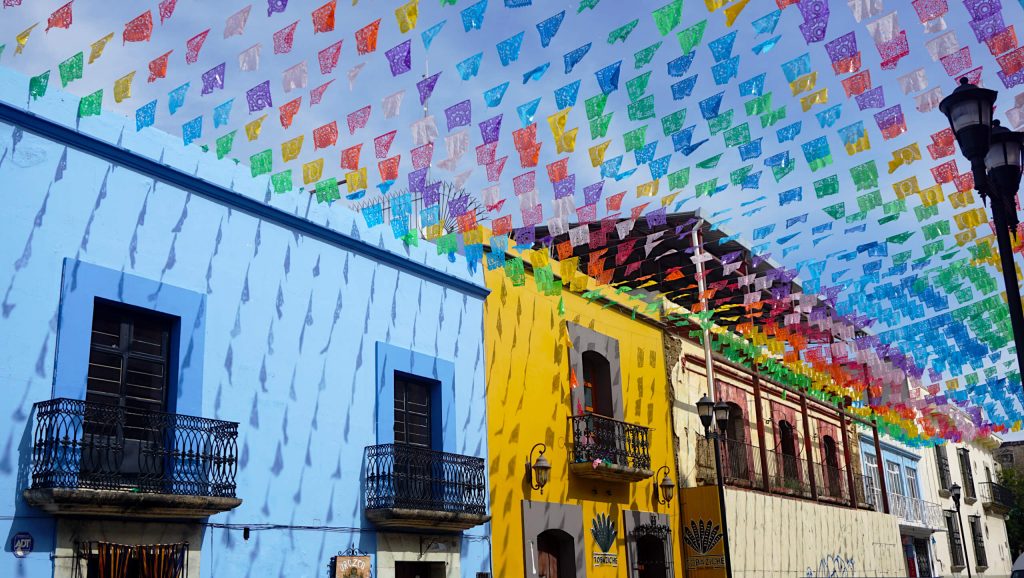 Option 5: Private Transfer to Puerto Escondido
Another option to get from Oaxaca City to Puerto Escondido is to take a private transfer. Now, these aren't as popular or common for this route as in other parts of the country, due to the long journey time.
However, like much of Mexico, when someone is willing to pay, someone is willing to drive. But, a private transfer isn't going to come cheap.
Booking & Cost
Online, it is the same company that takes bookings through Expedia, Viator and TripAdvisor. You can book through any of these and the cost appears to be the same.
A one-way journey in a car that seats 3 people costs 324 USD on weekdays and 360 USD on weekends. For larger groups, a private transfer in a minivan seating 8 people costs 499 USD on weekdays and 519 USD on weekends.
These costs are for the whole vehicle and therefore are split between all passengers. For 8 people travelling in a minivan on a weekday, this equates to just over 62 USD per person.
You may be able to get a better price by booking direct. Ask at your hostel or hotel in Oaxaca for recommendations.
Journey Time
A major plus point of a private shuttle is that it picks you up from your hotel and drops you off at your next hotel. And, as a private option, you won't be driving around waiting outside other people's hotels.
Depending on where you're staying in both Oaxaca and Puerto Escondido, expect the total driving time to be around 7 hours. Though, the entire journey will take slightly longer as you'll no doubt stop for food and toilet breaks.
Option 6: Via San José del Pacifico (with a stopover)
An alternative option to a long drive or expensive flight is to stop mid-way. And, there's nowhere more perfect for your stopover than the mountain town of San José del Pacifico.
Located at 2600 metres, San Jose del Pacifico is known as the magic mushroom town of Mexico. The use of the natural psychedelics has been decriminalised in the town due to its indigenous and cultural use. As such, (a relatively small number of) backpackers and tourists come to San Jose del Pacifico for a psychedelic experience in the mountains.
But, magic mushrooms aren't the only reason to visit San José del Pacifico. The town and surrounding area has many hiking trails and viewpoints that look over the Sierra Madre mountains, often from above the clouds. Though, sometimes from within the clouds, especially in the rainy season.
This is the perfect place for a stopover between Oaxaca and Puerto Escondido as you can stay for one, two, three or more nights. Accommodation is available in cheap town-centre hotels or more remote forest cabins where you'll be fully disconnected from the rest of the world.
My recommendation would be to stay at Cabanas La Cumbre, a hostel-hotel with both a town centre location and forest huts. Prices start from around 180 pesos per night for a one-bed room. The hostel part in the town of San José del Pacifico has some of the best views in the town and is perhaps one of the most scenic hostels in the world!
For more information and a detailed guide on how to get there from Oaxaca City and then on to Puerto Escondido, read this complete guide to visiting San José del Pacifico.
Is it worth going to Puerto Escondido?
If you like surfing, beaches and/or being by the sea, then you'll find something perfect for you in Puerto Escondido. Though it has a reputation as a surfing town, there's plenty more on offer. Whale-watching tours, sunset boat rides, releasing baby turtles into the wild and kayaking in lagoons are just a few of the activities in Puerto Escondido.
Plus, there's also everything from party hostels to luxury villas. As well as all types of restaurants from seafood to Persian. There are beach bars and markets, sunset spots and world-class surfing competitions right on the beach.
What's more, you can travel along the coast to other small towns and special beaches. Like Lagunas de Chacahua National Park, a small town where there's barely any WiFi or phone signal, but miles of golden sand. Or, Mazunte and Zipolite, Oaxaca's coastal spiritual towns with sprawling beaches. In fact, some of Mexico's best beaches are in Oaxaca – here are 17 Oaxaca beaches you should add to your must-visit list!
---
If you have any questions or want any more information, drop a comment below and I'll get back to you!
Information is correct as of January 2022 but is subject to change in future.
---
More Mexico Travel Guides
Coastal Oaxaca: Playa Bacocho, Puerto Escondido (Oaxaca Beach Guide)
Central Oaxaca: San José del Pacifico, Oaxaca (Complete Travel Guide)
Coastal Oaxaca: 17 Oaxaca Beaches You HAVE to Visit
Coastal Oaxaca: Lagunas de Chacahua, Oaxaca (Ultimate Travel Guide)
Chiapas: Incredible Waterfalls at Cascadas El Chiflón, Chiapas (Travel Guide)
Chiapas: Visit El Arcotete Eco Park in San Cristobal, Chiapas [Complete Guide]
And much more, check out all Mexico Travel Guides here!
---
PIN IT FOR LATER!