At an astounding 590 metres tall, Cascada la Chorrera Choachi is the tallest waterfall in all of Colombia. Located just outside the capital city of Bogotá, a visit to La Chorrera can be combined with the smaller – but still impressive – Cascada El Chiflon, just a stone's throw away.
These Bogotá waterfalls are an absolute must-visit, yet few tourists make the short journey here to admire the work of Mother Nature. As such, and especially during the week, the waterfall park is like a ghost town – in a good way. Honestly, you'll probably see more animals than people.
So, if you're looking to see more of Bogota beyond the concrete jungle of skyscrapers, this is for you. Find out everything you need to know to plan, execute and enjoy your day out to the La Chorrera and El Chiflon waterfalls.
Some of the links below are affiliate links, meaning, at no additional cost to you, I may earn a small commission if you click through and make a qualifying purchase.
Where is Cascada La Chorrera Choachi?
The waterfall itself is around 13 km to the east, as the crow flies, of central Bogotá. Although, with the windy roads, the driving distance is around 35 km. Choachi is the nearest town to the waterfalls, 15 km to the south along equally winding roads.
La Chorrera waterfall, alongside the smaller Cascada El Chiflon – not to be confused with Cascadas El Chiflon in southern Mexico – are both inside the Parque Aventura La Chorrera Ecopark.
From the entrance to the park, both La Chorrera and El Chiflon are only accessible by foot. The walk to La Chorrera Choachi is around 2.5 km each way, while El Chiflon is closer to the entrance – just 600 metres of walking is required each way.
How to get to Cascada La Chorrera from Bogotá
Getting to the waterfall is pretty straightforward if you've read about how to do the journey beforehand. In short, you just need to take a bus from Bogotá and then you can either walk or take a taxi to the park entrance.
Of course, you can always drive yourself. But, I wouldn't recommend hiring a car in the city just to visit these Bogotá waterfalls. I mean, to be honest, I wouldn't recommend hiring a car in Colombia at all, the driving is crazy! If I'm going to travel along narrow, winding, mountain roads, I'd rather have someone drive me who knows the roads and conditions inside out.
Parking is available near the park entrance for a small cost (around 10,000 COP). Normal cars and motorbikes will have to park a few 100 metres before the entrance, 4x4s and larger vehicles may be able to make it all the way to the park entrance.
Step 1: Take a Bus from Bogotá towards Choachi
First, you'll need to get to Terminal Transoriente. This is a small single company bus station not far from La Candelaria.
I'd recommend taking a taxi as the area around the bus station is not too safe. Just a few days before I'd changed buses at the Bicentenario station a couple of blocks away and saw a man, trousers down, taking a shit on the central reservation of the road in broad daylight. Just take a taxi – I used the Cabify app to book as it's quick, easy and doesn't require me to talk in Spanish.
Inside the bus station, buy your tickets at the small office on the left-hand side asking for La Chorrera. Prices are advertised and fixed with tickets costing 8000 COP per person each way. Make sure you tell the driver or assistant as you get on that you're going to the waterfall. The journey takes around 1 hour.
As there isn't a specific bus stop for the waterfall, it's best to be doubly safe and check on a maps app where you are throughout the journey. You can see the exact location where you want to get off on Google Maps here.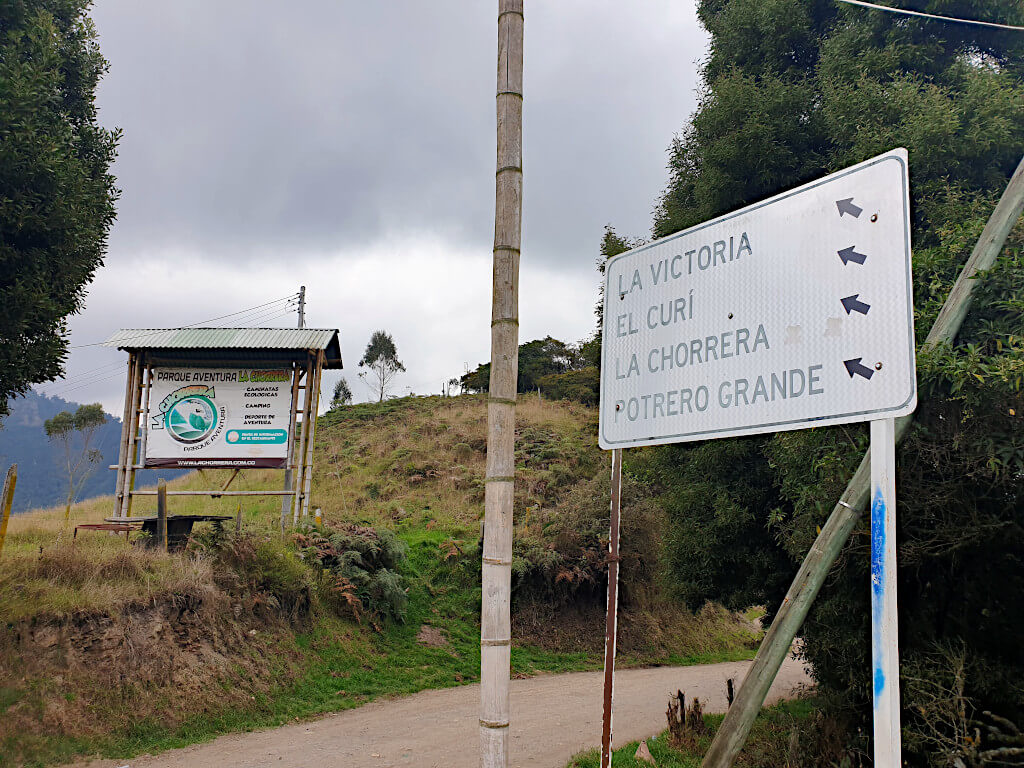 STEP 2: Walk or Taxi to Parque Aventura
Once you're off the bus, you have two options. You can either walk the remainder of the way to the park entrance or take a taxi.
If you choose to get a taxi, you'll need to ask the person working at the small shop where you got off the bus to call one. There are specific 4×4 taxis that operate along this road. The cost is 35000 COP each way no matter how many passengers and the journey takes 15 to 20 minutes.
Alternatively, you can walk the 5 km to the park entrance. Most blogs will tell you it is mostly downhill and that is true. But, the keyword is 'mostly' the last 1 km or so is a pretty steep uphill climb. And, let's not forget we're at over 2500 metres!
However, walking is free and takes you through beautiful valleys and countryside – and past cute dogs. Additionally, the walk is easy to follow from the roadside, taking around 1 hour in total. But remember, this is just to the park entrance – not the waterfall itself! That's another 2.5 km away…
Visiting with a Tour
Tours to Choachi's La Chorrera waterfall cost around 60 USD including round-trip transport from Bogotá, a guide and entrance. More if you're getting a private tour. Naturally, the convenience of transport that doesn't require finding a bus and taxi comes at a cost premium.
For comparison, travelling independently cost 45,500 COP (12 USD) from La Candelaria to the waterfalls. This is based on two people sharing a taxi from the park entrance back to the road and walking the other way, as well as a return taxi journey from the bus station to La Candelaria. Park entrance is another 9 USD (see more below), for a total cost of 21 USD.
If cost is not a factor and you prefer and/or value the convenience, you can book a tour through many hostels in the city or online.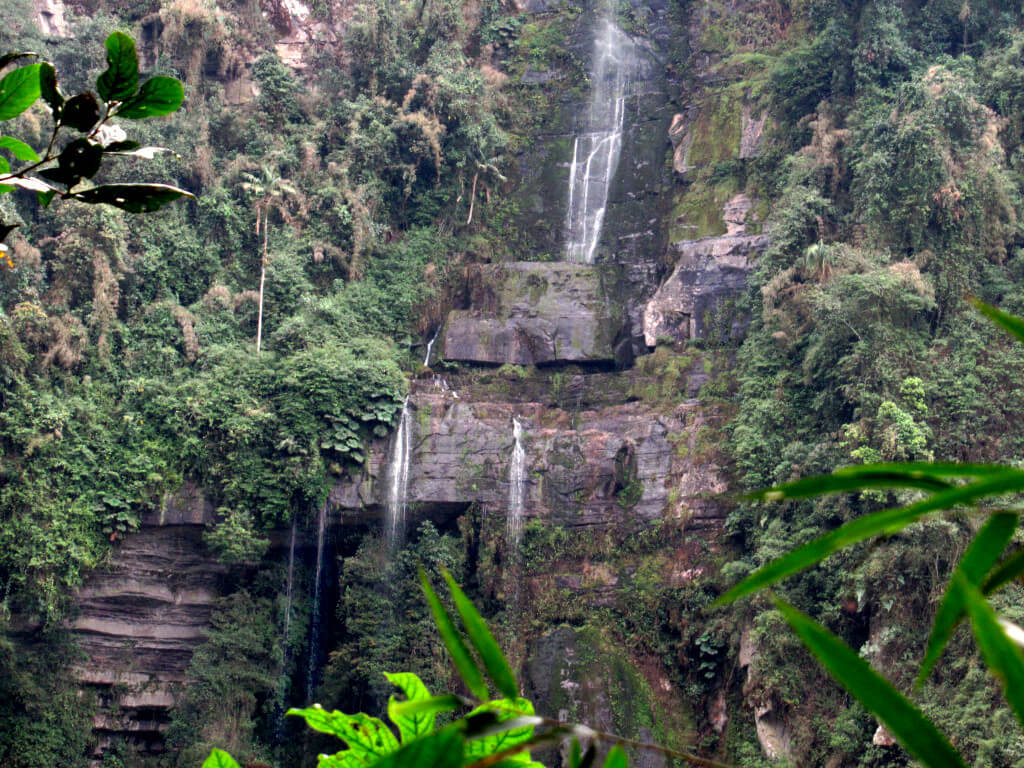 Hiking to La Chorrera and El Chiflon Waterfalls
OPENING TIMES & Entrance Fee
Parque Aventura La Chorrera Bogotá is open from 8.00am to 5.00pm, 7 days a week.
Since the pandemic, the entrance fees for the park have increased significantly. However, while the price used to only include park access, the cheapest package now also includes some snacks and other essential items. You can pay with card or cash.
The three available packages are:
Package 1:
Entrance to the park include Cascada La Chorrera, Cascada El Chiflon and a rock formation
Biosecurity kit (alcohol spray, toilet paper, mask)
Medical insurance
Snacks: 500 mL bottle of water, fruit, chocolate, biscuits
All of this comes in a park-branded drawstring bag (adults only)
Cost: 35,000 COP for adults and 20,000 COP for children.
Package 2:
Everything in Package 1 plus lunch, which includes a protein choice (chicken, beef, pork) with rice, salad, potatoes and a fruit juice
Cost: 50,000 COP for adults and 30,000 COP for children.
Package 3:
Everything in Packages 1 and 2 plus overnight camping in a marked and securely patrolled area, access to the bathroom and showers, campfire area, WiFi access, water and light.
Cost: 70,000 COP for adults and 40,000 COP for children.
The cost for children is only for those under 120 cm and the food is in smaller portions. Children under 90 cm do not need to pay the entrance fee, only for the medical policy (10,000 COP) but do not receive food or anything else from the list above.
---
Additionally, it is also possible to purchase entry to just access Cascada El Chiflon – the smaller waterfall. The price of 20,000 COP also includes the biosecurity kit and insurance.
Facilities
At the entrance, you'll find the ticket office, toilets and showers. The toilets don't have paper, so make sure you bring the tissues from the biosecurity kit you just got (or your own). There are also a couple of seating areas and a small area for parking.
The park also has a restaurant located next to the El Chiflon waterfall, where meals and drinks are available.
Once you get on the trail, there is little in way of facilities aside from a few makeshift benches. So, make sure you've got everything you need before you set off to Cascada La Chorrera.
Furthermore, guides are available throughout the park to assist you if you need them. During the week, there are only three guides: 1 at the entrance, 1 at El Chiflon and 1 at La Chorrera. At weekends, there are guides located along the trail every 300 metres.
A private guide service is also available if booked at least 3 days in advance. The cost of a guide is 40,000 COP for up to 20 people.
Hike Trail & Difficulty
The terrain of the hiking trail is mostly dirt and rocks for 2.5 km, aside from a couple of bridges. Particularly around El Chiflon waterfall, the path can become slippery with puddles and running water, so take care and come wearing sturdy shoes.
From the marked entrance to the Camino Real La Chorrera, the path quickly starts climbing uphill. Once you've passed over the top of Cascada El Chiflon, the path then levels out some more, though expect lots of small ups and downs.
The trail is really easy to follow all the way to the waterfall, with some less than helpful signs along the way. Although, I did enjoy laughing at them… For example, 'do not lean on the barbed wire' and 'Preposterous Danger!'
Overall, I would say that the walk is of moderate difficulty. There are no technical parts and the trail isn't that long, but the altitude definitely catches up with you during long bouts of exercise. Especially, if you've already walked from where the bus dropped you off. Anyone with a basic level of fitness and who has been in Bogotá (or at altitude) for a couple of days, should be able to complete this walk.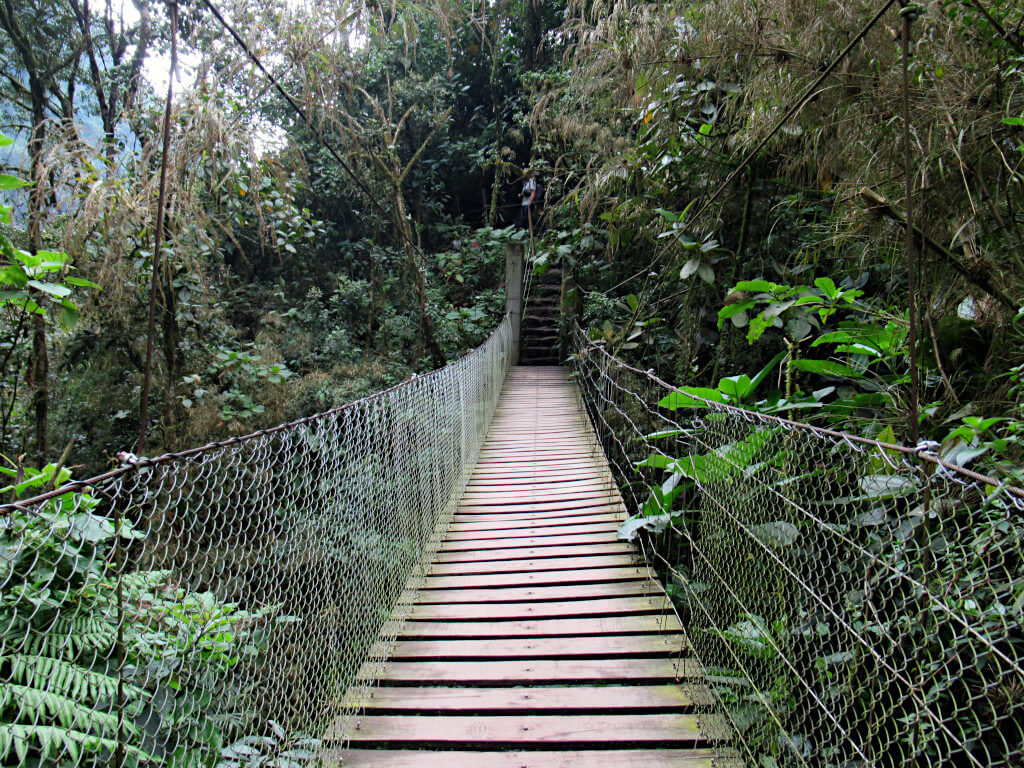 Adventure Activities
As well as getting to see two incredible waterfalls, at Parque Aventura, you can also experience the thrill of various adventure activities. Rappelling, waterfall abseiling, zip lines and bridge crossings are all sure-fire ways to get your adrenaline pumping.
Rappelling & Abseiling
Over the El Chiflon waterfall, you can either rappel or abseil down 55 metres from the top of the waterfall.
Cost for each: 30,000 COP. Available on weekends without booking but during the week a minimum group of 10 is required as well as booking at least 3 days in advance.
Zip Lines & Bridges
The park boasts three zip lines, each 100 metres long. As well as an Indiana Jones-style bridge (think wooden bridge with large gaps) and a Tibetan bridge (think tightrope). Of course, for both the bridges, you are strapped into a separate cable that runs above to allow you to push your limits and fall safely.
Cost for each: 8000 COP or all 3 zip lines AND both bridges for 30,000 COP. Available on weekends without booking but during the week a minimum group of 10 is required as well as booking at least 3 days in advance.
Best Time to Visit
It won't surprise you to know that the key to a good waterfall is water. And, Bogotá has two dry seasons – December to February and June to September. In these times, but particularly in December and January, Cascada La Chorrera can almost completely dry up.
But, for most travellers and backpackers, they don't plan their time in Bogotá to coincide with the optimum season for seeing waterfalls. You're just there when you're there. So, you'll be pleased to know it still is possible to see Colombia's tallest waterfall flowing rapidly in these months.
The best time to visit La Chorrera Bogotá is right after it's rained, like within a day or two. Even in the dry season, afternoon downpours still occur. And, while they might write off half a day of your time when it's actually raining, you can reap the reward after at the waterfall.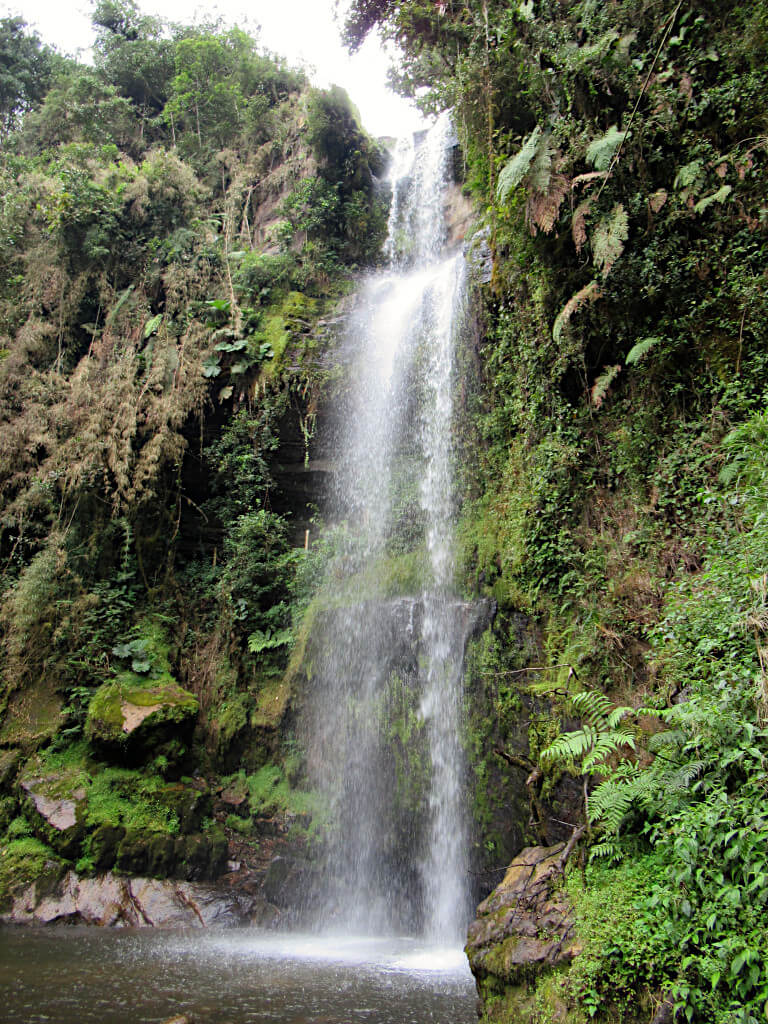 Getting back to Bogotá from Parque Aventura La Chorrera
Luckily, once you've finished the 5-km loop to La Chorrera and El Chiflon waterfalls, getting back to Colombia's capital city is easy.
While you do have the option to walk the 5 km, now mostly uphill, route back to the main road, a taxi might be more appealing. Ask the guide at the ticket office to call the taxi for you. I just asked for 'la via', which means 'the road.' The cost is 35,000 COP one-way for any group size (that fits in the vehicle, of course).
The taxi will drop you off next to the small tienda on the side of the road. You'll need to wait here – as you're already on the right side of the road – to flag a passing bus going to Bogotá. With no ticket office, you can simply pay the bus driver when you get off (8000 COP).
Then, when you're back at Terminal Transoriente in the city, you can take a bus or taxi to your final destination. Although the bus station is next to a police station with a substantial police presence on the street, none of them seemed to care the slightest about the various Ubers and Cabifys picking up and dropping off passengers. So while ride-sharing apps such as these are not strictly legal, they certainly seem to be tolerated in Bogotá. Of course, that's not to say on another day, the same police won't decide to take issue with them.
On the walking tour, we asked our guide what the situation was with Uber (and other apps). This is what he said 'Is it legal? Like many things in Colombia, no. Does anyone care? Also no, there's like 7 different apps now and everyone uses them.'
What to Bring With You
What to wear
Sturdy shoes such as trainers or walking boots.
Comfortable clothes in layers, prepare to be hot and cold at the same time with the humidity. Leggings, shorts, t-shirt, thin jumper, etc.
What to bring in your bag
Water and snacks – especially if you think you will walk from the road one or both ways.
Sun cream, hat and sunglasses. You have to be prepared for that high-altitude UV exposure and tropical downpours!
Camera, phone and battery pack
Cash, in small notes, to pay for the bus and/or taxi.
If you don't know your passport number off by heart, bring a photo as you'll get asked for it (and everywhere else in Colombia).
---
If you have any questions or want any more information drop a comment below and I'll get back to you!
Prices and offerings mentioned are correct as of April 2022 but are subject to change in future.
---
Waterfall Lover? Check These Out…
COLOMBIA: 11 Stunning Waterfalls in Colombia Worth Visiting
COLOMBIA: El Salto del Tequendama Falls: Bogotá's Hidden Gem [Complete Guide]
ECUADOR: Pailón del Diablo, Baños (A Guide to Ecuador's 8th World Wonder)
NICARAGUA: San Ramón Waterfall, Ometepe: Complete Guide (100% Worth The Hike)
EL SALVADOR: Salto de Malacatiupan (Hot Spring Waterfalls & River in El Salvador)
MEXICO: Incredible Waterfalls at Cascadas El Chiflón, Chiapas (Travel Guide)
MEXICO: Pozas Azules de Atzala, Taxco (Visitor's Guide)
HONDURAS: Pulhapanzak Waterfalls, Honduras: Complete Guide To Visiting
COLOMBIA: Quebrada Las Gachas Guadalupe: Colombia's Best Hidden Gem
MEXICO: Misol-Ha Waterfall, Chiapas: Guide to Palenque's Best Waterfall
---
PIN IT FOR LATER!