Planning a trip to Machu Picchu? Can't say I blame you! This was the number 1 place on my bucket list for about 10 years before I finally got there. But, if months and years of dreaming have gone into this, you probably want to know what the best time to visit Machu Picchu is.
No one wants their Machu Picchu experience ruined by bad weather, poor visibility and overcrowding. Although, sadly, all are a possibility at Peru's most famous attraction.
But, I want to help you avoid that. This detailed guide tells you when the best times to visit Machu Picchu are based on rainfall, tourism levels, temperatures and hiking seasons. Including the best time of year, the best month and the best time of day to visit Machu Picchu. I'm confident you'll be able to snap that postcard-perfect photo on your visit…
Some of the links below are affiliate links, meaning, at no additional cost to you, I may earn a small commission if you click through and make a qualifying purchase.
What is the Best Time to Visit Machu Picchu?
In short, the best time to visit Machu Picchu is at the 6 am or 7 am entry slot in the shoulder season months of April, May, September or October.
This gives you the best chance of clear skies, good visibility and few crowds. Transport runs from Aguas Calientes to Machu Picchu from 5.30 am. So you don't even need to take on the challenging hike up steps to the ruins to get there for opening.
But of course, the best time to visit Machu Picchu is with the time you have. Some people only have time to do a one-day trip from Cusco, leaving early on the train and coming back the same day. And, that's fine.
Others only book their ticket last minute. Perhaps by queueing the day before in Cusco and taking whatever time slot they can get. And, that's fine too.
Some people can only come to Peru during typical northern hemisphere vacation periods. And, that's completely fine too. Honestly, it's a Wonder of the World, it's impressive all-day and all-year round.
Best Time of Year to Visit Machu Picchu
The best time of year to visit Machu Picchu is between the peaks of the dry season and the rainy season. This corresponds to April to May and September to October.
The dry season runs between April and October, although the clearest skies are seen in June, July and August. However, these months correspond to the peak vacation season in the northern hemisphere. As a result, tourism levels are at their highest in Peru during these months.
The number of people who can visit Machu Picchu each day is fixed by the government, meaning it should be the same level of crowded every day. However, many suspect that in reality, the number of people at the site far exceeds this in the busiest months.
By visiting in April, May, September or October, you'll get the best chance of great weather without the overcrowding. In fact, the overcrowding has gotten so bad in recent years that it has led to protests by Machu Picchu staff and tourists blocking the train tracks and entrance to the site.
What is the Rainy Season in Machu Picchu?
Like the rest of Peru, the rainy season at Machu Picchu occurs between November and March.
However, the rainy days are different to what those coming from – in particular – the Pacific Northwest, New England and Western Europe are used to when it comes to rain.
Here, rain rarely lasts for more than a few hours at a time. Certainly don't expect endless days of thick cloud cover and drizzle. Instead, the downpours are quick and intense. Enough to send you running for cover but not enough to write off your day out.
Importantly, one key point to note is that the rainy season increases the cloud cover at the Inca ruins. November through March is perhaps the time in which you're most likely to arrive at the citadel to see very little other than fog. You may have to wait for the clouds to part for a very short time. Plus, there's a chance you could be in the unlucky minority of visitors each year who don't see the towering Huayna Picchu or the ruins with good visibility.
But, the rainy season months correspond to the warmest temperatures at Machu Picchu. The dry season occurs during the southern hemisphere winter and temperatures, especially at altitude, can plummet quickly.
Thus, in summary, if you want to visit Machu Picchu during the rainy season, pack waterproofs. Umbrellas aren't allowed inside. And be prepared for short, sharp downpours and lingering clouds.
> > > RELATED POST: How to get from Lima to Machu Picchu (A detailed guide to all transport options)
Best Month to Visit Machu Picchu
Overall, the best months to visit Machu Picchu are April, May, late September and October.
These shoulder season months, meaning between the high (and dry) and low (and rainy) seasons, combine dry, mild weather with lower levels of tourism in and around Machu Picchu. Travelling in these months means you should be able to buy tickets around 4 weeks in advance with relative ease. Additionally, hotels, trains, treks and Machu Picchu tours also won't be fully booked months in advance.
What is the Coldest Month in Machu Picchu?
July is the coldest month in Machu Picchu Peru, followed by June and August. These months correspond to the southern hemisphere winter. And, as it is also the dry season at this time, the clear skies make for cold evenings, nights and early mornings.
During these months, temperatures reach on average a mild 20 Celsius (68 Fahrenheit) during the day, falling to 1 or 2 Celsius at night (34-35 Fahrenheit). Of course, temperatures outside of this range can be expected on odd days or during unique weather fronts.
Because of the range of temperatures, make sure to pack layers. The day is likely to start off very cold, particularly as you wait to get in. But, once you're walking uphill and the sun comes out, temperatures will rise quickly.
Expect it to be slightly colder in nearby Cusco, however. The difference in altitude between Cusco (3400 metres) and Machu Picchu (2400 metres) is 1000 metres. As such, Machu Picchu and Aguas Calientes are generally milder. Although, the lower altitude and warmer temperatures do mean there are a lot of bugs and mosquitos that will bite you!
What Month does Machu Picchu Close?
Machu Picchu is open 365 days a year from 6 am to 5.30 pm. The last ticket slot is 2 pm and the last entry is at 3 pm. Or 1 hour after the time of your ticket, whichever is earlier).
However, the popular Inca Trail closes every February for the whole month. People often confuse this with Machu Picchu closing. But, the ruins remain open during this time.
Access to Aguas Calientes and Machu Picchu in February is still possible. You can take the train, do alternative treks and experience the bus-hike combination via Hidroelectrica.
The trail closes due to the rainy conditions to keep staff working on Inca Trail tours safe. Additionally, this closure allows for maintenance to be carried out and prevents the breakdown of the paths under muddy conditions and high footfall.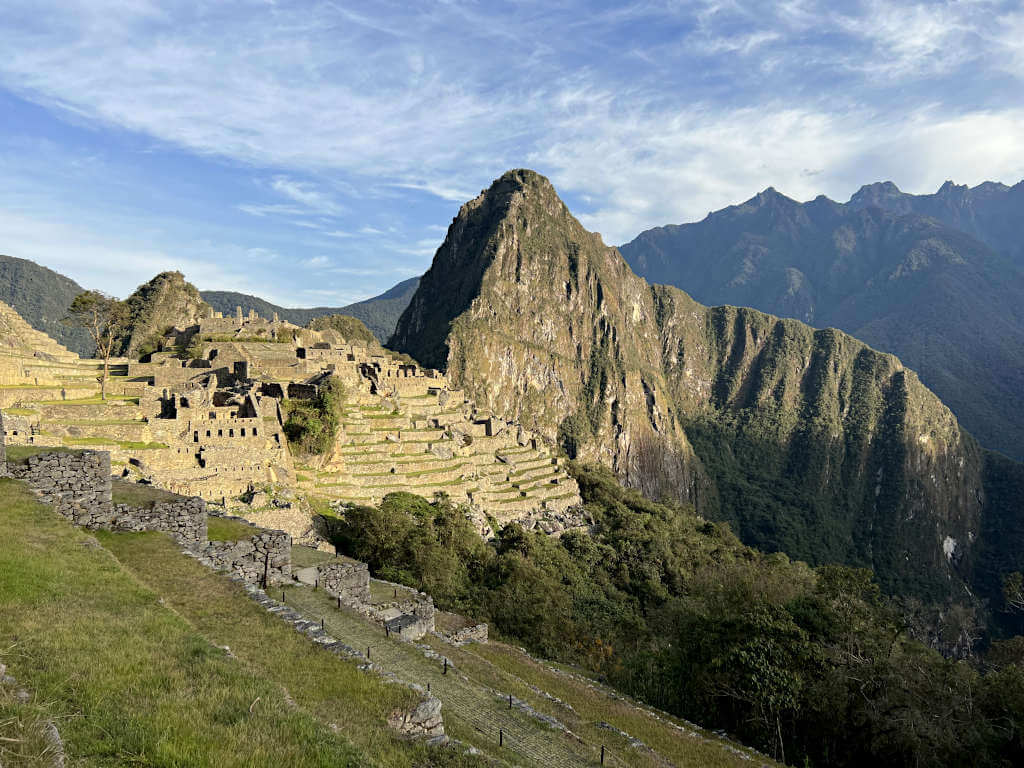 Best Time of Day to Visit Machu Picchu
For the least amount of crowds and the best chance of clear skies (during the dry season), the best time of day to visit Machu Picchu is at 6 am.
Some websites recommend visiting after 3 pm to avoid crowds. However, I tried this and found it so much busier than at 6 am (I visited twice in two days). As such, based on my first-hand experience, I'd recommend going as early as possible. The 7 am slot will also be good for fewer crowds than the rest of the day.
Furthermore, I found that clouds tended to build throughout the day. The two photos above show Machu Picchu at 4 pm (left/first) and then at just after 6 am (right/second). The difference is incredible. And of course, the weather does change from day to day, but this was my experience.
To visit Machu Picchu at 6 or 7 am, you will need to stay overnight in the nearby town of Aguas Calientes. It's this town where the train from Cusco arrives to. Hotel options range from basic (although not shoestring cheap) to extravagant.
Least Busy Time to Visit Machu Picchu
The least busy time to visit Machu Picchu is between 6 and 7 am. To understand why you need to know a little about the ticketing system.
Firstly, I'll start this off by saying Machu Picchu sells out nearly every day of the year. As such, there's not a quiet week or month. Therefore, the only way to beat the crowds is to get there early.
The exception to this is the peak rainy season months of January and February. During this time, you can often buy tickets for any of the mountains or circuits as late as the day before from the online ticket store.
Machu Picchu sells tickets in hourly time slots. The first is at 6 am and the last is at 2 pm, with up to 4 hours to explore the ruins. Although to complete the full loop (not including any mountain extras), most people only need two hours.
Because of this, the quietest time in terms of the number of people in the site is at 6 am. As it is just the people that hold a 6 am ticket. At 7 am, you have the 6 am and 7 am ticket holders. By 8 am, you have the 6, 7 and 8 am ticket holders. And so forth.
This distribution of people throughout the day is one of the reasons that some people say the least busy is after 3 pm. By then, the 1 pm ticket holders have mostly finished up, leaving only the 2 pm ticket holders. However, there are often stragglers and those who managed to enter late as well as those who are making the most of the 4-hour, unenforced time limit.
I should also note that Machu Picchu operates a strict one-way system that is enforced by staff around the site. Because of this, it is really hard to make your visit last longer than 2 or 3 hours. Unless you just stop in one place or purposefully go very slowly. You can't loop back around again at the end.
Best time to Hike Machu Picchu
The dry season months of April to October are the best time to hike to Machu Picchu. Outside of this time, you have a high chance of spending hours every day walking in strong downpours and in wet clothes and shoes. The trek is hard enough without having the weather sucker punch your morale, go for the dry season.
If you're wanting to do the popular and highly sought-after Inca Trail, you'll need to avoid February. During this month every day, the Inca Trail is closed for maintenance. As well as because of the high rainfall in the low season. During this time, the 2-day, 4-day and 5-day Inca treks are not available.
Do you want to complete the classic Inca Trail during the peak tourism and best weather months of June, July and August? Then you'll need to secure your permit as soon as they go on sale. Or as soon as you can confirm your dates, at least. Every year the permits start to go on sale in October for the following year. Each day a new month is available, starting with January, then March, April and so on. Dates around Easter also sell out months in advance.
Alternative hikes such as the Salkantay Trek, Lares Trek and Jungle Trek operate all year round. But again, these are best enjoyed during the dry season so you don't have to endure wet and muddy conditions. There are a lot of mountains to be looking up at, so you don't want to have your head down in the rain.
How many days do you need in Machu Picchu?
For most people, 1 day at Machu Picchu is enough. But, there are some circumstances when you might want to consider visiting Machu Picchu over 2 days.
Although 1 day at the citadel is enough, the best time to visit Machu Picchu is at 6 or 7 am. And, to do this, you'll need to stay overnight in Aguas Calientes the night before. Plus, by visiting early, you'll be able to take one of the first trains back to Cusco getting to see scenic views out the window during daylight.
But, if you want to do one of the mountain hikes (Machu Picchu Mountain or Huayna Picchu Mountain) and your time and budget allow, I recommend visiting a second time to access all circuits.
This is because tickets to the mountain hikes do not include full access to the citadel. Importantly, if you do the Huayna Picchu hike you'll enter through the exit of the ruins to reach the base of the mountain. And return the same way. This means you will not get to go to the iconic viewpoint overlooking the ruins with Huayna Picchu in the background.
Similarly, Machu Picchu Mountain tickets only include access to the ruins near the exit. However, once you've climbed back down from the mountain there is a specific area that you can access. Here, you'll get views almost similar to that of the main viewpoint.
Therefore, if you want to see all of the Machu Picchu ruins and climb one of the mountains, you'll need two tickets. While you could book the mountain ticket for the morning and the all-circuits ticket for the afternoon, this would be a very long day. Rather, I recommend visiting on two consecutive days and staying in Aguas Calientes.
Best Time to go to Machu Picchu, a Summary…
BEST TIME OF YEAR TO VISIT MACHU PICCHU: Shoulder season, between the peaks of the rainy and dry seasons.

THE BEST MONTH TO VISIT MACHU PICCHU: April, May, September or October.

BEST TIME OF DAY TO VISIT MACHU PICCHU: 6 am or 7 am entry slots.

THE BEST TIME TO HIKE MACHU PICCHU: April to October.
---
Do you have any questions or want any more information? If so, drop a comment below and I'll get back to you!
Information is correct as of January 2023 but is subject to change in future.
---
More Peru Travel Inspiration…
CUSCO: Palcoyo Mountain (Peru's Alternative Rainbow Mountain): Ultimate Guide
HUARAZ: Laguna Churup, Huaraz: Independent Day Hike to 4500 metres
HUARAZ: Laguna Paron: Ultimate Guide to Visiting from Caraz or Huaraz
AYACUCHO: Turquiose Pools of Millpu Ayacucho: Ultimate Guide
---
PIN IT FOR LATER!