At the heart of the country's famous coffee region and surrounded by the world's tallest palm trees is Salento, Colombia. This small town in the foothills of the Andes is one of the most beautiful in the country.
With vibrantly painted buildings and timeless colonial architecture, Salento in Quindío attracts thousands of visitors every year. While many come for the most popular attractions, there are plenty more things to do in Salento and you can easily stay for a fun-packed few days.
If you're visiting Salento, then you can be sure this ultimate travel guide answers all your questions. From how to get to Salento, what to do in Salento and even where to do laundry!
Some of the links below are affiliate links, meaning, at no additional cost to you, I may earn a small commission if you click through and make a qualifying purchase.
Where is Salento, Colombia?
Salento is a relatively small town located in the central Colombian region of Quindío. The nearest cities are Armenia and Pereira, both within an hour's drive of Salento.
Additionally, the town is located almost an equal distance from 3 of Colombia's biggest cities, Bogotá, Medellín and Cali. However, while the distances between these cities and Salento are not huge (200 to 300 km), the journey takes many hours due to poor road conditions and maintenance work.
What is Salento Colombia known for?
Despite having a lot to offer, Salento is pretty much known for only two things. The lush landscapes and palm trees of the Cocora Valley. And the countless farms producing world-class coffee.
For those more familiar with the town, the jeeps, games of tejo, horse riding and colourful buildings may also spring to mind.
Best Things to do in Salento, Quindío
Whether you're a foodie or an adrenaline junkie, there's something for everyone here. Take your pick from these 11 great things to do in Salento…
Enjoy a scenic Cocora Valley Hike
Home to the world's tallest palm trees, the Cocora Valley – or Valle de Cocora – is simply stunning.
Reaching heights of up to 60 metres, the palm trees look spectacular among low clouds and the mountainous backdrop. A walk here is one of the most popular hikes in Colombia.
Take a Willy Jeep from the main square in Salento for 8000 COP for a return ticket. The first jeep leaves at 6.30 am and then every hour thereafter.
To hike through the valley, you need to follow the road from the jeep drop-off point for around 5 minutes. You'll pay the entrance fee of 10,000 COP and have the choice of two main routes.
The first route (shown with the red and blue arrows in the image below) takes you to two viewpoints.
The second option is to complete the full 12 km route, which takes around 4 to 5 hours. If you do this route, you'll also have to pay an extra 5000 COP at the end of the hike.
It's important to note, that the trees are mostly growing along the first 2 km of the trail. As shown in the picture, after this point you'll see far fewer trees but nevertheless still incredible scenery.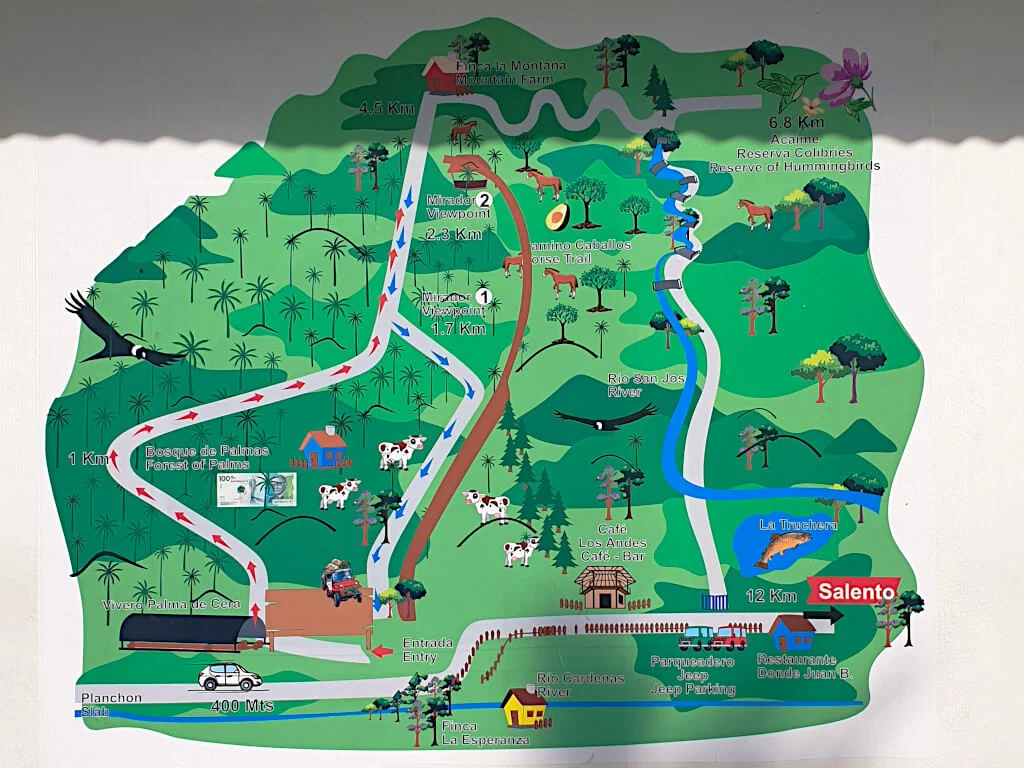 Climb to the Town's Viewpoint (Mirador Alto de la Cruz)
Located at the eastern end of Calle Real – the main street in Salento – is the town's best viewpoint.
While not the most spectacular view, it's an easy and short walk up the steps to reach the overlook of Mirador Alto de la Cruz. The best time to go is at sunset or anytime when there isn't rain or low clouds.
Visit a Coffee Farm
If you're in Colombia's coffee triangle – a large area where the best of the country's coffee is grown – a trip to a farm is a must-do. Also known as fincas, you not only get to try different coffees but also see and participate in the whole farming process.
Most of the fincas are located southwest of Salento, just a short jeep ride away. Jeeps run from the main square to all the fincas throughout the day, mostly to coincide with the tour times.
Head to the small hut in the square to check the times and prices for the farm you want to visit. In fact, you can buy your tour tickets from here too.
The bigger farms offer tours in English and Spanish, often with a choice of a standard or premium tour. I opted for the premium coffee tour at Finca El Ocaso, which lasted around 3 hours.
During that time, I picked coffee cherries, learnt about the process from farm to cup and got to try Colombian coffee at the end. I booked through Whatsapp in English and the staff were very helpful.
Browse the small shops on Calle Real
Salento's busiest and most colourful street is lined with shops. Whether you're in the market for a gift for yourself or a loved one, there are plenty of souvenirs to choose from. Jewellery, clothes, trinkets and much more.
Enjoy the Town's Cafe Culture and coffee shops
Salento, Quindío has its share of rainy days. And, there's nowhere better to hide from the rain than a cosy café.
Grab yourself a coffee, brewed in a manner of your choosing, as well as pastries, pancakes, sandwiches and the like. Café Jesús Martín near the town square was my favourite!
Play Tejo – Colombia's Explosive Sport
Tejo is the most explosive sport in South America, quite literally.
No trip to Colombia is complete without a game of tejo. Which involves throwing rocks or metal spheres at envelopes of gunpowder.
In Salento, the go-to place for tejo is Los Amigos Bar, just a few blocks from the main square. If you're travelling alone, most hostels do organise trips here or just tag on to another group.
Walk to the Santa Rita Waterfall
Located just north of Salento, this beautiful waterfall can be reached in a couple of ways.
The first option is to take a jeep for 1500 COP followed by a 15-minute walk to the trailhead.
Alternatively, you can walk from Salento. This way you can either walk along the roads for free or through coffee farms where you pay a small fee (around 5000 COP) for crossing private land.
The entrance fee for Santa Rita Waterfall is 7000 COP. And you can spend a couple of hours walking the trails and seeing one of Colombia's coolest waterfalls.
Join a Multi-Day Trek through the Los Nevados National Park
If the Cocora Valley wasn't enough hiking for you, then the nearby Los Nevados National Natural Park has more trails than you could wish for! Salento is a popular base for trips into the national park, so it's easy to find others also heading here.
A few one-day hikes exist, but the park is most popular for longer treks. Whether it's hot springs or 5000-metre-tall mountains, the treks are challenging.
The tourist information office in Salento's main square can give you more information on open passes, current conditions and best options.
Avoid the crowds and visit La Carbonera to see the Palm Trees
Most visitors are attracted to Salento by the Cocora Valley, which is growing in popularity year after year. However, on weekends and national holidays, the valley can be flooded with visitors. The Instagram parks full of props for the perfect photo don't help either.
A little-known alternative to the Cocora Valley is La Carbonara. Here, there are as many (if not more) palm trees and far, far fewer people.
You can take a jeep from the main square in Salento, Colombia. However, you may need to request this in advance and pay for the whole jeep if there aren't many passengers.
Spend a day visiting nearby Filandia
Filandia is a smaller, less well-known version of Salento. And, it's perfect for a day trip.
The streets are equally as brightly painted with colonial architecture. There are great restaurants and cafes, beautiful surrounding countryside and small-town vibes.
Like Salento, it is busiest on the weekends. So head here during the week to really feel the magic of Filandia.
Go Paragliding and see Salento, Colombia from Above
Get a bird's eye view of Salento by paragliding over the coffee region.
Although not as popular as in Medellin or San Gil, you're sure to get an incredible view on a tandem flight. The entire coffee region is listed as a UNESCO World Heritage site, honouring its importance in the country.
Although you can book online through third-party sites, for the best price book through your hostel or a tour agency in Salento, Quindío. It's certainly a unique thing to do in Salento…
Is Salento Colombia worth it?
Absolutely! People tend to come to Salento for two reasons: coffee and palm trees.
Colombia's coffee region is world-famous and visiting a coffee farm – with tastings of course – is not to be missed!
While the almost equally famous Cocora Valley with its sky-high wax palms and easy-to-follow hiking trail is a popular destination. So if one or both of these sound like your idea of a good time, Salento is totally worth visiting!
But of course, you'll find more than that in beautiful Salento. Nature activities, international restaurants and cafes and cool bars. Plus, sitting at an altitude of almost 1900 metres, the weather is pretty mild. Expect warm days, cool nights and plenty of rainy days.
Is Salento Touristy?
This isn't the answer you want to hear, but Salento is very touristy.
All year round the town is full of tourists from near and far who flock to visit the lush landscapes and take in the picture-perfect buildings. This isn't a town you come to and see the locals living their lives.
Almost all infrastructure within the town has been built and designed for tourists. So, this does mean there is a great choice of restaurants, cafes, bars and hotels. As well as more souvenir shops than you'll have the motivation to go in.
But, what makes Salento great is still easily enjoyed despite the crowds and touristy feel. Nothing can take away from the beautiful landscapes and incredible coffee.
Best Places to Eat
Salento might be a small town but it's packed with plenty of options for eating and drinking out.
So whether it's local Colombian food or European-inspired, home comfort food, there's something for you. Being a popular spot with international tourists, there are also plenty of vegetarian options including exclusively veggie places.
On evenings and weekends, the main square fills with pop-up food stalls and food trucks. These mostly offer local food at very affordable prices, perfect for grabbing a quick bite to eat.
One of Salento's top-rated eateries is actually a Japanese restaurant! With good-quality Asian food difficult to find in South America, Wabi Asian Kitchen is a godsend. Just make sure to check their opening hours before you go as they are closed on some days.
For burgers, the best spot is El Cacharrito. Quick, cheap and tasty, you can't go wrong. Especially, since they have vegetarian options too. And for pizza, Somevi Pizzeria is the place to go. The pizzas are absolutely huge so you'll definitely have enough for lunch (and maybe dinner too) the next day, making it even more value for money.
For places with a bit of everything on their menu, Camino Real Parrilla Bar and Restaurante MERAKI are both great options. For coffee, breakfast or brunch, Café Jesús Martín is one of the best cafes around with tasty food and highly-rated coffee. Because, despite being in the heart of the coffee region, good coffee is not something to take for granted here.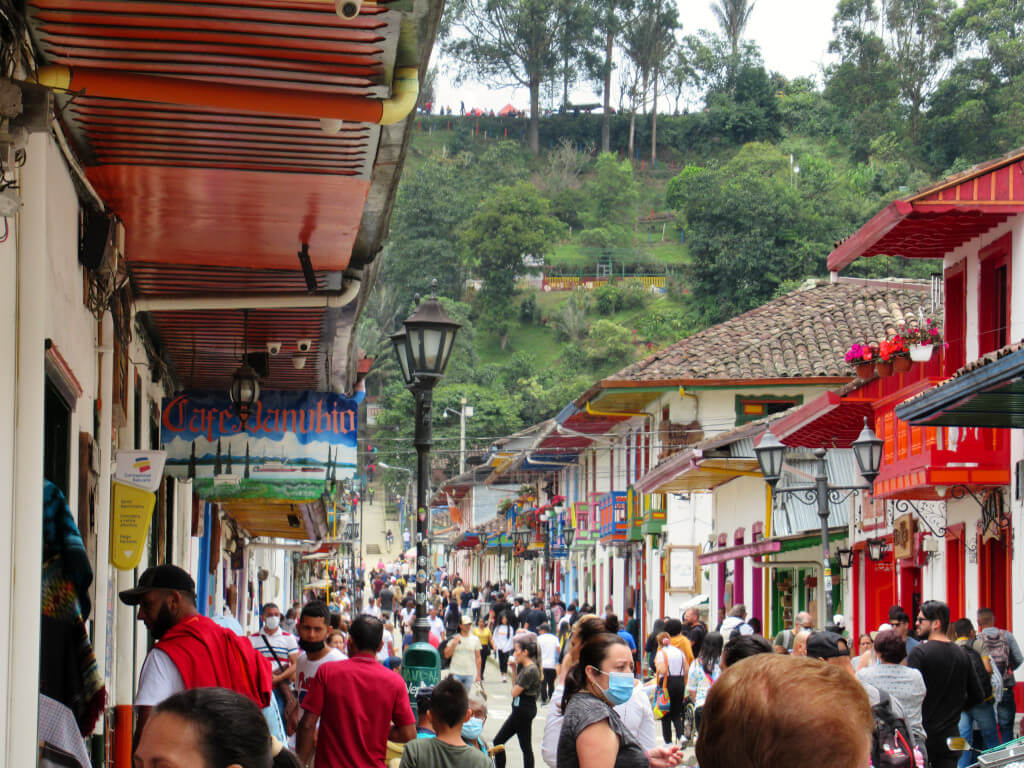 Shops & ATMs
Although there is no big supermarket like Exito in Salento, for a fairly short stay you should be able to get everything you need in the town.
The biggest supermarket – Supercocora Salento – is located in the main square and stocks all the essentials for cooking (and snacking). Although, for fresh fruit and vegetables you'll be best off finding a small shop in the town that has more options.
Like every other Colombian town, there are also plenty of tiendas (small stores). These are the equivalent of convenience stores or off-licenses in the US and UK. Here, you'll be able to buy drinks, snacks, cigarettes, beers etc.
Almost all of the ATMs in Salento can be found around the main square. For those using cards such as Monzo, Starling or Revolut, go to the Davivienda for fee-free withdrawals.
You'll find this Davivienda ATM on the northeast corner of the square in a small setback area. It's not easily noticeable from the outside. But, it's the third door to the right from the corner with a small Davivienda sign above the door and is next to Ventanilla Salento – which has much bigger signs!
Laundry in Salento
Lavandería Yola (also called Lavadaria Yola) offers a cheap and quick laundry service. Charging 5000 COP per kg of washing, you'll generally get your clothes back the next day clean and folded.
What to wear to Salento Colombia?
The variable weather in this part of Colombia is what makes it great for coffee farming and growing tall trees. But packing for somewhere that has 3 seasons' worth of weather in 1 day can be challenging!
Generally speaking, the weather will be warm during the day, cool at night and always a chance of rain. Pack accordingly.
A lightweight rain jacket will keep you warm and dry as needed
Thin layers like long-sleeved tops, fleeces, running tops and/or jumpers can help you stay warm or cool as the weather changes through the day
Trainers will normally be fine. But if you're wanting to do the longer hike of the Cocora valley – especially during or after wet weather – hiking boots would be better.
Where to Stay in Salento
As one of the most popular towns in Colombia, Salento attracts visitors from far and wide. As such, there are plenty of accommodation options to suit all budgets, group sizes, preferences and more.
The hotels vary from cheap and cheerful to stunning luxury. And, the hostels – which are popular with backpackers – have incredible facilities and high standards.
Hotels in Salento
Did someone say bathtub on the balcony?! Ok, so maybe not every room at Hotel El Mirador del Cocora has a bath or hot tub on the balcony, but those that do are worth it! 100 USD for a double room, terrace, mountain view and whirlpool AND breakfast – I know where I'll be staying in Salento next time! And even the cheaper rooms are beautiful, spacious, comfortable and well-decorated. Check availability on Booking.com.
Another luxury option with bungalows, hot tubs, hammocks and beautiful rooms is Hotel Kawa Mountain Retreat. Combine the best of a close location to the town with panoramic mountain views. Rooms sleep up to 3 adults and 1 child. See prices and availability on Booking.com.
For cheap, cheerful and comfortable, Hostal La Casa De Lili is your go-to option just a couple of blocks from the main square. With rooms to sleep up to 6 people, this hotel has everything you need for a short stay. Check availability for your dates on Booking.com.
Hostels in Salento
Located opposite the bus station, Cattleya Trianae is a small, independently-run hostel with low prices and comfortable rooms. It is the only hostel I've ever stayed in that has a whole wardrobe room, a luxury I've never even had at home! Check prices and availability on Hostelworld.
Another small, independent hostel, Hostel Tralala Salento is just a couple of blocks from the centre of town. With a mix of dorm beds and private rooms, this hostel has all the facilities you need including two kitchens, a TV lounge and a patio with hammocks. Check availability on Booking.com or Hostelworld.
Viajero is a popular hostel chain with locations across Latin America. Viajero Salento is a common choice for backpackers looking to socialise. Offering beautiful views, beautiful rooms and plenty of activities, there's everything you need for your time in Salento. Book on Hostelworld or Booking.com.
Coffee Tree Boutique Hostel is another large and popular hostel not far from the centre of town. With stunning decor in both the private rooms and dorms as well as well-designed communal spaces, you won't be in a hurry to leave! Check availability for your travel dates on Hostelworld or Booking.com.
How many days do you need in Salento?
3 to 5 days is the perfect amount of time to spend in Salento.
Although, in 2 days you could still see the best of the town and its surroundings. While 1 day here would mean picking one or two things only to do.
But, given the fact you probably travelled for at least one full day or night to get here and will travel another to your next destination, it's worth spending a little longer here.
With 3 or more days, you'll get to enjoy a slower pace of travel and get to relax in this mountain town.
The 5 nights I spent in Salento, Quindío is longer than probably 95% of people. But, it meant I didn't need to rush and could have a duvet day when one day was completely washed out by almost-endless heavy downpours.
Plus, I got to appreciate the town's business on weekends and the contrasting tranquillity on weekdays. Because they are like two different places!
What is the best time of year to visit Salento Colombia?
Salento can be enjoyed all year round. But visiting in the dry season months of January, February, July, August, September or December is best for good weather. Avoid January and April to escape the crowds associated with vacation time in the country.
In the dry season months, you'll have the lowest chance of rain spoiling your plans. And in a place like Salento with lots of outdoor activities, blue skies and sunshine will always be desired.
But don't worry if you visit in the rainy months, you'll still get sunny days. It's just there's always a risk of a sudden downpour. And some days will be far wetter than others.
Due to Salento's popularity with Colombians, the town is especially busy around national holidays and vacation periods. The month of January as well as Easter are when the crowds really build.
Visit during the week to see the town at its quietest. Although staying in Salento on the weekend is an experience in itself.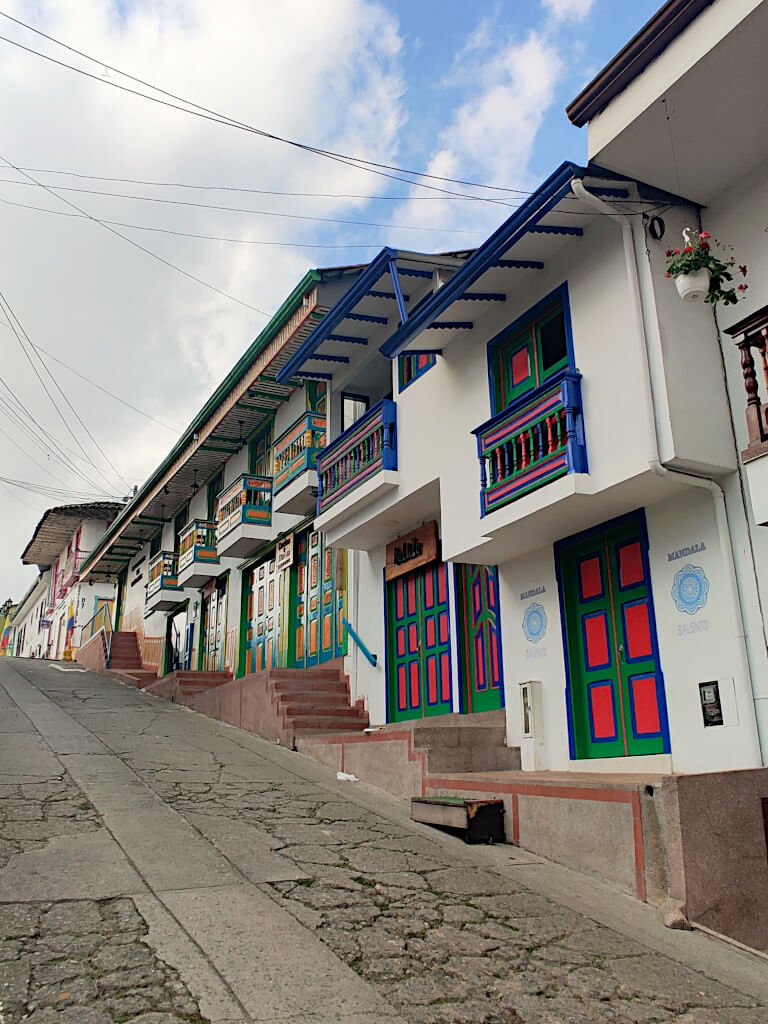 How to get to Salento, Quindío 
Bogotá to Salento
To get from Bogotá to Salento, you first need to travel to the city of Armenia. There are two options for this, either flying or taking a bus.
A handful of direct flights operate from Bogotá to Armenia every day taking just 1 hour. Check out prices for your travel dates on Skyscanner.
However, the cost can start to add up once you add baggage. Additionally, you'll need to factor in the cost and time of getting to Bogotá Airport and from Armenia Airport to the bus station for Salento.
The cheaper but more time-consuming option is to take a large coach-style bus.
The direct route from Bogotá to Armenia is advertised as taking 8 hours. However, long-term roadworks near Armenia where they are building a road through the mountains, mean this can easily become 9 or 10 hours.
With the bus, you have the choice of morning departures – arriving in Armenia by early evening. Or, night buses that arrive in Armenia around 6 am.
Alternatively, if these times don't suit you, take a bus to Ibagué (4 hours) and then change for regular buses to Armenia (3 hours). RedBus is a great website to compare departures for multiple operators in Colombia, plus you also get to see photos so you know whether it's a coach or minibus.
Buses to Salento, Quindío leave from just outside Armenia Bus Station in the south of the city.
These are small buses and you pay for your ticket on the bus. The journey takes around 45 minutes, costs 5500 COP per person and is fairly comfortable throughout.
Ibagué to Salento
I don't think Ibagué makes it onto the itinerary for many backpackers. But, after spending 4 nights in the Tatacoa Desert surrounded by bugs and mud, I was desperate for a nice hotel. And, Ibagué was the most on-the-route place that had while still making sure we were heading towards Salento.
The hotel (Sonesta Ibagué) was dreamy with a rooftop pool, steam room and sauna.
As well as the COMFIEST bed I've ever experienced. I literally have a photo of the mattress to show a salesman for when I'm in the market for one for my future house! A sad but true anecdote…
But, staying in Ibagué also broke up the long journey from the desert to Salento. From Ibagué Bus Station, there are departures to Armenia all throughout the day costing around 40,000 COP per person.
And, from there, you can take the local bus from Armenia to Salento for 5500 COP each. The total journey time should be around 4 hours.
There are substantial roadworks between Ibagué and Armenia, which can sometimes cause delays. So do make sure you have snacks, podcasts, TV downloaded etc.
Neiva to Salento (from the Tatacoa Desert)
Another reason for staying in Ibagué after visiting the desert was that the direct connections from Neiva to Armenia left at really awkward times of the day.
Although the journey is not particularly long by Colombian standards, the buses all leave in the evening or in the middle of the night. And, given the journey takes around 6 hours, it's a bit too short for a night bus.
If you're staying in the Tatacoa Desert or in Villavieja, you'll first need to take a van or jeep to Neiva.
These leave from the small square on the western side of the town costing 10,000 COP per person. But conveniently, they drop you off at Neiva Bus Station where you can buy your onward tickets.
To avoid the less-than-ideal departure times direct to Armenia, it's easiest to travel via Ibagué. But these services aren't listed on comparison sites like RedBus.
Instead, you'll need to find a ticket office window that has Ibagué listed as one of its destinations. Tickets should cost around 40,000 COP. Luckily, fares in Colombia are almost always fixed, so you don't need to worry about being overcharged.
It takes around 3.5 hours to reach Ibagué along mostly straight and well-maintained motorways.
There, you can buy a ticket to Armenia with one of a handful of companies operating the route. Ibagué to Armenia tickets will cost around 40,000 COP each, with the journey taking around 3 hours.
Once you reach Armenia Bus Station, head outside to find the small buses to Salento. Tickets cost 5500 COP per person and take 45 minutes.
The last bus from Armenia to Salento leaves at 8pm. After this time, you'll need to take a taxi. So, make sure you set off early to Salento from the Tatacoa Desert for this full-day journey to make the last bus.
Cali to Salento
The home of salsa dancing, Cali is a popular place for international visitors to come and learn to dance. Most people travel Colombia in a U-shape starting or ending in Bogotá. So, if you're heading north from Cali, the best next stop is Salento.
Buses run throughout the day from Cali to Armenia, taking around 3 to 4 hours and costing around 40,000 COP.
In Armenia, jump on the local bus to Salento for 5500 COP per person. And, 45 minutes later, you'll have made it to this bright and colourful mountain town!
Popayán to Salento
Although not the most popular destination in Colombia, the colonial architecture and beautiful buildings still attract plenty of visitors. The introduction of direct services from Popayán to Armenia means that you no longer need to change in Cali.
Small 12-seater buses run between Popayán and Armenia, taking approximately 6.5 hours.
These services cost 65,000 COP per person and tickets can be bought at Popayán Bus Terminal. From Armenia take a similarly small bus to Salento for 5500 COP for the 45-minute journey.
San Agustín to Salento
The journey from San Agustín to Salento is long. In fact, it's one I'd recommend breaking up with a stop elsewhere such as Popayán, Cali or the Tatacoa Desert.
Because ultimately, the quickest journey from San Agustín to Salento is going to take you via at least one of these places. And, probably isn't doable all in one day on public transport.
However, if you need to travel from San Agustín to Salento in one go, these are the ways I'd recommend…
One option is to first take a bus to Popayán. This leg alone will take around 4 to 5 hours. From here, you'll need to take a 6.5-hour bus to Armenia, followed by a 45-minute bus from Armenia to Salento.
The last bus leaves Armenia for Salento at 8pm – after this time, you'll need to take a taxi. With the likelihood of delays, it might be worth spending a night in Popayán.
Another option is to travel from San Agustín to Neiva. Coomotor operates large coaches on this 6-hour route. From Neiva, you can travel direct or via Ibagué to Armenia, then switch to the local bus from Armenia to Salento.
Medellín to Salento
The journey from Medellín to Salento is one of many possibilities – as is Salento to Medellín. And, picking from these is probably going to depend mostly on your budget and time constraints.
The first option is to fly from Medellín to Armenia, taking just 50 minutes in the air.
However, both Medellín and Armenia Airports are located outside of the city. So, as well as the cost of the flight and baggage, you'll also need to consider taxi fares on both sides – or more time-consuming buses.
Alternatively, you can travel by road. Direct services by bus from Medellín to Salento operate 3 times a day from the south bus station.
These small, 18-seater buses leave at 9.15, 13.30 and 20.30 costing 70,000 COP. With an advertised journey time of 8 hours, these services should arrive at 17.15, 21.30 and 04.30, respectively.
Another option is to take a bus from Medellín to Salento via either Pereira or Armenia – the closest cities to Salento. From both of these, you can take local services to Salento in under an hour.
The last bus from Pereira to Salento is at 6.30 pm and from Armenia is at 8pm. Services are more regular from Armenia to Salento, but Pereira is around an hour closer to Medellín.
Importantly, the road conditions between Medellín and Salento are pretty poor. Landslides are common and roadworks are almost endless, especially in the first 100 km south of Medellín.
My journey from Armenia to Medellín was delayed over 2.5 hours due to traffic and diversions. But, I know people who experienced even longer delays.
While there's nothing you can do about the traffic itself, I recommend making good preparations.
Bring plenty of snacks and drinks and wear comfortable clothes and an extra layer for if it's cold. Plus, it's a good idea to travel on the larger coach-style buses that have toilets.
---
Find the best prices and the best dates with flight comparison sites like Skyscanner!
Make sure you use tools such as 'Add nearby airports' and set your departure airport as wide as possible (you can just put the United States or Colombia, for example) to see the cheapest places to fly from! Check prices for your trip here…
---
How do you get around Salento?
Salento isn't a big town. And within the town, most places are located within just a few blocks of each other. As such, the easiest, quickest and cheapest way to get around the town is by walking.
For travelling to spots just outside the town, such as the coffee fincas or the Cocora Valley, you need to take a Willy Jeep.
These 4×4 vehicles come with two options: you can sit in the back or you can stand on the back (like the very back) and hold on for dear life! The latter of which should be experienced at least once if you have the nerve and forearm strength to manage it!
The Willys mostly operate set routes at set times to popular spots such as the Cocora Valley and coffee farms. However, if you want to go somewhere specific you can ask for their availability at the small hut in the centre of the main square.
Where to go after Salento?
Despite its pretty remote location, Salento is fairly well connected to most of Colombia.
After taking a local bus to nearby Armenia, you can catch intercity buses to Bogotá, Medellín, Cali, Popayán and Neiva. Each of these then has plenty of local connections for smaller towns.
Alternatively, Armenia's El Eden International Airport can connect you to Cartagena on the north coast as well as Bogotá and Medellín. Plus, there are even direct flights from Armenia to Panama City, Panama and Fort Lauderdale, Florida.
Is Salento Colombia Safe?
Salento is probably one of the safest places in Colombia to be a tourist.
While petty crimes such as pickpocketing can happen anywhere in the world, reported incidents in Salento are far and few between. Of course, hostel kitchens are still hotspots for food mysteriously going missing from where you stored it!
While Salento itself is generally very safe, you should remain particularly vigilant when travelling on buses to and from the town. I know of too many people who have lost their most valuable possessions on intercity buses: laptops, cameras, hard drives with their whole trip's photos, passports and more.
When travelling by bus in Colombia – or anywhere else for that matter – keep your most valuable items in a daypack that is on you at all times. Never put this bag on the overhead shelves, never under the bus and never leave it alone while you go to the toilet.
Keep it on your lap or between your legs for the whole journey. If you're getting a night bus, loop the backpack around you while you sleep. A padlock isn't sufficient when someone can walk off with the whole thing!
Is Salento safe to walk in at night?
Generally speaking, yes – it is safe to walk around Salento after dark.
I say that because the sun sets around 6 pm, but I wouldn't really call that nighttime. And this does inevitably mean you'll be walking to get dinner – or whatever your evening plans – in the dark.
But Salento is a very safe place with little crime and more tourists than locals.
Outside of the main square and street, you'll probably not encounter many people during the week. But on weekends, the streets will be busy with tourists coming and going until the early hours.
If you're staying outside of the town, take care walking on the roads as pavements or sidewalks don't really exist outside the town centre.
---
Do you have any questions or want any more information? If so, drop a comment below and I'll get back to you!
Information and prices are correct as of March 2023 but are subject to change in future.
---
More Colombia Travel Guides
MEDELLIN: Comuna 13 Medellín (Guide & Recommendations For This Must-Do)
PALOMINO: Santa Marta's More Trendy Neighbour (A Complete Guide)
SAN GIL: Ultimate Guide to Colombia's Adventure Capital in Santander
BOGOTA: Cascada La Chorrera, Choachi: Colombia's Tallest Waterfall (Complete Guide)
SANTA MARTA: Playa Taganga (Is This Santa Marta's Dirtiest Beach?)
VILLA DE LEYVA: Pozos Azules Villa de Leyva (Complete Guide to the Blue Wells)
---
PIN IT FOR LATER!