Surrounded by dry desert-like landscapes are 7 pools in the Colombian countryside, collectively known as Pozos Azules Villa de Leyva. Just a short drive, cycle or walk from the colonial town, you can enjoy an easy walking trail through this unique land.
Villa de Leyva – also spelt Villa de Leiva – is a cute town with year-round pleasant weather worthy of being on any Colombia itinerary. There's plenty to do and it's the perfect first stop from Bogota before heading into the Santander region. And, a visit to the Pozos Azules should be included in your time here.
This guide contains everything you need to know to plan and enjoy your visit to these blue wells.
What are the Blue Wells of Villa de Leyva?
The Pozos Azules – translated as blue wells – are man-made pools of water in the arid land just outside the Colombia town of Villa de Leyva. Although they are called the blue wells, the colour is definitely more green – or brown if it's cloudy. Sadly, any photos of bright blue pools are likely heavily edited.
Inside the park, there are 7 different pools of varying sizes. All 7 can be visited by following the marked walking trail around the park, which should take you 30 to 45 minutes. Expect to spend a little longer than this inside if you want to stop for photos or rest breaks. The walk is not difficult although the final stretch back to the entrance is almost entirely uphill with no shade.
As well as the pools, there are lots of trees, greenery and even some wildlife. Mainly spiders and lizards, welcome to the (not) desert! There's also a quadbike track nearby, so don't be surprised if you suddenly hear the sound of many ATVs coming toward you.
Unfortunately, you can't swim in any of the pools due to the high mineral content in them. This is a shame as it's can get hot walking around the park and there's little to no shade along the trail. Instead, make sure you've packed sun cream, a hat and plenty of water!
Where are Pozos Azules Villa de Leyva
The Pozos Azules are located around 3 km from the centre of Villa de Leyva. The dry landscapes around the pools may look like deserts but technically aren't. Nevertheless, it's spectacular to see and worth the short trip out of town.
Somehow, there seems to be 3 different pins for Pozos Azules Villa de Leyva on Google Maps. But, only one is in the right geographical position. See the correct location here.
How to get to Pozos Azules from Villa de Leiva
While you can walk the 3 km from the town to the entrance, this journey in the heat of the day is not pleasant. Plus, the UV is deceptively strong, so make sure you've applied high-factor sun lotion.
Alternatively, you can take a taxi from the centre of the town to the park for 10,000 COP. I grabbed one from the bus station where many wait as that felt easiest. Getting a taxi back isn't so easy, you'll have to try and flag one from the roadside. Or walk. Or hitchhike. The choice is yours.
Another option is to hire a bicycle and ride to the Pozos Azules, though you won't be able to cycle through the park. Bike hire in Villa de Leyva is not the cheapest with most hostels charging around 50,000 to 60,000 COP per day. However, if you want to also visit the nearby Terracotta House, then this can be a cost-efficient option.
To get to the pools, take Carrera 12 out of the town, which starts right next to the Selina Hostel. The park entrance will be on your left-hand side after 2 km. Parking is available if you travel in your own vehicle.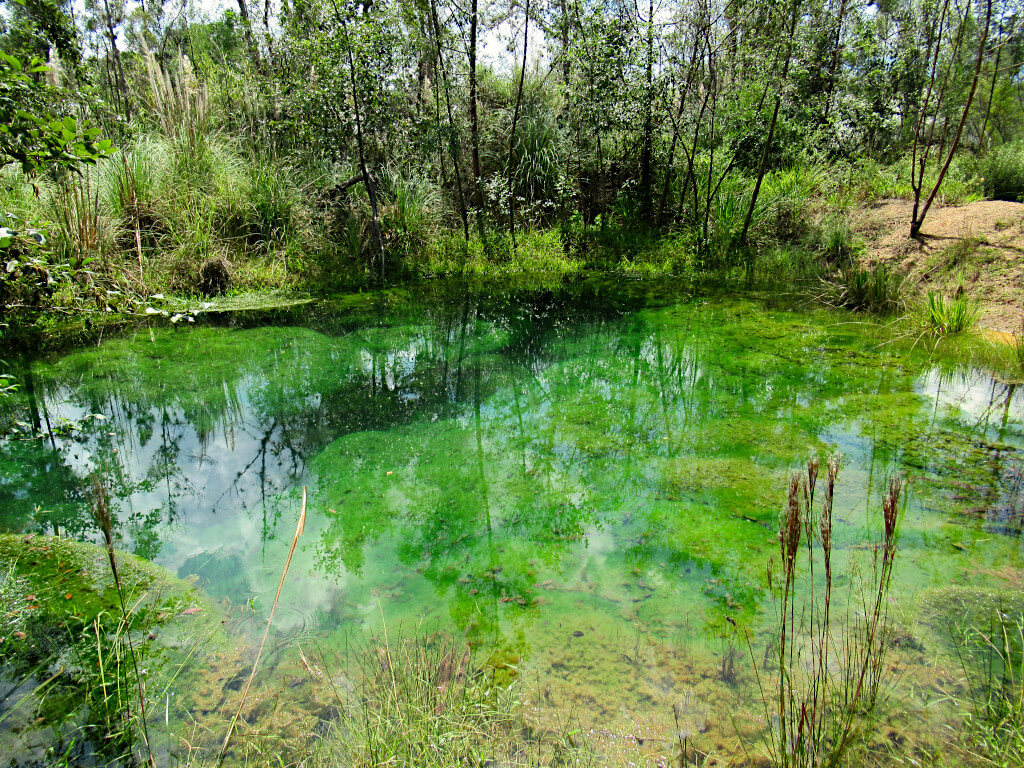 Need to Know Information
Entrance Fee for Pozos Azules Villa de Leyva
12,000 COP per person.
Opening Times
8.00am to 5.00pm, 7 days a week.
Onsite Facilities
At the entrance, you'll find the ticket office, snack stall and a small restaurant. There aren't any facilities along the trail other than some benches. Although there was a small hut near the 4th well with a fridge and display unit inside that looked like it once sold food and drinks. So maybe that is open on weekends or in the high season, but I can't confirm.
Best Time to Visit
Visiting when the sun is out is essential to seeing the true colours of the Pozos Azules. If it's cloudy, overcast or raining, the pools will likely look lacklustre, brown and boring.
December, January and February are the driest months in Villa de Leyva. From March to November, there are on average 15 to 18 rainy days a month. So, visiting all year round is possible, just check the weather forecast in advance.
Are the Pozos Azules in Villa de Leyva worth visiting?
Is this the most spectacular activity in Villa de Leyva? No. Is it worth the entrance fee and effort? I'd said so (just about).
In all honestly, this isn't the most exciting or wow-inducing activity around. But, it's a cheap activity, only requires an hour of your time and is unique. Plus, the landscapes around are as impressive – if not more so – than the Pozos Azules.
While the walk is suitable for children, I could imagine them getting bored easily. The 'thing to do' is to look at 7 different (not) blue pools and the view around. I loved having such a cool landscape to take photos of, but I also get bored really easily and can appreciate both sides.
If you have a spare couple of hours, want to get outside and don't mind a sweaty walk. Then, a visit to Pozos Azules Villa de Leyva is worth it.
---
If you have any questions or want any more information drop a comment below and I'll get back to you!
Prices and offerings mentioned are correct as of April 2022 but are subject to change in future.
---
More Colombia Travel Inspiration…
SANTANDER: San Gil Santander: Complete Guide to Colombia's Adventure Capital
BOGOTÁ: El Salto del Tequendama Falls: Bogotá's Hidden Gem [Complete Guide]
BOGOTÁ: Cascada La Chorrera, Choachi: Colombia's Tallest Waterfall (Ultimate Guide)
QUINDIO: Salento, Colombia: Ultimate Guide (Quindío's Prettiest Town)
MEDELLIN: Comuna 13 Medellín (Guide & Recommendations For This Must-Do)
LA GUAJIRA: Palomino Beach (Colombia's Caribbean Coast Paradise): Ultimate Guide
SANTANDER: Chicamocha Canyon Complete Guide | Truly Spectacular!
---
PIN IT FOR LATER!