With only two options for you to get from Ometepe to Granada, it won't take you long to decide which you're opting for. The most common route requires three different legs, which may seem overwhelming. Especially, in Central America where you need to haggle and make sure you aren't being overcharged.
I hate to see people overcharged, scammed and taken advantage of. But, one key way to avoid this is to know the going prices and transport options. Speaking a little Spanish helps too, but it's not essential as long as you know a few numbers and phrases.
This complete guide for travelling to Granada from Ometepe Island Nicaragua includes current prices, journey times and transport options so you can feel prepared for a no-stress trip.
Some of the links below are affiliate links, meaning, at no additional cost to you, I may earn a small commission if you click through and make a qualifying purchase.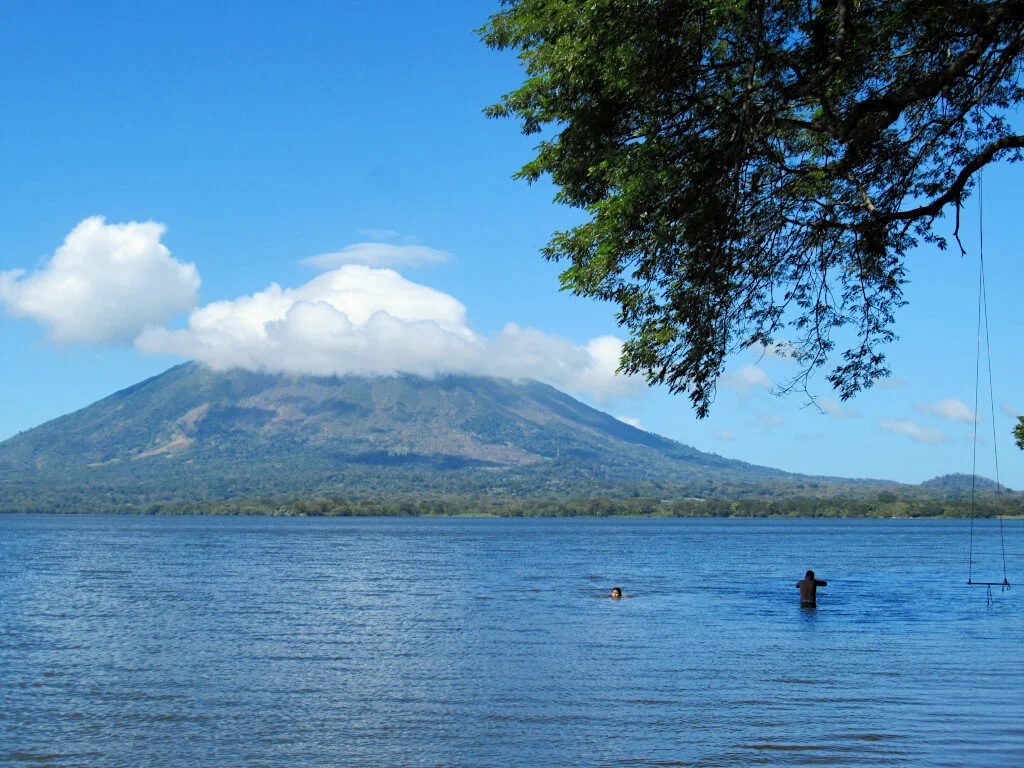 How do you get from Ometepe to Granada?
With the discontinuation of twice-weekly flights from Ometepe to Managua, the only way to get on and off of Isla Ometepe is by ferry. With only two options, you'll easily be able to pick the most convenient for you.
| Route | Details | Time | Cost (pp) |
| --- | --- | --- | --- |
| Via the San Jorge ferry | Ferry to the mainland | 60-70 mins | 50 NIO |
| | Transfer to Rivas | 15 mins | 35-50 NIO |
| | Bus to Granada | 2 hours | 50-100 NIO |
| Direct Ferry | Ferry from Altagracia to Granada | 4 hours | 104 NIO |
As of April 2022, 1 USD = 35 Córdobas (NIO) and 1 GBP = 47 Córdobas (NIO)
As a caveat now, while the direct ferry from Ometepe to Granada looks like it would make the most sense, it actually only runs once a week. And at night. So as such, it's not suitable for everyone. But don't worry, a complete guide to both options is explained in the sections below.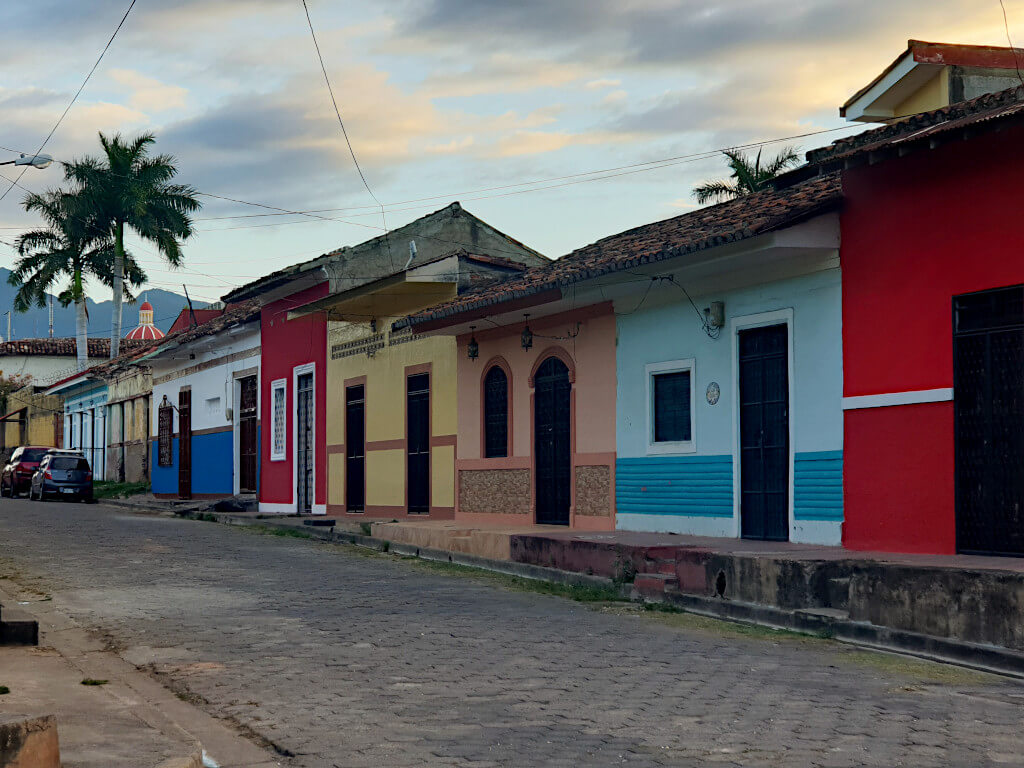 Option 1: Getting to Granada by Ferry, Taxi and Bus
The most common route, travelling via San Jorge, requires three different steps. First, you'll take the ferry from Ometepe to San Jorge. Then, you need to get to Rivas some 6 km away. And finally, you'll need to take the bus from Rivas to Granada.
Ferry from Moyogalpa (or San Jose del Sur) to San Jorge
Most ferries from Ometepe to San Jorge on the mainland leave from the port of Moyogalpa (taking 60 to 70 minutes). However, there are also a handful of departures every day from San Jose del Sur to San Jorge (taking around 90 minutes). Which, may be better suited to those staying around Volcano Maderas on the island's east.
In addition to the ferries, there are also lanchas. These are smaller boats that travel slightly quicker but are bounced around a lot more by the waves. The lanchas don't run as regularly as the ferries and also aren't much cheaper. As such, I would recommend taking the ferry for a calmer journey.
The cost of the ferry is 50 Córdobas per person. The lanchas are slightly cheaper at 35 or 45 Córdobas. Payment is taken on the boats.
There's no need to book in advance as a foot passenger. But do note, the boats are often fairly crowded and there are often more people than seats. Arrive early to get a seat and avoid being sat in a gangway on the floor. The ferries do transport vehicles but if you're travelling in your car or van, you'll need to book a space in advance.
The first ferry leaves Moyogalpa for San Jorge at 5.30am and from San Jose del Sur to San Jorge at 7.30am. The last ferry leaves Moyogalpa at 5.30pm and from San Jose del Sur at 3.20pm. A regular schedule operates between these times. You can view the latest ferry and lancha schedule here. Just remember, the lanchas don't run on Sundays.
To note, if you are doing this journey in the opposite direction from Granada to Ometepe, you will need to pay 36 Córdobas to enter the San Jorge port as a foreigner. No fees apply for the ports on Isla Ometepe.
San Jorge to Rivas (by taxi, bus or rickshaw ride)
Getting from San Jorge to Rivas is where the real fun begins. It's along this part of the route that you'll most likely hear taxi drivers making all sorts of claims about buses not running and why you need to pay them to drive you to your final destination. Of course, it's never true. The buses (and ferries) run 7 days a week, even on important holidays.
There are three options for you to travel the 6 km from San Jorge to Rivas.
Bus
Firstly, there's a bus. It doesn't have a set schedule and runs pretty infrequently. But, if you get off the ferry and there's a bright yellow chicken bus already waiting, then this is a great option. However, you'll likely have to wait until the bus is almost or completely full before it leaves. Expect to pay around 20 Córdobas per person. Large bags will need to go at the back of the bus or on the roof. Journey time is around 20 minutes.
Taxi
Next up, you have the option to take a taxi to Rivas. You'll definitely need to haggle for a good price on this as the taxi drivers will start off by quoting a very high price. The best tactic I have found is to say 'demasiado' to the first quote (Spanish for 'too much') and then wait for them to haggle themselves down.
If you are a group of 3 or 4, you don't want to be paying more than 35 to 40 Córdobas per person. If you're a group of 2, you may have to pay a little more for the taxi. A great option, which is especially easy when getting off the ferry, is to find other travellers to fill up a taxi. No matter each traveller's final destination, pretty much everyone will be heading to Rivas for onward connections. So, it's really easy to share. The taxi should take around 10 to 15 minutes.
Rickshaw Bicycle Ride
Finally, there's the option of a rickshaw ride. Basically, a bicycle with a seating area large enough for two people and their luggage in front of the driver who gets you places by pedal power. It's a green and scenic option, but probably not great if it's raining. As, although the seats are covered, as you ride the rain will be blown onto you.
After some haggling and demasiados, we agreed on a price of 100 Córdobas for two people. Although, the driver did then ask for a tip at the end and wasn't amused when I gave him 10 Córdobas, which seemed a fair 10% tip. Especially since tipping taxi drivers is not the norm here. He settled on taking a cigarette for free from my boyfriend and that was that.
Bus from Rivas to Granada
The last leg of your journey from Ometepe to Granada is to take the bus from Rivas. The instantly recognisable yellow repurposed American school buses leave from the bus terminal in Rivas. Make sure you're dropped off here by the taxi or rickshaw driver if you don't take the bus from San Jorge.
The bus terminal in Rivas is chaos. There's no system, no signs and no ticket office. Instead, you'll find the drivers or their helpers (those who collect money and load/unload passengers and luggage), shouting the destination to attract customers.
Buses to Granada from Rivas leave regularly throughout the day once the bus is almost or completely full. And, by completely full, I mean the aisle is completely rammed and people are sitting on the dashboard by the front door. Welcome to Central America.
Unless you have a small rucksack, large bags go on the roof. This is safe as they're strapped down and only the bus assistants have access. But, make sure all your valuable items are on you or in your daypack that you keep with you.
The current bus fare from Rivas to Granada is 50 Córdobas per person and another 50 Córdobas per bag that goes on the roof. Driving time to Granada is around 2 hours.
Once you arrive in Granada you can either walk to your final destination or take a taxi. Within the city centre, taxi fares are fixed at 20 Córdobas per person.
Note: If you're doing this journey the other way from Granada to Ometepe, the location of the bus terminal to Rivas has moved. It used to be near the UNO petrol station in central Granada, but is now a couple of blocks west. You can view the new location on Google Maps here.
Additionally, it is possible to get a full-day Granada to Ometepe tour. You'll see the best of this volcanic island in a whistle-stop tour before returning to Granada the same day. Check prices and availability below…
Option 2: Ometepe to Granada Direct Ferry
A simpler option is to hop on the direct ferry from Altagracia on Ometepe's northern coast to Granada. The journey time is 4 hours and the cost is 104 Córdobas per person.
Unfortunately, this ferry only runs once a week and leaves Altagracia at 2am on Wednesday mornings – arriving in Granada at 6am. Plus, the ferry doesn't run if the water levels are too low on Lake Nicaragua. The ferry operates from Granada to San Carlos, near the Costa Rica border with a stop in Ometepe in the middle. If you're wanting to take the Granada to Ometepe ferry, it leaves at 5pm on Monday evenings arriving at 9pm in Altagracia.
As of early April 2022, the ferry is currently running. However, if you're wanting to make this journey, I recommend you check for recent updates on the Puerto Granada Facebook page and message them for confirmation.
The central square in Granada is just a 15-minute walk from the ferry terminal, so you can easily walk to your final destination. Alternatively, take a taxi for a few Cordobas.
Granada Recommendations
Take a trip to the crater of Volcano Masaya at sunset to watch the lava. You can find local taxi drivers and tour agencies in the main Plaza
Experience the intensity of a Nicaragua market by walking through the streets around Mercado Municipal de Granada
---
If you have any questions or want any more information drop a comment below and I'll get back to you!
Prices and offerings mentioned are correct as of April 2022 but are subject to change in future.
---
More Central America Travel Inspiration…
NICARAGUA: San Ramón Waterfall, Ometepe (100% Worth The Hike)
EL SALVADOR: Hiking Santa Ana Volcano (Complete Guide)
EL SALVADOR: El Tunco El Salvador: Ultimate Visitor's Guide
GUATEMALA: El Paredon: Ultimate Travel Guide
GUATEMALA: Acatenango Hike: Complete Guide to this Volcano Trek
BELIZE: Caye Caulker Snorkeling: An Underwater Paradise (Need to Know)
HONDURAS: Pulhapanzak Waterfalls: Complete Guide To Visiting
---
PIN IT FOR LATER!