Twenty years ago Comuna 13 Medellín was one of the most dangerous places in the world. This hillside neighbourhood was run by cartel gangs, rife with violence and crime, and overpopulated with poor living conditions. It wasn't safe to live there let alone visit as a tourist.
But today, the area has been completely transformed. The streets once controlled by drug and weapons traffickers are now full of artwork, street performers and food and drink stalls. Every day 1000s of visitors come to Comuna 13 to understand its complex history and immerse themselves in a cultural hub supporting the local economy.
Taking a Comuna 13 tour with a local guide is the most popular way people visit this neighbourhood. But, with so many different tour types, agencies, guides and options, it can be hard to decide which is right for you. Luckily, this handy and bitesize guide answers all those questions!
Some of the links below are affiliate links, meaning, at no additional cost to you, I may earn a small commission if you click through and make a qualifying purchase.
What is Comuna 13 Medellín?
Comuna is the Spanish word for commune, the smallest grouping of an area for governmental and administrative purposes. And, 13 as this is one of 16 communes in Medellín.
Most people believe Comuna 13 to be one neighbourhood, but rather it's a whole district. Within the comuna, there are many different neighbourhoods based across the steep hills.
Today, the area may be popular with tourists enjoying the artwork, street performances and bars. But, Comuna 13 was once known as one of the most dangerous places in the world. And, the story of that transformation is fascinating…
A Short History
I'm summarising because the best way to learn about the area is to take a Comuna 13 tour and hear the story from a local. The next best is to read a dedicated and thorough history guide compiled by an expert, not a travel blogger.
Located on the western hills of Medellín, Comuna 13 soon attracted the attention of traffickers. With its location near a main highway, these traffickers realised they could use the area to easily transport weapons, drugs and money in and out of the city.
This was an action that largely went unchallenged as the district was home to many migrants from across Colombia with little money or influence. Quickly, the area became controlled by the gangs who recruited people living there with the lure of money that they couldn't earn any other way. Violence and stigmatisation of those who lived there ensued. In fact, many people are still missing today, and their relatives will never know what happened or where their remains lie.
But after years of cartel rule, the Colombia military entered Comuna 13 Medellín in October 2002 attempting to overthrow the rebel groups in a multi-day siege. Bullet holes from that pivotal point in the area's history remain visible today.
Evolution into One of Medellín's Most Popular Tourist Spots
In the current day, you might associate Comuna 13 with the vibrant art or the confident street performers. But, it still remains an area of low socioeconomic status.
The area has very few roads, requiring residents to walk long distances uphill to reach their homes. The addition of 6 outdoor escalators in 2011 improved the situation only slightly. Additionally, many of the houses are unfinished – though, this is on purpose to pay lower taxes. However, the corrugated iron roofs are typically pinned down with bricks to prevent them from being washed away during heavy rain.
Despite this, visiting Comuna 13 is not a trip to view poverty or feel sorry for the residents. Instead, it's very much a celebration of the transformation over the last 20 years.
Today, the people are proud to say they're from this neighbourhood. Financial investment and the reduction of crime have made the area more appealing to tourists. Rather than working for the cartels, you'll find people dancing or rapping for tips in the street. Art galleries showcase stunning work from local artists, available to purchase in various forms.
Comuna 13 might not have the money, status or high-rise buildings compared with neighbourhoods like El Poblado. But, it has soul, purpose, community and a vision for a better future.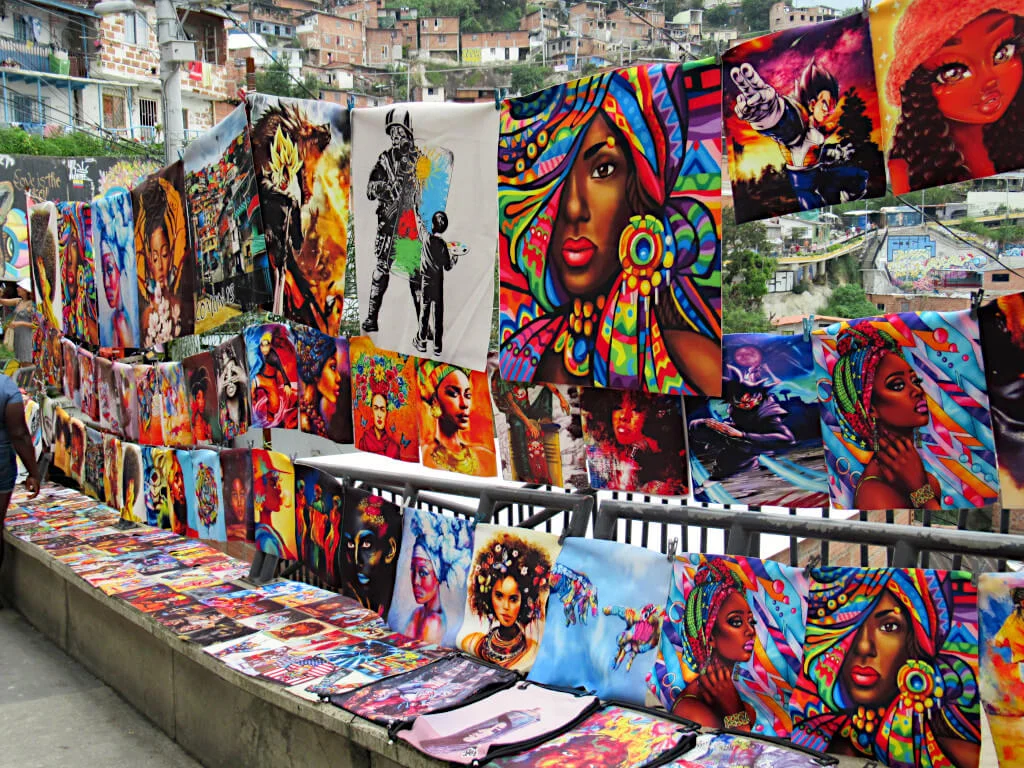 Why You Should Visit Medellín's Comuna 13
A trip to Comuna 13 is an immersive experience taking you through the streets of a place once dubbed the most dangerous place in the world. It was in many of our lifetimes that crime, poverty, violence and discrimination plagued this part of Medellín.
Yet, in a relatively short amount of time, Comuna 13 has been transformed thanks to financial investment and the power of the people. Tourism creates jobs, boosts the economy and makes the area an attractive place to visit.
As well as being a historically fascinating place to visit, you'll come face to face with the culture of Comuna 13. Rappers, dancers, artists and entrepreneurs to name just a few. It's vibrant, it's busy and it's where real people live and work. This is no show home, it's gritty and soulful. You'll love it.
From a personal perspective, visiting Comuna 13 felt like the most authentic look into life in Medellín. Even though the area is very popular with tourists, it feels much more real than the at-times soulless high-rise buildings of El Poblado or the grey buildings of the downtown area.
While some people love Medellín, I didn't really get it. Within the city, there's not much to see or do with only a few neighbourhoods worth visiting. But, Comuna 13 was definitely a highlight of the two weeks I spent in the city and unlike anywhere else in Medellín.
And, unlike walking tours I've taken throughout Latin America, it was really noticeable that the guide was a local. As well as his knowledge of historic and recent events told with his memories of each, we bumped into so many people he knew during the tour. Someone setting up a new art gallery, a street performer, someone working in a shop. The personal touch is really what sets Comuna 13 tours apart with local guides compared with other city tours.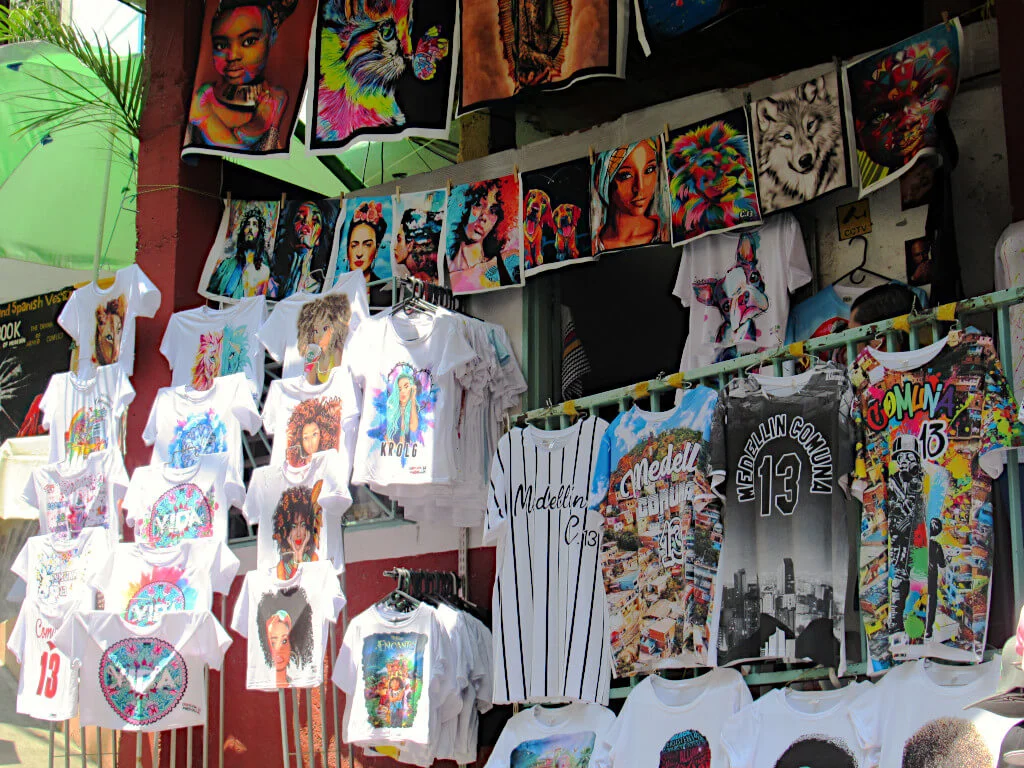 What to See in Comuna 13
The district is huge and there's lots to see, do and experience. No two visits will be exactly the same and there are plenty of ways to get off the popular route through Comuna 13. But, here are the most popular things to see…
Street Performers, Graffiti and Street Art
As soon as you arrive you'll start to hear the music from dance groups and rappers. Audience interaction is almost a given, so sit at the back if you don't want to participate!
The street dancers we watched got a few people up to have a dance-off. While the rap group asked us to each say our favourite Spanish word as well as what country we were from. Then, they freestyle rapped with all those words in!
Graffiti and street art are also everywhere! On the underside of the viaduct, along the sides of the escalators and on the side of almost every building! Each has a unique story and meaning, with tour guides typically stopping at various different ones during your visit. Some of this artwork is also replicated onto canvases, prints and souvenirs that you can take home with you.
Comuna 13 Escalators
The escalators – somehow – are both the least and most interesting thing about Comuna 13. Honestly, these escalators are just like every other one you've seen before. Grey, metal and electronic. But, they're also unlike any other escalator based on their location and reason for being installed.
After the military siege in Comuna 13 to regain control from the gangs and cartels, the government provided the escalators as a means of compensation to the community. One of the biggest inconveniences to people living in the area was the difficulty in travelling around the area, as the only way around was narrow stairs with no roads for vehicles.
The installation of 6 escalators (3 going up and 3 going down) reduced a 25-minute uphill walk to 6 minutes travelling on the escalators. This was transformative for those with reduced mobility, young children and carrying heavy shopping!
However, in a neighbourhood the size of Comuna 13, 3 escalators only solve the ease of access issue for some people. And, of course, there's the fact that the 6 Comuna 13 escalators do not make up for years of gang rule, sky-high murder rates, a siege and the transfer of power to paramilitary groups! It's a controversial subject, for sure.
Art Galleries and Souvenir Shops
Speaking Spanish might be the way people in Comuna 13 communicate but art is the real common language here. As well as the huge amount of street art, Comuna 13 is also home to a large collection of art galleries and art shops.
Around the escalators, there are some immersive, neon galleries that you can walk inside for a bedazzling experience! Plus, there are the more traditional art galleries and shops that display canvases and prints available for purchase.
As well as artwork in the more traditional form, some of the most popular designs are also available on souvenirs. T-shirts, tote bags and the like are easy to come by featuring the best of Comuna 13's artwork.
Cafes, Coffee Shops, Bars and Restaurants
You might not think of Comuna 13 as a place to go out for a drink or a meal. But, it is a popular tourist destination and where there's a need, someone is supplying. So naturally, there are a good number of bars and restaurants around the central area of the neighbourhood (ie around the escalators).
Stalls and small shops selling ice cream, coffee, beers and soft drinks are also commonplace. If you've never tried avocado-flavoured ice cream, here's your chance…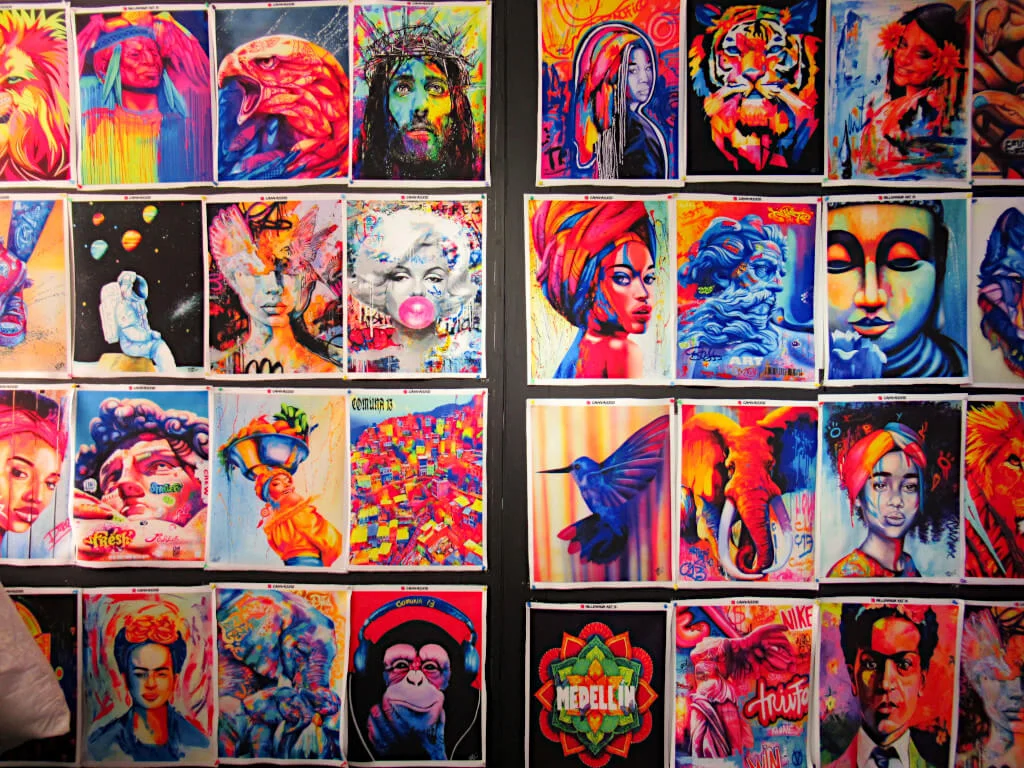 Comuna 13 Tour Recommendations (And How to Visit By Yourself)
For exploring Comuna 13, you have three options: free walking tours, paid-for tours and going and exploring by yourself. Each has its pros and cons and each will suit different people.
For example, free walking tours have local guides to give you unique insight and a personal touch. Whereas going by yourself, means you can explore different areas away from the main roads.
Free Walking Tours of Comuna 13
The Comuna 13 free walking tours typically start at San Javier Station. Here, you'll meet your guide and group before heading into the Comuna by bus, the price of which (1500 COP) is not included in your tour.
Almost all the free walking tours are led by guides who themselves grew up and continue to live in Comuna 13. As such, they provide a unique and personal insight into the history of the neighbourhood and the current tourism boom.
Each tour company and guide will take a slightly different route and approach to showing you the best of the area. However, you can expect your Comuna 13 tour to include watching rappers and street dancers and visiting art galleries and coffee shops (with free samples). As well as learning more about the different pieces of street art.
The Comuna 13 free walking tours are the best all-around value option, as the guides work on a tip-based model to get paid. 25,000 COP is the recommended tip amount but it's optional and you can tip what you think it was worth or what you can afford. The tours typically last around 2.5 hours and end in Comuna 13, so you'll need to make your own way back to the metro.
Recommendations for English and Spanish walking tours: Civitatis, Guru Walk and Zippy Tours.
Self-Guided Visit
Not everyone enjoys tours and that's ok. If you fall into that group, then you'll be thrilled to know that you can explore Comuna 13 by yourself, easy peasy, lemon squeezy!
Yes, that's right, you actually don't need a tour at all to visit Comuna 13. You can simply go there, walk the streets, drink in the bars, photograph the artwork and more, all by yourself. It's completely safe to do so and during the day and evening, you'll find plenty of tourists doing the same.
While you might miss out on some information, insight and anecdotes from a guide. You can always ask your questions to the many friendly and welcoming people working in hospitality and tourism in the neighbourhood. Of course, the more Spanish you know, the better. Don't expect English to be widely spoken here.
Additionally, you don't have to choose between a walking tour and a self-guided visit. The walking tours can be great to get your bearings as off of the main street, it's a maze. You can take a walking tour and then spend a few more hours walking around either the same day or another day.
Recommendations: Visit early in the day to beat the crowds. Morning tours meet at San Javier around 10am and get to Comuna 13 Medellín around 10.30. The afternoons are even busier.
Why you Don't Need a Paid-For Tour
Maybe a paid-for Comuna 13 Medellín tour is for you if you prefer the comfort of having transport included to and from your hotel or hostel. Although, do check carefully as not all include this. But other than that, the paid tours don't include anything you wouldn't get on a free walking tour. And, you'll pay a hell of a lot more.
These tours are typically priced around the 20 to 25 USD mark (80,000 to 100,000 COP). For example, with the free tour, you'll pay for the cost of transport (2 metro journeys and 2 bus journeys totalling 8500 COP) and the tip for the guide (25,000 COP average amount).
Our free walking tour even included free ice cream and free coffee tasting. So, you're really paying a lot for very little. Additionally, these tours are listed as being around 4 hours, but this includes travel time. As a result, you don't spend any longer in Comuna 13 than on the free tours.
Recommendation: Take a free walking tour.
But, if you're after a private or small group tour, then there are some pretty economic options. These typically include hotel or hostel pick-up so are suited to new or first-time travellers.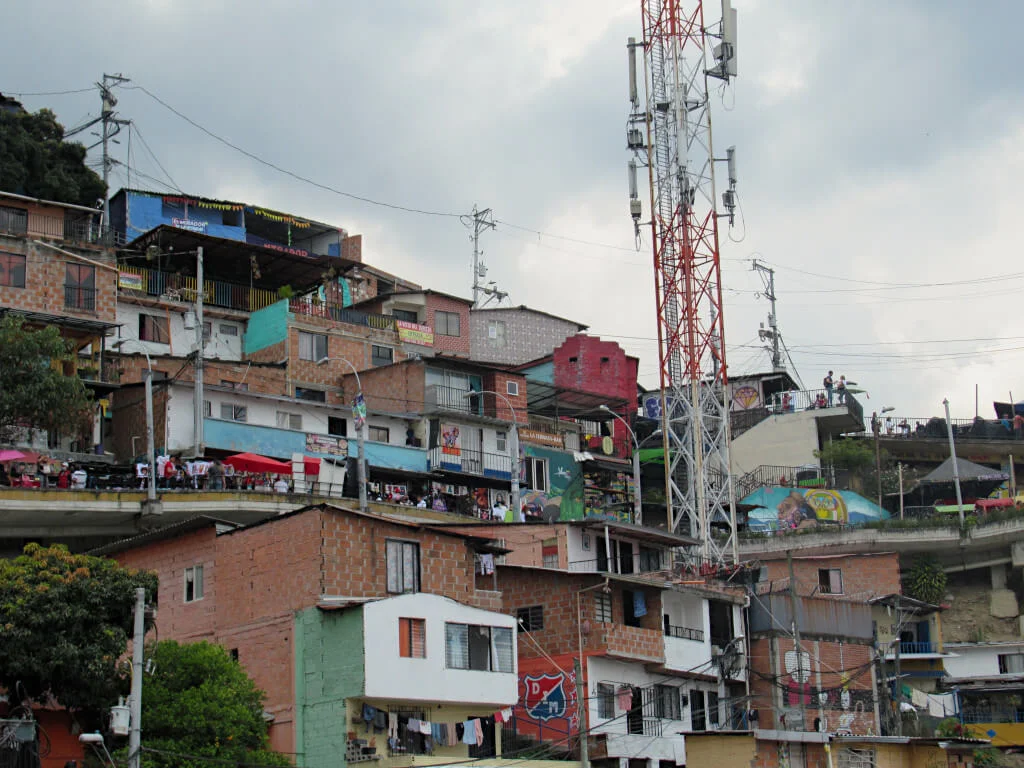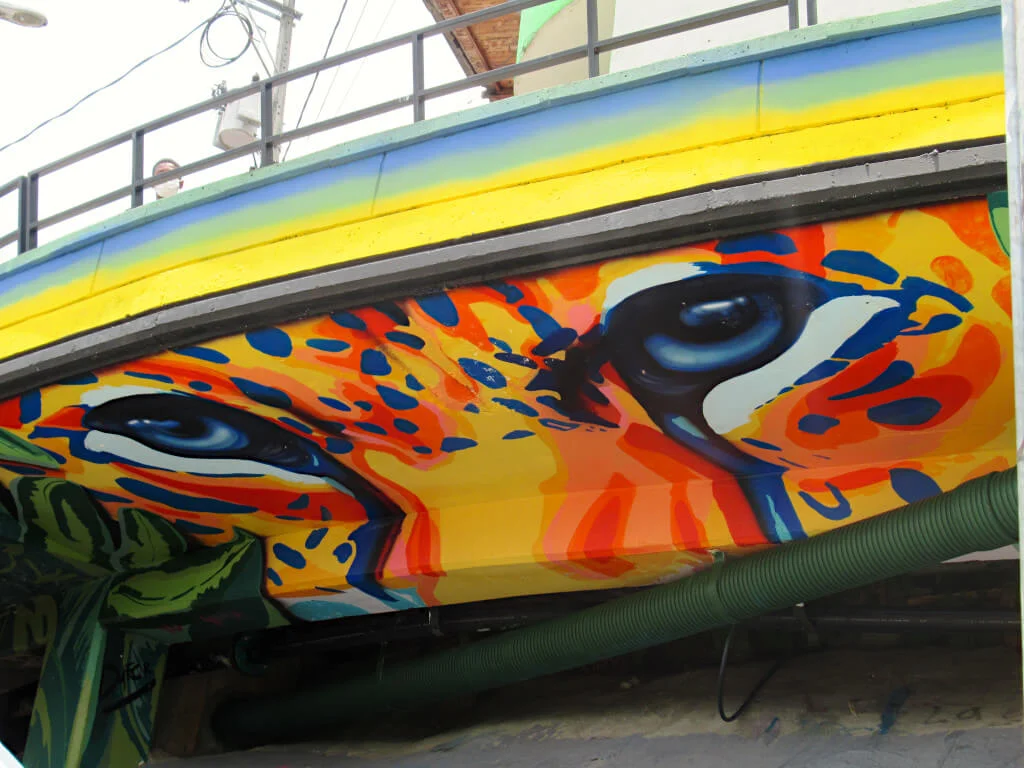 What a Comuna 13 Tour is not…
Pablo Escobar or Narco Tourism
Of course, there is an undeniable link between Comuna 13, Pablo Escobar and the narcotics trade. But, tours of the district do not focus on the drug lord specifically nor the drug trade.
Pablo Escobar tours are available in Medellín. Although these are very unpopular with locals who would prefer their city stopped being associated with a man who caused so much damage and pain. These tours typically visit a museum curated by a family member, which I've heard from many people to be overpriced and underwhelming.
For a more morally sound education on the role Pablo Escobar had in making Medellín what it is today, take the Real City Tours downtown walking tour. It's free and you'll get a complete introduction to the city.
Graffiti Tour
A few tours advertise themselves as 'Comuna 13 Graffiti Tours' but they don't just focus on the graffiti. In fact, they're no different than the 'standard' Comuna 13 walking tours listed above.
These self-proclaimed graffiti tours still watch street performers, still visit the escalators and still see the shops and stalls. Of course, like the standard walking tours, they do take you to various pieces of graffiti and street art. But importantly, that isn't the only thing you'll see on a graffiti tour.
How to Get to Comuna 13 Medellín
Getting a taxi is the most direct option, but Medellín traffic can add unexpected time and cost to your journey all throughout the day. Instead, take a metro to San Javier Station. From there, you can either walk (uphill, I don't recommend it), take a taxi or take a dedicated bus running from the station to the lower part of Comuna 13 (1500 COP per person).
---
Find the best prices and the best dates with flight comparison sites like Skyscanner!
Make sure you use tools such as 'Add nearby airports' and set your departure airport as wide as possible (you can just put the United States) to see the cheapest places to fly from! Check prices for your trip here…
---
From El Poblado
Travelling from El Poblado to Comuna 13 is simple and cheap. If you don't already have one, you'll need to buy a Metro Card from the kiosk at the metro station for 5000 COP.
When buying the card, you'll also be able to put credit on it for your upcoming journeys. However, you can have one Metro card for multiple people, you'll just need to pass it along as you pass through the gates and ensure it has enough credit. All metro journeys in Medellín cost 2750 COP, including changes as long as you don't exit through the barriers.
From Poblado Metro Station, take Line A in the direction of Niquia. After 4 stops, change at San Antonio Station for Line B to the last stop: San Javier Station.
From San Javier, you have three choices to take you into Comuna 13:
Walk. But it's all uphill and you'll be doing plenty of walking around when you arrive, so I don't recommend it.
Taxi. Uber or Cabify typically charge around 7000 to 8000 COP but metered taxis will be more.
Bus. There's a special bus service from San Javier Station to Comuna 13 for visitors. A one-way fare costs 1500 COP and you can pay with cash or a Medellín Metro card.
Remember, if you're joining a Comuna 13 Medellín tour most of these have San Javier Metro Station as the meeting place. So, you only need to travel to the station and then you'll travel as a group into the district.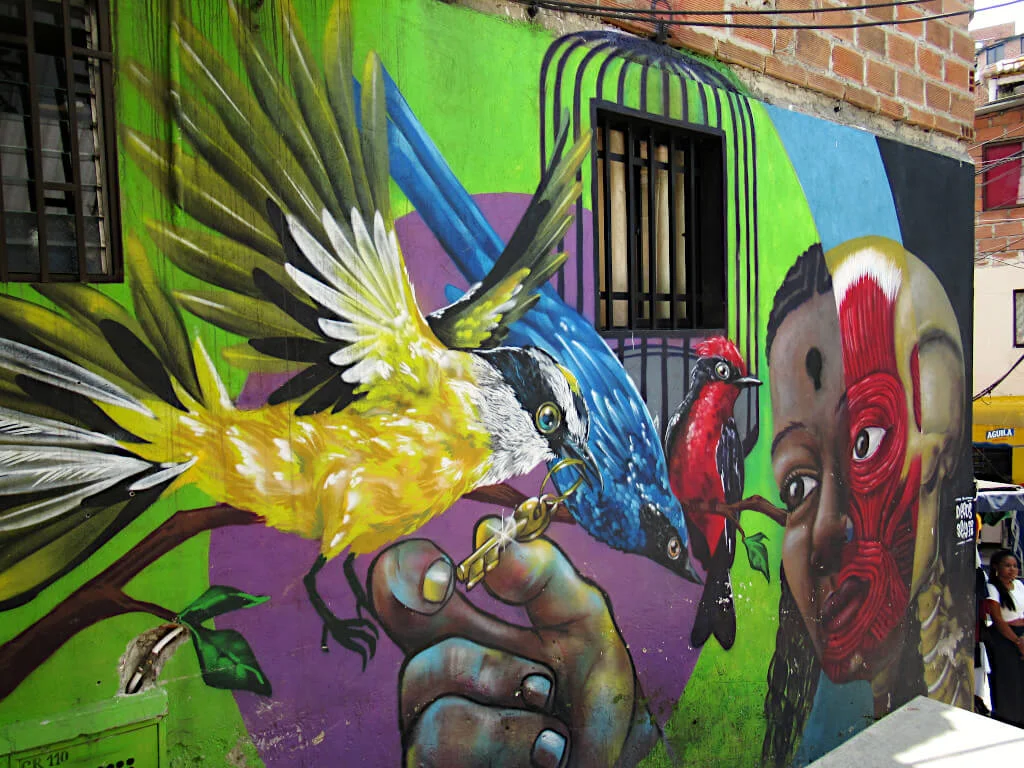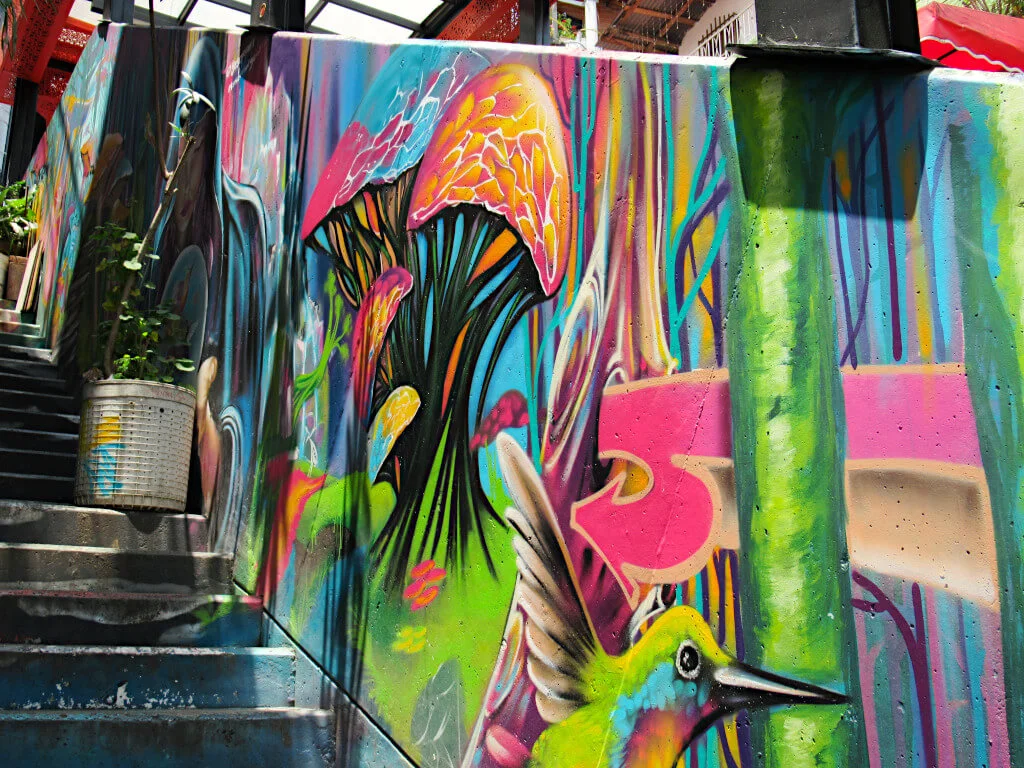 ---
Do you have any questions or want any more information? If so, drop a comment below and I'll get back to you!
Information and prices are correct as of June 2022 but are subject to change in future.
---
More Colombia Travel Inspiration…
BOGOTÁ: El Salto del Tequendama Falls: Bogotá's Hidden Gem [Ultimate Guide]
BOGOTÁ: Cascada La Chorrera, Choachi: Colombia's Tallest Waterfall (Complete Guide)
SANTANDER: San Gil Santander: Complete Guide to Colombia's Adventure Capital
LA GUAJIRA: Palomino Beach (Colombia's Caribbean Coast Paradise): Ultimate Guide
QUINDIO: Salento, Colombia: 2022 Ultimate Guide (Quindío's Prettiest Town)
---
PIN IT FOR LATER!