Just a couple of hours from Santa Marta, Palomino is Colombia's trendy beach town growing in popularity year on year. Surrounded by popular spots such as the Tayrona and Sierra Nevada de Santa Marta National Parks, the latter being home to the Lost City trek, Palomino attracts international and domestic visitors year-round.
Just a few years ago, this beach town was little more than a few huts, houses and dirt roads. Now, there's a thriving tourism industry and an international community on the beautiful golden shores of Palomino Colombia.
Plan your visit to the paradise-like beaches of Palomino Santa Marta today, with this ultimate travel guide…
Some of the links below are affiliate links, meaning, at no additional cost to you, I may earn a small commission if you click through and make a qualifying purchase.
Where is Palomino?
This small beach town is located on Colombia's northern, Caribbean coast. To the west, lies the Tayrona National Park and the cities of Santa Marta, Barranquilla and Cartagena. To the east are Riohacha, Punta Gallinas and the Venezuelan border.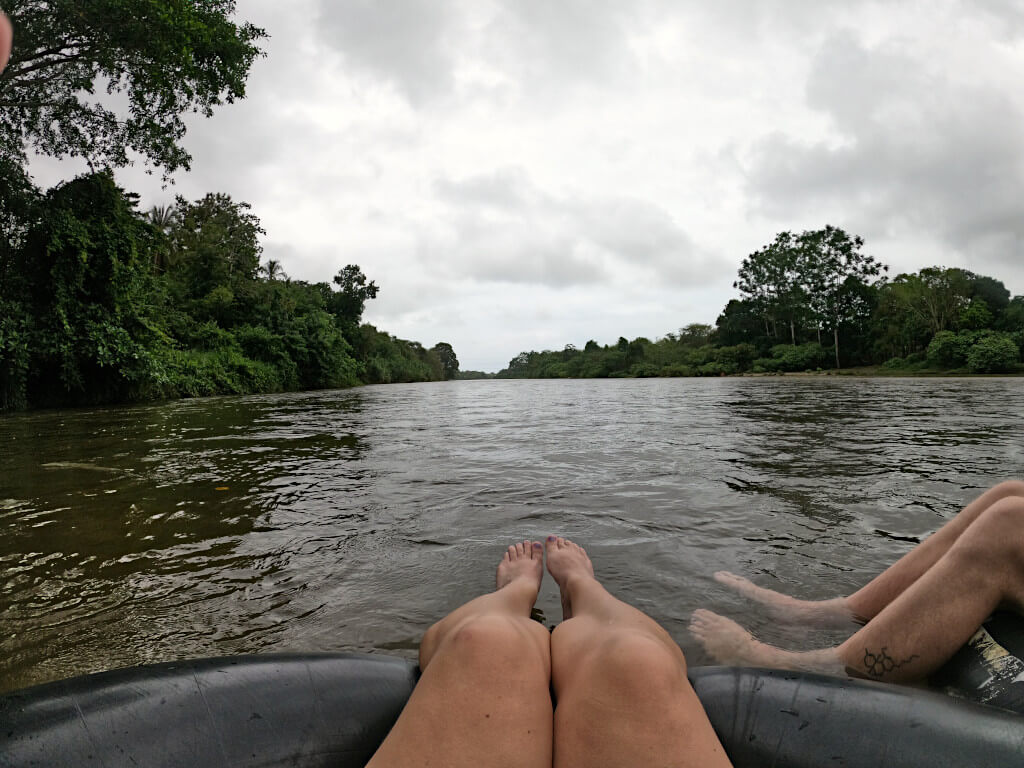 Things to do in Palomino, Colombia
If you're looking for a place with lots of activities and to always be on the go, then Palomino isn't likely to be for you. However, if you're content to enjoy slow, relaxing days with the option of just a handful of excursions, then Palomino is exactly what you're looking for.
Tubing
One of Palomino's most popular activities, tubing on the Palomino River is fun for all the family. Lay back, relax and float along for an hour or two surrounded by the jungle and refreshingly cool water.
Tubing is a perfect half-day activity and can easily be booked in the town at one of the many agencies and tour operators. For more information on the tours available, booking and what's included, check out this complete guide to tubing in Palomino.
Relax on the Beach
Golden sand, palm trees and crashing waves. Palomino beach Colombia is pretty much like paradise. Plus, at over 2 km long, it's easy to find your own space as only a small portion of the beachfront is built up.
Bring a towel to sit on as well as plenty of water and sun lotion, then have yourself a relaxing day. And, if you get hungry, you can always head to the small beachfront restaurants in the middle or far-left of the beach for snacks, meals and drinks.
> > > WANT TO KNOW MORE? Read this visitor's guide to Palomino Beach Colombia.
Take Surfing Lessons
While definitely more of a beach town than a surf town, cheap surf lessons and board hire are still easy to find in Palomino Colombia. Dreamer hostel is one of the main providers of surf equipment and lessons. But, you can also turn up to the beach and sign up for lessons at a couple of surf schools.
Spend a day at the pool
While the sea may be perfect for surfing, it is in fact quite dangerous for swimming in here. Strong currents pose a threat to even the strongest swimmers. Instead, spend a relaxing day at one of the many hotel or hostel pools in the town.
If your hostel or hotel doesn't have a pool, then do not worry. You can simply head over to one that does, purchase a drink from the bar or meal from the restaurant and enjoy the use of their facilities. It's also a great way to save on accommodation by staying near but not at the big-name hostels. More information on the top hostels and hotels later in this post…
Eat and Drink your way around Town
Cafes, bakeries and restaurants with a whole range of international cuisine – you won't go hungry in Palomino Santa Marta. Plus, there are plenty of bars serving soft drinks, smoothies, juices and cocktails without it feeling like you've just walked down the main strip in a tourist resort.
Most of the restaurants and bars are located in three key areas in Palomino La Guajira. Firstly, along the main road; this is where you'll find more local food at very affordable prices. Secondly, along Carrera 6a, which is the road that runs from the main highway all the way to the beach. Most hostels and shops are also located on this street, as well as dine-in restaurants, bakeries, cafes and bars. I highly, HIGHLY recommend the chocolate bread from the bakery at the junction by Palomino Hostel!
Finally, there are a handful of bars and restaurants located on the beach. You'll find these at the point where the road meets the beach. Or, at the far left-hand side of the beach where the River Palomino meets the sea.
Catch Sunrise or Sunset from the Beach
Palomino is almost entirely flat, so there aren't any great vantage points to watch the sun rising and setting. Luckily, Palomino beach makes for the perfect place to watch both over the Caribbean Sea and endless palm trees.
Be warned though, in the rainy season clouds and downpours mostly occur in the afternoon and evenings, meaning you can't see the sunset. If you're visiting during this time, definitely try and catch a sunrise so you don't miss out.
Day Trips from Palomino
The great thing about Palomino is that there's plenty to do without having to go on constant day trips. That said, there are a few great day trips within easy distance of the town.
Tayrona National Park
As one of Colombia's most visited attractions, you know it's going to be good. While plenty of people stay in hammocks or tents on the beach, it's easy to visit as a day trip from Palomino.
Simply hop on the bus in the direction of Santa Marta and get off at the eastern entrance to Tayrona park. Once you've paid your entrance fee and mandatory health insurance, it's a long walk to the rustic and incredibly beautiful beaches.
The park is absolutely huge. Too big to explore even with a 2-day stay, let alone a day trip. So pick a couple of trails or beaches and make the most of your time.
Quebrada Valencia Waterfall
Located approximately halfway between the Tayrona National Park entrance and Palomino, Quebrada Valencia is a beauty of a waterfall. Although, water levels are low outside of the rainy season.
Take the bus towards Santa Marta, getting off roughly in line with the waterfall on the main road. Use Google Maps and GPS to work out where and let the driver know when you want to get off.
From the road, you'll walk about 30 minutes before you can cool off in the refreshing water. A few stalls selling snacks and souvenirs are located along the path to the waterfall too.
Flamingo Sanctuary
If seeing flamingos in the wild is on your bucket list, then this is the trip for you. The Flamingos Fauna and Flora Sanctuary is located next to the small town of Camarones. To reach here, you can either take a tour or a bus in the direction of Riohacha.
Entrance to the reserve is free. The best time to see the flamingos is between October and November, but they live there year-round.
(Bonus) Lost City Trek – NOT a Day Trip!
I'll be doubly clear, the Lost City Trek is not a day trip. But, I've included it as a bonus extra. Best completed over 4 days (as the 5-day option just includes a day resting at a camp in the jungle on Day 4), this is one of the most well-known hikes in Colombia.
You'll hike through the jungle, often through rain showers and downpours, to reach the no longer lost city remains of the Tayrona people. The site is huge. And, many who have completed it compare the scale and splendour to Machu Picchu.
There is no shortage of agencies in Santa Marta and Palomino offering to take you on this trek, as going with a guide is mandatory. The prices are also fixed at 1,400,000 COP, so there's no need to haggle.
Need to Know Information & Travel Tips for Palomino, Santa Marta
Internet. There's a reason Palomino isn't yet a booming destination for digital nomads and that is the less-than-reliable internet. The quality varies a lot between properties and is dependent on how many people are connected to the same network. The town is covered by 4G data, so this can always be a backup if you need an internet connection.
Power cuts. Unfortunately, these happen more commonly in Palomino than anywhere else I've travelled to in Colombia and Central America. The storms in the rainy season seem to knock the power off frequently. When I visited, daily power cuts were lasting for a couple of hours at a time. To make things worse, the power cut also takes out the phone towers meaning you have no signal or data either. Bring a battery pack, keep it charged and have offline activities to keep you entertained.
ATMs. This one is important, there are no ATMs in Palomino! You need to bring all the cash you need (plus a little extra) with you. Try and pay on card as much as possible to preserve your cash supplies. If you do need to get cash, the nearest ATM is a Bancolombia in Mingueo. You'll need to take the bus or a mototaxi to here for around 5000 to 10,000 COP.
Supermarkets. Yeah, there are also no supermarkets in Palomino. The small tiendas will have everything you need for short stays like drinks, snacks and cooking basics. But, if there's anything you have to have, I'd recommend stopping by the big Exito in Santa Marta before coming to Palomino.
Where to stay in Palomino, La Guajira
With no big resorts, hostels are the most popular places to stay in Palomino. And here, the hostels are fancy! Think pools, swanky rooms, jacuzzies and plenty of chill-out space. Although, if you're looking for something even more upmarket, there are a handful of hotels and eco-resorts to choose from.
Best Hostels in Palomino, Colombia
Located just a stone's throw from the beach, Dreamer Hostel Palomino is one of the most popular in Colombia. And, for good reason. It has fantastic facilities including a pool, restaurant, chill-out space and plenty of activities on offer. Check prices and availability on Booking.com or Hostelworld.com.
Selina Palomino is located literally on the beach, where you can watch the waves from the bar restaurant. People tend to either love or hate Selinas, but with a big chain like this, you know exactly what you're getting. Facilities include coworking spaces, good internet and spacious communal areas. See what rooms are available on Booking.com or Hostelworld.com.
El Zoo Hostel is another popular option in Palomino, boasting a pool, volleyball court and well-designed rooms. You can be sure to meet other travellers here, as well as being perfectly located between the beach and town. Check availability for your dates on Booking.com or Hostelworld.com.
Another option popular with backpackers and travellers is Tiki Hut Hostel. Offering more unique accommodation in palm-roofed cabins, the hostel also has a pool, jacuzzi and restaurant on-site. Activities such as beer pong, pool and other games run regularly to entertain guests. Search for availability and prices on your dates on Booking.com or Hostelworld.com.
Staying at the big-name, popular hostels comes with a good community, great facilities and plenty of activities. But, this does come at a price, particularly in the high season months of December to March. If you're looking for more budget-friendly options, consider these instead…
Palomino Hostel is a small but friendly hostel. Located about halfway between the main road and beach, all the best restaurants, bars and hostels are within walking distance. The rooms are comfortable and clean, plus there's a shared kitchen and communal seating area. Check prices and availability on Booking.com.
Best Hotels in Palomino
If you're looking for big resorts, all-inclusive breaks or big hotel brands, you're not going to find them in Palomino. However, what you will find is a selection of unique properties perfect for those looking to splurge on stylish accommodation.
Some of the highest-rated properties include:
Aite Eco Resort is a luxury option. With two pools, solar-heated water, bungalows on the beach and a restaurant on-site, it has everything you need. And, the views over the beach are as dreamy as you can imagine. Check Booking.com for availability on your preferred dates.
Perhaps the only hotel on the beach with a hot tub, Hotel Chiniu also boasts triple, quadruple and family rooms as well as bungalows. It's perfect for families or small groups wanting to enjoy a relaxing stay around the pool or on the beach. Check availability and prices on Booking.com.
Makao Beach Hotel is another stunning property right on the seafront. As well as enjoying food from the hotel's restaurants, you can book massages, yoga lessons, bike rental and surfboard hire here. See what's available on your travel dates on Booking.com.
Is Palomino, Colombia Safe?
Let's be honest, Colombia doesn't have a great reputation for being a safe country. Much of this negativity comes from generalisations and outdated beliefs about how the country was 20 years ago. But, Colombia has become much safer in recent times, especially for tourists.
Palomino is one of the safest places to be in Colombia. Away from the big cities where petty crime is common, you'll feel much more relaxed wandering the sandy streets of this small town.
Of course, you should still apply normal measures to keep safe. Don't leave your valuables unattended, don't carry large amounts of cash if you don't need to and stay away from all things illegal and in the grey area of legality.
Best time to Visit
Palomino can be enjoyed all year round, with each season offering pros and cons to visiting.
December to March is generally the dry season, meaning less rainy and more sunshine. But, this is also considered the high season meaning more people, higher prices and more need to book in advance – especially if you want to stay at the popular hostels.
In contrast, the rainy season runs from May to November. During this time, afternoon cloud, tropical downpours and lightning storms are all common. However, the weather rarely ruins your whole day unless a particular storm or hurricane is forming in the Caribbean.
To get the best of both worlds, visit during shoulder season if you are flexible on your dates. Late March to early May and late October to early December strike the best balance between weather and visitor numbers. But ultimately, I'm sure you're gonna have a great time whenever you visit!
How to get to Palomino, La Guajira
Despite its relatively remote location, Palomino is easy to reach on public transport from the closest towns and cities.
Santa Marta to Palomino
The easiest and cheapest way to travel from Santa Marta to Palomino is by bus. The fares are fixed at 12,000 COP per person with the journey taking around 2 hours.
Buses leave regularly throughout the day from next to the market (Mercado Publico de Santa Marta), on the Carrera 9 side. You can see the exact location on Google Maps here. The bus company is called Cootransoriente Tayrona. Generally, there is a sign in the front window saying Tayrona, Buritaca, Riohacha and Palomino. So, you can easily identify the right bus – although they'll be plenty of people to ask.
The market is around 1.5 km from the seafront of Santa Marta, where most hotels are, requiring a 20-minute walk or a 5-minute taxi ride.
Santa Marta Airport to Palomino
One option is to take a taxi directly from Santa Marta Airport to Palomino. Taxis from the airport have fixed prices and these are advertised at the desk by the exit. Currently, the price is 180,000 COP per car including luggage for the 90-minute journey. However, prices do increase regularly.
Another option is to take a taxi to the market in Santa Marta and then take the bus to Palomino. The taxi fare from Simon Bolivar Airport to the centre of Santa Marta is 30,000 COP per car, taking around 30 minutes. The bus to Palomino is a further 12,000 COP person for the 2-hour journey.
The final option is to take the local bus from the airport to Santa Marta. As the slowest option, it's also the cheapest; costing 2,000 COP per person for the 1-hour journey. From the centre of Santa Marta, you can then take the 2-hour-long bus to Palomino from the market for 12,000 COP.
Minca to Palomino
Small vans seating around 9 people regularly leave Palomino for Santa Marta. Purchase your ticket from Cootransminca on the town's main road for 9000 COP per person, with the vans leaving from outside. Do note, that the vans leave when they are full so you can be waiting a while or you might snag the last seat, leaving straight away.
The route takes you all the way to Santa Marta Public Market in around 45 minutes to 1 hour, where you'll be able to change for the bus to Palomino on the same block. From Santa Marta Market, the bus to Palomino costs 12,000 COP and takes around 2 hours.
Cartagena to Palomino
It is possible to travel direct from Cartagena to Palomino on the large coaches that run inter-city in Colombia. Alternatively, if there isn't a service that suits you, travel first to Santa Marta and change for the local bus to Palomino.
You'll first need to get yourself to Cartagena Bus Station, which is quite a way outside of the city. Using Uber or Cabify will likely be cheaper than flagging a taxi. The journey can take up to 1 hour (or more) during rush hour, so leave yourself plenty of time. If you need to change in Santa Marta, you'll need to take a taxi from the bus station to the market, where the bus to Palomino leaves from.
Tickets can be bought through Colombian bus comparison sites such as Busbud and RedBus. Or, direct from each company's ticket desk in the bus station. Copetran and Expreso Brasilia are two of the bigger companies running services along Colombia's north coast. Although, there are plenty of smaller companies too.
Tickets cost around 40,000 to 50,000 COP for the direct journey from Cartagena to Palomino, possibly more if you book on the day. A ticket to Santa Marta costs a little less, at around 38,000 COP in advance, but you'll also need to pay for the bus to Palomino at 12,000 COP per person and the taxi between the bus stops.
Onward Travel from Palomino, Santa Marta
Sadly, all good things must come to an end. And, at some point, you'll have to move on from Palomino. Here's how to get the most popular next stops…
Palomino to Santa Marta
Buses running the Palomino-Santa Marta route leave from the beach side of the main road regularly, having started in Riohacha. There isn't a set timetable, but the buses are regular throughout the day. Tickets cost 12,000 COP per person and can be bought on the bus.
The final stop in Santa Marta is by the public market. From here, it's around 1.5 km and 5 minutes drive to the centre of Santa Marta in a taxi. Here, you can also get the bus or a cab to Santa Marta's Simon Bolivar International Airport.
Palomino to Minca
To reach Minca, you'll first need to take the bus from Palomino to the final stop in Santa Marta. Here, you can change for a small 9-seater van on the same block going to Minca, leaving when they're full.
The total cost is 21,000 COP per person; 12,000 COP to get to Santa Marta and another 9,000 COP for the journey to Minca.
Palomino to Cartagena
It is possible to travel directly from Palomino to Cartagena. Sometimes, they'll be passing coaches on the route from Maicao or Riohacha to Cartagena that might let you on at Palomino. However, if Palomino isn't an official stop, this may not be allowed. The direct journey from Palomino to Cartagena will take around 6 to 7 hours.
Alternatively, take the local bus to Santa Marta and then take a large inter-city bus to Cartagena. When travelling from Palomino, get off the bus at Buenavista Shopping Centre. You can stock up on snacks at Exito, use the cash machines and then walk 15 minutes or take a 5-minute taxi to the bus station.
You can purchase your ticket to Cartagena at the bus station. Copetran and Expreso Brasilia are two of the most reputable companies running the route, with departures throughout the day. When you reach Cartagena, you'll then need to take a taxi the 12 km to the trendy and central Getsemani neighbourhood, where most visitors stay. If travelling via Santa Marta, the total journey time from Palomino to Cartagena will be around 8 to 9 hours.
---
Do you have any questions or want any more information? If so, drop a comment below and I'll get back to you!
Information is correct as of July 2022 but is subject to change in future.
---
Looking for more Colombia Travel Inspiration?
SAN GIL: San Gil Santander: Complete Guide to Colombia's Adventure Capital
GUADALUPE: Guadalupe, Santander: Your Guide to Colombia's Little Known Town
BOGOTA: Cascada La Chorrera, Choachi: Colombia's Tallest Waterfall (2022 Guide)
SANTA MARTA: Playa Taganga (Is This Santa Marta's Dirtiest Beach?)
MEDELLIN: Comuna 13 Medellín (Guide & Recommendations For This Must-Do)
QUINDIO: Salento, Colombia: Ultimate Guide (Quindío's Prettiest Town)
---
PIN IT FOR LATER!