Walking the Camino Real from Barichara to Guane through the beautiful countryside is one of the best things to do when visiting Barichara. The stone footpath, which was built by the indigenous people and subsequently restored, connects these two small towns along a 5-km route.
Unlike most walks in Colombia and South America, this one is almost entirely! This should be music to your ears given the temperatures easily reach 30 Celsius/86 Fahrenheit here.
So, if you're visiting Santander or San Gil, make sure you include a day trip to Barichara in your itinerary to enjoy walking the Camino Real to Guane. Luckily, there's transport back from Guane throughout the day, so no uphill walking is required. And, you get more time to experience beautiful Barichara.
Find out more about the route, getting to Barichara and getting back to Guane in this complete guide…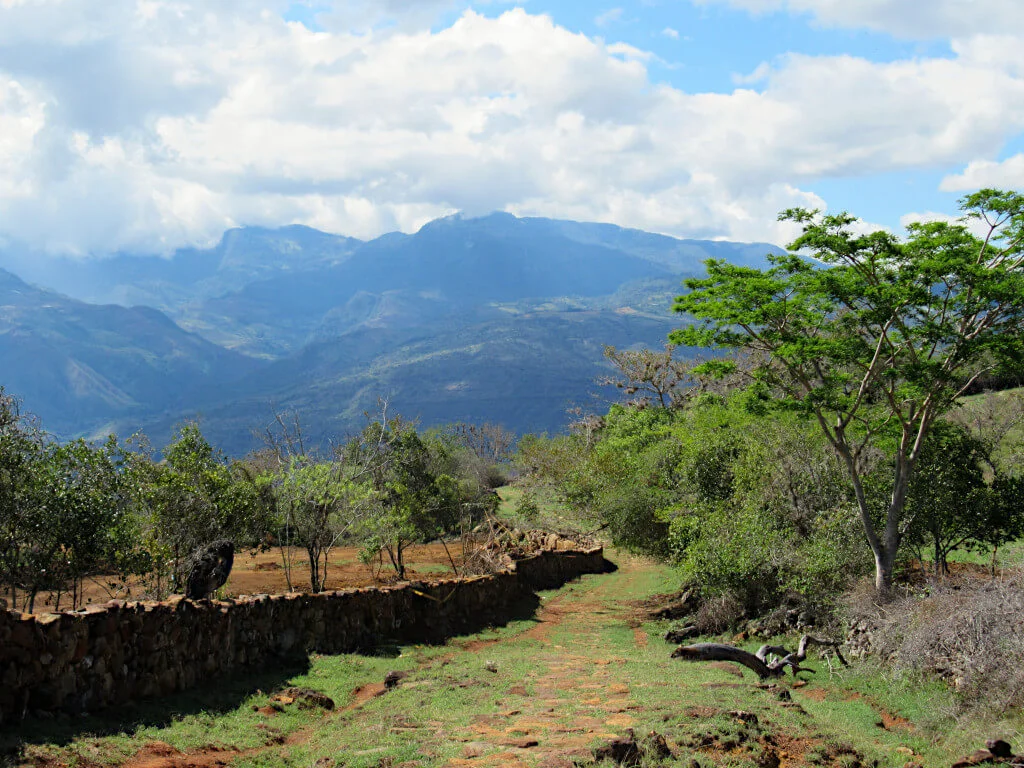 About the Barichara-Guane Camino Real
Camino Real – meaning Royal Road in English – is a popular name for footpaths in Spanish-speaking countries. Although, you'll also find hotels, bars and restaurants with the same name.
The Camino Real Barichara-Guane was created several hundred years ago by the indigenous people. The route, which is part of a larger network of footpaths in the region was used to connect people for trade, work or social gatherings. Today, the Camino Real trail has been heavily restored but local people still continue to use the route. You can also find other walking routes such as Villanueva to Jordan and around other parts of the Chicamocha Canyon – the world's second largest canyon!
The path from Barichara to Guane passes through approximately 5 km of scenic countryside, at times looking towards the Rio Suarez Canyon. The views are incredible and the walk is fairly easy. Plus, with the availability of transport back from Guane for less than 1 USD, it's an incredibly budget-friendly activity. And of course, there's no entry fee for the Camino Real itself.
Walk Overview
Distance: 3.2 miles/5.2 kilometres
Difficulty: Easy
Terrain: Rocks and grass
Walking time: 2 hours
Elevation profile: Mostly downhill in the Barichara to Guane direction
How to Get to Barichara
Most people visit Barichara as a day trip from nearby San Gil, Colombia's adventure sports capital. However, staying for a night or two in Barichara is also worthwhile and enjoyable if you have the time.
But, whether you're staying for a few hours or a few days, you'll still need to travel via San Gil to Barichara. If you're arriving into Barichara from another city or area of the Santander province, you'll be dropped off at San Gil Bus Terminal on the outskirts of the city. From here, you'll need to take a taxi to the 'Terminalito' (meaning little terminal in Spanish) for local buses.
Buses run from the Terminalito in San Gil to Barichara regularly from 6.15am to 8.30pm. In the opposite direction, the first bus leaves Barichara at 5.00am and the last at 7.10pm.
The journey from San Gil to Barichara takes approximately 45 minutes and costs 6,000 COP per person. The ticket office in San Gil accepts cash and card, but expect to need cash to buy the return ticket in Barichara.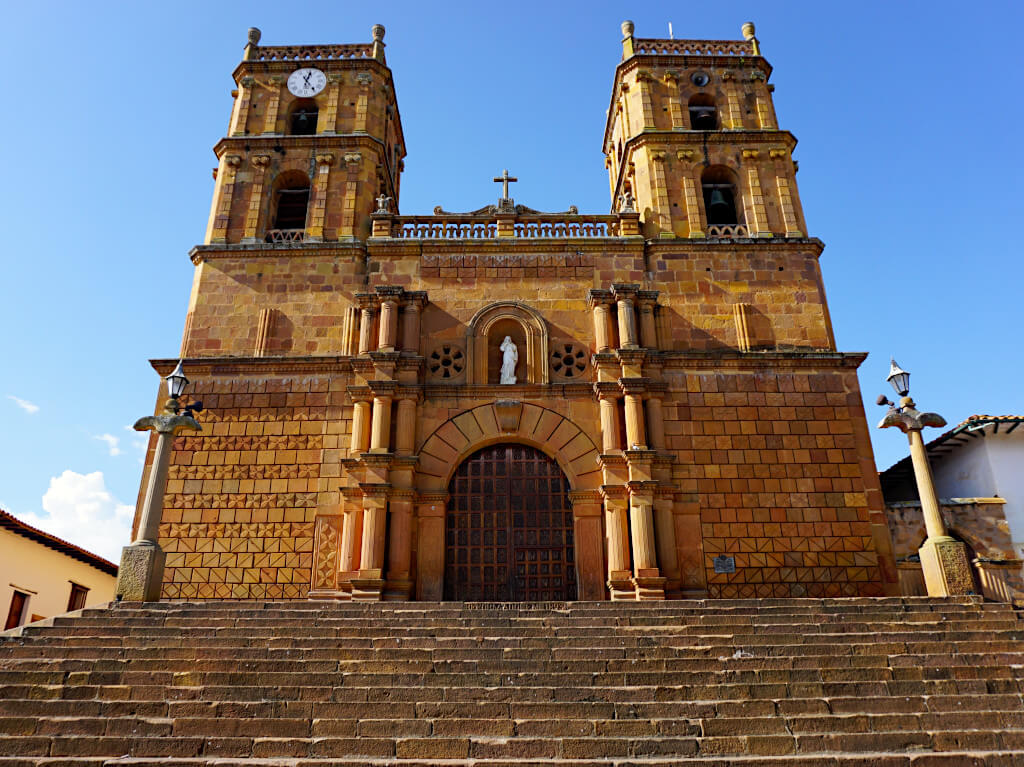 How to Get to the Camino Real Barichara-Guane Start Point
Conveniently, the start of the Barichara to Guane Camino Real is just 400 metres from the main plaza in the town. Head north out of the square on Calle 5 (the road next to the church) for three blocks, then turn left and walk for one more block. Here, you'll see the start point, marked by an engraved stone on the other side of the road.
See the exact location of the trail start point on Google Maps here.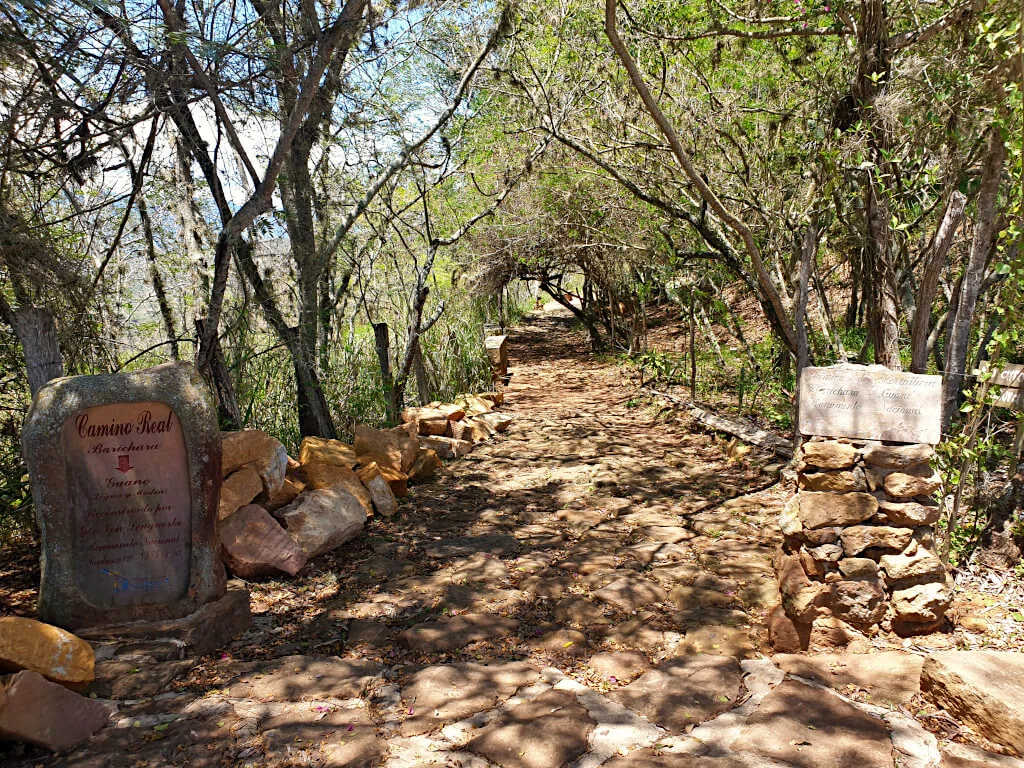 Walking the Camino Real
What to Expect
This is a 5.2 km walk, starting 400 metres from the centre of Barichara and with a further 300-metre walk from the trail end to the Guane main plaza. In total, the walk takes around 2 hours one-way including some sort of rest breaks and photo stops. But don't worry, you don't need to walk back afterwards. See the Travelling from Guane to Barichara section below on how to get back.
The walk is mostly downhill from Barichara to Guane. Mostly, in this case, means there are still some short uphill sections that are tough in the heat and when you're not expecting them. The terrain under foot is mostly rocks that aren't uniform in shape, size or level. As such, you do end up spending a lot of time looking at where to put your feet, particularly on the downhill sections.
I did find myself getting slightly frustrated during the walk at how much I had to look at my feet to not trip over. I was doing the walk to take in the views, have good conversation and clear my thoughts. Instead, I was looking at my feet and constantly having to think about walking! The second half of the walk does level out a lot more though, so it's easier and quicker to walk this section.
Aside from one property selling some drinks and snacks along the route, there aren't any other facilities once you leave Barichara. No toilets, no benches and no restaurants or cafes. There's also very little shade along the route, especially in the middle of the day. Definitely make sure you have enough water for your journey!
What to Bring
Plenty of water
Light snack
Cash (to get back to Barichara from Guane)
Sturdy shoes
Hat and sunglasses
Sun cream
Best time to walk the Camino Real Barichara-Guane
With the temperatures in the region of Santander varying very little all year round, it means you can't escape the heat. Daytime temperatures typically reach 30 Celsius/86 Fahrenheit, so it's best to avoid walking in the middle of the day. However, it is normally dark by 6 pm and the last bus back to Barichara leaves at 5.30 pm, so it's important to consider this. Early morning is best, followed by mid to late afternoon.
Underfoot conditions on the trail can get slippery when it has rained, particularly on the rocky sections. Visiting in the dry season between December and February means you'll have the best all-around hiking conditions. Outside of these months, check the weather forecast and pack a waterproof for your hike.
Weekends will be the busiest time on the trail, as Colombians typically leave the city in search of a weekend in the countryside. National holidays and the times around them will also be busier than usual. If possible, visit during the week. This way you're most likely to only see a few other people on the trail.
Why you shouldn't walk from Guane to Barichara
Because, when Barichara to Guane is mostly uphill it means that Guane to Barichara is mostly uphill.
Walking downhill means you get to look out as you walk. Whereas walking uphill means you get to look at the path gaining elevation in front of you. Plus, with temperatures easily reaching over 30 Celsius/86 Fahrenheit, it will be a sweaty, sweaty walk. Honestly, we passed two people walking from Guane to Barichara and they did not look like they were having a good time.
Walk downhill and get the bus back, you won't regret it!
> > > RELATED POST: 15 Unforgettable & Awesome Hikes in Colombia (Complete Guide)
Travelling from Guane to Barichara
Once you've walked all the way to Guane, the last thing you'll want to do is walk anymore. This is why it's great that buses run throughout the day back to Barichara! The drive takes 20 minutes and costs 3,000 COP
The buses leave the main square in Guane to Barichara at the following times:
6.30 am
8.30 am
10.00 am
11.30 am
1.00 pm
2.30 pm
4.00 pm
5.30 pm
As the buses are only every 90 minutes or so, it's a good idea to aim to finish the walk 15 to 20 minutes before one departs. However, if you do arrive and don't want to wait around, you can normally always find a local willing to drive you back.
Having completed the walk around 3.15, I arrived in the square to find a few people and someone I'd met in the hostel the day before. We then grouped together and my new Spanish-speaking friend asked a local with an open-sided bus/tourist train-like thing to drive us. We negotiated a price with the man and as a group of 9 paid 5,500 COP each. And, got incredible views and wind in our hair on the way back.
Another option is to get a tuk-tuk, which costs around 20,000 COP for the journey back to Barichara.
---
Do you have any questions or want any more information? If so, drop a comment below and I'll get back to you!
Information and prices are correct as of May 2022 but are subject to change in future.
---
More Colombia Travel Inspiration…
SANTANDER: Quebrada Las Gachas Guadalupe: Colombia's Best Hidden Gem
SANTANDER: Guadalupe, Santander: Your Guide to Colombia's Little Known Town
BOGOTÁ: El Salto del Tequendama Falls: Bogotá's Hidden Gem [Complete Guide]
BOGOTÁ: Cascada La Chorrera, Choachi: Colombia's Tallest Waterfall (Ultimate Guide)
VILLA DE LEYVA: Pozos Azules Villa de Leyva (Complete Guide to the Blue Wells)
---
PIN IT FOR LATER!