A Caye Caulker snorkeling trip isn't one that will be forgotten quickly – if ever. In those few hours that you spend along the Belize Barrier Reef, you'll feel like you've been transported to another world.
The coral is vibrant, the water is crystal clear and the marine life is abundant.
You'll swim with sharks, stingrays, and sea turtles. You'll be surrounded by schools of fish. And, you'll gain an insight into a whole other world below the water.
If this sounds perfect to you, you'll want to keep reading. Because this island is home to perhaps the best snorkeling in Belize.
This complete guide has everything you need to plan and prepare for a Caye Caulker snorkel tour. Including, finding the right tour for you, packing the right things, and knowing what to expect at each stop.
Some of the links below are affiliate links, meaning, at no additional cost to you, I may earn a small commission if you click through and make a qualifying purchase.
Caye Caulker Snorkeling: An Unforgettable Day
Going snorkeling in Belize is a must-do activity. It really is the best of the best in terms of day trips and experiences in Caye Caulker, Belize, and Central America.
Like climbing a volcano in Guatemala, seeing Mayan ruins in Mexico, or seeing the Golden Gate Bridge in San Francisco – it's not a trip to be missed!
A full-day snorkeling trip in Caye Caulker typically lasts for around 6 to 7 hours, starting at 9am. And, in that time, you'll visit at least 5 truly special places to snorkel along the Belize Barrier Reef system.
The Belize Barrier Reef is part of the larger Meso-American Barrier Reef system that runs from Mexico to Honduras. It's the second-largest barrier reef in the world so there's a whole lot to see!
Of course, there is no guarantee of seeing any animal. But, you're very likely to see sharks, stingrays, turtles, and a whole lot of fish.
And, not just a couple of each animal either. As soon as your head is under the water, you'll enter an almost-magical underwater animal kingdom.
I wasn't prepared for just how much sea life there would be! At times, you'll be surrounded by sharks, fish, and coral covering all colours of the rainbow!
Truly, this is one of my highlights of all of Central America. Do not miss out on a Caye Caulker snorkeling trip!
Caye Caulker Snorkeling Tours
There's no shortage of companies and locals offering tours from Caye Caulker out to the barrier reef.
You can find local agencies along the sides of the few streets on Caye Caulker. Generally, their tours are advertised outside with a basic summary of what's included, where you visit, and the price.
Another option is to book online. This comes with the added bonus of being able to read reviews and book in advance of getting to the island.
Pretty much all the tours visit the same places, last for a similar amount of time, and include the same things. And prices are pretty similar whether you book online or in person.
Unless you're visiting Caye Caulker, Belize over a very busy period – such as Christmas, New Year, or Spring Break – you'll be fine to book a Belize snorkeling tour just a day or two beforehand.
How much does it cost to snorkel in Caye Caulker?
Most full-day snorkel tours cost around 90 USD (180 Belize Dollars). And half-day snorkeling Caye Caulker Belize tours cost around 50 USD (100 Belize Dollars).
Prices might have been cheaper pre-2020 but now, this is the price you'll pay from most tour companies on the island.
Private tours may be available depending on availability. The price of these will be higher. You should get quotes from different tour companies to find the best price.
How to Book Your Caye Caulker Snorkel Tour
Some of the most well-known snorkel tours from Caye Caulker are run by Salt Life Eco Tours, Caveman Snorkeling Tours, and Raggamuffin Tours. But honestly, there's so many to choose from and you can always ask your hotel or hostel for recommendations.
For those who'd prefer to book online in advance to secure their date, there's two tours I'd recommend…
The first is this 7-stop snorkel tour of the best parts of the Belize Barrier Reef near Caye Caulker run by Salt Life Eco Tours.
You'll visit some of the most beautiful underwater spots and have lunch surrounded by sharks. This tour takes no more than 10 or 12 people (one of the lowest limits around) and will capture videos and photos for you.
Or if you're wanting a half-day tour, this 3-hour snorkeling tour from Caye Caulker still packs in 3 different locations.
Expect beautiful coral and a whole lot of wildlife. Entrance fees, equipment, water, and fruit are included. A shorter trip is perfect for people visiting from a cruise ship, those who don't want to swim for a long period, and those with a short time in Caye Caulker.
TOP TIP: Don't book your snorkeling tour for the last day of your trip.

Bad weather such as rain, strong winds, or just very choppy water can see the trip postponed. Don't miss out because you can't rearrange!
What's Included
For all tours, the minimum that's included is: fins, snorkel, goggles, lunch, a tour guide, and a life jacket.
Most tours also include the entrance fee for the marine parks in the tour cost. However, you should check this with whichever company you book with.
Water, fruit juice, and fresh fruit may also be included in the price. More expensive tours may also include unlimited drinks or more snacks. These will be at a premium, however.
TOP TIP: Life jackets make for excellent buoyancy aids in wavy water.

Unless you're wanting to go fully under the sea whilst snorkeling, use a life jacket as a buoyancy aid. It'll make your life so much easier!

You don't have to work as hard to stay afloat and you can clear your goggles without drinking a lot of seawater. Take it from me, I drank a lot of salty water that day!
Where you visit and what animals you see on Caye Caulker Snorkel Tours
All good, full-day tours visit at least 4 (if not all) of these places. The different sites are full of marine life leaving you speechless!
Hol Can Marine Reserve
The busiest and most popular snorkel spot around the Cayes. Hol Chan Marine Reserve is located just a couple of kilometres off the coast of San Pedro on Ambergris Caye.
Because of its proximity to Ambergris Caye, the reserve is popular with tourists visiting just here (rather than a full-day tour). And, as a result, the area will probably be busier than you expect with plenty of boats moored up.
However, under the water, you won't notice those people. Rather, you'll be instantly mesmerised by the wildlife greeting you straight off the boat. As soon I got in the water, the first animal I saw was a turtle and I felt like I was dreaming!
Turtles, nurse sharks, stingrays, and whole schools of fish are the norm here. Don't be surprised to see octopuses, eels, and barracudas either.
As a protected area, Hol Chan Marine Reserve snorkeling is only possible if you're part of a guided tour. And, additionally, you have to stay with your guide in the water the whole time. But don't worry, you'll be spread out and it won't feel cramped or tour guide-y at all.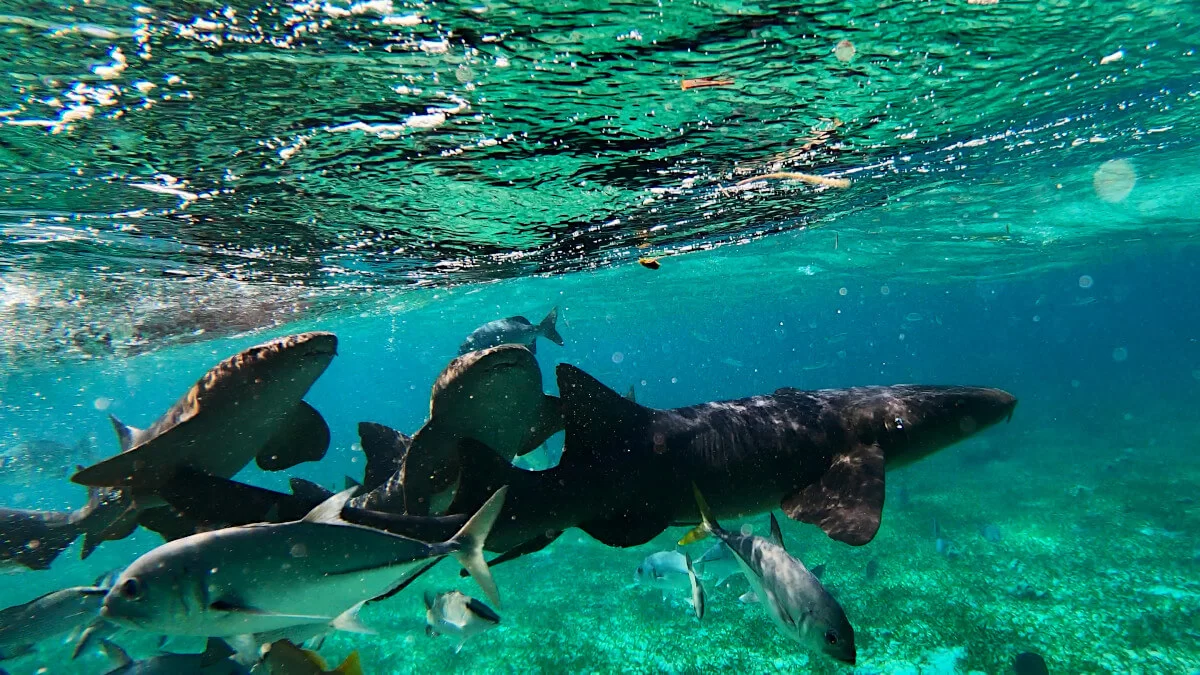 Shark Ray Alley
As the name suggests, Shark Ray Alley Caye Caulker is the place to see sharks and rays. In the water around the boat, nurse sharks and stingrays wait for fish (or lunch leftovers) to be thrown in.
Once in the water, sharks and rays will completely surround you! It's an experience like no other, that's for sure. And, from above the water, you can see the sharks and rays fight for space to be in prime position for that next fish!
All the animals are friendly enough – both are completely harmless. Although, a stingray did suck my partner's arm, which left him with a big lovebite-type bruise! Apparently, they have strong suction!
Shark Ray Alley Caye Caulker is actually part of the Hol Chan Marine Reserve. So, you'll entrance fee will cover both parts.
Generally, though, you won't take a guided tour. Instead, you'll stay nearby to where the boat anchors to enjoy the underwater mayhem.
Coral Gardens
Another snorkeling spot along the Belize Barrier Reef is Coral Gardens. In my experience, it might not have as many big-name marine animals but the variety and colours of the coral and fish are magical.
As part of the Caye Caulker Marine Reserve, visiting as part of a tour is mandatory. You'll get to snorkel around with your guide in the exceptionally clear and shallow waters.
Though you do need to be careful not to step on or kick coral everywhere you snorkel. At Coral Gardens, it's especially important to be aware of your surroundings as the water can be just a few feet deep in places.
The sUnken Barge
Located on the seabed 25 metres below the surface is what remains of a 30-foot-long barge. Most of the wreck is covered in coral, sand, and water plants.
It's a unique Belize snorkeling spot, for sure.
Unless you're on a diving tour in Caye Caulker, you won't get to swim inside the barge. But, nevertheless, it is still a cool sight to see. The sunken barge is also not visited as much by groups from San Pedro, so you may be the only group there.
The deeper water is colder than the other shallower spots. And, as a result, you don't spend as long at the sunken barge. However, there is certainly less to see too.
If you are cold when you're back on the boat, make sure to dry off with a towel quickly and be sat in the sun to warm up.
Manatee Spotting
The manatees off the coast of Caye Caulker are there seasonally. So, your chances of seeing manatees depend on when you visit. Plus, sometimes, you might just not get lucky.
I visited in late November and the guides warned us in advance that we weren't likely to see any. The guides start to get a feeling as they do the tours a few times a week, so know if the Caye Caulker manatee numbers are low or if they've moved away.
Sadly, we didn't get to see a manatee – but, I saw so much marine life, it didn't take away from the day at all.
As soon as you get to the area to search for the Caye Caulker manatees, the guides will ask you to get ready. Fins on, snorkel ready, etc, so that you can get into the water as soon as a manatee is spotted. They can go out of sight as quickly as they appear, so you don't want to miss out.
If you do spot a manatee on your trip, the important thing is to not touch the manatees. Give them plenty of space and look on from some distance.
Feeding the Tarpons and Frigates
Another common stop on a Caye Caulker snorkeling tour is to feed the tarpons (big fish) and frigates (birds) with fish. Both of these make for great photos and videos.
The trick is holding a fish over the side of the boat and watching the tarpons leap from the water to grab the fish.
Similarly, the guides will ask for a volunteer to hold a fish above their head. Then, a frigate will swoop down and grab the fish in its beak, in one swift movement making for a great slow-motion video.
There will likely be more than enough fish to go around, so everyone gets to participate (if they want to).
What To Bring When Going Snorkeling in Caye Caulker
Let's recap what's normally included in your tour price. Fins, snorkel, mask, life jacket, and lunch as a minimum. Then, you may also get fruit juice, water, and fresh fruit – you should check this in advance.
Additionally, you'll need to bring the following:
Swimwear. Arrive wearing it, as there won't be anywhere to get changed. For women, a swimsuit is great to avoid having to adjust your bikini regularly. A long-sleeved, sun-protective swim top or rash guard is also great if you have one to avoid sunburn and keep cool. For men, swim shorts are fine, but an additional T-shirt or sports top is great for avoiding sunburn.
Reef-safe sun cream. The barrier reefs are damaged enough, let's not add to the problem. If you don't have any, I'd recommend covering up instead. A T-shirt, shorts and a cap for on the boat are great.
GoPro, float, and waterproof phone case. Straight forward enough, you don't want to miss out on capturing those magical moments. Make sure you have a float (ideally with a wrist strap) so you don't lose your GoPro!
Extra drinks and snacks. An extra drink with some flavour is great for getting the salty taste out of your mouth. If you think you'll want any extra snacks, bring them too. Just remember, any rubbish needs to come with you off the boat.
Why You Can't Snorkel from the Shore in Caye Caulker
While technically, you can snorkel just off the shore in Caye Caulker, you won't be anywhere need the barrier reef. And you'll see very little wildlife and very little coral.
All of the locations listed above are at least a couple of kilometres off the coast. Additionally, to snorkel at Hol Chan and Caye Caulker marine reserves, you need to be part of a guided tour with a licensed operator and boat.
If you're not wanting to join a Caye Caulker snorkel tour, then the best place to spot marine life is at Iguana Reef Inn.
Here, you'll easily be able to see stingrays at the shore – as well as stroke them around feeding time at 4 pm. As well as fish and seahorses.
Travelling to Caye Caulker & Belize in 2023
Travelling to Belize is pretty much back to normal. Sea, air, and land borders are all open.
So if you're wondering how to get to Caye Caulker, there's plenty of options.
If you're travelling from Cancun to Caye Caulker, you have the choice of flight routes and overland and sea options. Whereas from Playa del Carmen, Tulum, and from the beautiful Bacalar it'll be a combination of buses and water taxis. Then the quickest way will be to get the boat from either Chetumal or Belize City to Caye Caulker.
Or if you're coming from Guatemala, you'll need to travel from Flores to Belize City and then Belize City to Caye Caulker. Although it's pretty common to book the two parts of the journey in one booking.
From Belize City, you can get to the island by plane or by boat. A travel comparison site like gottoGo is a good place to check out prices and availability for your travel dates.
---
Find the best prices and the best dates with flight comparison sites like Skyscanner!
Make sure you use tools such as 'Add nearby airports' and set your departure airport as wide as possible (you can just put the United States) to see the cheapest places to fly from! Check prices for your trip here…
---
If you have any questions or want any more information, drop a comment below and I'll get back to you!
Information is correct as of August 2023 but is subject to change in future.
---
More Travel Guides…
Caye Caulker: Koko King Caye Caulker (Beach Club Guide + Review)
---
PIN IT FOR LATER!