If you're looking for a beautiful mountain town with lots of activities in nature, then Guadalupe, Santander is perfect for you! Despite its popularity with locals for its stunning natural attractions, Guadalupe falls off the radar for most international visitors to Colombia.
With beautiful and remote waterfalls, natural plunge pools and rivers you can swim in, the town is perfect for those who love an outdoor adventure. Plus, it has high-quality accommodation options at budget-friendly prices for even the most cash-strapped traveller.
I couldn't recommend Guadalupe more. So, to help you out with planning and enjoying your trip, here's a complete guide to the town. From how to get there, where to stay and the best things to do. You'll love it, I'm sure!
Some of the links below are affiliate links, meaning, at no additional cost to you, I may earn a small commission if you click through and make a qualifying purchase.
Guadalupe Santander: The Best Colombian Town You've Never Heard Of
Few tourists head north from Bogotá, which is typically the city with the cheapest and most frequent international flights. And of those who do visit the nearby towns of Villa de Leyva, San Gil and Bucaramanga, few have heard of Guadalupe. But, now you have and you're certainly in for a treat!
Guadalupe is a small mountain town in the Santander countryside. It's only reachable by some slightly sketchy roads but when you get there the views are worth the rough journey!
And, it's not just the views that make the journey worthwhile. The town is home to some of Colombia's best natural wonders like a brightly coloured stream with plunge pools and natural jacuzzis. Or, you can spend hours exploring the countryside searching for waterfalls and epic viewpoints. Small town charm and on nature's doorstep, what more could you want? Maybe good weather? Oh yeah, it has that too!
Honestly, it's surprising that Guadalupe Colombia isn't more popular, especially with its low prices for food, accommodation and activities (they're all free!). Although, it certainly is popular with locals who flock to the town on weekends to cool down in the river and picnic in the sunshine. And, you can expect to see pictures of this beautiful town advertising Santander tourism across the region.
Where is Guadalupe, Santander, Colombia?
The beautiful town of Guadalupe is located 200 km northeast of the capital Bogotá. The town is located in the Santander department (another word for state or province).
Sitting to the west of the Andes, the town of Guadalupe is at an elevation of 1400 metres. As such, the climate is much more stable and milder than that of Bogotá, which is often in the clouds.
Things to do in Guadalupe, Colombia
If you're looking for adventure sports, museums, nightlife or city vibes, Guadalupe isn't going to be for you. But, if finding some of the best hidden waterfalls in Colombia, bathing in natural plunge pools and swimming in small rivers is your idea of a good time, you're in luck!
Visit the natural plunge pools at Quebrada Las Gachas, Guadalupe
If Guadalupe is famous for anything, then it has to be Quebrada Las Gachas.
This very shallow and small stream is an absolute natural wonder! Firstly, the coloured rock gives the water a dazzling colour. And secondly, despite only being a slither of water on the surface, plunge pools up to 2 or 3 metres deep are located along the river bed!
You can spend hours relaxing in the water or on the grassy verges at Las Gachas Guadalupe. There's endless fun to be had sliding along the slippery rock and into the shallower pools. And, some of them are just the right size to sit in and watch the world go by.
The stream is around a 5-kilometre walk from the town along an easy-to-follow path. There's no entrance fee and the area is unmanned. Don't expect any facilities when you arrive, so bring all the snacks and drinks you'll need with you.
Another essential item you have to bring with you is a pair of socks! From the path, you'll need to walk up the stream to get to the pools and nothing else will give you grip. Walking barefoot means you'll be likely to slip over any second and water shoes just don't do very much. Bring the socks and a spare pair to put on dry when you want to walk back.
RELATED POST: A Complete Guide to Visiting Quebrada Las Gachas in Guadalupe, Colombia!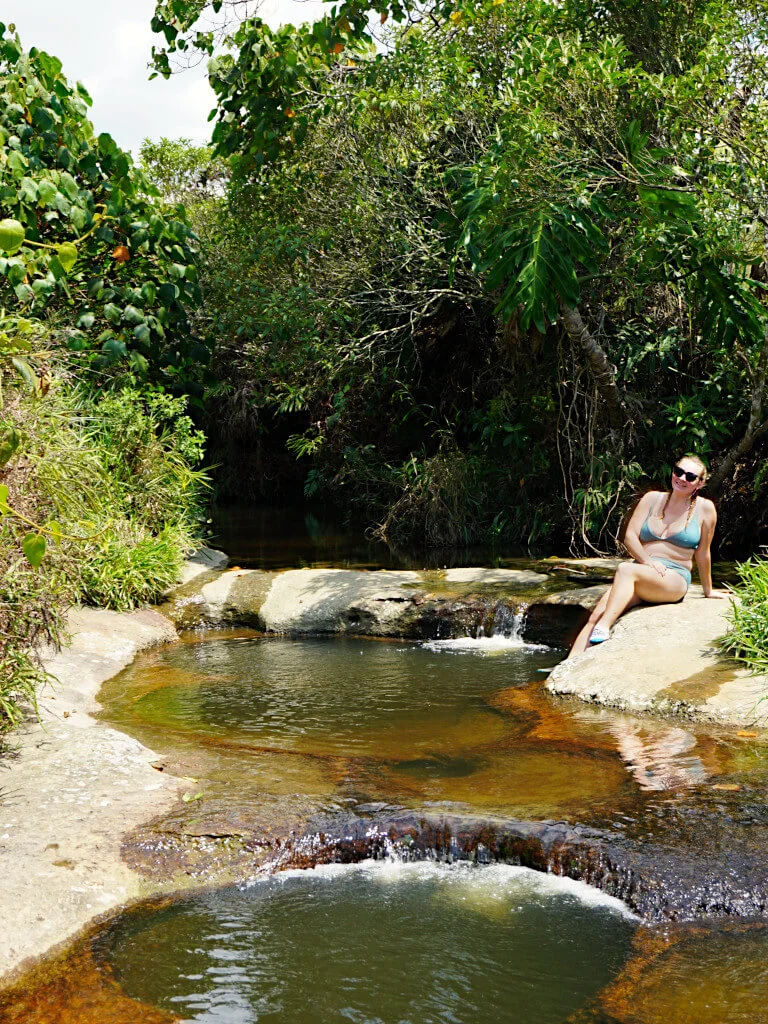 Explore Hidden Waterfalls in the countryside
To the northeast of the town is a series of spectacular waterfalls tucked away from the main paths. You won't find the paths or the waterfalls on Google Maps, but you should easily be able to follow the route using the Maps.me app. Even though I visited on a gloriously sunny Saturday, there was no one else around the whole time.
Cascada El Perico is the waterfall nearest to the main path/road from Guadalupe. You'll need to walk down to the bottom of the waterfall alongside the rock face. Here, you can also walk behind the waterfall, swim in the water or just relax on the rocks. The waterfall itself at El Perico is stunning and perfectly falls from the cliff top like a fancy bathroom tap!
The other nearby waterfall nearby is called the Tres Cascadas (meaning three waterfalls). Although, in the dry season, I could only see two! It's a little more challenging to reach these waterfalls as you need to cross the stream (there's a rope to hold onto). But, the waterfalls are so pretty and definitely worth the effort to get there.
Both are free to visit and come without any nearby facilities, so again, make sure you have plenty of drinks and snacks for a full day out.
> > > RELATED POST: 15 Unforgettable & Awesome Hikes in Colombia (Complete Guide)
People watch in Parque Principal Guadalupe
Grab a drink and maybe an ice cream too, then sit back and enjoy. Take a photo with the I heart Guadalupe sign. Marvel at the beauty of the church in the square. Or enjoy the locals going about their daily lives.
On weekends and especially Sundays once the church service is over, the town is the busiest you'll see it. During the week it was so quiet. Then, the weekend came and it was like a whole new town!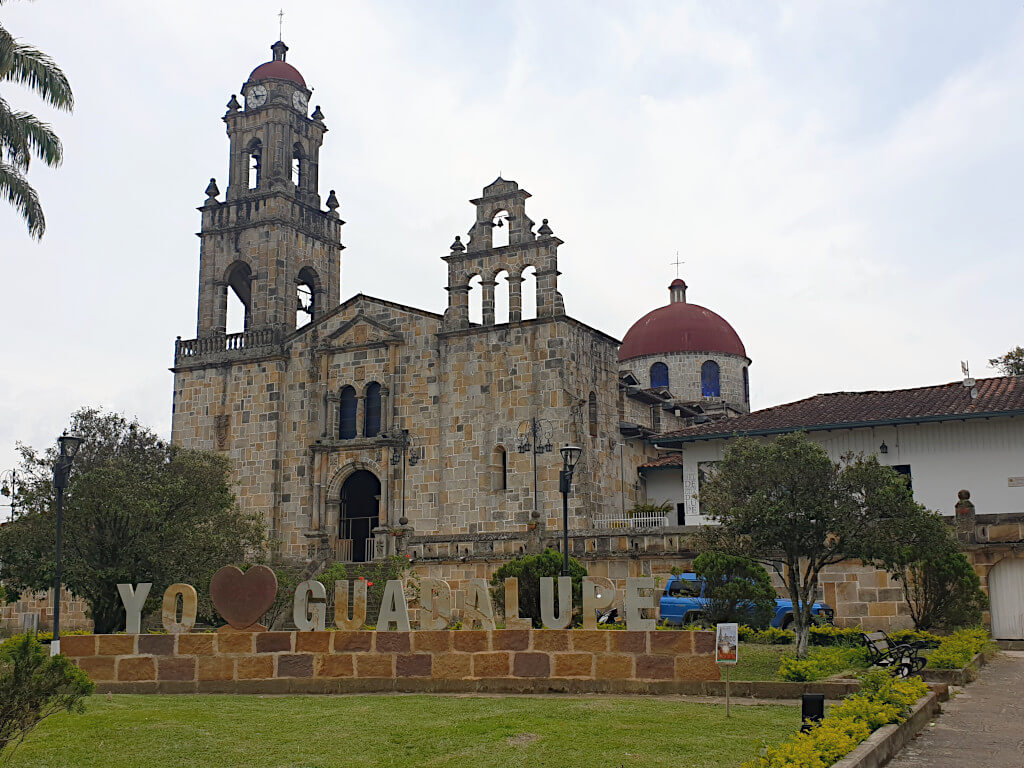 Take a swim in the river at Balneario El Salitre
Balneario means spa and salitre is the name for the mineral potassium nitrate, which I can only assume is or was mined in the region. Unfortunately, it is not a spa in the typical sense. You won't find any hot tubs, steam rooms or dressing gowns here.
It is, however, very similar to the stream at Quebrada Las Gachas. Here, there is a small stream too with plunge pools you can relax or jump in. There are a few key differences though.
Balneario El Salitre is nearer to Guadalupe Santander, just a 2.2-kilometre, 30-minute walk from the central square. Additionally, the water is deep enough in places to swim here, particularly in the rainy season. However, the colours are not as vibrant but there is a steeper incline on the river, meaning you can slide around a lot easier.
There's no entrance fee here and access is available all throughout the week. However, expect the weekends to be the busiest time.
Eating Out and shopping
Let's be blunt. You're not going to get much choice.
Despite what Google Maps might lead you to believe, there aren't many restaurants in Guadalupe, Santander. It seems that sadly many have not survived the pandemic, because I tried to find so many and they don't exist.
Instead, I ended up eating in the same restaurant for 3 nights in a row. Omarparrilla has very good hot dogs and burgers, plus there are also some steaks on the menu. Hopefully, as tourist numbers continue to bounce back, more restaurants will open.
A couple of small cafes were open during the day too and you can always grab snacks from the shops.
There aren't any big supermarkets in Guadalupe, Colombia. But, there are a couple of shops that have all the essentials and a few luxuries. The biggest and best-stocked shop was just off the northwest corner of the main square (Calle 5a and Carrera 4 intersection). Another good shop is located on the way out of Guadalupe on the main road towards Oiba.
Smaller 'tienda' shops selling snacks, drinks and basic essentials are dotted around the town and aren't too hard to find.
Where to stay in Guadalupe, Colombia
For such a small town, Guadalupe Santander has a good selection of accommodation options. And, pretty much everywhere has amazing reviews. Whatever your budget, there's something in this town for you…
Top Pick
El Portal De Don Luis has to be the top recommendation for where to stay in Guadalupe. The property is centrally located just one block from the main square. But also has incredible views looking out over the vast Santander countryside.
As well as having a garden, terrace and shared kitchen, you have the choice of double rooms, family rooms and even tents if you're on a budget. The WiFi works great, the staff are incredibly helpful and the breakfast is tasty and wholesome.
Best of the Rest
Best budget option: Hostal Donde Jose has a range of private rooms with a shared bathroom, lounge and kitchen. Staff are on hand to help answer your questions and make the most of your stay. The property is centrally located so you'll be able to find a nearby restaurant or shop with ease.
Nearest to Quebrada Las Gachas: Terrazas de Guadalupe is a slice of luxury at real budget-friendly prices! Located overlooking the Colombian countryside, the property also has a pool, hot tub, restaurant and bar. The rooms – which sleep up to 5 people – all come with private bathrooms and a TV. Plus, you're just a short walk from the beautiful Quebrada Las Gachas river and natural plunge pools!
Best Out of Town Option: Finca La Colina De Los Azulejos is out in the countryside but still only a short walk to the town. It's perfect for those looking for a more secluded option as each room also has a private kitchen and dining area. TVs and private bathrooms come as standard. While you'll also have access to the pool and garden.
How to get to Guadalupe
From Bogotá to Guadalupe
With no direct public transport option between Bogotá and Guadalupe, you'll need to travel via Oiba. The total journey time will be around 7 hours but could be more with long connections and traffic.
From Bogotá, take a bus from either Terminal Salitre (module 3, red) or Terminal Norte towards Bucaramanga that stops at Oiba. This leg of the journey takes around 6 hours and north of Bogotá the roads do get a little bumpy. However, the large coaches do run this route, so I'd definitely advise travelling in comfort rather than on the small minibuses. Tickets can be bought at the bus terminals and I can recommend Copetran Buses.
When you arrive in Oiba, purchase a ticket to Guadalupe from the ticket office costing 8000 COP. The journey from Oiba to Guadalupe will be in either a 4×4 or minibus. Departures from Oiba to Guadalupe are at 6.00, 8.00, 10.30, 12.00 (midday), 16.00, 18.00 and 19.00. Plus, there are also services from Bucaramanga and Socorro that will pass through Oiba on the way to Guadalupe in the afternoon. These depart Bucaramanga at 13.30 and Socorro at 12.30 and 13.30 each day.
Tickets for services from Guadalupe back to Oiba can be purchased from the office in the northern corner of the main plaza. When leaving Guadalupe, transport to Oiba leaves at:
(Morning) 4.00, 4.15, 5.00, 5.45, 6.00, 7.00 and 10.00
(Afternoon) 12.00, 13.30, 16.00 and 17.30
From Villa de Leyva
As there are no direct services between Villa de Leyva and Guadalupe, you'll need to travel via Tunja and Oiba. The total journey time is around 4.5 to 5 hours with 3 buses required.
First, take a bus to nearby Tunja from Villa de Leyva's main bus station. Tickets cost 10,000 COP and buses leave every 15 minutes from the bus terminal, taking around 1 hour.
At Tunja, book a bus to Oiba at the ticket desks on the top floor. Again, I recommend Copetran but there will be plenty of options and no shortage of staff trying to shout you over to their desk. Tickets to Oiba cost 30,000 COP per person and take around 3 hours.
Be prepared this is a bumpy route from Tunja to Oiba! I speak from experience when I say don't wear your sunglasses on your head on the bus, because your head might just hit the ceiling at times.
At Oiba Bus Station, purchase a ticket to Guadalupe from the ticket office costing 8000 COP. Departure times are listed in the section above.
From San Gil to Guadalupe
One direct service runs per day from San Gil to Guadalupe, leaving around 1pm. This service is only advertised on a piece of paper stuck on the wall of San Gil bus terminal. So, if you're wanting to take it then it might be good to double-check the time and availability in advance.
Alternatively, from San Gil, you can take a 1-hour bus to Oiba (for 15,000 COP) for connections to Guadalupe throughout the day. In Oiba, you can buy your ticket for the 4×4 or minibus to Guadalupe. Departures from Oiba to Guadalupe are at 6.00, 8.00, 10.30, 12.00 (midday), 16.00, 18.00 and 19.00.
Another option is to travel to Socorro from San Gil where you can get the 12.30 or 13.30 direct bus to Guadalupe. Buses from San Gil to Socorro take around 15 to 30 minutes and cost as little as 4000 COP. There is also a third bus that operates from Bucaramanga to Guadalupe stopping at Socorro. This service leaves Bucaramanga at 13.30 and takes around 3 hours to reach Socorro. Tickets to Guadalupe can be purchased in Socorro's small roadside bus terminal.
To note, San Gil's bus terminal is around 2 km from the city's central plaza. You can take a taxi for around 5000 COP if you don't want to walk for 25 minutes with your bags. But do remember to allow time for this so you don't miss your bus.
From Barichara
Sadly, there are no direct services between Barichara and Guadalupe – two of Colombia's prettiest towns. Additionally, you'll need to transfer between San Gil's two bus terminals, so give yourself plenty of time.
First, you'll need to take the local bus from Barichara to San Gil (arriving into the city centre terminal 'terminalito'). This bus costs 6000 COP and takes around 45 minutes.
Next, you need to travel from Terminalito to the main bus terminal in San Gil, located just outside the city centre. Take a 5-minute taxi ride for around 5000 COP or walk for 25 minutes.
From San Gil, you have three options to get to Guadalupe. Firstly, there's the once-a-day direct bus leaving at 1 pm. If that time doesn't work for you, instead you can travel to Oiba by bus and then take a 4×4 or minibus to Guadalupe (which run most frequent). Or, you can travel first to Socorro and then take the three times a day 4×4 or minibus to Guadalupe. All of these are described in more detail in the San Gil to Guadalupe section above.
From Socorro
Two services a day operate direct from Socorro to Guadalupe, leaving at 12.30 and 13.30. Additionally, the once-a-day service from Bucaramanga to Guadalupe also stops at Socorro. This service leaves Bucaramanga at 13.30 and takes around 3 hours to reach Socorro. Tickets can be purchased at the bus terminal in Socorro, with the journey taking around 1 hour and 15 minutes in either a 4×4 or minibus.
Alternatively, if you need to travel earlier or later in the day, take a bus to Oiba and change there for a service to Guadalupe. Departures from Oiba to Guadalupe are at 6.00, 8.00, 10.30, 12.00 (midday), 16.00, 18.00 and 19.00. Tickets cost 8000 COP per person and the journey takes around 45 minutes to 1 hour.
From Bucaramanga
One direct service operates each day from Bucaramanga to Guadalupe. Leaving at 13.30 and taking around 5 hours in total. If you want to do this journey in reverse, however, the bus leaves Guadalupe for Bucaramanga at 4 am each morning.
Alternatively, from Bucaramanga travel on one of the frequent services to Oiba where you get another bus or 4×4 to Guadalupe. Departures from Oiba to Guadalupe are at 6.00, 8.00, 10.30, 12.00 (midday), 16.00, 18.00 and 19.00. Two more additional services call at Oiba on the Socorro-Guadalupe route. These leave Socorro at 12.30 and 13.30 and take around 40 minutes to reach Oiba. Services from Oiba to Guadalupe take around 45 minutes to 1 hour and tickets cost 8000 COP.
---
Do you have any questions or want any more information? If so, drop a comment below and I'll get back to you!
Information and prices are correct as of June 2022 but are subject to change in future.
---
More Colombia Travel Inspiration…
GUADALUPE: Quebrada Las Gachas Guadalupe: Colombia's Best Hidden Gem
SAN GIL: San Gil Santander: Complete Guide to Colombia's Adventure Capital
PALOMINO: Palomino: Santa Marta's More Trendy Neighbour (A Complete Guide)
BARICHARA: Walking the Camino Real from Barichara to Guane: A Complete Guide
QUINDIO: Salento, Colombia: Ultimate Guide (Quindío's Prettiest Town)
BOGOTÁ: El Salto del Tequendama Falls: Bogotá's Hidden Gem [Complete Guide]
BOGOTÁ: Cascada La Chorrera, Choachi: Colombia's Tallest Waterfall (Ultimate Guide)
VILLA DE LEYVA: Pozos Azules Villa de Leyva (Complete Guide to the Blue Wells)
---
PIN IT FOR LATER!