Thinking about having your toes in the golden sand of Palomino Beach? Well, that's not surprising given that this place is paradise in Colombia.
The beaches of Colombia's northern, Caribbean coast are famous for being pristine, beautiful and largely untouched. While nearby Tayrona National Park draws the crowds to its beaches, with many camping overnight on the shore. Palomino has a more chilled vibe to it. The town attracts fewer visitors than the national park meaning its beach is much less crowded, though just as beautiful.
Whatever your reason for visiting the town, this complete guide gives you all the information you need on the Playa Palomino Colombia. Be prepared and make the most of your time in paradise!
Some of the links below are affiliate links, meaning, at no additional cost to you, I may earn a small commission if you click through and make a qualifying purchase.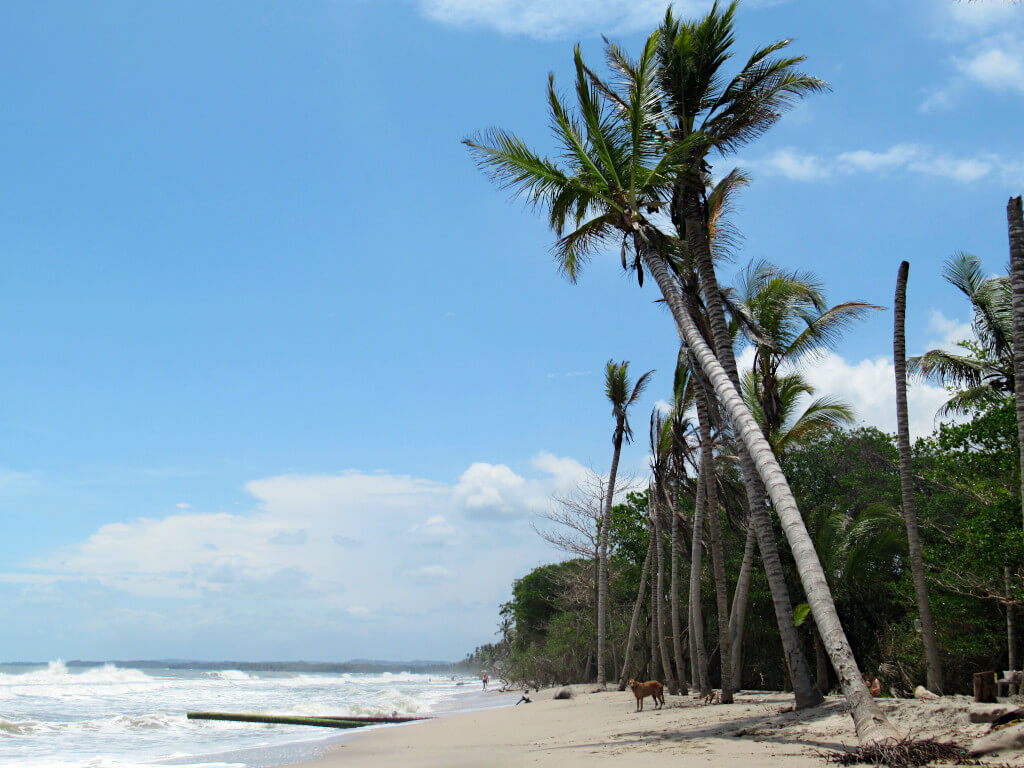 Where is Palomino Beach?
Sharing its name with the town that it's in, Palomino Beach is located on Colombia's northern Caribbean coast. The town – and beach – are approximately 2 hours drive east of Santa Marta and 1 hour from the Tayrona National Park. To the north and west of Palomino is the Sierra Nevada National Park, home to the famous Lost City Trek.
The beach is easy to find once you're in Palomino. Simply head north from the main road along either Carrera 6a or Carrera 10, until you reach the sea. These are both busy streets by Palomino standards and Carrera 6a in particular is lined with hostels, restaurants and small shops.
Everything You Need to Know
Palomino is a small beach town on Colombia's north coast. Just a few years ago, there wer barely more than a few buildings surrounded by jungle. But with a reputation of being an unexplored paradise and hidden gem in Colombia, the town quickly and inevitably grew in popularity.
Today, the town is full of hotels, restaurants, shops, bars and tour agencies. Tourists travel from across both Colombia and the world to visit this small town most famous for its beautiful beach, preferable climate and tourist attractions.
And while the town may be more popular and there are more visitors than ever, the beauty of Palomino Beach has not been lost. Golden sand, crashing waves and more palm trees than you can count – it's exactly like you'd imagine paradise to be. No sun loungers or parasols for rent here.
Playa Palomino is over 2 km long. The beach stretches from the mouth of the Palomino River in the west (where river tubing trips in the town end) to the mouth of the San Salvador River in the east. There is a small built up area near Palomino town where you'll find the beachfront hotels and a few restaurants. But otherwise, the rest of the beach is pretty wild still. Once you reach the beach near the Selina and Dreamer hostels, turn left or right and walk for a few hundred metres and you'll find it's pretty empty.
For the best chance of experiencing the beach with few people around, visit early in the day. This will also mean you avoid the heat of the day and the afternoon downpours in the rainy season. Pack sun cream, water and a towel and you'll be good for a few hours.
Looking for a beachfront restaurant or bar? There's the Selina hostel restaurant that serves food all day and a few smaller ones around that area. Alternatively, head to the far west of the beach and there's a collection of local restaurants next to the Rio Palomino.
Can you swim at Palomino Beach?
While the water may seem appealing, particularly in the hotter months, it's not safe to swim in Palomino. The waves are rough but it's the strong currents that pose most danger to swimmers.
Additionally, there is also a risk of injury from the fallen trees along the shoreline that lie just under the water level. Large tree trunks as well as sharp branches fixed under the weight of the sand pose an often unseen hazard below the water.
That's not to say that people don't enter the water. Dipping your toes or standing in thigh-height water is unlikely to get you into any harm – but do be prepared to get soaked by an unexpected wave.
Can you surf at Palomino Beach?
Yes, Playa Palomino is perfect for surfing beginners and improvers as the waves are not too large or fierce. Palomino is by no means a surf town, but there are still a couple of places that offer surf lessons as well as board and equipment rental. If you want to book in advance, check out Dreamer Hostel. Otherwise, there are places on the beach that you can rock up to on the day and surf with.
Where to stay on Playa Palomino
Palomino has a lot of accommodation options, but only a handful are actually on or near the beach. If you know that you want to be laying on that golden sand beach every day or surfing the Caribbean waves, then you'll likely want to book somewhere to stay nearby.
During the high season of December to May, I'd recommend booking as early as you can once you know your dates. Particularly on weekends and around national holidays, the best-rated hotels and hostels can be fully booked.
Hotels & Apartments
Cabañas San Sebastian Palomino Beach. The most budget friendly of the on-the-beach accommodation options, Cabañas San Sebastian offers private rooms, a swimming pool, a garden and an on-site restaurant.
Hotel Chiniu. Perhaps the only hotel on the beach with a hot tub, this hotel also boasts triple, quadruple and family rooms as well as bungalows. It's perfect for families or small groups wanting to enjoy a relaxing stay around the pool or on the beach.
Aite Eco Resort. A more luxury option, this hotel has two pools, solar-heated water, bungalows on the beach and a restaurant on-site. It comes highly rated and the views over the beach are as dreamy as you can imagine.
Hostels
Selina Palomino. As one of the world's biggest hostel brands, you know what you're getting when you stay at a Selina Hostel. Good quality rooms, coworking spaces, reliable internet and spacious communal areas are all givens of Selina Hostels. While in Palomino, you'll also enjoy access to the swimming pool, a restaurant and bar right on the beach and be able to book tours at reception.
Dreamer Palomino. A Colombian hostel chain with a handful of locations across the country, these hostels are known for their fantastic locations and great facilities. There are plenty of activities on offer at Dreamer Palomino. Plus, there's beach access, a restaurant and plenty of chill-out space.
Finca Escondida. Possibly the only hostel that has both a Presidential Suite and an 8-bed dorm, this place certainly caters for everyone. With simple and spacious rooms as well as a pool to keep cool, Finca Escondida is the perfect place to relax right on Playa Palomino Colombia.
---
Do you have any questions or want any more information? If so, drop a comment below and I'll get back to you!
Information and prices are correct as of June 2022 but are subject to change in future.
---
More Colombia Travel Inspiration…
PALOMINO: Palomino: Santa Marta's More Trendy Neighbour (A Complete Guide)
PALOMINO: Tubing in Palomino: Complete Guide to a Must-Do Activity (2022)
MAGDALENA: Playa Taganga (Is This Santa Marta's Dirtiest Beach?)
SANTANDER: San Gil Santander: Complete Guide to Colombia's Adventure Capital
SANTANDER: Chicamocha Canyon Complete Guide | Truly Spectacular!
---
PIN IT FOR LATER!