Tucked away in the Santander countryside, Quebrada Las Gachas is a stunning and unique natural wonder. With its vibrant colours and natural plunge pools, this is a river like no other. And, despite its popularity among locals and domestic tourists, few international travellers make the journey to visit Las Gachas Guadalupe.
And honestly, people are missing out! I had this placed starred on Google Maps for about 4 years before visiting and it did not disappoint! So, I'm here to share this wonderful place and how to visit it while still respecting the environment enabling it to be enjoyed for many years to come.
What is the Quebrada Las Gachas Guadalupe?
In Spanish, quebrada means brook – like a small river. And, well, las gachas means porridge. The porridge part is irrelevant, but Quebrada Las Gachas Colombia is a small, shallow stream with natural plunge pools in the riverbed.
Unlike most streams, this one is barely deep enough to cover your foot. However, the plunge pools vary in depth from just a few inches to over 2 metres. Perfect for sliding or jumping into, depending on how brave you're feeling! Naturally, some of the water is lost as the river passes through the land. So, head as far upstream as possible to reach the freshest and most flowing water and pools. Nearer to the bottom of the river, you'll find more stagnant water, especially in the dry season when it can become trapped in one of the pools for a longer time.
Another striking feature of the river is the vibrant red colour of the rocks on the riverbed. The rocks need to be underwater to display this shiny colour, otherwise, they just look normal. Luckily, the river flows all year-round, just with less force in the drier months. For the best display of colour, head upstream where there's most water, especially in the dry season months.
With Colombia being located on the equator, any opportunity to cool off in nature should be welcomed with open arms. Yet, despite being a truly unique attraction and the popularity you might expect, Las Gachas Guadalupe is very much a hidden gem.
Perhaps it's due to the river's remote location. Or, the fact that few tourists travel north of Bogotá, travelling instead to the coffee region to the south. But, these natural plunge pools don't draw crowds. And hopefully, it'll stay like that for a long time to come to preserve its natural beauty.
Top Tips for Las Gachas, Colombia
To walk safely through the stream, you need to wear socks. My water shoes just didn't cut it and being barefoot was like walking on butter! Honestly, the swimwear and socks combination is a strong look! The soles will get dirty though, so if you have a favourite pair, don't bring them! Bring a spare pair to walk back in and a carrier bag to put them in to stop your other belongings from getting wet!
Some pools are shallow enough to see the bottom of, others are not. If you can't see the depth, use a big stick to work out how deep it is before you jump in. You'll probably find a couple leaning up against the bushes from where others have done the same.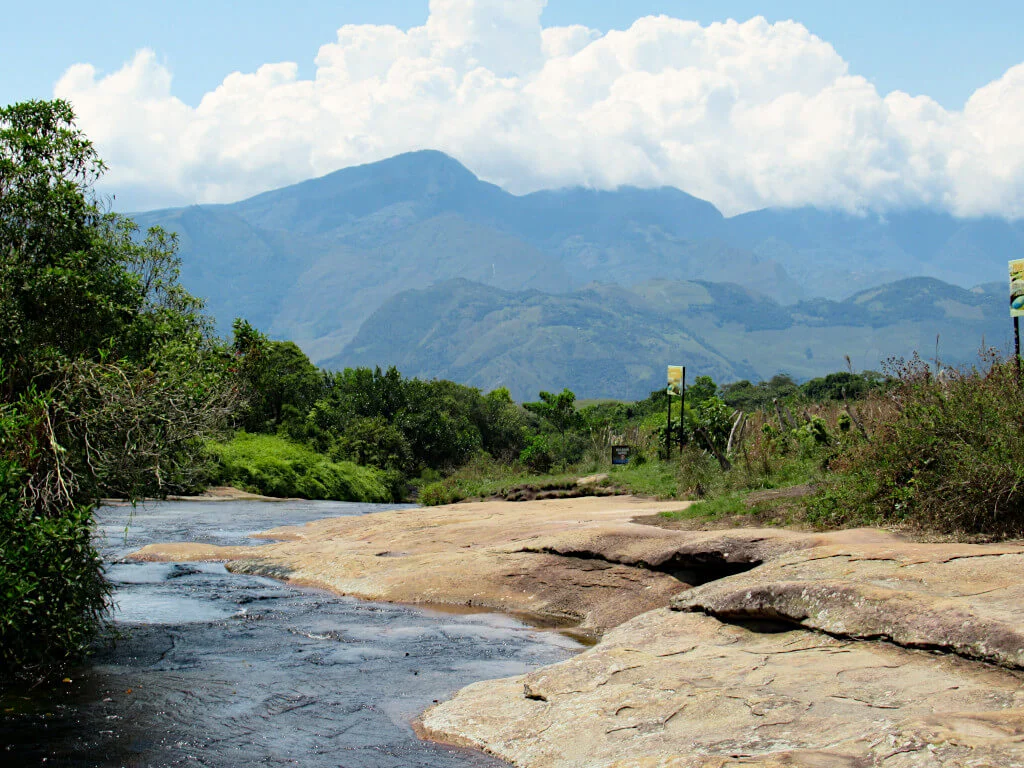 Best Time to Visit
Las Gachas, Colombia isn't a very popular location with international tourists. But, locals do visit here and it can get very busy on weekends and around national holidays I visited around midday on a Friday and saw only two other groups. During the week, as long as everyone is respectful of the environment and others, you shouldn't have any problems with a few other people being there.
You'll want to visit on a sunny day to best enjoy a cooling dip in the stream. Be careful though, as the sun is strong and you'll burn easily. You'll need to try and stay in the shade and limit time in the sun as the use of sun lotion is prohibited in the river to protect the water, animals and plants in and around the stream. Of course, you can put it on once you've had your fun slipping and sliding, to just relax in the sun away from the river.
March and April are the driest months and will be when the river is flowing at its lowest level. You can still visit during this time and enjoy the river and plunge pools, just be sure to head upstream as much as possible. I visited in March, which is when all the photos in this post were taken. So, you can see there is still plenty of water.
Visiting between June and November may be best to see the river at its highest level. But, visiting in these rainy months means you'll likely get afternoon downpours or drizzly days. In contrast, the water levels will be lower between December and April, but blue skies and sunshine are almost guaranteed.
Where is the Quebrada Las Gachas Colombia?
In the small mountain town of Guadalupe, in the Colombian department of Santander is where you'll find Quebrada Las Gachas. Guadalupe is located 200 km northeast of the capital Bogotá and 100 km southwest of Bucaramanga. Sitting to the west of the Andes, the town of Guadalupe is at an elevation of 1,400 metres. As such, the climate is much more stable and milder than that of Bogotá, which is often in the clouds.
From the centre of Guadalupe, Santander, the point of the river where the plunge pools can be found is around 2.5 km south. With its fairly remote location, you'll get to enjoy unspoiled views of the mountainous landscapes around. See the location on Google Maps here.
RELATED POST: A Complete Guide to Visiting the Town of Guadalupe, Santander including Things to Do, Where to Stay and Other Helpful Tips.
How to get to Las Gachas Guadalupe
It is only possible to reach the stream and pools by foot. If you don't have a car, then it's easy to walk all the way from the town of Guadalupe. Alternatively, there is a car park nearby from which you can walk a short distance to Las Gachas.
Walking Route
From the main plaza of Guadalupe, head south along the main road towards Oiba, until you reach a petrol station on your right-hand side
At the petrol station, the road bends to the left but you want to continue straight along the footpath. There's a sign on the right indicating this is the path to the river
The path is paved the entire way to the stream so is easy to follow. Although, it is probably more uphill on the way there. When you reach a steep downhill section with a river on the left behind a fence, keep going along the path as you aren't quite there.
You'll know when you've reached Las Gachas as the river will entirely cross your path. I recommend turning left and heading upstream along the river to reach the best plunge pools and strongest part of the river.
In total, the walk from Guadalupe is 2.5 km and around 1 hour each way. To return to Guadalupe, simply follow the path back to the petrol station, then head towards the town along the main road. The path itself is not shaded but there are a handful of shelters along the route where you can hide from the sun for a bit.
Car Parking
Parking is available at Hotel Campestre Villa Paula, on Via Las Gachas. If driving from Guadalupe, this small road is located 5.7 km along the main road in the direction of Oiba (around 15 mins drive) on the right-hand side. From the car park, you'll need to walk around 800 metres on a grassy path to reach the stream.
Parking costs 5000 COP plus an additional fee of 2000 COP per person for passing through private land.
How to Get to Guadalupe
From Bogotá
From Bogotá, take a bus from either Terminal Salitre (module 3, red) or Terminal Norte towards Bucaramanga that stops at Oiba, taking around 6 hours. Even the large coaches run this route, so I'd definitely advise travelling in comfort rather than on the small minibuses. Tickets can be bought at the bus terminals and I can recommend Copetran Buses.
At Oiba, purchase a ticket to Guadalupe from the desk at the bus station, costing 8000 COP. This will be either a 4×4 or minibus. Departures from Oiba are at 6.00, 8.00, 10.30, 12.00 (midday), 16.00, 18.00 and 19.00. Plus, there are also services from Bucaramanga and Socorro that will pass through Oiba on the way to Guadalupe in the afternoon. These depart Bucaramanga at 13.30 and Socorro at 12.30 and 13.30 each day.
Tickets out of Guadalupe can be purchased from the office in the northern corner of the main plaza. When leaving Guadalupe, transport to Oiba leaves at:
(Morning) 4.00, 4.15, 5.00, 5.45, 6.00, 7.00 and 10.00
(Afternoon) 12.00, 13.30, 16.00 and 17.30
From Villa de Leyva
Currently, there are no direct services between Villa de Leyva and Guadalupe. Instead, you'll need to take a bus to nearby Tunja costing 10,000 COP and leaving around every 15 minutes from the main bus terminal.
At Tunja's (very fancy) bus terminal, book a bus to Oiba at the ticket desks on the top floor. Again, I recommend Copetran but there will be plenty of options and no shortage of staff trying to shout you over to their desk. Tickets to Oiba cost 30,000 COP per person and take around 3 hours. Be prepared this is a very bumpy route! I speak from experience when I say don't wear your sunglasses on your head on the bus, because your head might just hit the ceiling at times.
At Oiba, purchase a ticket to Guadalupe from the desk at the bus station costing 8000 COP. Departure times are listed in the section above.
From San Gil
One direct service runs per day from San Gil to Guadalupe, leaving around 1pm. This service is only advertised on a piece of paper stuck on the wall of San Gil bus terminal. So, if you're wanting to take it then it might be good to double-check the time and availability when you arrive in San Gil or in advance.
Alternatively, from San Gil, you can take a bus to Oiba (for 15,000 COP) for connections to Guadalupe throughout the day. Or, to Socorro where you can get the 12.30 or 13.30 direct bus to Guadalupe.
San Gil's bus terminal is around 2 km from the city's central plaza, you can take a taxi for around 5000 COP if you don't want to walk for 25 minutes with your bags.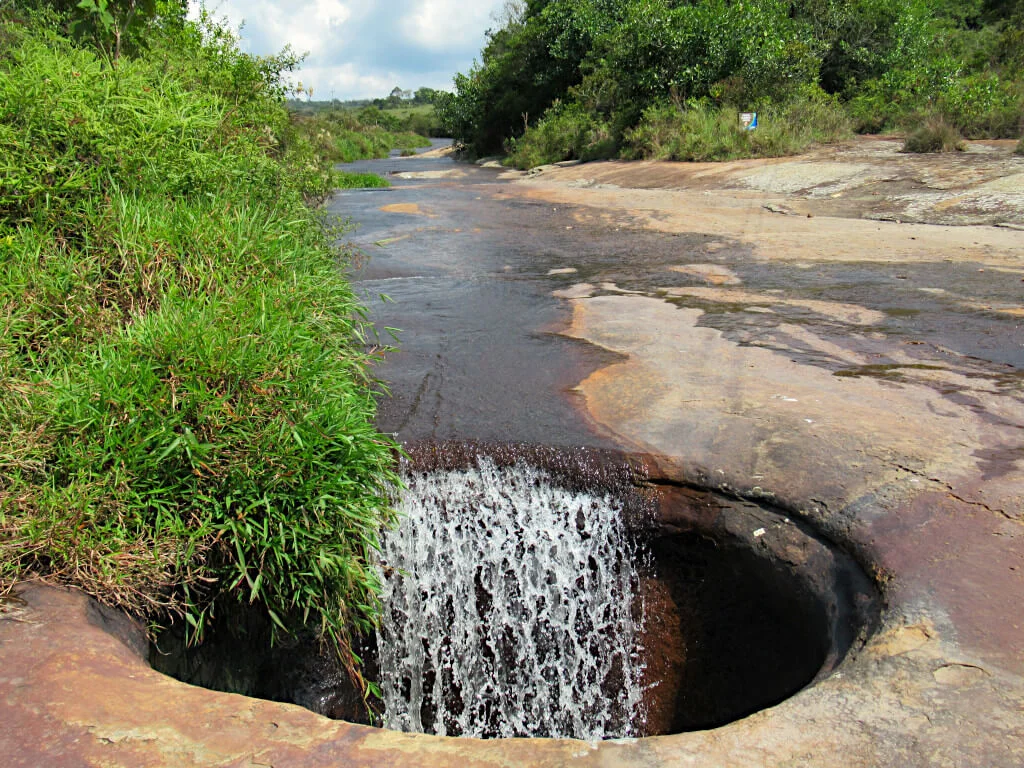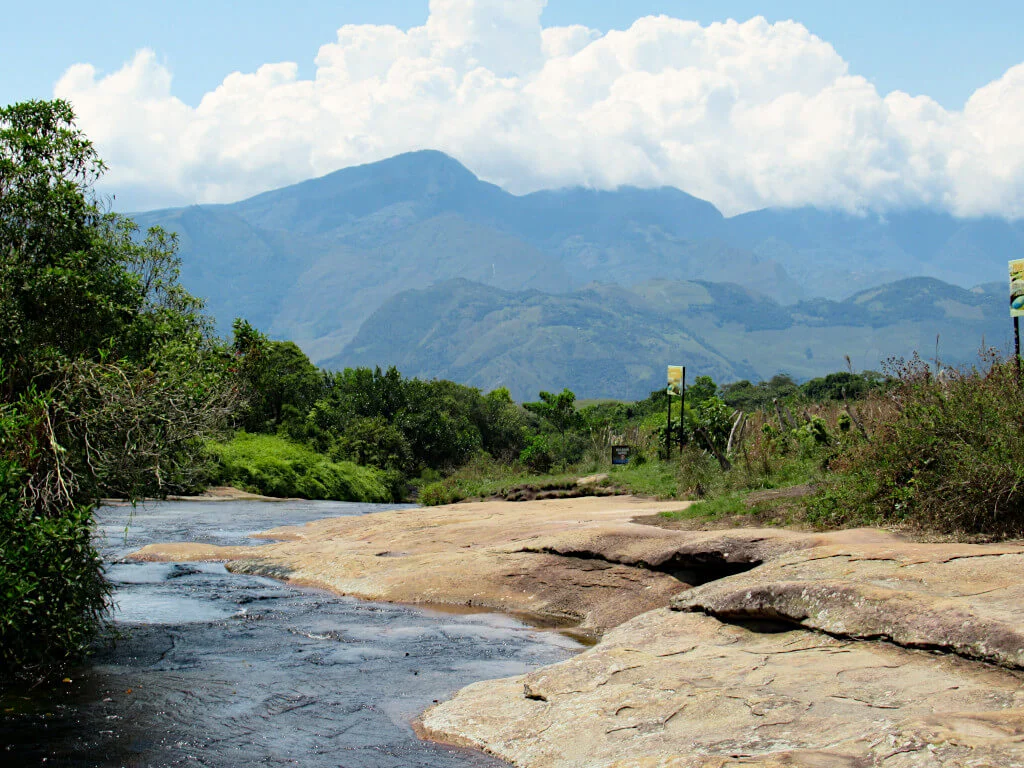 Need to know information
Entrance Fee
Visiting Las Gachas, Colombia is completely free!
Opening Times
Although there are no gates or physical barriers to restrict entry, opening times of 6.00am to 6.00pm are displayed at the site. These times coincide with the hours of daylight, which are consistent year-round in Colombia due to its position on the equator.
Facilities
At the river, there are no facilities except one small shelter with makeshift benches. You really will feel like you're in the middle of nowhere!
On the path from Guadalupe to Las Gachas, there are a couple of small stalls in the homes of locals selling drinks and snacks. If you're desperate for a cold drink – including beer – then these are the best places to grab one. Prices are pretty standard with a can of beer costing around 3000 COP (0.80 USD).
A new addition to the pathway is a series of open-sided shelters with benches, a picnic table and bins, pictured below. These are perfect for a quick break, essential when walking in the sun and high temperatures. Plus, the view over the mountains is pretty spectacular from these!
What to Bring With You to Quebrada Las Gachas Colombia
Plenty of water to keep hydrated through the walk and time at the river
Sun cream, but don't wear it when you're in the river. Cover up, keep in the shade and/or limit your time in the sun to prevent burning
Swimwear and socks, the latter is essential for safe walking on the river
Camera and waterproof bag, because you'll want to get some snaps here but also go for a swim. The bag will also protect your electronics from overheating if you can't find shade to hide them in.
Good shoes for the walk. Trainers are best for the 5 km round trip from Guadalupe. which has a lot of ups and downs.
Hat and sunglasses, because heatstroke is no one's friend.
Towel, although you'll dry off pretty quickly in the heat here.
Rules of Las Gachas Colombia
The following rules are in place to protect this natural beauty site and ensure visitors continue to enjoy it for many years to come.
Respect the tourist site and preserve cultural traditions
Hours are from 6.00am to 6.00pm
Nighttime tourist activities are not permitted (including camping, bonfires, parties, walks)
Access to the site is prohibited in extreme weather (storms, avalanches and lack of rain)
For your safety, enter the river with non-slip shoes or socks
Risky activities such as rappelling and cave exploration are not permitted for children under 7 years unless they are accompanied by their parents or guardians. Minors must always be accompanied by their parents or guardians
Don't enter caves or caverns not legalized by the local administration
Motor vehicles are not allowed on the path without express authorisation
No pets are allowed in the river
No consuming alcoholic drinks and/or psychoactive substances in the river
Don't litter and put rubbish in the bin
Don't scratch or alter the formation of the stones
No fires (bonfires and barbeques) are allowed at any time of year. Don't throw cigarette butts on the ground
Don't wash utensils or vehicles and don't use detergents, soaps, tanning lotion and sun lotion in the river
Accept and respect the instructions given by the control and surveillance personnel
---
If you have any questions or want any more information drop a comment below and I'll get back to you!
Prices and offerings mentioned are correct as of April 2022 but are subject to change in future.
---
More Colombia Travel Inspiration…
SANTANDER: San Gil Santander: Complete Guide to Colombia's Adventure Capital
SANTANDER: Chicamocha Canyon Complete Guide | Truly Spectacular!
BOGOTÁ: El Salto del Tequendama Falls: Bogotá's Hidden Gem [Complete Guide]
BOGOTÁ: Cascada La Chorrera, Choachi: Colombia's Tallest Waterfall (Ultimate Guide)
CARIBBEAN COAST: Playa Taganga (Is This Santa Marta's Dirtiest Beach?)
VILLA DE LEYVA: Pozos Azules Villa de Leyva (Complete Guide to the Blue Wells)
SANTANDER: Walking the Camino Real from Barichara to Guane: A Complete Guide
---
PIN IT FOR LATER!