What's 34 million years old, 141 miles long and 55 km from the popular backpacker town of San Gil? Did you guess the Chicamocha canyon? Probably not.
Somehow, this natural wonder hasn't reached the popularity levels of the Cocora Valley in Salento or the Tatacoa Desert in the south. But, the landscapes are equally as breathtaking.
So, if you're looking for a place off the popular backpacker and international tourist trail, you have to visit the Chicamocha National Park. Whether you're just after the views or want to experience the thrill of adventure activities, this place has it all.
Some of the links below are affiliate links, meaning, at no additional cost to you, I may earn a small commission if you click through and make a qualifying purchase.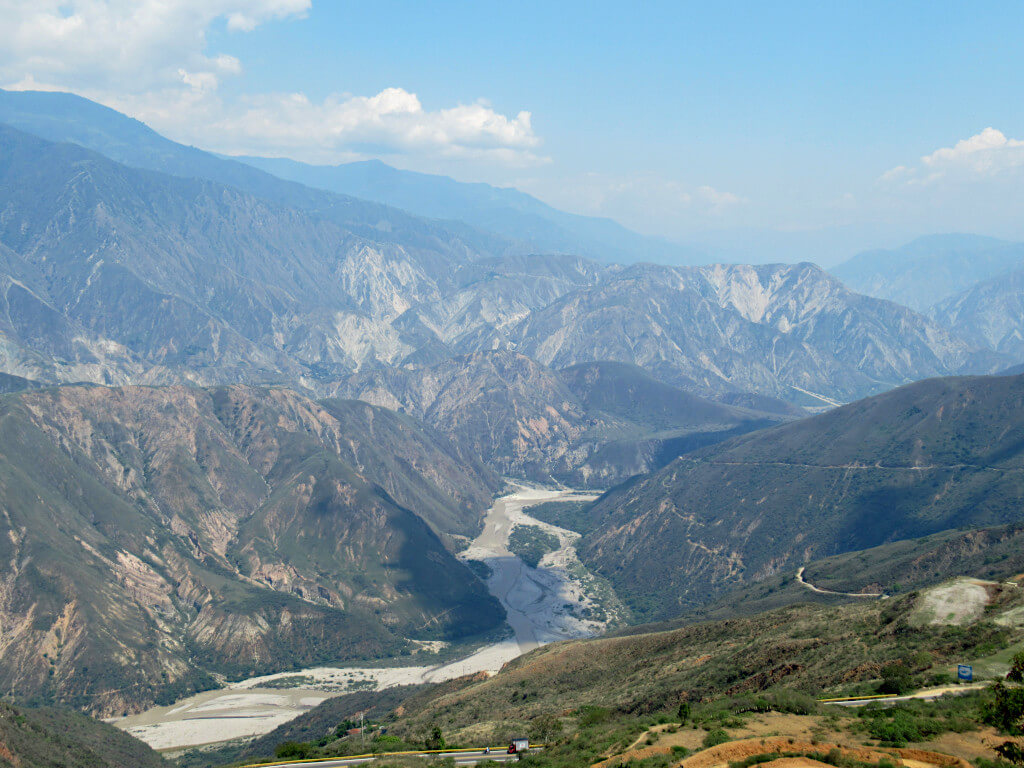 All About Chicamocha's Impressive Canyon
Scientists estimate that Earth is about 4.5 billion years old. Yepp, billion with a b! Yet, the canyon is a spring chicken since it was formed 'just' 23 to 34 million years ago. And suddenly, my impending 30th birthday doesn't seem so bad…
With a length of 141 miles and a depth of up to 2,000 metres, the Chicamocha Canyon is often tipped as the second-largest in the world. Though, the term is vague as it's not clear if people refer to canyon depth, width, total area or a combination of these. Plus, there are at least 4 or 5 other canyons that claim to be the largest!
I don't think I can understate how stunning the canyon is. With its many peaks and valleys along with the staggering vastness, it truly is nature at its best. And in fact, the best way to see the canyon in all its majesty is from above. Every day, many people take a paragliding flight over the canyon riding the thermal currents of hot air rising.
If you're in Santander or your Colombia itinerary is open for suggestions, then you have to visit the Chicamocha National Park and go paragliding (it's cheaper than you think). Keep reading to find out more…
Where is the Chicamocha Canyon Colombia?
The canyon is located between the cities of San Gil and Bucaramanga, in the Colombian region of Santander. This area is part of the sprawling Andes mountain range that runs from Chile to Venezuela. See the location of the Canyon on Google Maps here.
Chicamocha National Park
While the canyon itself might be spread over 270,000 acres, the place to visit is the national park on the top of the canyon wall. While typically you might expect a national park to cover the whole area, this is more of a nature park meets theme park overlooking the canyon.
The park – also known by the name Panachi – does well to balance commercialisation with a natural wonder. Although there are lots of attractions, these are varied and actually enjoyable for guests rather than just being a novelty or money-maker. And, the views are absolutely incredible from the park.
The park has two entrances, each on either side of a 1000-metre deep canyon. The main entrance and main area of the park where almost all attractions are located is on the south, San Gil side. To the north, the Mesa de los Santos entrance is more convenient for those coming from Bucaramanga. But, does require getting the cable car across to the main park.
Opening Times & Entry Fees
The national park is open from Wednesday to Friday 10.00 to 18.00 and on Saturdays and Sundays, 9.00 to 18.00. The park additionally opens on any Mondays that are national holidays from 9.00 to 18.00.
For 2022, the following ticket prices and packages apply. Concession tickets are for children aged 2 to 8 and for adults over 60 with ID. Children under 2 don't need to pay.
Park entrance only: 30,000 COP for adults & 23,000 COP concession
Cable car access & park entrance: 57,000 COP for adults & 38,000 COP concession
Park entrance & waterpark entrance: 44,000 COP for adults, 36,000 COP concession
Cable car access, park entrance, waterpark entrance & cable car access: 66,000 COP for adults & 50,000 COP concession. Not sold in high season.
Waterpark entrance only: 30,000 COP for adults, 23,000 COP concession
Tickets can be purchased at the main entrances or at the Mesa de los Santos entrance on the opposite side of the canyon. Both cash and card payments are accepted.
The ticket packages that include entrance to the Chicamocha National Park do not include entrance to any premium activities. These are priced individually and described in the next few sections.
While the cost of park entrance alone or with access to the cable car may seem quite pricey for what it's worth. I think the real value comes in being able to add on waterpark entrance for less than 10,000 in the three-in-1 entry ticket. With entrance to the waterpark alone costing 30,000 COP, this is where the real bargain lies (spoiler alert: it's worth it). Unfortunately, the park doesn't publish online when their high season is, so I don't know when this ticket stops being available.
OFFER ALERT:
Free entry on your birthday! Get a free park entrance plus cable car access ticket if you visit on your actual birthday and present ID. Wednesday to Saturday only, not valid in high season.

Students pay the concession rate when presenting student ID. Wednesday to Saturday only, not valid in high season.
Cable Car
Chicamocha's cable car (or teleferico in Spanish), is the jewel in the park's crown. Stretching 6.3 km from the top of one side of the canyon, down to the Chicamocha River and then back up to the top on the other side, it certainly packs the views.
Travelling at speeds up to 13.5 mph, the journey takes an impressive 20 to 30 minutes just to go one way! Plenty of time to get photos and enjoy the stunning scenery.
Each car holds up to 8 people and when it's full, there's not much room to move around and look out of the different windows. I was lucky enough to get a car to myself one way when visiting but was then in a full car on the return leg. Having that solo experience really added to the magic of the area as I felt I could truly enjoy it. Being squished in the car with others and facing backwards the whole time, not so much.
Additionally, demand for the aerial tramway is often great. Queue times can reach up to 2 hours, particularly on around national holidays. As such, I'd recommend making the return journey from the main entrance of the park as early as possible. Afterwards, you can then enjoy the other attractions and waterpark.
However, if you arrive at the Mesa de los Santos entrance, you'll need to use the cable cars to reach the main area of the park. Before then using the return leg to get back to your vehicle or transport. If this is the case, you'll need to make sure you give yourself plenty of time to get the last cable car of the day.
Aeriel Tramway Operating Hours
According to the park's published timetable, the Chicamocha Canyon cable car operates only during the following times in the low season:
10.30 to 11.00
12.30 to 13.00
14.30 to 15.00
16.00 to 17.40
At weekends and during the high season, the cable car runs continuously during the opening times.
Pets can travel for free but do need to be inside a pet crate, these are available at the park for a fee of 10,000 COP (if you don't have your own). Taking your bicycle on the cable car also costs an additional 12,000 COP.
Engineering works to the cable car means it is sometimes closed during the week. Check on the official website in advance of your visit to not miss out (like I almost did!).
Adventure Activities
The national park boasts a good selection of activities to suit all different types of adventure lovers. Payments for each of these are taken at the activity, so you don't need to decide at the entrance what you want to do.
Buggies
Drive these all-terrain cars around a 1 km track overlooking the canyon. The buggies come as single-seaters or two-seaters.
For one lap, the costs are 23,000 COP for the single buggy and 28,000 COP for both people in the double buggy. Though of course, if you opt for the double buggy, only one person will get to drive unless you purchase a second lap.
Giant swing
What better way to see the Chicamocha Canyon than swinging through the air over the edge of a cliff? You'll need to find a willing volunteer to be your plus one for this though to keep the swing balanced.
Cost: 18,000 COP per person. A minimum age of 10 and a maximum weight of 120 kg applies.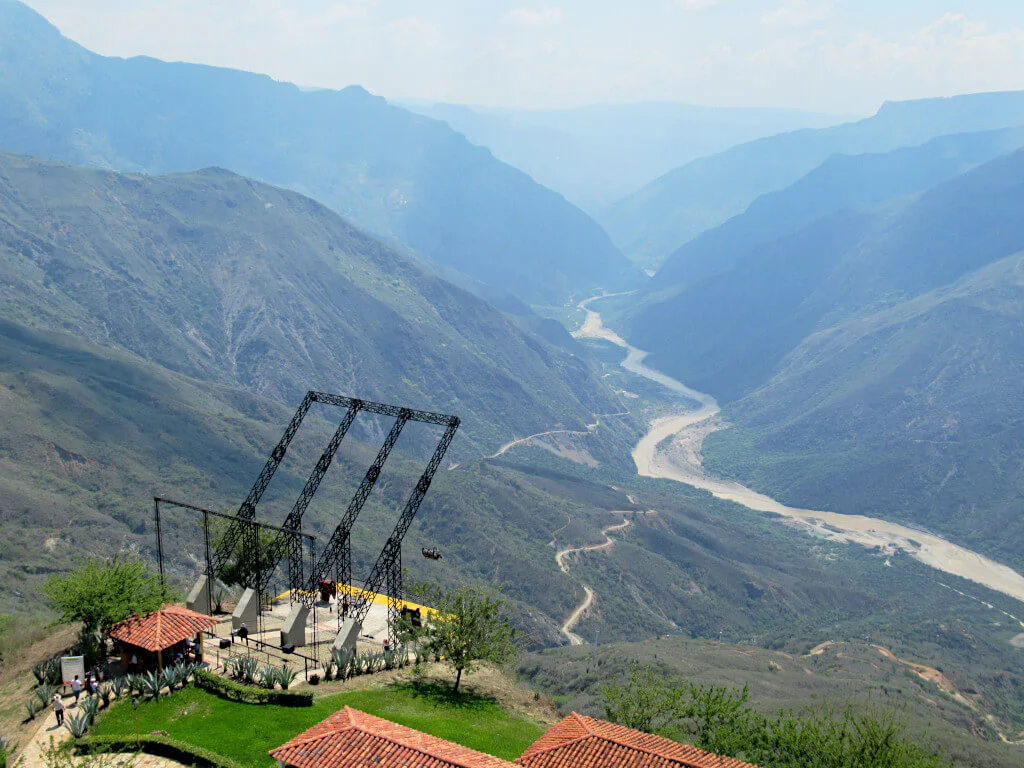 torrenting & Rappelling (Abseiling a Waterfall)
Abseil down a 40-metre-high (artificial) waterfall at one of the highest points of the park. You have the option of either torrenting – when there's water flowing in front of you – or rappelling, with no water. This fun and adrenaline-inducing activity can be enjoyed by all ages.
Cost: 20,000 COP per person.
zip line
The national park boasts three different zip lines. One is just for children, costing 10,000 COP. The other two are much longer and thrilling, sending you flying over the canyon edge.
The longer of the two main zip lines is 450 metres and costs 27,000 COP per person. While the shorter but steeper line costs 20,000 COP each. Both of these are only suitable for ages 10+ and those weighing less than 100 kg.
The unique thing about these zip lines is that you are sat like you're in a swing with straps going full under you. As such, you have ropes to hold onto on both sides, rather than just one right in front of you.
Other Activities & Facilities
| Activity | Cost (COP, per person) |
| --- | --- |
| 4D Cinema | 8,000 |
| Virtual Reality Experience | 6,000 |
| Children's playground | 5,000 to 10,000 |
| Ice rink (it's plastic and small) | 9,000 |
| Feeding goats | 3,000 |
| Seeing ostriches | 3,000 |
| Viewpoints | Free, optional van ride up is 3,000 per person (maybe 500 metres max) |
Additionally, you'll also find restaurants, coffee outlets, food stalls, snack shops, souvenir stores and a chapel in the park. ATMs are located at the park entrances too.
Lockers are also available to hire inside the park and waterpark, costing 2,500 COP.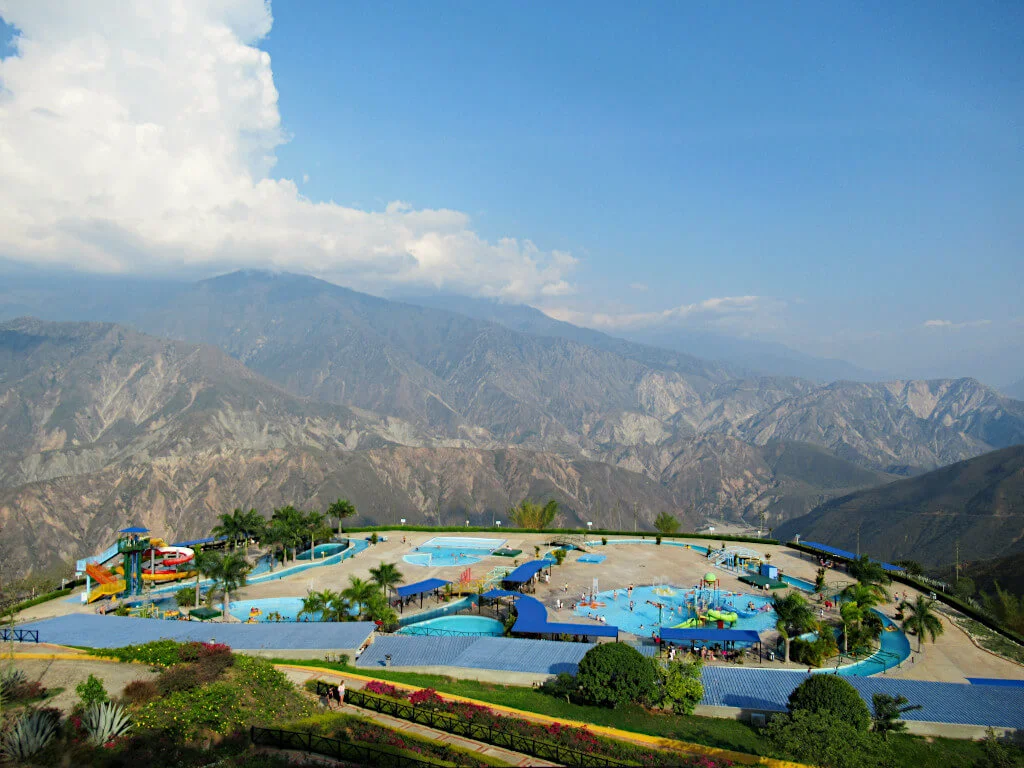 Panachi Waterpark
Visiting the Chicamocha Waterpark really completes a fantastic day out. Given the year-round mild weather in this part of Colombia, the waterpark is a great place to cool off and relax after walking around the park.
Located just across the road from the main entrance of the national park, you can reach here in just a couple of minutes from the car park and bus drop off. Perfect for quickly dashing back to the bus at the end of the day too.
My favourite part was the lazy river – grab a single or double rubber ring and let the gentle current take you. Be warned though, you will get wet as there are tipping buckets and walls of water! Additionally, you'll also find a children's area of slides, fountains and shallow water to play in. As well as larger slides and a plain old normal swimming pool.
As well as changing rooms, lockers and a few shops, there's plenty of seating under canopies. You'll want to wear your shoes to the water's edge though, as the ground gets painfully hot in the sun all day. Furthermore, signs do indicate that swimming caps are mandatory. But, I didn't have one (and had no intention of buying or wearing one) and it was fine. Plus, I was far from the only person not wearing one.
Overall, I'd highly recommend visiting the Chicamocha Waterpark. You can easily spend at least 1 to 2 hours here after visiting the other parts of the national park.
Paragliding over the Chicamocha Canyon
Without a doubt, this was one of the best things I've ever done. Not just in Colombia, not just while travelling, but ever. If you've ever wondered what it's like to be a bird, this is as near as you can experience without physically growing wings and a beak!
In San Gil, there's no shortage of companies offering paragliding at the Chicamocha Canyon. In fact, you can even book the activity through the national park. I went with Parapente Chicamocha (booked through the hostel) and can highly recommend them.
The prices are pretty similar across all the companies, but you should be careful to check what's included. Despite what some companies advertise, the basic package comes with an (almost) guaranteed 20-minute flight. Though, in reality, this is often around 30 to 35 minutes if the conditions allow. Of course, when you're flying with the air currents, nothing is guaranteed.
After the basic package, which is just a standard flight over the canyon, you can add on longer duration, time piloting yourself and/or the pilot performing tricks while you're in the air for additional costs.
I opted for the basic package and paid 200,000 COP (50 USD) for the flight, insurance, return transport from San Gil including hostel pick-up and drop-off and a bottle of water. Prices increase to around 350,000 COP with all of the optional extras included. Return travel for accompanying, non-flying guests costs 20,000 COP.
Additionally, you can pay to hire a GoPro and selfie stick to document the flight. The files are transferred directly onto your phone afterwards so you have them straight away. This costs an additional 50,000 COP but I just used my own and that was fine (attached to my camera lanyard). You can take your phone but it's at your own risk if you drop it!
How to get to Chicamocha National Park
From San Gil, you can take the bus right to the entrance of the national park.
First, head to the Terminalito bus station. This isn't the main one that has intercity buses, but a smaller one about 4 blocks from the main square. Purchase a ticket to 'Panachi' from the desk, cash and card accepted. Tickets cost 12,000 COP per person one-way. Board your bus then sit back and relax for the next 90 minutes.
When you get to the park, you'll be approached straight away to buy your return ticket. You don't have to, but there's only a limited number of return services and you don't want to miss out. Return buses leave at 15.30, 16.30 and 17.30 from the main entrance car park. Alternatively, there is a small ticket office just inside the entrance where you can also buy the bus tickets.
If you travel in your own vehicle, parking costs 8000 COP for cars and 5000 COP for motorbikes at the canyon.
Where to Stay Near the Chicamocha Canyon
As there's no hotel or camping area within the park, you'll have to look elsewhere for accommodation. Staying in San Gil is a good option as there's regular transport to the canyon. Plus, from this direction, you'll arrive at the more convenient main entrance rather than Mesa de los Santos.
Hostels
Sam's VIP Hostel

: Good location, good wifi, good room options. What more can you want? Oh, yeah, maybe the pool, sauna or terrace overlooking the city's main plaza. Still not sold? Maybe you're after a pool table, two kitchens or sofas…
Macondo Hostel: Less than 2 blocks from the plaza, this is one of the top-rated hostels in Colombia. With a jacuzzi in the garden as well as all the essentials such as lockers, a kitchen, free coffee and honest advice about day trips, activities and more.
Hotels & Apartments
Hotel Boutique El Campanario

: Centrally located by San Gil Cathedral, this 4-star hotel is a more boujee and upmarket option compared with the many hostels around. With its stunning decoration, this is the place to unwind and relax after adventurous days out.
Hermoso Apartamento: Travelling as a group? Then this 3-bedroom apartment with an additional sofa bed in the living room can sleep 6 people. With two bathrooms and a fully equipped kitchen, this place has everything you could need for a short-term stay.
---
If you have any questions or want any more information drop a comment below and I'll get back to you!
Prices and offerings mentioned are correct as of April 2022 but are subject to change in future.
---
More Colombia Travel Inspiration…
SANTANDER: Quebrada Las Gachas Guadalupe: Colombia's Best Hidden Gem
SANTANDER: San Gil Santander: Complete Guide to Colombia's Adventure Capital
BOGOTÁ: El Salto del Tequendama Falls: Bogotá's Hidden Gem [Complete Guide]
BOGOTÁ: Cascada La Chorrera, Choachi: Colombia's Tallest Waterfall (Ultimate Guide)
CARIBBEAN COAST: Playa Taganga (Is This Santa Marta's Dirtiest Beach?)
CARIBBEAN COAST: Tubing in Palomino: Complete Guide to a Must-Do Activity (2022)
VILLA DE LEYVA: Pozos Azules Villa de Leyva (Complete Guide to the Blue Wells)
SANTANDER: Walking the Camino Real from Barichara to Guane: A Complete Guide
---
PIN IT FOR LATER!