Although more typically famed for its beaches, ruins and food, Mexico Waterfalls are some of the best in the world. Particularly, when its jungle and mountain landscapes combine to provide jaw-dropping waterfalls in lush surroundings.
So whether you're looking to have your breath taken away by waterfalls of dizzying heights or fancy taking a plunge under a crystal clear waterfall. There are Mexican waterfalls for you.
From the US-bordering state of Chihuahua in the north to the southern state of Chiapas bordering Guatemala, waterfalls can be found all throughout Mexico. So where ever your vacation or trip is planned, you'll never be too far from a waterfall.
So, to help you pick the right ones for your itinerary, fellow travel enthusiasts and I have devised this list of the 22 best waterfalls in Mexico. And, we don't miss out on key details. Here, you'll find out how tall each is, how to get there, whether you can swim and entrance fees. This is a guide of practical information to help you plan your time.
Some of the links below are affiliate links, meaning, at no additional cost to you, I may earn a small commission if you click through and make a qualifying purchase.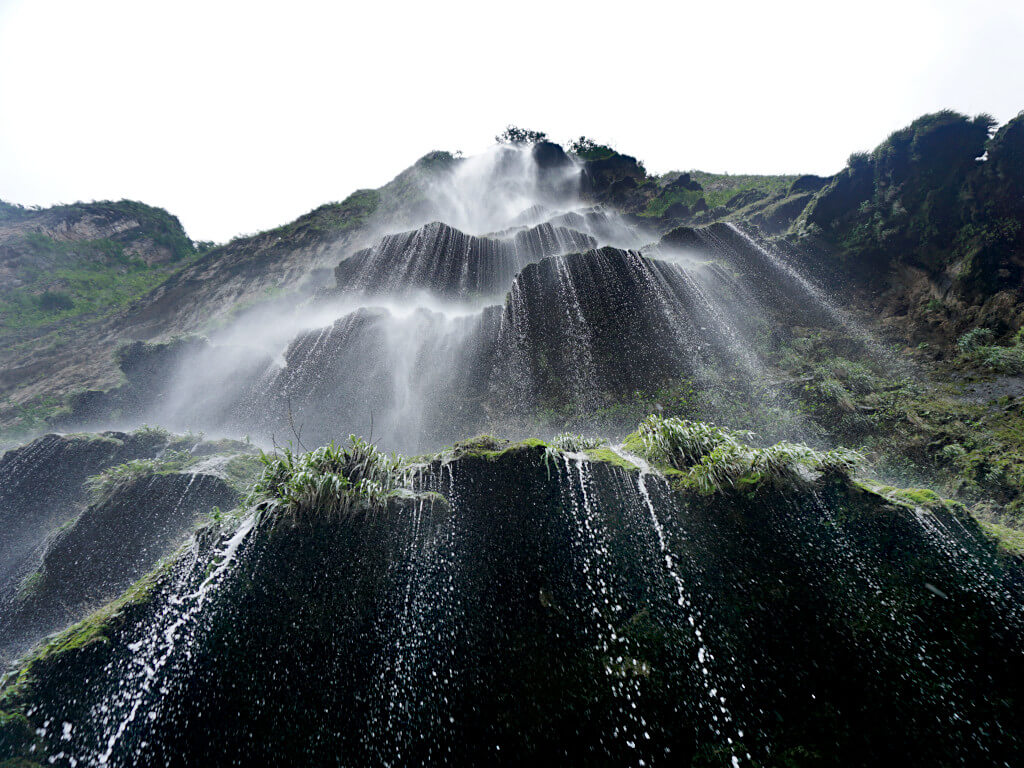 Does Mexico Have Waterfalls?
Yes, Mexico is home to hundreds – if not thousands – of waterfalls.
Where are the best waterfalls in Mexico?
Being a large country, Mexico has lots of landscapes. But, the jungle and mountainous areas are home to the best waterfalls. As such, states such as Chiapas, San Luis Potosi and Hidalgo have the greatest concentration of waterfalls.
Nevertheless, spectacular waterfalls can be found all across Mexico. In fact, the country's tallest waterfalls – Basaseachic Falls and Piedra Volada Falls – are in the northern state of Chihuahua.
What is the Most Beautiful Waterfall in Mexico?
Well, that is a difficult question! Now, I wouldn't say there was an out-and-out most beautiful waterfall, but there certainly are a few contenders for that top spot.
However, beauty is in the eye of the beholder, so why don't you decide? Here are my shortlisted 22 best waterfalls in Mexico…
Spoiler alert: I think mine is Cascada Velo de Novia in Chiapas (it's first on the list for a reason!)
Cascada Velo de Novia, Chiapas
Translated to mean Bridal Veil Waterfall, Velo de Novia is one of the most impressive and famous waterfalls in Mexico. This 120-metre-tall waterfall is one of five at the Cascadas El Chiflon complex in the state of Chiapas.
Be sure to climb the stairs to the perfectly placed viewing platform for incredible photos. Plus, in the rainy season months when water flow is at its highest, you'll get absolutely soaked with the spray.
Swimming isn't permitted directly under this waterfall but is allowed in the park during the dry season months. Other facilities include zip lines, cabanas, picnic areas, food stalls and even an Iguana observation area!
Cascada Velo de Novia can be easily reached by public transport from San Cristobal de las Casas. First, take a bus to Comitan and then a colectivo to the waterfalls. Or, take a tour from San Cristobal that normally also includes a visit to the Montebello Lakes. However, if you're looking to arrive early in the day, you can also stay overnight in the nearby town of Comitan or rent a cabana at Cascadas El Chiflon.
The entrance fee is a bargain 50 pesos per person. And, for this price, you'll get access to 4 other splendid waterfalls on the site. In fact, 3 of those also make this list of the best Mexico Waterfalls – keep an eye out for them below…
Read more about Cascada Velo de Novia in this detailed guide to perhaps the country's best waterfall.
Cascada Basaseachic, Chihuahua
Once considered the tallest waterfall in Mexico, Cascada Basaseachic now takes second place to the rainy season-only Piedra Volada Falls. It is located in a remote national park in the northern state of Chihuahua.
Standing at an impressive 246 metres tall (807 feet), this waterfall is one of the most spectacular in Mexico. In fact, it's among the tallest 250 waterfalls in the whole world.
Although the waterfall is flowing all year round, there's more water during the rainy season months. Because of its staggering height, the waterfall is best enjoyed from a slight distance. This allows you to appreciate the full scale and magnificence of this natural wonder.
A well-placed viewing platform on the other side of the ravine provides the best views since it isn't easy to access the base of the waterfall without a multi-hour hike. For an alternative view, walk along the metal bridge that runs across the top of the falls, although it isn't possible to see over the edge from there.
Around the waterfall, you'll find plenty of hiking trails in forests and along rivers. In the winter months, there can even be snow on the ground, making for a magical day out in nature. In fact, with no entrance fee, it has to be one of the best value activities around.
Hierve el Agua, Oaxaca
Located in the mountains outside of Oaxaca, Hierve el Agua is one of the most unique and famous waterfalls in Mexico. 
The source of the waterfall is a mineral-rich spring. For thousands of years, the spring water has flowed over the edge of the cliff to the valley floor below. 
As a result, minerals from the spring have collected to form a petrified waterfall on the side of the mountain that looks as though it's frozen in time.
Perched on top of Hierve el Agua is a series of pools with incredible mountain views. When you arrive, hike down for better views of the waterfall and return to the pools at the top to cool off with a swim.
To get to Hierve el Agua, you first need to arrive in the town of Mitla. From there it is an hour's drive along a dusty mountain road with beautiful views of the Central Valleys of Oaxaca. There are colectivo pickup trucks that take visitors to Hierve el Agua from Mitla multiple times per day for 75 pesos each way. 
Once you arrive, you'll pay the entrance fee of 50 pesos at the gate and leisurely walk down to the pools. There are changing areas and bathrooms as well as food and drink vendors at the site.
Written by Julien Casanova of Cultures Traveled.
Cascada Salto del Agua, San Luis Potosi
This seasonal waterfall only flows between mid-spring and mid-autumn, so make sure to time your visit right. But, during those times, Cascada Salto del Agua will treat you to a spectacular view.
Unfortunately, due to its remote location, it isn't easy to reach this waterfall. The nearest main town is El Naranjo, which is still 30 minutes drive away. A taxi or rental car is going to be the best way to get to the waterfall from there.
The water flows over the rocky edge into a vivid blue pool, perfect for those after a refreshing dip. Although in the drier months, the pool is much more stagnant and green-coloured.
There is no fee for parking and entrance at this waterfall, making it a cheap day out in San Luis Potosi. There are, however, a couple of stalls at the entrance where you can buy snacks and drinks.
Despite its beauty, this is not one of the most popular or visited waterfalls in La Huasteca Potosina. As such, you can enjoy a day close to nature and without crowds of people, particularly during the week and outside of holiday periods.
Cusarare Falls, Chihuahua
When looking for Mexico's best waterfalls, one that you can't afford to miss out on is Cusarare Falls. This natural wonder is situated in the Copper Canyon, which is located in the state of Chihuahua.
This waterfall is considered by many as one of the most beautiful waterfalls in Mexico. Surrounded by lush pine forests, this waterfall can usually be visited as part of one of the many hiking trail tours that are on offer around the local towns. Those doing tours of the Copper Canyon will get to this attraction as part of an itinerary which will usually start from the nearby Mexican city of Creel or the rural city of Guachochi.
Footwear with decent tread will be required as the hike can get pretty steep, and with the waterfall standing at 30 metres high, you can imagine why. You do also have the option to use the stairs too, there are around 240 concrete steps to walk down to reach the base of the falls. So once at the bottom, you can climb around the rocks and take a dip in the water.
It's possible to do some swimming around rocks too. But beware that it can get extremely hot during the summer months, so much so, that the water can dry up. To be able to witness the intense water flow of the falls, it's recommended to visit between summer and winter.
Additionally, it's always worth carrying an extra pair of clothes in case you do decide to go swimming. Also, before you get to the falls you should get an opportunity to connect with the local indigenous Tarahumara tribe who offer their unique handicrafts and souvenirs that you can take back home with you.
By Daniel James of LayerCulture.com.
Cascada de Texolo, Veracruz
Cascada de Texolo is a beautiful waterfall located in the state of Veracruz, Mexico. It is situated in the town of Xico, which is just a short drive from the city of Veracruz. The waterfall is a popular tourist destination known for its beautiful surroundings and crystal clear waters.
The 20-metre-tall waterfall (65 feet) is located in the middle of the rainforest, which adds to its beauty. The surrounding area is home to a variety of wildlife and other waterfalls. For example, just along the river is Cascada De La Monja, which makes for a great addition to your day trip.
To get to Cascada de Texolo, take a bus from Veracruz to Xalapa. From there, you'll need to take a taxi or local bus to Xico, and then either take a taxi or hike to the waterfall. The 3.5-km hike takes about an hour and is relatively easy, as the path is well-maintained. However, it is recommended to bring plenty of water and wear appropriate shoes.
With no entrance fee, once you arrive at the waterfall, you can head straight to the viewing platform. Swimming in the water is permitted but the current can be strong. Parking is also free at Texolo.
Tamasopo Falls, San Luis Potosi
Tamasopo Falls is definitely one of the best waterfalls in Mexico, as it's so much more than just a set of waterfalls. This set of amazing waterfalls is located in the Huasteca Potosina region of San Luis Potosi and is part of a full park.
Tamasopo Falls is particularly great compared with other Mexico waterfalls because it is a fun place to go for all ages! There are several different waterfalls to explore, some that you can swim in, and some that you can take a beautiful photo in front of. The area also includes gardens, natural pools, and even jungle gyms over the water that are for both adults and children alike.
The entrance to the park of Tamasopo Falls is just 40 pesos, and the park is open from 7 am to 6 pm. Life jackets are included in the price – these are optional for certain areas, while mandatory for others (such as the spots where you can jump off platforms into the water). 
Some other amenities include bathrooms, plenty of shade and seating areas, as well as hammocks for relaxing next to the falls. There's also a shop for souvenirs and beach attire, as well as a snack bar where you can get food and drinks. Make sure you don't miss out on their amazing Micheladas!
Want to know more about Huasteca Potosina and things to do in the area? You can check out the full travel guide by Scratch Your Mapa by simply clicking here.
From Danielle of ScratchYourMapa.com.
Cascadas Salto de Quetzalapan, Puebla
Located midway between the towns of Chignahuapan and Zacatlán, Cascadas Salto de Quetzalapan is one of the best natural attractions in the large state of Puebla. These stunning falls are popular with domestic tourists, given most international visitors don't often travel to this part of Mexico.
But, Cascadas Salto de Quetzalapan is so much more than just a waterfall. In fact, it's an entire park with zip lines, rock climbing, abseiling and other adrenaline activities. Entrance costs 50 pesos although the activities do cost extra on top of that. However, the prices are very reasonable, for example, 50 pesos for the zip line and 15 pesos for archery.
Colectivos running between Chignahuapan and Zacatlán drive past the waterfalls, so you can easily get here from either town. Chignahuapan is 100 km north of the city of Puebla (a little further for Zacatlán) and buses run from Puebla's CAPU terminal throughout the day to both towns.
If you're looking for a fun day out and a chance to visit two Pueblo Magicos, this is the place for you. At almost 200 metres tall (650 feet), this is one of the most majestic waterfalls in Mexico.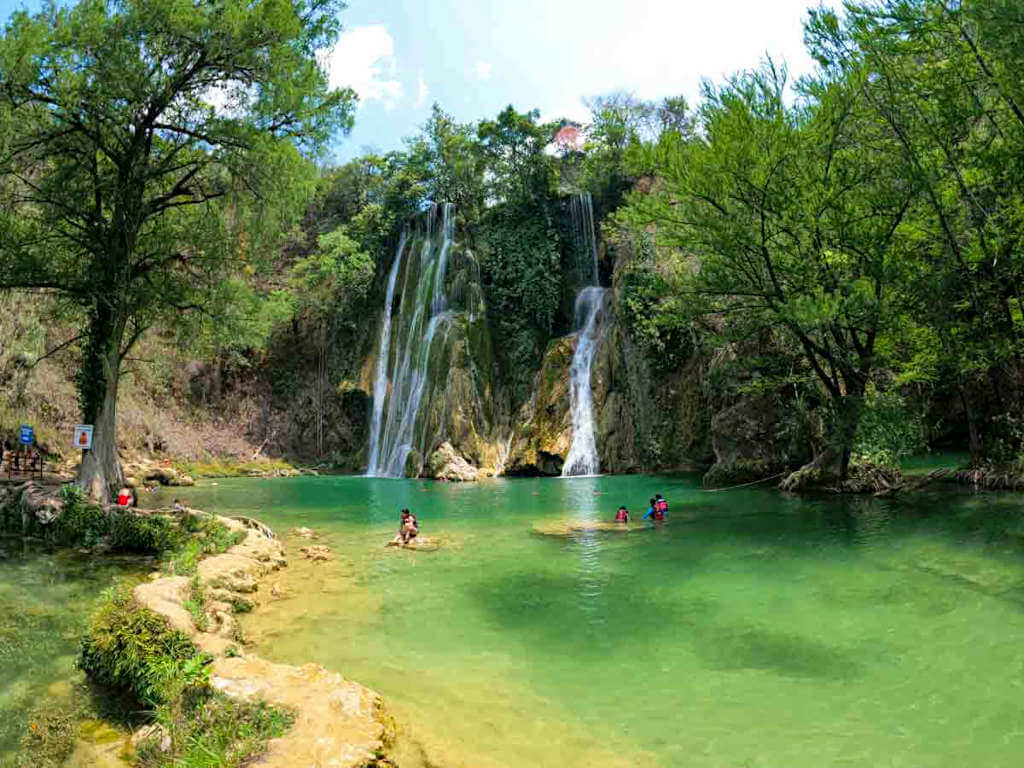 Cascadas de Minas Viejas, San Luis Potosi
Located in the jungle of Huasteca Potosina is Cascada de Minas Viejas. This waterfall soars about 150 feet up, and the water cascades down into a series of stunning turquoise-coloured pools. In case you're wondering, yes, they are perfect for swimming, so don't forget to add a swimsuit to your Mexico packing list.
There are limited facilities at this waterfall, but it's a perfect spot to spend an afternoon here with a picnic while swimming around.
It's best to visit Minas Viejas after the rainy season, so the falls are fuller. So around September through November.
The best ways to get here are either to rent a car and visit on your own or take a tour. Even better, you can take a rappelling tour where you descend down the rocky cliffside adjacent to Minas Viejas, plop into the pool below, and then swim towards the waterfalls! If you ask us, this is the best way to experience this waterfall!
The nearest town is Cuidad Valles, but this area of Mexico isn't totally on the tourist map just yet. You might want to take a tour to this area to make life a bit easier or, at the least, be confident driving in Mexico and definitely know some Spanish to get around.
If you're just visiting the waterfall without a tour or rappelling, it's going to cost around 60 pesos to get in. It's also a requirement to wear a lifevest which you can rent for an additional 30 pesos when you get here. If you happen to be driving here yourself, there may be an additional parking charge as well.
By Nina of WhereInTheWorldIsNina.com.
Mil Cascadas, Guerrero
Located just outside of Taxco in Guerrero, Mil Cascadas are a stunning set of waterfalls worthy of visiting. However, without your own transport, they can be a little difficult to visit.
You'll need to first take a colectivo from Taxco towards Teacalco, changing at Casino de la Union for a second colectivo towards the falls. Finally, you'll need to walk for about 25 minutes to reach the entrance.
But, once there, you're in for a treat. In the rainy season, water flow is greater and the current is stronger so swimming and jumping from the waterfalls is not permitted in most places. However, you'll get to see more waterfalls as these form with greater water flow.
Whereas in the dry season months, there may be fewer waterfalls but you can swim, jump and explore the area more easily. Plus, the water is a much more appealing colour as it is not carrying as much silt due to the slower flow.
Entrance costs 50 pesos plus a further 50 pesos for a mandatory life jacket. A guide is not required but you can hire one for 500 pesos (for groups of up to 8 to 10 people), and is recommended if you want to jump from the rocks and waterfalls.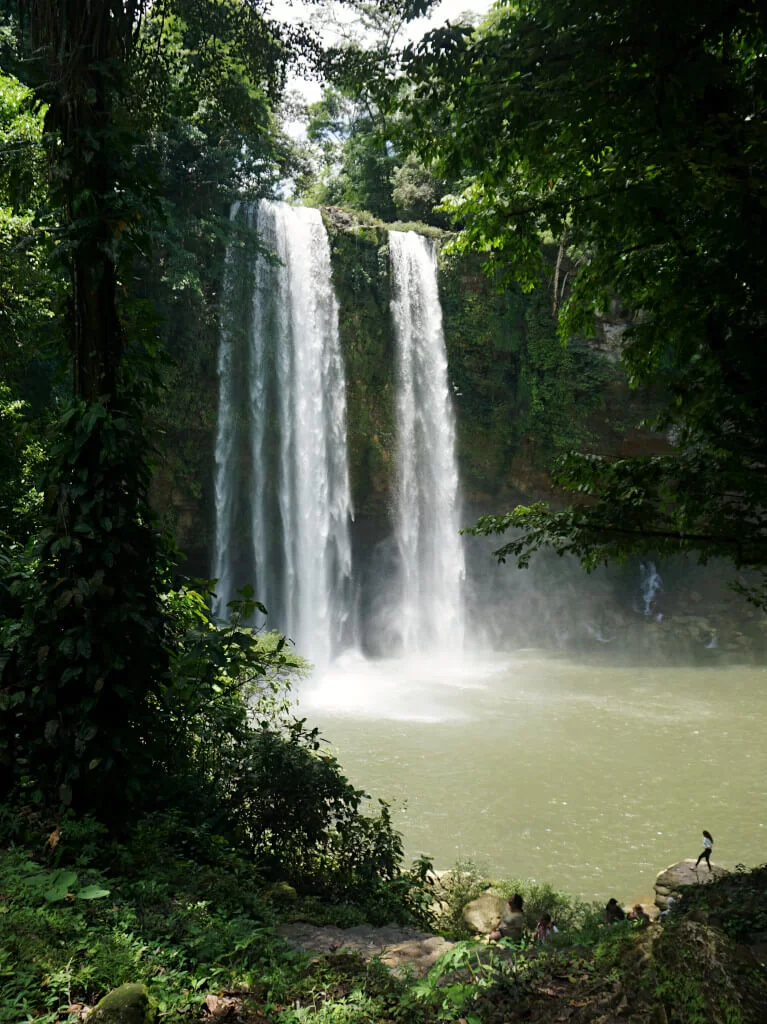 Misol-Ha Waterfall, Chiapas
Cascada Misol-Ha stands at an impressive 35 metres. And you can walk behind the waterfall as well as explore the cave network inside the rock.
Tours are available to take you to a viewpoint overlooking the top of Misol-Ha Waterfall. Or, you can just swim in front of the waterfall. Just make sure you come dressed for whatever activity you want to do. Sturdy shoes for exploring, swimwear and a towel for bathing.
On-site, there are a few vendors on-site, plus a small hotel and restaurant. The fact that the waterfall hasn't been commercialised as much as nearby Agua Azul, definitely makes for a nicer experience.
The entrance fee is 30 pesos, although sometimes an additional 10 peso maintenance charge is also applied.
To reach Misol-Ha Waterfall, you have two options: a tour and public transport. Tours are generally cheap and also include visits to Agua Azul Waterfalls and/or Palenque Ruins, with the option to return to Palenque or continue onto San Cristobal. It's easy to book tours in Palenque town on the day at one of the agencies.
Alternatively, you can take a colectivo to Misol-Ha. These leave from the roundabout near the ADO/OCC Bus Station and drop you off on the side of the highway. From there, you'll need to walk around 15 minutes to the waterfall. Repeat the process in reverse to get back to Palenque.
Prismas Basálticos de Santa María Regla, Hidalgo
Even in a country as vast and populated with waterfalls as Mexico, Prismas Basálticos are unique. Here, the water flows over the pillar-like basalt columns, formed by lava flows millions of years ago.
Basalt columns are a fairly rare phenomenon worldwide. But avid travellers may recognise similar landscapes from Suchitoto in El Salvador, Iceland and the Giant's Causeway in the UK. This is one of a few that has a waterfall flowing over them.
The 44-metre-tall Prismas Basálticos are located in the state of Hidalgo, northeast of Mexico City. The nearest big town is Pachuca, however, there are plenty of hotels, guesthouses, campsites and facilities around the waterfall.
Entrance to the waterfall costs 100 pesos and you can walk through the ravine and along bridges for different views. There's also a zip line, gift shop and other stalls onsite. Additionally, you can take a boat tour of the nearby dam.
Cascada Ala de Angel, Chiapas
Ala de Angel is the second of five waterfalls at Cascadas El Chiflon near Comitan in Chiapas. While Velo de Novia is clearly the biggest and most stunning, this small and compact still has a magical feel.
Perhaps it's the side-on viewing area that makes it feel a little tucked away. Or that you can hop across rocks and branches to find the best spot surrounded by water.
Either way, it's a cool waterfall to see and is a great warm-up act for Velo de Novia at El Chiflon. The water flows powerfully over the wide, single-drop fall surrounded by dense forest and jungle on both sides.
Visit here on a day trip from San Cristobal de las Casas or stay overnight to get more time in the park. Transport and entrance are cheap and easy meaning you don't have to take a tour.
Cascada Arco Iris, Chiapas
Velo de Novia might be the most impressive waterfall at El Chiflon, but it isn't the last. In fact, there are two more waterfalls tucked away high above it. Unfortunately, many people miss out on these because the path is poorly signposted.
Arco Iris – the Spanish words for rainbow – is waterfall 4 of 5 at El Chiflón. And, it's a tough journey along the dirt path high into the hills. However, you'll be rewarded with simply stunning views of this natural wonder away from the crowds of the lower waterfalls.
Not only is Cascada Arco Iris pretty spectacular, but you'll also get some pretty special views overlooking the park and surrounding jungle. Plus, it's not called Rainbow Waterfall for nothing, expect to see dazzling colours in the spray.
That 50 peso entrance fee and 2-hour bus from San Cristobal are looking even more appealing now, right?
Cascada Quinceañera, Chiapas
The highest and last of the 5 falls at El Chiflón, Cascada Quinceañera is well worth the tough uphill climb needed to reach it. Bask in the personal achievement of completing the walk while enjoying exquisite views of another incredible waterfall.
The viewing area directly in front of Cascada Quinceañera is a great place to get photos as well as resting up before the walk back down. If your legs are getting tired though, you can always take the zip-line towards the park entrance from Velo de Novia!
The cascadas at El Chiflon are some of the best waterfalls in Chiapas and in Mexico, worthy of including on any trip itinerary. The entrance fee of 50 pesos is a bargain considering how many incredible waterfalls you get for that price. And, you can easily get there by public transport or on a tour from the nearby, popular backpacker town of San Cristobal de las Casas.
Grutas TolanTango, Hidalgo
The Grutas Tolantongo waterfall in Mexico is an amazing natural wonder to visit. Located in Hidalgo, about 2 hours from Mexico City, it is one of the most beautiful waterfalls in the region.
The falls are 150 metres high and fall like a ponytail with cascading tiers that form a triangle-like shape surrounded by lush vegetation and natural rock formations. On cooler days, steam rises off the falls and the pool of heated water at its base. This spectacularly-viewed waterfall is a must-visit for anyone visiting Mexico.
Entrance to Grutas Tolantongo costs just 150 pesos and visitors can swim in the heated waters within the cave behind the waterfall. It's certainly worth paying for as several unique qualities make this one stand out amongst all other Mexico waterfalls.
Firstly, its height makes it truly awe-inspiring. It's one of the highest waterfalls in the country and offers great views from various vantage points around it. Secondly, numerous cascading tiers offer stunning visuals and provide a soothing sound of trickling water that calms nerves and rejuvenates energy levels.
Finally, many people take advantage of swimming or soaking their feet in the heated waters within the cave behind the waterfall which are known for their therapeutic properties due to their mineral content.
Not only does Grutas Tolantongo have many features that make it an incredible place to visit, but its proximity to Mexico City makes it easily accessible.
Contributed by Brodi Cole of Our Offbeat Life.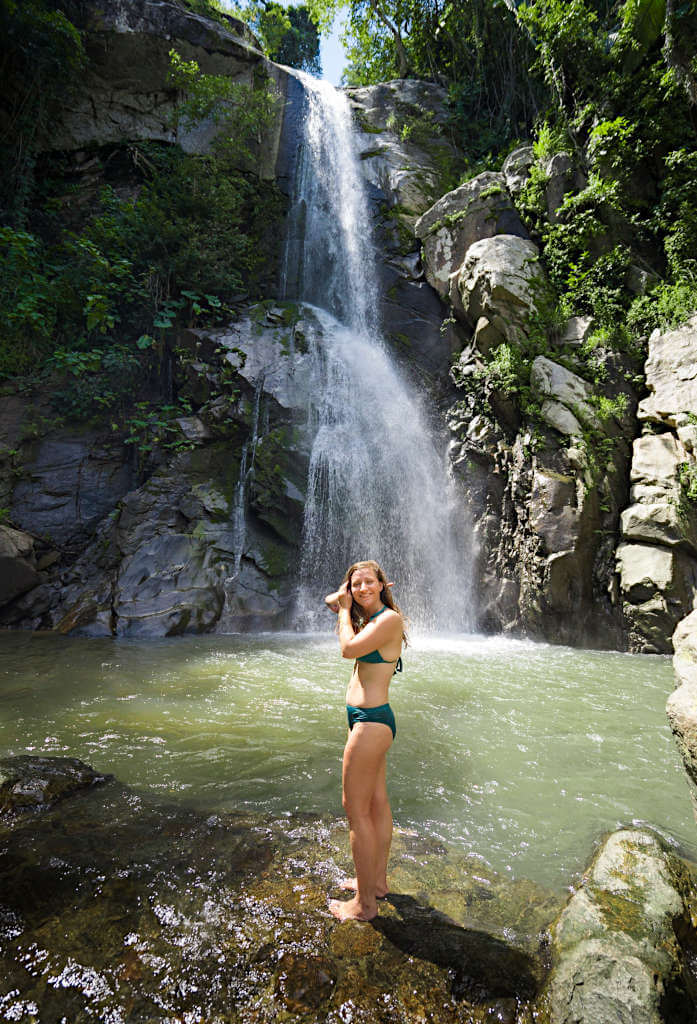 Yelapa Waterfalls, Jalisco
Yelapa is a tiny and remote fishing village, located in Jalisco along the Pacific coastline. The village is known for its stunning white beaches, sleepy vibes, and jaw-dropping waterfalls.
In fact, there are two Yelapa waterfalls. One is a more popular waterfall right in the village's teeny downtown. And there's another one that's only accessible via a hiking trail through the jungle during the non-rainy part of the year.
To reach the town's main waterfall, you'll first need to get to Yelapa. Which is generally only accessible via a one-hour boat ride from the glitzy resort city of Puerto Vallarta or a 20-minute boat ride from Boca de Tomatlan.
Once you arrive in the small town, it's pretty clear how to reach the falls – you'll see signs for "Cascada" with arrows pointing in its direction all along its cobblestone streets!
You'll walk up a narrow alleyway, lined with vendors peddling blankets, embroidered dresses, and other handicrafts, until you reach the base of your waterfall, spilling over a dramatic cliffside and framed by lush greenery. Enjoying the gorgeous 150-foot waterfall and swimming in the cool waters of its plunge pool is totally free.
But be sure to bring along a few pesos to buy a beer or snacks at the nearby stand. There's nothing better than drinking a Corona, cooling your feet in the water, and taking in the views of the beautiful waterfall.
Recommended by Jess of Uprooted Traveler.
Velo de Novia Waterfall, State of Mexico
Velo de Novia is one of the most popular names for waterfalls in Latin America. So, it's unsurprising that there are 2 waterfalls in this post with the same name. This Velo de Novia Waterfall is a stunning natural attraction located in the state of Mexico. The falls are located in the town of Valle de Bravo on the shores of Lake Avándaro, which is about 130 km from Mexico City.
To get to the town from Mexico City, take a bus from the Observatory Terminal to Valle de Bravo. The drive typically takes 2.5 hours. And, from the bus terminal, you'll need to get a taxi to the waterfall.
With no entrance fee, the 30-metre-tall waterfall is well worth a visit if you're in the area. Additionally, be located just 15 minutes walk from the centre of Avándaro, it's accessible and affordable to visit.
Onsite, there is a high ropes course, bathrooms, a small store and a restaurant. Parking is also available, typically at an unofficial and varying cost.
While swimming is allowed, the cold water temperature and lack of easy access put most people off. Nevertheless, if you don't mind a fairly steep walk down to the waterfall, it makes for a great addition to your itinerary while in the State of Mexico.
Copalitilla Waterfalls, Oaxaca
Tumbling over the smooth, large rocks, the crystal clear waters of the Copalitilla Magic Waterfalls cascade into the emerald-green pools below. Nestled in the surrounding lush jungle hills of Huatulco, a picturesque resort town located in Oaxaca, Mexico, these idyllic, magical waterfalls certainly live up to their name. 
There are 3 different sections of waterfalls: Llano Grande, Copalitilla Magic Waterfalls, and Las Brisas. Each area has its own waterfall landscape and entrance location, and there's a separate 70 peso entrance fee for each one.
Out of all three, the most scenic is definitely the magical waterfalls of Copalitilla. Here, visitors can take a leisurely walk up the smooth yellow boulders past charming pools of crystalline water that shallowly flow across their feet. As you hike up, take notice of the beauty of the hidden cave before rappeling yourself up through a hole in the ceiling to continue on to the top swimming holes.
Tour agencies in town offer all-day trips to the waterfalls, which usually include a traditional Oaxacan lunch and a visit to a nearby coffee plantation. Alternatively, you can rent a scooter or car and make the 1.5-hour (41 km) drive on some rough but relatively manageable roads.
A day trip To The Magical Waterfalls Of Copalitilla is a must-see for anyone visiting Huatulco. The combination of verdant hills, clear waters, and cascading waterfalls make these falls one of the area's most breathtaking tourist attractions.
By Catherine Xu of Nomadicated.
Agua Azul Waterfalls, Chiapas
Agua Azul Waterfalls are located about an hour outside of Palenque, Chiapas.
The tallest waterfall is only 20 feet tall. But what makes these waterfalls so special isn't the height but rather the colour, which is what gives them their name – Blue Water. (Note, the water is only blue in the dry season, November to May. Don't let this stop you from visiting though! Rainy season means fewer crowds, more water flow, and a fun-filled day!)
Agua Azul is comprised of multiple interconnected waterfalls with pools in between. Just the hike along the water is gorgeous and scenic but there are multiple areas with rope swings into the water for you to enjoy! And for less than 100 pesos, a park ranger will guide you through the rapids to slide down the rocks and even go behind some of the waterfalls!
The waterfalls cost 40 pesos to enter and open daily from 8 am to 8 pm. Although you'll want to go early if travelling by public transit as the last colectivo passes back to Palenque around 4:30 pm.
To get there from Palenque, head to the ADO bus terminal and ask for the colectivo towards Agua Azul. The ride is about 90 minutes and costs 50 pesos. You will be dropped off at an intersection where you'll then have to take a taxi to the entrance for about 30 pesos per person.
Bring sunscreen, bug spray, and sturdy sandals! You can pack in a lunch, but there are a ton of local vendors selling all kinds of snacks and meals!
From Lindsay Ubaldini, follow her travels on Instagram @lindsayubaldini.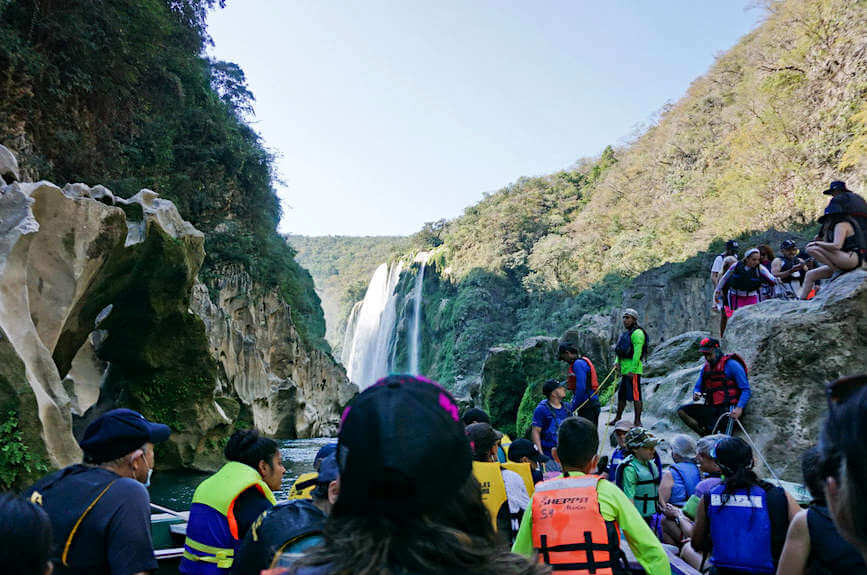 Cascada Tamul, San Luis Potosi
The Tamul Waterfall is located in the Mexican state of San Luis Potosi, in the famous La Huasteca region. Around an hour's drive from Ciudad Valles.
With a height of 105 metres, Tamul Waterfall is the highest in San Luis Potosi. But, unfortunately, there's no public transportation to reach the waterfall.
You can either book a tour that includes transport, take your rental car or take an adventure and go halfway by bus and halfway hitchhiking. You have to reach the village of La Morena and from there you go downhill to the river where the boat trips start. There's also an option to hike to Cascada Tamul, but that starts somewhere else.
At the starting point of the boat tours, you can find stands with souvenirs, snacks and drinks as well as a toilet. The price for the shared boat tour is 200 pesos per person and lasts about 2 hours. In some parts of the tour you have to walk a short way along a river, it is the part where the river is rough. The way to the waterfall is upstream, making paddling a little more difficult. But on the way back you can relax.
Although it seems very touristy, the tour is still worth it. And, on the way back you stop at a water cave. Shortly before the water cave, the tour guides will let you jump into the water where you can float in the water downstream. Don't forget your swimwear, your towel and a bottle of water.
Contributed by Lisi of EscapingWorlds.com.
Árbol de Navidad Waterfall, Chiapas
This waterfall might not be the biggest or most beautiful. But, instead, its location makes it a worthy inclusion as one of the best Mexico waterfalls.
The Árbol de Navidad Waterfall (literally meaning Christmas Tree) is located inside the astoundingly tall walls of Sumidero Canyon – a phenomenal natural attraction in its own right. This huge Canyon near Tuxtla Gutierrez in Chiapas is up to 1000 metres deep with near-vertical walls stretching for miles.
Unfortunately, the waterfall almost entirely dries up in the dry season or when there hasn't been rain for a while. So, visiting in the rainy season months of May to September is necessary for the best chance to see Cascada Árbol de Navidad.
But, you can't just visit the waterfall. As it's only accessible from inside the canyon, you'll need to be on a Sumidero Canyon boat tour to see Árbol de Navidad Waterfall. Luckily, the boats pulls up right underneath it!
Most visitors come from nearby San Cristobal de las Casas where there are plenty of tour agencies running affordable trips to the Canyon. Tours typically include transport, the boat tour, a visit to the viewpoints overlooking the canyon and free time in a town close by.
---
Do you have any questions or want any more information? If so, drop a comment below and I'll get back to you!
Information is correct as of January 2023 but is subject to change in future.
---
More Mexico Travel Inspiration…
OAXACA: San José del Pacifico, Oaxaca (Complete Travel Guide)
OAXACA: Lagunas de Chacahua, Oaxaca (Your Ultimate Travel Guide)
GUERRERO: Pozas Azules de Atzala, Taxco (Visitor's Guide)
GUANAJUATO: Hiking Cerro de la Bufa Guanajuato: Route + Directions
OAXACA: 17 Oaxaca Beaches You HAVE to Visit this Year
---
PIN IT FOR LATER!