Cascadas El Chiflón, in the Mexican state of Chiapas, is home to one of the most dazzling waterfalls I've ever experienced! In total, the park has 5 large and stunning waterfalls that can be viewed from a variety of angles as well as zip lines, swimming areas and more for a fantastic day out.
Luckily, the park can be easily reached from the cities of San Cristobal de las Casas and Comitan de Dominguez. As such, it is the perfect place for a DIY day trip on public transport. So, if this sounds like your cup of tea, you'll want to keep reading about how to get there, entrance fees, top tips and – importantly – how to not miss the last two waterfalls like so many people do!
Last updated: April 2022. First published: September 2021.
Some of the links below are affiliate links, meaning, at no additional cost to you, I may earn a small commission if you click through and make a qualifying purchase.
Cascadas El Chiflón Mexico: Overview
In rural Chiapas – Mexico's most southern state – lies the El Chiflón waterfall park. The site has 5 large waterfalls – of which, at least one will leave you absolutely speechless!
But, it's not just the waterfalls, visiting the park is a full-day activity in itself. There's something for everyone with zip lines, swimming areas, refreshment stands, cabanas and viewing platforms.
What's more, the cost of getting to and into the waterfalls is low, making this a great day out on a budget. Perfect for families, backpackers, couples and more!
Where is Cascadas El Chiflón Chiapas?
The waterfalls are located in the Mexican state of Chiapas. From the popular backpacker town of San Cristóbal de las Casas, El Chiflón is approximately 100 km southeast, near the city of Comitan de Dominguez. A city that is more commonly known as just Comitan. In fact, the site is only 50 km or so from the Guatemalan border. See the exact location of the waterfalls on Google Maps here.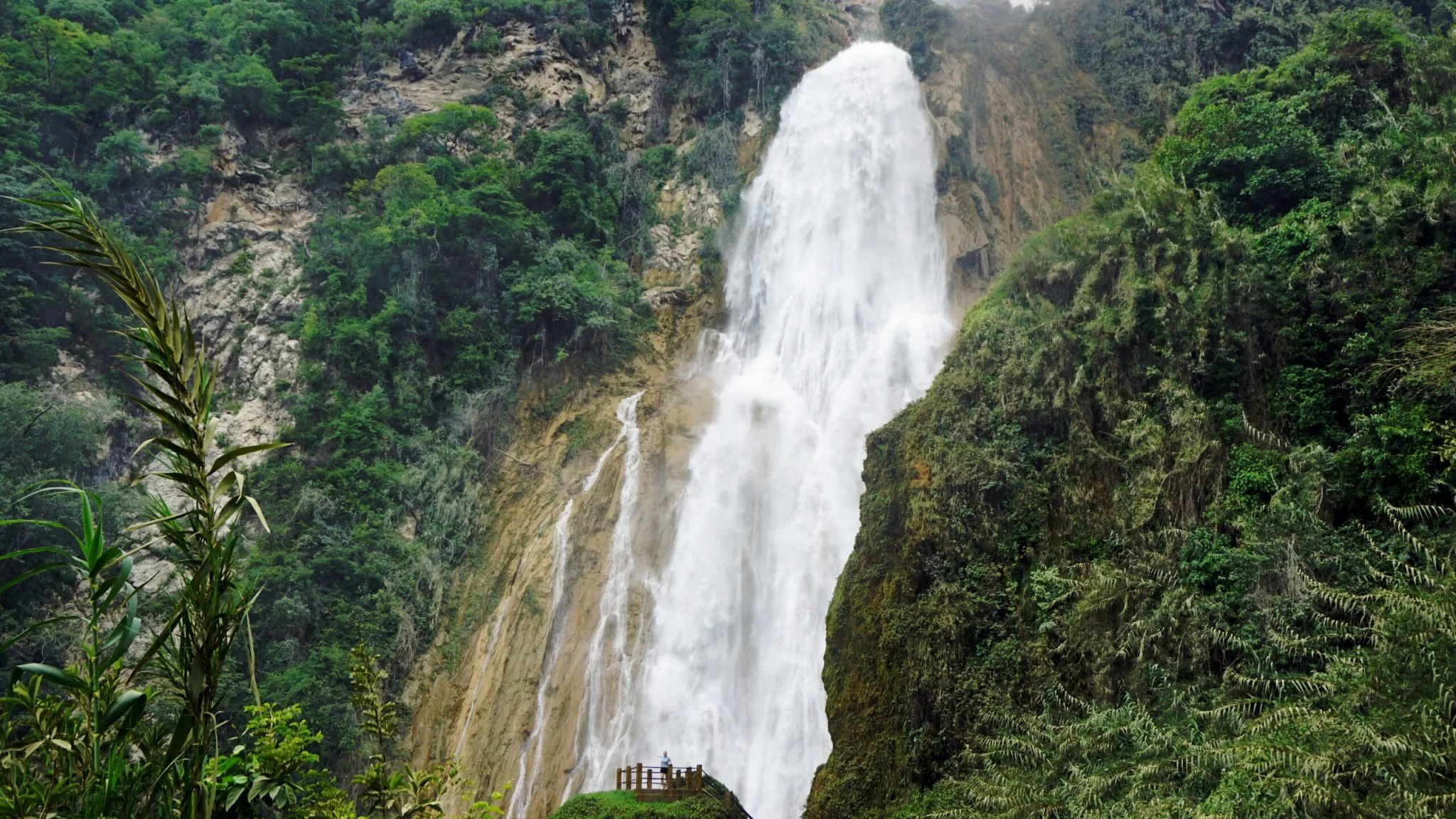 How to get to El Chiflón from San Cristóbal de las Casas
The waterfalls are easily reachable from San Cristóbal despite the relatively large distance.
One option is to rent a car in San Cristóbal and drive to the waterfalls. This is a good option if you're comfortable driving on the roads in Chiapas, have an international driving licence (or are Mexican), and understand the risk of charges from damage to the car. And, it's also a good option if you're wanting to visit a few of the great Chiapas waterfalls.
However, the falls are ridiculously easy to get to using public transport from San Cristóbal de las Casas. Just one bus and one colectivo! Here's how…
From the OCC San Cristóbal bus station, take a bus going to Comitan de Dominguez.

These can be booked on the ADO website or app, or just at the bus station on the day. Tickets cost 66 pesos per person one-way. I recommend just booking the one-way ticket as you won't be entirely sure what time return bus you'll be getting. The journey takes two hours, so bring something for entertainment.
Remember to check the bus schedule in advance as the buses do not always run regularly throughout the day.
Once you arrive at the OCC Comitan bus station, exit onto the main road and turn left. Walk 2 and a half blocks along the road until you find many colectivos on the left side of the road.

Look out for a van with El Chiflón on it or just ask the driver 'El Chiflón?' However, more likely they will see you are a tourist and ask if you want to go there!
The colectivo costs 35 pesos per person one-way and they will leave once they are full or almost full. The colectivos run all the way to Tuxtla Gutierrez, so make sure the driver knows you want to get off at the waterfalls – this should only take 40 minutes or so.
You'll be dropped off outside the gates of the waterfall park and all you have to do now is walk up to the entrance!
To get back to San Cristóbal, simply wait for a colectivo on the opposite side of the road to where you were dropped off. Pretty much all the vans will be going to Comitan from there, so just flag the first one down and double-check by asking. The colectivos will drop you off in the centre of Comitan, so head to the bus station and buy a ticket for the next bus to San Cristóbal.
IMPORTANT: As of 1 October 2021, anyone travelling on ADO buses – including other services that are part of the ADO group such as OCC, SUR and AU – must present photo ID at the time of boarding. Additionally, all non-Mexicans must also present documentation of their immigration status in the country. For most people, this will be the paper FMM slip given on arrival. Read the official statement here.
Tours to Cascadas El Chiflón from San Cristóbal
There are plenty of tours going from San Cristóbal to El Chiflón each day. However, generally speaking, these also continue on the Parque Nacional Lagunas de Montebello (Montebello Lakes National Park), on the Guatemala border.
Now, if you're keen to visit the lakes then this tour is a great option to combine the two natural attractions. However, if you're wanting mostly to visit El Chiflón, then I'd definitely recommend a DIY day trip as described above.
This is because you get very little time to actually explore the waterfalls. To note, the Montebello Lakes are almost 2 hours from El Chiflón. Because of this, most tours will only give you two hours to explore the waterfalls, which is not enough, in my opinion. In all, on a tour, you'll spend about 8 hours on the bus driving and 4 hours seeing El Chiflón and the Montebello Lakes total.
El Chiflón Waterfalls: Essential Information
Two Entrances – Choose Carefully!
When you arrive at the entrance to the El Chiflón waterfalls, you'll find that there is an entrance on the road on either side of the river. Simply put, there is one entrance on the left and one on the right. However, each side is run by a different company and each has different offerings.
My recommendation: choose the entrance on the right-hand side, Centro Ecoturistico Cascadas el Chiflón. All the information below relates to this entrance and side of the river.
The entrance on the left-hand side does not provide access to all 5 waterfalls, has slightly worse views and doesn't have facilities like the zip line and cabanas.
Opening hours
The site is open from 8 am to 5 pm, 7 days a week, 365 days of the year.
Entry fee
As of 2022, the entrance fee is 50 Mexican Pesos per person. There is an additional charge of 20 pesos per person to access the last two waterfalls. More on that later.
On-site facilities
Use of the bathrooms and riverside huts are included in the entrance fee, as well as the museum and iguana observation point. To note, the only bathrooms are located by the entrance, there are no more further along the waterfalls. Additionally, all along the river, there are lots of refreshment stands selling snacks and drinks at reasonable prices. Parking is available onsite too.
At an additional cost, there is also a series of zip lines (tirolesa in Spanish) as well as cabanas where you can spend the night. I cover both of these in more detail later in this post.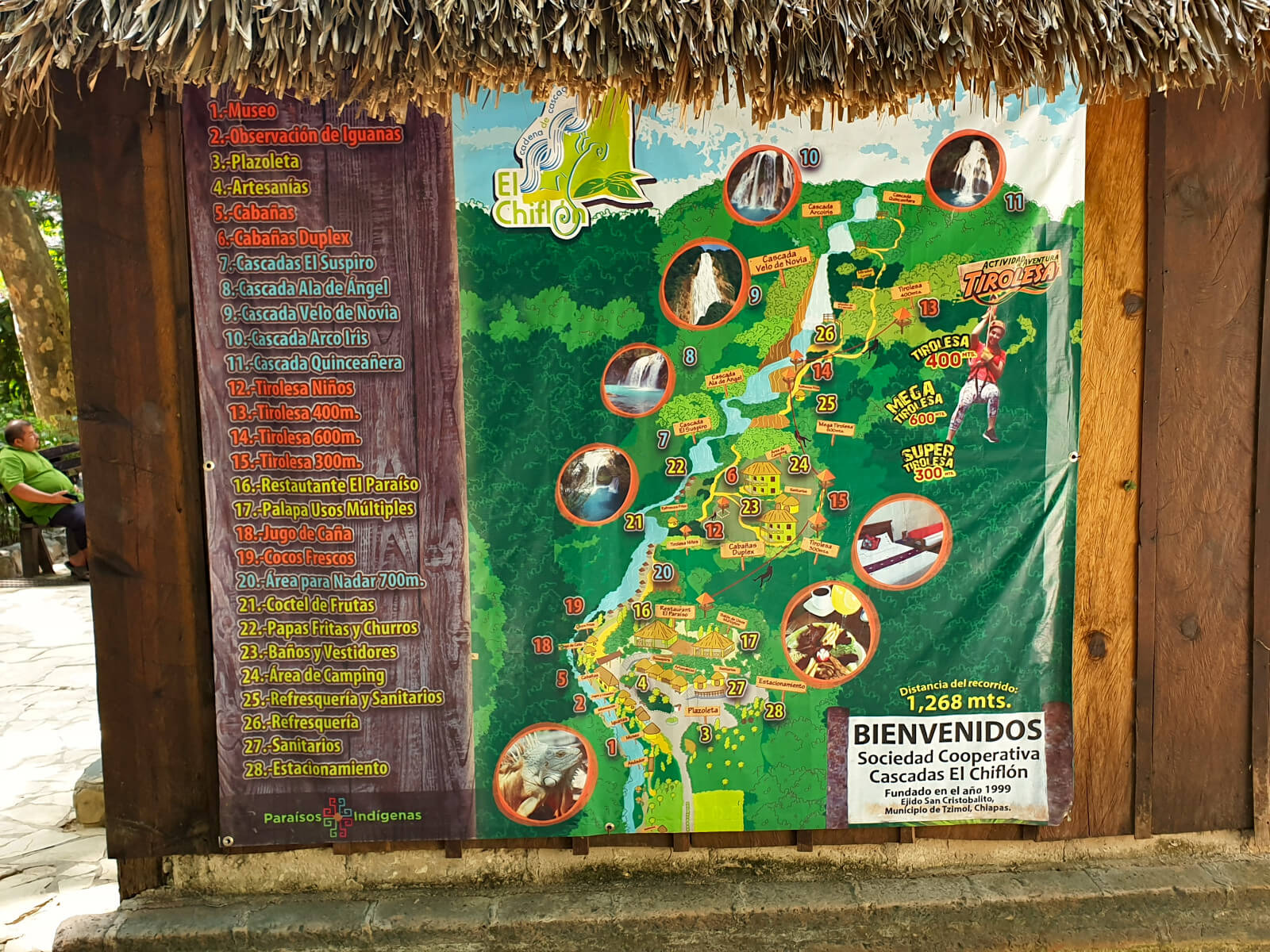 The 5 El Chiflón Waterfalls
El Chiflón Chiapas is home to 5 absolutely incredible and stunning waterfalls. Plus, in addition to the 5 main waterfalls, there are lots of smaller falls nearer the entrance too.
From the entrance to the highest waterfall is pretty much all uphill. To see all of the waterfalls, take pictures, have rests and walk at a comfortable pace, you'll probably spend 3 to 4 hours in the park. If you want to go swimming, add more time. But, if you want to take the zip line back down, you'll save some time! More on those bits later…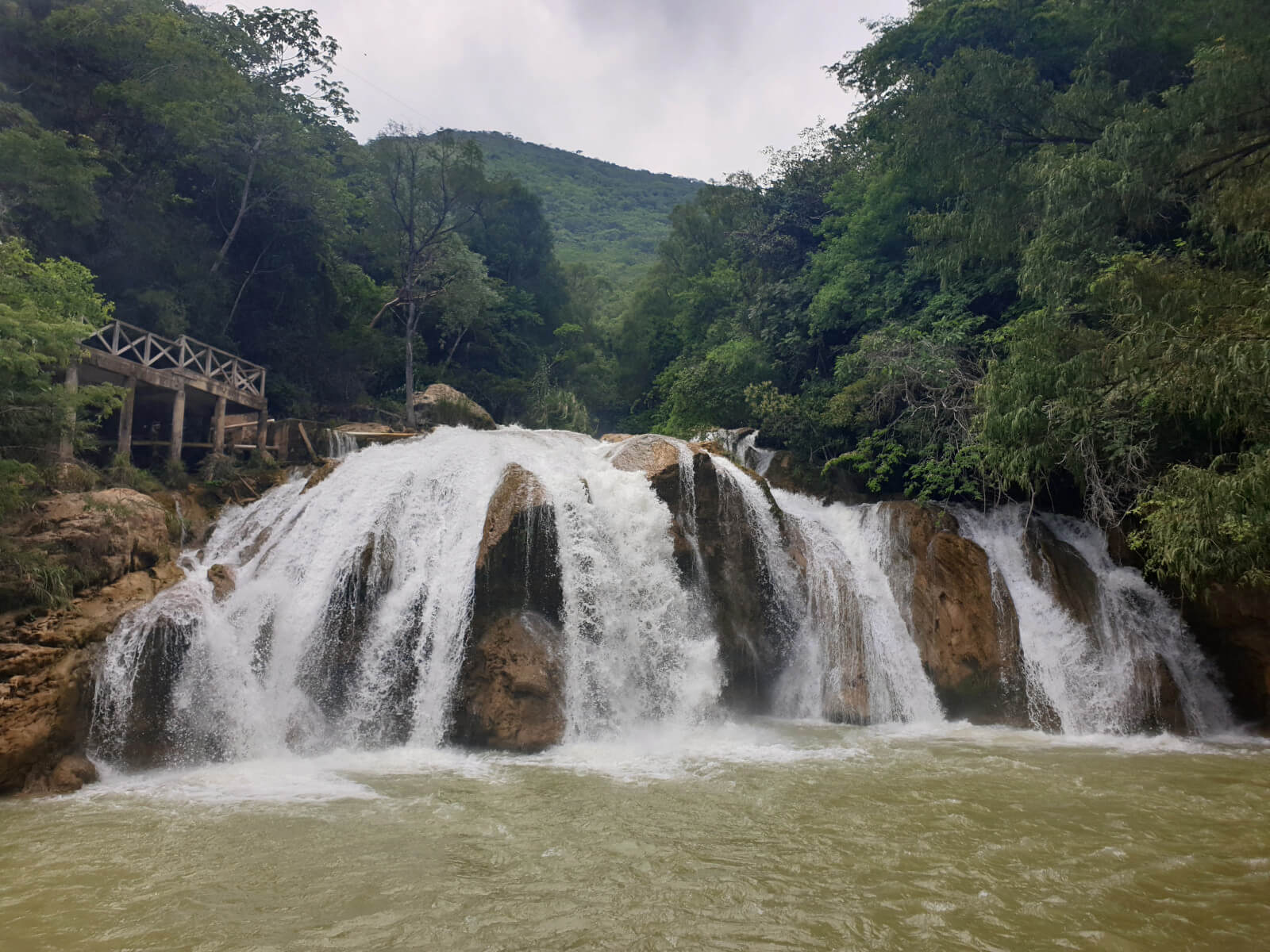 Cascadas El Suspiro
The first of the five waterfalls, Cascadas El Suspiro – which means 'the sigh waterfalls' has a viewing area on the bank directly across. You'll need to climb down some stairs to reach this from the main pathway. Outside of the rainy season, the plunge pool can have a vivid blue colour, much like the Agua Azul waterfalls near Palenque.
With the waterfall across from the viewing point, it's a great place to get photos with no one in the background. But, don't spend too long, there are still 4 more waterfalls to see and a long uphill climb to go!
Cascada Ala de Angel
Next up, is the beautiful Cascada Ala de Angel ('Angel Wing Waterfall' in English). Again, you'll have to climb down from the path to the water's edge. Although, at this waterfall, you'll to one side of the waterfall rather than directly in front of it. Plus, depending on the water levels you might need to do some jumping between rocks and dry areas to get a good photo!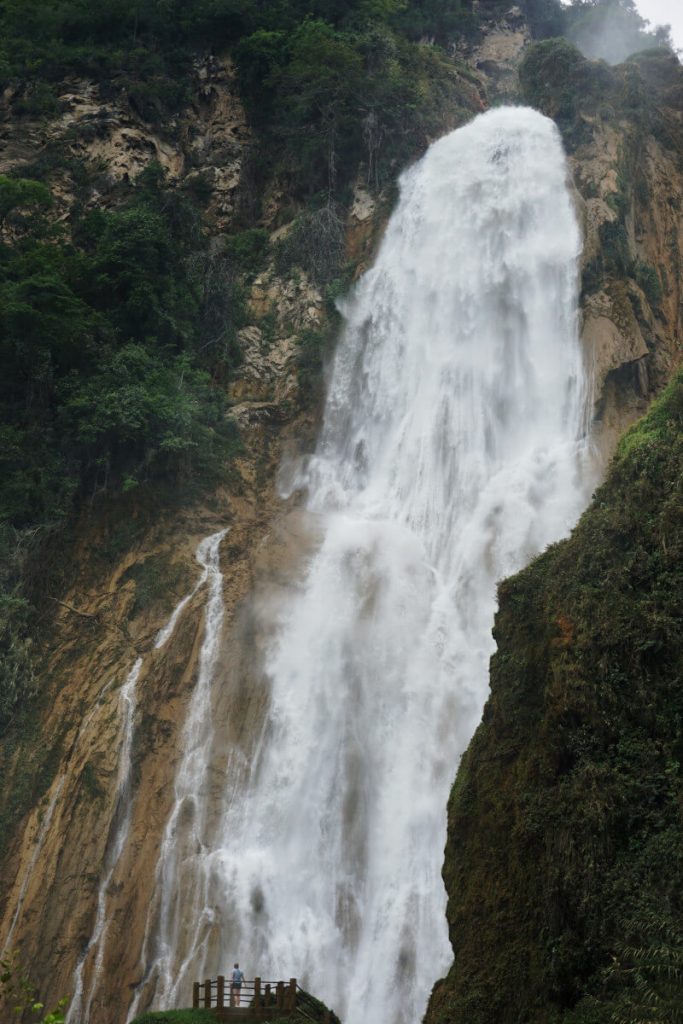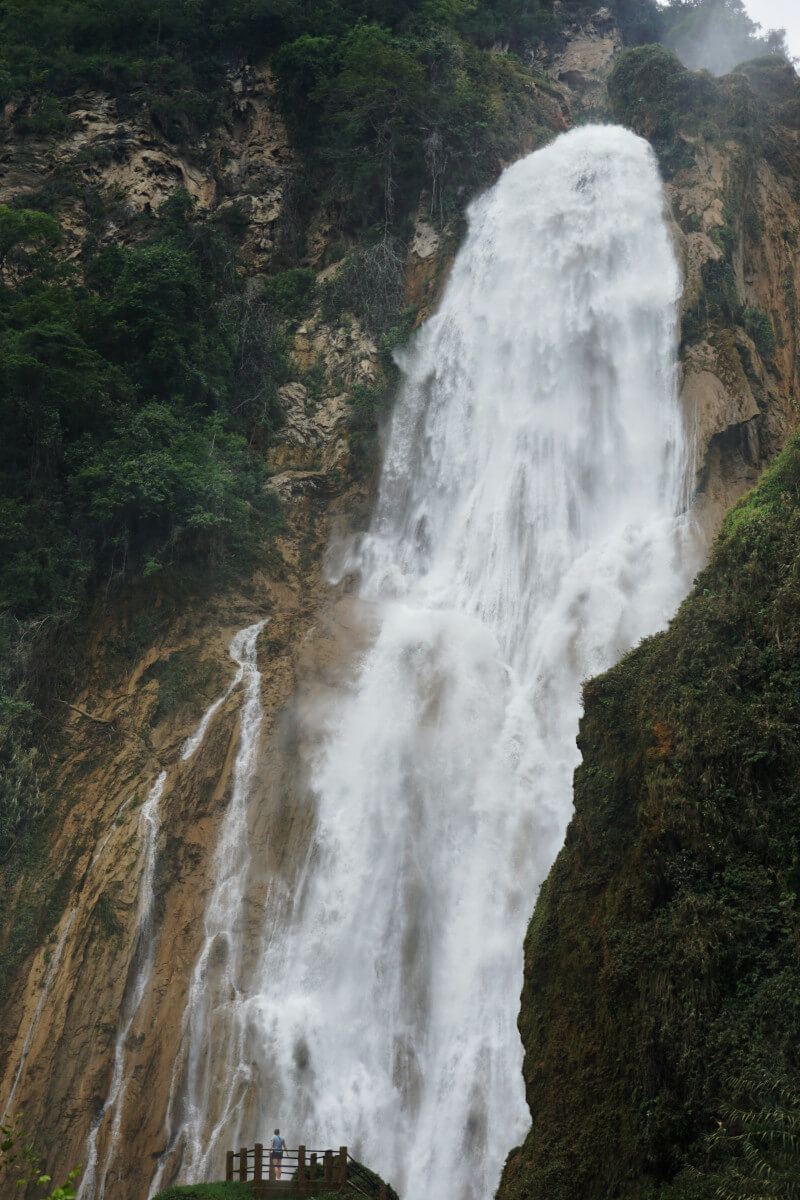 Cascada Velo de Novia
Folks, welcome to the main event of the day! Cascada Velo de Novia – meaning Bridal Veil Waterfall in English – is the main waterfall at El Chiflón Mexico. When this waterfall first came into sight, I was astounded, the size and force are utterly mesmerising. This is easily the most impressive waterfall in Chiapas, if not the whole of Mexico!
There are three good spots to view Cascada Velo de Novia from. The first is by the zipline tower and refreshment stands. The second is on the lower ground towards the bottom of the waterfall. And, the third, is the viewing platform right in front of the waterfall. But, be warned, the spray is quite intense at the lower viewing area and very intense on the viewing platform – you will get soaked!
I'd highly recommend spending some time here enjoying the spectacular view, because, from this point, the climb gets steep! You see, the next two waterfalls are above Cascada Velo de Novia – and, that's a long way up!
FIND OUT MORE: Cascada Velo de Novia is so epic, I've a whole blog post dedicated to the waterfall!
Cascada Arcoiris
When you're at Cascada Velo de Novia it's important to remember that this is not the end of the waterfalls. However, the path to continue on to the fourth and fifth waterfalls is not well sign-posted and many people just turn back unknowingly. If you can't find the path, simply ask someone working at either the zip lining tower or refreshment to point you in the right direction.
There is an additional charge of 20 pesos per person to access the trail leading to the last two waterfalls. I'm not sure why they charge extra when it's the same series of waterfalls in the same park. But, it's definitely worth it!
It's a steep climb uphill along a dirt path to Cascada Arcoiris ('Rainbow Waterfall'), but you'll be rewarded with a stunning view and a sense of achievement too. The view looking back towards the park entrance is also pretty special.
Cascada Quinceñera
The final El Chiflón waterfall is Cascada Quinceñera. The viewing area for which is almost level with the top of the waterfall and is directly in front of it, so great for photos! You'll want to take a rest here as the next part of your day is to walk all the way back down!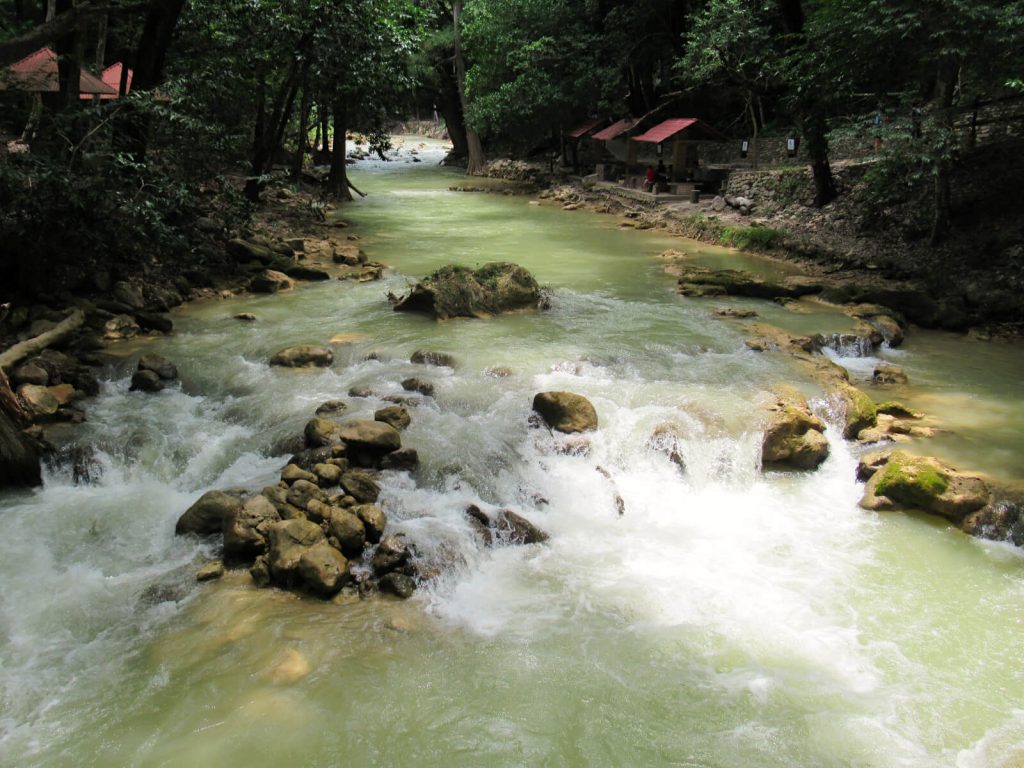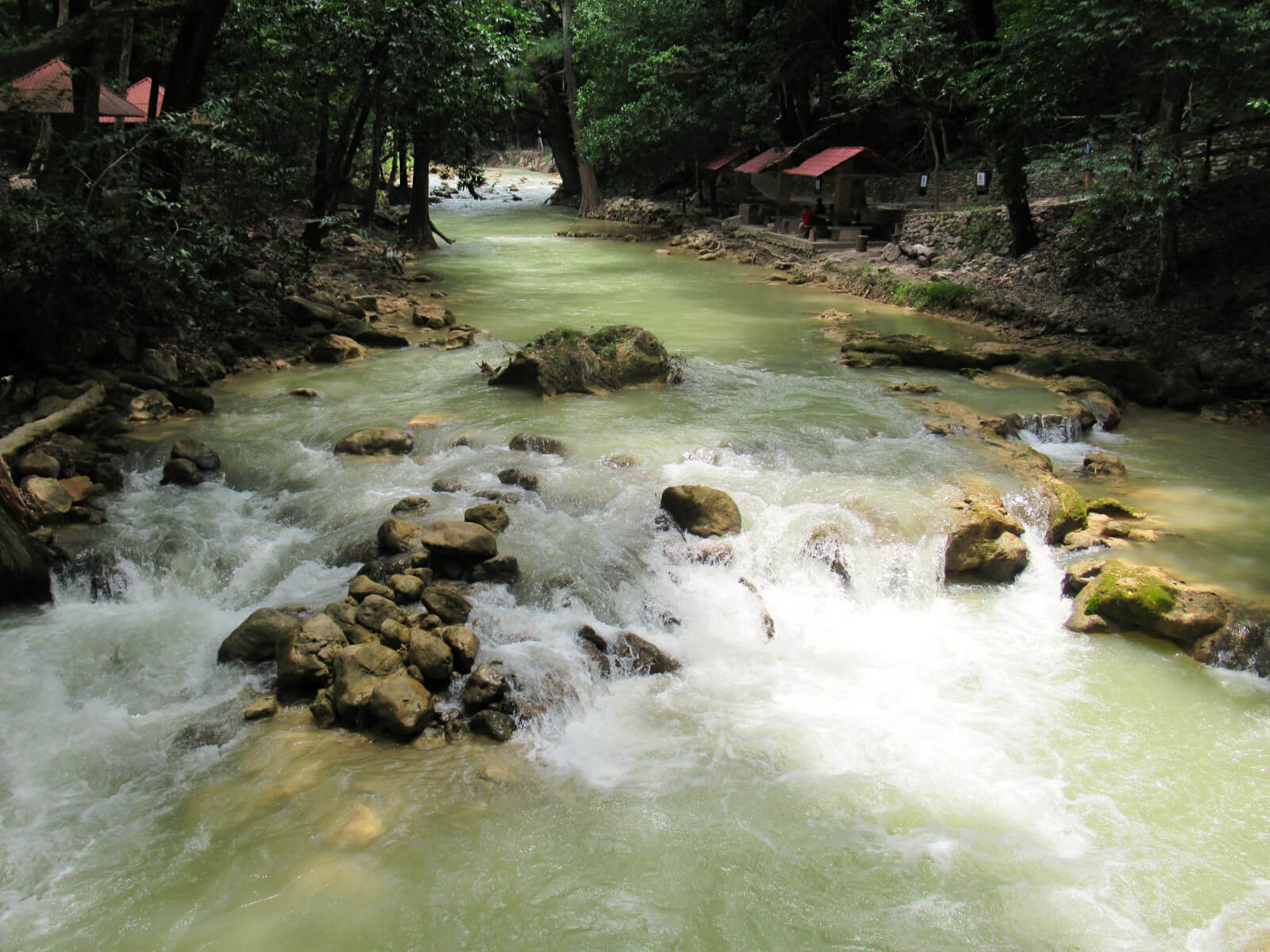 Swimming at El Chiflón
Near the entrance, there is a designated swimming section in the river. On the riverbank, there are small huts with tables and seats, suitable for picnics or for friends and family to wait at.
Unfortunately, during the rainy season, the swimming area is closed. This is because the water levels are higher, the water is not as clear and the current is stronger. I visited in mid-July and the area was closed then but I'm not sure when the exact dates are that the swimming area opens/closes.
Nevertheless, I'd recommend wearing your swimming items (bikini or swimming shorts) under your clothes and packing a lightweight towel and water shoes.
El Chiflón Zip Lines
There are 4 zip lines in the park. One is specifically for children but the other 3 can be enjoyed by people of all ages. Of the three larger El Chiflón zip lines, one is 300 metres, one is 400 metres and the other is 600 metres long.
If you want to experience the zip lines you need to buy a ticket near the entrance to the park. If you want to do just one zipline the costs are 150 pesos for the 300-metre option, 200 pesos for the 400-metre option and 250 pesos for the 600-metre zip line. Or, all three for 550 pesos. You can't buy them at the zip line towers and there are no refunds either, so make your decision early and stick to it!
I saw plenty of people enjoying the zip lines and they certainly seemed safe enough. Unlike certain other zip lines in Chiapas (*cough* El Arcotete!) that filled me with fear just at the sight of them!
Cabanas at El Chiflón Mexico
There are 12 cabanas located inside the park. The price varies by cabana size and season, as follows (price per night, not including entry to the park):
One queen-size double bed (low season: 600 pesos/high season: 700 pesos)
Two double beds (low: 800 pesos/high: 900 pesos)
Two double beds in a duplex (low: 900 pesos/high: 1000 pesos)
Three double beds (low: 1200 pesos/high: 1300 pesos)
The high season covers a week on either side of the Easter weekend, the summer period (mid-July to end of August), and the Christmas & New Year period (typically around 18 Dec to 9 Jan). All other times are low season. To note, these prices are from 2021, I assume they are unchanged as I cannot see any other prices on their website or social channels.
All cabanas have private bathrooms, hot water and internet. Information on how to book the cabanas can be found on the website.
Travel Tips & What to Bring to El Chiflón Waterfalls
A visit to these waterfalls makes for a great day out. And, to keep your day as low-stress as possible, here are my top tips and recommended packing list for El Chiflón.
Top Tips
If possible, visit during the week. Weekends are particularly busy, even more so during holidays and summer. Additionally, try to visit as early as possible. Tour buses tend to start arriving from 10.30-11am onwards. Alternatively, arrive later in the day (still giving yourself enough time to complete the route) once the tours have moved on.
If you're travelling from San Cristobal, you'll be out all day. Bring breakfast, snacks and lunch. While refreshments are available to purchase at the park, these are more snacks than full meals. Additionally, the small village outside of El Chiflón Chiapas does not have much to offer in the way of restaurants or food stalls.
Don't stress even if it's busy! Our bus got delayed on the way to Comitan and by the time we arrived the park was very busy. But, it's still possible to find places to yourself and get great photos without crowds in.
Packing List
Fully charged camera and enough space on your SD card
Battery pack and lead for your phone
Breakfast, lunch and snacks
Swimwear, light-weight towel and water shoes (plus a carrier bag to put wet items in afterwards)
Cash, for the colectivo, entrance, snacks etc.
Suitable footwear (i.e. trainers) for an uphill hike as well as comfortable clothing. This is especially important for the steep climb to the last two waterfalls
Passport and visa paper slip! This one isn't ideal, but there are immigration checkpoints all across Chiapas. At these, officials board the buses and colectivos asking for ID and visas. If you don't have these and you're unlucky, you can be detained and held in immigration centres until someone can produce your passport or the embassy intervenes. Keep these documents somewhere safe (and ideally waterproof), take a photo of the ID page on your phone and store electronic devices and share with family back home.
---
Do you have any questions or want any more information? If so, drop a comment below and I'll get back to you!
Information is correct as of April 2022 but is subject to change in future.
---
Looking for more Mexico Inspiration?
SAN CRISTOBAL: Visit El Arcotete Eco Park in San Cristobal, Chiapas [Complete Guide]
PALENQUE: Misol-Ha Waterfall, Chiapas: Guide to Palenque's Best Waterfall
PALENQUE: Palenque Waterfalls: 6 Beautiful Cascadas You'll Want to Visit
CENTRAL OAXACA: San José del Pacifico, Oaxaca (Complete Travel Guide)
QUINTANA ROO: Punta Mosquito, Holbox: Ultimate Visitor's Guide
QUINTANA ROO: Getting from Cancun to Tulum and Tulum to Cancun (Travel Guide)
And much more, check out all Mexico Travel Guides here!
---
PIN IT FOR LATER!