If you're looking for some Chiapas waterfalls to see during your time in Mexico, you aren't going to be short on choice. This southern state is full of cascadas – the Spanish word for waterfall.
And, no two are the same. From the breathtakingly tall to the underground waterfall. Then, there's the one inside a 1-km deep canyon plus a handful with dazzling blue water that will leave you absolutely mesmerised.
Already finding it hard to pick? Then keep reading this complete guide to the 12 best Chiapas cascadas from all across the state to help you plan your travels…
Some of the links below are affiliate links, meaning, at no additional cost to you, I may earn a small commission if you click through and make a qualifying purchase.
Cascadas El Chiflón
Located in southeast Chiapas, the Cascadas El Chiflón park is home to not 1, but 5 incredible waterfalls! And, these happen to be perhaps the most beautiful in the whole state.
The waterfalls at El Chiflón Chiapas are located along a 1.2 km stretch of the San Vicente River. The first three waterfalls are easy to reach on a path with a gradual incline and some steps. However, to get to the last two waterfalls – Arco Iris and Quinceañera – you'll need to do a tough uphill walk.
But, the great thing about the Cascadas El Chiflón waterfalls is that it's easy to reach on a day trip from San Cristobal de las Casas. Lots of tours visit here (as well as the nearby Montebello Lakes) plus there are good public transport links.
Cascada Velo de Novia
Let's start with the best… Cascada Velo de Novia is the most impressive waterfall I've ever seen! Ever. This one is absolutely the best of all the El Chiflón and Chiapas waterfalls in fact, probably the best waterfall in Mexico!
Standing at an awe-inspiring 120 metres tall, Cascada Velo de Novia is literally unmissable. And, as the third of the 5 waterfalls in the park, just a short walk along the river is required.
With its own viewing platform, you can feel like you're standing underneath it. This is especially true in the rainy season when water levels are highest and you'll be soaked by the spray even from afar!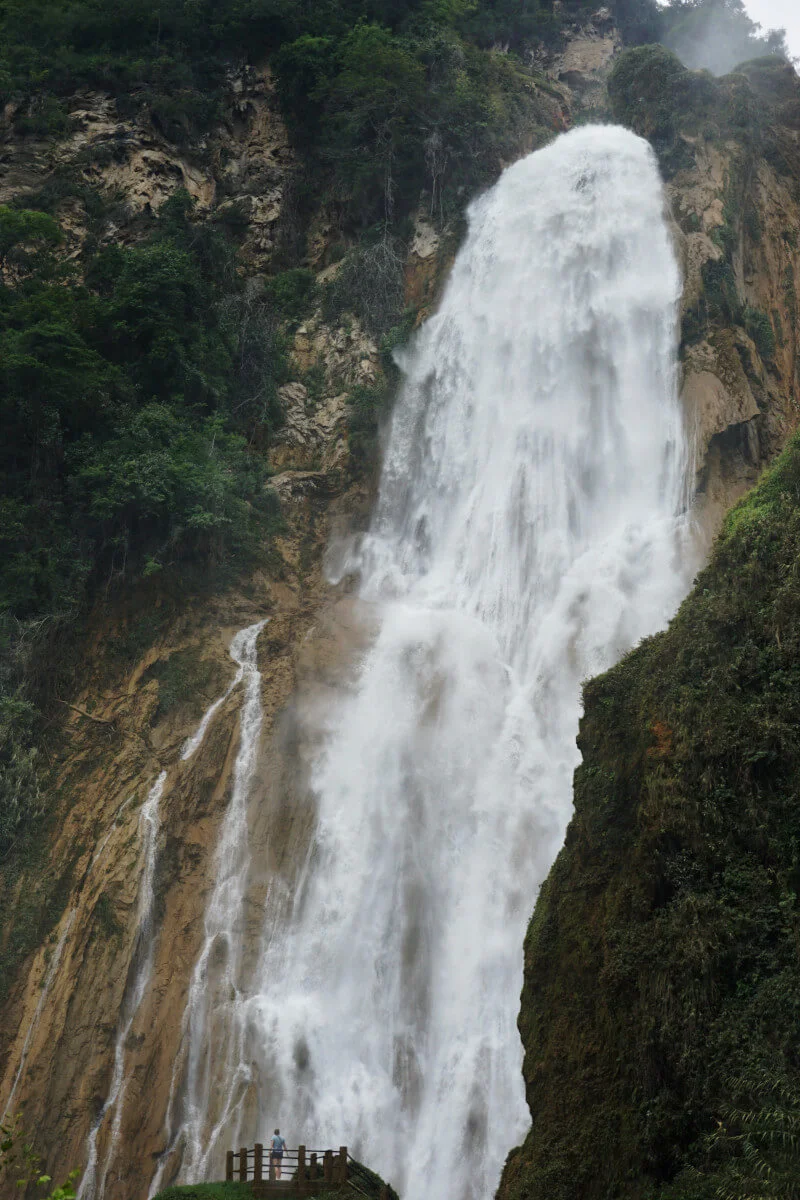 Cascada Arco Iris
Arco Iris – the Spanish words for rainbow – is waterfall 4 of 5 at El Chiflón. And, it's one that people often miss because the path to here from Velo de Novia is so poorly signposted.
But, for those who make the tough journey along the dirt path high into the hills (which I recommend you should). You'll be rewarded with simply stunning views of this natural wonder away from the crowds of the lower waterfalls.
Not only is Cascada Arco Iris pretty spectacular, but you'll also get some pretty special views overlooking the park and surrounding jungle.
Cascada Quinceañera
The highest and final of the 5 falls at El Chiflón, Quinceañera is well worth the tough uphill climb needed to reach it. Bask in the personal achievement of completing the walk while enjoying exquisite views of another incredible waterfall.
The viewing area directly in front of Cascada Quinceañera is a great place to get photos as well as resting up before the walk back down. If your legs are getting tired though, you can always take the zip-line towards the park entrance from Velo de Novia!
Cascadas El Suspiro
Back towards the park entrance, Cascada El Suspiro is the first waterfall you'll reach at El Chiflón. While there are certainly bigger and better falls to come, El Suspiro is definitely worth seeing.
In the dry season, the water colour here can be an incredibly vivid blue. Which, only adds to the natural spectacle of the waterfalls at El Chiflón. But for those visiting in the rainy season, fear not. The waterfalls are still amazing!
Cascada Ala de Angel
The second of the El Chiflón series of waterfalls, Cascada Ala de Angel feels more hidden than the rest. Perhaps it's the side-on viewing area. Or that you can hop across rocks and branches to find the best spot surrounded by water.
Either way, it's a cool waterfall to see and one of the best in southern Mexico. The water flows powerfully over the wide, single-drop fall surrounded by dense forest and jungle on both sides.
Has this made you want to visit Cascadas El Chiflón?

Then you'll want to check out this comprehensive visitor's guide to El Chiflón. It includes how to get there, entrance fees, opening times, when you can swim and more!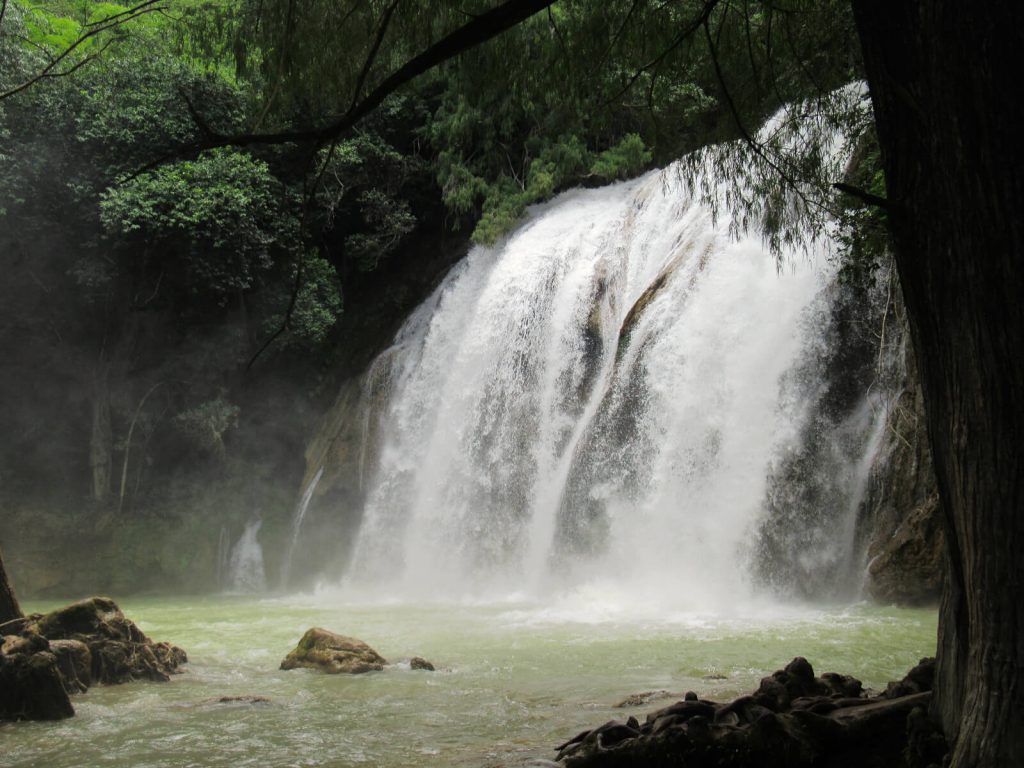 Las Nubes Waterfall
Perhaps the most remote of all these Chiapas waterfalls, Cascadas Las Nubes are worth the long journey. Although, public transport to this natural beauty is lacking, so having your own vehicle is pretty much a requirement for visiting.
However, the remoteness of the Las Nubes Waterfall, Chiapas is in part what makes it so spectacular. Surrounded by the Montes Azules Biosphere Reserve and the Lacandon Jungle, you'll feel like you've been transported to a rainforest-like paradise. The sparkling blue water also helps, standing out boldly against the greens and browns of the jungle.
What's more, without good transport links far fewer people make the journey to Las Nubes Waterfall compared with other Chiapas cascadas. So, expect to have a more peaceful and authentic experience.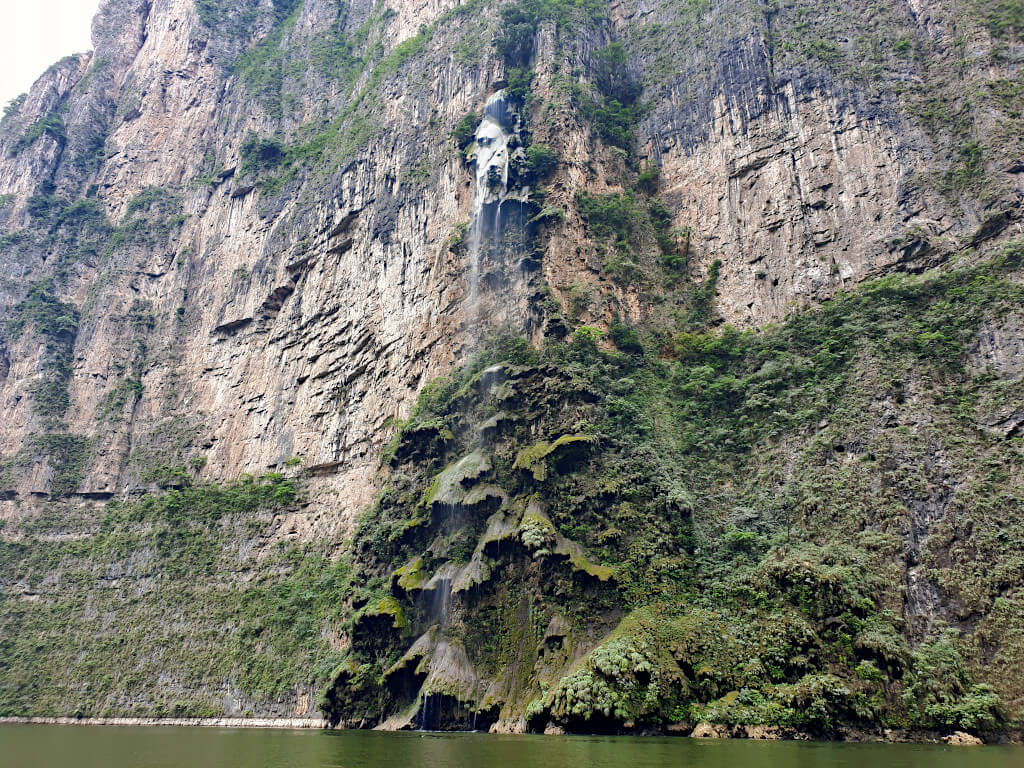 Chiapas Waterfalls Near Tuxtla Gutierrez
For most international visitors to Mexico, any time spent in Tuxtla is usually only at the airport – as the nearest to the popular backpacker town of San Cristobal de las Casas. And, while Tuxtla may not have the mountain town charm and the vast choice of activities that San Cristobal has, it does have a few gems worth visiting.
Cascada Árbol de Navidad
Located inside the astoundingly tall walls of Sumidero Canyon – a phenomenal natural attraction in its own right. The Árbol de Navidad Waterfall (literally meaning Christmas Tree) is one of the most beautiful Chiapas cascadas. Just look how dazzling it is from below!
Unfortunately, the waterfall almost entirely dries up in the dry season or when there hasn't been rain for a while. So, visiting in the rainy season months of May to September is necessary for the best chance to see Cascada Árbol de Navidad.
But, you can't just visit the waterfall. As it's only accessible from inside the canyon, you'll need to be on a Sumidero Canyon boat tour to see Árbol de Navidad Waterfall. Luckily, the boats drive up right underneath it!
El Chorreadero Waterfall
Not far from the Sumidero Canyon and near to the popular tourist town of Chiapa de Corzo where many tours also visit. Cascada El Chorreadero is a 25-metre-high waterfall that comes out the side of a mountain.
In fact, the River Escopetazo that the waterfall is on runs for around 3 km through an underground cave network. And, in the dry season, these caves as well as a hidden underground waterfall can easily be visited while you're at El Chorreadero.
El Aguacero Waterfall
Truly putting the cascade into cascada, El Aguacero Waterfall is like no other in this part of Mexico. Not only do you need to walk down 750 steps to reach it but you also walk up the river for a further 10 minutes (literally through the water!). Fear not though, the water is not more than knee-height and a path through the jungle is also available.
Cascada El Aguacero is located an hour from Tuxtla. And, although it is not the easiest to reach by public transport, you can spend the whole day there. Swim in the waterfall, hike along the La Venta River, go rafting or rock climbing, or explore the caves here. Just remember, you're gonna have to climb back up those 750 steps at the end of it all!
Chiapas Waterfalls Near Palenque
Misol-Ha Waterfall
This one's my personal favourite of the Palenque waterfalls. And for good reason, Cascada Misol-Ha Chiapas has an impressive 35-metre tall, single-drop waterfall surrounded by trees.
What's more, you can also walk behind the waterfall on an easy-to-follow path. And, there's also the option to take short tours either through the cave network behind or to a viewpoint overlooking the top of the waterfall.
Alternatively, you can just swim in the large pool or snap photos from plenty of different angles. Whether you're after an adventure or not, Misol-Ha Waterfall is for you.
Agua Azul Waterfalls
Translated as Blue Water, Agua Azul falls are perhaps the most popular and well-visited Chiapas cascadas.
The shimmering blue water attracts hundreds of visitors every day. Most of them visit on tours from Palenque or San Cristobal, given the remote location of Agua Azul in central Chiapas.
However, much like the other waterfalls in this part of Mexico, the water is only the famous blue in the dry season. Even then, if it has rained recently, the water at Agua Azul Chiapas can turn into a pretty standard green-brown river colour. But, despite this, the sheer size of the waterfalls – seemingly endless at times – with multiple levels and pools are worth seeing all year round.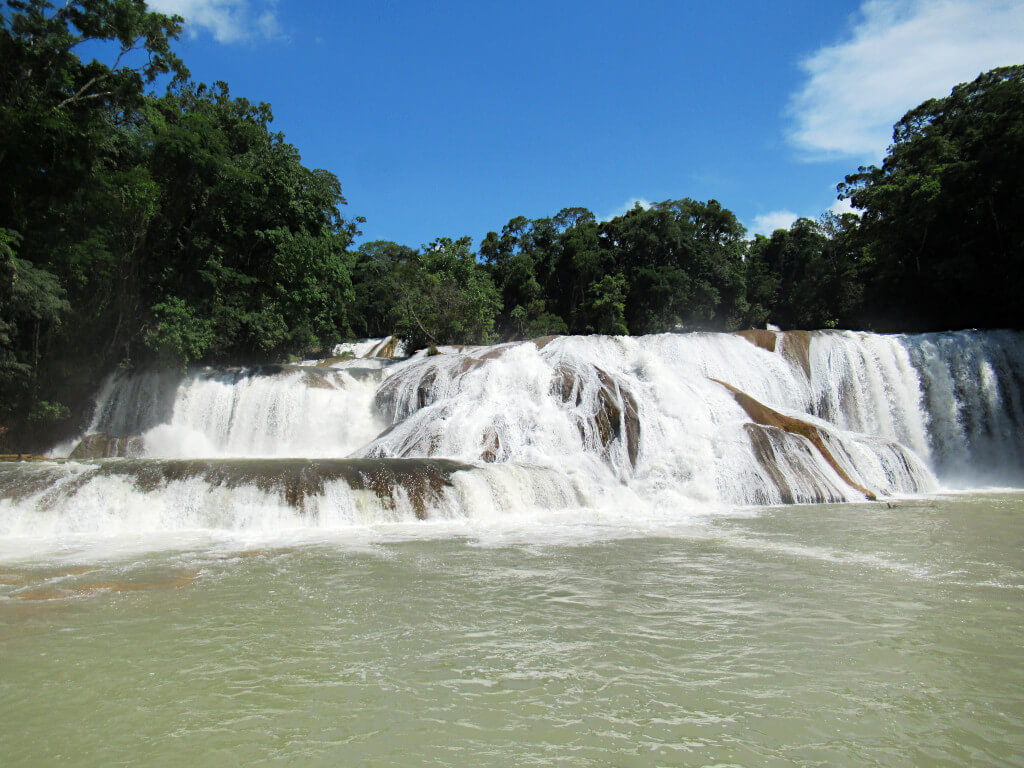 Cascada Roberto Barrios
The last of these Chiapas cascadas, but certainly not in last place is Roberto Barrios Waterfalls. Located a short drive from Palenque and accessible by public transport, these stunning waterfalls attract fewer visitors than Misol-Ha and Agua Azul.
Yet, as some of the best waterfalls in Chiapas to swim in, Roberto Barrios is well worth a visit. With plenty of pools and waterfalls, it's generally easy to find your own space away from others.
So whether you're more someone who will be jumping from the waterfalls or laying in the sun, add Roberto Barrios Waterfalls to your Chiapas itinerary today.
Palenque is a strong contender for being the waterfall capital of Chiapas, Mexico. Check out this guide to 6 stunning Palenque waterfalls to make the most of your time in this jungle city.
Images provided by and used with permission of Alex Tiffany at Just Go Exploring.
---
Do you have any questions or want any more information? If so, drop a comment below and I'll get back to you!
Information and prices are correct as of July 2022 but are subject to change in future.
---
More Mexico Travel Guides…
CHIAPAS: Visit El Arcotete Eco Park in San Cristobal, Chiapas [Complete Guide]
OAXACA: San José del Pacifico, Oaxaca (Complete Travel Guide)
OAXACA: Getting from Oaxaca to Puerto Escondido (All Transport Options)
QUINTANA ROO: Punta Mosquito, Holbox: Ultimate Visitor's Guide
And much more, check out all Mexico Travel Guides here!
---
PIN IT FOR LATER!