Tucked away in the tropical forest of Guerrero, the Pozas Azules de Atzala Taxco are a hidden gem of Mexico. Translated, the Blue Pools of Atzala are a sequence of naturally occurring waterfalls and pools near the stunning Pueblo Magico of Taxco. And, for just a small entrance fee, you can swim in the aqua blue waters of this off-the-beaten-path attraction.
Intrigued? Keep reading to find out how to get there, what you need to know and my top tips for the best experience!
Last updated: April 2022. First published: September 2021.
Some of the links below are affiliate links, meaning, at no additional cost to you, I may earn a small commission if you click through and make a qualifying purchase.
Where Are Las Pozas Azules de Atzala Guerrero?
Las Pozas Azules de Atzala are just a short drive from the pretty town of Taxco, in the central Mexican state of Guerrero. See the location on Google Maps here. Taxco itself is a 3-hour drive from Mexico City and Toluca, with Cuernavaca slightly closer.
How to get to Pozas Azules from Taxco
Visiting Pozas Azules de Atzala is the perfect day trip from Taxco. Not only is it a great attraction, but it's also cheap and easy to get to from Taxco.
Step 1: Get to the colectivo stop outside Coppel Plateros on the main road in Taxco. Quite a few colectivos stop there but find the Pozas Azules sign (pictured below). Plus, 'Pozas Azules' is also painted on the road in the bay at the colectivo stop, so should be easy to find.
Step 2: Take a colectivo to the pools. The cost is 27 pesos per person, each way and the drive takes around 45 minutes. To avoid travel sickness from the bumpy roads, sit as close to the front of the colectivo as possible. The colectivos run around every half hour, but they will wait until they're full. So sometimes this means waiting a bit longer.
Step 2b: Due to the pandemic, the colectivo currently stops outside the village of Atzala for disinfecting. Everyone has to get out and the bus is sprayed with disinfectant inside. Then, you'll get back in and continue to the pools.
Step 3: You'll be dropped off at the top of a path to the pools. You'll need to walk down to the entrance.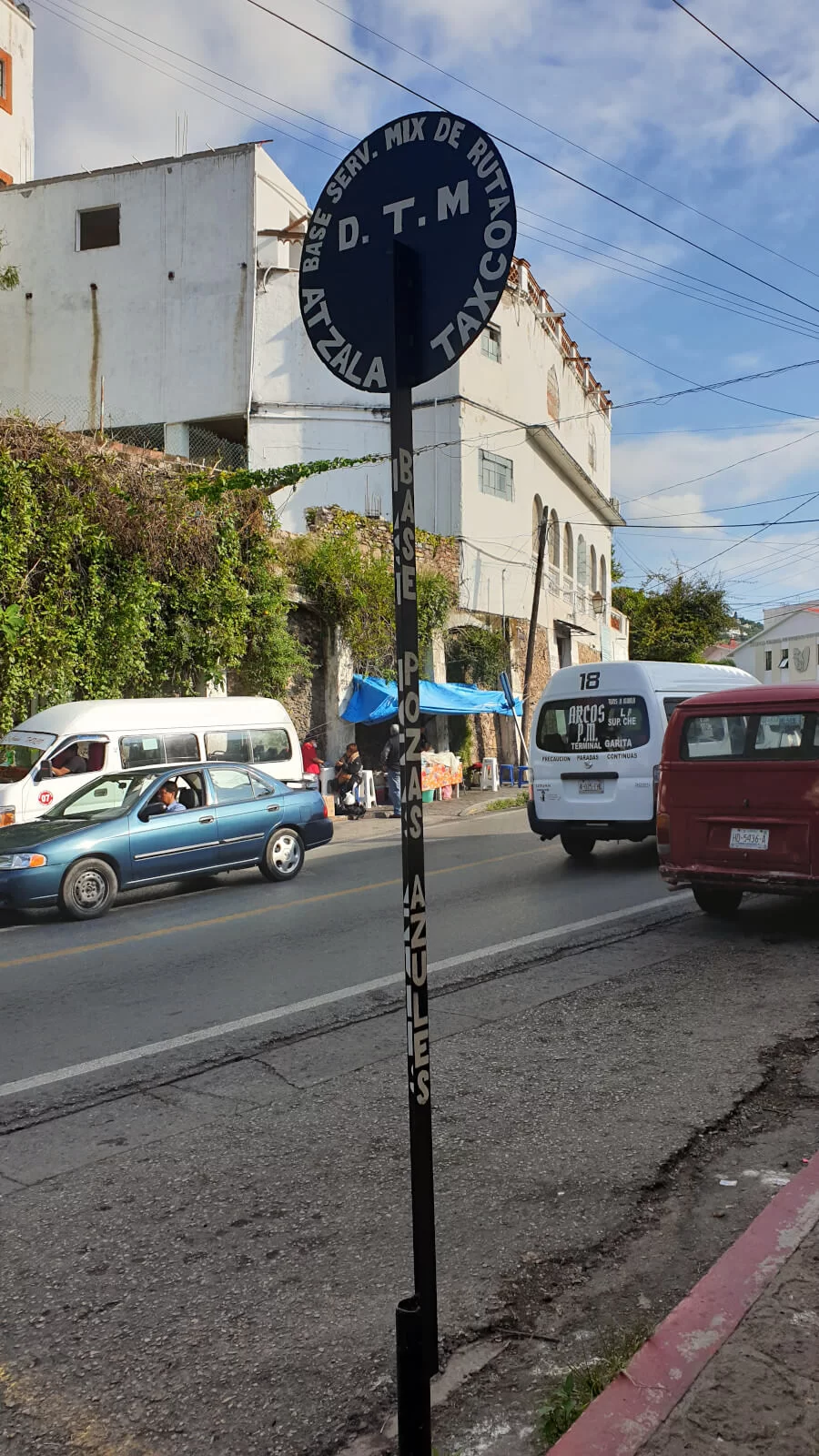 How to get back to Taxco from Pozas Azules de Atzala
It's best to research this now as there's no phone signal in Atzala. But, luckily, getting back to Taxco is pretty easy.
First, you'll need to wait for a colectivo at the spot where you were dropped off earlier. This is the junction of the road that leads down to the pools, where there are a couple of small shops. At least you can buy snacks whilst you wait.
Again, the every half an hour schedule is only an approximation. I ended up waiting almost an hour and spent most of that time convinced I was in the wrong place. If you're by the shops, you're in the right place. A colectivo will come eventually!
Once the colectivo arrives, hop in and get driven back to Taxco. Again, the journey costs 27 pesos per person. And, you can get dropped off anywhere up until the final stop at Coppel.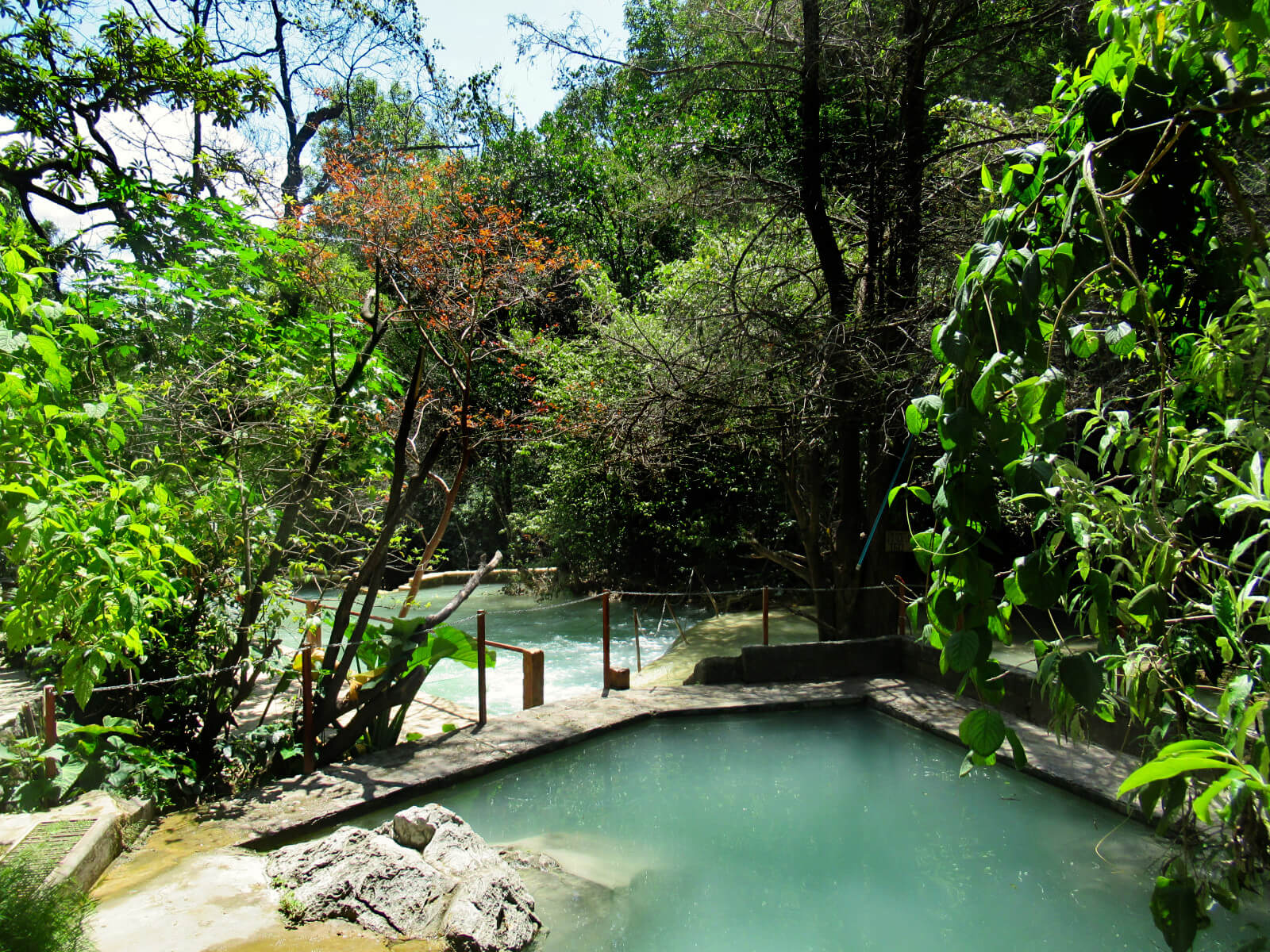 Essential Information
As of 2022, the entrance fee to the pools is 100 pesos per person for adults and 50 pesos per child (age 3 to 12). The price includes access to all of the pools that are open (though this varies throughout the year) and use of the changing rooms. All of the open pools do have lifeguards as well.
However, there is a lot that is not included in the entrance price. Which, includes:
Table & chairs: 100 pesos for a table and 4 chairs. Sadly, you can't sit at any of the tables or chairs unless you pay extra to rent them
WiFi: 30 pesos for the whole day for one device
Tour of the upper pools when conditions allow: no fee but you tip the guide
Life jackets: 30 pesos each
Ziplines and suspension bridges: 200 pesos per person
Las Pozas Azules Taxco are open from 9am to 5pm, 7 days a week. The weekends are the busiest and I'd definitely recommend visiting during the week if you can. During the peak summer months, however, the pools are likely to be busy at all times. If visiting during these months, arrive early in the day to beat the crowds.
Near the entrance there is also a selection of snack and souvenir stalls – but, you can bring your own food/drink to the site. No glass is allowed on site.
Before your visit, check the Pozas Azules Taxco official Facebook page for the most up-to-date information.
The Waterfalls & Pools at Pozas Azules de Atzala Guerrero
Currently, only 8 of the 16 natural pools are open to the public. Although, two man-made pools – filled with the famous aqua-coloured river water – are also open. Be warned though, the water is freezing all year round!
Additionally, when the current is strong, the pools further upstream may be closed too. It is possible to take a tour guide to the higher pools, however, the path is wet and slippery, so you'll need suitable footwear and take care where you're stepping.
The pools and waterfalls are located on a 300-metre long path that starts at the entrance and heads uphill. The walk isn't difficult but the path does get muddy. As such, I'd recommend bringing water shoes or strap-on sandals for walking around inside the park.
The two man-made pools are located closest to the entrance of Pozas Azules Taxco and sit alongside a few natural pools in the river. This area has lots of seating, but there's also plenty of space to leave belongings if you don't want to pay for a table.
Further upstream, there are a handful more pools and more dramatic waterfalls, where there's another seating area. After this point, you cross the river over a waterfall on a small bridge and continue uphill to the remaining pools.
What to bring with you
To fully enjoy your trip to the Blue Pools of Atzala, you need to make sure you pack for the place. Here's what I'd recommend:
Cash – and not just 500 peso notes! You'll want those 5 peso coins for the toilet and change for the colectivo.
Suncream (ideally reef-safe), sunglasses and a hat if you have one
Swimming costume/shorts (if you wear them to travel in, bring a change of shorts/underwear)
Water shoes (super useful for moving between pools)
Dry bag to keep your valuables and electronics safe on the poolside
Plastic/waterproof bag for your wet items post-swim
Plenty of water and snacks
Useful Spanish Phrases
Can I swim here? ¿Puedo nadar aquí?
Can you take a photo of me, please? ¿Puedes tomarme una foto, por favor?
Are all the pools open today? ¿Están todas las pozas abiertas hoy?
---
Do you have any questions or want any more information? If so, drop a comment below and I'll get back to you!
Information is correct as of April 2022 but is subject to change in future.
---
For More Mexico Travel Inspiration…
Puebla: Ride the Teleférico Puebla for Panoramic City Views [Cable Car Guide]
Oaxaca Coast: Playa Bacocho, Puerto Escondido (Oaxaca Beach Guide)
Guanajuato: Guanajuato Funicular: Everything You Need to Know [Travel Guide]
Guanajuato: Hiking Cerro de la Bufa Guanajuato: Route + Directions
Central Oaxaca: San José del Pacifico, Oaxaca (Complete Travel Guide)
Guanajuato: Mirador de San Miguel de Allende: The City's Best Viewpoint [Travel Guide]
Chiapas: Incredible Waterfalls at Cascadas El Chiflón, Chiapas (Travel Guide)
Chiapas: Visit El Arcotete Eco Park in San Cristobal, Chiapas [Complete Guide]
And much more, check out all Mexico Travel Guides here!
---
PIN IT FOR LATER!