As well as coming to Palenque to visit the ruins, most people also want to visit the waterfalls near the city. Misol-Ha Waterfall Chiapas is one of the most popular near Palenque. But a visit here requires some level of advance planning, especially if you're only staying for one or two days.
There are some important questions you need to answer in advance. Are you wanting to join a tour to the waterfall? What other places do you want to visit on the tour? Are you wanting to visit the waterfall independently? If so, how will you get there and how will you get back?
And, as if by magic, this complete guide will help you answer all those questions. Plus, there's lots of information on tours at the site, entry fees and rules, and how to visit without even spending any time in Palenque (hint, a day trip from San Cristobal).
Some of the links below are affiliate links, meaning, at no additional cost to you, I may earn a small commission if you click through and make a qualifying purchase.
Misol-Ha: Is This Palenque's Best Waterfall?
The 3 most popular waterfalls near Palenque are Agua Azul, Roberto Barrios and Misol-Ha. They're all different and each has something that makes it amazing to visit. But, I really do think Misol-Ha Chiapas is the best of the three. In fact, it's probably one of the best waterfalls in Mexico.
Agua Azul Falls are definitely the most popular of the Palenque waterfalls. As the name suggests, the water has a bright blue colour – but only at certain points in the year. If you visit during the rainy season, the water is generally brown or green.
Additionally, Agua Azul is way over-commercialised, in my opinion. When I visited, there were more vendors than visitors. Stalls selling the same souvenirs line the path the whole way from the entrance to the top of the falls.
Roberto Barrios is also a popular option. I don't think it's as visually stunning as Agua Azul but it's much better for swimming. Plus, it's nowhere near as popular meaning fewer visitors and fewer vendors. However, the fewer visitors is in part due to its more remote location away from the main highway. This makes it more difficult to reach without a tour or your own transport.
Cascada Misol-Ha is smaller but unlike Agua Azul and Roberto Barrios has a single, 35-metre drop waterfall. What's more, you get to stand straight onto the beautiful waterfall (perfect for photos) and walk behind it. Of the 3 Palenque waterfalls, Misol-Ha is the closest to the city and easiest to reach with public transport and tours.
> > > RELATED POST: Looking for more Chiapas Waterfalls? Check out this complete guide to the best waterfalls in Chiapas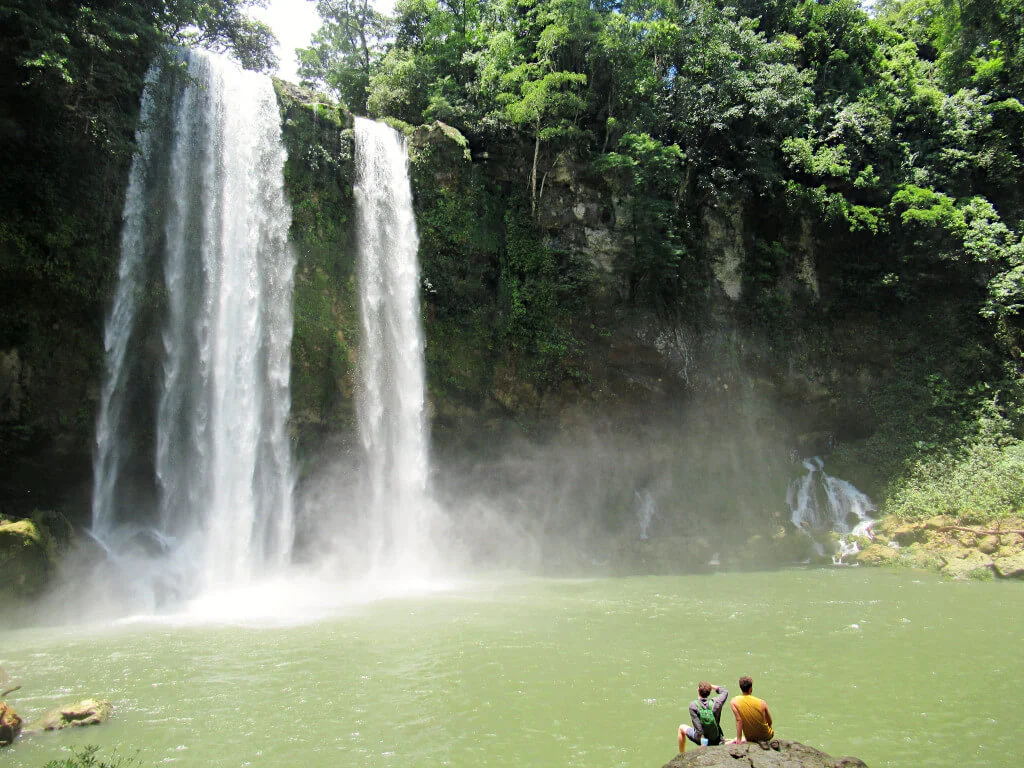 Where is Misol-Ha Chiapas?
The waterfall is 20 km south of Palenque, in Mexico's southern state of Chiapas. The entrance to the waterfall is just off of the notorious Highway 199 that connects Palenque with San Cristobal de las Casas.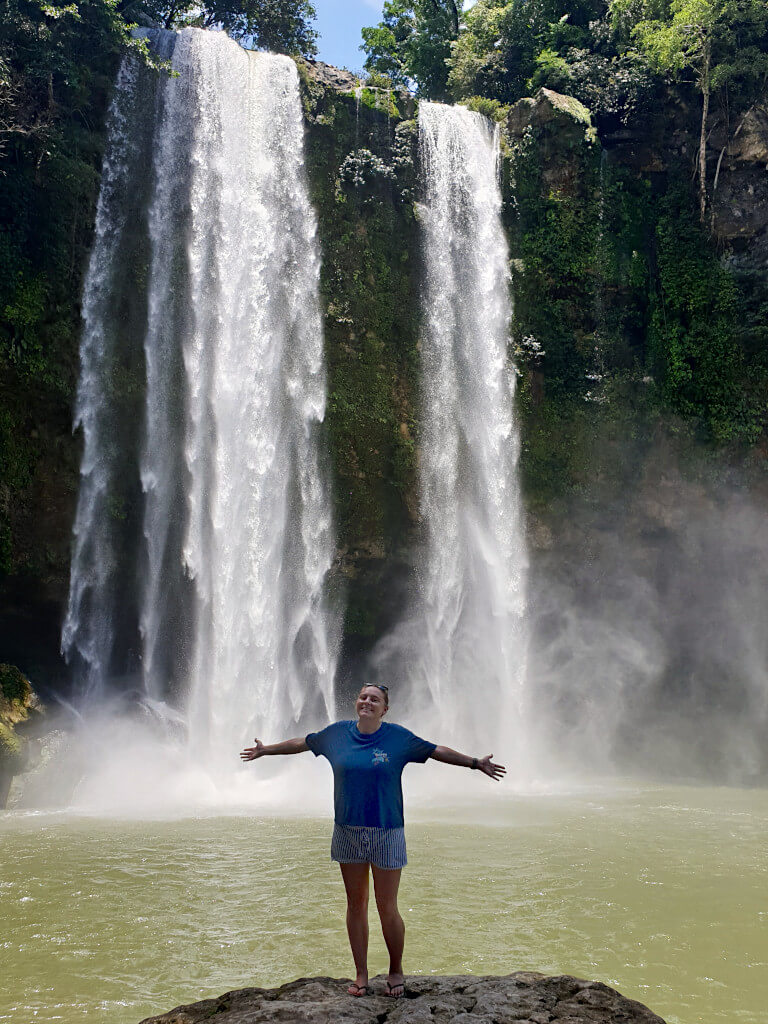 How do I get to Misol-Ha Waterfall Chiapas?
Aside from travelling in your own vehicle, there are 3 ways to get to the waterfall. You can either take a tour from Palenque, take a tour from San Cristobal de las Casas or take a colectivo from Palenque.
Tours From Palenque
Not everyone is a fan of tours (me included), with the large groups, prescribed itinerary and no flexibility in time at an attraction the most common dislikes. But, visiting Misol-Ha Chiapas as a tour from Palenque is the most cost-efficient and easiest way to get to the waterfall.
Two tours start and end in Palenque. These tours are perfect for people staying one night in Palenque. Or, for those arriving early on a night bus from Campeche or Bacalar and then leaving the same day on a night bus to San Cristobal de las Casas.
Misol-Ha and Agua Azul.

Leave Palenque at midday, returning around 7pm.
Palenque Archaeological Site, Misol-Ha Waterfalls and Agua Azul.

Pick-up at 8am, returning around 7pm.
Additionally, there are 2 tours that start in Palenque and then provide onward transport to San Cristobal de las Casas:
Misol-Ha, Agua Azul and San Cristobal de las Casas.

Leave Palenque at midday and arrive in San Cristobal at 9.30pm.
Palenque Ruins, Misol-Ha, Agua Azul and San Cristobal de las Casas.

Hotel pick-up at 8am and arrive in San Cristobal at 9.30pm.
These tours are great if you only want to avoid taking the night bus from Palenque to San Cristobal. However, there can be delays arriving in San Cristobal as the vehicles typically drive as a convoy, sometimes with a police escort through Ocosingo. Highway 199, which connects Palenque and San Cristobal, is notorious for a reason. And that is the history of robberies and roadblocks. Most tourists travel the route without a problem using public transport, but it is not without risk.
The best way to book a tour is in person in Palenque. I can recommend Tulum Transportadora Turistica, which has an office right next to Palenque Bus Station.
Tours from San Cristobal de las Casas
As well as taking tours from Palenque, you can also visit Misol-Ha Waterfall from San Cristobal with a tour. In short, there are two options. One tour that takes you to the waterfalls on the way to Palenque. And a one-day or multi-day tour taking you to Palenque's best attractions and then back to San Cristobal.
For the San Cristobal to Palenque tour, you get picked up around 4am from your hotel or hostel. You then drive via Highway 199 to Agua Azul Waterfalls and Misol-Ha Waterfall Chiapas before arriving in Palenque by mid-afternoon.
Alternatively, you can take a two-day, one-night tour from San Cristobal to the Palenque waterfalls and Palenque ruins. Generally, you'll be picked up at 4am and return late the next day, with one night at a hostel or guesthouse included. This tour can also be done in one day, leaving San Cristobal at 4am, visiting the ruins and waterfalls, and then returning to San Cristobal around 10pm.
For the best prices, book direct with an agency or through your hostel in San Cristobal. Additionally, if you're not staying at a hostel you can usually book tours through them anyway, such as Puerta Vieja Hostel.
Public Transport From Palenque to Misol-Ha Waterfall Chiapas
Being the closest waterfall to Palenque, Cascada Misol-Ha is the easiest to reach by public transport. Taking a colectivo is cheap and easy if you only want to visit this waterfall. However, if you want to visit multiple without your own transport, tours are a better option.
Colectivos leave from Palenque to Misol-Ha Waterfall from the roundabout in front of the ADO/OCC Bus Station. Simply ask for the waterfall and you'll be pointed toward the right vehicle. Let the driver know when you get in that you want to go to Misol-Ha and you'll be dropped off on the side of the highway. From there, you'll need to walk for about 15 minutes down a smaller road until you reach the entrance.
To return to Palenque, you'll need to return to the same place on the main road (but on the other side) and flag a passing colectivo. Be prepared to be waiting a while and consider that you could always try hitchhiking with someone leaving the waterfall.
The colectivos cost 40 pesos per person and take around 45 minutes to 1 hour to reach the drop-off spot for the waterfall. Make sure you keep enough change for the journey back too.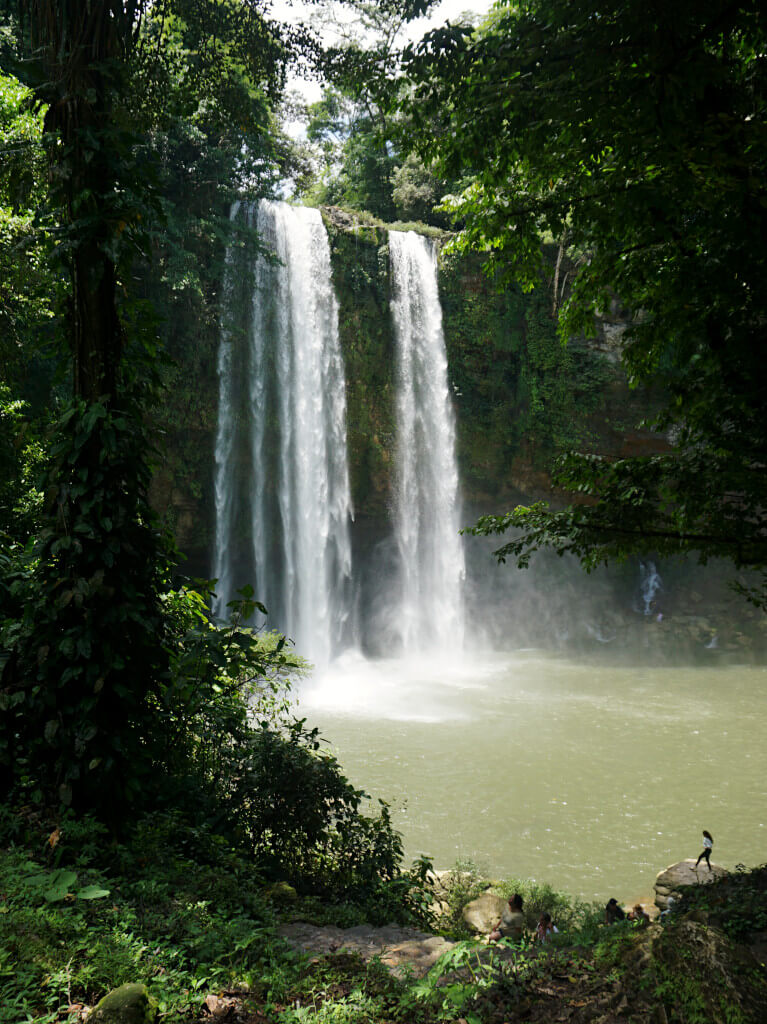 Tours at Cascada Misol-Ha
A variety of tours are available at the waterfall. These can be booked at the main office of the eco lodge and are led by a tour guide.
Tour to the top of the waterfall. This 45-minute tour takes you through the jungle to a viewpoint overlooking the waterfall from above. At the top, you'll also be able to swim in the pools under the instruction of a guide. Sturdy shoes such as trainers or walking sandals are required (no flip-flops) and you'll definitely want to pack your camera. This tour only runs outside of the rainy season.
Tour into the caves behind the waterfall. This short tour takes you 164 feet into the cave behind the waterfall to see fossils. Trainers are recommended.
Tour to a fish farm. Visit a tilapia farm where the fish are bred and kept. You'll also get to ride a fishing boat and try a variety of fish dishes. Comfortable footwear is recommended.
Can you swim in Misol-Ha, Chiapas?
Yes, swimming is permitted in the pool below the waterfall at no extra cost. Although, you can't swim underneath the waterfall itself. Expect refreshing temperatures all year round.
For less confident swimmers, be reassured that there is a lifeguard on duty at the waterfall. Additionally, access is fairly easy with no jumping or sliding required. For braver souls, you can swim out into the middle of the pool where the depth approaches a staggering 25 metres.
Pack swimwear or wear a light outfit. Water shoes are also a good idea for walking on the rocks. Or, if like me, you hate any form of wildlife or plant touching your feet when swimming! Life jackets are also available at the waterfall.
Accommodation at the Waterfall
One eco lodge hotel is located onsite. Cabanas Misol-Ha has capacity for just 32 guests in the jungle cabins, so advanced booking is recommended to not miss out.
Room rates are pretty cheap at around 600 to 800 pesos per night plus an additional small fee for WiFi access. Given the remote location though, your only option is to have all meals at the waterfall's restaurant. Booking is available via an online query on the official website.
Top Tips for Visiting Misol-Ha Mexico
Food and alcoholic drinks aren't allowed at the waterfall. If you have any food or snacks on you for a long day trip, leave these in your backpack or in the car. A restaurant is available onsite, open from 7am to 7pm.
The entrance fee for the waterfall is 30 pesos. Some people have also reported being charged 10 pesos extra for maintenance of the road from the highway. If you're on a tour though, entrance fees are typically included, but do check beforehand.
Wear good shoes if you want to walk behind the waterfall as it's very wet (obviously) making the rocks and steps slippery. That said, I wore flip-flops and didn't die, so if you're careful you should be fine. If you're an accident-prone person who falls over all the time, then maybe think about trainers or walking sandals.
---
Do you have any questions or want any more information? If so, drop a comment below and I'll get back to you!
Information and prices are correct as of June 2022 but are subject to change in future.
---
More Mexico Travel Guides…
Oaxaca: San José del Pacifico, Oaxaca (Complete Travel Guide)
Chiapas: Incredible Waterfalls at Cascadas El Chiflón, Chiapas (Travel Guide)
Chiapas: Visit El Arcotete Eco Park in San Cristobal, Chiapas [Complete Guide]
Oaxaca: Lagunas de Chacahua, Oaxaca (Ultimate Travel Guide)
Oaxaca: Playa Bacocho, Puerto Escondido (Oaxaca Beach Guide)
And much more, check out all Mexico Travel Guides here!
---
PIN IT FOR LATER!