Hidden away high in the Andes mountains is the best natural attraction you've never heard of: Aguas Turquesas de Millpu Ayacucho. Until now that is.
In a country that attracts over 5 million tourists annually, it can be difficult to find places off the beaten path. However, this little-known natural wonder is one of the best day trips from nearby Ayacucho, a Peruvian city with a similarly low profile among international visitors.
The Millpu Pools are a long cascade of beautiful natural lagoons and waterfalls through a steep gorge high up in the Andes mountain range. The road to get there is long and winding, but very much worth it, in my opinion. The water is a stunning turquoise colour and the endless mountain peaks all around make for a spectacular backdrop.
So, if this sounds like your idea of a great day out, keep reading. This ultimate guide contains all the latest information on the Aguas Turquesas Ayacucho including how to get there, what to expect, the entrance fee, rules and more…
Some of the links below are affiliate links, meaning, at no additional cost to you, I may earn a small commission if you click through and make a qualifying purchase.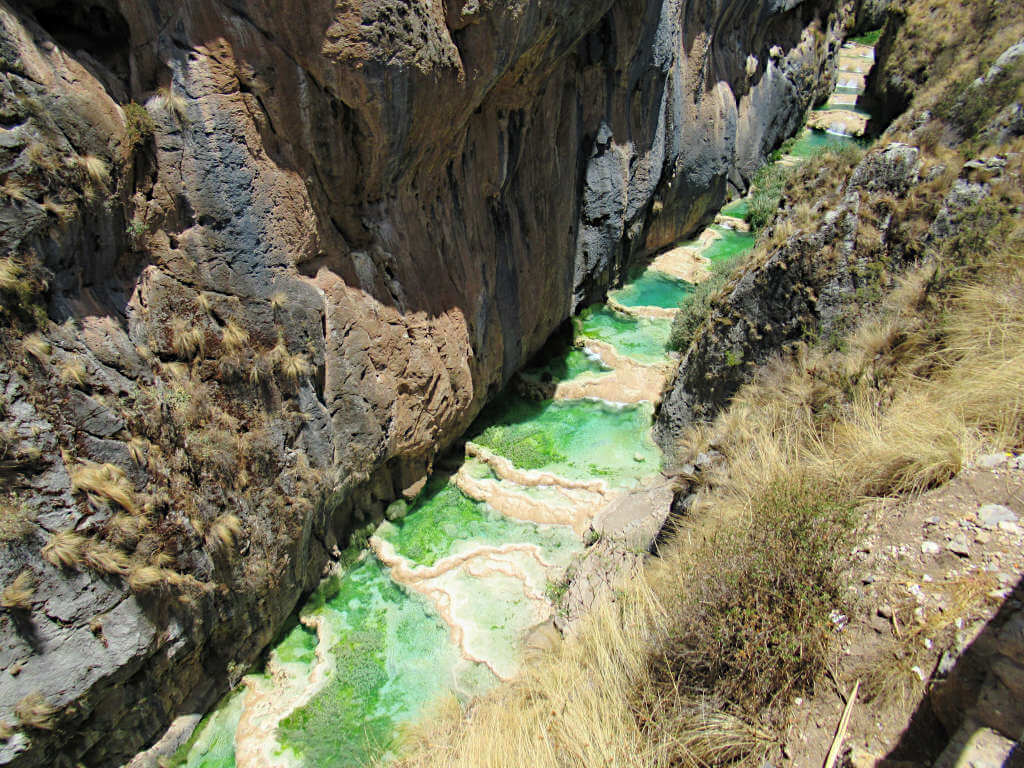 What is Millpu Ayacucho?
The Aguas Turquesas de Millpu – translated as the Turquoise Waters or Pools of Millpu – are a stunning natural wonder in central Peru. This stunning sequence of natural pools located inside a narrow but deep gorge is a unique sight in a country more famed for its mountains and ancient ruins.
What's more, the remote location and position away from the typical tourist trail mean the Millpu Lagoons attract few visitors. Most international visitors to the country won't even have heard of the nearest city, Ayacucho, let alone this beauty spot. As such, part of the charm is feeling like you've stumbled upon a hidden gem that so few people know about.
Importantly, the waters are not turquoise like the name suggests all year round. If you want to see the turquoise colour, you'll have to visit between May and September. Otherwise, expect more of a vivid green colour during the rest of the year.
Luckily, Ayacucho has year-round mild weather, typically 20 to 22 Celsius (68 to 72 Fahrenheit) every day. The rainiest months are December through March, which is the same for the rest of the country.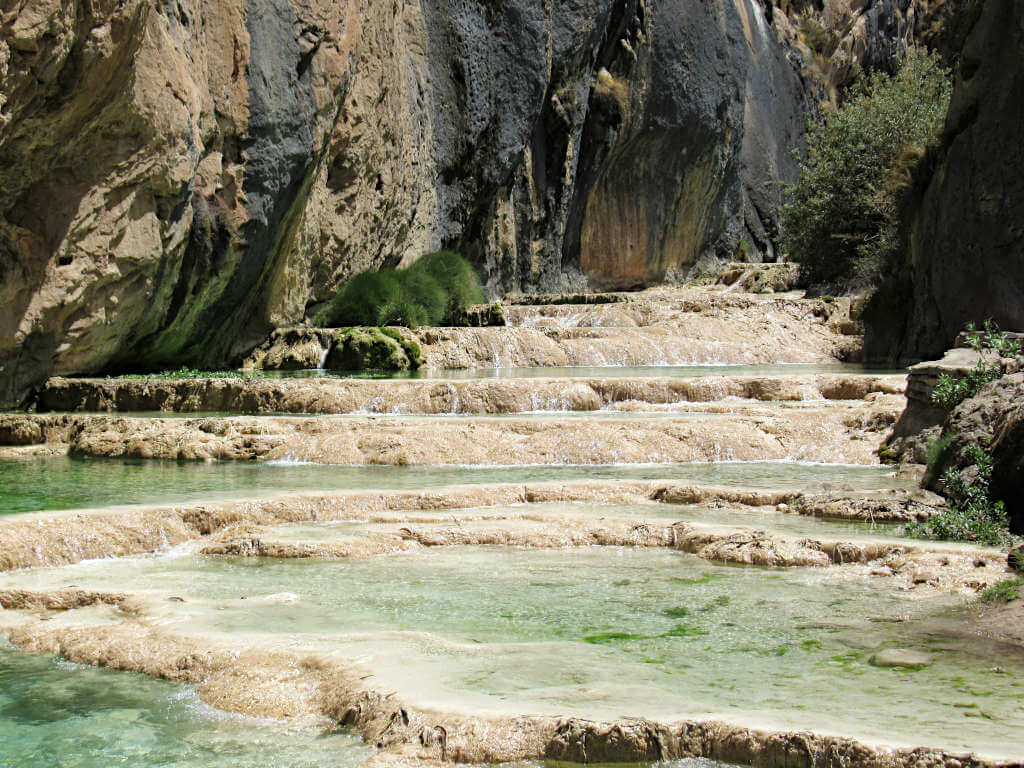 Where is Millpu Lagoons?
Located high in the Andes Mountain range, the Millpu pools are located around 120 km south of Ayacucho (driving distance). The winding and bending roads that take you to over 4000 metres elevation don't make for speed. As such, the drive takes about 3 hours each way from Ayacucho to the pools.
Ayacucho is the capital city of the Peruvian state of the same name. The city is located pretty much halfway between Lima and Cusco, making it a great stopping place for travellers visiting both cities.
How do I get to Millpu (Aguas Turquesas Ayacucho)?
Due to the very remote location of the Millpu Lagoons, there is no public transport option to get there. Instead, you'll need a take a tour or drive there in your own vehicle.
I wouldn't recommend hiring a car for this journey to Millpu Ayacucho for a couple of reasons. Firstly, the roads are not paved the entire way. Once you're on dirt roads, there's a good chance that gravel and small rocks will spin up and scratch the car. Secondly, the drive is long, through remote stretches and technical at times where you navigate multiple hairpin bends in a row.
The best option is to take a tour from Ayacucho. It's an affordable option and allows you to just sit back and relax in the car.
Tours typically cost around 60 to 70 soles and include transport and a driver-guide. You'll make a 30-minute stop on the way to the pools for breakfast and the chance to use the toilets. Departure time from the main plaza is usually 8 am, returning around 5 pm – giving you 2.5 hours at the pools.
Unless you're visiting around popular national holidays, it's fine to book a tour the day before. At busier times, I'd book as much in advance as possible to avoid missing out. Tour agencies are located around the main plaza and it's best to go in a few to get the best price.
What to expect when you're at Aguas Turquesas de Millpu Peru
Given the journey from Ayacucho to Millpu takes 6 hours return, I'd say it's pretty important to make sure you know what it's going to be like beforehand. You wouldn't want to get there and be disappointed. If you love nature, being outdoors and don't mind walking uphill, in the sun at altitude, this is for you.
General Information
It's a 1.35-kilometre walk from the car park to the very top of the waterfalls at the far end of the valley. The car park and entrance sit at an altitude of 3670 metres, while the highest point of the trail is 3800 metres. So, although the walk is not long, it is harder than normal given the altitude.
The trail is mostly a dirt path with a section of steps. Along the way, there are a handful of shelters with benches for you to rest out of the sun. The route is easy to follow with various viewpoints along the way.
I'd recommend walking all the way to the top first and then heading down the level of the pools on your way back. This is because the walkway to the pools is down a steep path. And, if you go there on the way up, you'll have to walk back up that and then continue walking uphill after. Too tiring for me in the heat of Peru!
The typical rules of any natural beauty spot apply here at Millpu Ayacucho. Don't leave any trash, don't deface the rocks, no pets, etc. But to note, it is also prohibited to bring alcoholic drinks to the pools and drones are also not allowed to be flown.
Make sure to bring suncream and a hat, at this altitude, you'll burn easily even on a cloudy day. A good amount of water and some snacks are also important, especially for the long car journey. A camera is another essential because this is certainly a sight to remember!
Entrance Fee
8 soles per person, payable at a small hut between the road and the entrance. Make sure you bring small notes or exact change as the attendant doesn't have large amounts of change.
Waterfalls and Pools
Along the narrow but tall gorge are countless pools and lagoons of a stunning colour. Most are inaccessible because the rock face is vertical on either side. But, there are a couple of spots where you can stand right next to the water.
The pools are of varying depths and sizes. The clear water makes it easy to see the jagged shape of the ground underwater, especially from above. Also expect to see unique flora, fauna and rock formations.
As well as the pools, at the far end of the gorge are a series of waterfalls. Here, the water comes out of the ground at the source and makes its way down into the Aguas Turquesas de Millpu Peru.
Can you swim in Millpu Pools?
No, not anymore. Until recently, it was possible to swim in the turquoise pools and stand on the rocky edges between the lagoons. However, this has now been banned to protect the natural beauty and biodiversity of Millpu Pools.

Because of this recent change, you'll still find plenty of photos of people swimming and standing in the centre of the pools. But now, there is a staff member positioned at the access point to the pool to prevent anyone from entering the water. Expect to hear a loud whistle if you get too close!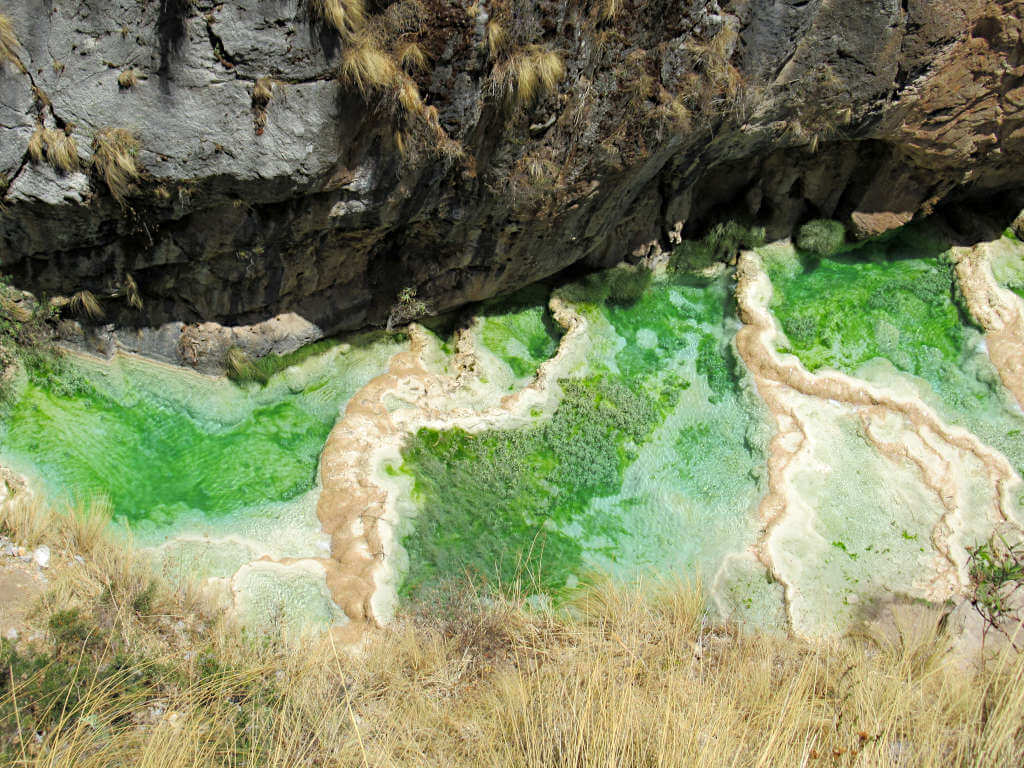 Onsite Facilities
Most of the facilities are located at the entrance. Once you start walking along the trail there isn't really anything other than a few benches and shelters. Don't be expecting anything fancy, it's more corrugated iron roofs and picnic benches.
At the entrance, there are a couple of restaurants and a store selling snacks, drinks and the like. A small distance along the trail there is also a gift shop, another restaurant and a campsite. Very basic toilets are also at the entrance.
The area is also home to a few Andean trout farms and you're able to buy this fresh from the owners. You don't typically expect to see fish farms so high in the mountains, but Millpu Ayacucho is home to 1000s of fish!
How to get to Ayacucho
I can count on one hand the number of other travellers I met in South America that had been to Ayacucho. And, because of this lack of popularity with international visitors, transport links aren't great.
But, the options are increasing all the time with new flight routes and increased availability of buses. So whether you're travelling south from Lima, inland from Ica or northwest from Cusco, these are the current transport options…
To and From Lima
The easiest way to travel between Ayacucho and Lima is by air. Flights take approximately one hour, with LATAM and Sky Airlines both operating the route daily.
If you're short on time and don't want to spend a whole day or night on a bus, then flying is the easiest and most convenient option. Book your flight from Lima to Ayacucho online and you'll be taking in the mountain sights in no time at all.
The alternative for travelling directly between Lima and Ayacucho is overland. Buses take around 12 hours typically, although this can increase due to traffic or roadblocks.
Cruz del Sur, CIVA and Antezana all operate direct buses on the Lima-Ayacucho route. The journey is perfect for an overnight bus, saving you money on accommodation during your trip. Be sure to book a seat downstairs on the double-decker buses as these recline more and are wider.
Book your bus ticket to Ayacucho from Lima in advance online to secure your seat – then sit, back, relax and sleep the journey away.
Another option from Lima is to break up the journey by stopping in Paracas (for the wildlife-filled Islas Ballestas), Ica and/or Huacachina. The best attractions can all be experienced in one day, but you can also stay a few nights to really get a feel for the area. See the section below for how to travel from Ica and Huacachina to Ayacucho…
To/From Ica, Huacachina and Paracas
The only way to travel between Ayacucho and Ica (and Huacachina and Paracas) is by bus. If you're in Huacachina or Paracas, you'll first need to get to Ica.
For Huacachina, take a taxi for a few soles to/from Ica. Or, for Paracas, take a bus or local transfer.
Between Ica and Ayacucho, only one company runs a bus route. Grupo Palomino has once-daily departures taking 8 hours to make the journey between sea level and 2700 metres elevation. Tickets can be booked online on the company's website, at the ticket office in Ica or at an agency in Huacachina.
To and From Cusco
Since November 2022, LATAM operate a twice-weekly service between Ayacucho and Cusco. Currently, this is Mondays and Fridays. I missed this route being in operation by about 10 days and would have much preferred it over the bus.
The flight time is around 1 hour and basic fare tickets are very affordable even for budget travellers. It costs more to add on a checked bag but I would definitely consider the comfort premium of flying versus the bus when making your decision.
Check the latest schedules, prices and availability online with Skyscanner.
Unfortunately, I ended up taking a 17-hour bus – which turned into 19 hours. And, the route between Ayacucho and Cusco is very winding.
Two companies operate direct buses between Ayacucho and Cusco, with different departure times throughout the day. These are Real Chancas and Expreso Los Chankas. You can book tickets in the terminal building and I'd recommend doing this a day or two before to not miss out (and to get a good choice of seat).
I opted for one that left at night, so once I woke up we'd almost be there and I could check into my hotel on arrival. Early afternoon departures, arriving very early hours into your destination are also available. And, despite not seeing a single non-Peruvian tourist the entire time in Ayacucho, the entire downstairs of the bus we were on was full of backpackers.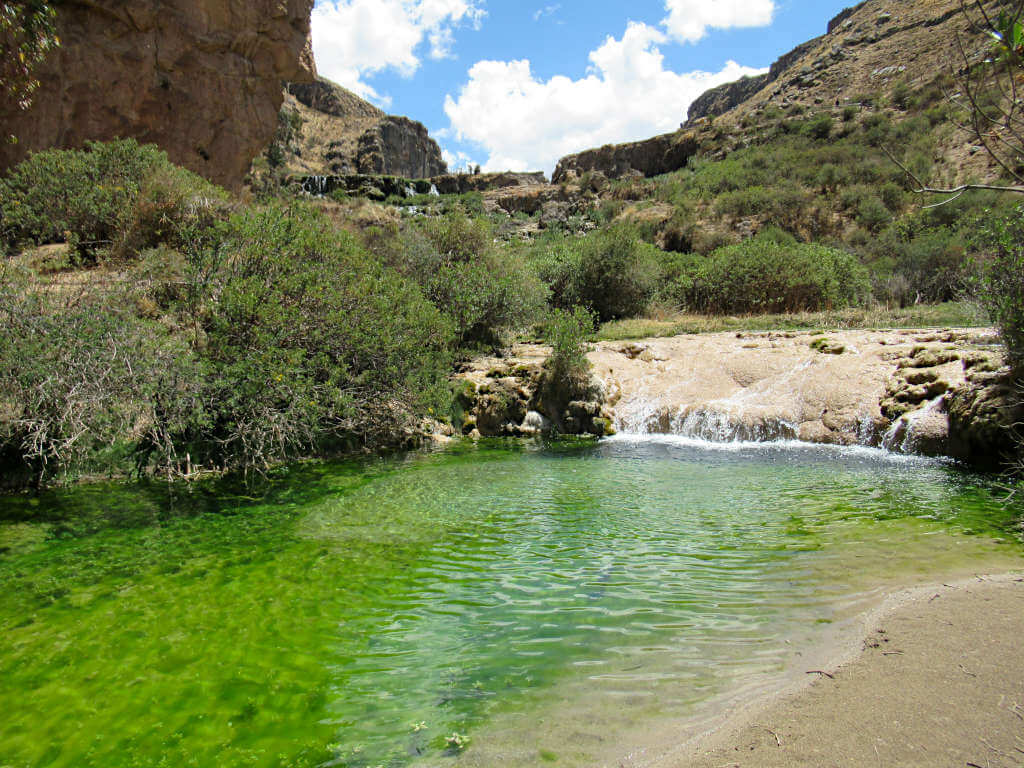 Where to Stay in Ayacucho
As a city not typically visited by international travellers, you won't find any big-brand hotels in Ayacucho. Instead, the city's tourism needs are met by a wealth of small, independently run hotels and guesthouses. Expect comfort, good facilities, helpful staff and affordable prices.
---
Do you have any questions or want any more information? If so, drop a comment below and I'll get back to you!
Information is correct as of December 2022 but is subject to change in future.
---
More Peru Travel Inspiration…
CUSCO: Palcoyo Mountain (Peru's Alternative Rainbow Mountain): Ultimate Guide
HUARAZ: Laguna Churup, Huaraz: Independent Day Hike to 4500 metres
HUARAZ: Laguna Paron: Ultimate Guide to Visiting from Caraz or Huaraz
CUSCO: Best Time to Visit Machu Picchu, Peru
CUSCO: Climbing Machu Picchu Mountain (Hike Guide)
---
PIN IT FOR LATER!