San José del Pacifico: a small, unassuming town high in the Oaxacan mountains. An unlikely candidate, but nevertheless the town is the magic mushroom capital of Mexico. The tourism that psychedelic mushrooms bring is a lifeline to the town, which otherwise would see hardly anyone visit.
However, taking magic mushrooms isn't the only thing to do in this unique town and nature lovers will also enjoy the stunning scenery. So, whatever your reason for visiting, this complete travel guide will help you get to San José Oaxaca Mexico, plan some activities, choose the right accommodation and much more.
Some of the links below are affiliate links, meaning, at no additional cost to you, I may earn a small commission if you click through and make a qualifying purchase.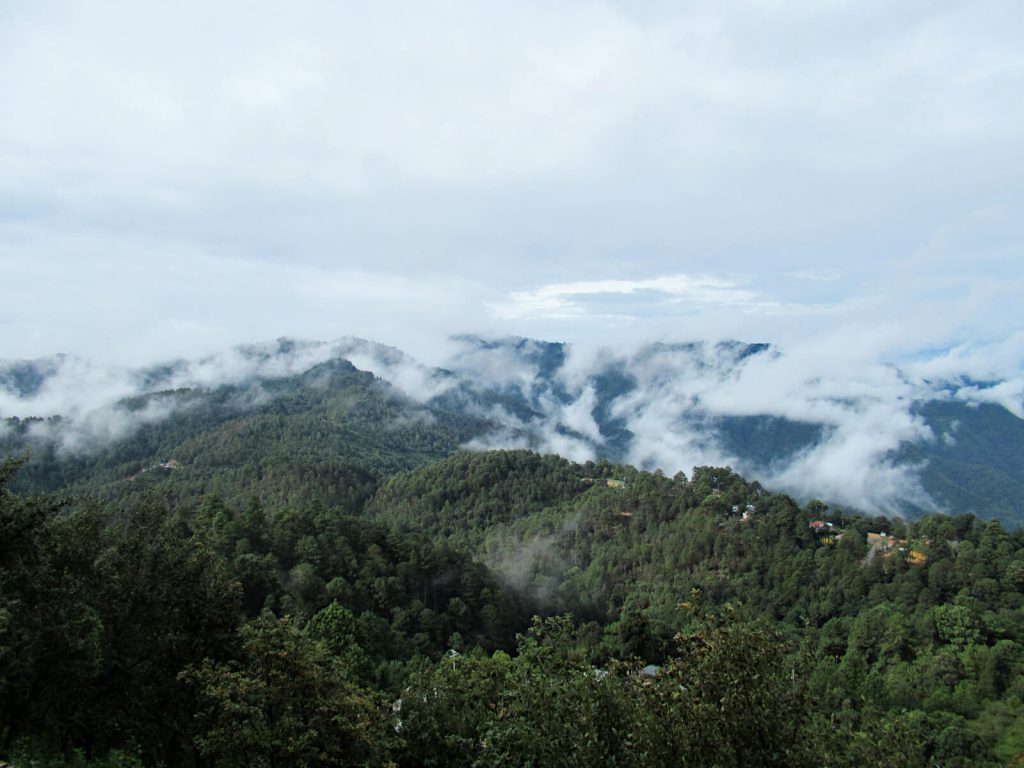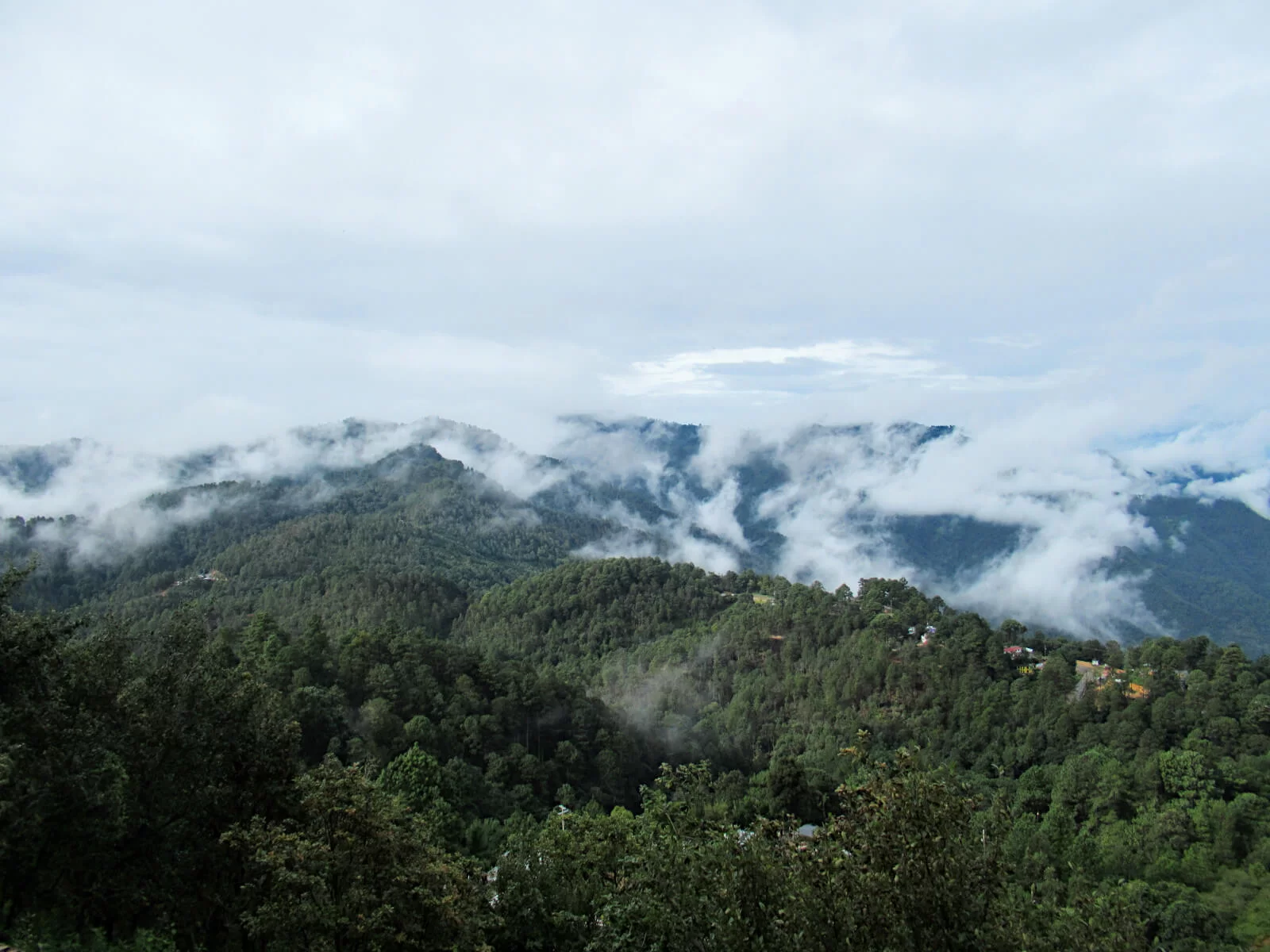 Things to do in San José del Pacifico, Mexico
Magic Mushrooms
Ok, I'm putting this first because let's be honest, most people come to San José del Pacifico Oaxaca just to take magic mushrooms. Probably about 90% of people. If you're in the 10%, skip to the next activity!
This isn't a shady secret of the town. You'll find signs directing you to magic mushrooms, in addition to a large amount of psychedelic street art. And, almost everyone will be able to point you in the direction of someone selling mushrooms.
Do make sure you've researched what to expect beforehand and ideally be with someone you trust.
How do you get mushrooms in San José del Pacifico?
During the mushroom season (July to October), fresh mushrooms are available to buy almost everywhere in the town.
The safest option when buying magic mushrooms is to visit a Shaman who has picked the mushrooms themselves (they grow freely in the wild around the town). The Shamans will be able to hand-pick you a dose that suits your size and what you want to experience.
The number 1 place to buy magic mushrooms – recommended by plenty of travellers – is Rubi's. There is some debate about whether you should wash the mushrooms. A quick rinse with water will remove the literal shit that they grow in and won't affect the psychedelic properties. No one wants to be tripping and getting ill, wash your mushrooms and enjoy them raw.
Outside of mushroom season (November to June), fresh mushrooms are difficult to come by. The ones on sale may have been preserved or may just be ordinary mushrooms. You need to be much more cautious during this time. It's probably best to ask for recommendations from other people in the town at the time if you do want to buy any.
How much are mushrooms in San José del Pacifico?
Expect to pay around 300 to 400 pesos per dose in the mushroom capital of Mexico.
TOP TIP: Very few people speak English in San José, which means you'll need to practise your Spanish skills. The Mexican Spanish for magic mushrooms is hongos – while ordinary mushrooms are champiñones.

Another useful phrase will be cuánto cuestan – meaning how much do they cost. Make sure you've practised your numbers before heading out to Mexico's Mushroom Mountain Town.
The Legality of magic mushrooms in San José
The decriminalisation of psilocybin mushrooms is increasing across North America. Whilst in some parts of South America such as Peru and Brazil, they are completely legal.
In Mexico, the use of magic mushrooms by indigenous users is decriminalised (though not officially) in native culture. Additionally, it is legal to pick wild psychedelic mushrooms. While technically the use of magic mushrooms by tourists in San José is illegal, the town is an independent area where locals make their own rules. Which, unsurprisingly includes allowing the selling and consumption of magic mushrooms.
There is no permanent police presence in this Oaxaca mushroom town and many people report that they are not allowed in the town. However, on my last day in the town, I saw both the National Guard (guns blazing) and Municipal Police drive through on the main road.
In summary, taking magic mushrooms in San José is a normal activity and one that won't see you get in any trouble. However, travelling with magic mushrooms beyond the town is a big no-no and you won't have any protection from local laws.
Relax and watch the clouds
This is definitely a rainy season activity, but San José is known for being a town above the clouds. Although, that is more often a town inside the clouds. Grab a beer, a book, headphones or the like and just sit and watch the world go by.
As someone who gets bored very easily, this is not an activity I could participate in for more than 5 normally. But, the landscape changes so quickly here. Clouds roll in from higher land, filling the valleys before dissipating just a few minutes later. Plus, at times you can actually see the clouds forming from the vast surrounding forest. And, once there's a break in the clouds, you can see for miles and miles! A truly unique place.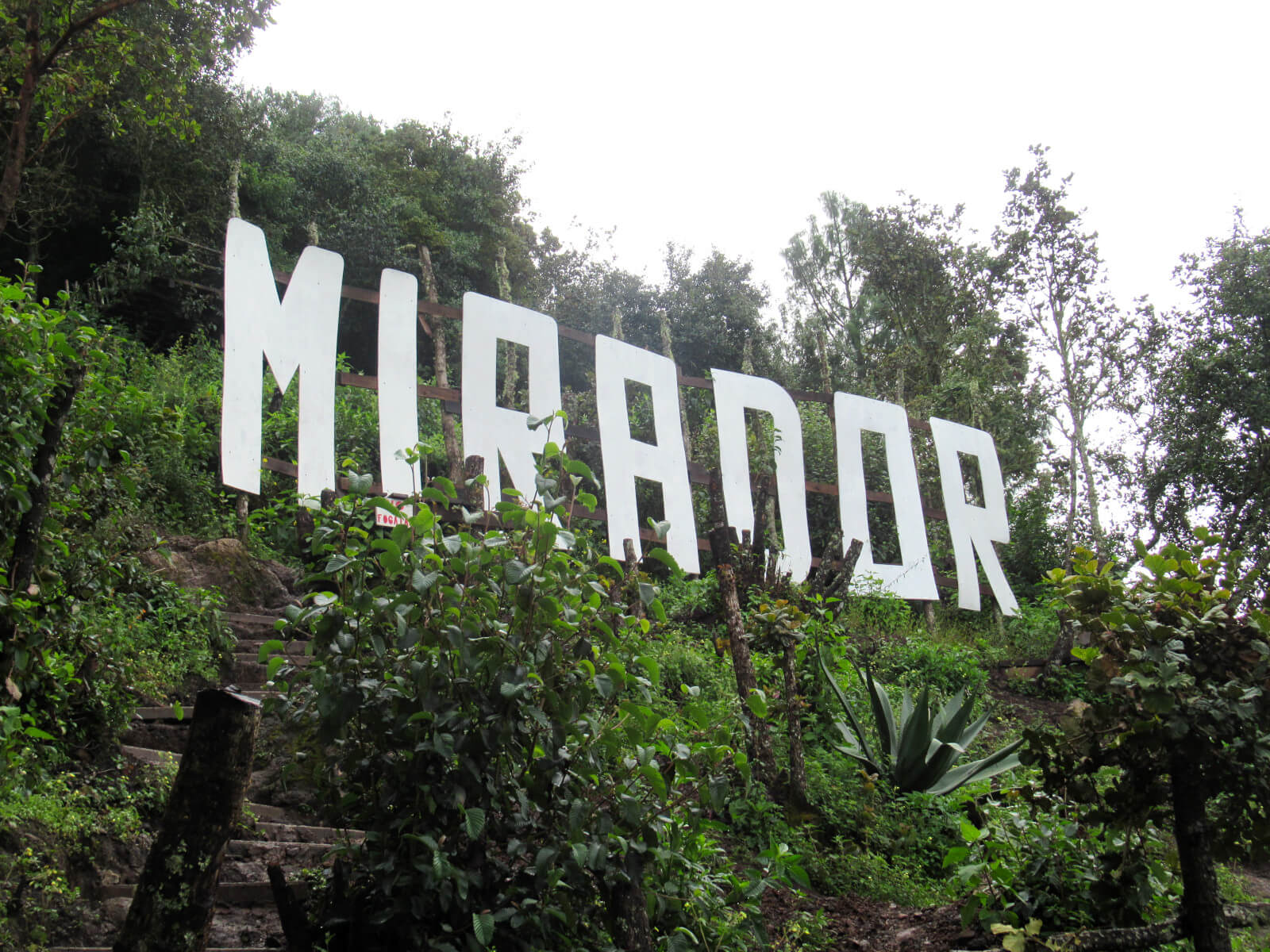 Climb up to the San José del Pacifico Mirador
The altitude will make the climb to the viewpoint hard, but the views from the top will make any pain disappear instantly! For just a 30 peso entry fee (and a sweaty walk to the top), the views from the Mirador are incredible. I could have spent hours watching the clouds, enjoying the view and taking photos.
There are actually several viewing platforms at the Mirador. The first is just below the Mirador sign. But, if you continue climbing up the steps carved out of the mountainside, there are another two wooden platforms above with even more spectacular views.
This is an absolute must-do experience when in San José. Even on a cloudy day, the way the clouds formed and then disappeared was really magical. One minute you'd have no visibility, then you'd blink and see mountain after mountain for miles around.
You can find it on Google Maps by searching for Los Altos del Golan.
Mirador in the Trees
To the west of the town is the Mirador in the trees (Mirador Los Pinos). For just 30 pesos, you get to climb to various viewing platforms and lookouts in the trees (safely strapped in with a harness).
The perfect activity if you're looking for an adrenaline rush. While the landscape will be best enjoyed outside of the rainy season, a break in the clouds at any time of year will leave you with jaw-dropping views.
TOP TIP: Very few places accept payments by card (debit or credit) in San José. And, those that do charge an extra 5% to cover fees. Make sure you withdraw plenty of cash before arriving, probably more than you think you need is best.

While cards like Monzo and Starling offer fee-free withdrawals in foreign currencies, I've found that every bank in Mexico still charges a fee. Santander and Citibanamex have the lowest fees at around 30 to 35 pesos (just over £1). This fee is charged per withdrawal, so it's more cost-efficient to withdraw close to your card's daily maximum.
Temazcal
Temazcal ceremonies aren't exclusive to San José, you can find them across the southern states of Mexico. Temazcal – a low-heat sweat lodge, like a sauna – is an indigenous ceremony meant to purify the body, heal the spirit and enrich your health.
Temazcal Los 4 Elementos (with Shaman Navarro) is located along the main road in this Oaxaca mushroom town. It's a short walk from the town or you can take a tuk-tuk for just a few pesos.
Hiking
With miles and miles of mountains and forests, this town is a hiker's dream. Popular San José del Pacifico hiking routes include continuing uphill behind La Cumbre hostel or to one of the even smaller towns around. Another option is to just walk through the magnificent and never-ending forest – like this 3.5-mile route.
TOP TIP: If you've worked up an appetite from a long day of walking or a long day of doing nothing, the best restaurant in town is La Taberna De Los Duendes. The restaurant is located on the main road and they serve mouth-watering fresh pasta dishes.

Be warned though, the portions are huge! One dish could definitely feed two adults with still some to spare, and this would make it more cost-efficient as the dishes are around 200 to 300 pesos.
Where can I watch the sunset in San José del Pacifico?
You'll want to get to one of the highest spots in the town for the best view. La Cumbre hostel (you can visit the restaurant and outdoor seating area even if you aren't staying), the mirador sign and the mirador in the trees are all good spots.
How to get to San José del Pacifico, Oaxaca
From Oaxaca City to San Jose
Buses operate all day from Oaxaca City to San José del Pacifico, taking approximately 3 hours with a short stop in Miahuatlán. The two companies operating buses in Oaxaca City are just a block or so apart: Lineas Unidas & Eclipse 70.
Lineas Unidas charge 140 pesos for a one-way ticket, while Eclipse 70 charge 150 pesos (there's no saving for a return ticket). Both companies have buses leaving every 30 to 45 minutes for most of the day. Additionally, both companies operate well into the night but with less regular schedules.
Tickets can be bought at the offices of both companies, just ask for San José. The driver will know to stop and will pull over and help you out.
From the Oaxaca coast (Puerto Escondido, Mazunte, Zipolite, Puerto Angel)
To travel from Puerto Escondido to San José del Pacifico Oaxaca, you'll need to first get yourself to San Pedro Pochutla. ADO buses run this route regularly and tickets can be booked online or hop on a local bus from in front of the Chedraui supermarket. From the bus station in Pochutla, walk across the road to Terminal Lineas Unidas or a few metres along the road to the Eclipse 70 terminal. Buses for both companies run every 30 to 45 minutes and you can buy your ticket to the Mushroom Mountain of Mexico at the ticket office of each company (about 200 pesos).
Additionally, Lineas Unidas also operate buses directly from the beach towns of Puerto Angel and Zipolite to San José del Pacifico Mexico. So, if you're in Mazunte, get yourself along the coast to either of these. I'm not sure of the exact ticket cost, but this is likely to be around 200 pesos. However, buses from Puerto Angel and Zipolite to San José only run about 5 to 6 times a day, so I'd recommend checking the schedule at the ticket office before you want to travel.
Travel time to the mushroom capital of Mexico is around 3 to 4 hours from Pochutla and the coast.
TOP TIP: If you are going to San José and coming back to the same place as you were before (ie Oaxaca-San José-Oaxaca), ask to leave your big bags in your accommodation.

I travelled with just my day pack of valuables and a fold-up 20-litre rucksack with enough (warm) clothes for my 3-night stay. Walking uphill to the hostel is tough with the altitude. Don't make it harder by carrying 15 to 20 kilos of luggage!
Leaving San José
Luckily, leaving San José is much simpler than getting there. The bus stops and ticket offices for both bus companies are located opposite each other on the main road (pictured below). Buses operating in both directions pull up outside their respective company office, rather than on certain sides of the roads. So, you don't need to worry about that!
Avoiding travel sickness
The buses that run to and from San José are comfortable and spacious. This is essential because the mountain roads you'll be driving along are windy and narrow. So much so, that the buses are nicknamed vomit vans by many a traveller.
So, here are my tips to avoid travel sickness when travelling to/from San José:
Sit as near to the front of the bus as possible. You want to avoid the back row of seats as much as you can. Here, you'll also be thrown around the most by the speed bumps and potholes.
Use travel sickness wristbands and put them on before you get on board. If you're particularly prone to travel sickness, you can pick up anti-sickness medication in a pharmacy before travelling to San José.
Avoid eating a big meal right before travelling. Bring a soft drink to sip from regularly throughout the journey.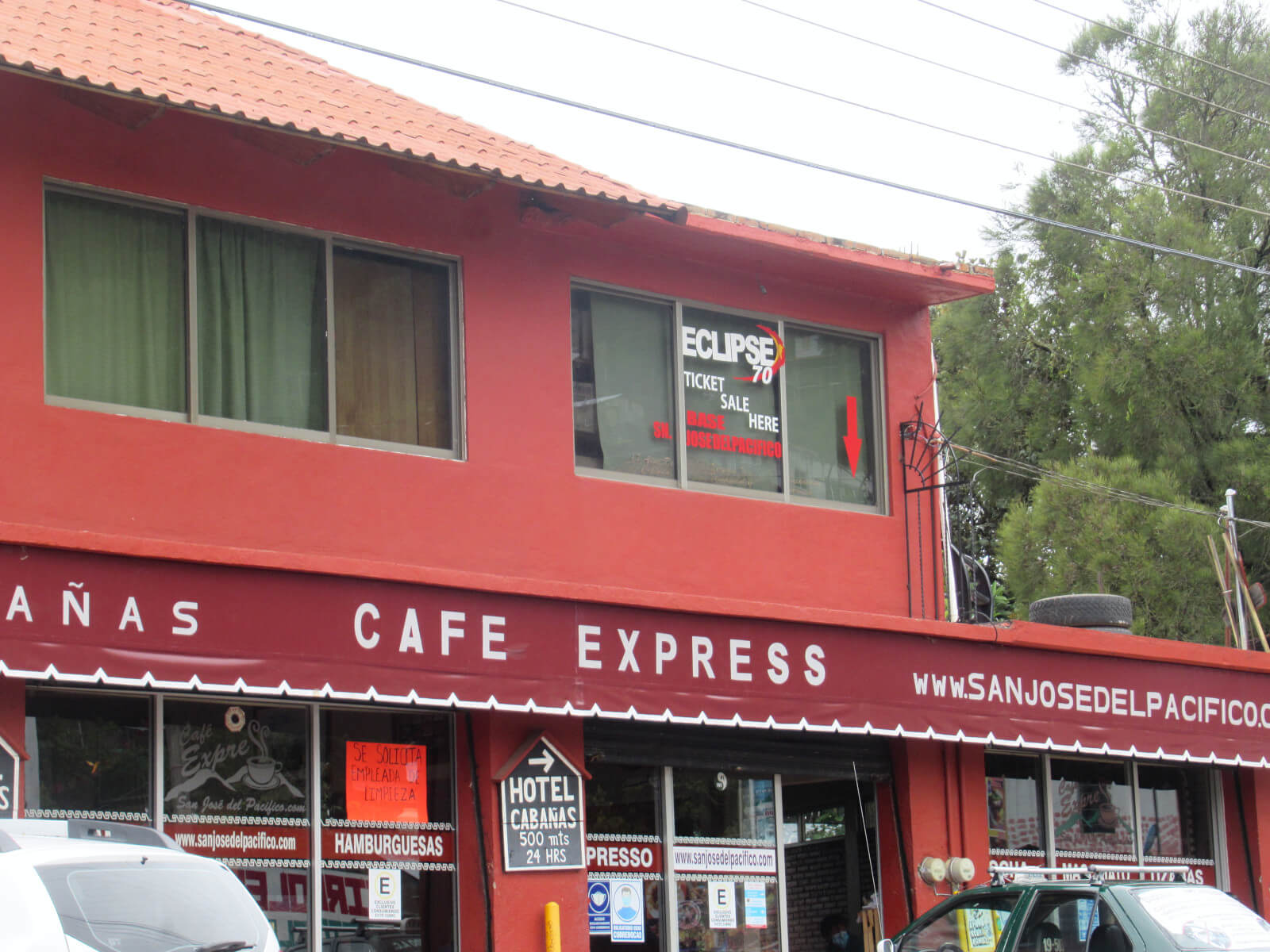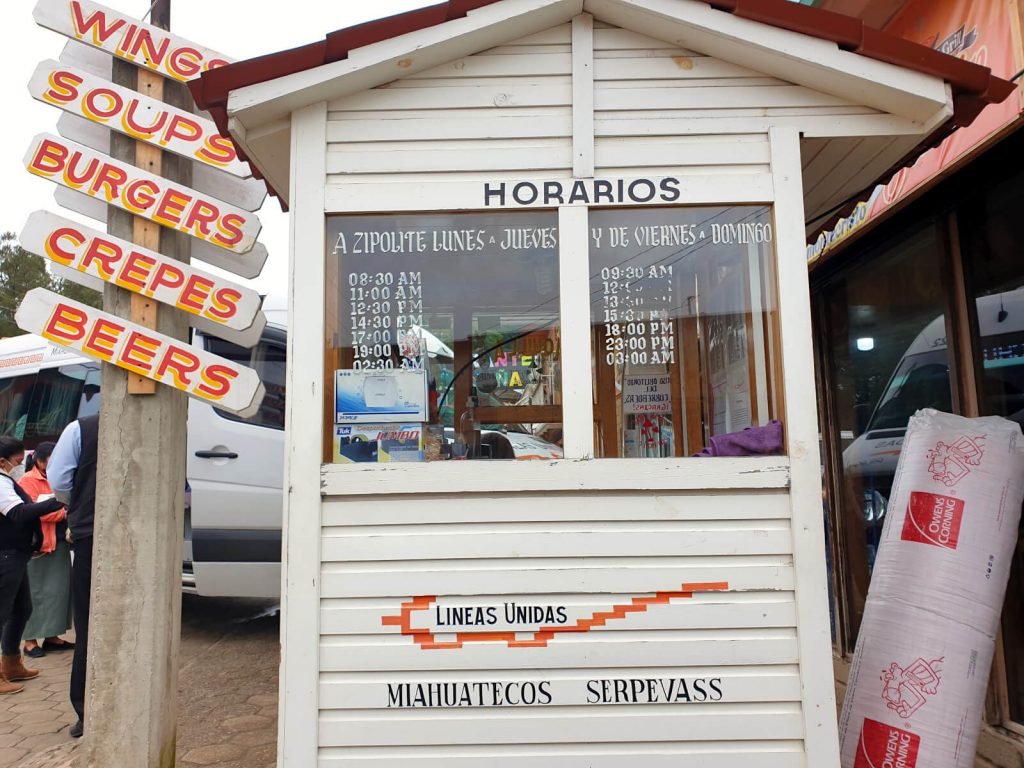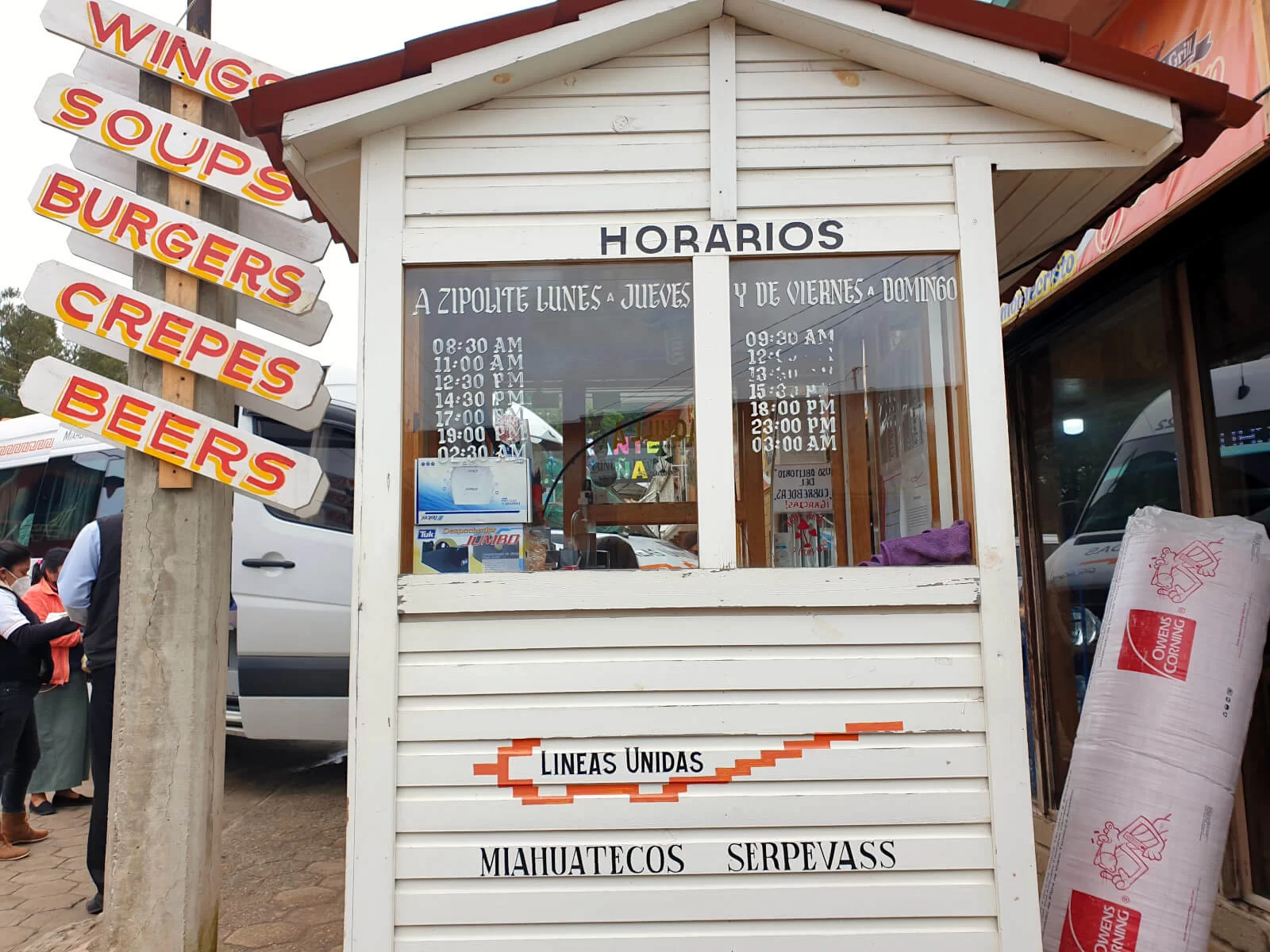 Are there taxis in San José del Pacifico?
There are small moto-taxis (like tuk tuks) to shuttle you around the town for fixed prices. Expect them to fit two people or one person and luggage.
Is there an ATM in San José del Pacifico?
No, the nearest ATM is 15 km from the town in San Miguel Suchixtepec. Make sure you bring plenty of cash as places that do accept card payments typically charge a high fee.
There are plenty of ATMs in Oaxaca City, Puerto Escondido and Pochutla to get cash before your trip. The ATM with the lowest withdrawal fee in Mexico is BanCoppel at 18 pesos.
Is there WiFi in San José del Pacifico?
Yes, but it's not reliable or fast. Phone signal is also patchy so isn't a reliable alternative.
There are places that charge for WiFi access but connectivity is not guaranteed, particularly during bad weather. Don't expect all accommodations and restaurants to have WiFi.
Make sure to download your Netflix, wrap up your work commitments and download offline maps before leaving for San José Oaxaca Mexico.
Altitude in San José, Oaxaca
San José del Pacifico, Oaxaca is located at an elevation of 2500 metres in the mountains. This is also the threshold at which people usually start to experience altitude sickness. Particularly those ascending rapidly to altitude or people who have never spent time at this elevation before.
The risk of altitude sickness is greatest if you are coming to San José Oaxaca from the coastal towns of Puerto Escondido, Mazunte or Zipolite. Symptoms include headache, sickness, dizziness and tiredness. These usually start 6 to 24 hours after reaching altitude. If you are coming from the coast, I'd recommend adding an extra day to your stay to allow you to acclimatise and any symptoms to pass.
If you're travelling from Oaxaca City altitude sickness is less likely as it is already at 1500 metres above sea level. However, you can still expect any physical activity to require much more effort. And, you'll probably be out of breath noticeably quicker. Even a single flight of stairs left me feeling like I'd run a marathon!
Where to stay in San José del Pacifico Oaxaca
When it comes to San José del Pacifico accommodation options, there are three choices…
Hostels
Cabañas La Cumbre is one of the only hostels in the town. The hostel is located at the top of the town with impressive views over the valleys and hills below. Beds in the hostel start at 200 pesos, although double, triple and quadruple rooms are also available.
Book directly on the La Cumbre website or enquire at reception when in San José (booking is recommended because it is quite the uphill climb to the hostel!). They also sell magic mushrooms at reception and can book a temazcal ceremony for you.
> > > RELATED POST: Thinking of staying at Cabañas La Cumbre? Then you'll want to check out my complete guide and review of this hostel + forest accommodation!
Another option is Hostal Mandala Evelyn. Though, this is more of a hotel than a hostel with private double rooms costing around 450 pesos per night. There's also a communal terrace perfect for watching the clouds or stars and meeting others.
Cabanas in the Town
Throughout the town, there are many locally-owned cabañas to rent. These are a better option if you want to be closer to the centre of the town.
Only a handful are listed on Booking.com and those are linked below. Alternatively, check out listings on Google Maps that can be booked in person directly. Prices vary but you can find accommodation for large groups offering good value when the cost is split if you're travelling with friends.
San José del Pacifico Camino al Cielo is a good option for those looking for more privacy. This one-bedroom apartment has a TV, private bathroom, fireplace, balcony and garden, as well as hot water and an outdoor kitchen.
For a more luxurious San José del Pacifico accommodation option, Alto de la Sierra has all the mod-cons as well as free water, fruits and snacks throughout the day. The rooms are modern with TVs and desks. Plus, there's also a bar, garden and terrace on site, all just a 10-minute walk away from the town centre.
Cabanas Away from the Town (In the Forest)
If you're looking for a more off-the-grid or back-to-nature accommodation experience in San José del Pacifico Mexico, staying in the forest is a must-do. Don't expect phone signal or WiFi, but do prepare for a unique stay.
Use Google Maps to look for cabañas to the east of the town not available on booking sites. Alternatively, Cabañas La Cumbre (the hostel above) also have some cabins in the forest available. These can be booked on their website.
For groups, Cabana en el Bosque is a cost-effective option. This chalet sleeps 6 adults in three double beds, as well as having a private bathroom, log burner, balcony and stunning forest views. Transport is available from the town by tuk-tuk but the owners here are also willing to organise transport for you.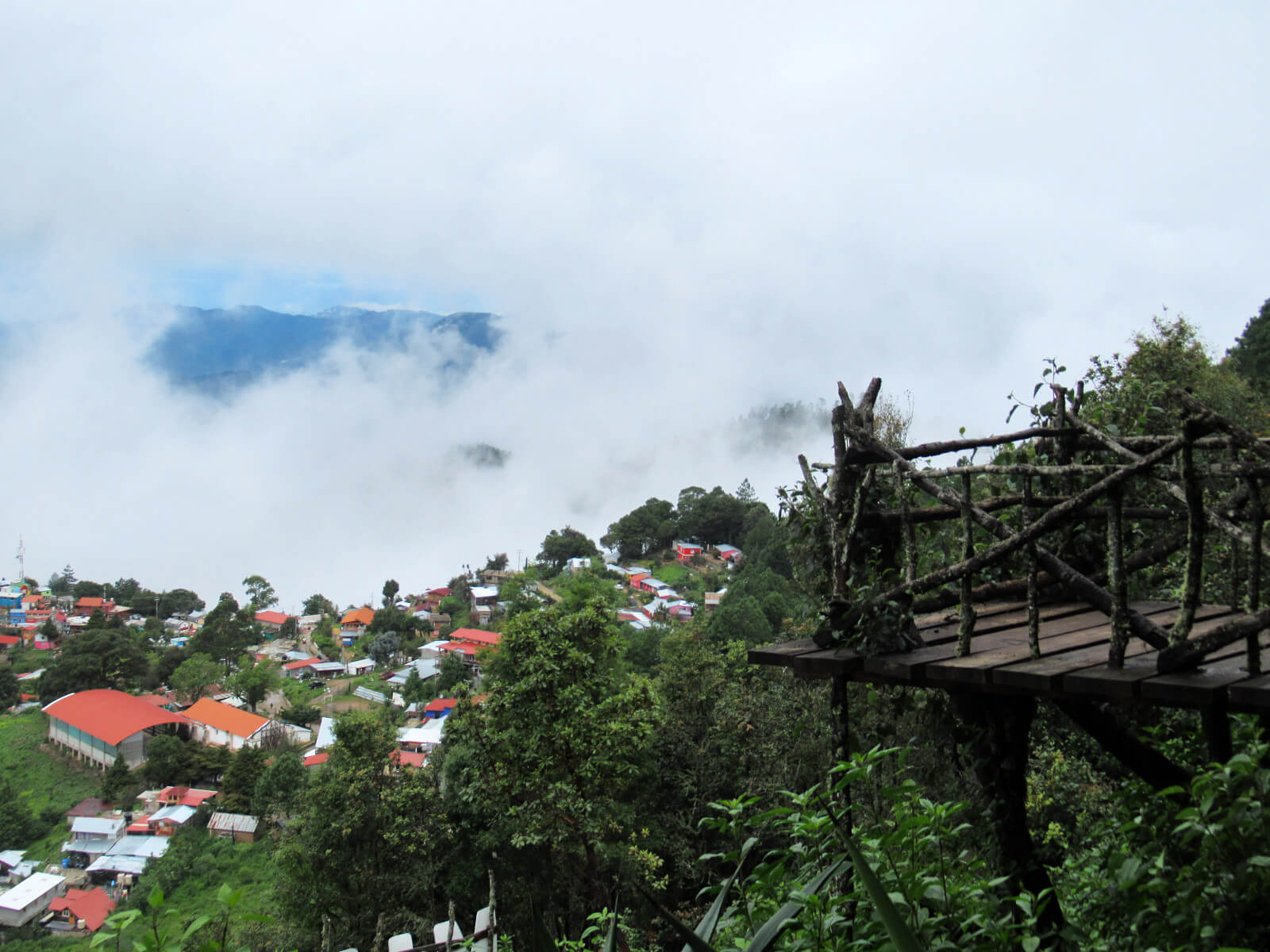 What is San José del Pacifico famous for?
As well-loved are the hiking trails and mountain views, the town is famous for only one reason: magic mushrooms.
Known as the mushroom capital of Mexico, thousands of visitors flock to the town every month to sample the psychedelic hongos.
That said, the town is not that famous. It's pretty well-known among backpackers and travellers who spend a few months in the country. But with its remote location and long distance from popular resorts such as Cancun and Tulum, the town is not overflowing with tourists. Yet.
However, this Oaxaca mushroom town is growing in popularity. Spurred in part by the increase in popularity of Mexico during the pandemic, as it became a haven for travellers looking to avoid lockdowns and border closures. Whether it can continue to sustain this level of tourism and drug use without the authorities acting remains to be seen.
The best time to visit
Perhaps this is a bit of a trick heading because I don't think there is really an all-around best time to visit.
It's no coincidence that Mexico's rainy season and mushroom season in San José Oaxaca happen at the same time. The rainy season (between May and October) will mean a lot of clouds, little visibility and, of course, lots of rain.
While visiting outside of mushroom season (July to October), means you're more likely to end up buying mushrooms of the non-magical variety from someone trying to make a quick buck. Or, having to pay significantly more for the mushrooms you do want as the demand will outstrip the supply available.
Ultimately, if you're visiting to take magic mushrooms, the best time to visit is between July and October. During this time, make sure to have a coat and warm clothes, day time temperatures rarely reach 20 Celsius and at night, it's typically around 6 Celsius.
Whereas, if you're going for hiking, views or nature, try to visit outside of the rainy season. Between November and April, temperatures in San José typically reach mid-thirties Celsius, dropping to low-twenties overnight.
Of course, for many backpackers, visiting San José happens purely when they are in or travelling between Puerto Escondido and Oaxaca City and they'll take whatever season it is.
Is San José del Pacifico worth it?
As long as you know what to expect, the town is well worth visiting. It's rough around the edges, there isn't a huge choice in food, transport to get there is bumpy and it's pretty off-grid for internet and cell service.
But, if you're looking to escape the heat of the coast or the bustle of the city, San José Oaxaca Mexico is a great place to spend a few days.
---
Do you have any questions or want any more information? If so, drop a comment below and I'll get back to you!
Information is correct as of October 2022 but is subject to change in future.
---
Looking for more Mexico Travel Guides?
Chiapas: Incredible Waterfalls at Cascadas El Chiflón, Chiapas (Travel Guide)
Oaxaca: Lagunas de Chacahua, Oaxaca (Ultimate Travel Guide)
Chiapas: Visit El Arcotete Eco Park in San Cristobal, Chiapas [Complete Guide]
Guanajuato: Hiking Cerro de la Bufa Guanajuato: Route + Directions
Guerrero: Pozas Azules de Atzala, Taxco (Visitor's Guide)
Oaxaca: Playa Bacocho, Puerto Escondido (Oaxaca Beach Guide)
Quintana Roo: Punta Mosquito, Holbox: Ultimate Visitor's Guide
Puebla: Ride the Teleférico Puebla for Panoramic City Views [Cable Car Guide]
And much more, check out all Mexico Travel Guides here!
---
PIN IT FOR LATER!