Although most famous for its jungle-covered Mayan ruins, some of the most popular spots in Palenque are the many nearby waterfalls. And, despite being located deep in the Chiapas jungle, accessible only by long drives on bendy roads. Hundreds of visitors from across Mexico and the world visit daily to experience the stunning Palenque waterfalls.
Pack your swimwear and camera, here are 6 of the best waterfalls near Palenque…
Some of the links below are affiliate links, meaning, at no additional cost to you, I may earn a small commission if you click through and make a qualifying purchase.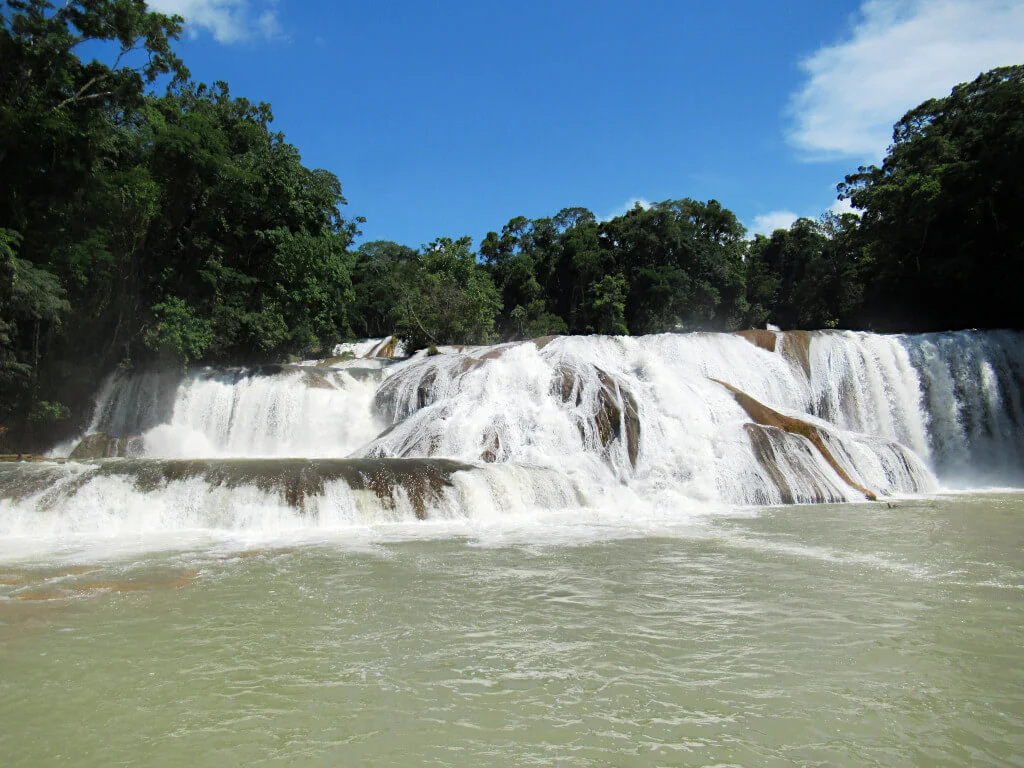 Most Popular Waterfalls near palenque
Agua Azul Waterfalls
Meaning 'blue water', Agua Azul Waterfalls are some of the best in Mexico, known for their super vibrant blue colour. However, you'll need to visit during the dry season (October to April) when there's not been rain for a while to see this colour. Otherwise, the water is green or brown, depending on how much recent rain there has been.
Whatever season you visit in though, you'll be impressed by the sheer scale of the waterfalls. Not for how big the drops are, but for how many separate waterfalls and how far along the river the waterfalls go. The path alongside the falls just seems to keep going and going!
Swimming is allowed both at the bottom of the falls and in a larger pool near the top. So, definitely pack your swimwear, towel and water shoes if you want to enjoy this.
The site is also the most commercialised of all the Palenque waterfalls. Here, you'll find restaurants, bathrooms (for a small fee) and plenty of vendors – perhaps too many, some might say.
To enter the waterfalls, you'll need to pay 40 pesos and 25 pesos to cover entrance and maintenance.
Agua Azul Waterfalls are around 2 hours from Palenque along a curvy and, in places, poorly maintained road. The easiest and often most economical way to visit is with a tour from Palenque. Tours can generally be combined with visits to Misol-Ha and/or the Palenque Ruins. Additionally, there is also the option to travel to San Cristobal de las Casas, ending your trip there on the same day, via Ocosingo.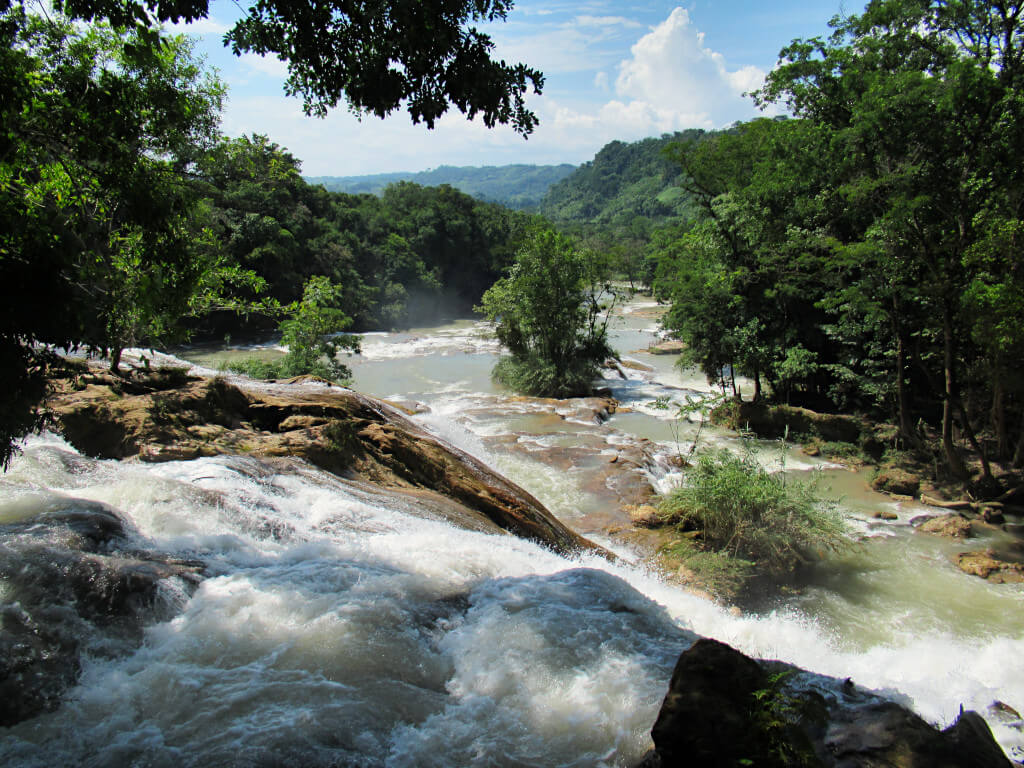 Misol-Ha Waterfall
Cascada Misol-Ha is the tallest of all the Palenque waterfalls, at an impressive 35 metres. Unlike both Agua Azul Waterfalls and Roberto Barrios Waterfalls, Misol-Ha has only a single drop.
But, this does mean you can walk behind the waterfall as well as explore the cave network inside the rock. Tours are also available to take you to a viewpoint overlooking the top of Misol-Ha Waterfall. Or, you can just swim in the large plunge pool surrounded by jungle. Just make sure you come dressed for whatever activity you want to do. Sturdy shoes for exploring, swimwear and towel for bathing.
As a small site, there are only a handful of vendors on-site, plus a small hotel and restaurant. The fact that the waterfall hasn't been commercialised as much as Agua Azul, definitely makes for a nicer experience. And, in all honesty, this is probably my favourite waterfall in Palenque.
The entrance fee is 30 pesos, although sometimes an additional 10-peso maintenance charge is also applied.
To reach Misol-Ha Waterfall, you have two options: a tour and public transport. Tours are generally cheap and also include visits to Agua Azul Waterfalls and/or Palenque Ruins, with the option to return to Palenque or continue onto San Cristobal. It's easy to book tours in Palenque town on the day at one of the agencies.
Alternatively, you can take a colectivo to Misol-Ha. These leave from the roundabout near the ADO/OCC Bus Station and drop you off on the side of the highway. From there, you'll need to walk around 15 minutes to the waterfall. Repeat the process in reverse to get back to Palenque.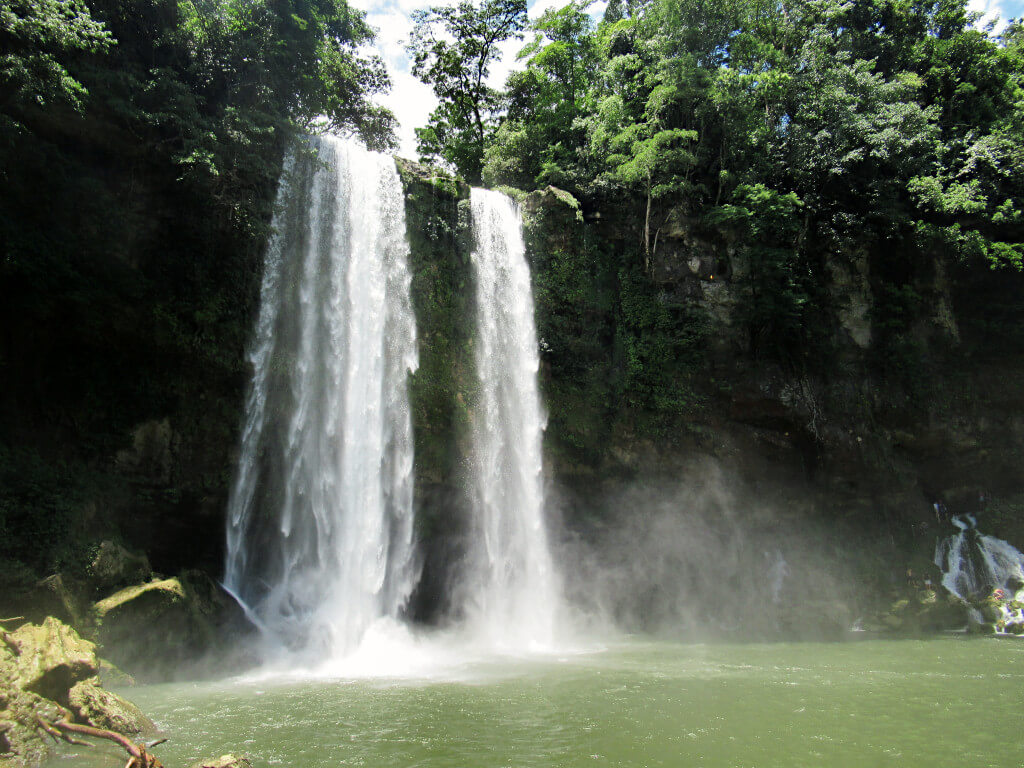 Roberto Barrios Waterfalls
The waterfalls in Roberto Barrios are perhaps the best in Palenque for swimming in. With striking similarities to Guatemala's Semuc Champey, the waterfalls here are not packed with visitors.
Instead many people choose to visit the more popular Misol-Ha and Agua Azul waterfalls. So, it's easy to find a small pool for yourself at Roberto Barrios. Plus, for the more adventurous you can also jump from the waterfalls or explore caves behind them.
At the falls, which are also known as Cascadas Valle de Bascan, there are a few stalls selling souvenirs and snacks. While in the town, you'll be able to find a restaurant or two. However, Roberto Barrios Waterfalls are definitely the most remote near Palenque, so don't expect many facilities.
The entrance fee is 30 pesos.
Tours do run to Cascada Roberto Barrios, with the option to just go here or to also visit Palenque Ruins first. Additionally, you can also visit the waterfalls and then travel onto San Cristobal de las Casas that day. Or, just return to Palenque.
If you're just wanting to visit Roberto Barrios though, the best option is public transport. Colectivos cost 50 pesos each way from Palenque and take around 45 to 60 minutes. The departure point can be easily found on Google with the tag 'Minivans to the waterfalls Roberto Barrios'. Alternatively, a taxi costs 400 pesos each way.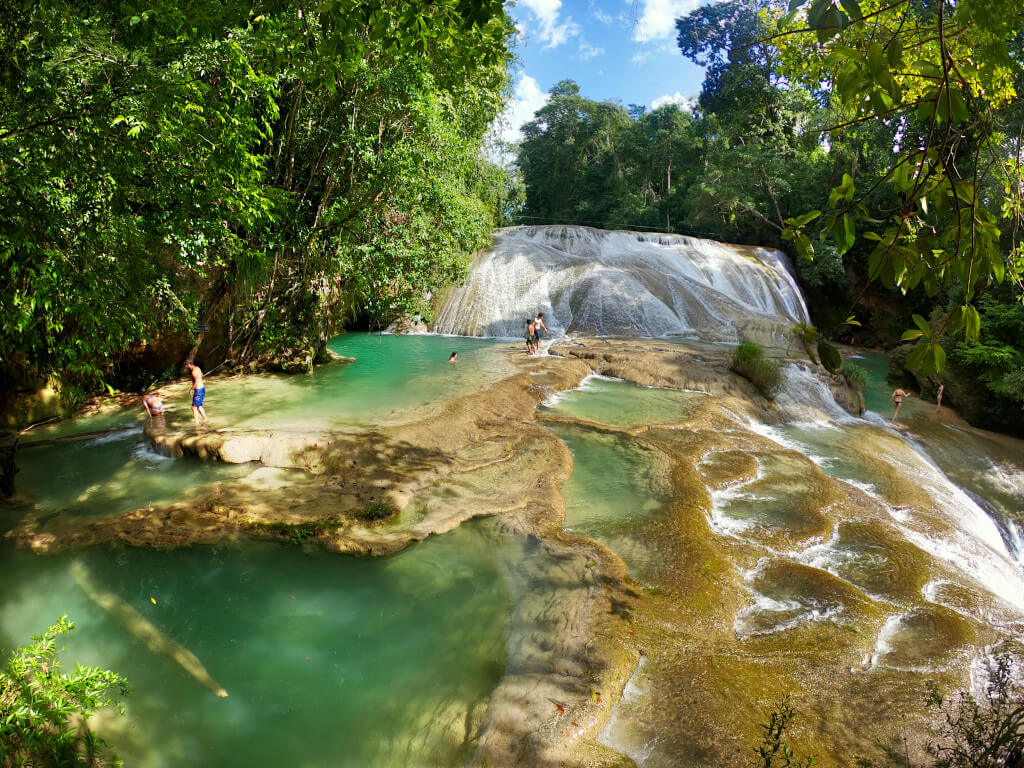 Lesser-Known Palenque Waterfalls
Welib Ha Waterfall
This little-known gem is located east of Palenque, near the aptly named village of La Cascada. While not the most spectacular, these are the falls you want to visit if you want to have the place to yourself.
Swimming is permitted in the pool beneath the three falls with a changing area onsite. Additionally, you'll also find a small restaurant, a camping area and cabins, hammock rental and a zip line.
Unfortunately, public transport links to Welib Ha Waterfall are basically non-existent. Instead, take a taxi – making sure they wait for you and then drive you back to Palenque. Or, travel in your own vehicle if you have one.
Sombrillas Waterfalls
Located within the Palenque Archaeological Site, the Sombrillas Waterfalls are another secret gem to these jungle-covered ruins. Find them if you can!
No swimming is allowed at these small but spectacular waterfalls. Which, you'll find on the path near the museum and ticket desks. No extra entrance fee for Sombrillas Waterfalls is required if you're already in the park. To get there, colectivos run from in front of the OCC/ADO Bus Station to the ruins all day for just a few pesos.
Motiepa Waterfall
While not located within the archaeological site, Motiepa Waterfall is still located within the National Park. As a result, you can visit it for no additional cost after exploring the ruins.
This Palenque waterfall is small but the charm is that it is surrounded by dense, wild jungle. The path to the waterfall is well marked. Just look for the large sign saying 'Sendero Motiepa' under a wooden arch.
Although Motiepa Waterfall is not the most impressive, the trail does take you to the Forgotten Temple. And, the walk through the jungle is enjoyable in itself. Just make sure you've got bug spray.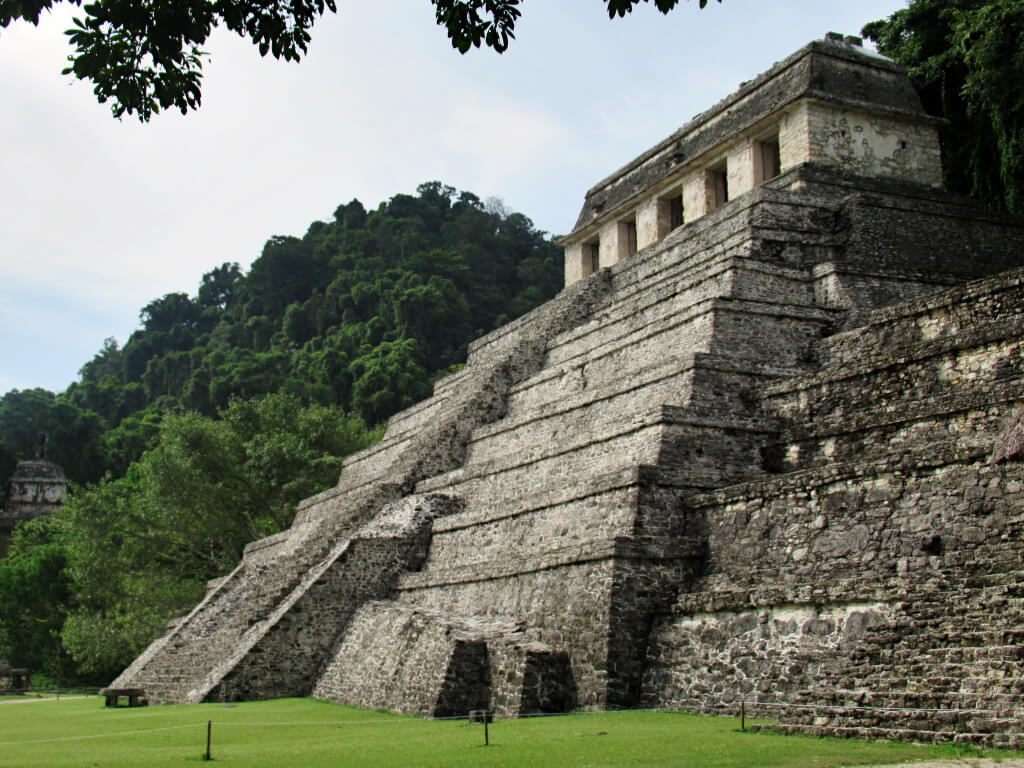 ---
Do you have any questions or want any more information? If so, drop a comment below and I'll get back to you!
Information and prices are correct as of July 2022 but are subject to change in future.
---
More Mexico Travel Guides…
CHIAPAS: 12 INCREDIBLE Chiapas Waterfalls You Have to Visit
CHIAPAS: Incredible Waterfalls at Cascadas El Chiflón, Chiapas (Travel Guide)
SAN CRISTOBAL DE LAS CASAS: Visit El Arcotete Eco Park in San Cristobal, Chiapas [Complete Guide]
OAXACA: San José del Pacifico, Oaxaca (Complete Travel Guide)
CHIAPAS: Cascada Velo de Novia, Chiapas: El Chiflón's Most Epic Waterfall
PALENQUE: Misol-Ha Waterfall, Chiapas: Guide to Palenque's Best Waterfall
And much more, check out all Mexico Travel Guides here!
---
PIN IT FOR LATER!