If you visit the Oaxaca coast, you'll be spoilt for choice of beaches to visit. So much so, you might not even know which towns or Oaxaca beaches to visit first. Each has something different. Some are great for surfing, some are great for swimming, some are great for sunset. And knowing which is which can be a nightmare.
So, I've taken the legwork out of your research! This guide to the 17 best Oaxaca playas will help you find the perfect beach for you!
Some of the links below are affiliate links, meaning, at no additional cost to you, I may earn a small commission if you click through and make a qualifying purchase.
How many beaches are in Oaxaca, Mexico?
A lot! Oaxaca has a staggering 533 km of coastline, most of which is a beach of some sort.
The beaches in Oaxaca are generally separated by bays, rocky areas or cliffs. Some areas have miles of straight beach and others have a more jagged coastline with lots of coves and cliffs.
Does Oaxaca have good beaches?
Absolutely! The Oaxaca beaches are world-famous for a reason. As well as being some of the best beaches in Mexico, there are great surfing spots for beginners all the way to pro athletes. There are places to swim, places to snorkel and places to lounge on the golden-white sand of the Pacific coast.
Of course, across the 300 plus miles of coastline, there are average beaches, good beaches and bloody fantastic beaches. But don't worry, you won't have to go far to find the nearest beachy paradise.
Can you swim in Oaxaca, Mexico?
Yes, but some beaches are not suitable for swimming. There's a reason the Oaxaca coast is one of the best surf spots in the world. It's because the waves are fierce.
Not only that, but the Pacific Coast in general all the way from the USA to Chile is known for being rough – both the sea and the coastal landscape.
The best beaches for swimming in Oaxaca are those in coves or bays. Always check the lifeguard situation at the beach, if there's any warning flags or any general warnings – such as hidden rocks just off the shore.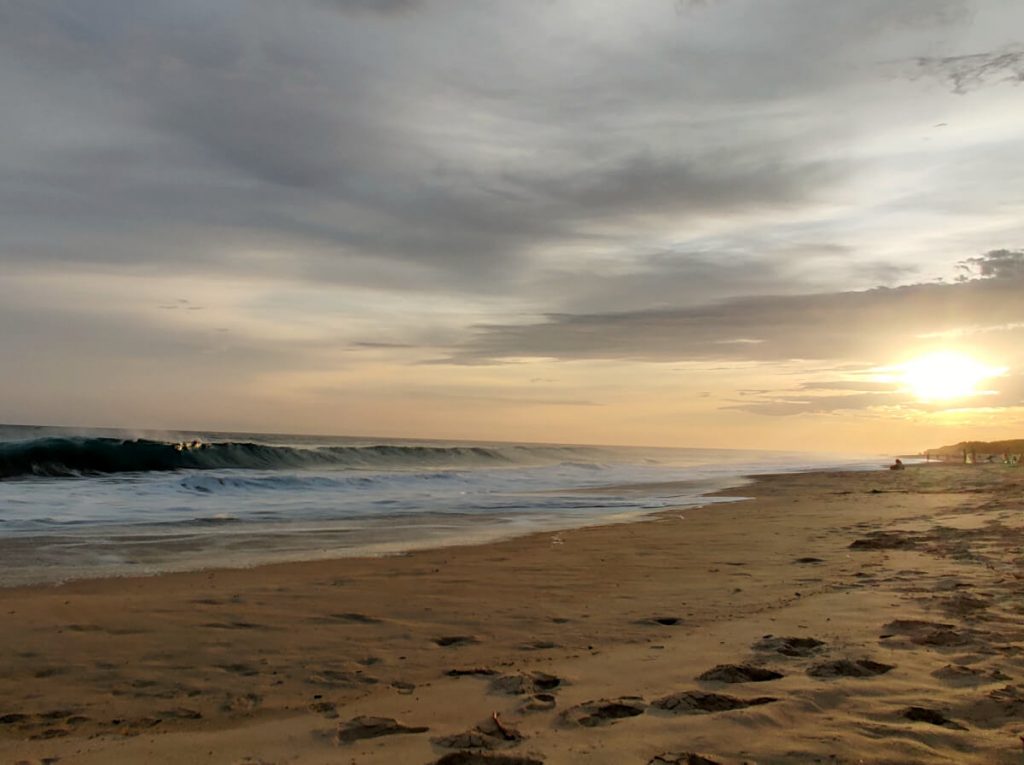 Puerto Escondido, Oaxaca Beaches
One of the most visited places in Oaxaca, Puerto Escondido offers miles of beaches with something for everyone. No matter where you're staying in Puerto Escondido, all the beaches are easily accessed via colectivo, walking or taxi. Here are the best Oaxaca playas in Puerto Escondido…
Playa Bacocho
Good for: Watching the sunset, sunbathing, releasing baby turtles, visiting a beach club
Puerto Escondido's western-most beach, Playa Bacocho, has a sandy coastline for as far as the eye can see. Its location on the outskirts of town means it doesn't attract the crowds seen on other Puerto Escondido beaches.
The rough waves don't make it great for swimming but there are plenty of other activities on offer. Every day at 5pm you can release baby turtles into the wild at Vivemar Turtle Sanctuary. After which, you can enjoy a spectacular Pacific sunset over the water.
The beach doesn't have much shade or any bars or restaurants. Instead, treat yourself to a day at one of the two beach clubs. Both operate with a minimum spend policy rather than charging for entrance. Which, allows the use of the swimming pool, bar, restaurants, sun loungers, parasols and more.
RELATED POST: Travelling from Oaxaca to Puerto Escondido? This complete guide has all the transport options to suit all budgets, from colectivos to 8-seater planes!
Playa Coral
Good for: Swimming, sunbathing, escaping the crowds
Perhaps the least visited beach in Puerto Escondido, Playa Coral can only be accessed two ways. Either by walking across the rocks from Playa Bacocho. Or, through the only two hotels on the beach.
Tucked away, the water is calmer at Playa Coral making it more suitable for swimming compared with its neighbour, Playa Bacocho. The beach is the perfect place to enjoy a beer in the sun. Though you will need to bring your own.
The beach is busiest at sunset. But, busy is relative and very few people visit Playa Coral when you consider how well-visited the other beaches in Puerto Escondido are. It's the perfect place to escape the hustle and bustle of the town.
Playa Carrizalillo
Good for: Swimming, snorkelling, sunbathing
This is Oaxaca's postcard-perfect beach! Its bay location – surrounded by palm-tree-lined cliffs on either side – make Playa Carrizalillo as picture-perfect as they come. And, it's just a stone's throw from the Rinconada neighbourhood in Puerto Escondido.
To access the golden sand beach, you'll need to climb down a long path of stairs. Unfortunately, down is the easier part. And, you'll be faced with the hard slog up after hours of enjoyment on the beach!
The calmer waters of Playa Carrizalillo make it suitable for swimming near the shore. Though, there are often surfers here too. Snorkel near the rocks on either side to get up close and personal with sea life. Or, lay on the beach basking in Oaxaca's year-round sunshine. The choice is yours!
Did you know… It takes 20 hours to reach Puerto Escondido from Mexico City by bus, but just 75 minutes to fly direct. Check out flight options today and get yourself on the beach in no time at all!
Playa Puerto Angelito
Good for: Swimming, sunbathing, eating and drinking on the beach
One of the smaller Oaxaca beaches, Playa Puerto Angelito still has a lot to offer. Located between the Rinconada and Centro neighbourhoods, this is also the place to come and find a boat for a sunset tour.
The beach is lined with small bars and restaurants serving a variety of food. Although seafood is the main cuisine on offer. Tucked away in a bay, the calm, blue sea of Puerto Angelito is perfect for swimming. And, you'll also find paddleboards available for hire.
All of this makes the beach popular with locals, families and tourists. So, this is one of the busier beaches in Puerto Escondido. Nevertheless, I always say that places are popular for a reason and Playa Puerto Angelito certainly has a lot of reasons to visit.
Playa Manzanillo
Good for: Snorkelling, swimming, beach-front restaurants
Just across the bay from Playa Puerto Angelito, and connected by a short walkway, is Playa Manzanillo. Equally as small and equally as popular.
Unlike Puerto Angelito, there are a lot fewer boats moored in front of Playa Manzanillo. Meaning, you can swim out further from the shore. Plus, there are plenty of places to snorkel in the calm water to see all types of sea life.
Many of the beach-front restaurants on Playa Manzanillo also have sun loungers available for use in exchange for buying from there. Perfect for enjoying the paradise-like views over the ocean.
Still looking for accommodation in Puerto Escondido?

Find the top-rated hotels, check availability and book online through booking.com or hostelworld.com
Playa Zicatela
Good for: Surfing (all levels), sunbathing, watching the sunset
Perhaps considered the main beach in Puerto Escondido, Playa Zicatela stretches 3.5 km all the way from the Centro district to Punta Zicatela. And yet, despite being one long beach, different parts have a totally different look and feel.
At the northern tip, nearest Playa Principal – a beach that is pretty much Playa Zicatela – the water is calmest. Then, in the middle of the beach is where the professional surfing tournaments take place and the waves are huge! While around La Punta, the southern end of the beach, is more suitable for beginner surfers.
Surfing may be the top water activity here, but watching the sunset is definitely the most popular beach activity. Playa Zicatela is the place to see the sunset in Puerto Escondido every day, it's very much a community activity. Grab a beer, a towel and get yourself to the beach to watch the sky change colour! One of the best Puerto Escondido beaches to visit.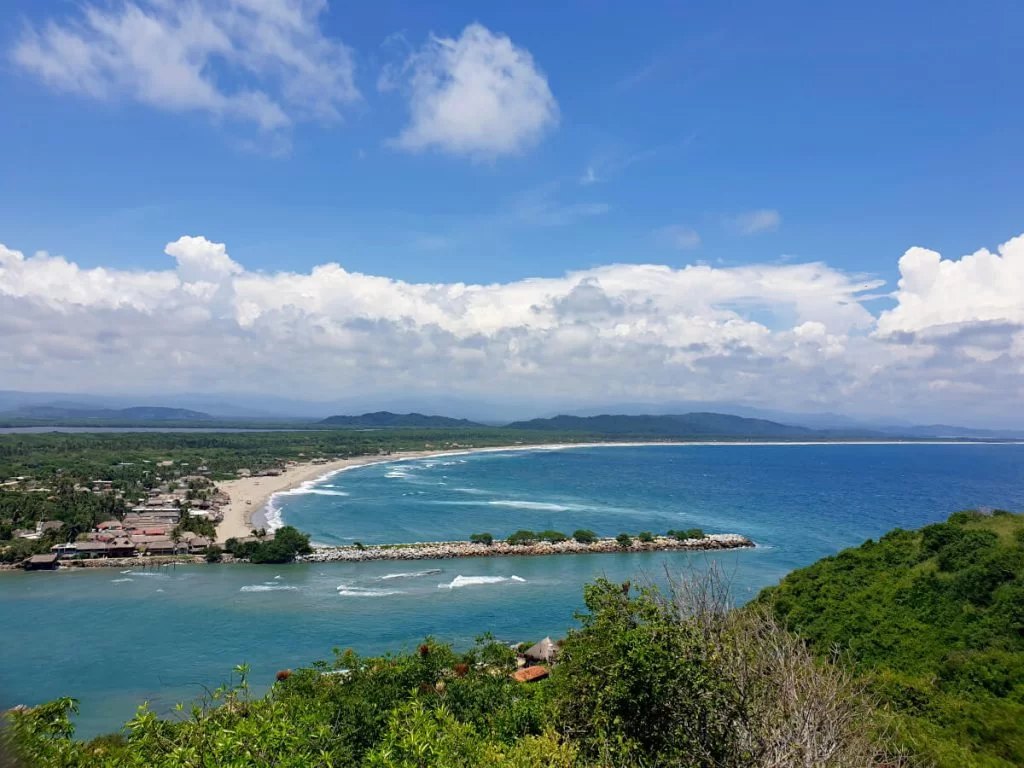 Lagunas de Chacahua National Park
To the west of Puerto Escondido is a place few tourists and backpackers have heard of and even fewer have visited: Lagunas de Chacahua National Park (or Chacahua for short). The national park has some of the most rustic, untouched beaches in Oaxaca, making it a unique place to visit and stay.
Playa Chacahua
Good for: Surfing (especially beginners), sunbathing, escaping the crowds
With miles of pristine, golden sand, Playa Chacahua is a Oaxaca beach experience like no other. Off-grid and off the beaten path, don't expect phone signal, WiFi or much in the way of amenities.
At the southern-most part of the Playa Chacahua, you'll find most of the lodgings and restaurants, generally in cabanas. Here, you can enjoy a beachfront drink of your choice. Though be sure to bring plenty of cash as nowhere takes card payments.
Along the Playa Chacahua, you'll also find surfboards and kayaks to hire. The waves here are perfect for beginners. And there's always someone in the small town of just a few hundred people giving a lesson.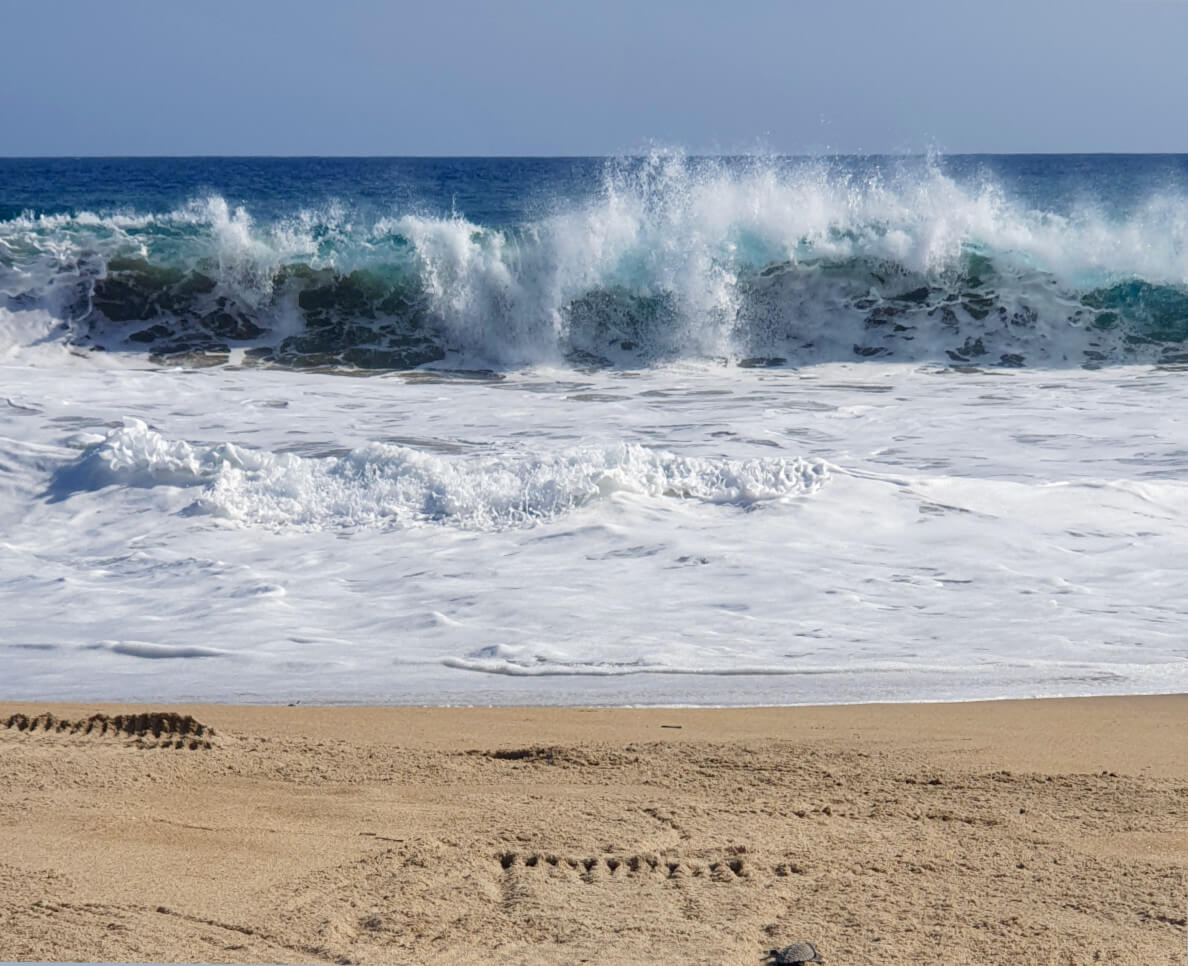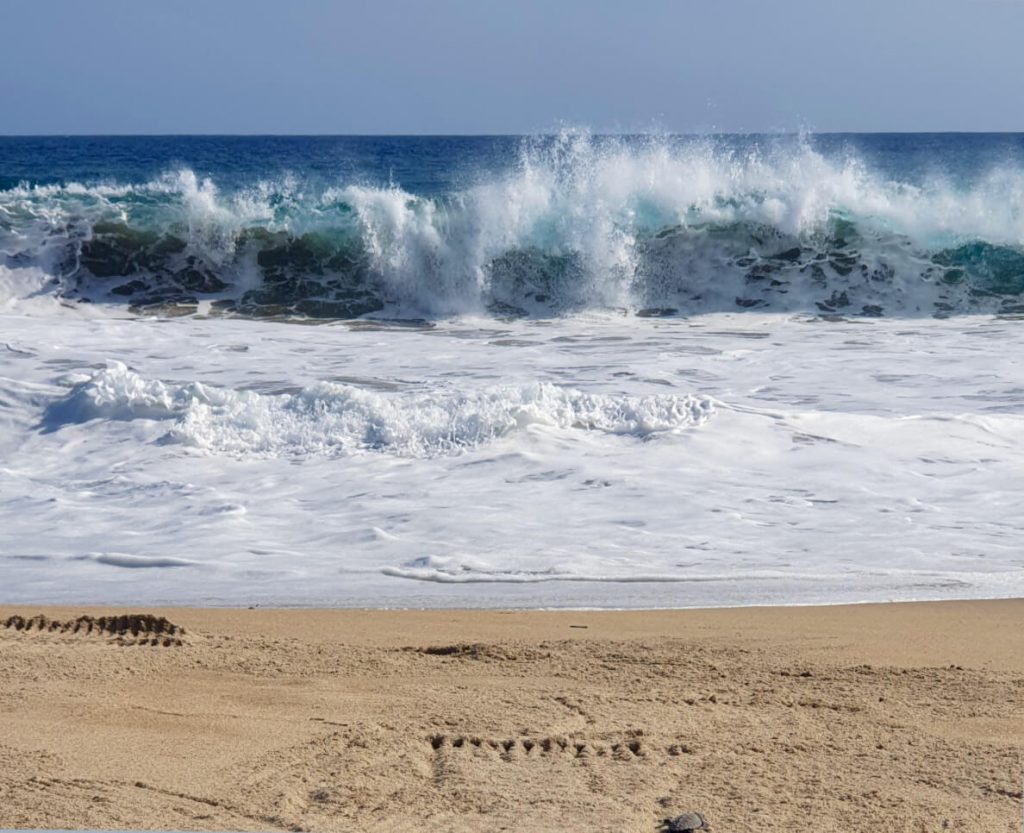 Beaches in Mazunte & Zipolite
Mazunte and Zipolite are the spiritual towns of the Oaxaca coast. Just 5 km apart, the two towns are less developed and receive fewer tourists than Puerto Escondido. The towns are a place people come to escape the crowds and reconnect with themselves and their surroundings.
Playa Mermejita
Good for: Watching the sunset, finding peace and quiet, wildlife watching
Just west of Mazunte is Playa Mermejita, one of the lesser-known beaches in Oaxaca. However, the area is growing in popularity and more hotels are being built along the beach.
Playa Mermejita is flanked by two notable landmarks. On one end of the beach, there is Punta Ventanilla, a rock formation that has a 'window' (ventana in Spanish). And, at the other end is Punta Cometa, the southern-most point of Oaxaca and a great place to spot sea life.
A worthy addition to this list of top-tier Oaxaca playas for being able to escape the busier beaches located nearer Mazunte.
Playa San Agustinillo
Good for: Swimming, snorkelling, eating and drinking on the beachfront
On the other side of Mazunte is Playa San Agustinillo. The area around this golden sand paradise is more developed, with hotels, shops and restaurants along the beachfront. Yet, this Oaxaca playa is still not as busy as Playa Mazunte or Playa Zipolite.
The normally calm seas of Playa San Agustinillo make it the perfect place for swimming or snorkelling. Or, you can just lay in the sun with a drink from a nearby bar. This beach is great for visitors of all ages as it's easy to access, close to Mazunte and isn't very busy.
Additionally, Playa San Agustinillo is another Oaxaca beach where you can find a small, private boat to take you out whale watching or to watch the sunset from the ocean.
RELATED POST: Head inland from Mazunte and Zipolite to the Oaxaca highlands to escape the high temperatures for a few days. Visit the cool mountain town of San Jose del Pacifico, a psychedelic haven where magic mushrooms are legal!
Playa Mazunte
Good for: Sunbathing, relaxing, enjoying the Oaxaca beach town vibe
A strong contender as one of the best beaches in Oaxaca! Playa Mazunte has golden sand, clear, blue seas and a laidback vibe.
At times, the beach is perfect for swimming near the shore. Though, the waves and tide can be deceptively strong so make sure to check the current flag warning. Playa Mazunte is, however, the perfect place to lay around and relax on the beach. The view is spectacular and the beach is not as popular as those in Puerto Escondido.
Plenty of guesthouses, restaurants and bars line the beachfront. So, you can spend all day here without having to go into the town for food or snacks. Plus, you can break up your day with a visit to the Turtle Museum just a few metres back from Playa Mazunte. Entry is only 38 pesos and you can see the turtles that are currently in their rehabilitation centre.
Playa Zipolite
Good for: Nudists, sunbathing, watching the sunset
Across all the beaches of Oaxaca, Playa Zipolite is the most popular nudist beach. As a result, the town and beach are both very tolerant and liberal areas.
Playa Zipolite itself is one of the most beautiful Oaxaca playas and it does not attract the level of visitors seen in other towns along the coast. The waves are a lot stronger in Zipolite compared with Mazunte, so it's not a great place to swim. But, you'll be sure to find a place along the long golden strip of beach to relax in the sunshine.
The town of Zipolite is very small and a good proportion of the restaurants and hotels are located along the beach. But don't worry, there's not a high-rise hotel in sight just lots of cabanas and bamboo rooftops.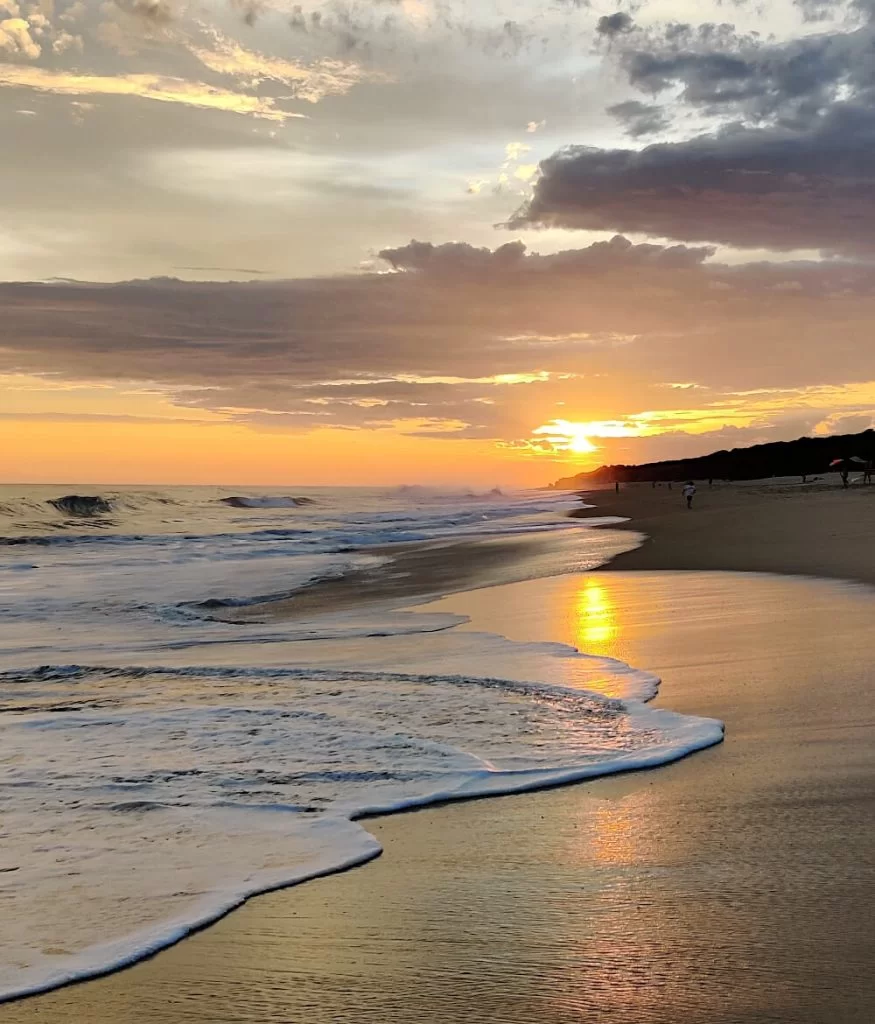 Huatulco, Oaxaca Beaches
At the mid-point of the Oaxaca coast is Huatulco, an area more popular with domestic than international visitors. The area caters to travellers of all budgets with everything from local guesthouses to luxury resorts. There's no shortage of beautiful beaches in Huatulco. So, whether you want to swim, snorkel, sunbathe, enjoy beach beers or just escape, there's a beach in Huatulco for you.
Playa Tangolunda
Good for: Escaping the crowds, a cheap day out, sunbathing
Not far from Huatulco is Playa Tangolunda, a beach that attracts few visitors due to the poor access routes. That said, once you reach the beach you'll get to enjoy the beautiful golden sand, blue seas and scenic surroundings.
If you're looking for a place to relax and find some peace and quiet, Playa Tangolunda is the perfect candidate. There's no beachfront restaurants (only hotels with no visitor access), no bars and hardly any vendors.
The rough waves and steep seabed do make it unsuitable for both swimming and visiting with children. However, Playa Tangolunda is one of the best Oaxaca beaches to just sit back and relax in the year-round sunshine.
Playa Punta Arenas
Good for: Spending time on an isolated beach, surrounding yourself with nature, sunbathing
Travel east along the Oaxaca coast from Huatulco to find the remote Playa Punta Arenas. You'll need to take a taxi or have your own car to reach here, but when you do, it will surely be worth it.
This long, golden beach is an isolated paradise. There are no bars, restaurants or shops around. No sun loungers, parasols or deck chairs. Instead, you'll escape the busy beach Oaxaca beach towns to surround yourself with natural beauty.
Pack what you need for the day and enjoy one of the best beaches in Oaxaca that is still untouched and undeveloped. Sadly, it won't be like this forever! Make sure you take home everything you bring with you to leave it as stunning for the next person.
Fly direct from Mexico City to Huatulco Airport in 70 minutes on one of the 10 flights operating each day.

Three airlines operate this route so check availability and prices online before booking the best deal.
Playa Santa Cruz
Good for: Swimming, watching cruise ships, eating at higher-end beachfront restaurants
On the outskirts of Huatulco is Playa Santa Cruz, your typical Oaxaca playa. Golden sand, clear, blue sea and scenic surroundings. Perhaps average by the standard of Mexico beaches, but beautiful nevertheless.
Located right next to the cruise ship dockyard, you can swim in the calm blue sea under the shadow of the mammoth ships of today. Though, because of being a cruise ship port, prices are higher than around other beaches in Oaxaca.
Along the beachfront, you'll find restaurants, beach clubs and bars. Although, taking a short walk from the shore should mean you avoid the sea-front price premium.
Playa el Violín
Good for: Swimming, snorkelling, reaching by way of adventure
One of the smallest and most difficult to access beaches of Oaxaca, a visit to Playa el Violín feels like a trip to a desert island.
Located in a small cove with calm water perfect for swimming and snorkelling, access to the beach is by a short but steep downhill walk from the nearby road. The path is uneven and challenging making it unsuitable for those with access needs and young children.
Nevertheless, for those seeking a unique beach experience, Playa el Violín is the perfect place to adventure to. Naturally, there are no bars, restaurants or shops on the beach, so be sure to bring what you need. Additionally, as there's no lifeguard, take care to only swim near the shore and check you are not being pulled out to sea or towards the rocks.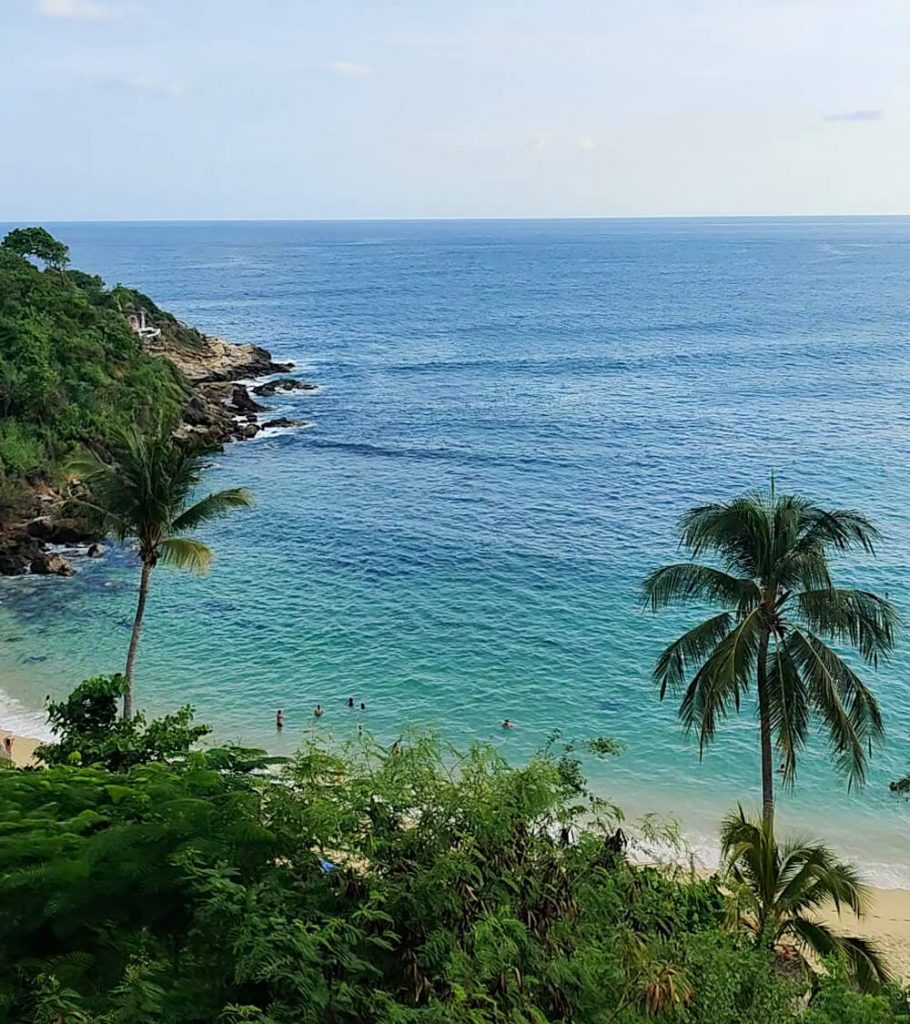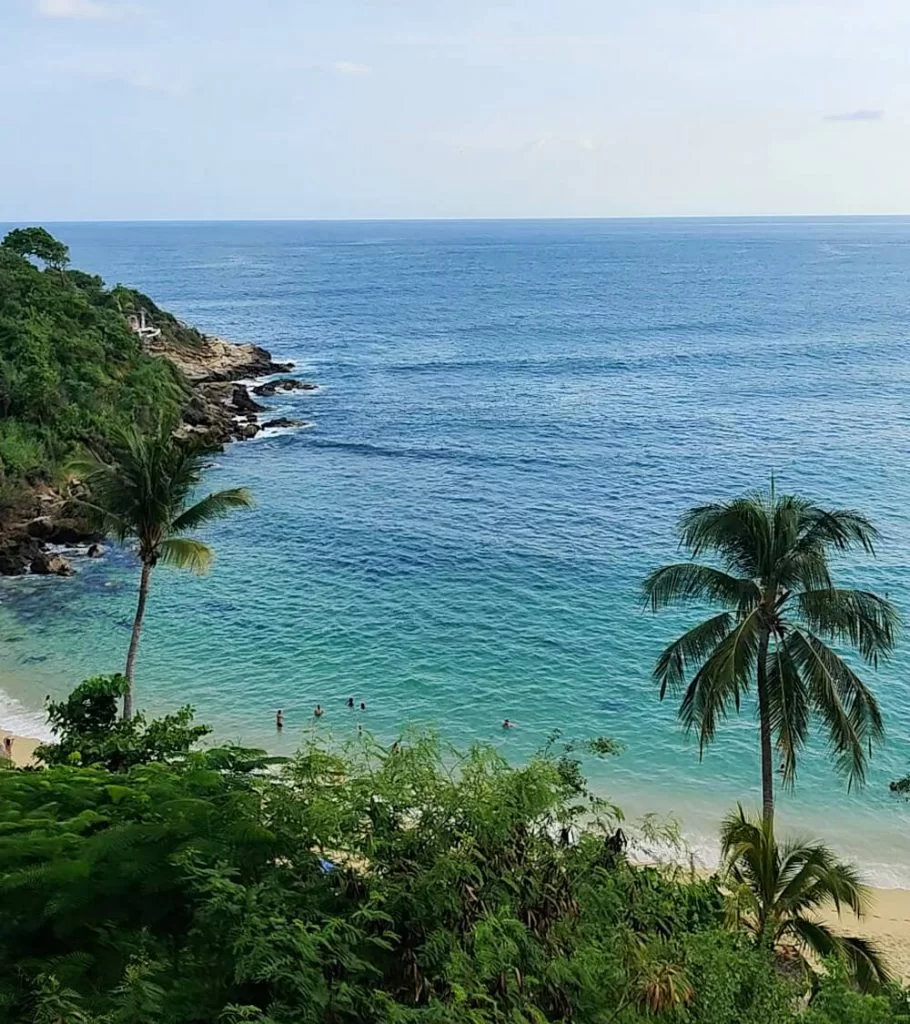 Beaches in Salina Cruz
Not your typical tourist destination, Salina Cruz is one of the biggest ports in Mexico. You're more likely to see oil tankers and cargo ships than backpackers. Though the city's coastline is completely dominated by dockyards and piers, if you ever find yourself in Salina Cruz there are a couple of beaches on the outskirts worth visiting.
Playa Las Escolleras
Good for: Beach walks, escaping the city, spending time in the Mexican sun
Just west of the city is Playa Las Escolleras, a beach that stretches around a crescent-shaped bay. It's the perfect place to escape the concrete jungle and disconnect from the world for a while.
The fierce waves and current mean that swimming is not possible. Rather, Playa Las Escolleras is a place to bring a picnic and spend time in the sun. Or, come here to take a walk along the beach soaking in all the vitamin D from the year-round sunshine.
A handful of small restaurants are located on the road behind the beach but don't expect much else in terms of amenities. Bring your own camping chair if you have one!
Playa Escondida
Good for: Getting off the beaten path, fishing, seeing sand dunes
Further west from Salina Cruz and near the village of Guelaguechi is Playa Escondida. This small playa is one of the more remote beaches of Oaxaca, though popular with local anglers.
Naturally, Playa Escondida's remote location means you won't find any beach bars here, so be sure to pack your own cocktail shaker! And all the refreshments you'll need for a day at this golden sand beach.
Towards the eastern end of Playa Escondida, you can also find sand dunes to explore. Further along the coast, the beach becomes Playa Azul de Salina Cruz. And here, you will find a few restaurants though it still has a rustic feel.
---
If you have any questions or want any more information on any Oaxaca playas, drop a comment below and I'll get back to you!
Information is correct as of January 2022 but is subject to change in future.
---
More Mexico Travel Guides
Coastal Oaxaca: Playa Bacocho, Puerto Escondido (Oaxaca Beach Guide)
Central Oaxaca: San José del Pacifico, Oaxaca (Complete Travel Guide)
Coastal Oaxaca: Lagunas de Chacahua, Oaxaca (Ultimate Travel Guide)
Oaxaca: Getting from Oaxaca to Puerto Escondido (Transport Options)
Chiapas: Incredible Waterfalls at Cascadas El Chiflón, Chiapas (Travel Guide)
Chiapas: Visit El Arcotete Eco Park in San Cristobal, Chiapas [Complete Guide]
And much more, check out all Mexico Travel Guides here!
---
PIN IT FOR LATER!