I'm going to let you into a little secret, ok? Lagunas de Chacahua, Oaxaca. That's it, that's the secret.
Because this is one of the last few places in Mexico unspoiled by tourism. A place that perfectly balances rustic charm and natural beauty with a level of tourism that supports the island and its inhabitants.
Chacahua – with its national park status – is remote, off the beaten path and there's not a high-rise hotel in sight. In the national park, there are miles of beaches, perfect surfing waves lagoons, mangroves and a whole host of wildlife. And, in the heart of it all is a small town of just over 400 people who live and work in the beachfront cabanas and restaurants.
So, if you're looking for a place that's unspoiled, raw and real, then Chacahua Mexico is the place for you.
Some of the links below are affiliate links, meaning, at no additional cost to you, I may earn a small commission if you click through and make a qualifying purchase.
Where is Chacahua, Oaxaca?
Parque Nacional Lagunas de Chacahua (Chacahua Lagoons National Park in English) is on the Pacific coast of Oaxaca, about 60 km west of Puerto Escondido. The town itself is located on the southern tip of the national park. You can see the location on Google Maps here.
But, you need to be careful! If you do just type in 'Chacahua Oaxaca' to Google Maps, it will show you a small village east of Puerto Escondido, near Mazunte. This is not the place that you'll be looking for! It has no beaches, no rustic charm and, well, nothing to do. Make sure to search for Parque Nacional Lagunas de Chacahua Oaxaca (or star the link above).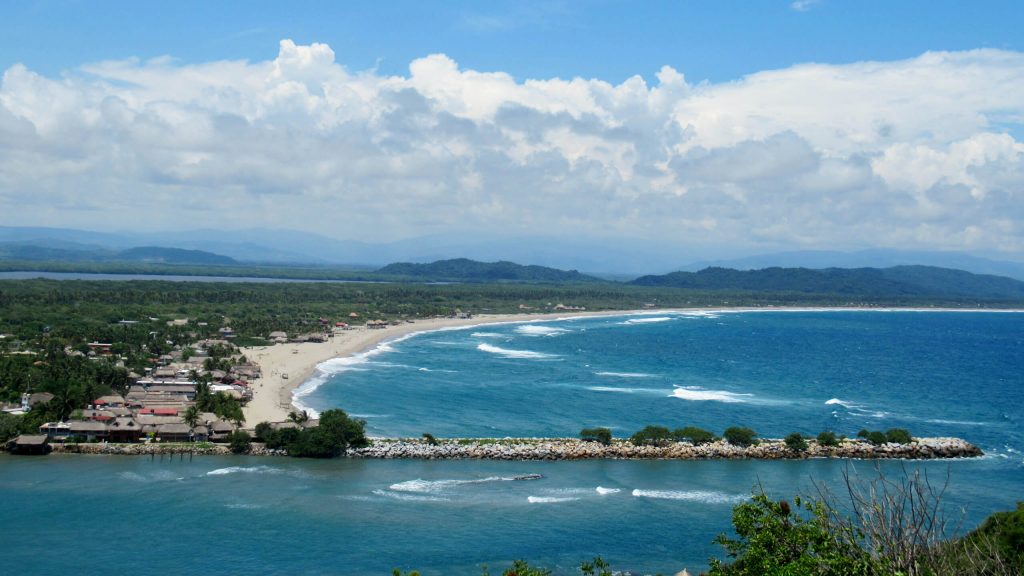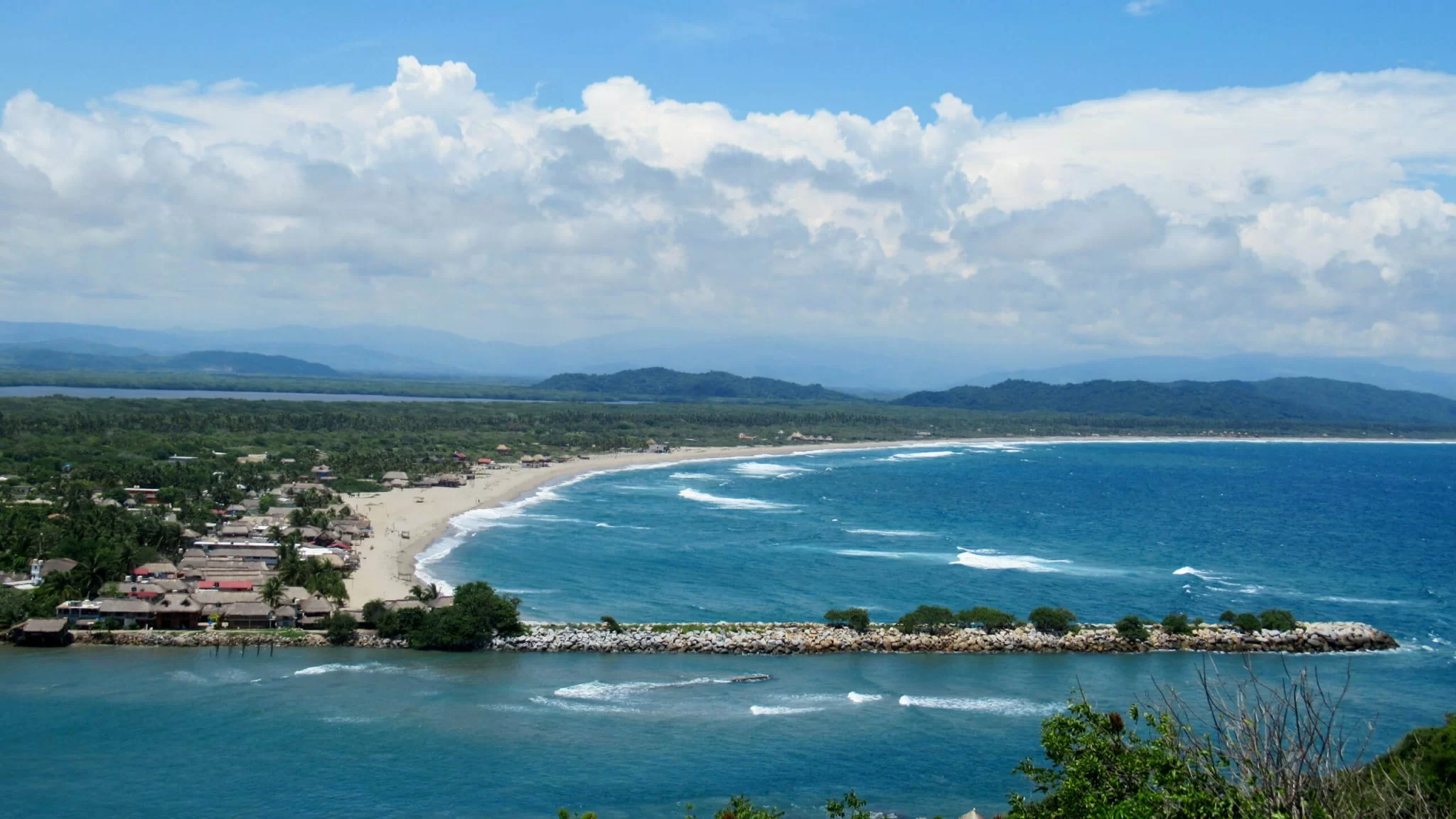 What makes Chacahua Island so special?
Rustic charm, unspoiled beaches, great surf and an off-the-beaten-track feel. Arriving here feels like you're on a newly discovered desert island in paradise! Don't expect any of life's luxuries (except for natural beauty) and be prepared to get back to basics.
The island is far from the most popular Oaxaca beach destination. But, most backpackers who spend more than a couple of days in Puerto Escondido have heard of it. However, few make the journey west via colectivo, boat and a second colectivo to reach its sandy shores.
Perhaps it's the perceived difficulty of the journey or perhaps it's the lack of infrastructure (there's hardly any phone signal or WiFi on the island). But, either way, it makes Laguna de Chacahua Mexico a unique place to experience. And, I certainly hope that doesn't change anytime soon.
Luckily, the town is in a national park. And, Mexico's laws tightly control any new buildings and possible environmental impact in these national parks. So, hopefully, the rustic charm will be preserved for many more years and travellers to come.
Does Chacahua Have Internet?
Being on Chacahua Island doesn't mean you'll be completely cut off from the outside world, there is some internet. However, there is no cable internet. And, all the WiFi provided by the different hotels and guesthouses is satellite data, which is variable in speed and reliability.
The internet is generally good enough to send messages, check social media occasionally (photo only) and load basic web pages. Don't expect to be uploading to Instagram, or at all for that matter.
And, don't expect to be able to download anything or watch videos on social media channels. You certainly won't be able to have video calls and voice calls will also probably drop in and out.
If you need to work with an internet connection, Chacahua National Park is not the place to be. Mobile data signal is also close to non-existent, so hot-spotting from your phone signal isn't possible either. Plus, storms – common in the wet season in the tropics – can cause internet signal to worsen and lead to power cuts, completely cutting off the internet on Isla Chacahua Mexico.
How to get to Chacahua
Pretty much the only way to get to the island is from Puerto Escondido. And, unless you have your own vehicle, you'll need to take at least 3 forms of transportation! Trust me, it's worth it in the end!
Puerto Escondido is easily reached from both Oaxaca City and San Cristobal de las Casas by an overnight bus. While, the towns of San Jose del Pacifico, Mazunte and Zipolite are just a short bus ride away.
For those from further afield needing to reach Puerto Escondido, there is an airport just a 10-minute town from the centre of the town. Flights arrive all throughout the day from Mexico City, where you can connect to 100s of destinations across Mexico and the world.
If you're really short on time, one-day tours from Puerto Escondido are available at a premium. This whistle-stop day trip includes a boat tour of the mangroves, a bioluminescence tour and time in the town to swim, relax and eat.
---
Find the best prices and the best dates with flight comparison sites like Skyscanner!
Make sure you use tools such as 'Add nearby airports' and set your departure airport as wide as possible (you can just put the United States or Mexico, for example) to see the cheapest places to fly from! Check prices for your trip here…
---
How to get From Puerto Escondido to Chacahua
Take a colectivo from Terminal TUR (next to the ADO/OCC bus station) for 70 pesos per person. Ask for El Zapotalito. There you'll be dropped off on the side of the road at the junction here
Cross over the road and wait at the small shelter for a taxi (if there's not one already there). These are specific taxis that ferry people from the collectivo drop-off and into El Zapotalito all day. The taxi costs 20 pesos per person, regardless of how many people get in.
In El Zapotalito, you have two options.

Option A, take a quick (10 minutes or so), 50 pesos per person boat to the island followed by a colectivo for 50 pesos per person (it's really a truck) along a dust road into the town. The colectivo picks you up straight from the jetty where the boat drops you off and takes about 25 minutes to reach the town. But, you might have to help them load up with the supplies that are being delivered to the town!
Option B is to get a longer (45 to 60 minutes), direct boat all the way to the town. However, you'll need to negotiate the price with whoever has a boat and is going (you'll probably have to ask around). Fares range between 200 to 600 pesos per person depending on group size, negotiation skills and your level of Spanish!
PUERTO ESCONDIDO TO CHACHUA IN SHORT: Puerto Escondido to El Zapotalito by colectivo | Shared taxi to the jetty | Either a boat and colectivo OR a direct boat to Isla Chacahua Mexico
From wherever you get dropped off in the town of Chacahua, Oaxaca, you'll have to walk to your accommodation as there are no taxis or other forms of transport.
Personally, I would recommend getting the long boat at least once (either outward or return journey) and then the short boat + colectivo the other time. With the long boat, it's almost like a tour combined with transport as you'll get to see most of the lagoon as well as the El Corral mangroves.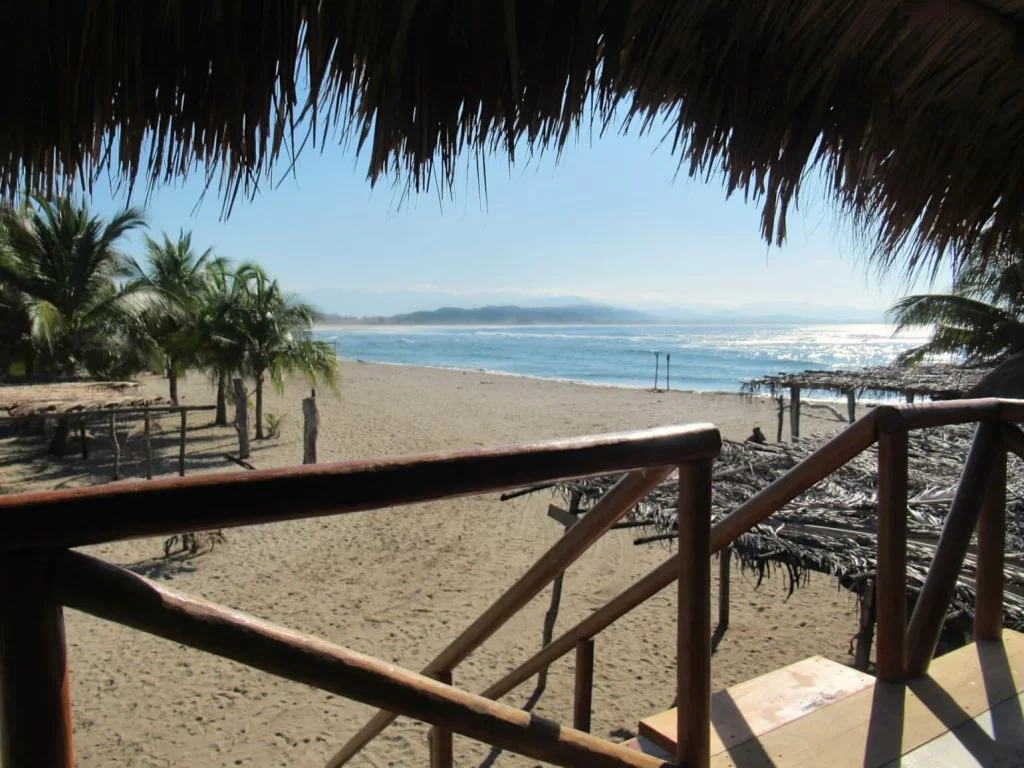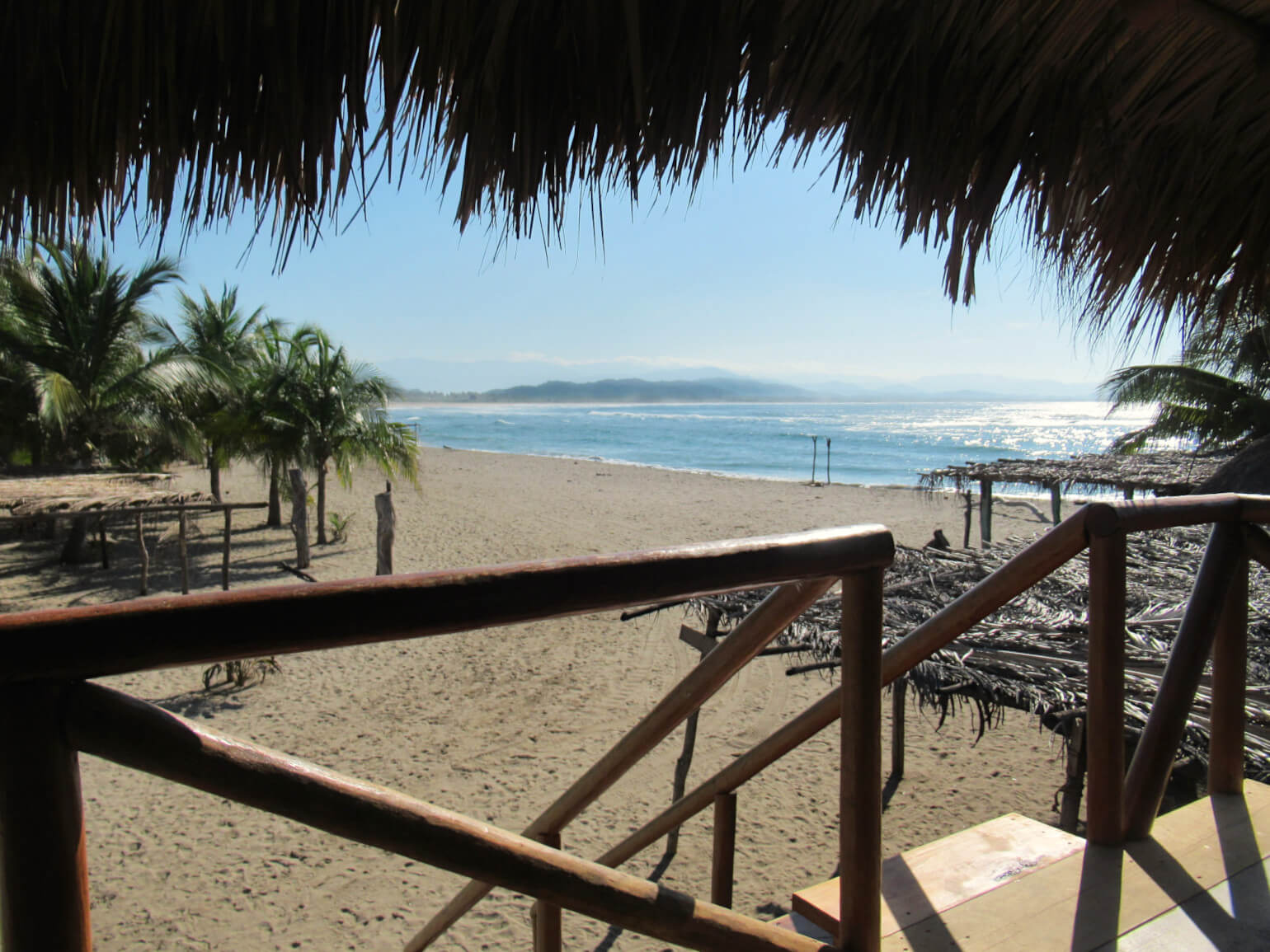 Where to stay in Chacahua
Just last year, Lagunas de Chacahua Oaxaca had no hotels and only two options to book online in advance. Now, with the boom of tourism in Mexico, there are more options than ever!
The increase in Chacahua accommodation options means there's something for all budgets, shoestring and treat-yourself types. And generally speaking, there are two types of accommodation to choose from.
Firstly, you can either camp in a tent or stay in a hammock at one of the many all-in-one restaurant-bar-accommodation-equipment hire places along the beach. Or, you can stay in a cabana or hotel – there's plenty along the beach, near the lagoon and in the town.
Chacahua Camping/hammock Options
This is the most budget accommodation option but is also the most basic. Many of the restaurants along the beach will have hammocks you can stay in. Typically, the cost is 50 pesos per night but can be negotiated to free on the understanding that you'll buy lunch and/or dinner from them each day.
Alternatively, there are some places with camping areas – tents ready set up and the like – that charge less than 100 pesos per night.
For both of these options, there's no way to book in advance. Rather, it's a case of turning up and asking each place if they have availability. Don't expect much in the way of facilities, there's likely to be a cold shower, maybe a plug socket or two, and possibly – but not likely – WiFi.
Chacahua Cabanas
Cabanas are the main form of accommodation in Chacahua Oaxaca Mexico. And, there's plenty along the beachfront and slightly set back from it too. Some of these appear on Google Maps and some do not.
Most people do just turn up and ask around for a room and this is probably how you get the best price. Basic accommodation options start at around 300 pesos per night but can be much higher with more facilities and a larger room.
However… an increasing number of Chacahua cabanas are available to book online. Either on Booking.com, their own Facebook pages or Airbnb. Advance bookings are ideal for introverts, those whose Spanish leaves a lot to be desired, those arriving late or those visiting in peak times.
Chacahua Accommodation Bookable Directly Online
Cabanas La Isla. Located right next to where the Laguna Chacahua meets the Pacific Ocean, these cabanas have everything you need. Bed, mosquito net, private bathroom with shower, awesome views and the best internet I found on the island. I stayed here for 5 nights in total and couldn't recommend it more!
BOOK HERE: Cabanas La Isla (beach- and lagoon-front cabanas with the best internet on the island)!
Porã Chacahua. Ok, while the accommodation is technically yurts and tents, I've included it in this section as it is fancy. With a perfect location right on Chacahua Playa and a 30-minute walk from the main area of the town, you get to relax in paradise and isolation but still not too far from everything. There's even a shared kitchen to boot.
SEE IT HERE: Porã Chacahua (Boujee beachfront yurts away from the town)
Cabañas Alta Mar. Another beachfront property that offers 24-hour service with double and family rooms. Though claiming to be a 5-star hotel, I would dial your expectations back slightly. But, nevertheless, the cabanas are stunning, highly rated and not to be missed. Rooms come with fans and private bathrooms as well as a hammock for the ultimate relaxing day.
CHECK AVAILABILITY AND BOOK: Cabañas Alta Mar (Beachfront self-proclaimed 5-star hotel with beautiful rooms and views)
Hotel Sanmara. Isla Chacahua's first hotel and first with a pool! Things are certainly changing in this remote beach town. No longer do you have to brave the fierce waves to cool down in the ocean, instead enjoy the 3rd-floor pool. The rooms even have air conditioning, this is unheard of in Laguna Chacahua! If you're looking for luxury, this is the place for you.
SLICE OF LUXURY: Hotel Sanmara (Swimming pool and air conditioning, the fanciest Chacahua accommodation option)
Chacahua Accommodation Reservable Through Facebook
Remember, avoid sending money directly to people or businesses. Ideally, use payment protection provided by third-party intermediaries such as booking sites or PayPal.
Charly's Cabanas & Camping. Basic accommodation at budget-friendly prices just a stone's throw from the beach and the main area of bars and restaurants. Although, the property does have a restaurant onsite and a communal kitchen with the basics.
CONTACT VIA FACEBOOK OR WHATSAPP: Charly's Cabanas & Camping
Cabanas Ventanas al Pacifico. With its beachfront location, you can watch the sunrise from the beach-facing rooms. The quality of the accommodation is pretty high compared with local standards and with the onsite bar and restaurant, you'll have everything you need.
ENQUIRE & RESERVE ON FACEBOOK: Cabanas Ventanas al Pacifico
Cabañas El Paraiso. Boasts family rooms, hammocks, a restaurant and helpful staff to make your stay as enjoyable as possible. Basic accommodation a short walk from the town but right on the beach.
CONTACT ON FACEBOOK | BOOK ON AIRBNB
Chacahua Hostel
Sadly, there aren't any Chacahua hostels in the typical sense of dorms, private rooms and shared living spaces.
But given the island's popularity with backpackers, whoever opens the first Chacahua hostel is for sure going to get plenty of guests!
Best things to do
Surf the waves
Like many of the towns on the Oaxacan coast, the waves along the shores of the national park are perfect for surfing. And, perhaps more suited to beginners than the fierce waves along Zicatela Beach in Puerto Escondido.
In addition to also being accommodations and restaurants, most of the beachfront properties have surfboards to hire. Some even have kayaks. Alternatively, you can bring a shortboard from Puerto Escondido as the collectivos and taxis have roof racks or you can fit it in the aisle.
To enjoy the Chacahua surf, you can either go out by yourself/with friends or ask around the island for someone willing to give you a lesson. Again, the price depends on your negotiation skills. Alternatively, check out Chacahua Surf Camp.
Relax on the beach
You can't visit the pristine beaches of Chacahua National Park without sitting for a while and enjoying them. But be careful not to dip your toes too close to the water's edge, or you might be taken out by a strong wave!
Swim in the Chacahua lagoon
While the waves on the beaches are too rough for swimming, there is one place on the island that is perfect for it! The estuary of the lagoon – just a stone's throw from the main beach – has hardly any waves and a nice small beach.
What makes this place so perfect though, is the gentle current flowing from the sea into the lagoon. You can jump off the beach sandbank at one end, float slowly downstream for 20 or 30 metres and then walk back up onto the beach!
Climb to the lighthouse
Across the mouth of the lagoon, sits a small lighthouse (El Faro in Spanish) on top of the hill. While the lighthouse itself might not be much to look at, the views from the top are incredible!
Take a boat to the other side, where one of the locals will likely point you in the direction of the walk start point as soon as they see you're a tourist.
It's a short but steep and sweaty almost straight uphill walk to the lighthouse. You can climb up inside the lighthouse – you did use to be able to climb out through the hatch too, but when I visited this had been padlocked shut.
You'll probably have to wait a little bit for a boat ride back while using any means available to flag down the boat driver on the other side. But, your (perhaps wavering) patience will be rewarded eventually!
The views make the walk totally worthwhile! This was honestly one of the highlights of Laguna de Chacahua for me!
Bring a camera and wear sturdy footwear as you'll be climbing on rocks, tree roots and dirt paths. As an additional side note, the lighthouse is also one of the best places on the island for phone signal!
Release Baby Turtles on Playa Chacahua
Chacahua Beach is popular with surfers and sunbathers, but it's also a popular nesting spot with turtles. Three species of turtle nest their eggs in the sand of Chacahua Playa: Olive Ridley, Leatherback and Green or Black turtles.
The volunteers and staff from Campamento Tortuguero Bahía de Chacahua Oaxaca collect the eggs, incubate them and then release them to make sure as many as possible reach the sea. Visitors can release a turtle onto the beach, where it will then make its way into the vast Pacific Ocean. Or, for a more unique experience, you can accompany the team as they collect the eggs – possibly seeing fully-grown turtles – in the dark of night.
The baby turtles hatch about 1.5 months after being nested on the beach. So, it's best to check with the sanctuary whether they are releasing any during your stay. Alternatively, you can also release them on Playa Bacocho in Puerto Escondido.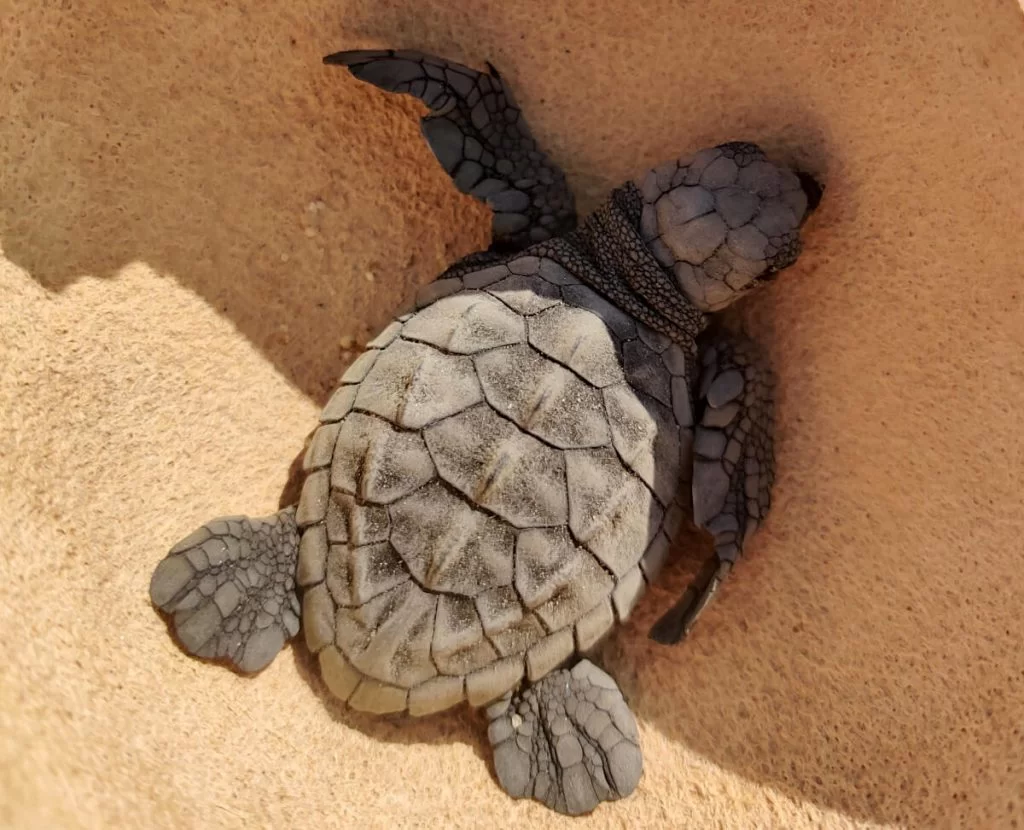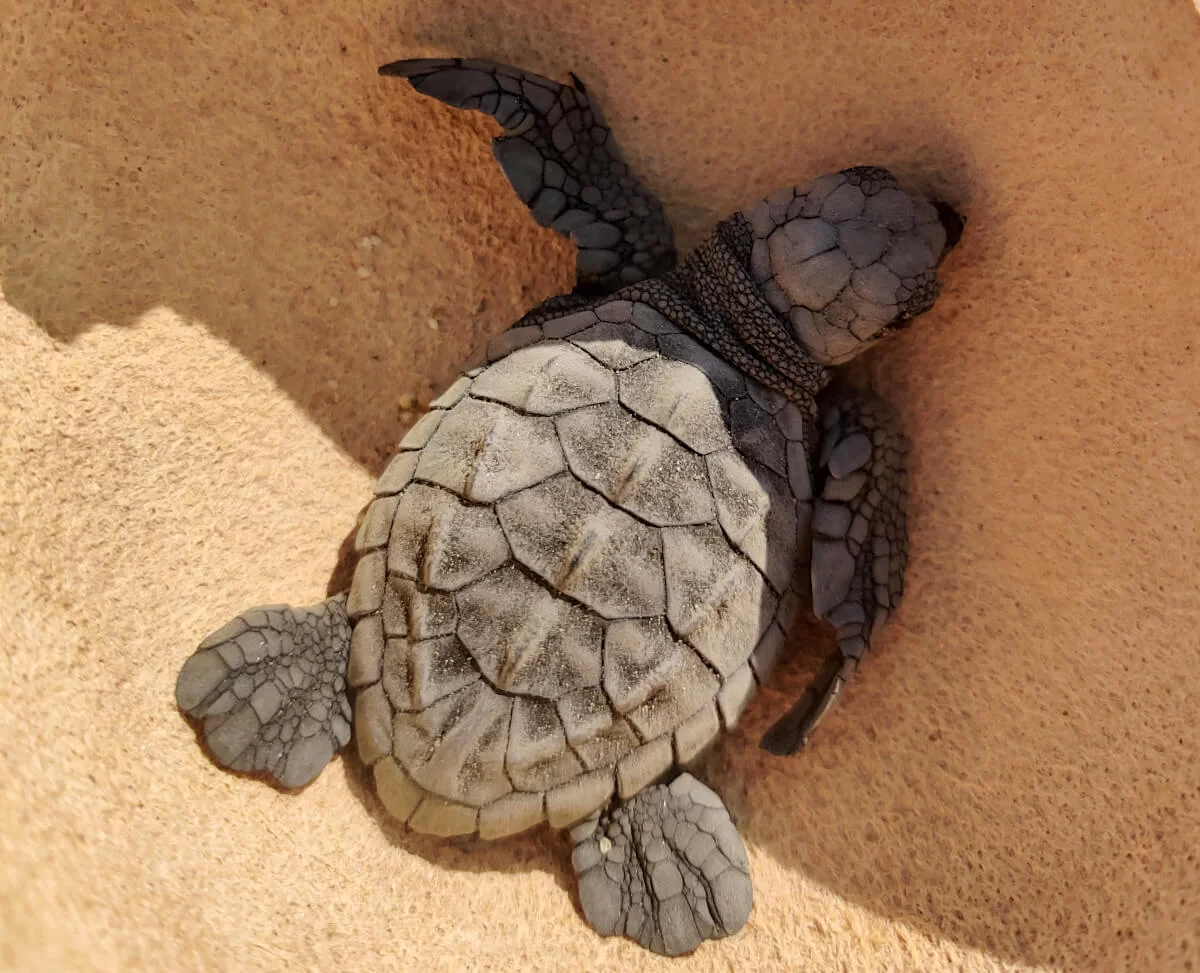 Bioluminescence
Best enjoyed during a new moon (Google is your friend for finding out when that'll be), the bioluminescence in the Chacahua National Park's lagoon is simply spectacular.
But, don't worry if you're not visiting during a new moon, you'll just need to head out on the water before moonrise or after moonset each night. I also had no idea that was a thing until I visited Holbox where bioluminescence tours are very popular.
As there are no tour agencies on the island, this will again be a case of finding someone willing to take you out on their boat to see the Chacahua bioluminescence. Perhaps best to ask during the day for that night. Expect to pay around 100 pesos per person.
During a new moon, you might also be able to see the bioluminescent plankton from the shores of Playa Chacahua or the mouth of the lagoon.
Boat tour of the lagoon and mangroves
If you didn't catch the long boat on the way to the island or if nature activities are more your thing, find someone with a boat to give you a tour of Laguna Chacahua.
Don't expect the locals to speak English though, so this may be a more visual tour if your language skills aren't quite there! Negotiate a price and trip length before heading out on a boat to avoid any surprises later.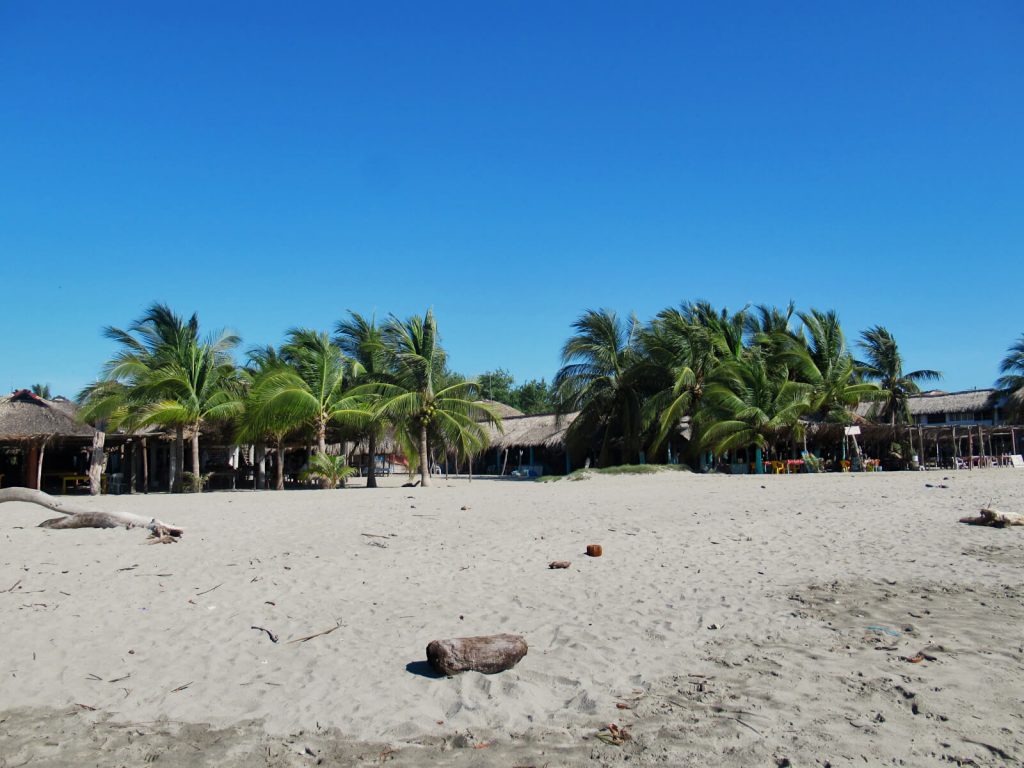 Where to eat and drink
Most of the places serving food are along the water's edge – either the main Chacahua beach or the mouth of the lagoon. Just don't expect much variety.
The options are mostly typical Mexican dishes or fish. But, you'll also find chicken wings, spaghetti and chips (french fries) in some of the restaurants. There are only a few vegetarian options though.
The prices aren't too dissimilar to other places along the Oaxaca coast despite the remote location. But, the island is reliant on food deliveries once or twice a week. This does mean that once somewhere is out of something, it can be a few days before it's on the menu again.
Additionally, pretty much all the restaurants double up as bars serving beers and/or cocktails. Plus, there's also a small shop in the town's square that sells snacks, drinks (soft and alcoholic), food, cigarettes and other essentials at reasonable prices.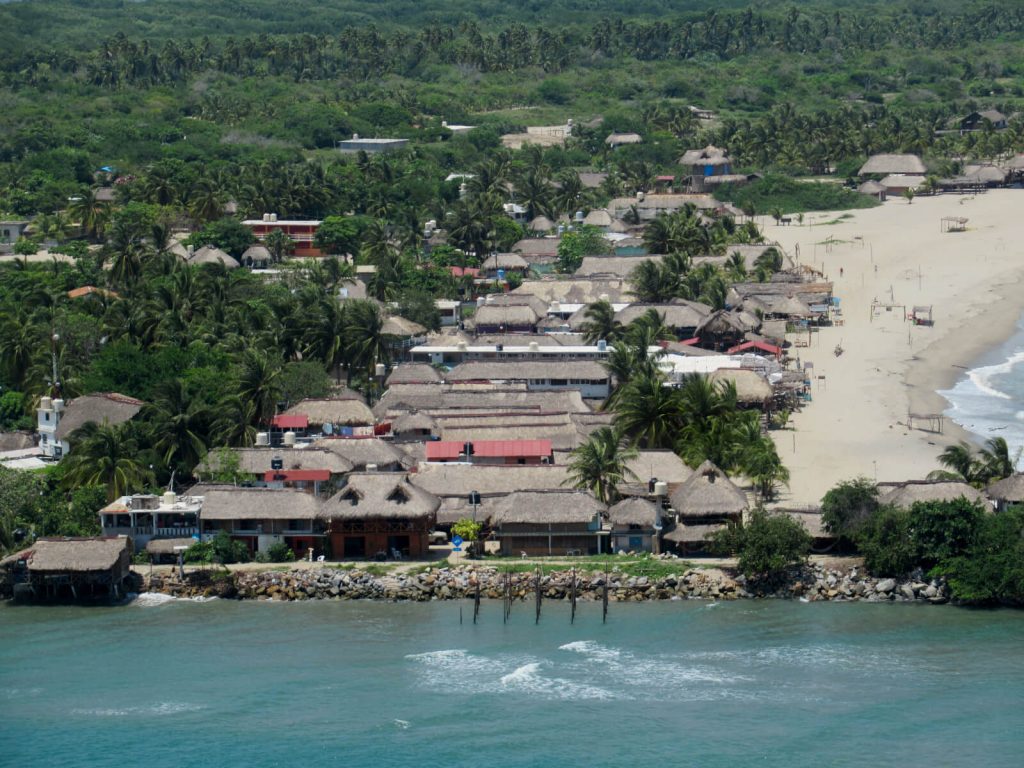 What to pack (if you're not bringing your entire backpack)
Cash, and lots of it. There's no ATM on the island so you need to bring what you think you'll need for the duration of your stay (plus a little extra as a buffer). Always bring more than you think you need! Because there's no phone signal and the WiFi is patchy at best, very few places accept card payments. And, those that do add on large charges. Save money by bringing plenty of money!
Plenty of sun cream. Self-explanatory, but the Sun just seems so much stronger in Lagunas de Chacahua Oaxaca Mexico. The big Chedraui in Puerto Escondido has the best-priced sun cream I've seen in Mexico. Do try and buy reef-safe sun cream if you can to help the oceans and preserve the lagoons. The baby turtle I released into the ocean in Puerto Escondido will thank you!
Bug repellent and a bite remedy. All the bugs and insects seem to come out just before sunset. And, as you're in a National Park with lagoons and mangroves, there is absolutely no shortage of wildlife to bite you! While we all hope repellent will do the trick, I'd also recommend coming prepared with bite cream or – my favourite travel accessory – a bite pen.
Swimming gear. I can't imagine you were planning on heading to a beachfront town without this one, to be honest! But, if I may share a recommendation. I bought a long-sleeve, SPF-protecting, swimming top in Puerto Escondido. And, it was a godsend for not having to put suncream on my upper body several times a day! Plus, once it was wet it kept me cool for ages but still dried quickly when hung up.
Offline activities to keep yourself amused. Books, eReaders, audiobooks, pre-downloaded Netflix, Sims, solitaire, whatever you fancy really!
As a final recommendation, leave your big backpack or suitcase in Puerto Escondido. Just bring enough clothes, toiletries, etc for the length of your stay. You won't regret it as it'll be so much easier to move from transport to transport, as well as when you're packing up at the end. Most hostels or hotels will store bags for a few days, so just ask.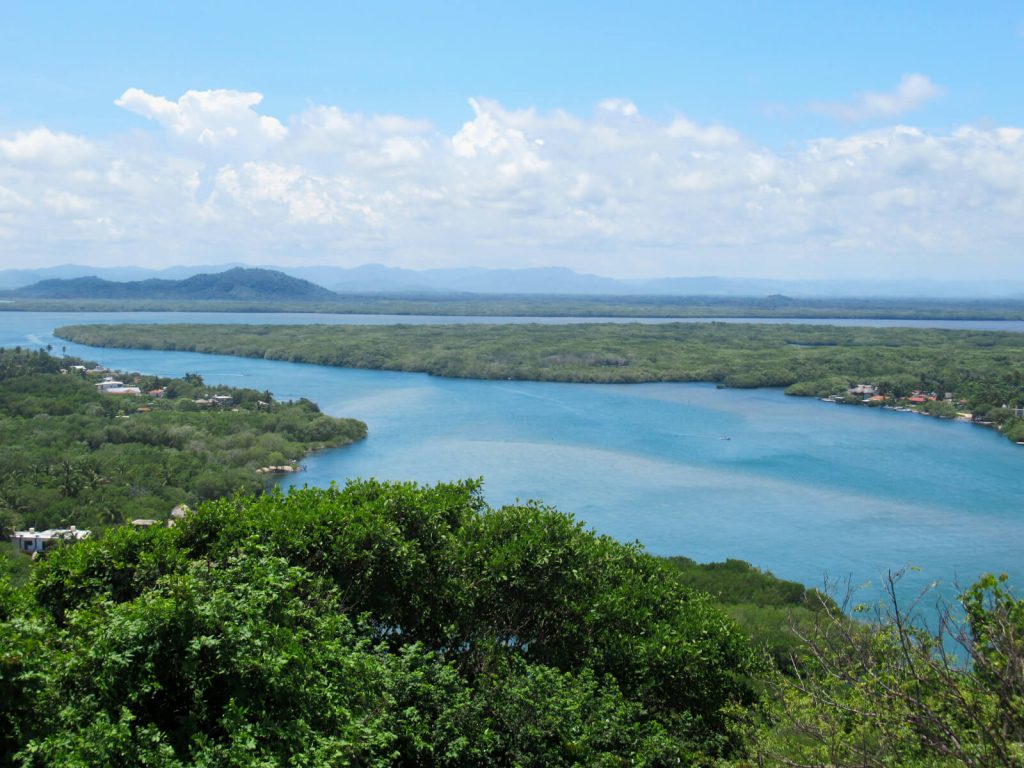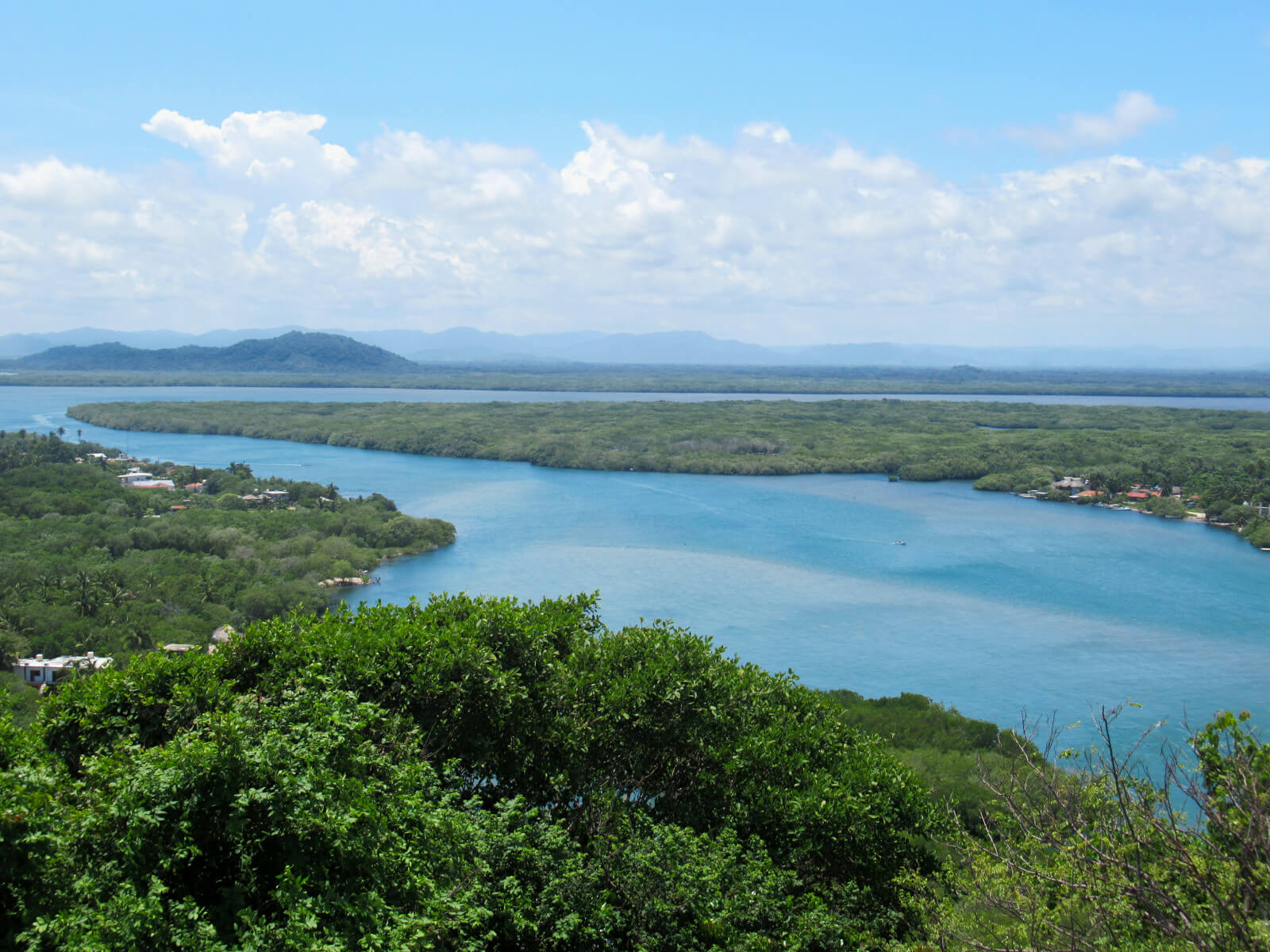 Useful Spanish phrases for your time in paradise
Are you going to El Zapotalito? ¿Vas a El Zapotalito?
Do you have a room for tonight? ¿Tienes una habitacion para esta noche?
How much for a surfboard for one day? ¿Cuanto por una table de surf por un dia?
Can we go to the other side, please? ¿Podemos ir al otra lado, por favor?
---
Do you have any questions or want any more information? If so, drop a comment below and I'll get back to you!
Information is correct as of November 2022 but is subject to change in future.
---
More Mexico Travel Guides
Oaxaca Coast: 17 Oaxaca Beaches You HAVE to Visit
Oaxaca Coast: Playa Bacocho, Puerto Escondido (Oaxaca Beach Guide)
Central Oaxaca: San José del Pacifico, Oaxaca (Complete Travel Guide)
Central Oaxaca: Cabañas La Cumbre, San José del Pacifico (Review + Complete Guide)
Oaxaca: Getting from Oaxaca to Puerto Escondido (Transport Options)
Chiapas: Visit El Arcotete Eco Park in San Cristobal, Chiapas [Complete Guide]
Guerrero: Pozas Azules de Atzala, Taxco (Visitor's Guide)
And much more, check out all Mexico Travel Guides here!
---
PIN IT FOR LATER!