You've probably heard of Machu Picchu, but have you heard of Machu Picchu Mountain?
This tall peak towers 600 metres above the famous Inca ruins in southern Peru. From the top, you get incredible bird's eye-like views over the citadel and surrounding mountains.
So, if you fancy a challenge, make sure you hike Machu Picchu Mountain during your visit to this World Wonder.
But, getting there is not easy. First, you'll have to secure an almost elusive ticket, then you'll need to take on the gruelling climb.
If you haven't been put off yet, this guide is for you.
Find out everything you need to know about climbing Machu Picchu Mountain. Including how to buy the right ticket, find the trailhead, come prepared and not miss out on the rest of the experience at Machu Picchu…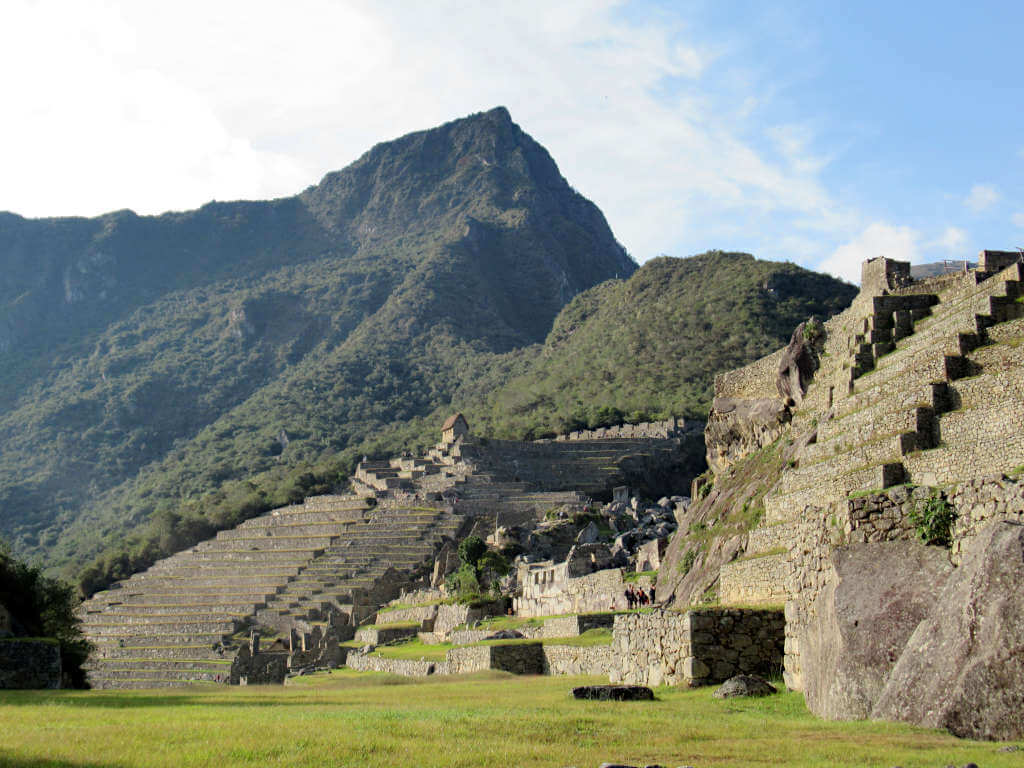 What is Machu Picchu Mountain?
Machu Picchu Mountain is the name of the large peak that overlooks the ruins of Machu Picchu. Sometimes referred to as Montaña Machupicchu, this peak is seldom photographed at the famous Inca site.
That's because despite being taller, Huayna Picchu is the more famous mountain at the ruins.
Huayna Picchu is the well-photographed peak directly behind the ruins that you'll see in everyone's photographs. Whereas Machu Picchu Mountain is behind you if you imagine you were taking that photo.
How Tall is Machu Picchu Mountain?
The summit of the mountain sits at 3061 metres above sea level (10,040 feet).
In comparison, the ruins of Machu Picchu are at an elevation of 2430 metres (7970 feet). This makes the mountain, 631 metres (2070 feet) higher up.
How Long Does it Take to Hike Machu Picchu Mountain?
You'll need a reasonable level of fitness to take on this hike, which typically takes 1.5 to 2 hours to reach the summit.
The way down is generally quicker as the altitude doesn't get you as much, taking around 1 to 1.5 hours.
In total, you'll spend 2.5 to 3.5 hours hiking Mountain Machu Picchu up and down.
Can Anyone Climb This Mountain?
Short answer: no.
Firstly, to hike Machu Picchu Mountain you need to have a specific ticket. The mountain is not open to all Machu Picchu ticket holders.
Secondly, you'll need to have a good level of fitness and acclimatisation to altitude to take on this hike. It's tough and unforgiving, especially when the sun's out as there's little shade.
Is this a Difficult Hike?
Yes, climbing Machu Picchu Mountain is difficult. The trail consists of stone stairs and dirt paths and the entire route is uphill.
The route is not technically challenging. But the steps are uneven, the altitude affects even those used to it, the weather can add extra challenges and it's relentlessly uphill for 1.5 to 2 hours straight.
Do you Need a Guide to Hike Machu Picchu Mountain?
No. In fact, it's unusual to have a guide accompany you on this hike.
This is because there are only a limited number of tickets available per day for this hike and they typically sell out weeks in advance. And, your guide would need to have a ticket of their own.
You also do not need a guide for any of the other mountain hikes. Neither is a guide required to enter Machu Picchu ruins (despite what many websites say).
If you want to hire a guide to show you around the ruins, these can be booked through tour agencies in advance.
Or, you can hire one on the day from the bus stop in Aguas Calientes or at the entrance to Machu Picchu. The guides have official ID badges and wear tops to show they're registered guides.
What is the difference between Machu Picchu, Machu Picchu Mountain and Huayna Picchu Mountain?
Machu Picchu is the name of the entire site that encompasses the ruins and the mountains. (Scroll down a little if you want to skip to a photo explainer rather than text)
Within that, you have the main citadel where most of the ruins are located. This is the area that most people visit when they come to see this World Wonder.
Montaña Machu Picchu is the large, towering peak that sits to the south of the ruins. The peak of the mountain sits some 600 metres up and 1200 metres back from the main part of Machu Picchu.
In the opposite direction, you have Huayna Picchu (also called Wayna Picchu). This is the mountain that's most commonly photographed from the ruins. Huayna Picchu is 2700 metres above sea level and only 300 metres above Machu Picchu. However, the climb up is much steeper than Machu Picchu Mountain.
There's also a third peak you can climb at the site. Huchuy Picchu is a small peak that's easier to climb than the other two. Until recently, anyone with a general admission ticket to the site could climb this, but now a specific ticket is required.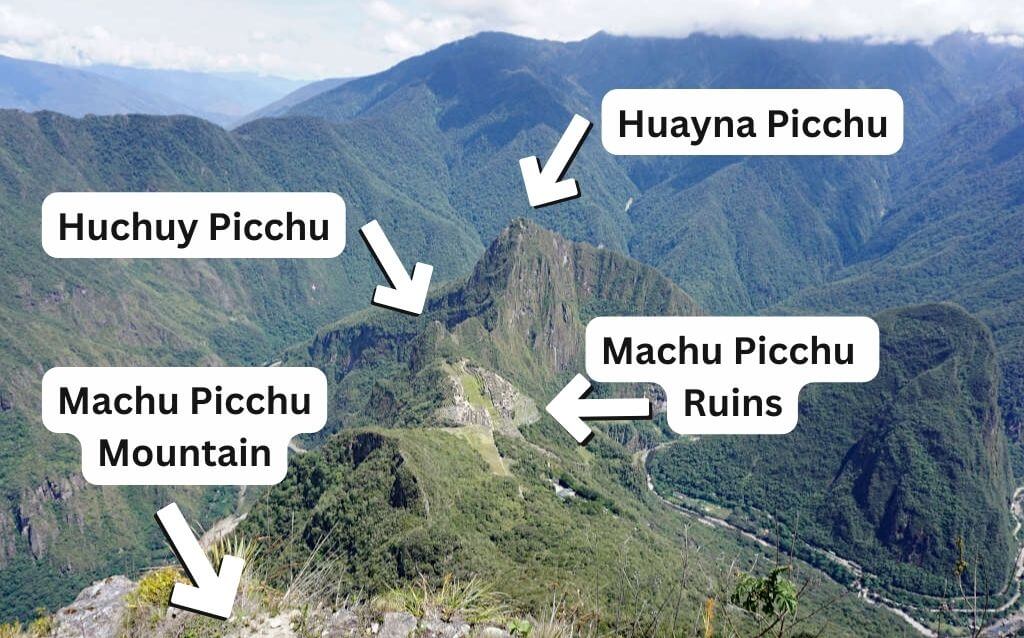 Is Climbing Machu Picchu Mountain Worth it?
That honestly depends on what you want to get from visiting Machu Picchu.
The top of Montaña Machu Picchu provides stunning views seldom seen by most people visiting the Inca city. The limit on the number of people climbing it each day also means you'll escape the crowds and that the trail isn't busy.
However, there are some important factors to consider when deciding if this hike is for you.
Firstly, the only two time slots available for starting this hike are 7 and 8 am. Therefore, you won't be able to hike Machu Picchu Mountain on a full-day tour from Cusco. Stay the night in Aguas Calientes to arrive in time.
Secondly, a ticket to this mountain only gives you access to part – but not all – of the Machu Picchu ruins. Although the summit gives you views of the whole site, they look tiny. Consider whether you want views or time in and among the ruins.
Thirdly, the hike is hard. You probably won't enjoy the climb up. You'll constantly be sweaty, out of breath and wondering why you ever chose this! You get rewarded with incredible views and a massive sense of accomplishment, but it doesn't come easy.
Finally, there's no guarantee of seeing anything from the top. Machu Picchu is susceptible to lingering and low clouds. On rare occasions, you just won't see anything. For the best chance of clear skies, go in the dry season between May and October.
For me, climbing Machu Picchu Mountain was one of the best things I did in South America. Although I wanted to turn around many times on the way up, I was so glad when I got to the top. Looking out over the ruins and mountains was breathtaking…
Choosing Between Huayna Picchu or Machu Picchu Mountain
Do you need some help choosing to hike Huayna Picchu or Machu Picchu Mountain? This handy comparison table has the key points to help you decide…
| | Huayna Picchu Mountain | Machu Picchu Mountain |
| --- | --- | --- |
| Cost | 200 soles (with Circuit 4) | 200 soles (with Circuit 3) |
| Popularity | Very popular, sells out months in advance in the high season and weeks in advance at other times of year | Not as well known, but still sells out a few weeks in advance in the high season and a couple of weeks in advance at other times of year |
| Number of Tickets | 300 per day (2023) | 100 per day (2023) |
| Difficulty | Hard, shorter but steeper | Hard, longer but not as sketchy |
| Altitude at the Peak | 2690 metres | 3061 metres |
| Access to Viewpoints inside Machu Picchu | None | Viewing platform at the end of the return trail |
| Hike Time | 2 to 2.5 hours | 2.5 to 3.5 hours |
| Time Slots Available | 7 am, 8 am, 9 am, 10 am | 7 am, 8 am |
| View | Ruins, Machu Picchu Mountain, Road to Machu Picchu | Ruins, Huayna Picchu, Urubamba River |
The Machu Picchu Mountain Hike
If you've made it this far, you're probably thinking about climbing the mountain. So here are the nitty, gritty details of hiking Machu Picchu Mountain…
The Trail
The route to the top of the mountain is 1.5 km long from the trailhead to the final viewpoint.
It might not sound much. But, in that short distance, you'll climb 500 metres in elevation from the trailhead. That's 1 metre in elevation for every 3 metres in distance.
The path is mostly stone blocks, originally laid by the Incas hundreds of years ago. They're uneven and at times muddy, so take care to watch your step.
Pretty much 99% of the route is uphill. It's unrelenting and feels never-ending. It's steep (although not as steep as Huayna Picchu) but no chains, ropes or climbing are required.
The Machu Picchu Mountain trail is wider than Huayna Picchu and two people can comfortably fit side by side. This makes it easy to overtake people and pass them when you're heading in opposite directions.
Difficulty
If it's not clear already, this is a hard hike.
From the entrance, it's a 30-minute walk uphill to the trailhead. Then it's another 1.5 to 2 hours of walking up the steps to the summit.
There's little to no shade along the route. Additionally, there are no benches or rest places along the Machu Picchu Mountain trail, just a few larger stones that you could sit on for a bit.
Importantly, I really do recommend not hiking up the steps from Aguas Calientes to Machu Picchu if you want to do this hike.
That alone is 1600 steps and 90 minutes of hiking, and you'll need to start at about 4.30 am. And, once you start, there's no other option, the passing buses won't stop for you as tickets can only be purchased in the town. Of course, with no roads in or out of Aguas Calientes, there's no other passing traffic.
On the day I hiked Montaña Machu Picchu, I would say there were no more than 30 people at the summit. Plus maybe another 20 people we passed who were already on their way down from the summit. This gives a rough success rate of 50%.
Even early on in the hike we passed people who were very much struggling. The heat, humidity, altitude and constant steps really take it out of you.
Don't leave Machu Picchu disappointed and frustrated. If you think this hike might not be for you, just book a general admission ticket. No hiking is required, just a leisurely walk around the site. (The first section from the entrance to the viewpoint is a little tough, but is manageable)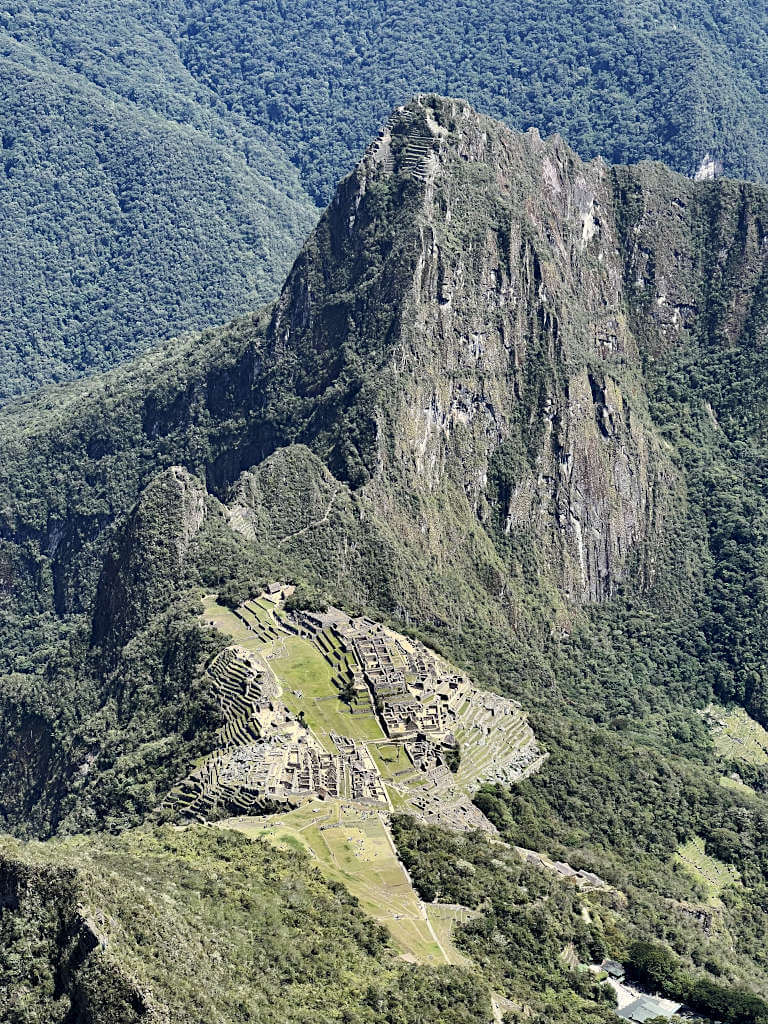 The Summit and View
The final stretch to the top feels like a practical joke. Every time you think you're climbing the last set of steps, you see another one a little further along.
But, once there, the views are absolutely awe-inspiring! The ruins of Machu Picchu look tiny in the valley below. You'll see the Urubamba River and the mountains curve around it. The tree-covered mountains stretch for miles in all directions. And, there are even snow-capped peaks in the background of it all.
At the top, there's a small shelter offering shade and benches. Additionally, at the top viewpoint, there are some other benches and rocks to sit on.
A member of staff is present at the summit to make sure there's no rule-breaking or trespassing beyond the rope barrier. Some sources seem to suggest there's a maximum 15-minute stay at the top, but that certainly wasn't the case when I was there.
Perhaps it's only enforced if the summit gets too busy, as there are some steep drops to the side. Or, perhaps it doesn't exist at all, as there seems to be lots of false rules about Machu Picchu floating around. I spent about 30 minutes at the top before starting the return hike.
Best Time for Climbing Machu Picchu Mountain
There are only 2 time slots a day that you can start the climb. Between 7 and 8 am and between 8 and 9 am. So, you're gonna have to choose one of those two – I hope you're a morning person!
That said, the best time to climb Machu Picchu Mountain is in the dry season months, May to October. During this time, the skies are typically clearer and you should have far-reaching views.
During the rainy season of November to March, mist, fog and rain can mean you have no view from the top. And, it'll make the hike up pretty miserable as well as slippery. April is a hit-and-miss month, where you can expect both weather types.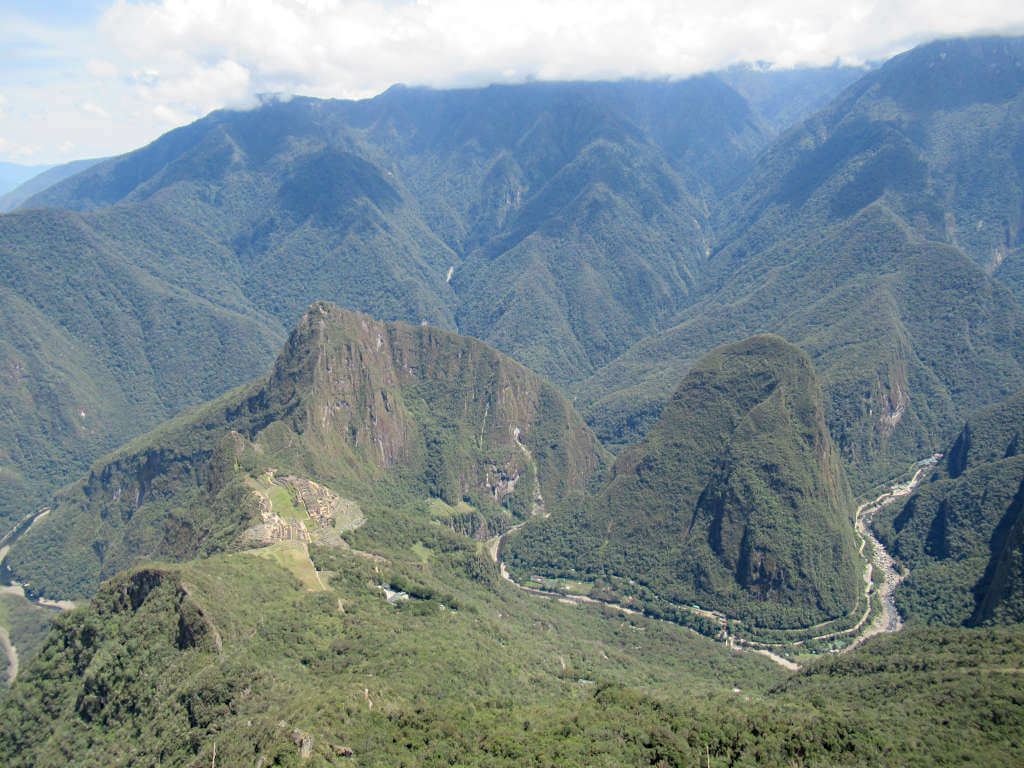 What to Bring (and not bring)
Definitely don't overpack, the hike is hard enough without carrying extra weight. But, these are the must-haves:
Passport (you can't enter without it!) and ticket (can be shown on your phone)
Wear long trousers and socks otherwise you'll be bitten 1000s of times
Waterproof jacket and a light top
Sturdy trainers with good grip are fine for this hike, although walking shoes may give you more support
Phone, camera and battery pack
Walking poles may be useful if you like using them on steps, otherwise, leave them behind for this hike
You'll want to avoid bringing things that add unnecessary weight to your backpack or that are prohibited at Machu Picchu. Bag searches do take place at the entrance, if you're caught with any banned items, you'll have to pay to store them in a locker until you leave.
Tripods, selfie sticks, drones and umbrellas are all banned
Food, thermoses and alcohol aren't allowed inside
Your bag will need to be smaller than 40x35x20 cm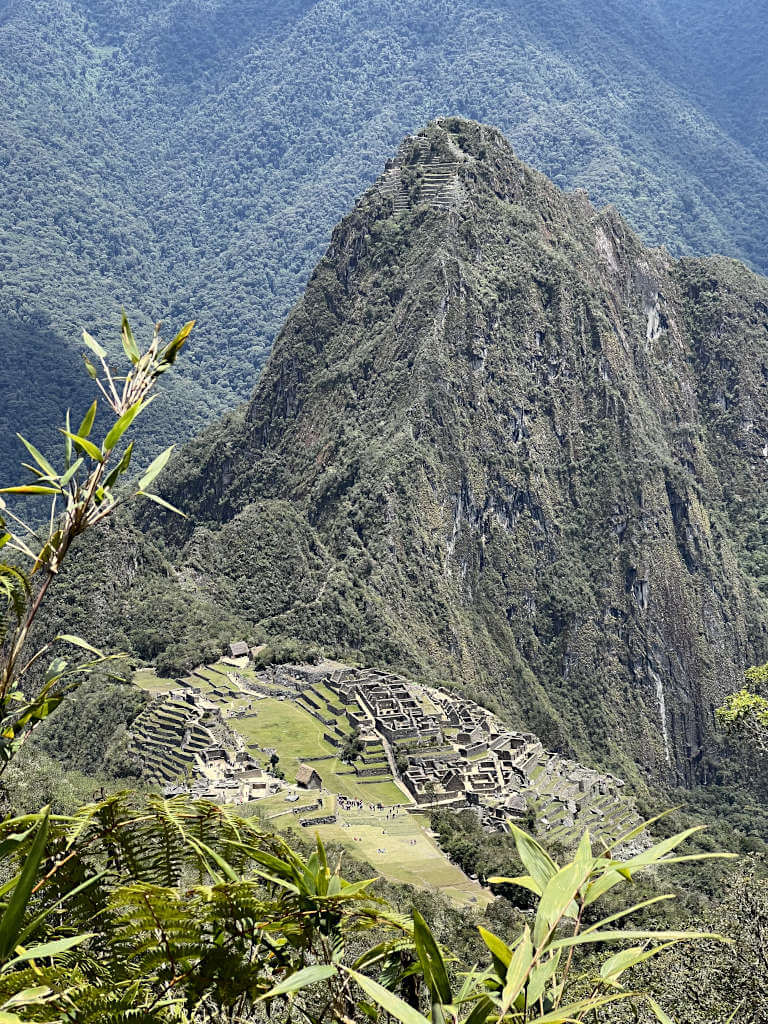 Machu Picchu Mountain Tickets
Travel agencies will tell you the safest and best way to buy Machu Picchu Mountain tickets is through them. But, as an impartial advisor, the safest, cheapest and best way is through the official Government-run Machu Picchu Tickets website.
When selecting a ticket, choose 'Machupicchu Mountain + Circuit 3' before finding an available date. Discounts are available for nationals of Andean countries, but if you're not from there, make sure you're on the 'General' tab.
For 2023, the price of a ticket to the mountain and Circuit 3 is 200 soles for adults. A small fee applies for paying by card and varies depending on Visa or Mastercard. In comparison, a general admission ticket for all 4 circuits (Llaqta de Machupicchu) but not the mountain is 152 soles.
TO NOTE: Access to Machu Picchu or Huayna Picchu Mountains is not an add-on.

You cannot buy a general admission ticket and then add on a mountain.

The only way to climb the mountains is to buy the specific ticket at the time of booking.
Time Slots
There are only 2 time slots available each day for Montaña Machu Picchu.
If you have a 7 am ticket, you must start the hike between 7 am and 8 am. The hike starts from the control hut at the trailhead, not from the entrance of Machu Picchu. Similarly, if you have an 8 am ticket, you must start the hike between 8 am and 9 am.
For both times, you are allowed access into Machu Picchu Circuit 3 one hour before the hike start time. This is marked on the ticket. So, for 7 am tickets, you can enter from 6 am. And for 8 am tickets, you can enter from 7 am.
Machu Picchu Mountain tickets are the only tickets that allow 1 re-entry. This is because Circuit 3 starts from the exit (to the right of the entrance). You then exit the same way and then re-enter through the main entrance.
When I arrived at the control hut to start the hike, the attendant said the summit closed at 10 am and the hike had to be completed by 12 midday. The summit most definitely did not close at 10 am, I was there until around 10.20 and many people were still there when I left.
I think they may just say this to make sure people don't take too long to reach the top. If you're aiming to be at the top by 10, then you should be off the Machu Picchu Mountain trail by 12. But, don't worry, going down is much quicker.
Circuits & one-Way System
If you're confused by the mention of circuits and what this means, this section should answer all your questions.
Machu Picchu has 4 main circuits. Circuits 1 and 2 are quite similar, as are Circuits 3 and 4.
Circuit 2 is a longer version of Circuit 1. Both start by heading uphill to the main viewpoints overlooking the ruins and Huayna Picchu. However, the trail splits and you can only visit either the Superior Viewing Platform or the Inferior Viewing Platform.
Make sure you go for the Superior Viewing Platform, it has the better views for sure. The name is meaning higher, although it does also mean better, in reality.
However, if you have a ticket to Machu Picchu Mountain, you'll only have access to Circuit 3. Although, you can access Circuit 4 too. That's covered in the next section.
Circuit 4 is a longer version of Circuit 3. Neither go to the two main viewpoints, however. So you won't get the iconic photo of the ruins and Huayna Picchu. Instead, you'll get to explore the main part of the Sacred Plaza and the Agricultural Zone.
Similarly, if you choose to buy a ticket to climb Huayna Picchu, you'll only get access to Circuit 4, so no iconic photo.
Importantly, Machu Picchu operates a strict one-way system. Staff are positioned at key junctions and spots along the way to prevent anyone from going the wrong way or looping back around.
Therefore, you need to make sure you have enough time to complete the full circuit if you enter before climbing the mountain. Remember you only have 1 hour to enter and it takes 30 minutes to reach the trailhead from the entrance.
Entry Protocol
If you have a ticket to Montaña Machu Picchu you can enter the site one hour before your hike time. Because you have a ticket to Circuit 3, you need to enter through what's usually the exit. You'll need your passport (physical copy) and your ticket (on your phone is fine).
The exit is located right next to the entrance and is just a few feet from where the bus drops you off, so it isn't hard to find. There are no toilets inside the site or on the mountain, so if you need to go, make use of the bathrooms outside the entrance.
Circuit 4 is a longer version of Circuit 3, so it was easy to complete the extra circuit. The signage isn't great inside the Incan City, so actually, I didn't realise I'd ended up on Circuit 4 until it was too late. The one-way system is king, so I couldn't turn back, could I?
Once you've completed the circuit(s), exit through the exit and head to the entrance. Your ticket and passport will be checked again. Then, head uphill following the path. At the first split, take the route signed towards the Superior Viewing Platform and Machu Picchu Mountain.
To reach the trailhead, turn left at the small hut and then right up towards the wooded area. Here, sign in at the control hut. Put your name, nationality, passport number and entry time. Then sign out again once you're done, so they know no one is left on the mountain.
Once you've completed the hike up, there's one area left to see. Specifically for those who have climbed Machu Picchu Mountain, there's a viewing platform between the superior and inferior ones.
Viewing Platforms
If photos are important to you, then you might be wondering what kind of views you're going to get with your ticket.
If you're climbing either of the mountains, then you won't have access to the main two viewpoints. The photos from which are pictured below. The Superior Viewing Platform is where the stereotypical photo of the Inca City is taken but is only accessible with a ticket for Circuit 1 or 2.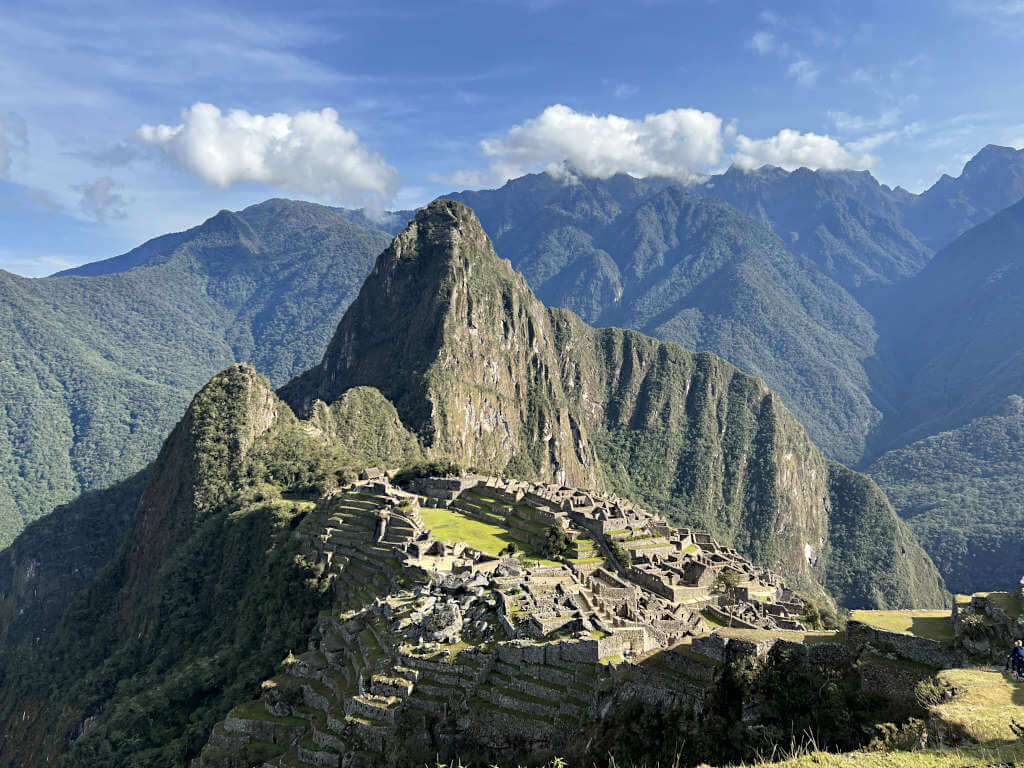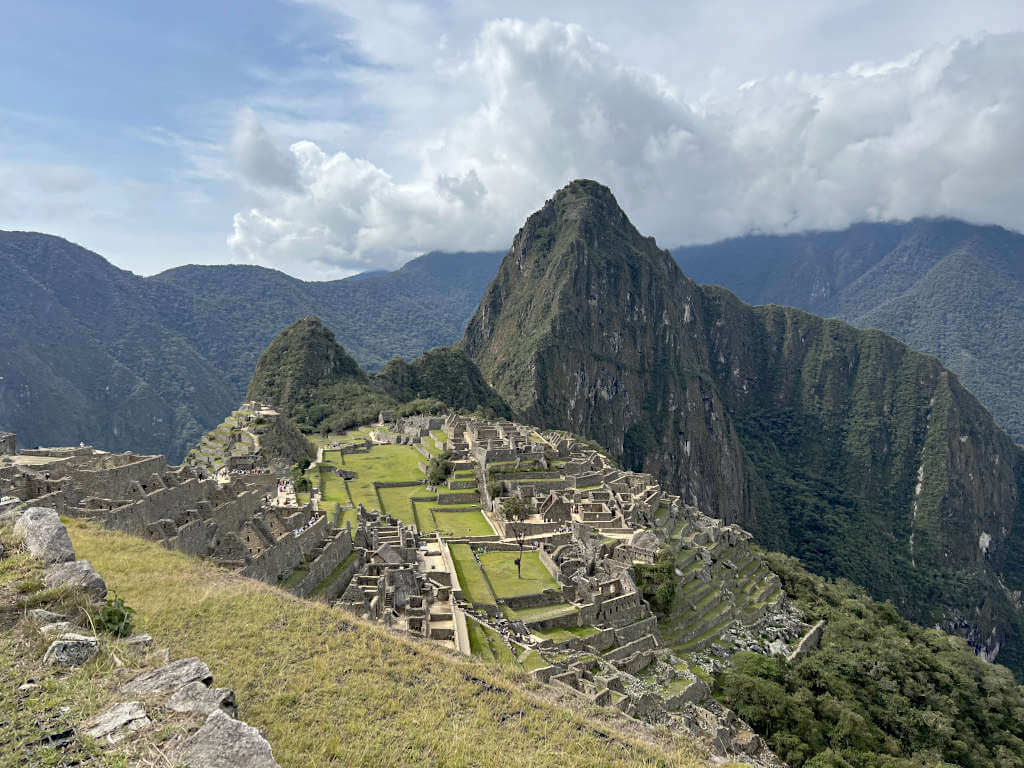 Ticket holders for Huayna Picchu have no access to any viewpoints other than the top of the mountain. Luckily, for those who climb Machu Picchu Mountain, there's a dedicated viewpoint after the trail.
Once you exit at the Control Hut, go around the small hut at the end of the small path. Follow the trail towards the small hut, taking some wooden stairs to climb up a level.
The view here (pictured below) isn't quite the same as the other two viewpoints, but it's definitely comparable. And way better than getting no viewpoint at all.
Once you've finished taking in the views, retrace your steps back and then head downhill the way you came up back towards the entrance, where you'll exit.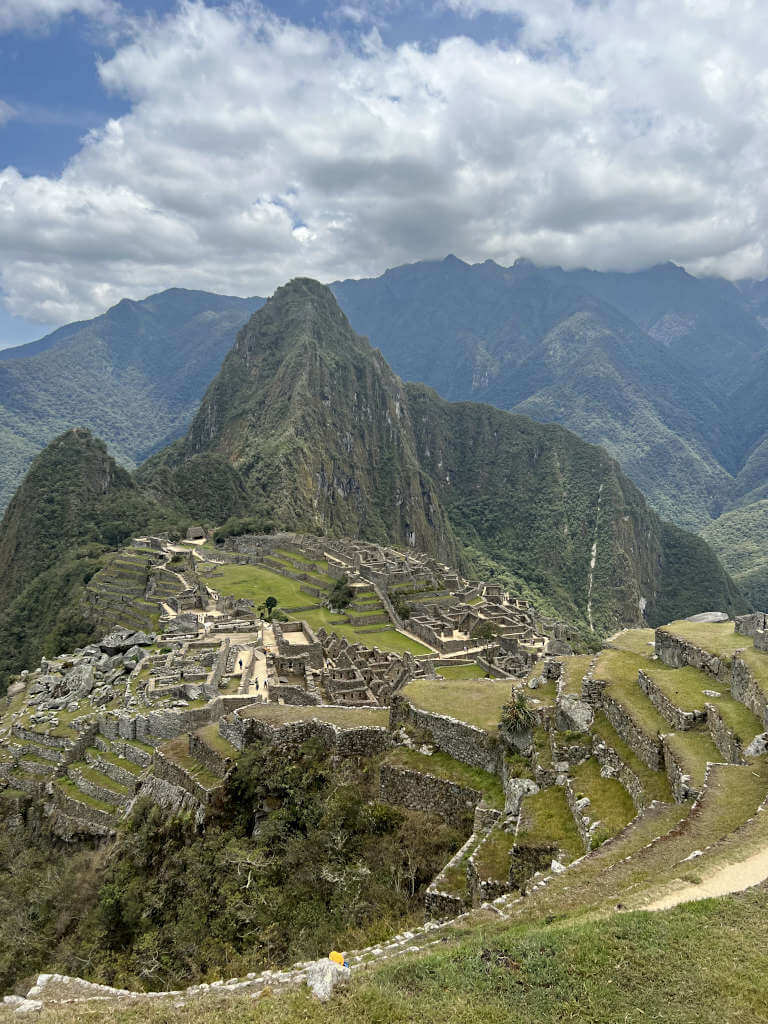 Want to Propose at Machu Picchu?
If you're thinking about proposing at Machu Picchu, then I can't recommend the top of Machu Picchu Mountain enough. A 10 out of 10 choice!
Here's a quick guide to making it happen:
Buy a ring without your partner noticing
Go to Machu Picchu
When your partner is struggling on the climb, keep reminding them it'll be worth it
Give your phone/camera to a stranger (no tripods allowed here)
*Hope they keep taking photos as you shift from smiling for the camera to down on one knee*
Pop the question
*Hope they say yes!*
Cusco has plenty of jewellery shops and the gift shops have some good quality, low-priced rings if you don't want anything expensive at this stage. The only thing is they don't tend to carry multiple sizes of the same ring design, so you have to find one you like and that fits.
And, if you don't fancy the climb. Other top places to propose at Machu Picchu are the lower viewing platform and the superior viewing platform, which both have postcard-perfect backdrops.
---
Do you have any questions or want any more information? If so, drop a comment below and I'll get back to you!
Information is correct as of January 2023 but is subject to change in future.
---
More South America Travel Inspiration…
PERU: Laguna Churup, Huaraz: Independent Day Hike to 4500 metres
PERU: Laguna Paron: Ultimate Guide to Visiting from Caraz or Huaraz
ECUADOR: Ruta de las Cascadas: Explore Baños' Most Epic Waterfalls
ECUADOR: Mitad del Mundo Ecuador: A Guide to Quito's Equator Line
COLOMBIA: Ultimate Guide to Salento (Quindío's Prettiest Town)
COLOMBIA: Palomino: Santa Marta's More Trendy Neighbour (A Complete Guide)