Peru's Laguna Paron is one of the most majestic sights in the country. The water is a magical shade of blue with towering snow-capped peaks all around.
What's more, unlike many of the top attractions in Peru, you can actually drive all the way to the lake's edge. No high-altitude hikes are required – although you can if you want.
So whether you want to hike through the mountains or take an easy but rewarding day tour, this guide has all the information you need.
Below, you'll find prices, tour times, public transport options and what activities are available at Lake Paron. In fact, there's everything you need for a fantastic day trip from either Huaraz or Caraz.
Some of the links below are affiliate links, meaning, at no additional cost to you, I may earn a small commission if you click through and make a qualifying purchase.
Where is Laguna Paron Peru?
The lake is located in the Huascaran National Park, in the northern half of Peru. It's surrounded by towering mountains with snowy peaks, glaciers and alpine lakes.
Caraz is the nearest town to Paron, located 9 miles east. While Huaraz is the nearest city, 38 miles to the south.
The lake's surface sits at an altitude of 4200 metres above sea level. Here, it is the largest lake in the Cordillera Blanca mountain range, part of the Andes.
How do I hike to Laguna Paron Huaraz?
Unlike some of the other popular lagunas around Huaraz, you actually don't need to hike at all to reach Paron. Rather, the lake is accessible by road and many companies run tours here daily.
But, if you want to get the best view of the lake and its vivid colour, you're going to have to hike to the mirador. This is a 45-minute to 1-hour uphill walk, plus around 30 minutes back down.
Of course, you can still hike to Paron if you don't want to take a tour. But, be warned, it's a 10-kilometre walk uphill with a huge elevation gain. And, to get the view, you're still going to have to climb to the mirador once you reach the lake!
Day Tour from Huaraz
Laguna Paron tours from Huaraz are the most popular and cost-efficient option.
Pretty much all the tours follow the same itinerary. You'll drive from Huaraz to the lake, have 2 hours to spend as you want and then drive back via Caraz, where you'll have a short time to get lunch and stretch your legs.
Tours run every day, with two departure times. The first is at 5.30 am, but only if there are enough people to fill a car. And the second is at 8 am, which is often the most popular.
You should be aware that when taking a tour from Huaraz, you'll spend most of the day driving in a tightly packed minibus. It's about 4 hours each way from Huaraz to the lake. And once you're past Caraz, the roads are bumpy, dusty and steep.
Many companies run tours from Huaraz, so you won't struggle to find one. As well, because there are so many agencies, prices are competitive. Expect to pay around 45 Soles for the tour, which just includes transport and a guide. The price is slightly higher for the earlier departure time as it's a smaller group
If the thought of feeling like a tinned-sardine in a minibus for 8 hours doesn't appeal, there are also private Laguna Paron tours from Huaraz. While more costly, you'll have more comfort and flexibility over your day at one of Peru's best natural attractions.
Day Tour from Caraz
Another option is to take a day tour to Laguna Paron Peru from the small and quiet town of Caraz.
Caraz is little known among visitors to Huaraz but is a great and closer base to places like Laguna 69 as well as Paron.
The benefit of taking a tour from Caraz versus Huaraz is that there is a much shorter journey time to the lake. Instead of 4 hours each way, it is just 1.5 hours.
However, because Caraz is smaller and has far fewer tourists visiting, there are only 2 tour agencies. And, the prices are actually more than taking a tour from Huaraz – around 60 Soles. I guess that's the price of saving 5 hours of driving!
Another downside of taking the tour from Caraz was that the tours do not start there. Instead, you'll be picked up by a group from Huaraz along the way. This meant we were left with the worst 2 seats in the cramped minibus, making the bumpy journey even less enjoyable.
The departure times from Caraz are roughly 2.5 hours after the tours leave Huaraz. So, the first option is at 8 am and the second at 10.30 am. The first tour only leaves if there are enough people to fill a car and costs 10 Soles more. Both give you around 2 hours of free time at the lake before the return journey starts.
Overall, I'd only recommend taking a tour from Caraz if you're there to visit somewhere else too. If you're just wanting to visit Paron, then it's cheaper and easier to take a tour from Huaraz.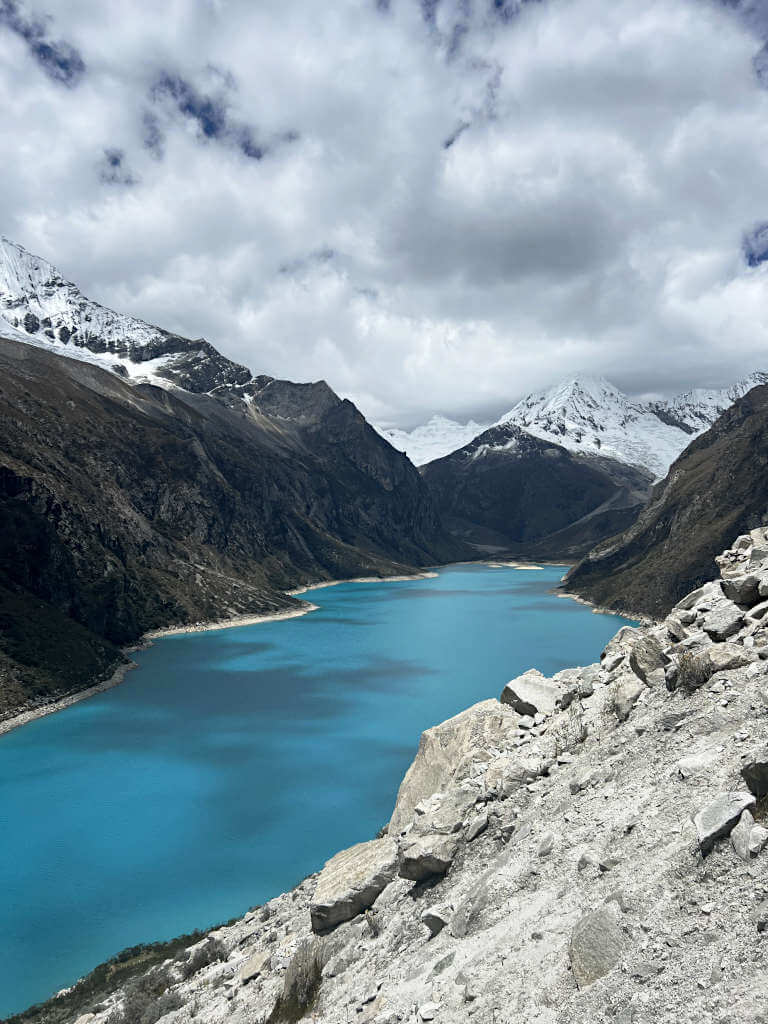 Independently from Huaraz or Caraz
It is possible to visit Laguna Paron Huaraz without a tour but importantly no public transport runs to the lake. Instead, you'll be able to get as close as Pueblo Paron. From there, it's a 10-kilometre uphill walk to the lake.
Starting in Huaraz, you'll need to take a colectivo or bus to Caraz, taking 2 to 2.5 hours and costing 10 Soles. If you want to do this trip all in one day, you need to be on the first colectivo. But, I definitely recommend staying in Caraz for a night or two instead.
Once you're in Caraz, take a colectivo to Pueblo Paron. The journey takes around 45 minutes and costs 15 Soles each way.
Next is a 10-kilometre, steep uphill trek to reach the shore of the lake. The walk is tough, with almost 1000 metres of elevation gain and there aren't any vendors or toilets along the way.
And remember, once you've completed the Laguna Paron hike to the shore, it's a further 45 minutes to 1 hour to reach the mirador. Which is kinda essential to see the majestic colour and surroundings in all their glory.
But, the biggest issue when visiting Paron without a tour is return transport. The colectivos back to Caraz are not reliable and many people report that there simply weren't any running when they arrived, despite the last service being scheduled at 4.30 or 5 pm. It's best to arrive earlier than this, or you'll be walking 16 km back to Caraz.
Alternatively, if any tour buses have a spare seat you can try to catch a ride for a small fee. Speak to the drivers directly to see what's available.
To return to Huaraz, the colectivos leave from the main road on the edge of the town. See the location on Google Maps here.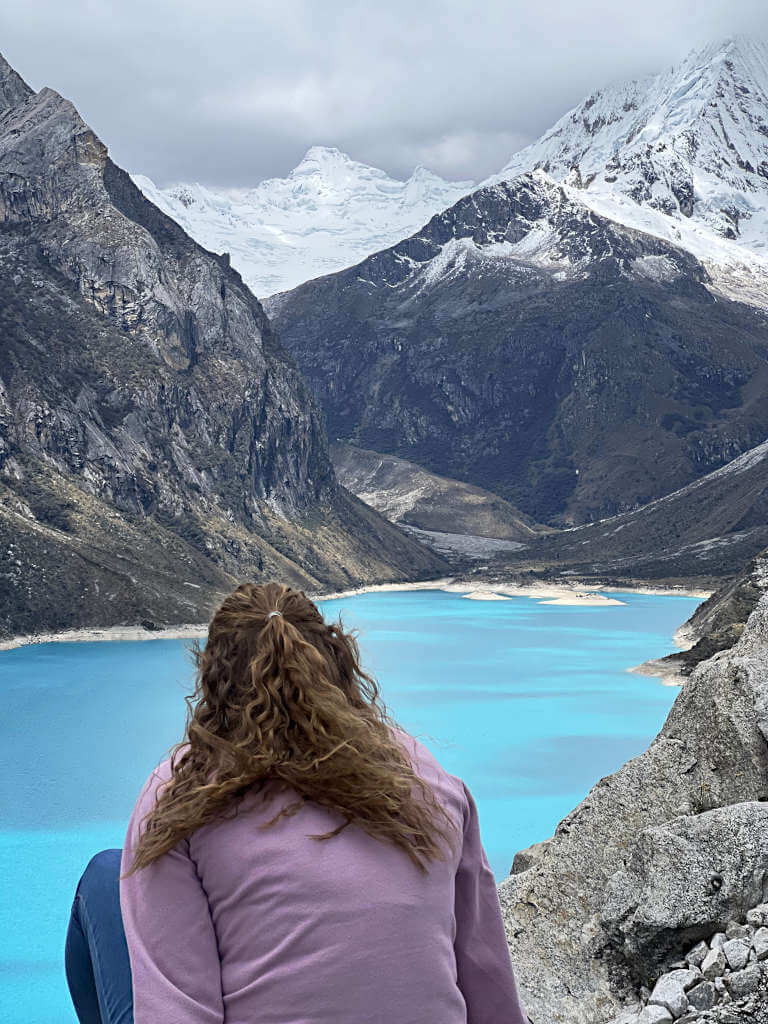 Visiting Laguna Paron Caraz
Entrance FEe
The Laguna Paron Peru entrance fee is 5 soles. And, it isn't included in the price of any tours. Try to bring the exact amount or a small note because the attendant won't always have change.
Unlike at Laguna Churup and Laguna 69, the Huascaran National Park fee of 30 soles does not apply for Paron. Therefore, if you're considering whether you need or would save from getting a multi-day ticket, don't include Paron in your calculations.
Climbing to the Paron Mirador
Sure, the colour of the lake is beautiful from the shore. But, from above it is absolutely breathtaking!
The climb to the mirador isn't easy, but it sure is worth it. Given that most tours only give you 2 hours at the lake, a visit to the mirador is going to use most, if not all, of your time.
The walk takes around 45 minutes to 1 hour to reach the top, and about 30 minutes back down. The first part is along a dusty, rocky path, difficult only because of the altitude. While the last part of the route requires you to climb over and around large boulders.
At the top, there is no main mirador part. Instead, there are just endless boulders to choose from for a photo spot or sit down.
Given that almost every tour leaves at the same time, they all arrive at the lake at the same time. And, as a result, it can get quite busy at the top. However, Lake Paron is still much less busy than nearby Laguna 69.
But, don't let the business put you off. The views are out of this world and absolutely worth it!
TRAVEL INSURANCE: Make sure your insurance covers you to hike at altitude!

For example, World Nomads only include up to 3000 metres above sea level in their standard plan.
Kayaking & Canoeing
For just a small cost, you can rent kayaks (25 Soles per person) and canoes (10 Soles per person) from the shore. Then, you'll be free to glide across the dazzling blue waters. Just be sure to be back in time so that your bus doesn't leave without you!
Kayaking or canoeing on Laguna Paron Huaraz is a great option if you don't want to climb to the mirador. And realistically, you can't do both.
If you only have two hours, a trip to the mirador will take at least 1.5 hours. And, it doesn't make sense to rush kayaking into the last 30 minutes, especially once you consider the time spent getting life jackets and getting onto the water.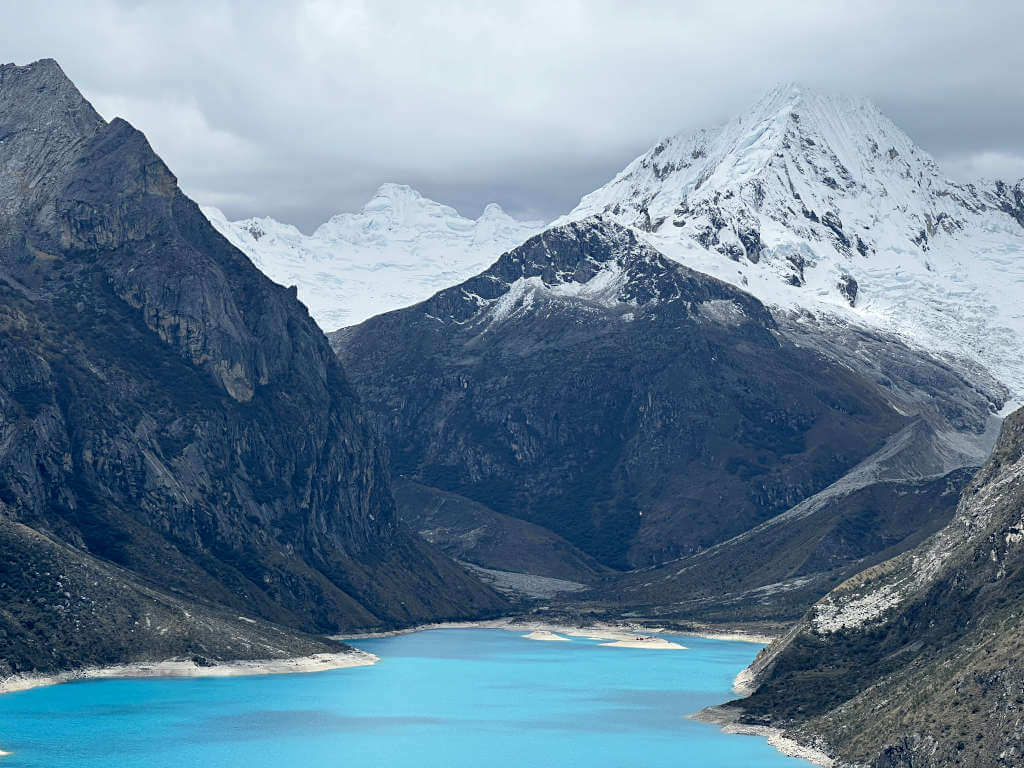 Walking Around the Lake
Another alternative to the typical Laguna Paron hike up the mirador is to walk along the lake's edge. As you look out over the lake towards the mountains, the path is on the left-hand side.
Very few people walk here, so if you prefer peace, quiet and unique views of the snowy peaks, this is for you. The path runs for 3.7 km along the lake before continuing all the way to Laguna Congelada, a further 3.7 km away at 4750 metres above sea level!
The path along the Laguna Paron Caraz is mostly flat, so despite the altitude, you should be able to cover a good distance in two hours.
Staying Overnight
For the more adventurous – and perhaps those who don't get cold the moment the sun goes behind a cloud. You can stay overnight at Laguna Paron Peru.
This is by no means luxury accommodation. Rather, there are beds in a shared dorm available to rent.
And, while being cold is almost guaranteed at 4200 metres above sea level. Getting to see the lake and mountain with the golden glow of sunrise and sunset sure sounds magical.
Beds cost 10 Soles per night. You'll want to bring plenty of warm layers and a sleeping bag if you have one to supplement the blankets provided. Also, there isn't much in the way of facilities at the lake, but there is a kitchen so bring food.
Other Facilities at Lake Paron
The lake is growing in popularity with visitors. But its sky-high position at over 4000 metres in the mountains means facilities are still basic.
A small restaurant serves hot and cold snacks and drinks. There's also a toilet block, costing 1 Sol a time.
How to get to Laguna Paron
From Huaraz
The 3 options to get to Paron Lake from Huaraz are group tours, private tours and taking public transport followed by walking.
Tours leave at 5.30 am and 10.30 am, costing around 45 Soles. Private tours have a higher cost but are more comfortable, and can be combined with other locations.
Colectivos from Huaraz to Caraz leave once full, costing 10 Soles (see the location here). In Caraz, you'll be dropped off on the main road, 300 metres south of the main square.
Next, you'll need to take a colectivo to Pueblo Paron from a block north of the market in Caraz (see location here). Then it's a 10-kilometre uphill walk with a 1000-metre elevation gain.
From Caraz
Group tours are the easiest way to get to Paron from Caraz. But, the town is the ideal base if you want to travel there independently.
The colectivos to Pueblo Paron from Caraz leave from the corner of Jorge Chavez and Roman Castilla, starting at 6.30 am and costing 15 Soles. Then, it's time to start hiking along the 10-kilometre route to one of Peru's most magical lakes.
Laguna Paron from Lima
With no airport in or around Huaraz or Caraz, you'll need to travel overland from Lima.
Movil Bus operates direct buses to Caraz from Lima every day. These services take 10 hours and cost as little as 29 Soles.
Alternatively, there are more frequent services between Huaraz and Lima. Many companies offer this route with an option of day and night buses to suit your needs.
BusBud is a good comparison site to compare bus times, costs, facilities and reviews.
Once in Caraz or Huaraz, you can make use of tours or public transport to get to Laguna Paron.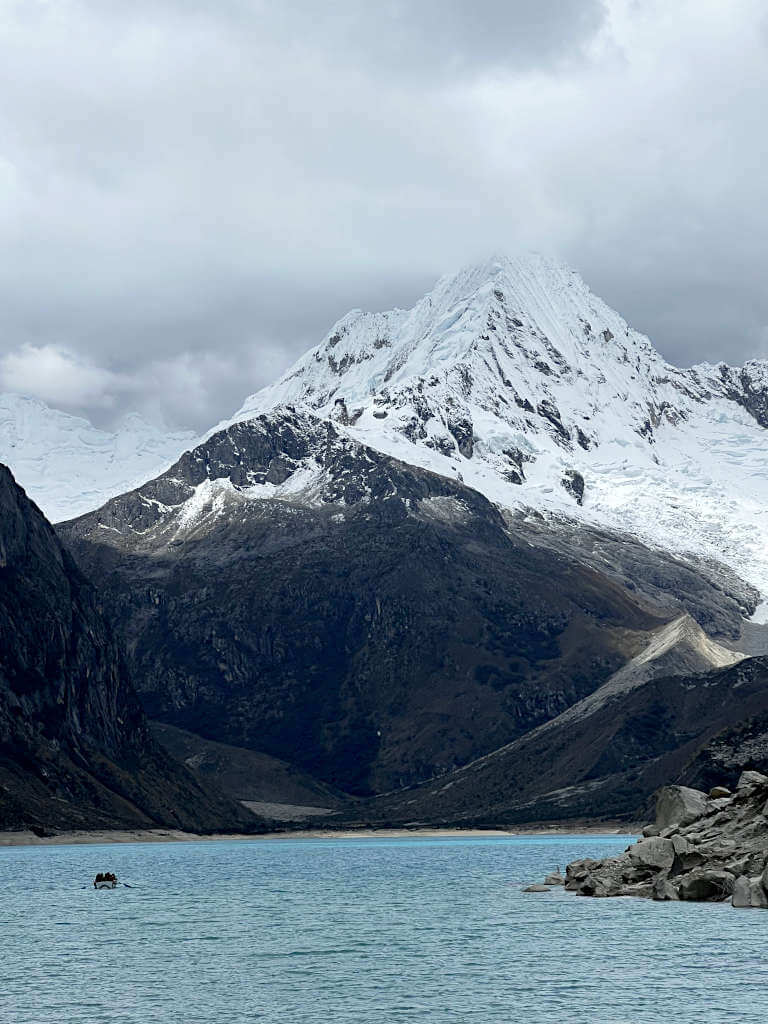 FAQs
Can you swim in Laguna Paron?
Yes. And, I'm sure you need no reminders that the water is exceptionally cold. It is a glacial lake at 4200 metres after all!
Suitable for experienced ice or cold water swimmers? Yes, with enough towels and clothes to dry and warm up after. Suitable for a paddle? Absolutely not!
Laguna 69 vs Laguna Paron
When visited as a tour, Laguna 69 and Laguna Paron are two very different experiences. And one is a lot more difficult than the other…
For Laguna 69, there is no road access past the trailhead. This means everyone who wants to reach the lake will need to hike 4 or 5 hours uphill, with an elevation gain of 1000 metres.
Because of this, you need to be properly acclimatised to the altitude to hike to Laguna 69. And even then, you'll likely still experience altitude sickness symptoms such as headache, light-headedness, nausea and shortness of breath. Plus, the hike is hard even if it was at sea level!
On the other hand, Laguna Paron tours drive you directly to the shore of the lake. Walking to the mirador is optional but can be a good, short acclimatisation trek. Especially if you're planning on doing other, longer hikes after.
Yet, even though that you can visit Paron without hiking at all. It is Laguna 69 that is the more popular option. The edge of Lake 69 is often brimming with people, although you can normally always find a quiet spot by walking a little further.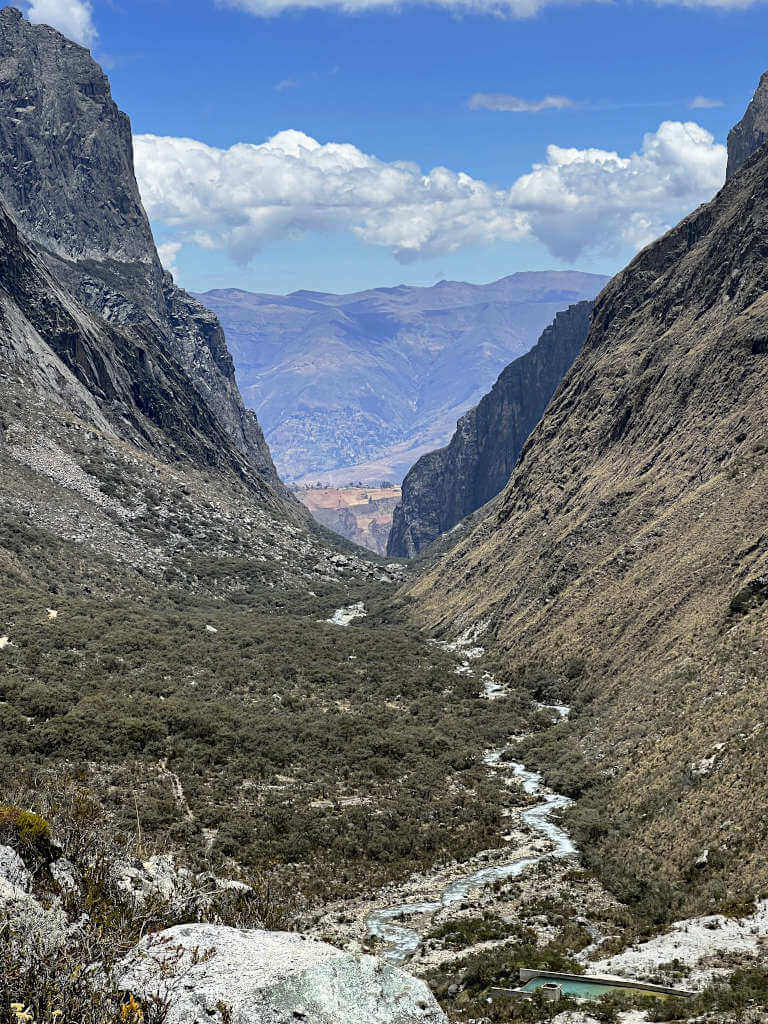 What to Bring
Plenty of water and a few snacks. If you're travelling from Huaraz, you'll probably want to bring breakfast and lunch with you as the stop in Caraz isn't until about 3 pm for the later departure.
Sunglasses and sun cream are necessities. A hat is also great if you have one.
Travel sickness wristbands if you're susceptible to motion sickness. It's bumpy for the best part of 90 minutes, so best to come prepared for the worst.
Camera, phone and battery pack – you're definitely going to want to capture this day. Downloading music or podcasts for the long drive is also a great way to pass the time.
What to Wear
If I had to describe what to wear to Laguna Paron in one word, it would be 'layers'. At this altitude, it's pretty common to experience blazing sun, thick clouds, snow and high winds in as little as one hour! So, you need to be prepared for it all…
Trainers are fine, even for the mirador hike. Although if you have worn-in walking shoes or boots, these are good too.
Fleece, running top and/or jumper. I'd recommend bringing 2 that you can layer up.
Thick leggings, jeans or walking trousers.
Hat and gloves for particularly bad or cold weather.
---
Do you have any questions or want any more information? If so, drop a comment below and I'll get back to you!
Information is correct as of November 2022 but is subject to change in future.
---
More South America Travel Inspiration…
PERU: Best Time to Visit Machu Picchu, Peru
ECUADOR: Mitad del Mundo Ecuador: A Guide to Quito's Equator Line
PERU: Climbing Machu Picchu Mountain (Hike Guide)
COLOMBIA: 11 Stunning Waterfalls in Colombia Worth Visiting
PERU: Turquiose Pools of Millpu Ayacucho: Ultimate Guide
ECUADOR: Pailón del Diablo, Baños (A Guide to Ecuador's 8th World Wonder)
PERU: Palcoyo Mountain (Peru's Alternative Rainbow Mountain): Ultimate Guide
COLOMBIA: Salento, Colombia: Ultimate Guide (Quindío's Prettiest Town)
PERU: Aguas Calientes to Machu Picchu: The 2 Ways Explained
---
PIN IT FOR LATER!