Huaraz is Peru's hiking capital with thousands of visitors coming annually to spend time in the mountains. It isn't hard to find beautiful trails and dramatic landscapes here. And, Laguna Churup Huaraz certainly fits the bill.
Despite the extraordinary beauty of this high-altitude lake nestled under the mountain with which it shares a name, it isn't that well-known. Most travellers flock to Laguna Paron or Laguna 69, overlooking the impressive lake right on Huaraz's doorstep.
Because, unlike those hikes, this one doesn't require a 6-hour round trip in a bus or even taking a tour at all. Churup Lake can easily be visited independently as a day trip without a guide or tour.
Plus, fewer visitors coming here makes for a much more intimate and special experience. In fact, I chose to do this hike on my 30th birthday for all these reasons. And, I was back in Huaraz by 3 pm ready to continue my celebrations!
So, if this sounds up your street and you're ready for a challenge, keep reading to learn all about Laguna Churup Peru. This detailed guide has everything you need to know including how to get there, entrance costs, facilities, directions, recommendations and more…
Some of the links below are affiliate links, meaning, at no additional cost to you, I may earn a small commission if you click through and make a qualifying purchase.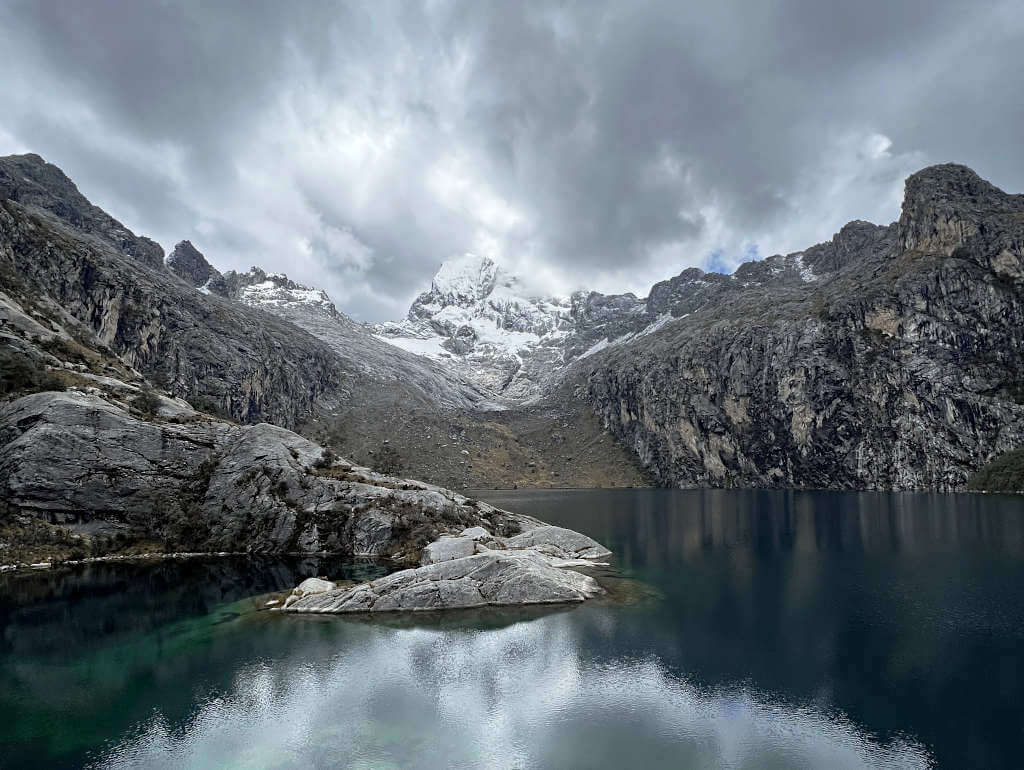 Where is Laguna Churup?
This stunning mountain lake is located east of the Peruvian city of Huaraz, 400 km from Lima. The city is the capital of the Ancash region, which covers a huge area from the edges of the Amazon to the Pacific coast.
Huaraz is a popular destination with backpackers and adventure-loving visitors due to its close proximity to many mountain treks. The city is surrounded by the snowy peaks of the Cordillera Blanca mountain range, a subsection of the Andes.
Much of the Cordillera Blanca mountains sit inside the Huascaran National Park. This huge, protected area is named after Peru's highest peak, Huascaran.
How High is Laguna Churup?
Churup Lake sits at 4450 metres above sea level (14,600 feet) with the mirador (viewpoint) at 4500 meters (14,750 feet).

In addition, there is a smaller large located just above Churup. Churupita (meaning little Churup) sits at 4584 metres elevation (15,000 feet).

The lakes share their name with the large and imposing peak behind, Nevado Churup (Nevado is the Spanish for snowy peak). The tip of the ice-capped peak is at impressive 5495 metres above sea level (18,000 feet).
Getting to Churup Lake: Is this hike for me?
Hiking at high altitudes is no walk in the park and it's not for everyone. Altitude affects everyone differently, some people will feel it more while exercising and others will be completely wiped out by just being at altitude.
At sea level, the air we breathe is 21% oxygen. At 4500 metres, this reduces to 12%. So, as you get less oxygen into your body, exercise becomes more difficult and the chance of altitude sickness symptoms increases. These include headache, nausea, dizziness, breathlessness and fatigue.
Because of this, it's very important to properly acclimatise to being in Huaraz before attempting any hikes. Especially since most visitors travel from either Lima or Trujillo, which are both at sea level. Allow for at least 2 or 3 days before signing up for any treks, more if you've never been at altitude before. Spend this time walking around the town and slowly getting used to the effect of altitude on your body.
It may seem like an inconvenience to put so many rest days into your travel itinerary. But, by doing this, you'll have a better chance of completing the hikes. If not, you might end up coming back down without seeing the lakes or throwing up into a trash can or bush halfway there!
This is absolutely not a hike for absolute beginners. If you've never hiked in the mountains or at altitude before, I recommend getting some practice in before coming to Northern Peru. You'll need a good level of physical fitness and be able to keep your calm on sketchier parts of the climb. Near-vertical climbs using chains to pull yourself up are required on one of the two routes to the lake.
Laguna Churup Hike difficulty
Time to be real, this Laguna Churup trek is very hard. The altitude is brutal, the incline is steep and it's basically entirely uphill all the way to the top.
Some people say that this is a good acclimatisation hike in Huaraz. But, it's the real deal and as difficult as treks like Laguna 69. Better acclimatisation day hikes include the Laguna Paron viewpoint (you drive to 4200 metres) or Laguna de Wilcacocha.
The effects of altitude will hit you hard as the steep incline starts from the very first step of the trail. Expect headaches, tunnel vision, rapid breathlessness and an increased heart rate. Being over 3000 metres also increases how much urine you produce, so expect to need the toilet more frequently and be sure to keep hydrated.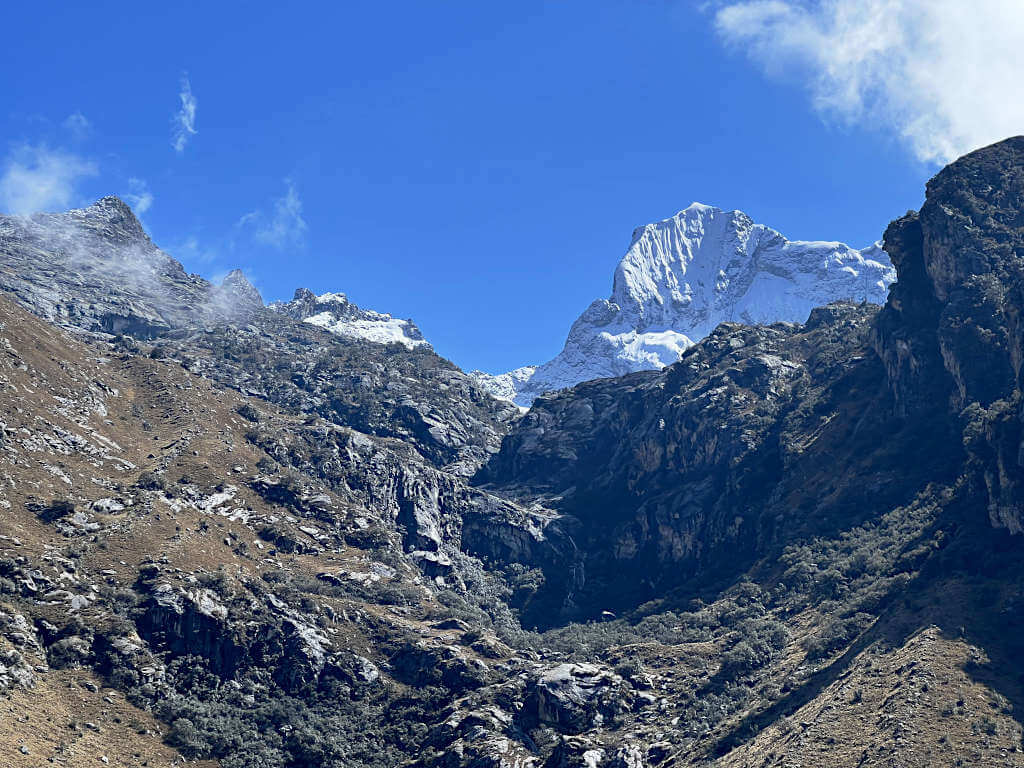 Entrance fee for Churup Lake Hike
While there isn't an entrance fee for the lake itself, you do need to pay the Huascaran National Park fee of 30 Soles.
You pay it at the small hut approximately 1.5 km into the hike. This is the part where the stairs end and you start the flatter part of the trek. Make sure to have the exact change or small notes, as the attendant doesn't always have change for larger notes.
How to get to Laguna Churup Huaraz
Good news, Churup is really easy to get to! Unlike most of the other popular hikes in Huaraz, you don't need a tour and you won't be spending hours on a bus. Rather, a short colectivo ride is all you need to arrive at the trailhead.
Lake Churup Tours
You don't need a tour to Churup, but that doesn't mean they're not available. Huaraz is full of tour agencies, so it's easy to visit a few and find out prices. Alternatively, if you're looking to book online, consider this one-day tour from Huaraz on Get Your Guide.
For this trek, a tour guide would be best for solo travellers or inexperienced hikers. At times, the walk is challenging and I know for some having a guide would be reassuring and useful. That said, plenty of solo travellers take the colectivo each day so it can be simple to form a small group on the day. The choice is yours!
By Colectivo
IN SHORT:
– Huaraz to Pitec (for Churup Lake)
– 20 Soles return
– Departs 7 am and 8 am from Av. Agustin Gamarra/Antonio Raymondi
– Returns from 2 pm (varies, check with the driver on the day)
This is by far the easiest and cheapest way to get to the trailhead. But, you're going to have to be up early for this hike…
The first colectivo is at 7 am. Although it doesn't actually leave until it's full, 7 am is just the earliest possible time if 10-ish people all turned up at once. When I did this hike, we left around 7.30 and then drove around Huaraz for 15 minutes looking to pick up more passengers. Finally, we arrived at the trailhead around 8.30 am, after a 45-minute drive.
The next colectivo is at 8 am but again waits to be full before leaving. Because of this, I highly, highly recommend getting the 7 am option. This is because most people doing the hike take this bus and it leaves normally within 30 minutes, sooner in the high season. Whereas, for the 8 am bus, you could be waiting over an hour before it leaves.
In the high season, a 9 am colectivo also runs. However, earlier is still better. These are the only times available to go to Churup, no later times exist.
The minibus leaves from Avenida Agustin Gamarra, near the junction with Antonio Raymondi (see the exact location on Google Maps). There's a small office where you can buy your ticket, costing 20 Soles return.
Getting the Colectivo back to Huaraz
At the trailhead, the minibuses wait and then make the return journey in the afternoon. On the day I went there was some confusion, one colectivo driver had said the first bus returns at 1 pm and the other at 2 pm. As a result, we'd literally jogged back down the mountain to make it at 1.58 pm and not be left there!
But, what actually happens is that the first colectivo returns at 2 pm as long as there are enough people and enough seats in the second bus for the remaining hikers. The second colectivo then returns once all the hikers are back, so no one is left behind! Don't take this as absolute though, colectivos don't run on a timetable – be sure to check with your driver as you arrive at the trailhead.
And, don't be fooled, you might be going downhill on the way back, but the altitude still makes everything difficult! And, for two days afterwards my legs were so sore that walking up or down stairs and controlled sitting was very difficult! Keep this in mind if you've signed up for another hike straight after this one…
Getting to Huaraz
With no airport in or around Huaraz, you'll need to travel overland. Most visitors are coming from the Pacific coast cities of Lima or Trujillo/Huanchaco.
From Trujillo, Movil Bus and Linea operate direct routes to Huaraz. Check out the current availability, times and prices for your travel dates from Trujillo to Huaraz online.
At more popular times of the year, there is the option for a day bus, otherwise, the 9-hour journey is done overnight. Expect to arrive very early in Huaraz with this option!
From Lima, there are a handful of companies operating services to Huaraz. You'll have the option of day and night buses to suit your needs, as well as a range of classes to suit your budget. Movil Bus, Cruz del Sur and CIVA are three of the most popular operators.
Comparison sites like BusBud are good to help you find the best prices and times for your journey from Lima to Huaraz. Meaning you don't have to search on each company's website individually, saving you time to enjoy your trip.
Booking in advance is recommended as this route is very popular, especially around national holidays and in the northern hemisphere summer months (June to September).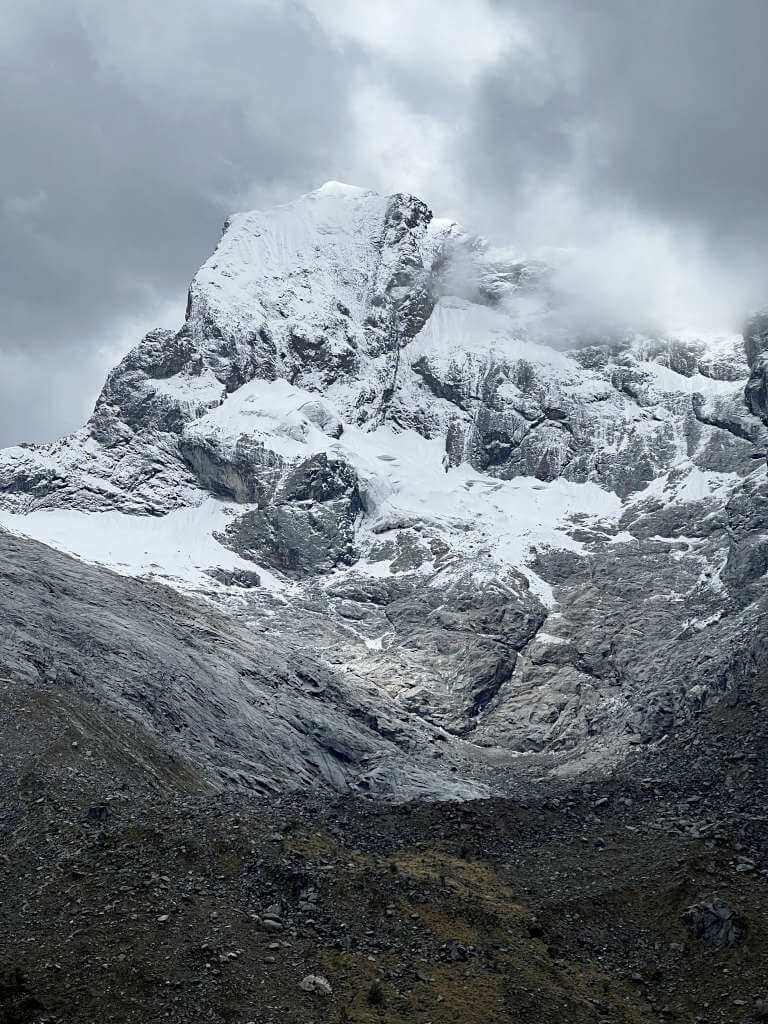 Laguna Churup Hike: Directions and Tips
The hike to Churup Lake is easy to follow but there are two different route options. Plus, you'll want to make sure you don't miss out on visiting the mirador. Find out more about the small details of the trek in this section…
Hiking Trail
DISTANCE: 6 km / 3.7 miles round trip
ELEVATION GAIN: 600 metres
HIKING TIME: 4 to 5 hours
DIFFICULTY: Hard
TERRAIN: Steps, dirt paths, loose rock, sheer rock
Although the hike is challenging, the route is easy to follow. You cannot miss the trailhead from where the colectivo drops you off as there's a large sign and arch! From there, the path is clear and lined with rocks on each side. As the trail continues the path is well-trodden with the occasional sign.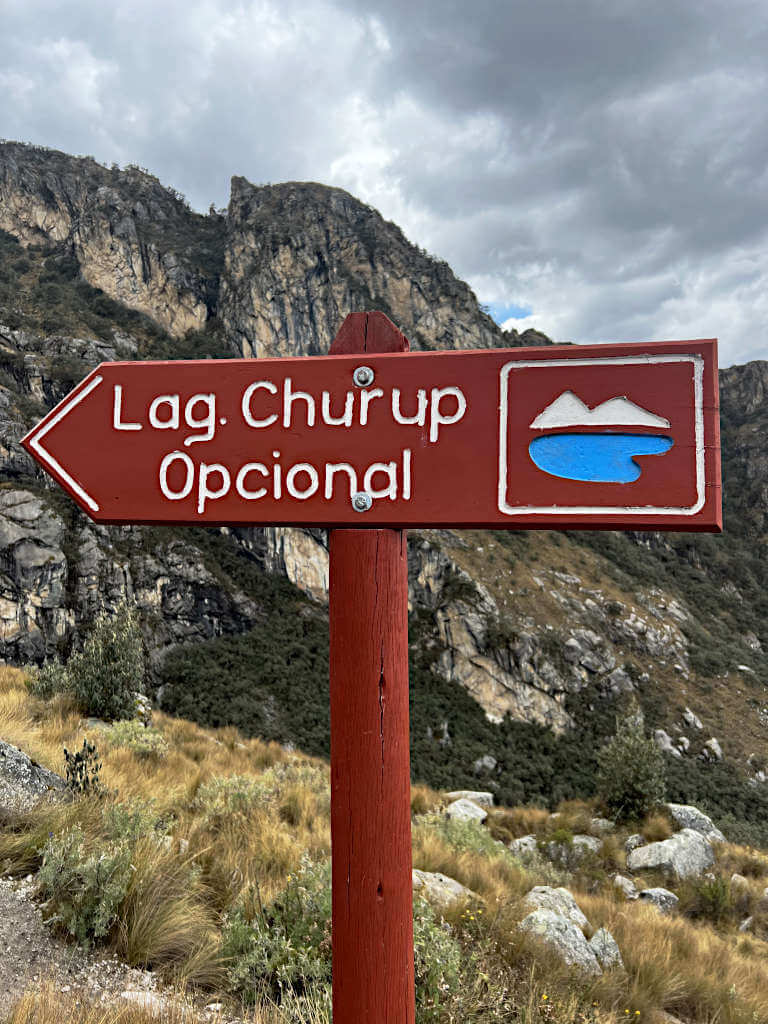 The Two Routes
For the first 2.1 km of the trail, there is only one route. However, after this point, it splits into two routes with key differences.
The split in the path occurs at the 'Lag. Churup Opcional' sign, pictured above.
To take the optional route, follow the path on the left. This starts very steeply and brings you to the mirador overlooking the lake. So steep in fact that when I saw it, I was convinced that it couldn't possibly be the path and ended up taking the second route!
Although the optional route is steep it avoids the more technically challenging parts of the alternative route. It's a long slog taking you up to 4500 metres, higher than the lake.
To the right, is the alternative route. This starts with a fairly flat section but then becomes very steep, as you climb alongside the waterfall in the second picture above. Basically, straight up.
This second route includes sections where you'll need to use your hands and feet, climb using chains to pull you up, ladders and narrow paths through the rock. But, once you've navigated that, you'll arrive at the lake to serene views!
Honestly, the second route is very hard. And it's scary in places. I'm pretty sure if I'd gone alone, I would have ended up just stuck halfway crying until the sun went down! If you're not a confident hiker, I'd definitely recommend the optional route.
I ascended taking the second route and it took me a little over 3 hours to reach the lake. I set myself a deadline of leaving the laguna by midday to have 2 hours to get back to the trailhead. In total, I walked for just under 5 hours.
The Lake and Mirador
This hike might not be as popular as Laguna 69, but the lake is equally as beautiful. Though it isn't as vividly coloured as Paron, there are still 50 shades of blue and a backdrop of snow-covered mountains.
Being a less popular hike means the lake edge of Laguna Churup Huaraz is not crowded with visitors. Rather, there is plenty of space for everyone to sit, rest and enjoy the spectacular view.
There is no single point on the lake that is 'the' viewpoint. Instead, you'll have to hop across the large rocks, climbing up and down to find your perfect spot.
If you took the optional route you'll arrive at the mirador first, whereas the other route brings you to the lake first. Unfortunately, the route between the mirador and laguna is not very clear or well-signposted.
Heading down to the lake is pretty easy. And for those heading up to the mirador, head towards the small prominence. You'll probably have to weave and zig-zag up the fairly steep, rocky section before joining a more established path. Finally, turn off that path and onto the rocky protrusion.
Time to take in the views you worked so hard to experience!
Laguna Churupita
If you have the time, energy and motivation, add on a visit to Laguna Churupita. This smaller laguna is a further 1.2 km from Lake Churup towards the mountain of the same name.
In total, this will add 2.4 km to your walking distance for the trail. Additionally, you'll gain over 100 metres in elevation, so it won't be easy. That said, it's much less steep than the two approaches to Churup Lake!
Getting back
Hiking back down is much easier on your lungs and heart than walking up. But, it's more taxing on your ankles and knees. The path down is steep with loose rocks underfoot in some places. Make sure to take your time in these sections to avoid injury.
Of the two routes, taking the optional route is by far the safest. Although it is steep, you avoid having to climb down ladders and near-vertical rock faces with chains to hold onto. At a reasonable pace and with just a few breaks to catch your breath, expect the journey down to take 1.5 to 2 hours.
Facilities Along the Route
Aside from a few shelters dotted along the path at the start of the trail, there are no facilities here. The shelters have benches and roofs to provide a place to rest or get out of the sun or rain. Additionally, there are no facilities at the trailhead.
Make sure to bring your own food, drink and snacks as you won't be able to buy any once you leave Huaraz.
Top Tips and Recommendations
Don't overpack. Keep the weight you carry to a minimum without sacrificing the essentials.
Layers. You'll be roasting when hiking in the sun and then freezing within 10 seconds of standing still.
Go early. Aim for the early colectivo to give yourself more time at the lake and less time waiting around for the minibus to leave.
Be patient. Don't do this hike on your first day in Huaraz! Make sure you spend a couple of days getting used to the altitude.
What to Bring to Laguna Churup Peru
The key with this hike and all at high altitudes is to strike a balance between carrying enough supplies and items for different scenarios but not carrying too much weight. These would be my essentials:
Fully charged phone as well as a battery pack. You won't get much signal, but you'll be able to use GPS if needed. And you'll want to take plenty of photos.
Water and snacks. I didn't have much of an appetite while hiking Churup Lake but it's good to have a way to replenish those burnt calories when you need them.
Sun cream, sunglasses and a hat. Self-explanatory.
Camera – if you have one. I also brought by small, lightweight tripod but didn't use it.
Cash for the colectivo and Huascaran National Park entrance fee, a little extra just in case.
Small first aid items like plasters, paracetamol and any medication you normally take. I keep a few plasters of different sizes in my purse so I can't forget them, a lifesaver if you get a blister out of the blue.
What to Wear
Clothing-wise, these are my recommendations for what to wear to Churup Lake:
Hiking boots – if you have them. Else, hiking trainers or running trainers with good grip. I managed this hike fine in my Asics trainers.
Leggings or trousers. Long-legged to protect from the sun and the cold but not too thick to over-insulate.
T-shirt, thin jumper and thicker jumper or fleece. I had a Nike running top and then a zip-up fleece that I could double up or switch.
Hat and gloves if you get cold easily and are hiking in months with less favourable weather conditions. Otherwise, save the weight and leave these behind.
---
Do you have any questions or want any more information? If so, drop a comment below and I'll get back to you!
Information is correct as of December 2022 but is subject to change in future.
---
More South America Travel Inspiration…
PERU: Laguna Paron: Ultimate Guide to Visiting from Caraz or Huaraz
COLOMBIA: 11 Stunning Waterfalls in Colombia Worth Visiting
PERU: Best Time to Visit Machu Picchu, Peru
PERU: Palcoyo Mountain (Peru's Alternative Rainbow Mountain): Ultimate Guide
ECUADOR: Mitad del Mundo Ecuador: A Guide to Quito's Equator Line
PERU: Aguas Calientes to Machu Picchu: The 2 Ways Explained
ECUADOR: Pailón del Diablo, Baños (A Guide to Ecuador's 8th World Wonder)
PERU: Climbing Machu Picchu Mountain (Hike Guide)
COLOMBIA: Palomino: Santa Marta's More Trendy Neighbour (A Complete Guide)
PERU: Turquiose Pools of Millpu Ayacucho: Ultimate Guide
---
PIN IT FOR LATER!