Located in a remote part of the Andes mountain range, Palcoyo Rainbow Mountain is a unique natural beauty worth visiting. With its vibrantly coloured rocks and incredible surrounding landscapes, this place has so far avoided mass tourism.
Living under the popularity shadow of Peru's more famous rainbow mountain, Vinicunca, Palcoyo Mountain is not somewhere most people have heard of. But, it is perhaps more impressive.
This Alternative Rainbow Mountain attracts around 90% fewer visitors each day and has three colourful mountains to see. And, as Peru's tourism levels return to their pre-2020 peaks, there has never been a better time to visit a lesser-known gem like this.
As so few people visit Palcoyo Cusco, up-to-date information can be hard to come by. You want to make sure you're not overpaying for your visit and know what to expect when you arrive.
But, this complete guide to visiting Montaña Palcoyo in 2023 has all the information you need. Plan your visit and ensure you have one of the best days out of your trip…
Some of the links below are affiliate links, meaning, at no additional cost to you, I may earn a small commission if you click through and make a qualifying purchase.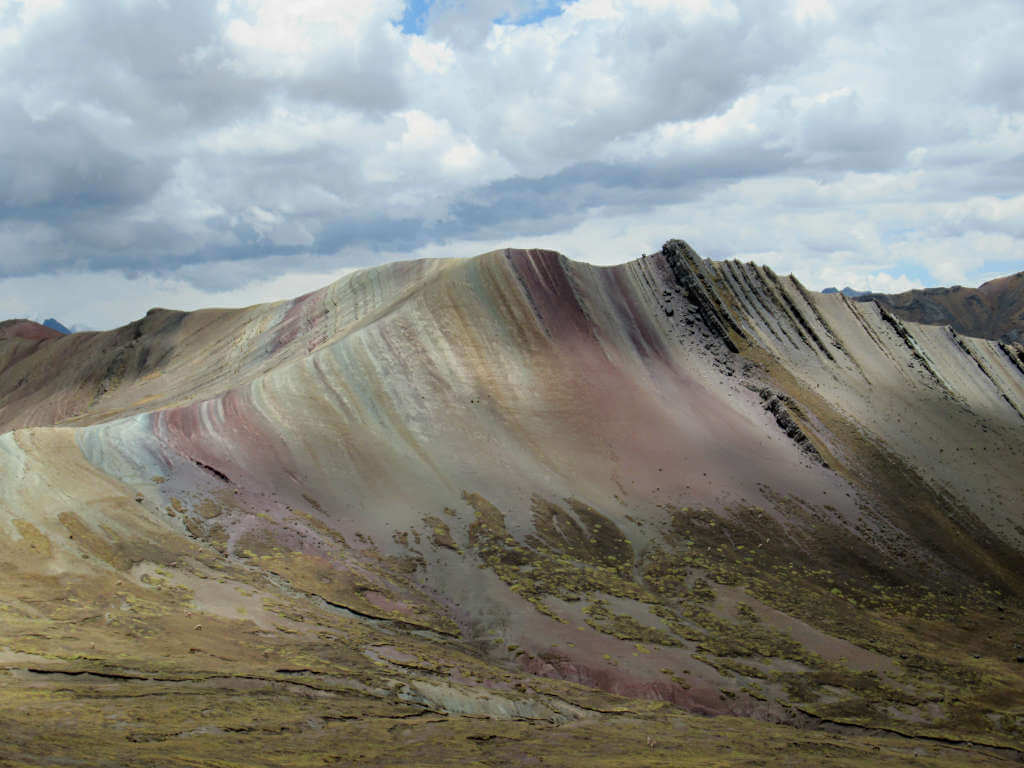 About The Palcoyo Rainbow Mountain
A trip to Rainbow Mountain is one of the most popular activities in Cusco, Peru. But, did you know there's not just one rainbow mountain?
Vinicunca is the most popular and most visited but only has one rainbow mountain. It was the first rainbow mountain to be 'discovered' back in the early 2010s with mass tourism reaching the mountain a few years later. 'Discovered' in the same way Christopher Columbus found the Americas… they were already there!
Before that, the colours of the mountain had laid hidden under snow. But, rising temperatures as a result of climate change mean these colours are on show year-round.
More recently, Palcoyo Mountain – sometimes spelt Palccoyo – was discovered. This has led to it gaining the title of the Alternative Rainbow Mountain Peru. But, it is well worth a visit in its own right.
In fact, Palcoyo Peru is home to 3 separate rainbow mountains and receives far fewer visitors each day. Plus, you'll be treated to sprawling views of the surrounding red and snow-capped mountains.
And llamas. Lots of llamas. Hundreds of them roam freely around the area making for a great sight.
Mountains and Stone Forest
The first of the three mountains at Palcoyo Cusco is located just above the parking lot and the start of the walking trail.
The second is located at the end of the trail. Here, you can get a photo right in front of the rainbow colours with no one behind you.
And also, from this viewpoint, you can look out over the third mountain seeing all the colours from afar. With the added bonus of the backdrop being snow-capped mountains.
In addition, a unique and stunning stone forest sits above the trail. The tall and thin rock formations give the appearance of trees. Although the grey and red colours kind of them away as not trees!
The stone forest isn't located on the main trail. But, it's possible to climb up to it anyway as an add-on to your walk.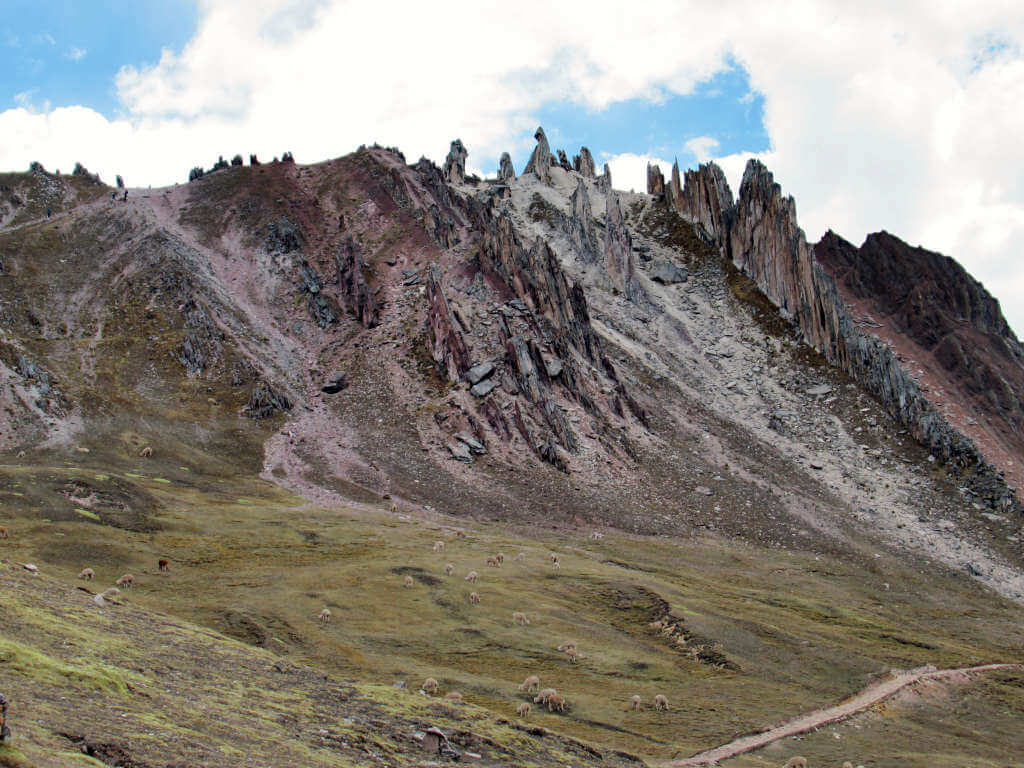 Altitude
For most people, visiting Palcoyo Rainbow Mountain will be the highest altitude they've ever experienced. Prepare to feel how thin the air is at 16,000 feet (4900 metres)!
The parking lot and start of the trail are at an elevation of 4780 metres (15680 feet). While the final viewpoint is at 4880 metres (16010 feet).
Higher yet, the imposing stone forest sits at a staggering 4925 metres above sea level (16160 feet).
Because of this, it is important to acclimatise properly in Cusco before visiting. Especially, if you've just flown in from Lima – which is at sea level.
Altitude sickness is a real threat at this height. Even those who are well-acclimated are still likely to experience symptoms such as shortness of breath, dizziness and headache.
Spending a couple of days sightseeing in Cusco is a good way to let your body adjust to the altitude. At 3400 metres above sea level, Cusco is the perfect place for this.
Without doing so, you have a real risk of developing altitude-related symptoms that could ruin your day. No one wants to be throwing up in a bush when they could be snapping photos of the rainbow mountain, right?
How much hiking is required?
From the parking area to the final viewpoint is 1.5 km one-way. This route includes an elevation gain of around 100 metres (330 feet).
You take the same route on the way back, meaning you walk 3 km in total.
The hardest part of the Alternative Rainbow Mountain trek is at the start. As you leave the parking lot, you'll climb the newly built stairs and gain two-thirds of the total elevation gain in the first one-third of the walk.
Luckily, the first rainbow mountain comes into view almost straight away at the top of the stairs. And after that, it's a fairly flat walk to the end of the trail.
If you want to climb to the stone forest, this requires an extra 600 metres of walking (there and back). And, that comes with a further 50 metres elevation gain to 4925 metres (16160 feet).
Palcoyo vs Vinicunca Rainbow Mountains
Overall, there isn't much difference between visiting the two rainbow mountains from Cusco. They are both spectacular with a unique sight to behold.
| | Vinicunca | Palcoyo |
| --- | --- | --- |
| Number of rainbow mountains | 1 | 3 |
| Driving time from Cusco | 3 to 3.5 hours | 3 to 3.5 hours |
| Tour duration | 10 to 11 hours | 10 to 11 hours |
| Hiking distance | 7 to 8 km | 3 km |
| Elevation gain | 600 metres / 1970 feet | 100 metres / 330 feet |
| Maximum altitude (main trail) | 5200 metres / 17060 feet | 4880 metres / 16160 feet |
| Best time to visit | April to October | April to October |
| Daily visitors | 1000+ (around 1500 in June, July & August) | 100+ |
The main difference is the number of visitors and how much walking is required.
Vinicunca Rainbow Mountain is much busier, attracting over 1500 visitors a day in the high season. While Palccoyo attracts around 100 a day, although this number is growing.
Another factor to consider is that at Vinicunca, the main viewpoint and photo spot looks over the long line of people hiking up the mountain. Whereas at Montaña Palcoyo, you hike up to the viewpoint and the rainbow mountain is in front of you – with the people out of shot behind.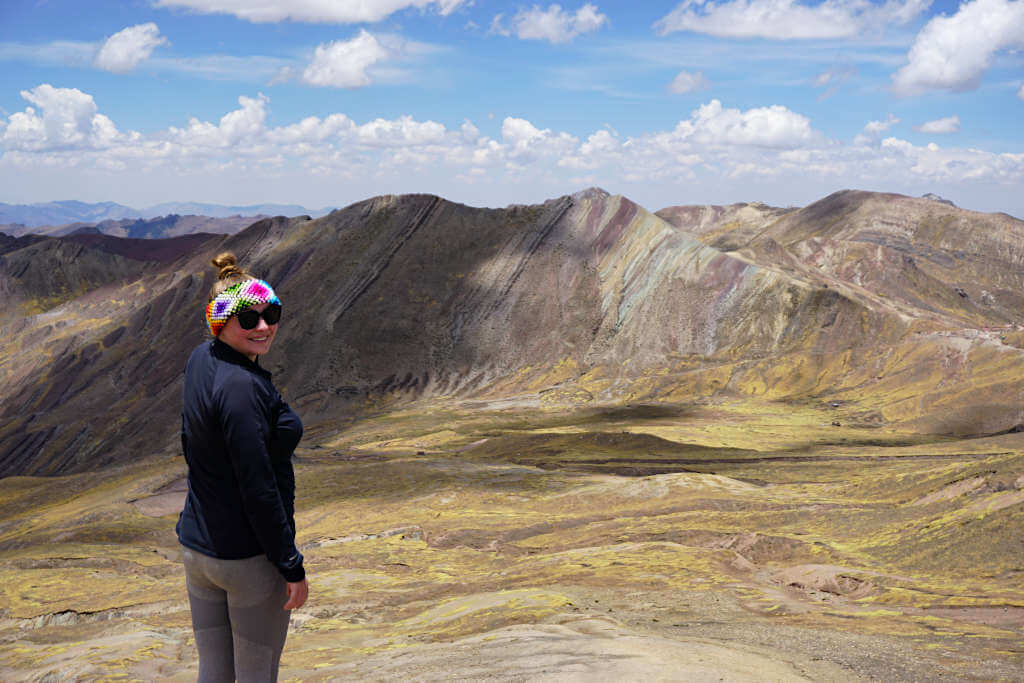 Is Palcoyo Mountain Worth it?
Absolutely, 100%.
One of the things that surprised me most when I visited was how vibrant the colours were. In an era where photos can be edited with a couple of presses on smartphones, it's easy to distort reality. But, Palcoyo Mountain Peru really was 'wow'.
In particular, the red colours really stood out. And, just away from the rainbow mountains is a series of completely red mountains, similar to the red valley at Vinicunca.
I also loved how few people there were. As someone who generally avoids crowds and gets up early to avoid them, it was great to visit somewhere quiet in the middle of the day.
There were only a couple of 15-seater minibuses there when we were as well as a couple of cars. And, along a 1.5-km trail, all the groups spread out quickly. Plenty of space to take photos without ever being rushed, having to queue or choose strategic angles to not have people in the shot.
Download some podcasts or music for the long drive and enjoy the view. It'll go quicker than you think. Although, pack some motion sickness medication or wristbands if you're prone to it. The roads are winding and bumpy.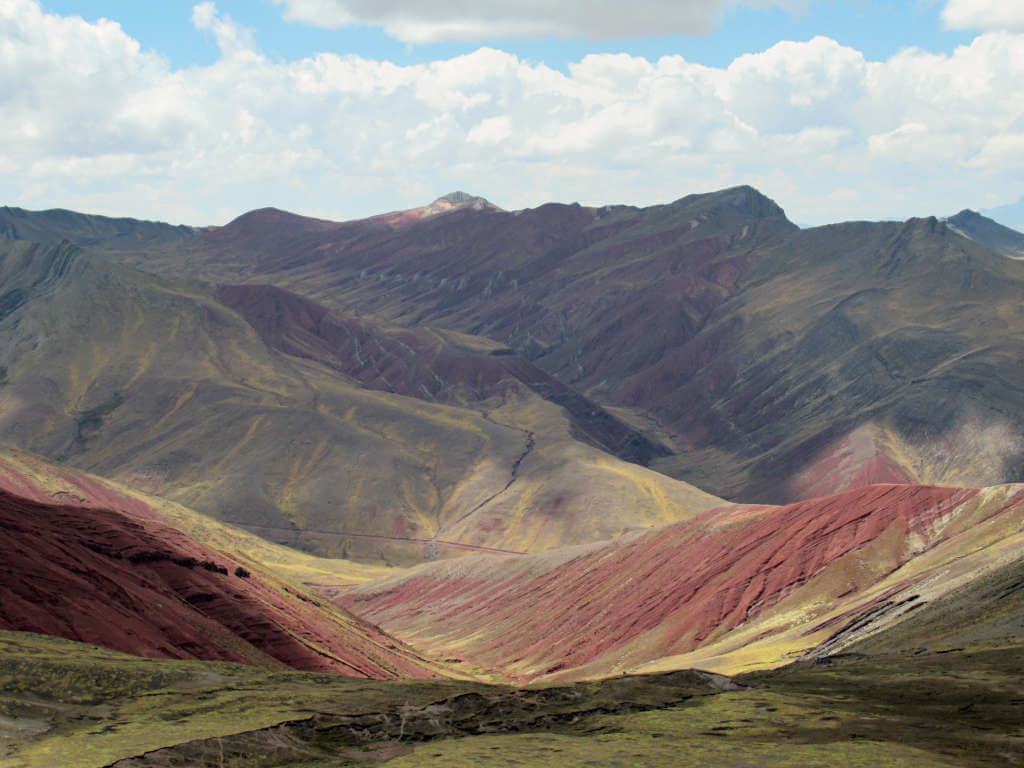 How do I get to Palcoyo?
With no public transport links, the only way to get to this remote but colourful paradise is with a tour or with your own transport. Expect a full day out, leaving in the early hours and returning in the early evening.
Tours
Taking a tour – either private or group – is the most cost and time-efficient way of visiting Palcoyo Rainbow Mountain.
The cheapest way to book a Rainbow Mountain tour is direct with an agency in Cusco. Use the time you spend acclimatising in the city to check prices at a couple of places before booking.
Tours with English-speaking guides generally charge a little more. But, you can still get a tour for around 90 to 100 soles (20 GBP/25 USD as of January 2023). This price includes transport, a tour guide, breakfast and lunch.
If you book online, expect to pay at least double this price – if not more.
Not every tour agency sells a trip to Palccoyo, but those that do typically book with the same operators. So, the itinerary for the day is largely the same, no matter who you book with.
4:30 am: hotel pick-up (you probably won't leave Cusco until around 5 am)
Drive 1.5 hours to the breakfast restaurant
Drive another 1.5 to 2 hours to Palcoyo Mountain Peru
2 to 2.5 hours at Rainbow Mountain
Drive back to the same restaurant for lunch
Drive back to Cusco with drop-off near the main square
For a private tour, expect to pay around 200 USD for one person. The price lowers slightly per person as you add more people to the group. In this case, you can actually get a good deal online, like this one-day private tour to Palcoyo Cusco on Get Your Guide.
Additionally, there is an Inca bridge located at the turn-off from the main road into the valley. Most tours make a short stop here to explain the history and changing architecture as the old bridge sits alongside the modern-day equivalent.
Your Own Transport
If you have your own transport like a campervan or your own car, you can think about getting to Palcoyo Peru by yourself.
However, the journey is not suitable for rental cars. This is because the last 1 to 1.5 hours are along dirt and loose rock roads that can damage the car.
Parking is free at the mountain (included in the entrance price). But you should note that you need to be off the mountain by 4 pm.
How Much does it cost to do to the Rainbow Mountain Peru?
Most locally booked tours do not include the entrance fee for the Alternative Rainbow Mountain Peru. This isn't much, but you will need to have it in cash (small notes) to pay at the entrance.
The Montaña Palcoyo entrance fee is:
15 soles for foreign nationals
10 soles for Peruvian nationals
5 soles for the local community
Additional costs include 1 sol to use the toilet and 50 soles if you want to fly a drone.
Therefore, the total cost of a cheap tour booked in Cusco plus entrance is 110 soles (95 + 15) for foreign tourists.
Is Rainbow Mountain a Day Trip?
Yes, it's a full-day trip from Cusco to either rainbow mountain. Expect to be out for around 10 to 11 hours.
Montaña Palcoyo Peru: Need to Know Information
What to Expect
Weather-wise, expect temperatures to be cool even in the sun. In the shade, temperatures are pretty chilly. But, once you start walking and if the sun is out, you'll warm up quick enough.
The altitude is likely to be tough, especially if you're not acclimatised or you've never been at altitude before. That said, most people are fine when standing around and feel it slightly when walking flat or downhill.
Expect to feel the altitude most when walking uphill or upstairs. Because of this, the first one-third of the hike is the toughest as this is the steepest part. If you can get through that, the rest of the trail will be pretty easy.
Make sure to take regular breaks and keep hydrated. You'll want to stop to take lots of photos anyway, so it's easy not to push yourself too hard.
Regarding the number of visitors, Palcoyo Cusco is rarely – if ever – what anyone would describe as busy. Outside of the peak months of June, July and August, only a handful of tour buses (15 seaters) come each day. Larger coaches simply cannot reach the mountain on the narrow dirt roads.
Even on days with more visitors than normal, people spread out along the 1.5-km-long trail. Natural gathering points at the miradors aren't crowded and have plenty of space for photos.
Along the trail, local people with dressed-up alpacas and llamas sell small souvenirs and let you pay for a photo.
What to Bring
Come prepared but you won't need as much as you think. But, if you overpack you can always leave things you don't need in the minibus, it's perfectly safe.
Camera and/or phone plus battery pack
Sunglasses and sun lotion
Cash for the entrance fee and toilets
Tissues for visiting the toilet (not typically provided)
In terms of what to wear, the key is layers. You can't predict the weather at Rainbow Mountain based on what it is in Cusco. So, you'll need to go prepared.
Trainers are fine although you can wear walking boots if you'd prefer
Lightweight jacket or fleece (a waterproof is good to bring in case of rain but not always needed)
Facilities at the Alternative Rainbow Mountain Peru
Until recently, there was nothing more than a toilet block in the parking lot. But, building work is underway to develop the facilities at Montaña Palcoyo Peru.
A small amphitheatre overlooking the vast valley is being built. As is a small building to house the toilet block and some stalls.
However, once you leave the parking area there are no facilities until you return.
Do you need oxygen for Rainbow Mountain?
No, oxygen is not needed to hike at Rainbow Mountain. Although the air is thinner with substantially less oxygen than at sea level, additional oxygen is not required.
That said, many guides do carry small canisters of oxygen. These are then used to alleviate more intense altitude sickness symptoms if anyone experiences them.
Should I do Rainbow Mountain before or after Machu Picchu?
Because of the need to acclimatise to the altitude, it is best to visit Rainbow Mountain before you visit Machu Picchu.
But honestly, it will depend on how long you have in Cusco and when your trip to Machu Picchu is booked for. As tickets for the Inca city usually need to be booked at least 4 weeks in advance, you'll most likely have this date already confirmed.
So, if you're arriving in Cusco and heading straight to Machu Picchu, then visiting Rainbow Mountain afterwards is fine. But, if I had a choice, this is why I'd go to Rainbow Mountain first.
Cusco sits at 3400 metres (11,150 feet) above sea level making it a great place to adjust to the altitude. This is higher than both Ayacucho and Arequipa, where most travellers stop en route. And of course, far above Lima that sits at sea level.
However, Machu Picchu is at a lower altitude (2400 metres/7870 feet), with the town where you stay even lower (2040 metres/6690 feet). Therefore, you lose some of the acclimatisation when you go from Cusco to Machu Picchu. This will make it harder if you visit Rainbow Mountain within a couple of days of being at Machu Picchu.
> > > RELATED POST: How to get from Lima to Machu Picchu (All Transport Options and Routes Explained)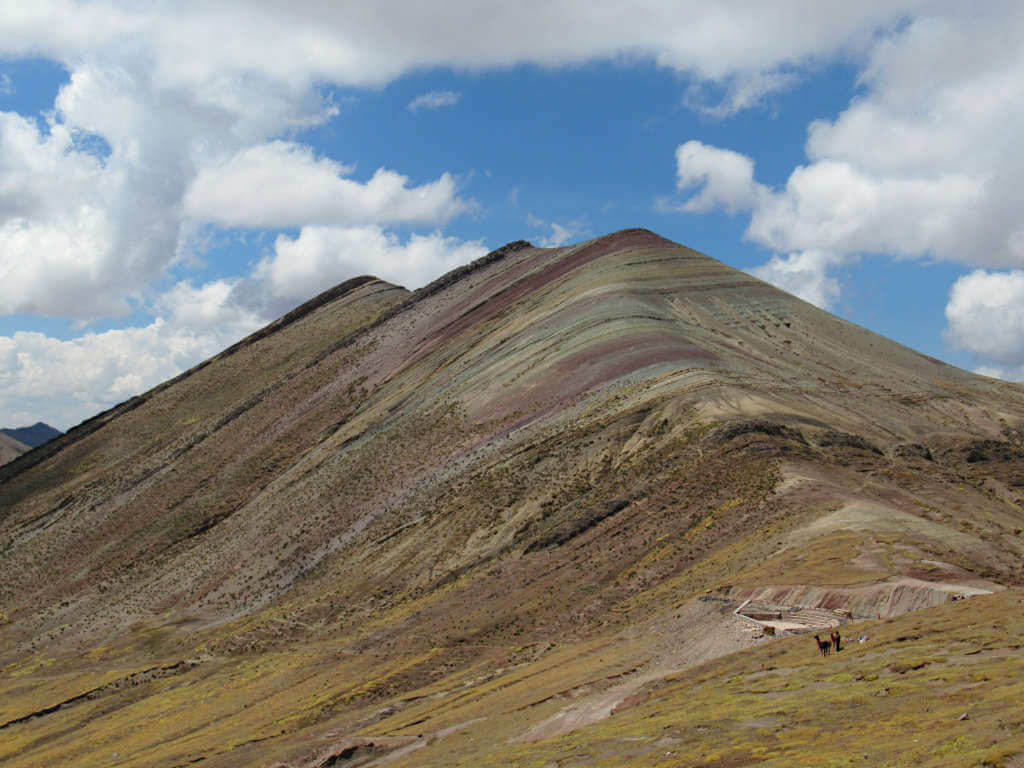 Best Time to Visit the Alternative Rainbow Mountain
The best time to visit Palcoyo Rainbow Mountain is during Peru's dry season months: April to October.
December, January and February make up the rainy season. During which strong downpours and lingering clouds can reduce the visibility to almost nothing. The heaviest rain is normally seen in January and February.
March and November are the shoulder season months where the dry and rainy conditions transition. In these months, the weather can be hit and miss. Blue skies one day and dense fog the next.
The best weather is typically seen in June, July and August. Although, this does coincide with the peak of tourism levels in the country, with North American and European visitors travelling during the summer holidays. While Palcoyo Mountain Peru is rarely busy, the number of people visiting each day does increase in these months.
When the sun is out, the colours appear the most vibrant. Overcast and grey skies also give a more washed-out look to the mountains.
Don't worry if you arrive and it's cloudy though. At this altitude, the clouds move quickly and the sun can appear. Since it's not possible to guess the weather from Cusco and there's no weather station, you can't really check the weather in advance. You'll just have to pick a date and hope for blue skies and sun!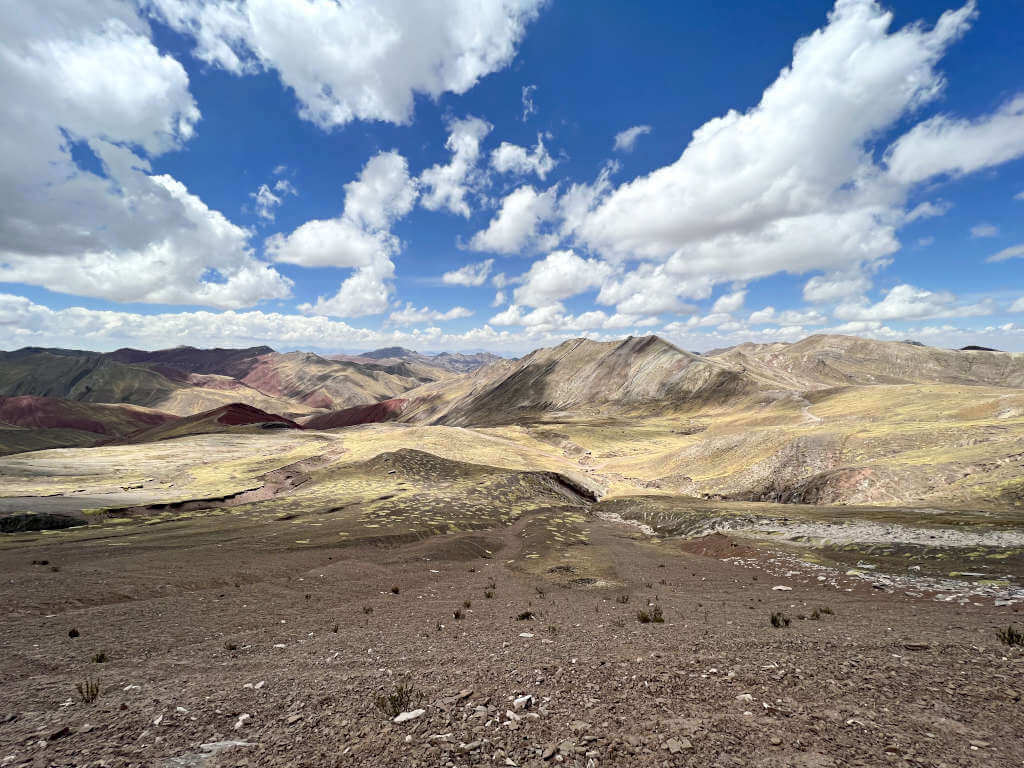 ---
Do you have any questions or want any more information? If so, drop a comment below and I'll get back to you!
Information is correct as of January 2023 but is subject to change in future.
---
More Peru Travel Guides…
CUSCO: Climbing Machu Picchu Mountain (Complete Hike Guide)
CUSCO: Aguas Calientes to Machu Picchu: The 2 Ways Explained
HUARAZ: Laguna Churup, Huaraz: Independent Day Hike to 4500 metres
HUARAZ: Laguna Paron: Ultimate Guide to Visiting from Caraz or Huaraz
ICA: Poor Man's Galapagos Peru (Islas Ballestas, Paracas)
AYACUCHO: Turquoise Pools of Millpu Ayacucho: Ultimate Guide
---
PIN IT FOR LATER!