If you love waterfalls and being outdoors, then a trip to Baños' Ruta de las Cascadas is perfect for you. Simply translated as Route of the Waterfalls – or more succinctly Waterfalls Route – it really is what it says on the tin. Located along a short stretch of river, which ultimately flows into the Amazon and Atlantic, are over 10 different waterfalls.
The downhill route is perfect for cycling along, with the roads in good condition. But, unless you're planning on biking from dawn to dusk, you're going to have to narrow down the waterfalls you want to visit.
Luckily, this complete guide to the Baños waterfalls route has everything you need to know about renting a bicycle and visiting the waterfalls. Plus, the other modes of transport available and all the costs involved.
Make your trip to Ecuador truly special with a day out exploring the waterfalls of Baños and start planning now…
Some of the links below are affiliate links, meaning, at no additional cost to you, I may earn a small commission if you click through and make a qualifying purchase.
About the Waterfall Route in Baños
The Baños waterfalls route is one of the best natural attractions in Ecuador. Along a 20-kilometre stretch of the Pastaza River, there are over 11 waterfalls all worthy of seeing.
In addition, the area is a hub of adventure activities. White water rafting, zip lining, giant swings and more await adrenaline lovers.
With the route heading downhill, it is perfect for exploring on a bike. Although tours are also available and driving is easy. Experience the power of nature in this Andes-meets-Amazon area of Ecuador.
Ruta de las Cascadas Map
The Baños waterfalls are located on the Pastaza River or on smaller tributary rivers running directly into it. These are all to the east of Baños and naturally form a convenient and hard-to-miss waterfall route.
The main waterfalls are marked with black pins. Agoyan and Manto de la Novia are visible directly from the roadside. While the others require a short walk or cycle away from the road. White pins mark the additional waterfalls, these are generally smaller or harder to reach.
Biking Ruta de las Cascadas in Baños
IN SHORT:
Distance: 16 km one-way from Baños
Route: Roads and tunnels, some cobbled sections around the tunnels
Time: 5 to 6 hours
Cost: 5 to 10 USD bicycle hire; 0.50 to 5 USD waterfall entrance (total); 2 to 3 USD cable car; 2.50 USD return transport to Baños (10 to 20.50 USD total)
The most popular way to explore Baños' waterfall route is to hire a bicycle. By doing this, you can stop at as many or as few waterfalls as you like, with the freedom to move on quickly or stay for a while.
Route
The cycling route is approximately 16 km one-way from Baños to the return transport at Cascada Pailon del Diablo. Although, the last couple of waterfalls are further than this and do require you to cycle back on yourself to catch a ride back to Baños.
Approximately 90% of the cycling route is downhill or flat, and mostly along the roads. The route also includes a few tunnels. Some of these allow cyclists and others do not. In these cases, there are separate routes around that are well-marked.
The roads are busiest in and around Baños. However, the drivers are quite used to cyclists so you'll get plenty of space while they overtake you. A few miles outside Baños, the roads quiet down and you should expect far fewer vehicles to pass. One word of caution though, the gutter next to the main road along the route is quite deep and steep. Make sure to cycle inside the outer road marking to avoid sliding into the gutter.
Cost
One-day bicycle hire typically costs 5 to 10 USD. This price should include a helmet, chain and lock, and tyre pump. Before you hire the bike, be sure to check what time it needs to be returned. Sometimes all day doesn't quite mean that. And, cycling the Ruta de las Cascadas Ecuador will likely take most of the day, especially if you stop to admire every waterfall. Expect to be out for at least 5 to 6 hours.
The other costs are mostly optional. These include entrance fees for some waterfalls, taking a cable car or zip line over the cascadas and buying food and drink. Finally, you'll pay 2.50 USD for a truck ride back to Baños with your bicycle at the end of the route.
Other ways to explore the Waterfall Route from Baños
IN SHORT:
Drive: parking is available at all main waterfalls and the roads are in good condition
Tours: Convenient and easy with a similar cost to cycling, choose from a Chiva or double-decker bus
For those who don't want to bike the Ruta de las Cascadas Baños, there are two options. The first is to drive and the second is to take a tour. That said, if you just wanted to visit 1 or 2 waterfalls, you could consider a bus. But for more waterfalls, it becomes less time- and cost-effective as you'll spend more time waiting around and paying fares than taking a tour.
Drive
You'll find well-maintained and easy-to-drive on roads east of Baños, alongside the Pastaza River. From the centre of the city, expect the drive to take around 30 minutes to reach the furthest away waterfall. The entrance for Cascadas Ulba and Silencio is just a 6-minute drive from Baños.
Parking is available either on the roadside or in a marked area at all the main waterfalls. This is either free (in most cases), or 1 USD (at Pailón del Diablo).
I wouldn't say that it's worth hiring a car specifically to see the Baños waterfall route. But, if you've hired one for an extended period to see Ecuador or have your own, then it's a good option. And, you'll be especially thankful for somewhere to take cover if it rains.
Baños Waterfall Tour
If you don't have your own transport and don't fancy cycling, then a tour is a cheap and easy way to explore the Baños waterfall route. Take your pick from either double-decker or Chiva (open-sided) buses and ride to the waterfalls in style!
Pros include not having to cycle, focusing on stunning views the whole ride and getting a guide. Although, you'll have less control over where you stop and for how long.
A Baños waterfall tour can be booked in person in the town or online, with the prices being similar for both (less than 10 USD). Expect tours to be busiest on weekends and around national holidays. So, if you're wanting to go on a tour as soon as you arrive, booking in advance is a good idea.
Main Waterfalls on the Ruta de las Cascadas Baños
There are 6 main waterfalls at 5 different sites along the waterfalls route.
Closest to Baños are Cascadas Ulba and Silencio, which are situated a short distance from each other. Next up are Cascada Agoyan and Cascada Manto de la Novia, these are both visible from the road. Finally, you'll reach the impressive Pailón del Diablo Waterfall and Cascada El Rocio Machay, the latter of which is the best for swimming along the route.
Keep reading to find out more about these beautiful waterfalls…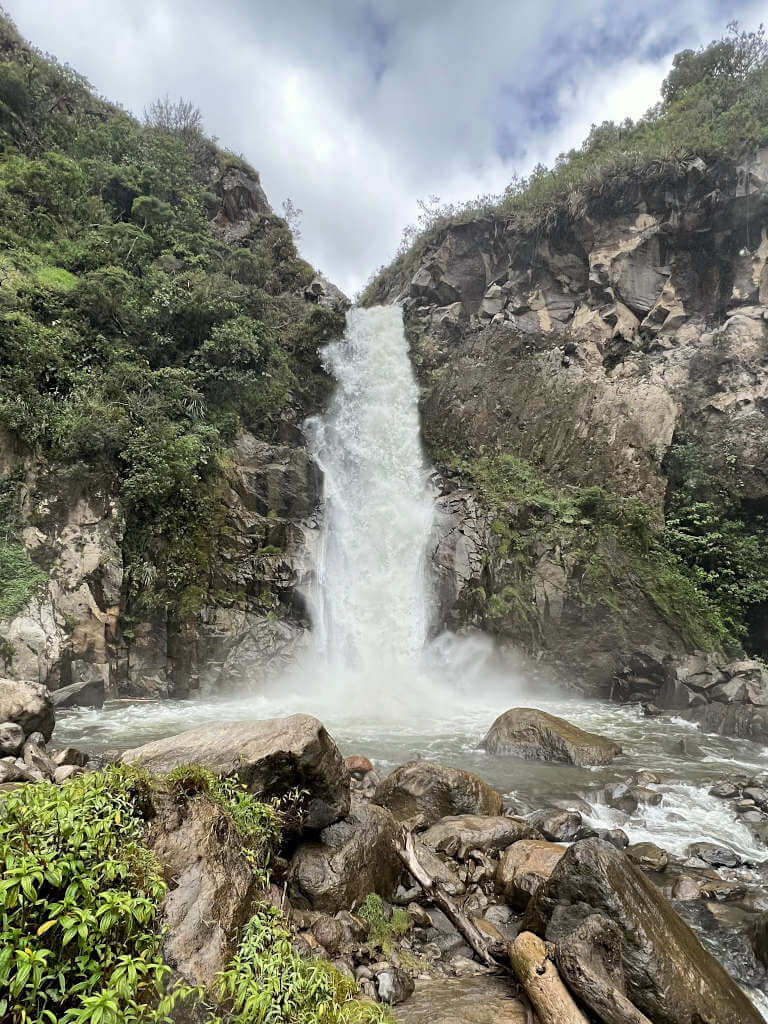 Cascada Ulba and Cascada Silencio
The entrance to these two waterfalls is located 150 metres from the main road, on a side street called Calle Juan Montalvo. At the turning, you'll see a large advertising board for the waterfalls just before you reach the village of Ulba.
Chain your bikes up at the entrance and enjoy the short, 10-minute or so walk to Cascada Ulba. The waterfall is not well signposted but it is easy enough to follow the trodden path. Be prepared for muddy conditions underfoot and lots of spray coming from the waterfall.
Also located here is Cascada Silencio. To reach this waterfall, follow the smaller river upstream that you would have crossed over to reach Ulba Waterfall. However, after heavy rainfall, it may not be possible to get to this waterfall as the path becomes underwater.
Entrance fee: 0.50 USD.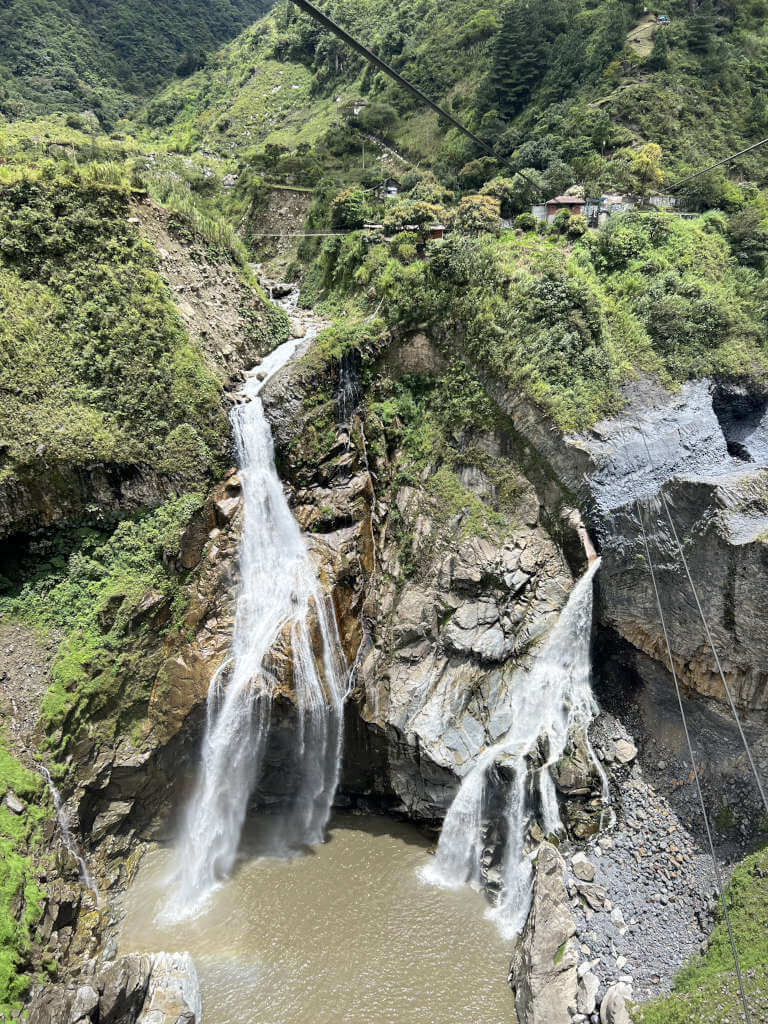 Cascada Agoyan
This beautiful double waterfall is the first located directly on the Pastaza River. And, while the waterfalls are certainly impressive, the best part is definitely the cable car that carries you over the top.
For just 2 USD you can experience a bird's eye view of the two waterfalls, the striking rockface and the lush green mountains. The price includes a return trip and on the other side, you have the option to get out and walk around. Honestly, it was one of the highlights not just of my day but of all my time in Ecuador!
What's more, for the brave at heart, there is also the option to enjoy a thrilling zipline ride over the waterfalls. Ride how you want – seated, batman-style (upside down) or superman-style (face down). Costing 20 USD per person, this is certainly a unique way to see a waterfall.
Of course, you can always admire the waterfall from the roadside. There is free parking and space to sit and relax for a little bit too.
Entrance fee: Free. Cable car and zip lining at a cost.
Manto de la Novia Waterfall
Translated as Bride's Veil Waterfall, it's easy to see how this waterfall got its name. The 40-metre-tall, thin and veil-like waterfall is best seen up close as the River Chinchín flows into the Pastaza.
Leave your bike or car on the roadside and walk 10 minutes down to the waterfall over the suspension bridge. To get close to the waterfall at its base, you'll have to pay the entrance fee of 1 USD.
Or, you can ride the small cable car over the falls for 1 USD. Although to do this, you'll still need to walk down to the waterfall. And then back up. Roadside admiration is, of course, free.
Entrance fee: 1 USD.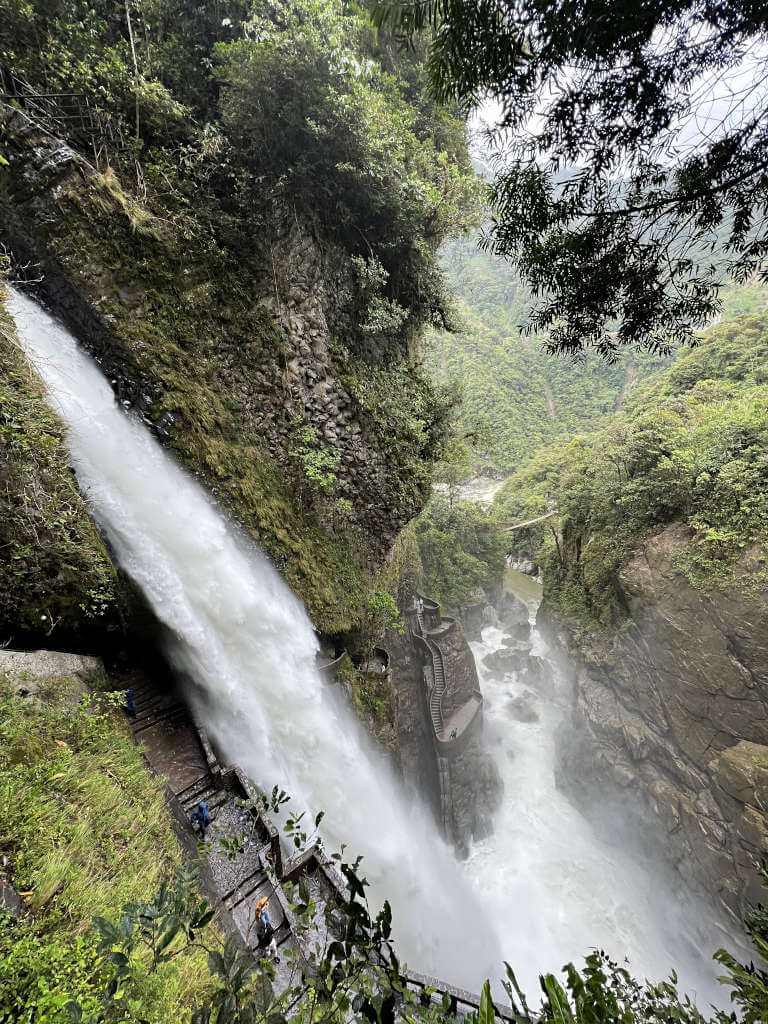 Pailón del Diablo Waterfall
This waterfall is easily the most impressive around Baños, if not the whole of Ecuador! Water flows forcefully over the 80-metre drop leaving everything and everyone around soaking wet.
Pailón del Diablo Waterfall is located in the town of Rio Verde, where you'll find restaurants, cafes and shops. Importantly, there are two entrances to these falls and each offers quite a different experience. The paths from each do not overlap and you cannot cross from one to the other inside.
To end up at the higher viewing platform with the iconic stairs in your photos, you need to take the first entrance in the town as you arrive from Baños. This is called the New Entrance and it is located just before the yellow-sided bridge by walking along the small river towards the ticket office.
If you want to stand on the steps in the picture above and get to walk right behind the waterfall, you'll need to take the second and original entrance. This is located over the yellow-sided bridge in the town, on the right-hand side.
The price for both entrances is the same, 2 USD during the day and 4 USD at night when the waterfall is lit up in bright colours. Although, I wouldn't recommend biking from Baños in the dark.
Entrance fee: 2 USD.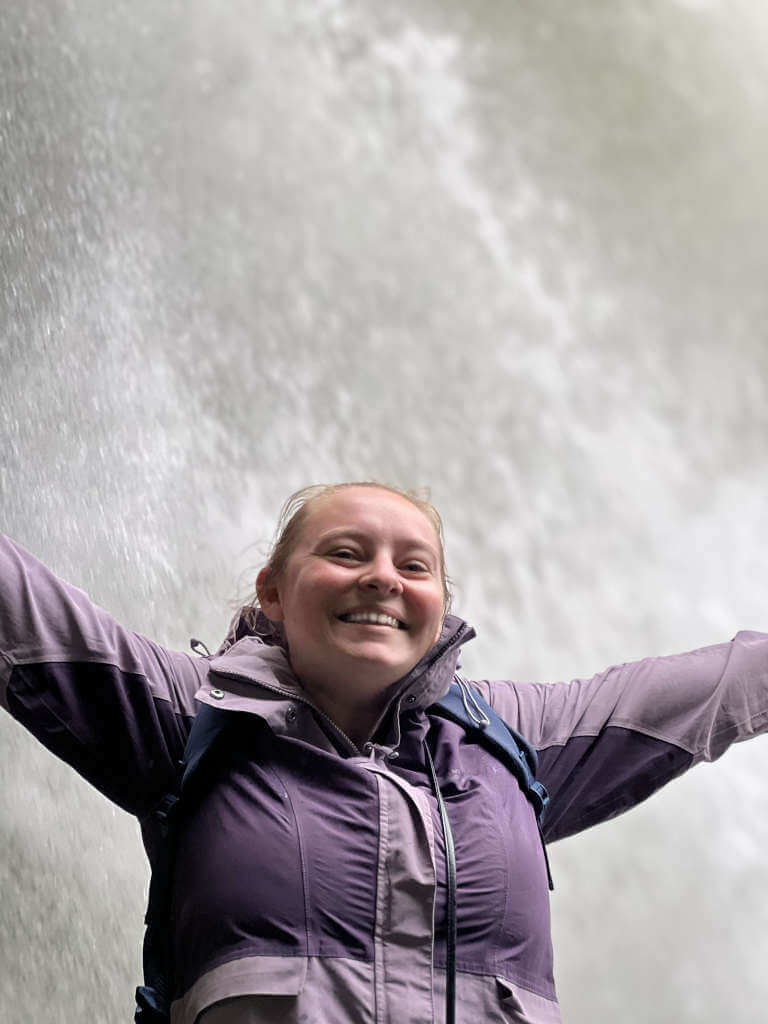 Cascada El Rocio Machay
Two kilometres further east of Diablo Waterfall is the simply stunning Cascada El Rocio Machay. From the roadside entrance, a 20-minute walk is needed to reach the falls.
Of all the Baños waterfalls, this is the best one to swim in. So, if a cold plunge is what you're after, pack your swimwear and towel.
And, since many people opt to end their day at Pailón del Diablo, this waterfall is a lot less busy than the others. The walk is not easy, but it's worth it for the jungle surroundings and beautiful waterfall.
Entrance fee: 1.50 USD.
More Cascadas on the Waterfall Route Baños
As well as the main waterfalls along the route, there are several additional falls worth keeping an eye out for. Some of these are smaller waterfalls along the way, others require a small detour to reach them.
These waterfalls are:
Puerto del Cielo Waterfall (on the Pastaza River)
Cascadas Rio Blanco
Cascadas San Jorge
Duende Waterfall (in the same town as Pailón del Diablo)
Cascada de San Francisco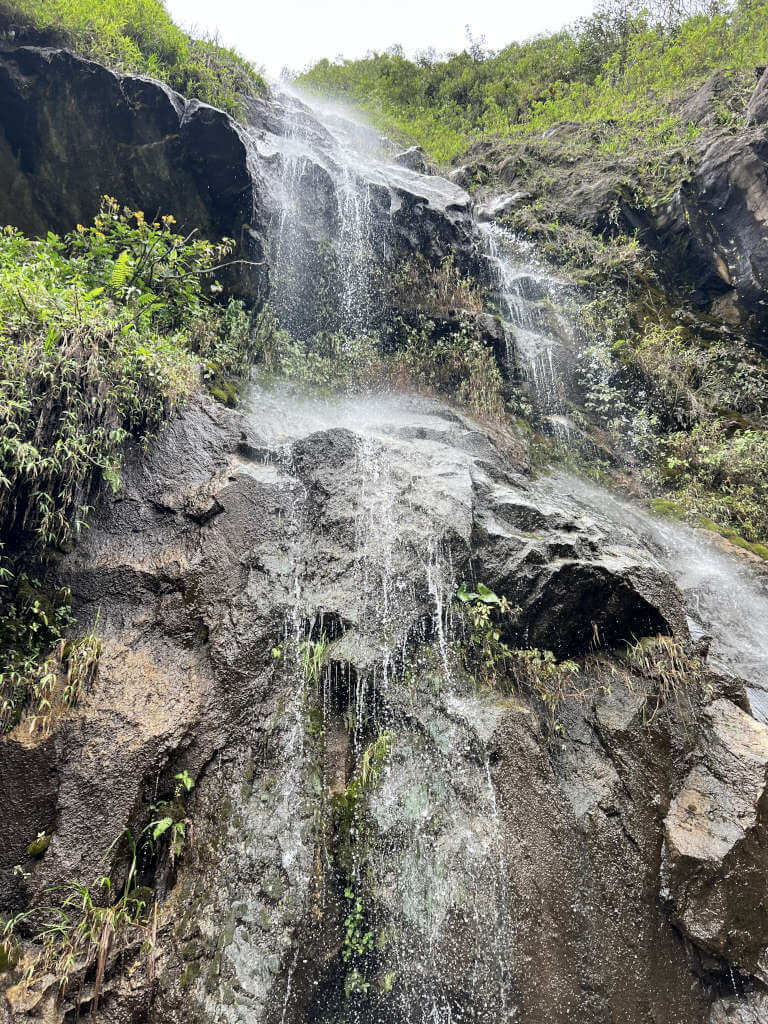 How to get back to Baños from the waterfall Route
IN SHORT:
Cost: 2.50 USD per person including one bicycle
Departure point: Pailón del Diablo second (original) entrance
Time: 30 minutes
If you've cycled the waterfall route from Baños, you'll be happy to hear that getting back is much easier! For just 2.50 USD, you and your bike can take a ride in an open-backed truck back to the city.
The trucks wait by the second entrance to Pailón del Diablo waterfall, east of the yellow bridge. See the exact location on Google Maps here. If you cycle to Cascada el Rocio Machay or Cascada de San Francisco, you'll have to cycle back to the Diablo waterfall to get a ride.
The open-backed trucks leave once there are 5 people. Although, you can pay extra to leave immediately – for example, if there are 2 of you, you'll need to pay to make up for the 3 remaining seats. Inside, you'll find thin wooden benches that aren't exactly comfortable. But, by this point in your day, they'll feel far comfier than a bike seat!
---
Do you have any questions or want any more information? If so, drop a comment below and I'll get back to you!
Information is correct as of December 2022 but is subject to change in future.
---
More South America Travel Inspiration…
ECUADOR: Mitad del Mundo Ecuador: A Guide to Quito's Equator Line
PERU: Turquiose Pools of Millpu Ayacucho: Ultimate Guide
COLOMBIA: 11 Stunning Waterfalls in Colombia Worth Visiting
PERU: Laguna Churup, Huaraz: Independent Day Hike to 4500 metres
COLOMBIA: San Gil Santander: Complete Guide to Colombia's Adventure Capital
PERU: Laguna Paron: Ultimate Guide to Visiting from Caraz or Huaraz