If you're wondering how to get from Cusco to Machu Picchu, then know that it's actually pretty simple.
Because of Machu Picchu's remote location in the mountains, there's only a small number of ways you can get there from Cusco.
And, the journey is split into 2 clear parts: Cusco to Aguas Calientes (the town next to the famous Inca site) and Aguas Calientes to Machu Picchu.
Luckily, despite the limited transport options, there really is something for all budgets. So whether you're prioritising comfort or saving pennies, working out how to get to Machu Picchu doesn't have to be a hard decision.
Find out more in this complete guide to the available transport options, journey times, costs, how to book and much more…
Some of the links below are affiliate links, meaning, at no additional cost to you, I may earn a small commission if you click through and make a qualifying purchase.
How to get from Cusco to Machu Picchu
Despite being a World Wonder and one of the most popular tourist sites in the world, there are surprisingly few ways to get to Machu Picchu.
This is in part due to its remote location and attempts to manage the impact of tourism.
Cusco is the nearest city to Machu Picchu and home to its nearest airport. As such, you pretty much have to pass through here to reach the Inca site, with many people travelling from the capital Lima to Machu Picchu.
Below, you'll find an overview of transport options, including how long they take and rough cost…
| | | | |
| --- | --- | --- | --- |
| | Transport | Cost (one-way, per person, approx.) | Journey Time (approx.) |
| Cusco to Aguas Calientes | Train | From 70 USD | 4 hours |
| | Tourist Bus + 2-Hour Hike | 60 Soles + free | 10 hours |
| | Colectivo + 10-Hour Hike* | 10 Soles + free | 12 hours |
| Aguas Calientes to Machu Picchu | Bus | 12 USD | 30 minutes |
| | Uphill Hike | Free | 1.5 hours |
| Tours to Machu Picchu | Varies | From 100 USD | |
*Requires staying at least 1 night in Ollantaytambo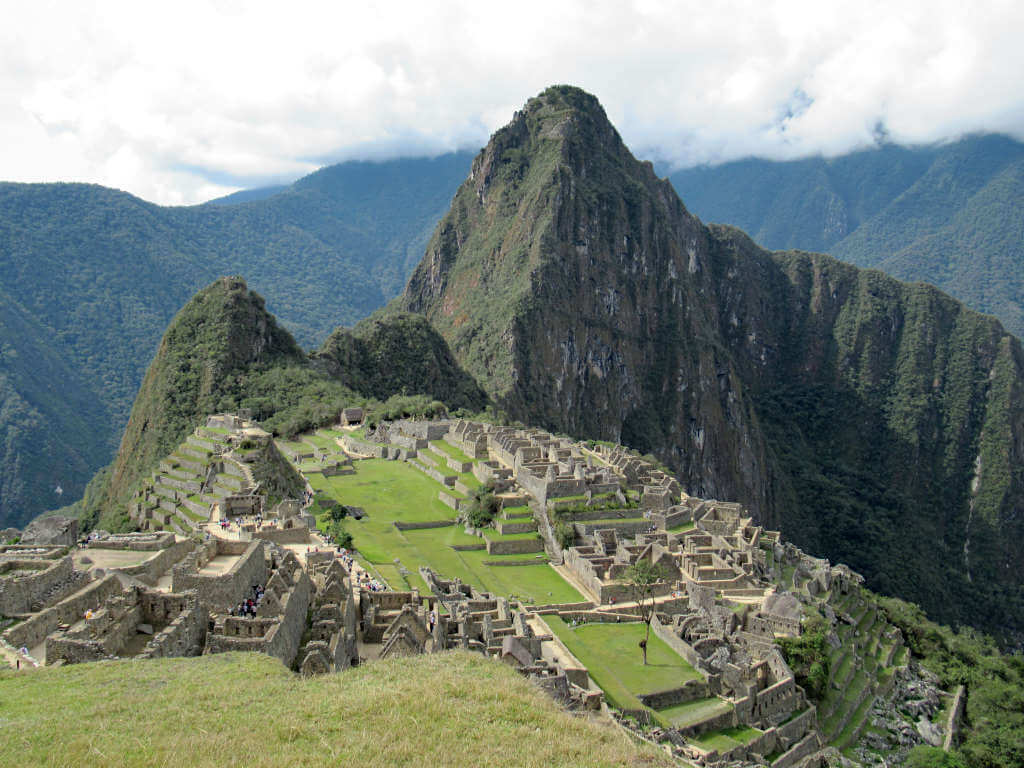 What is the Best Way to Travel from Cusco to Machu Picchu?
The most comfortable and time-efficient way to get to Machu Picchu from Cusco is by train and then bus.
If you're after the best way to get to Machu Picchu on a tight budget, then taking a colectivo to Ollantaytambo and then hiking to the ruins will cost you only a few dollars.
Importantly, you cannot travel directly from Cusco to Machu Picchu.
First, you'll have to get from Cusco to Aguas Calientes – the town next door. And there, you'll switch transport and travel from Aguas Calientes to Machu Picchu by bus or on foot.
How Much Does it Cost to Get from Cusco to Machu Picchu?
You can get to Machu Picchu for as little as 5 USD from Cusco, but this option does require a lot of walking. Prices vary by transport method, but generally speaking, you pay more for comfort and speed.
For example, the bus from Cusco to Hidroelectrica costs 60 soles and takes 8 hours, but then you need to walk 2 hours to Aguas Calientes. On the other hand, the train from Cusco to Aguas Calientes costs around 70 USD and takes 4 hours in total.
If working out the costs and booking separate parts seems a bit overwhelming or stressful for you, then a tour to Machu Picchu is a great option. For a slight price premium, you'll have all your transport and accommodation included and booked by an agency.
Can you Drive from Cusco to Machu Picchu?
No, Machu Picchu has no road links with the outside world. The only way to reach the town is on foot or by train.
It's possible to take a bus to nearby Hidroelectrica. But you must then continue on foot to the town by Machu Picchu.
I don't think it's possible to drive to Hidroelectrica by yourself as there is no parking in this tiny town. Plus, the roads to reach there are not particularly safe, including passing through rocky overhangs and large construction sites.
Machu Picchu Tours from Cusco
As probably the most famous and most visited tourist attraction in Peru, there's no shortage of tours running to Machu Picchu. So whether you're after a cheap but cheerful day out or a more luxurious experience, there's something for everyone…
Machu Picchu Day Tour from Cusco
To get to Machu Picchu and back in a day from Cusco, you'll have to travel by train. There's no other way to complete the journey in this time.
Many agencies in Cusco offer one-day tours, plus they can be booked online through tour operators and sites like Get Your Guide. For instance, this one-day trip from Cusco includes all travel, a guided tour and your ticket for the Inca site.
Tours typically start early in the morning, as it takes at least 4 hours to get to Aguas Calientes. Then it's straight on a bus up to the citadel ruins. A short period of free time in the town to grab some souvenirs is followed by the return train journey.
Overnight Tours to Machu Picchu
For most 2-day, 1-night tours, you'll stay in the town of Aguas Calientes at the foot of Machu Picchu. When booking a tour, a hotel room is normally included in the price but the quality can vary.
Overnight tours do give you greater flexibility in transport options. One option is to take a bus from Cusco to Hidroelectrica on Day 1. Then visit Machu Picchu early on Day 2 before hiking back to Hidroelectrica to get the return bus.
The journey times are long with the bus option, but you can save some money by doing it this way. For example, this 2-day bus tour from Cusco, which includes lunch and dinner.
Cusco to Aguas Calientes
Cusco is the city that everyone passes through to reach Machu Picchu. Located high in the mountains, at a staggering 3400 metres above sea level (11,000 feet), you'll definitely start to feel the altitude here.
Luckily, the journey to Aguas Calientes – the other gateway to Machu Picchu – involves dropping down to 2000 metres above sea level (6500 feet). With it, comes a complete change in weather!
From Cusco to Aguas Calientes, there are only 2 ways in. By train or on foot. But, you can use buses to get you near enough that you don't need to do a 5-day trek through the Andes!
Cusco to Machu Picchu Train
Taking the Cusco to Machu Picchu train is the quickest and most comfortable way of completing the journey.
The route offers fabulous views and is an experience in itself. Marvel at the mountains from the comfort of your seat.
But remember, the train doesn't go all the way to Machu Picchu. The station is in Aguas Calientes, from where you can walk or get the bus to the site entrance.
INCA RAIL VS PERU RAIL
PeruRail and Inca Rail are the two companies that run train services between Cusco and Aguas Calientes.
There is little difference between the two companies in terms of ticket prices, comfort levels and quality of service. Journey times are similar for both and departures are also equally split throughout the day.
As such, I'd recommend booking with whichever company has the time or price that best suits you.
What is the best Train from Cusco to Machu Picchu?
Unless you really need to be somewhere for a specific time, I'd recommend getting a train that runs entirely in daylight.
This is because the views are incredible and shouldn't be missed. And you won't see the imposing snow-capped mountains if it's dark outside.
Given Peru's position near the equator, the hours of sunlight are pretty similar all year round. The sunrises around 6 am and sets around 6 pm.
As such if you get a train back from Machu Picchu to Cusco after 6 pm, you might not see anything out the window!
Another top tip is to get a train that runs all the way between Cusco and Aguas Calientes.
Some services are bimodal (bus plus train) whereas others are just train. So make sure you check when booking to avoid disappointment.
What is a bimodal train service?
The majority of train services operating between Cusco and Aguas Calientes are bimodal outside of the peak months of June, July and August. This means two modes of transport: a bus and a train.
If taking a bimodal service, the bus will operate on the Cusco to Ollantaytambo (or Poroy) portion of the route. You'll always arrive into and leave Aguas Calientes by train.
When travelling from Cusco, private buses will take you to either Ollantaytambo (2-hour bus journey) or Poroy (30-minute journey). From Ollantaytambo, the train then takes 1.5 hours to reach Machu Picchu town, or from Poroy the train takes 3.5 hours.
Perhaps sadly, most bimodal routes run via Ollantaytambo. Which means less than half the journey is actually on the train.
I'd recommend booking a bimodal service that runs via Poroy (PeruRail only) or booking a direct, train-only service if you're there in the high season.
Cost of the Machu Picchu Train
Tickets for the Machu Picchu train start from around 70 USD one-way. The cost doesn't change whether you travel direct or bimodal from Cusco to Machu Picchu.
You can also pay to upgrade to better views on the Vistadome (PeruRail) or 360-degree (Inca Rail) trains, which have bigger windows.
Machu Picchu Train Times
Even though the first service leaves Cusco at 3.20 in the morning, it's not possible to get to Machu Picchu in time for the first (6 am), second (7 am) or third (8 am) entry slots of the day.
And the earliest direct (not bimodal) train won't get you to Aguas Calientes until almost 11 am. Meaning you'll have to book at midday or later entrance ticket.
Trains from Cusco heading to Machu Picchu generally leave in the morning, mostly between 5 am and 9 am. However, Inca Rail do have afternoon departures, which are perfect if you're wanting to visit Machu Picchu early the next day.
Coming back from Aguas Calientes to Cusco, the opposite happens. Almost all trains leave Aguas Calientes from mid-afternoon onwards.
Train times do vary by season and day, so make sure you check online for times on your travel dates.
If you want to climb Huayna Picchu or Machu Picchu Mountain, you'll most likely have an early time entrance ticket. For this, it's best to stay overnight in Aguas Calientes before so you don't miss your slot.
Booking the Machu Picchu Train
For the best price, book direct on the PeruRail or Inca Rail websites.
Also, keep your eye out for offers. Especially in the low season, you can sometimes get sales with around one-third off.
Tickets are valid for the specific service you book but can be exchanged in advance (up to 24 hours). Once you've booked online, you'll receive a confirmation via email.
Importantly, before getting on the train, you need to go to a ticket office to collect your actual paper ticket.
It's during this process that you'll be assigned a seat. As such, leaving it to the last minute could end up with your group being split up among the last remaining seats.
Whichever direction you're travelling, booking confirmations can be exchanged for train tickets at the offices in both Cusco and Aguas Calientes train stations. This can even be done a few days in advance.
The Hiram Bingham Belmond Train (Luxury Option)
Want to go all out? Then check out the most fabulous way to travel from Cusco to Machu Picchu: PeruRail's Hiram Bingham train.
This is a first-class experience with first-class luxury. In addition to train travel, your ticket also includes a welcome show, lunch, dinner and a music show aboard.
In addition, the price also includes an entrance ticket to Machu Picchu, a bilingual tour guide and small group tour of the Inca site, round trip bus travel to the entrance and afternoon tea at the Belmond Hotel, located right next to Machu Picchu.
Prices start from 535 USD per person in the low season. Services run on Tuesdays, Wednesdays, Thursdays, Saturdays and Sundays.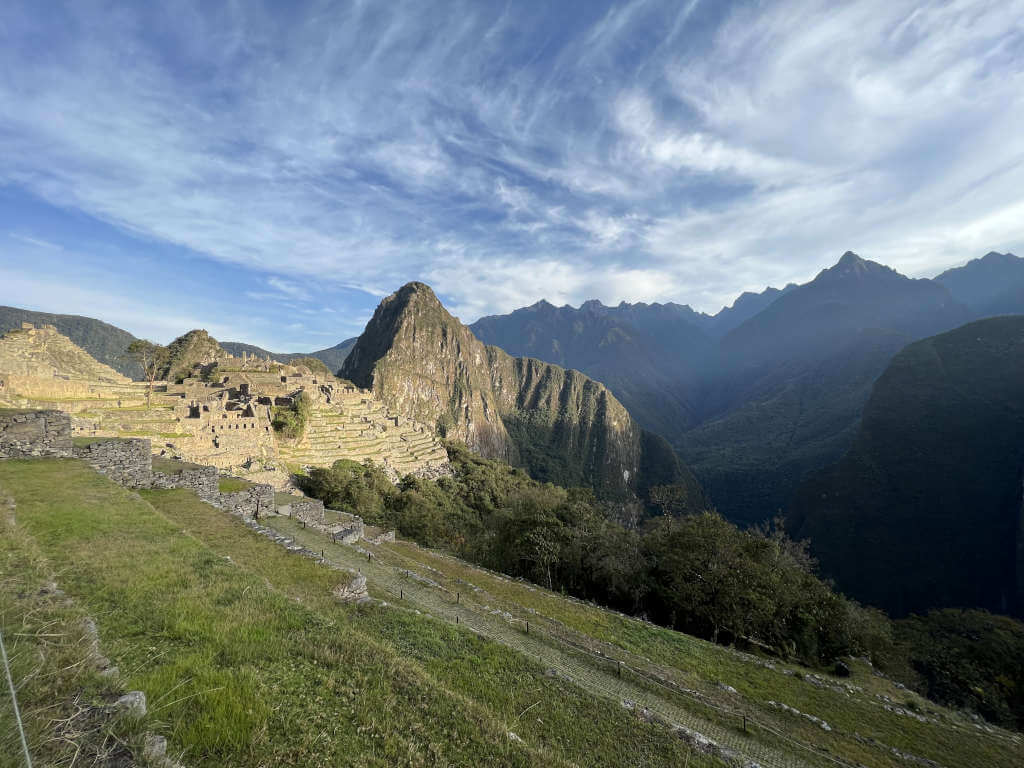 Bus from Cusco to Machu Picchu (Plus 2-Hour Hike)
Taking the bus to the end of the road that runs closest to Machu Picchu is one of the more budget-friendly options.
The bus runs from Cusco to Hidroelectrica, which is around 10 km from Aguas Calientes. From there, you'll need to walk the rest of the way along the train tracks.
Cusco to Hidroelectrica Bus
Getting the bus to Hidroelectrica is the perfect balance of budget without an extremely long hike. However, you should prepare for a bumpy ride along winding mountain roads.
Avoid sitting at the very back and have travel sickness medication to hand. The last hour or so is on rough, dirt roads so is exceptionally bumpy.
Journey Time
The bus takes 7 or 8 hours from Cusco, typically leaving at 6 am. These aren't public buses, but instead there are cramped minibuses run by various agencies operating on the route.
Normally, the bus stops twice along the way, once for breakfast and once for lunch. When you arrive in Hidroelectrica, you'll be dropped off next to a local restaurant where you can eat if you haven't already.
Cusco to Hidroelectrica Bus Prices
A ticket for the bus from Cusco to Hidroelectrica costs 60 soles each way. Expect to be offered a slightly higher price, but you should be able to negotiate down to 60 soles easily enough.
Remember, this isn't public transport, so the price is not fixed. Knowing what price you should be paying is key to successfully haggling.
Tickets can be bought through sites such as RedBus and through agency offices in Cusco. I'd recommend booking at least a couple of days in advance to avoid missing out, more in the high season months of June to August.
Hiking from Hidroelectrica to Aguas Calientes
Once you're off the bus in Hidroelectrica you might be forgiven for thinking you're in the middle of nowhere. And you are, really.
There aren't any signs pointing you in the right direction and it can feel a little 'well what do I do now?'
Head away from the restaurant, following the road in the opposite direction of the bridge. Continue until you reach the checkpoint where you'll need to give your details to the Machu Picchu rangers.
From this point, you'll find a handful of signs keeping you on track until you reach the train lines. Then it's just a case of following them until the end.
The route is safe, popular and few trains run on this part of the track. A short distance before reaching Aguas Calientes, you'll take the path away from the tracks as they head into a tunnel. This means the end is near!
But not too near, as it's at least another 30-minute walk to the centre of Aguas Calientes!
How long does it take to walk from Hidroelectrica to Aguas Calientes?
At a leisurely pace, this will take most people around 2 hours.
How Far is the walk to Aguas Calientes from Hidroelectrica?
The route is almost 11 km from the bus drop-off to Aguas Calientes following the train tracks.
How Difficult is the Hidroelectrica to Aguas Calientes walk?
The walk itself is fairly easy but the conditions make it a bit more challenging.
Unlike many hikes in Peru, this one is almost entirely flat. However, mosquitos and other biting insects are everywhere here since it's a lower altitude than Cusco, so cover up and bring insect repellent.
The lower altitude also brings warmer and more humid conditions. And in the rainy months, downpours can happen at any time leaving you and your belongings soaked through.
Getting to Machu Picchu by Colectivo + A 10-Hour Hike
A slight variation on the route via Hidroelectrica above, this travelling via Ollantaytambo at the heart of the Sacred Valley.
Once in Ollantaytambo, you'll spend a full day hiking 28 km to Aguas Calientes along the train tracks. It's budget-friendly but not easy.
Where to get the Colectivo from Cusco to Ollantaytambo
The colectivos leave from the corner of Calle Pavitos and Avenida Grau (Highway 3S).
Cusco to Ollantaytambo Colectivo Cost
10 soles is the cost per person to travel to Ollantaytambo from Cusco by colectivo.
Journey Time to Ollantaytambo
Expect the journey to take anywhere from 1.5 to 2 hours (or even slightly more), depending on the number of stops to drop off and collect other passengers.
Hiking from Ollantaytambo to Aguas Calientes
This is a long, 28-km walk along the train tracks to reach Aguas Calientes. Once you start, you can't change your mind and board a train or bus, you have to keep going or turn back to start over a different way.
From Ollantaytambo, you first need to get to KM82 – named based on a distance marker of the train tracks. There are colectivos that take 30 minutes, costing a few soles, and start early in the morning.
This is essential as the hike takes around 8 hours, so you have to start early to reach Aguas Calientes by late afternoon. As such, you really need to stay overnight in Ollantaytambo too.
It's tough but doable as a day hike – but definitely pack light!
For a full guide on this route, check out this guide to hiking from Ollantaytambo to Aguas Calientes by Along Dusty Roads.
Aguas Calientes to Machu Picchu
Aguas Calientes is the gateway to Machu Picchu. This small town sits at the base of the mountain, housing and feeding thousands of visitors daily.
From Aguas Calientes, there are only 2 ways to get to Machu Picchu – taking the bus or walking.
Machu Picchu Bus
Although not cheap, taking the bus to Machu Picchu is the quickest and easiest way to get to the ruins.
It also saves a 2-hour uphill climb with a 400-metre elevation gain! Worth it, if you ask me…
Machu Picchu Bus Prices
The bus costs 12 USD one-way and 24 USD return, per person.
Discounted rates are available for children and Peruvians.
Machu Picchu Bus Times
The buses to Machu Picchu run from 5.30 am until 3.30 pm and take 30 minutes to complete the 10-km journey.
You'll leave in order of your entry time. And, the earliest you'll be on the bus is 30 minutes before the time on your Machu Picchu ticket.
Where to buy Tickets
Tickets can be bought from the office in Aguas Calientes. They can be purchased on the day or in advance (no more than the day before is necessary).
You'll need to buy your ticket from the office before joining the queue for the bus. Payment is taken in either USD or Peruvian soles with cash or card. Your passport will be required.
You can also buy a ticket from the small booth at the entrance of Machu Picchu. This is a good option if you're unsure about wanting to walk down from the site to Aguas Calientes.
Where is the Bus stop to Machu Picchu?
The Machu Picchu bus stop in Aguas Calientes is located on Avenida Hermanos Ayar. This is the main road alongside the river, between the two main markets.
You won't be able to miss the ever-growing queue of people that line the road every day waiting for the buses to Machu Picchu.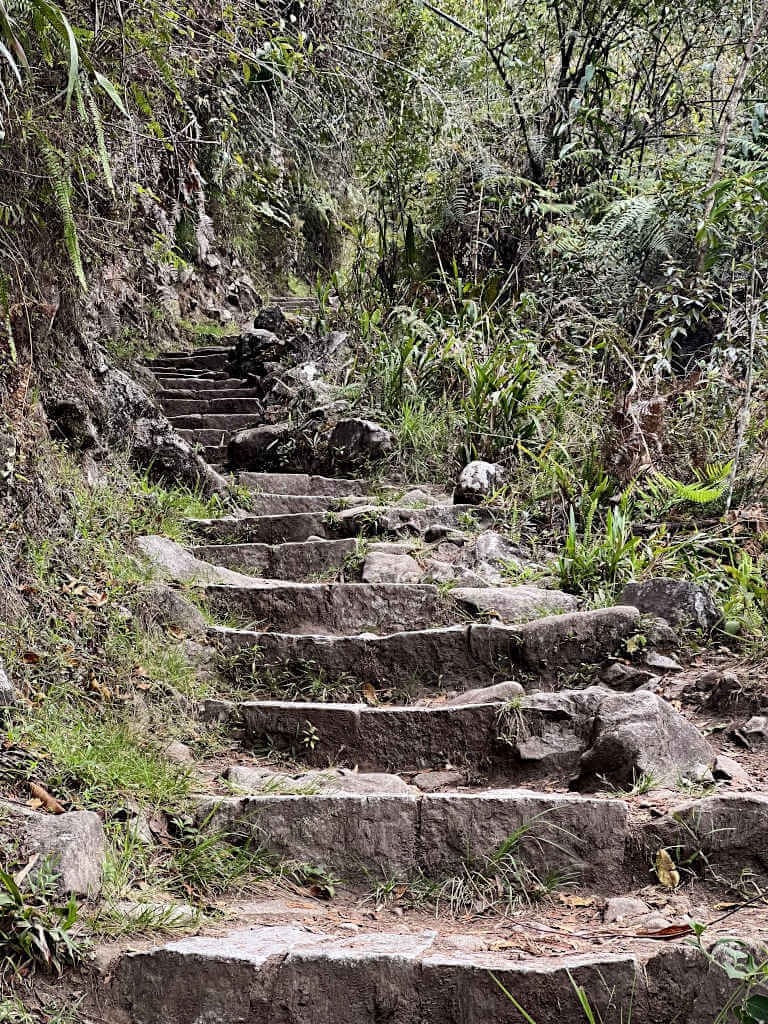 Walking to Machu Picchu from Aguas Calientes
Opting to walk rather than take the bus to Machu Picchu is money-saving and gives you a great sense of accomplishment. But it's not quick or easy.
Tickets for the buses can only be bought in Aguas Calientes. And this is also the only place you can board a bus.
So once you start walking up, there really is no changing your mind unless you walk all the way back to the start!
Cost
It's completely free to walk from Aguas Calientes to Machu Picchu.
Time
In total, walking to the entrance of Machu Picchu from Aguas Calientes will take around 1.5 to 2.5 hours.
The first 20 to 30 minutes of the walk are flat as you head out of the town. At the checkpoint by the bridge, you'll only be allowed to enter the trail around 1 to 1.5 hours before the entry time on your ticket.
From the checkpoint, it's another 1 to 2 hours (depending on fitness) of pure uphill, upstairs walking to the entrance.
Since one of the best times to visit Machu Picchu is at 6 am (the first slot of the day), if you're hoping to make this, I'd recommend taking the bus unless you're an experienced uphill hiker.
Difficulty of the Aguas Calientes to Machu Picchu Walk
This is a hard hike! Once you pass the checkpoint, it's 1.7 km of steps heading uphill – at over 2000 metres above sea level!
Hot and humid conditions combined with the endless steps make this a mentally tough climb. But, you'll get a great reward when you finally get to look out over Machu Picchu from inside the site.
---
Do you have any questions or want any more information? If so, drop a comment below and I'll get back to you!
Information is correct as of March 2023 but is subject to change in future.
---
More Peru Travel Guides…
CUSCO: Palcoyo Mountain (Peru's Alternative Rainbow Mountain): Ultimate Guide
AYACUCHO: Turquoise Pools of Millpu Ayacucho: Ultimate Guide
HUARAZ: Laguna Churup, Huaraz: Independent Day Hike to 4500 metres
HUARAZ: Laguna Paron: Ultimate Guide to Visiting from Caraz or Huaraz
---
PIN IT FOR LATER!