If you want to visit Peru's magnificent World Wonder, you'll need to go from the nearby town of Aguas Calientes to Machu Picchu somehow. Simply enough, there are only two ways to make this short journey: by bus or by walking.
So whether you're coming to Machu Picchu by train, bus to Hidroeléctrica or on one of the alternative treks, this guide is for you. Find out all the information in advance so you don't miss your entry slot to the Inca ruins.
This complete guide explains the pros and cons of each option, as well as prices, times, places and more. Save time by getting the right information now for your bus ride or hike…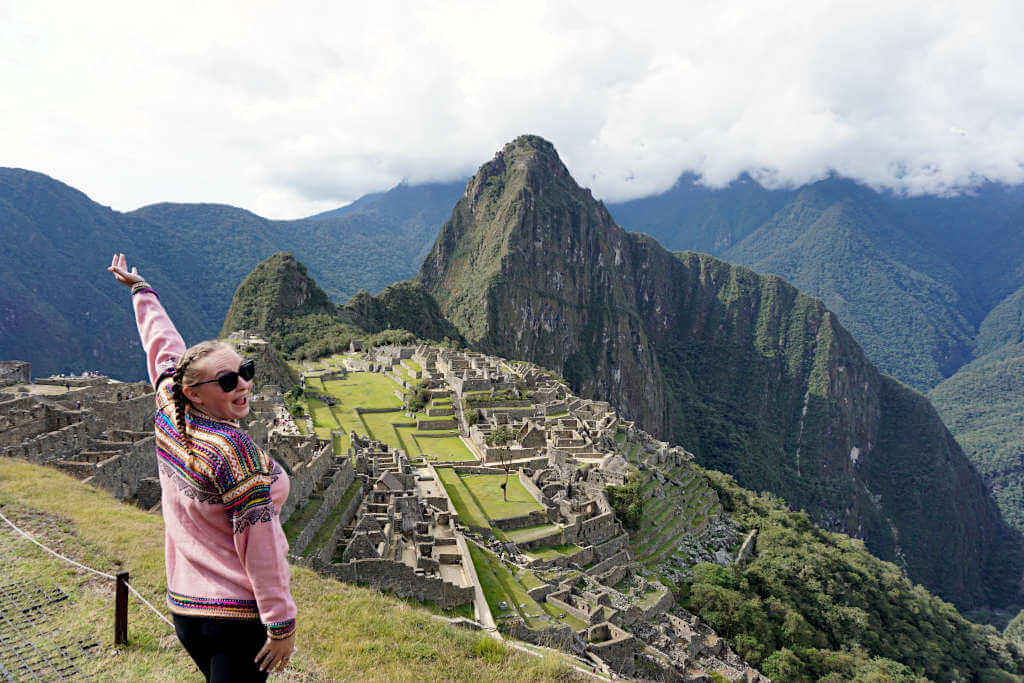 How do you get from Aguas Calientes to Machu Picchu?
Aguas Calientes is the town located next to the Machu Picchu archaeological site. Unless you get to Machu Picchu by completing the Inca Trail, this is the place you'll arrive at first.
Sometimes called Machu Picchu Pueblo, Aguas Calientes Town is where the train from Cusco ends. It's also where trekkers on the Salkantay Trek spend the last night of their trip. Plus, if you take the bus from Cusco to Hidroeléctrica and then walk along the train tracks, you'll end up here.
Once you reach Aguas Calientes, there are only two ways to get to the entrance of Machu Picchu. By taking the official bus or by walking – and it's a fair uphill trek. Here's a quick comparison table…
| | Bus | Hike |
| --- | --- | --- |
| Time | 30 minutes each way | 1.5 to 2 hours each way |
| Cost | 12 USD each way | Free |
| Difficulty | Easy | Hard |
All the need-to-know information on both options is detailed in the guide below to help you pick the right option for you…
Option 1: Bus to Machu Picchu
Taking the bus to (and/or from) Machu Picchu is the quickest, easiest and most convenient way to get there.
One-way as well as round-trip tickets are available, so you can combine this with walking. I'd recommend taking the bus up and then walking down – good for your health and good for your wallet.
Although the bus to Machu Picchu is convenient, it does come at a cost. 12 USD one way to be precise. When you consider this on a cost-per-mile basis, it's one of the most expensive bus journeys in South America.
But, given the only alternative is a 1.5-hour uphill trek, I can see why the bus is particularly popular. And, if it's for you, then here's more information…
Pros: Quick, easy, no exercise required

Cons: Expensive, a chance of motion sickness on the winding roads

Most suitable for: Those not on a tight budget, people who don't want to walk or on a day tour, people with tickets to a mountain hike, children or older adults, and those with mobility or joint problems

Least suitable for: People on a tight budget, keen uphill hikers
Where & How to get the bus
You really can't miss the Machu Picchu bus stop in Aguas Calientes. Because there are 100s of people waiting there all throughout the day.
But don't worry, over 5000 people visit the citadel ruins every day. The system is slick and efficient with the queues moving quickly.
To Machu Picchu
The Aguas Calientes bus stop for Machu Picchu is located on Avenida Hermanos Ayar. This is the main road alongside the river, between the two main markets.
But, before you join the queue, you'll need to buy your Machu Picchu bus tickets. This has to be done in the bus company's ticket office, which is handily located next to the queue line.
The ticket office is on a small side street, off the main road. See the location on Google Maps here.
Once you have your ticket, you'll see there are signs along the street for the different entry slots to Machu Picchu. Join the one that matches the time on your Machu Picchu ticket.
For example, if you arrive at 12.30 pm and have a 2 pm ticket, the 1 pm ticket holders will go up first. They'll have a separate queue to make sure they don't miss their slot. Once the 1 pm ticket holders are all on their way, the 2 pm queue will move forward and start boarding.
Your bus ticket and Machu Picchu ticket will be checked before boarding. Then just hop on the bus and find a seat. The buses only take the seated capacity, so you don't have to worry about standing for the journey.
Coming Back from Machu Picchu
The buses leave to go back to Aguas Calientes from the same place they drop people off at Machu Picchu. This is right outside the entrance and exit, so you really can't miss it.
If you haven't already bought a return ticket, you can do this in the small ticket booth outside Machu Picchu. Make sure to do this before you join the queue for the bus.
On the way up, most people are aiming to be there for the start of their time slot. Whereas on the way back, people just get the Aguas Calientes bus when they're done. This means that the queue often isn't as long for the way back, as people come out more gradually and staggered.
And, you don't have to aim for a timeslot on the way back or book a specific bus. Just join the queue and you'll get on the next bus.
Machu Picchu Bus Tickets
Only buy bus tickets from the official company ticket office in Aguas Calientes or at Machu Picchu or online. If you are booking through an agency or online reseller, you will most likely end up paying more.
Machu Picchu Bus tickets do not sell out. The buses keep running for as many people have tickets for that day. You cannot book a specific time slot. But, you will only get on a bus no earlier than 30 minutes before your Machu Picchu ticket time slot.
To buy a bus ticket, you'll need a physical copy of your photo ID as well as your Machu Picchu ticket (which can be shown on your phone).
You cannot get on the bus unless you have a ticket to the citadel already.
The fare is 12 USD each way per person, so 24 USD return. For children aged 5 to 11, the price is 7 USD one way or 12 USD return. Children under 5 travel free but will need to sit on your lap. No student discount is available for foreigners.
These prices are fixed in USD and then converted to soles based on the day's exchange rate. Payment in USD, Peruvian soles and on card is accepted.
Remember, you can buy a ticket at the top. So if you're unsure if you want to walk back, buy a one-way ticket and then decide later.
Machu Picchu bus tickets can also be purchased online through the official website: https://consettur.com/. The ticket office in Aguas Calientes is open from 5 am to 9.45 pm, 7 days a week. This means you can purchase your ticket the night before if you have an early start.
Operating Hours
The first bus from Aguas Calientes to Machu Picchu leaves at 5.30 am. This is for people who have a 6 am entry ticket.
After that, the buses pretty much leave once they're full with no fixed schedule. And, for the rest of the day, the buses load up, take people up to Machu Picchu, drop them off and collect new passengers, drive back down, drop off passengers in Aguas Calientes and repeat.
The last bus leaves around 3.30pm as entrance into the Machu Picchu Inca site isn't allowed after 4 pm.
For the return leg, buses similarly leave once full. The last Aguas Calientes bus leaves once everyone is out of the site and the queue is no more. You won't be abandoned on the mountain, don't worry.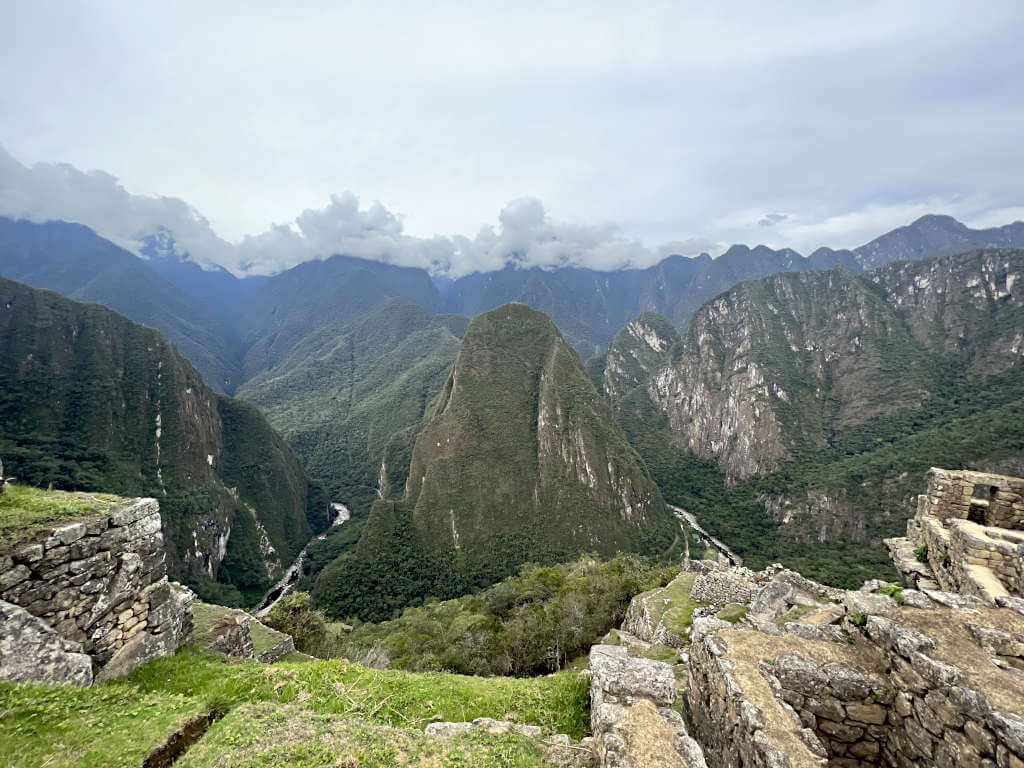 How long is the bus ride from Aguas Calientes to Machu Picchu?
The bus ride takes around 25 to 30 minutes between Aguas Calientes and Machu Picchu. The distance by road is around 10 km along Hiram Bingham Road.
Option 2: Walk to Machu Picchu
Most people walk to Machu Picchu for one of two reasons. They either want to keep costs down or want the sense of accomplishment that comes with a challenging hike like this.
But of course, travel is not a competition. No one is superior for having walked to Machu Picchu versus taking the bus.
In fact, I'd probably say, you'll be able to enjoy your time inside Machu Picchu more after taking the bus. The hike is challenging and draining, and you then spend 2 to 4 hours walking around a mountain-top site!
Importantly though, if you have a ticket to hike either Machu Picchu Mountain or Huayna Picchu Mountain, you'll be best off getting the bus. This is because both of these include another 3 to 4 hours of hiking and are both difficult hikes.
A lot of people do not complete these hikes – particularly Machu Picchu Mountain – because of the difficulty and their lack of fitness or preparedness. Don't add on a 1.5-hour, mostly uphill hike before this, or you run a real risk of not getting to the top.
But, here's some information to help you out…
Pros: No cost, no chance of motion sickness

Cons: Mostly steps on the trail, difficult hike, lots of bugs, no option to get the bus once you start, limited time to get to the top for your time slot, can be slippery in the rainy season

Most suitable for: Low-budget travellers

Least suitable for: People with tickets to a mountain hike, children, older adults, those with mobility or joint problems, those in a rush for their start time
How many steps to Machu Picchu?
1600 steps stand between the trailhead and the entrance to Machu Picchu. Those with tickets including circuits 1 and/or 2 then face a further uphill walk to reach the viewpoints overlooking the citadel ruins.
How to get to Machu picchu From Aguas Calientes: Walk Directions & Route information
In total, the walk is 3.4 km long with around 500 metres in total elevation gain.
The first part of the hike to Machu Picchu is 1.7 km. You'll walk from the centre of town and along the road out of Aguas Calientes, in the direction of Hidroeléctrica. This road runs alongside the river, crossing a small bridge until you reach a dual road and pedestrian bridge.
Here, you'll find the checkpoint for the Machu Picchu hiking trail.
Your ticket and ID will be checked by the attendant. And, you won't be allowed access to the trail until 1 hour before your entry time to the Inca ruins.
The second part of the trail is 1.7 km along the Camino Peatonal – or hiking trail in English.
Cross the bridge and turn right at the end along a dirt road. After 100 metres, you'll see the first steps to Machu Picchu on your left-hand side.
Start climbing the stairs to Machu Picchu and continue to follow them once they cross over the roads further up. The path is mostly through the jungle-like terrain on stone steps. Be warned though, there are lots of bugs. Wear long trousers and sleeves.
If the stairs become too tough, you can switch to the more gradual incline of the road. This is because there are 3 sections where the trail passes through the hairpin bend of Carretera Hiram Bingham (the road).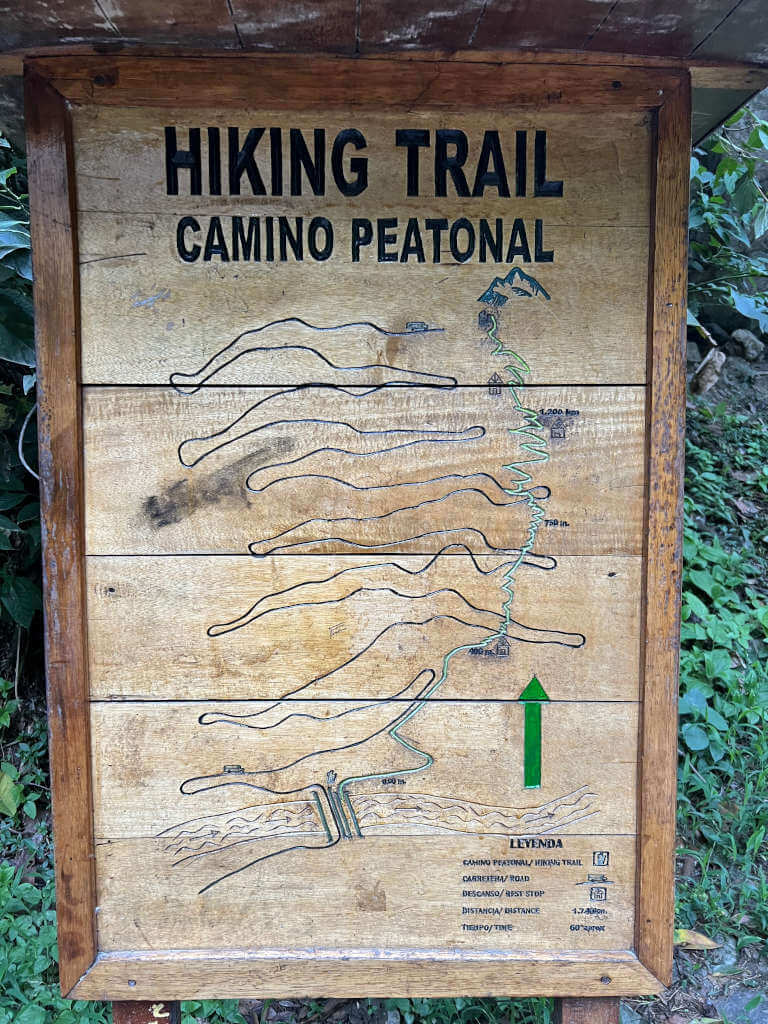 How long is the hike from Aguas Calientes to Machu Picchu?
In total, the hike to Machu Picchu from the town takes 1.5 to 2 hours. Of this, 25 to 30 minutes are spent walking from Aguas Calientes to the checkpoint at the start of the trail.
And remember, you can't access the trail until 1.5 hours before the entry time on your Machu Picchu ticket. Except for the first entry slot of the day, as the trail gates open at 5 am.
This means if you have 6 am entry, you need to leave the town at 4.30 am to get to the checkpoint for 5 am.
If you know you're a slow hiker and want to be in for 6 am, I'd recommend taking the Aguas Calientes bus up. You can still walk down afterwards. Or, if you haven't booked your Machu Picchu tickets yet, consider a 7 am entry slot to have more time.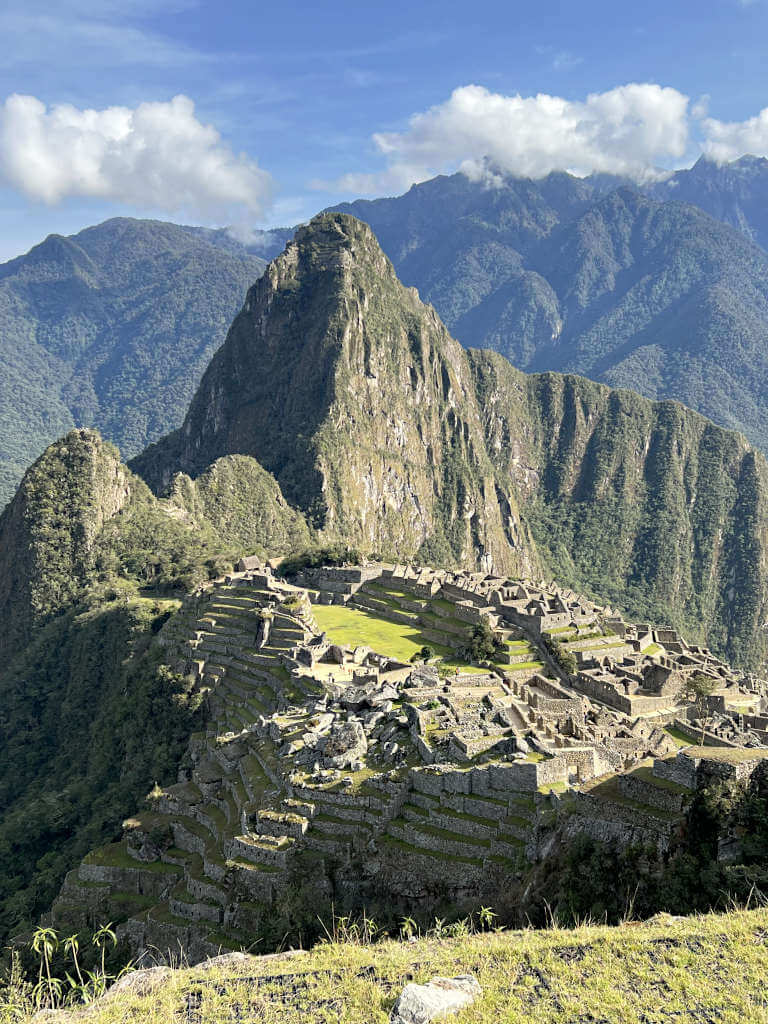 How hard is the walk from Aguas Calientes to Machu Picchu?
It's difficult. The combination of humidity, bugs, constant steps and altitude gain makes this a challenging hike.
Once you start the trail, the route is about 95% steps, all of which are uphill. And, you're in the jungle now. Any exposed skin like ankles, wrists and neck is likely to be bitten unless you get repellent.
Another important point is that you cannot switch to taking the bus once you start the hike. Unless you walk all the way back to Aguas Calientes that is.
From the bus, I saw desperate hikers try and fail at flagging buses to stop for them. But, they won't stop as it's dangerous to do so on the narrow, winding roads.
If you want to do this hike, make sure you go prepared. Bring plenty of water and insect repellent, wear long clothes and don't overpack your bag.
Walking down from Machu Picchu
If you want to save money but also don't want to torture yourself with a difficult climb, then walking down from Machu Picchu to Aguas Calientes is a good compromise.
You still get to see the trail and save 12 USD. But, going down is so much easier and you don't need to worry about missing your entry slot to Peru's World Wonder.
The trail starts next to the drop-off area outside Machu Picchu. From there, follow the 1600 steps down crossing over the road 6 times. At the bottom turn right and then left over the bridge.
Finally, turn right after the bridge and head back to either your hotel or Aguas Calientes train station. Although, if you're in a rush to catch a train, maybe take the bus.
Walking down is a bit quicker than going up. At a leisurely pace, it'll take around 50 minutes down the trail and a further 25 to 30 minutes to Aguas Calientes. The last bit is the hardest as it feels like you're almost there but not quite (and it's a bit uphill into the town)!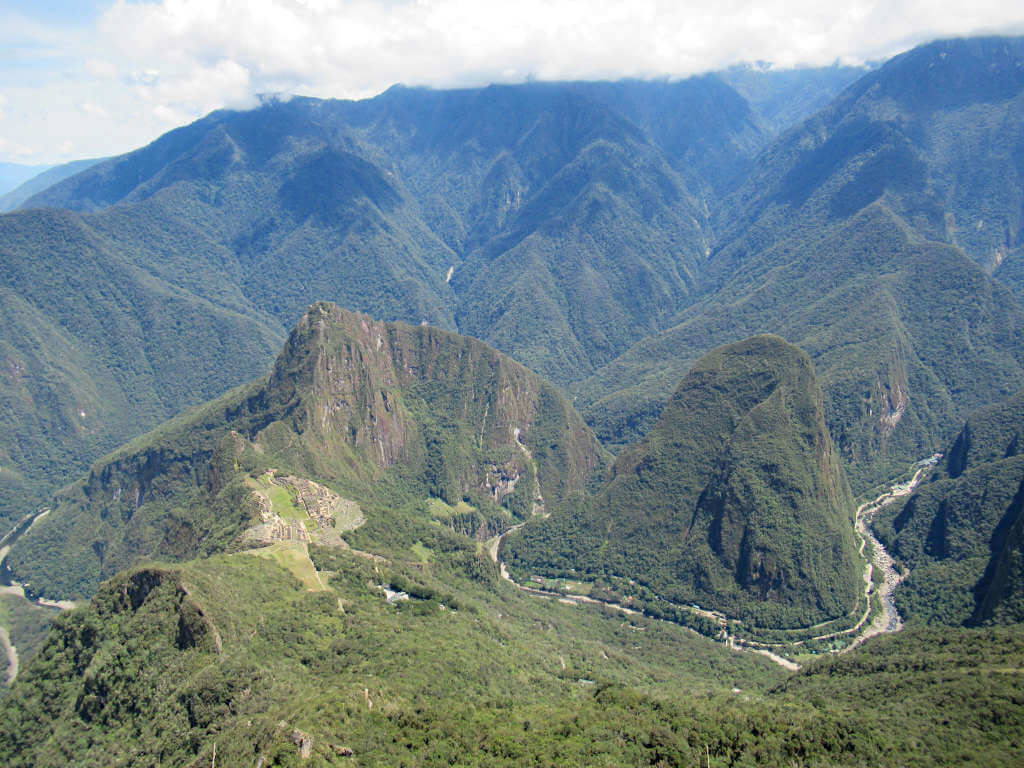 ---
Do you have any questions or want any more information? If so, drop a comment below and I'll get back to you!
Information is correct as of January 2023 but is subject to change in future.
---
More PERU Travel Inspiration…
CUSCO: Palcoyo Mountain (Peru's Alternative Rainbow Mountain): Ultimate Guide
HUARAZ: Laguna Churup, Huaraz: Independent Day Hike to 4500 metres
HUARAZ: Laguna Paron: Ultimate Guide to Visiting from Caraz or Huaraz
AYACUCHO: Turquoise Pools of Millpu Ayacucho: Ultimate Guide