Lima is the capital of Peru. And Machu Picchu is the country's most visited and famous attraction. But how you get from Lima to Machu Picchu is not as straightforward as you might expect.
As it isn't possible to travel directly from Lima to the remote Inca ruins, the journey requires 3 different segments. And, there is a range of transport options available for each.
The thing about Machu Picchu is that it attracts all types of travellers. Luxury lovers, budget backpackers and everything in between.
As such, it's important to pick routes that best match your travel style and preferences. Because here, you're going to be sacrificing comfort for price.
So whether you're looking to travel from Lima to Cusco and onto Machu Picchu the quickest or cheapest way possible. Or looking to build your itinerary in the south of Peru, this guide has you covered.
Here, you'll find a detailed explanation of every part of the journey. There's information on flying, buses, hiking, taking the train and tours. Plus, where to stop along the way to have the best experience of Peru…
Some of the links below are affiliate links, meaning, at no additional cost to you, I may earn a small commission if you click through and make a qualifying purchase.
Some of the links below are affiliate links, meaning, at no additional cost to you, I may earn a small commission if you click through and make a qualifying purchase.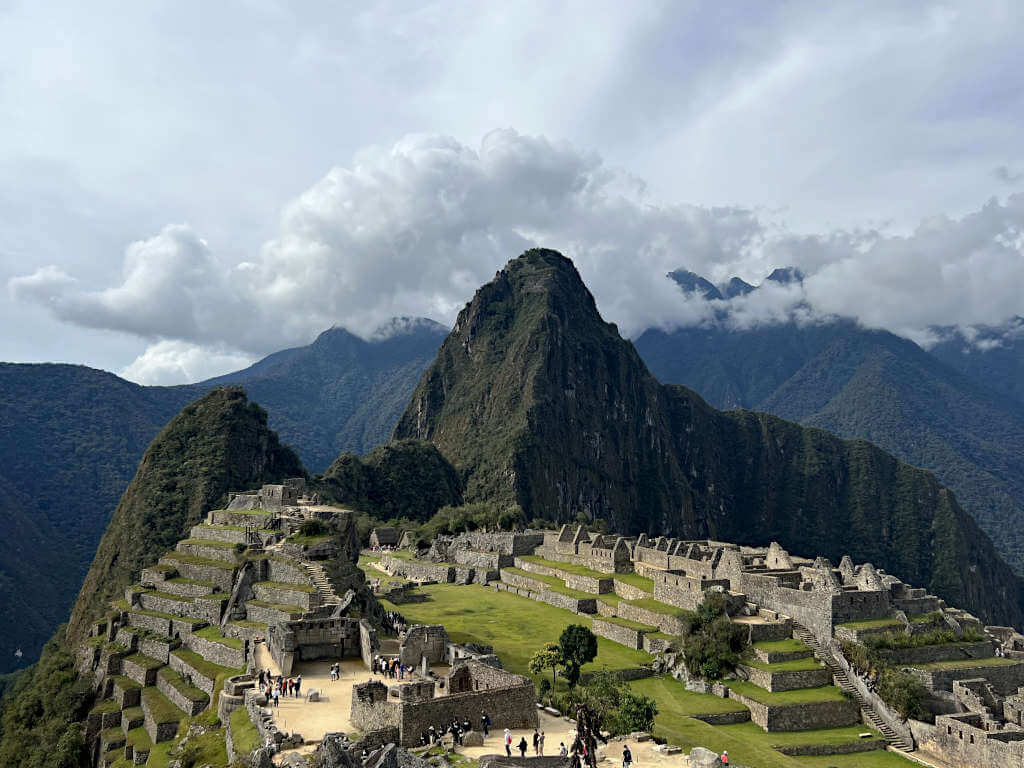 How to get from Lima to Machu Picchu: Overview
Unfortunately, there is no way to get directly to the Machu Picchu Inca site from Lima. Unfortunate but unsurprising given the mountain-top site is completely cut-off, with no roads in or out.
Instead, you'll need to make use of planes, trains, buses and/or hiking trails to get from Lima to Machu Picchu. And, you'll have to travel via Cusco, the popular Andean city that is the gateway to Machu Picchu.
In short, the journey from Lima can be broken down into 3 sections.
Travel from Lima to Cusco
Get from Cusco to Aguas Calientes (the town at the base of Machu Picchu)
Aguas Calientes to Machu Picchu
Here's a top-line summary of your options for each:
| | | | |
| --- | --- | --- | --- |
| | Mode of Transport | Estimated Cost (one-way, per person) | Approx. Duration |
| Lima to Cusco | Plane | 50 USD (base fare, personal item only) | 1.5 hours |
| | Direct bus | 25 USD (90 Soles) | 23 hours |
| | Bus via other towns/cities | 25 to 65 USD (dependent on stops) | – |
| Cusco to Aguas Calientes | Train | 75+ USD | 4 hours |
| | Bus + hike | 60 Soles + free | 10 hours |
| | Multi-day treks | 200+ USD | 2 to 5 days |
| Aguas Calientes to Machu Picchu | Bus | 12 USD | 30 minutes |
| | Hike | Free | 1.5 hours |
Quick-Fire Questions on Getting from Machu Picchu to Lima
Can you do Machu Picchu in a day from Lima?
While it is technically possible, visiting Machu Picchu in one day from Lima is not a good idea. Here's why…
First up, it is a LONG day. But, you'll probably say Machu Picchu is worth it and I can't argue with that.
But Machu Picchu is worth your time! You don't want to be rushing and thinking about getting the train when you should be taking in the spectacle that is a New World Wonder!
This is because visiting the site as a full-day trip from Lima relies on making multiple transport connections with no delays to get there and back in a day.
If just one of those connections doesn't happen you could miss Machu Picchu or end up stuck in Aguas Calientes or Cusco. And delays aren't exactly a rare occurrence in this part of the world.
For one, flights are sometimes delayed or cancelled arriving in Cusco due to windy conditions. The city sits at 3400 metres above sea level, so even when general weather conditions appear fine, gusts and swirling winds make landing difficult.
Additionally, there is a lot of traffic in Cusco. You'll need to get from the airport to the train station – and maybe another bus if you're taking a bimodal train service. Hold-ups, traffic jams, blocked roads and general congestion make it slow to get anywhere by car.
Let's Test it with Real-life Timings…
You take the first flight of the day at 5 am. To get there an hour before take-off, you've left Central Lima at 3.30 am. The plane lands in Cusco at 6.20 am and without luggage, you're out the airport by 6.45 am.
Now for a taxi to the station, that's 15 minutes – assuming no traffic.
It's tight, but you make it on the 7.35 am bimodal service. First up a bus to Poroy, where you'll then catch the train to Aguas Calientes, arriving at 11 am.
There's no food or drink allowed inside Machu Picchu, so you grab a snack and wait for the bus. Your ticket allows you entrance from midday, so you're on the bus just after 11.30 am.
Time to see what you came here for! You spend 2.5 hours wandering the circuits of Machu Picchu, capturing photos and soaking it all in and now it's 2.30 pm – time to go.
Back on the bus to Aguas Calientes and time to grab some more food for on the train or eat at a casual restaurant as you have 1 hour. The train leaves at 4.10 pm, a 2-hour journey to Ollantaytambo and a 2-hour bus journey to Cusco. Let's hope there's no traffic!
You make it back to Cusco at 8.20 pm and catch a taxi straight to the airport. Good thing you've checked in online, in advance as the plane leaves at 9.55 pm and you're only there an hour beforehand!
Finally, you land back in Lima at 11.30 pm and leave the airport by midnight. A taxi to your hotel in Miraflores takes another 30 minutes and the travel is finally over by half past midnight!
Machu Picchu is worth the time. And, if you're travelling all that way, you're gonna want to enjoy it.
The ruins are a much easier day trip from Cusco, so spend a couple of nights there – if not more. There's plenty to see and do.
Tours to Machu Picchu
If you're looking for a convenient option, tours can provide great value for money along with an easy way of getting to Machu Picchu from Lima.
Tours still don't offer a way to do a day trip from Lima to Machu Picchu. But, you can certainly get from Cusco to Machu Picchu and back in a day.
From Lima, longer, multi-day tours visiting Machu Picchu as well as other famous attractions are popular. Such as this 7-day tour including flights or this 9-day tour taking in much of South Peru.
Alternatively, from Cusco, there is a choice of group and private Machu Picchu tours at a variety of prices. Such as these from Get Your Guide…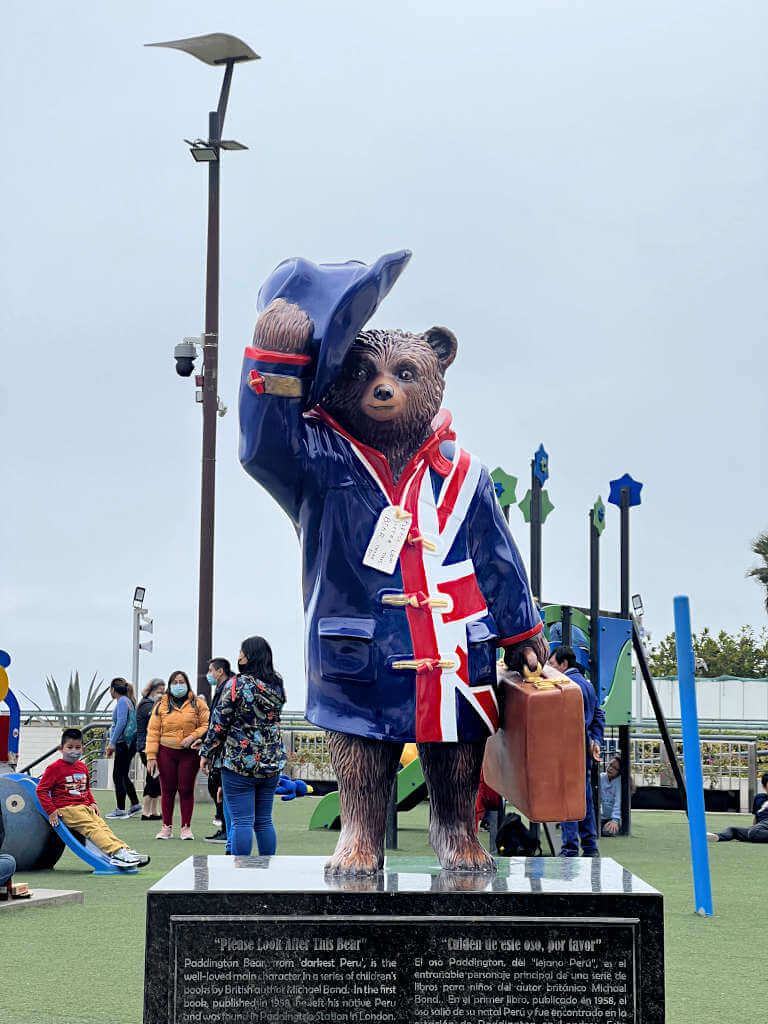 How Long Does it Take to Get to Machu Picchu from Lima?
The quickest possible time is around 7 hours. This includes a flight from Lima to Cusco Peru, taxi, train and bus in quick succession.
However, it can take as long as you have.
If you travel overland by bus between Lima and Cusco you can stop at towns and cities along the way. Go sandboarding in Huacachina, see the Poor Man's Galapagos in Paracas or visit the turquoise pools near Ayacucho.
Then, from Cusco to Machu Picchu, you can take the train, taking 4 hours. Alternatively, a 7-hour bus and 2-hour hike. Or embark on a 5-day trek.
How Much Does it Cost to Get from Lima to Machu Picchu?
The cost will, of course, vary depending on what mode of transport you use and how much in advance you book it. The lowest prices are typically the first seats sold on planes, trains and buses. Last-minute deals aren't really a thing in Peru.
Flight to Cusco: From 40 to 50 USD (booked in advance, personal item only), add 20 USD for carry-on and 30 USD for checked luggage.
Bus to Cusco: From 90 Soles (25 USD) for a direct service. 120 to 200 soles if hopping from town to town on the way.
Train from Cusco to Aguas Calientes: Tickets start from 66 USD, one way.
Bus from Cusco to Hidroelectrica: 60 soles (15 USD) each way.
Whether you take the train or bus to Aguas Calientes, you'll then need to take the bus to Machu Picchu, which costs 12 USD per person each way. Or you can walk, for free.
Multi-Day Treks
Inca Trail: 600+ USD. Trek finishes in Machu Picchu on the last day.
Inca Jungle Trek: 200+ USD.
Salkantay Trek: 200+ USD.
Unless you do the Inca Trail, you'll arrive in Aguas Calientes for the penultimate night. As such, you'll need to get the bus or walk to Machu Picchu.
Is there a Train from Lima to Machu Picchu?
No. It isn't possible to travel just by train from Lima to Machu Picchu.
The Machu Picchu train that you might have heard of runs from Cusco to Aguas Calientes – the town below the ruins. From there, you'll need to walk or take the bus to the entrance of the ruins.
If you like travelling by train, you can also travel between Puno and Cusco on the PeruRail Titicaca route. The journey takes around 10 hours and is a luxury experience with an observation car and 3-course lunch.
How do I get from Lima to Machu Picchu by Plane?
You can't fly to Machu Picchu or any towns close to it. Instead, you'll need to fly from Lima to Cusco and then continue overland.
Lima to Cusco is one of the most popular domestic flight routes in Peru. Around 30 services a day operate this route from Jorge Chávez International Airport in Lima to Alejandro Velasco Astete International Airport in Cusco.
Once you arrive in Cusco, you'll have a choice of transport methods to get you to Machu Picchu. Such as the train, bus or multi-day hikes.
How Far is Machu Picchu from Lima by Plane?
Flying between Lima and Cusco takes approximately 1 hour and 20 minutes. The straight-line ground distance is 586 km (364 miles).
From Cusco, it's another 77 km (48 miles) in a straight line to Machu Picchu. Although, overland routes will be longer as they navigate around the mountains.
So, how do you get to Machu Picchu from Lima? Let's break down the stages…
Lima to Cusco Peru
There are only two ways to get to Cusco from Lima: by plane or by bus. And understandably, one is substantially quicker than the other!
But, travelling by bus does allow you to stop at multiple destinations along the way to really see and experience more of Peru.
Plane
Time: 1.5 hours
Cost: 40+ USD
How to Buy Tickets: Through a comparison site or directly with the airline
Around 30 flights a day travel between Lima and Cusco, mostly with budget airlines. Flight time is around 1 hour and 20 minutes.
Cheap fares are generally easy to come by, even when booked just a few weeks out. Although, the cheapest fares only include a personal item. You'll need to pay extra for a full-size carry-on bag or checked luggage.
July to September is the peak season for visiting Machu Picchu when Europeans and North Americans are enjoying their summer vacations. During this time, it's best to book as much in advance as possible.
Cusco Airport is a 15-minute drive from Cusco Train Station and a 20-minute drive from the main plaza.
Check prices and availability for your travel dates…
> > > RELATED POST: Plan your trip with this complete guide to the best time to visit Machu Picchu.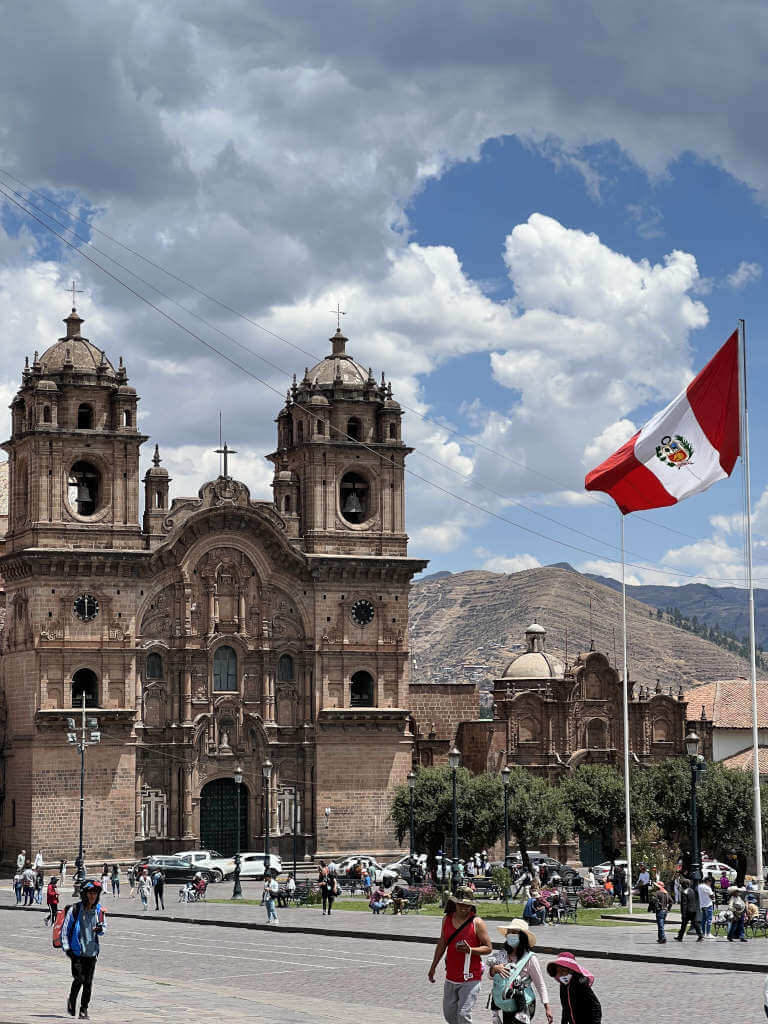 Bus
Direct Buses
Time: 24 hours
Cost: 100 soles (25 USD)
How to Buy Tickets: Through Bus Bud, direct through Cruz del Sur or CIVA, at the bus station
A direct Lima to Cusco bus takes around 23 hours. Although, expect this to be at least 24 hours, as services are generally slightly delayed.
The direct bus costs around 100 soles (25 USD) for the cheapest seats – those with the least amount of recline. And around 150 soles (40 USD) for more recline (usually about 20 degrees from completely flat).
Despite the huge difference in journey time, the cost is similar between a 90-minute flight and a 24-hour bus! The plus of the bus is that you don't need to pay extra for luggage, which is where cost savings can come in.
Cruz del Sur and CIVA are two of the most reputable companies operating the route. Bus Bud is a good comparison site to find out times, prices and availability.
Travelling town-to-town
Time & Cost: Route dependent
How to Buy Tickets: Through Bus Bud, direct through companies or at bus stations
If you're not looking to fly and have more than a week to spend in Peru, travelling the south of the country by bus is a great option. The towns between Lima and Cusco are popular with tourists, backpackers and domestic travellers alike.
One option is to book each leg separately with whatever bus operators run the route. Doing this means you'll get the best price and the most flexibility to change your route as you fancy.
Another option is to travel with Peru Hop, a bus service specifically for international tourists. On board, you'll be joined by a bilingual guide and you only stop at the major towns and cities.
This does come with a price premium but provides added convenience. Additionally, you have the option to stay at each stop for as long or as little as you like, which doesn't need to be booked in advance when you buy your ticket.
When travelling by bus in Peru, the seats on the top deck generally have less leg room, narrower width and less recline. Whenever possible, pick a seat downstairs. It'll be worth the few extra soles!
Do note though, food and drink are rarely served on board buses in Peru anymore. Since the pandemic, meal services have been replaced with stops at roadside restaurants.
Sadly, those buses that do include refreshments in the ticket, generally serve pretty low-quality food. Dry sandwiches, tiny bottles of water and a snack the size of your little finger.
So definitely bring your own food and drink (and entertainment), and plan your journey with these suggested itineraries…
Overland Itineraries
Lima to Cusco Peru
The direct option. 24 hours and you're there. Great if you have little time, but more convenient to fly.
Lima to Paracas and Huacachina to Cusco
On the coast south of Lima is Paracas – home to a fascinating mix of marine and bird life. Slightly inland is the desert oasis of Huacachina and the sprawling sand dunes.
To get to Paracas you can take a direct bus or take one to nearby Pisco and then grab a taxi. Shuttles and public buses run the 90-minute journey between Paracas and Huacachina. While the journey from Ica (the town next to Huacachina) to Cusco takes around 18 hours with CIVA and Cruz del Sur.
Paracas and Huacachina can both be visited in one day. Or you can spend a night or two in each to really get a feel for the place.
Lima to Paracas/Huacachina to Arequipa to Cusco (Additional extra stops: Nazca and Puno)
Similar to the journey above but this splits the journey between Huacachina and Cusco. Long buses are still going to be a necessity, however.
The journey between Ica (next to Huacachina) and Arequipa takes around 13 hours. Arequipa is well known for its food scene and impressive Colca Canyon.
But, you can further split this up by visiting Nazca – a place famous for its lines and patterns in the ground. Here, you can take a flight over to get the best view.
From Arequipa, it's another 10 hours to Cusco.
And, if you're not heading to Bolivia after Cusco, it can be great to split this leg from Arequipa by visiting Puno on Lake Titicaca – at a sky-scraping 3800 metres above sea level. Arequipa to Puno takes 7 hours with another 7 hours to reach Cusco.
Lima to Paracas/Huacachina to Ayacucho to Cusco
This route heads directly inland from Paracas or Huacachina to the authentic town of Ayacucho. A place that few international visitors ever step foot in.
Located high in the Andes, Ayacucho is a bustling town off the tourist trail. The weather is pleasant and it is far from touristy.
Explore the local markets, take in the busy streets, take a day trip to the Turquoise Pools of Millpu and much more.
To get to Ayacucho, take the once-daily bus from Ica with Palomino Buses. Then, it's a 17-hour bus to Cusco. Tickets for Ayacucho to Cusco aren't available online, so head to the bus station in the city to book these.
Lima to Ayacucho to Cusco
If you don't fancy Paracas and/or Huacachina and are after a shorter route, you can travel from Lima to Ayacucho and onto Cusco.
The bus from Lima to Ayacucho takes around 8.5 hours. Followed by a long, 17-hour bus through the mountains to Cusco.
Cusco to Aguas Calientes
This part of the journey from Lima to Machu Picchu has the most amount of options. And, with flights not getting you to the World Wonder any closer than Cusco, you'll have to continue overland.
Take your pick between the train, buses and hiking. There's something for every budget…
Train
Time: 4 hours
Cost: 60+ USD
How to buy tickets: Official websites of PeruRail or Inca Rail
Two companies operate between Cusco and Aguas Calientes: PeruRail and Inca Rail.
The prices, comfort, quality and journey times of both companies are similar. Meaning that you should just book whichever one has the time or price that best suits you.
Importantly, most train services between Cusco and Aguas Calientes are bimodal outside of the peak season. This means two modes of transport, a bus and a train.
Generally speaking, if you're travelling from Cusco, buses will run to either Ollantaytambo (2 hours) or Poroy (30 minutes). From Ollantaytambo, it's 1.5 hours on the train and from Poroy it's 3.5 hours on the train.
Unfortunately, most services run from Ollantaytambo, which means a lot less time on the train. If you book a bimodal service, try and find one changing at Poroy – else book a direct train if you're there at the right time of year.
Ticket prices start at around 60 USD one-way and are the same whether you travel direct or bimodal from Cusco to Machu Picchu. Additionally, you can pay more for the Vistadome (PeruRail) or 360-degree (Inca Rail) trains that have better views.
Book direct on the PeruRail or Inca Rail websites for the best price and check out any offers.
If you're looking to really treat yourself, check out PeruRail's Belmond Hiram Bingham train. You'll enjoy a welcome show, lunch, dinner and a music show on the train.
The ticket price also includes entrance to Machu Picchu, a bilingual tour guide, a bus to the entrance and afternoon tea at the Belmond Hotel by the entrance to the ruins. Tickets start from 535 USD in the low season.
Bus + Hike (straight to Hidroelectrica)
Time: 9 to 10 hours
Cost: 60 soles
How to Buy Tickets: Through an agency in Cusco
A more backpacker and budget style of transport is to take the bus to the end of the closest road to Machu Picchu. This is located in Hidroelectrica around 10 km from Aguas Calientes.
The bus takes 7 or 8 hours from Cusco, leaving at 6 am and costing 60 soles. Normally, it stops twice along the way, once for breakfast and once for lunch.
When you arrive in Hidroelectrica, you'll be dropped off next to a local restaurant where you can eat if you haven't already.
From there, you hike the remaining distance along the train tracks until you arrive in Aguas Calientes. The 10-km route takes about 2 hours at a leisurely pace and is mostly flat.
Once off the bus, head away from the drop-off spot and follow the road. You'll reach a checkpoint where you give your details to the rangers and then follow the signs to and along the train tracks.
Don't worry, this is a safe, popular and well-signposted route. Very few trains run along this section of the route as it is past Aguas Calientes when you come from Cusco. Mostly, it is used for trains to turn around or bring supplies.
Just before Aguas Calientes, the train tracks run into a tunnel and the footpath splits away. From there, follow the road as it heads into the town where you can finally rest.
Make sure to pack light to avoid carrying too much. It is much hotter (and more humid) here than in Cusco due to the lower altitude.
This also means that there are mosquitos and bugs everywhere! Particularly as it is so jungle-like. Wear long trousers and sleeves and apply insect repellent.
Visit Ollantaytambo and the Sacred Valley + bus + hike
Time: However long you spend in Ollantaytambo + 9 to 10 hours
Cost: 70+ Soles
How to Buy Tickets: Through an agency in Cusco and/or at the bus stop
A slight variation on the route above, this includes stopping and spending time in Ollantaytambo at the heart of the Sacred Valley.
One option is to get a Sacred Valley tour of the Inca sites and get dropped off in Ollantaytambo rather than back in Cusco. On these tours, you'll visit places like Pisac, the Maras Salt Mines and Moray.
Alternatively, you can catch local transport to Ollantaytambo, visiting the archaeological sites independently if you wish. The colectivos leave from the corner of Calle Pavitos and Avenida Grau (Highway 3S) and cost 10 soles to Ollantaytambo.
Once in Ollantaytambo, you'll need to book the shuttle to Hidroelectrica through an agency. Or you can do this in Cusco in advance.
The drive from Ollantaytambo is 2 hours shorter, so 5 to 6 hours in total. But, it isn't any cheaper as the bus keeps your seat empty for the first portion of the journey.
Then, it's just the case of the 2-hour hike to Aguas Calientes along the train tracks. Which is, of course, free of charge.
Another option is to hike most of the way from Ollantaytambo to Aguas Calientes.
You'll need to head 15 km out of town to the KM82 checkpoint at Ollantaytambo Station. From there, it's a 28-km walk to Aguas Calientes along the train tracks as they run parallel to the river.
It's doable in one day if you start early but is tough. Definitely pack light for this hike!
Trek
One of the most popular ways to get to Machu Picchu from Cusco is on a multi-day trek.
The Inca Trail is the most famous of these and permits sell out all year around. Booking in advance is essential, especially if you want to travel in the peak season (July to September).
The traditional Inca Trail route takes 4 or 5 days. Although, there is also the option to take the short Inca Trail, which is a 2-day trek.
Both of these routes bring you into Machu Picchu through an Inca Trail-only entrance on your last day. They are the only direct Cusco to Machu Picchu routes.
For all other treks, you'll arrive in Aguas Calientes for your final night before travelling to Machu Picchu in the morning by foot or bus.
The Salkantay Trek is a popular alternative to the Inca Trail and doesn't require booking as much in advance. There's also less camping included (and it's a lot cheaper).
Another alternative is the Inca Jungle Trek, lasting from 2 to 4 days. This includes loads of fun activities such as mountain biking, rafting and ziplining, to name just a few.
However, despite its name, it doesn't follow the traditional Inca Trail. This trek also brings you to Aguas Calientes for the last night. But, it is a lot cheaper than the Inca Trail.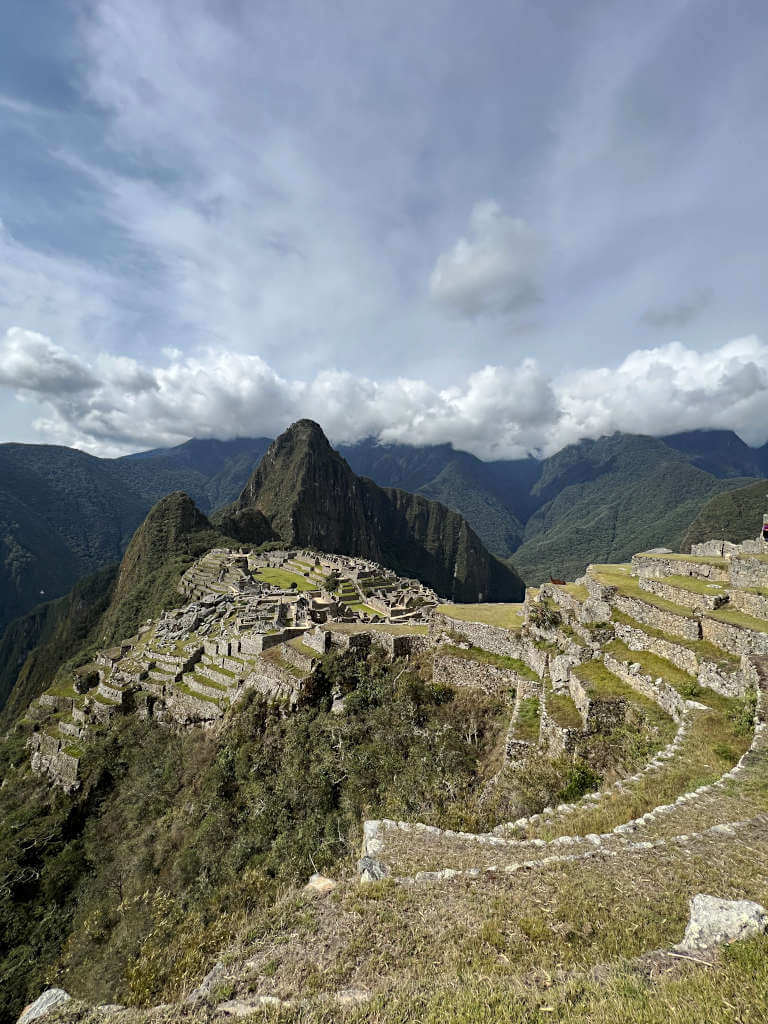 Aguas Calientes to Machu Picchu
Once you reach Aguas Calientes, there are only 2 ways to get to Machu Picchu. You can take the bus or you can walk.
Bus from Aguas Calientes
The buses run from 5.30 am until 3.30 pm, costing 12 USD each way, per person, for the 30-minute journey. Discounted rates are available for children.
You'll need to buy your ticket from the office before joining the queue for the bus. Payment is taken in either USD or Peruvian soles with cash or card.
You'll leave in order of your entry time. And, the earliest you'll be on the bus is 30 minutes before your entry time.
READ MORE > > > All the information you need on getting from Aguas Calientes to Machu Picchu by bus or on foot.
Walking from Aguas Calientes
Alternatively, you can walk from Aguas Calientes to Machu Picchu. The route is tough and mostly stairs, plus conditions are often warm and humid.
However, this is option is free of charge. Perfect for those travelling on a budget!
First, you'll need to walk to the Machu Picchu checkpoint just outside of the town. This takes about 20 to 30 minutes.
Next, you'll start the 1.7 km uphill climb on the near-endless steps. This generally takes 1 hour if you're pretty fit, and up to 2 hours for those who walk more slowly.
But, can only enter the trail 1 to 1.5 hours before your entry time. If getting there on time is important to you (particularly for those with early morning tickets), I'd recommend taking the bus if you're a more leisurely walker.
The view over the ruins and Huayna Picchu Mountain behind will be all the sweeter (and sweatier) for walking!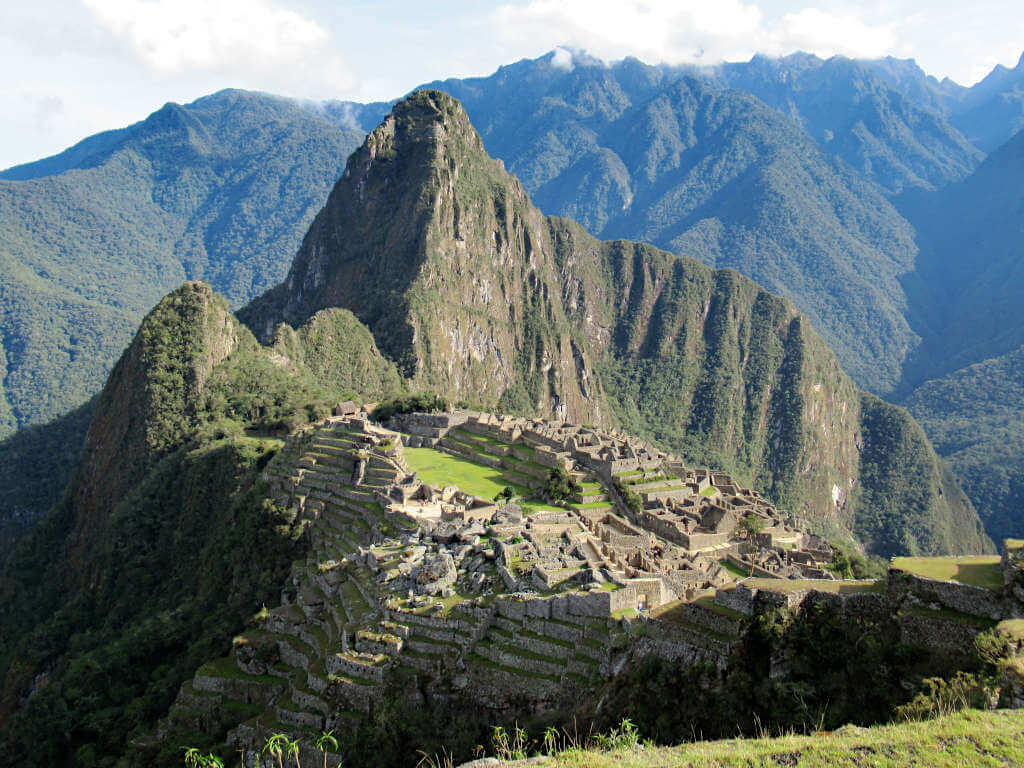 ---
Do you have any questions or want any more information? If so, drop a comment below and I'll get back to you!
Information is correct as of February 2023 but is subject to change in future.
---
More PERU Travel Inspiration…
CUSCO: Palcoyo Mountain (Peru's Alternative Rainbow Mountain): Ultimate Guide
HUARAZ: Laguna Churup, Huaraz: Independent Day Hike to 4500 metres
HUARAZ: Laguna Paron: Ultimate Guide to Visiting from Caraz or Huaraz
CUSCO: Climbing Machu Picchu Mountain (Hike Guide)
---
PIN IT FOR LATER!