Holbox is an island paradise just a few hours but a world away from Cancún. With its white-sand beaches, beautiful seas, incredible bioluminescence and laidback vibe, it's not hard to understand why visiting Isla Holbox is growing in popularity with domestic and international travellers alike.
Unfortunately, Cancún to Holbox transportation is not as simple as to other Riviera Maya towns. There's no direct road and you probably need at least two forms of transport!
But, Isla Holbox is worth it. Without a doubt, this was my favourite place in the Yucatan Peninsula. Probably in the top 5 for all of Mexico, in fact! So whether you just have a day to visit or you're travelling without a plan, you have to visit Holbox.
To make your life easier, this Cancún-Holbox travel guide explains all your transport options and the costs. From cheap shared minivans to private flights and everything in between, this is how to get to Holbox Mexico…
Some of the links below are affiliate links, meaning, at no additional cost to you, I may earn a small commission if you click through and make a qualifying purchase.
How to get to Holbox from Cancún
Holbox – a small island on the northern Quintana Roo coast – can be reached either by air or by land then sea. Flying to Holbox is the only direct option, all land routes require you to first go to the port town of Chiquilá. And, from there you cross the narrow channel to Holbox by boat.
| | Cost (One-Way) | Journey Time | Book in Advance? |
| --- | --- | --- | --- |
| Fly | From 800 USD per plane | 35 mins | Yes |
| Bus + Ferry | 536 pesos (344 + 220 pesos) | 3 hours | Bus: 1 to 2 days if possible |
| Colectivo + Ferry | 486 pesos (250 + 220 pesos) | 3.5 hours | No |
| Rental Car + Ferry | Dependent on length of hire and company + 220 pesos | 3 hours | Car hire: Yes |
| Private Shuttle + Ferry | 160 USD for up to 7 people + 220 pesos | 3 hours | Shuttle: Yes |
| Taxi + Ferry | From 2160 pesos (1940 pesos [100 USD] + 220 pesos) | 3 hours | No |
| Hitchhiking + Ferry | 220 pesos | Possibly all day | No |
| Tour | | 3 hours | Yes |
How far is Holbox from Cancún?
From the centre of Cancún, Isla Holbox is 150 km away by the road route. The hotel zone is a further 10 km further away, so 160 km in total. But, in a straight line, Cancún and Holbox are just 70 km apart.
Flying from Cancún to Holbox Island
Can you fly from Cancún to Holbox?
Yes! Holbox Mexico has a very small airstrip on the western part of the island that is only big enough for small aircraft to land. In fact, it's one of an impressive 1714 airports in the country (there are more Mexico facts where that came from!)
Private charters are available from Cancún International Airport (CUN) all year round. Unfortunately, there's no shared service. So, if you want to take this flight, you'll have to book the whole plane – which fits up to 9 people.
Time & Cost of Flying to Isla Holbox from Cancún
The CUN-Holbox flight time is just 35 minutes, making it the quickest way to complete the journey. From the airstrip in Holbox, the centre of the town is just a 5-minute, 450-metre walk away. Or, hop in a taxi directly to your accommodation.
For couples or groups of 5 or fewer with only carry-on luggage, prices start at around 800 USD one-way or 1600 USD return (not including tax). This is the cost of chartering the whole plane, so the cost is split between all passengers.
For bigger groups or those with larger amounts of luggage, the cost of a Cancún to Holbox flight is 2900 USD return (not including tax).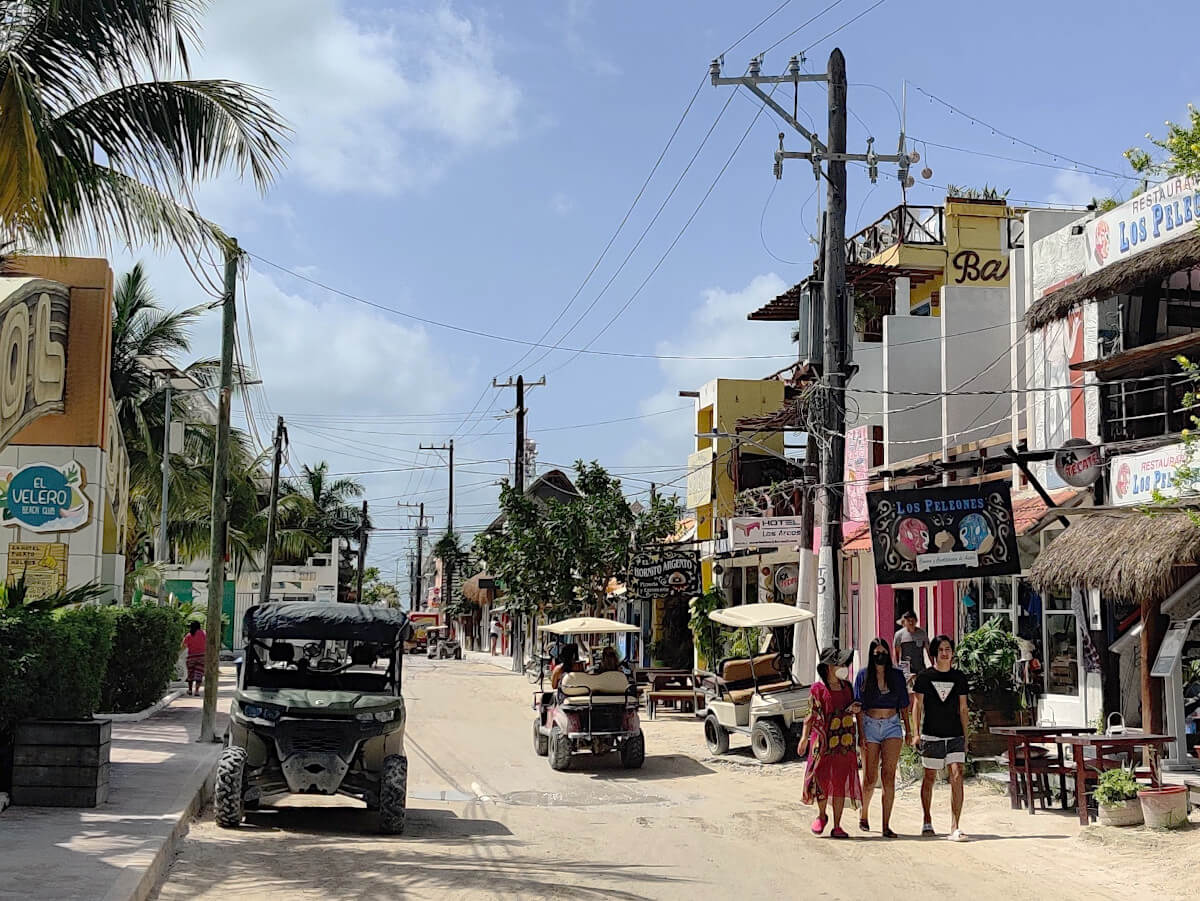 Getting from Cancún to Chiquilá
Unless you fly to Holbox, any other route overland is going to take you via Chiquilá. This small port town is the gateway to Isla Holbox. And, since no vehicles are allowed onto the island, you'll have to travel here first before getting the ferry over.
Bus from Cancún to Chiquilá (For Holbox)
Currently, 7 ADO buses a day run from Cancún to Chiquilá. The journey takes 2 hours and 20 minutes and costs 344 pesos per person.
I'd recommend booking the bus at least a day or two in advance as the services can fill up quickly. Tickets can be booked easily online or at the bus station.
Booking in advance also means you might be able to bag a discount. The further in advance you book, the greater the discount available. Fares sometimes go as low as 50% off. Keep an eye out for discount codes on the homepage for more savings.
Departure times are the same every day of the week. For the large, 44-seater buses, the earliest departure from Cancún is at 8.15 am and the last is at 3.15 pm. An additional, smaller service runs at 5 pm taking 3 hours in a 16-seater minibus, costing 298 pesos.
The larger buses have storage areas under the bus for larger bags and suitcases. However, the minibuses don't have any storage room and so aren't suited to travelling with luggage.
From other popular spots in the Yucatan peninsula, the buses to Chiquilá are:
From Playa del Carmen: 4 departures per day, 352 pesos
From Tulum: 4 departures per day, 470 pesos
From Valladolid: 2 departures per day, 258 pesos
From Mérida: 2 departures per day, 532 pesos
Colectivo from Cancún to Chiquilá
Unlike colectivos across many other routes in Mexico, the colectivo from Cancún to Chiquilá only runs 4 times a day. The buses leave from outside the Soriana Supermarket on the other side of the roundabout to the ADO bus station in Cancún. If in doubt, just ask around and you'll be pointed in the right direction.
A ride in a colectivo to Chiquilá will cost you 250 pesos per person. And although the journey is advertised as taking 2.5 hours, I'd allow for at least 3 as it does stop along the way to drop off and pick up passengers.
Importantly, unlike any other colectivo service I've come across, this one can be booked in advance. Contact the company through WhatsApp or Facebook to book.
Do expect that your luggage may need to go on the roof rack, so make sure any valuables or items that shouldn't get wet are on your person!
Colectivos are generally more cramped than the coach-type buses that are the norm in Mexico. But, given that you're saving 100 pesos or so, the choice is yours to make.
Car Hire & Driving
Driving to Chiquilá from Cancún is pretty straightforward, though there is no direct route. Head west on Highway 108D in the direction of Valladolid and Merida and then take Highway 5 all the way to Chiquilá.
Can you drive to Holbox?
Yes and no. You can only drive as far as Chiquilá and the route includes toll roads. Cars aren't allowed on Isla Holbox so you'll need to find suitable and secure parking for your time on the island. The going rate is around 100 pesos per day for parking.
Chiquilá is a very out-the-way town. It's miles from anywhere and pretty much everyone goes there only to get the Holbox ferry. Despite its unassuming demeanour you should still find secure parking and avoid leaving any valuables in the car.
Since you can't drive to Holbox itself, having a rental car is only worthwhile if you're also visiting other cities, towns or landmarks around the Yucatan Peninsula. You definitely don't need to hire a car just to drive to Chiquilá.
How long is the Drive from Cancún to Holbox (Chiquila)?
It takes roughly 2 hours and 30 minutes to drive the 150 km or so to Chiquila from Cancun Centro.
Cancún to Holbox Shuttle (to Chiquilá)
Shuttles are typically a more convenient option for getting from A to B. In the case of getting a Cancún to Holbox shuttle, they're great when the bus times don't work for you. Particularly for those arriving in Cancún late afternoon.
A shared Cancún to Chiquilá shuttle will cost from as little as 300 pesos per person. This price usually includes one full-size, checked-in style piece of luggage and one item you carry on you. However, this is exactly the same as a colectivo except for not stopping as much
For a private Cancún-Holbox transfer (dropping you off in Chiquilá), prices are around 160 USD for 4-seater and 7-seater vehicles. This comes with the added benefit of hotel or airport pick up in Cancún and drop off at the ferry terminal.
Advance booking is required for Cancún to Chiquilá shuttles. Also, don't forget to book your return or onward journey before heading to Holbox as the WiFi and internet are notoriously bad there.
Taxi from Cancún to Chiquilá
If you're really desperate to get to Holbox Mexico straight away, then take a taxi. But, it's not going to be cheap. If you can wait for a bus, colectivo or shuttle, then I'd highly recommend this over a taxi.
How much is a taxi from Cancún to Holbox
Expect to pay between 120 and 200 USD one-way. This of course depends on your negotiation skills, the time of year and the time of day.
The taxi can only take you as far as Chiquilá, then you'll need to get a ferry over to the island. To get to your hotel from there, you'll need to hire another taxi (golf cart) on the island or walk.
Hitchhiking
Personally, I tend to only hitchhike when there are no other transport options available. As such, I'd definitely recommend all the transport options above before thinking about hitchhiking.
Additionally, hitchhiking from Cancún to Holbox Island is made more difficult by the fact that Chiquilá is in the middle of nowhere. If you go to Chiquilá, you're going to Chiquilá – it's not a town people pass through (other than to Holbox). As such, the number of people (and vehicles) heading there each day is relatively small.
But, it's not impossible to hitchhike to Chiquilá (you'll still have to pay for the ferry). Start early and have a Plan B if you don't find a ride in a timeframe that suits you.
TOP TIP: Don't let a lack of Spanish put you off hitchhiking. The first time I did it, I'd only been in Mexico for 3 weeks and couldn't speak any Spanish. We communicated only through Google Translate and had no problems.
Getting to Isla Holbox from Chiquilá (Sea Crossing)
Now you've made it to Chiquilá, you need to cross the water and you'll have reached Isla Holbox Mexico!
You have two options: take the ferry that runs every half hour with a fixed ticket price or negotiate with a boat owner for a private trip across to Holbox.
Isla Holbox Ferry
Two companies operate the Chiquilá to Holbox ferry route: 9 Hermanos and Holbox Express. The 9 Hermanos ferries leave on the hour (first: 6 am, last: 9 pm) and Holbox Express ferries leave on the half-hour (first: 7.30 am, last: 9.30 pm).
Tickets for both companies cost 220 pesos each way (180 pesos for children). Simply buy a ticket for whichever company has the next departure. No return tickets are available (there's no saving anyway), so just buy a ticket for the next departure when it's time to leave the island.
In Chiquilá, tickets can be bought at the kiosks near the roundabout. Sometimes, you can also buy ferry tickets on the ADO buses. Although there's no price difference, tickets aren't transferrable between the companies so make sure you definitely have one for the next departure. Otherwise, you could be waiting an hour!
On the ferry, larger luggage is stored at the back of the boat and seating is available inside and on the top deck. The journey takes around 30 minutes and is not normally too choppy or windy.
Getting to Isla Holbox by Private Boat Transfer
Alternatively, negotiate with a local boat owner around the Chiquilá port for a private Holbox transfer. I'd only recommend this for larger groups as otherwise, it will cost more.
Expect the journey to be bumpier as you'll be travelling in a small, motor-powered boat. Not recommended if you're easily travel-sick or seasick – stick to the ferry!
Tours to Isla Holbox from Cancún
If you're short on time, a tour to Isla Holbox from Cancún and the Riviera Maya is a perfect way to not miss out on this island paradise. The slow pace of life, chilled vibe, rustic buildings and white sand beaches make it seem a world away from the hustle and bustle of Quintana Roo's more popular towns.
The tours are full days, you'll likely be picked up just after dawn and return as the sun's going down. But, in that time, you'll have a full day of activities making the long drive worth it.
Prices for the tours generally include lunch, transport, a guide and a boat trip in Holbox. Some will include free time on the island others will include a visit to a cenote or nature reserve.
Tours to Holbox are available from all across Quintana Roo, including Cancún, Puerto Morelos, Playa del Carmen and Tulum.
How to get from Cancún Airport to Holbox
Generally speaking, getting to Isla Holbox straight from the airport is pretty straightforward. In fact, it's not too different than travelling from Central Cancún to Isla Holbox.
However, Cancun International Airport is the busiest it's ever been. The number of flights arriving has skyrocketed bringing more passengers and luggage. At peak times, it's common to encounter long waits at baggage reclaim and immigration. Be sure to leave plenty of time between when you land and your transport connection.
BUS: No buses run directly from Cancún Airport to Chiquilá or from Chiquilá to Cancún Airport. Instead, you'll need to travel first to Downtown Cancún. This journey can be done by ADO bus for 110 pesos. Though the last bus leaves Cancún for Chiquilá at 15.15. So, if you haven't landed by 13:30 (absolute latest), you'll probably need to stay in Cancún for the night.
COLECTIVO: These also only run from Downtown Cancún. Colectivos can't enter the airport, so take the ADO bus into Central Cancún.
CAR HIRE: If you're hiring a car for your entire trip, then collecting it from the airport makes sense. There are lots of car rental companies around the airport so you'll be sure to find something for your taste, size requirements and budget.
SHUTTLE: You can book a shuttle directly from Cancún Airport to Holbox (Chiquilá). The cost is the same as booking from Central Cancún. Don't forget to book your return trip from Holbox to Cancún or Cancún Airport too!
---
Find the best prices and the best dates with flight comparison sites like Skyscanner!
Make sure you use tools such as 'Add nearby airports' and set your departure airport as wide as possible (you can just put the United States) to see the cheapest places to fly from! Check prices for your trip here…
---
Is Holbox Worth Visiting?
Absolutely! While most of the Quintana Roo coast is full of large hotels, big resorts and western shops, Holbox still has that authentic feel and rustic charm. The sunsets are magical, the island vibe is chilled and the weather is divine (mostly!).
For those that want to lay in a hammock or sunbathe on the beach, Holbox couldn't be more perfect. And for those looking for something more, there are plenty of trips and activities to enjoy.
As Holbox is a few hours from Cancún, Playa del Carmen and Tulum, fewer people make the journey to this island gem. As a result, there's a totally different feel to Holbox than the rest of the region. Expect to see more backpackers, young holidaymakers and activity-loving families.
Best Things to do in Holbox
Walk along the sandbanks to

Punta Mosquito

– Holbox's lesser-known beach. Or, head to the western tip of the island and relax at Punta Cocos.
Swim in the calm, warm sea of Playa Holbox before watching the sunset over the Gulf of Mexico.
Take a tour to see the bioluminescence at night, best enjoyed at the new moon or after the moonset! Another popular tour is to snorkel with whale sharks during the summer months.
Borrow a dog at Holbox's animal sanctuary and take it for a walk around the island.
Sample the flavours of the island. Roots Pizzas is known for its Lobster Pizza, costing around 600 pesos. While Ceviches La Chingada has incredible seafood.
Party at Che Hostel, you don't have to be staying there to visit the bar in the evening. Then, once everything closes, party on the street at Hot Corner until the early hours!
Where to stay in Holbox
I'll start by saying Holbox is not the cheapest place to visit. And, in most cases, it's worth paying a little extra as the very basic options often have limited facilities. Like rooms with no fans or camping in a tent that turns into a massive sweatbox.
However, there are hotels or hostels to suit every budget. Just don't expect any high-rise buildings, sprawling resorts or mega swimming pools.
HOLBOX TOP TIPS:

1. Prevention is great and all, but you WILL get bitten a lot. Make sure you bring something to treat those mosquito and insect bites before you scratch your skin off!

2. The island's WiFi is terrible, just accept it. It's the price for being in paradise. Download Netflix shows in advance, plan your onward/return journey before you arrive and disconnect.

3. Holbox is overpopulated, the population has boomed in recent years and its resources are stretched. Reduce water usage, reuse and recycle where possible and minimise waste.

4. Bring cash with you (more than you expect to need). There are a couple of ATMs on the island but they can run out quickly and have high fees. Places that do take card payments typically add a 5% fee. Pay in cash where possible to save money.
How to get around on Isla Holbox
Isla Holbox is a sandbank and it's barely above sea level. As a result, its sand roads aren't suitable for cars – you'll only find a handful of vehicles on the island, in fact.
Instead, the three most common ways to get around are walking, cycling or in a golf cart. The taxis on Holbox are the latter, though more golf buggies that are made for off-roading. The sandy streets are often bumpy and when it rains, the streets can flood very easily.
If you bring a suitcase to Isla Holbox, you'll need a taxi to get you from the dock to your hotel. Because, you'll struggle to wheel it along sandy, puddle-filled streets. Make sure to agree on a price with your taxi driver before you start the journey.
---
If you have any questions or want any more information, drop a comment below and I'll get back to you!
Information is correct as of December 2022 but is subject to change in future.
---
More Travel Guides on the Best of Mexico
QUINTANA ROO: Getting from Cancun to Tulum and Tulum to Cancun (Transport Guide)
QUINTANA ROO: How to get from Cancun to Playa del Carmen (Transport Guide)
OAXACA: San José del Pacifico, Oaxaca (Complete Travel Guide)
OAXACA: Playa Bacocho, Puerto Escondido (Oaxaca Beach Guide)
QUINTATAN ROO: Playa del Carmen to Tulum: Transport Options & Travel Guide
CHIAPAS: Visit El Arcotete Eco Park in San Cristobal, Chiapas [Complete Guide]
And much more, check out all Mexico Travel Guides here!
---
PIN IT FOR LATER!