Thousands of miles from New Zealand's more famous Hobbiton is Guatemala's equivalent: Hobbitenango. Located high in the mountains above the colonial city of Antigua, popular with backpackers, digital nomads and ex-pats alike, this Hobbit park makes for a fun day out.
Enjoy a wide selection of activities from axe throwing, archery, mini-golf and a giant tree swing at this budget- and family-friendly attraction. There's something for everyone, including viewpoints, photo spots, walking trails, bars and even giant Jenga. You can even stay a night in one of the Hobbit houses!
Plan your visit today with this complete guide to Hobbitenango Guatemala – with up-to-date 2022 information.
Some of the links below are affiliate links, meaning, at no additional cost to you, I may earn a small commission if you click through and make a qualifying purchase.
Where is Hobbitenango?
This hobbit town is located just 8 km northeast of Antigua, in the village of Vuelta Grande. The Google Maps pin is the location of the entrance. From here, you need to take a 4×4 ride up the mountain to the main park area. This is included in your ticket price.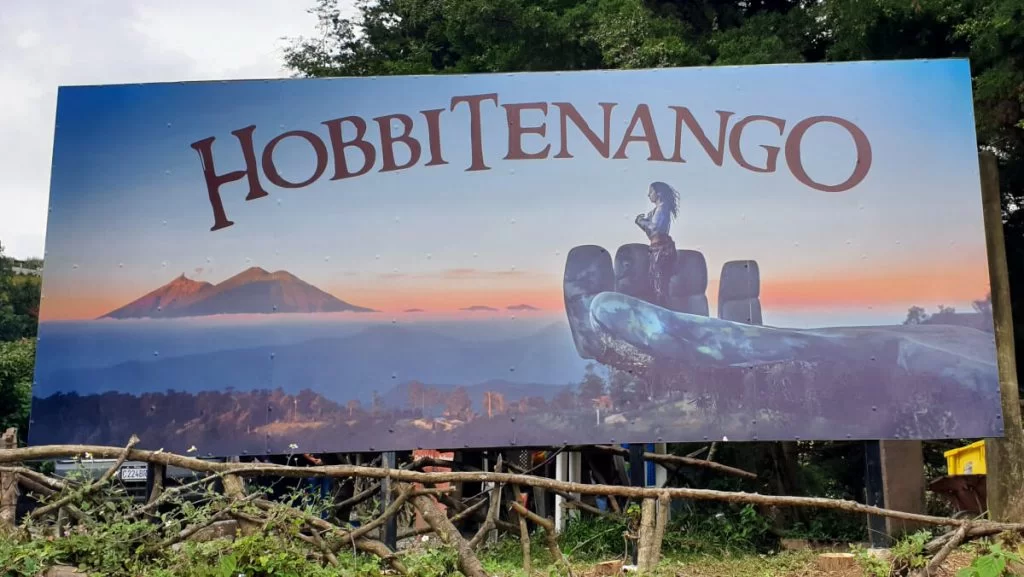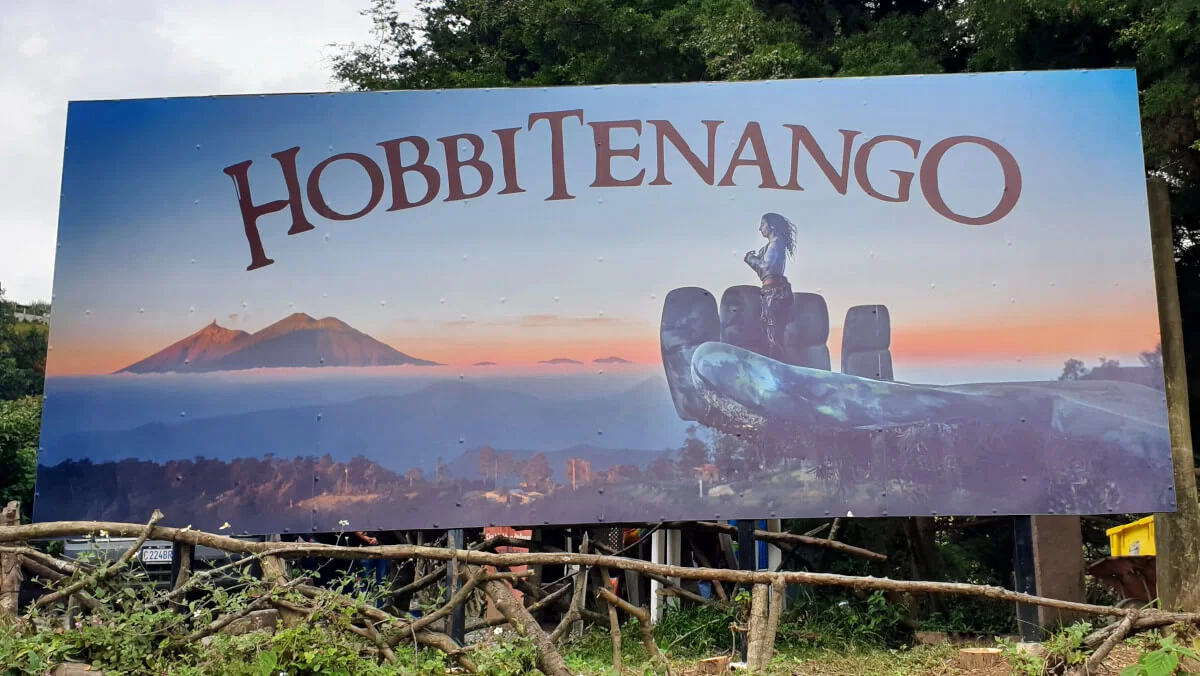 What is Hobbitenango?
Located in the mountains overlooking Antigua, Hobbitenango is a subtly-themed park with viewpoints, games, adventure activities, restaurants and bars. It's the perfect place for an easy-going, half-day out.
The park itself is fairly small but the key thing to remember is that your entry ticket allows for unlimited turns on the activities and games. The only extra cost once you are inside is for food and drinks.
In addition to the fair games and activities, you'll enjoy a break from the city with incredible views of the three volcanos. Agua, Fuego and Acatenango can all be seen on a clear day from this Hobbit paradise, as well as regular plumes of smoke from the crater of Volcan Fuego.
Within the park, you'll find hobbit holes and a variety of sculptures, coverings and artwork made from natural materials. There are also a few short hiking trails, plenty of seating areas and lots of greenery.
Finally, the park also has a hotel where you stay in a hobbit house for the night. With this, you'll get night-time and early morning views of Antigua and the some of the best volcanoes in Guatemala as well as a unique experience to always remember.
Entrance Fees and Opening Times
A ticket to Hobbitenango Antigua Guatemala costs 50Q per person (30Q for children aged 4 to 10).
The cost of the ticket includes the following:
Transport in a 4×4 from the ticket office, taxi/shuttle drop-off area and car park
Access to all viewpoints, hiking trails and green areas
Unlimited access to the games, activities and giant tree swing (weight restrictions apply)
One soft drink or beer
Opening times are:
Monday to Friday, 8am to 6pm
Saturday and Sunday, 8am to 8pm
Furthermore, on weekends and holidays, you can enjoy an all-you-can-eat breakfast or lunch at the park, which includes complimentary entry. Breakfast runs from 8am to midday and costs 129Q for adults (59Q for children). And, lunch runs from 12.30pm to 5pm costing 169Q for adults (69Q for children).
Best time to visit
The busiest times are weekends, national holidays and afternoons. To avoid the crowds, visit on a weekday. Generally, the skies are clearest in the morning giving the best views of the volcanos. However, I'd recommend checking the weather forecast in advance to avoid heavy cloud, rain, etc.
When I visited Hobbitenango Guatemala, I'd stayed at the nearby Earth Lodge the night before. From my treehouse in the forest, I'd been able to watch the sunrise and enjoy cloudless views of the volcanos. As such, I didn't feel I missed out when I got to the park and the views were mostly cloudy. However, if you're coming for the views, arrive early!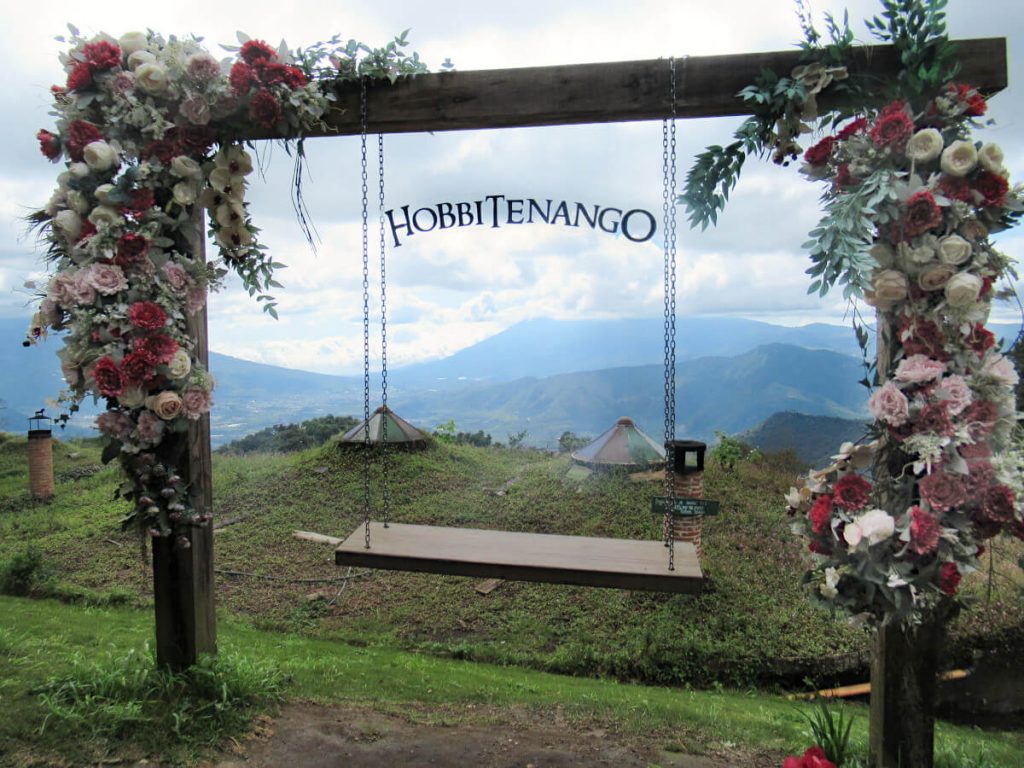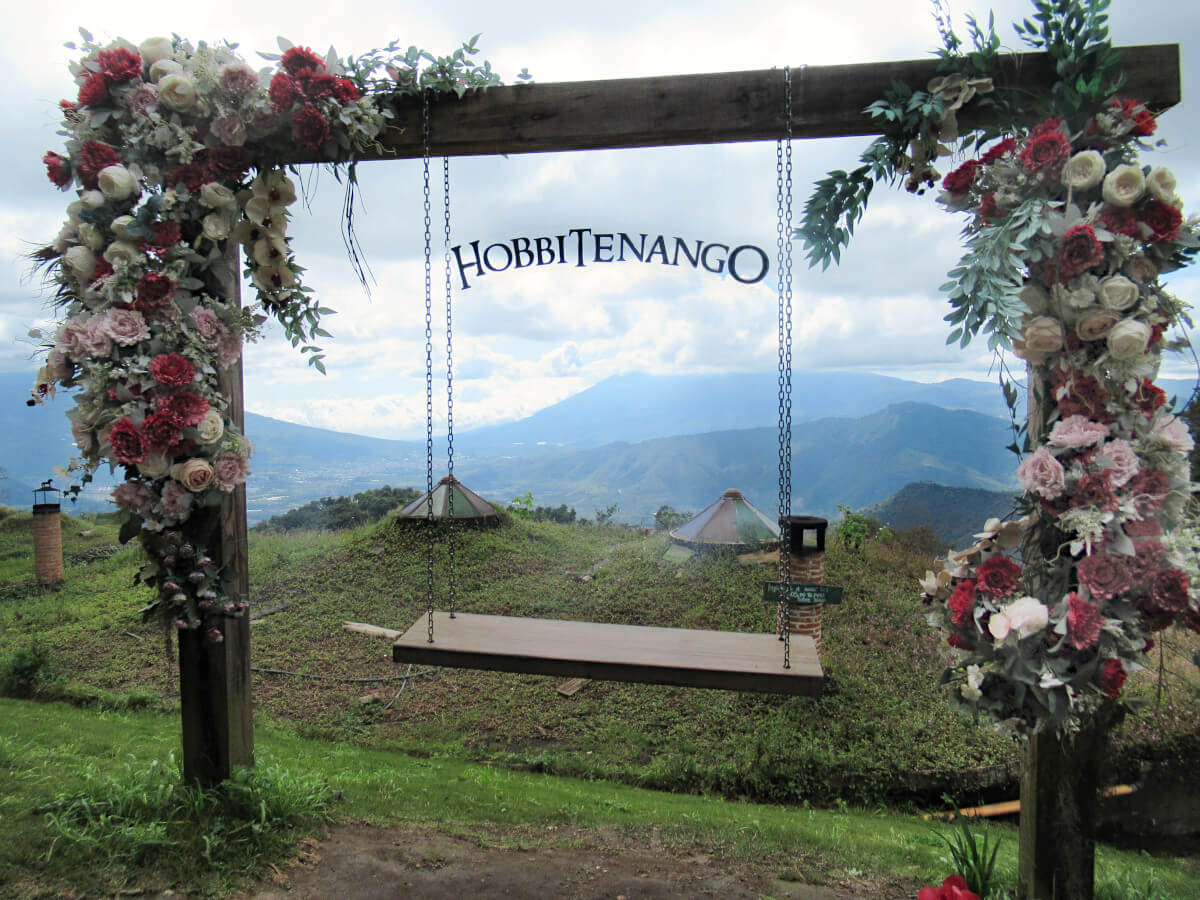 How to get to Hobbitenango Antigua Guatemala
Located 5 miles from and almost 700 metres in elevation above Antigua, the cheapest and easiest way to get to Hobbitenango is in an Uber. Of course, if you have your own car then you can drive to the entrance – parking is free, though there are limited spaces.
Remember, all these options – as well as driving in your own car – only get you to the entrance. From here, you'll need a short (but bumpy) ride in a 4×4 further uphill to Hobbitenango Guatemala. The 4×4 seats around 10 people and runs all day ferrying passengers to and from the park.
Uber or taxi
Uber is the cheapest option. Without surge pricing, expect to pay around 35Q one-way. You should have no trouble ordering an Uber when you are in Antigua. Unfortunately, fewer drivers are willing to drive out to Hobbitenango to pick you up, if your ride is cancelled, just try again.
A taxi costs slightly more, around 60Q one-way between Antigua and Hobbitenango. Again, you'll have no problem flagging down a taxi in central Antigua. But, taxis do not wait outside Guatemala's Hobbit paradise due to its remote location. If you are leaving in the middle of the day, you will likely be able to find a taxi that is dropping someone else off. Alternatively, take an Uber (or hitchhike).
Shuttle
A shuttle run by Hobbitenango operates between Antigua and the park regularly throughout the day. This costs 45Q per person for a round trip and should be booked in advance.
Alternatively, take an Uber – it's cheaper anyway unless you are going there by yourself.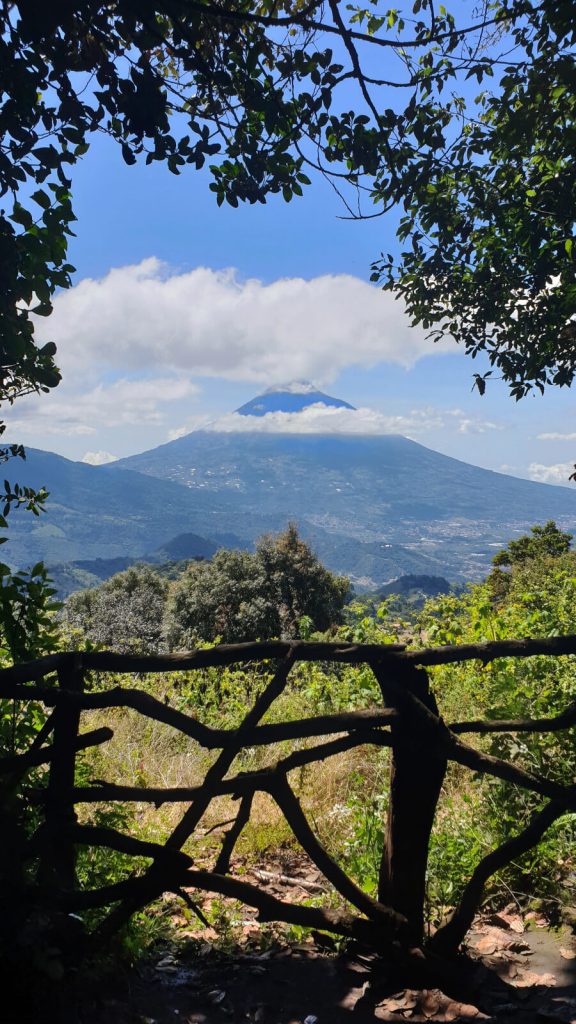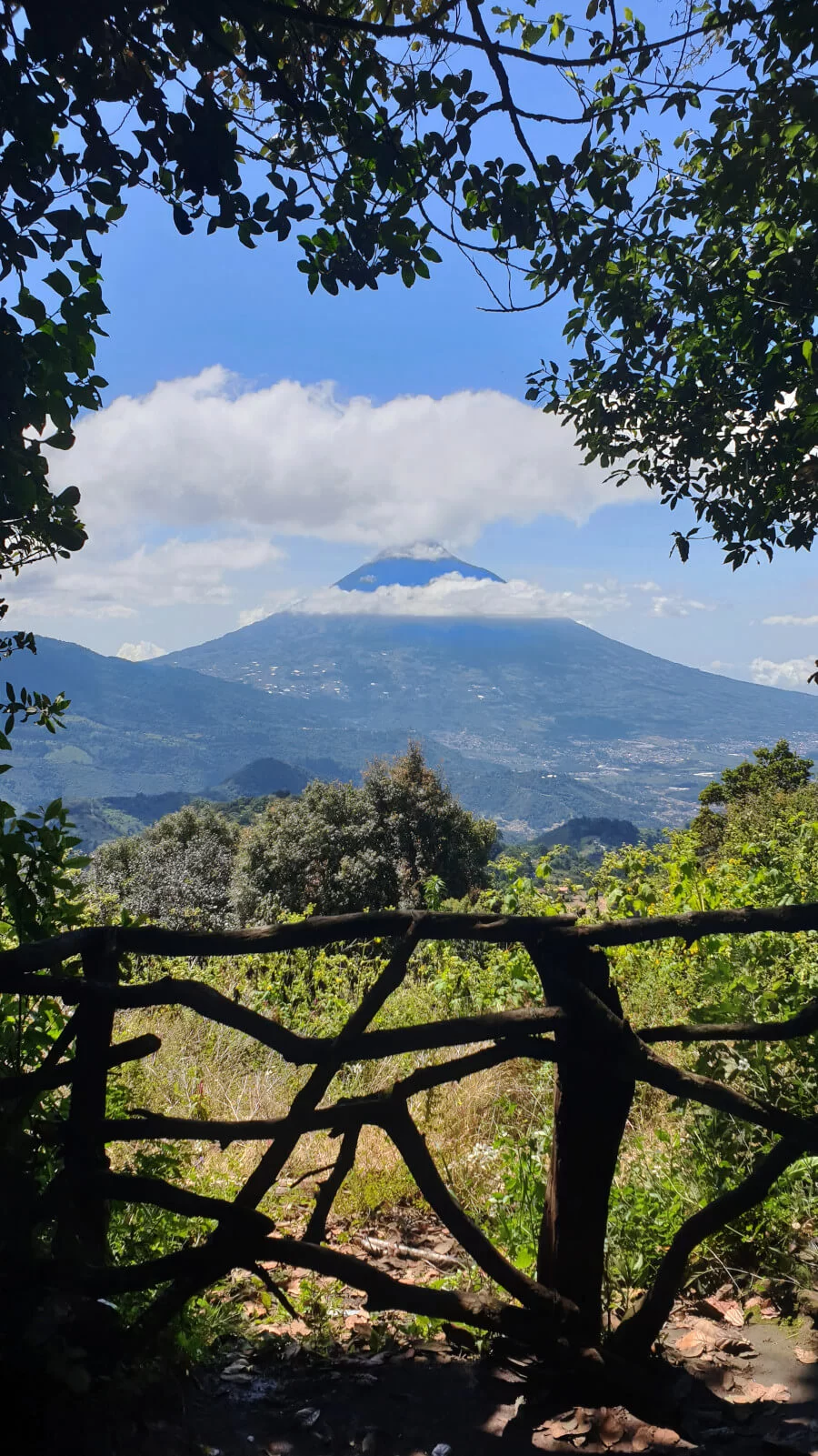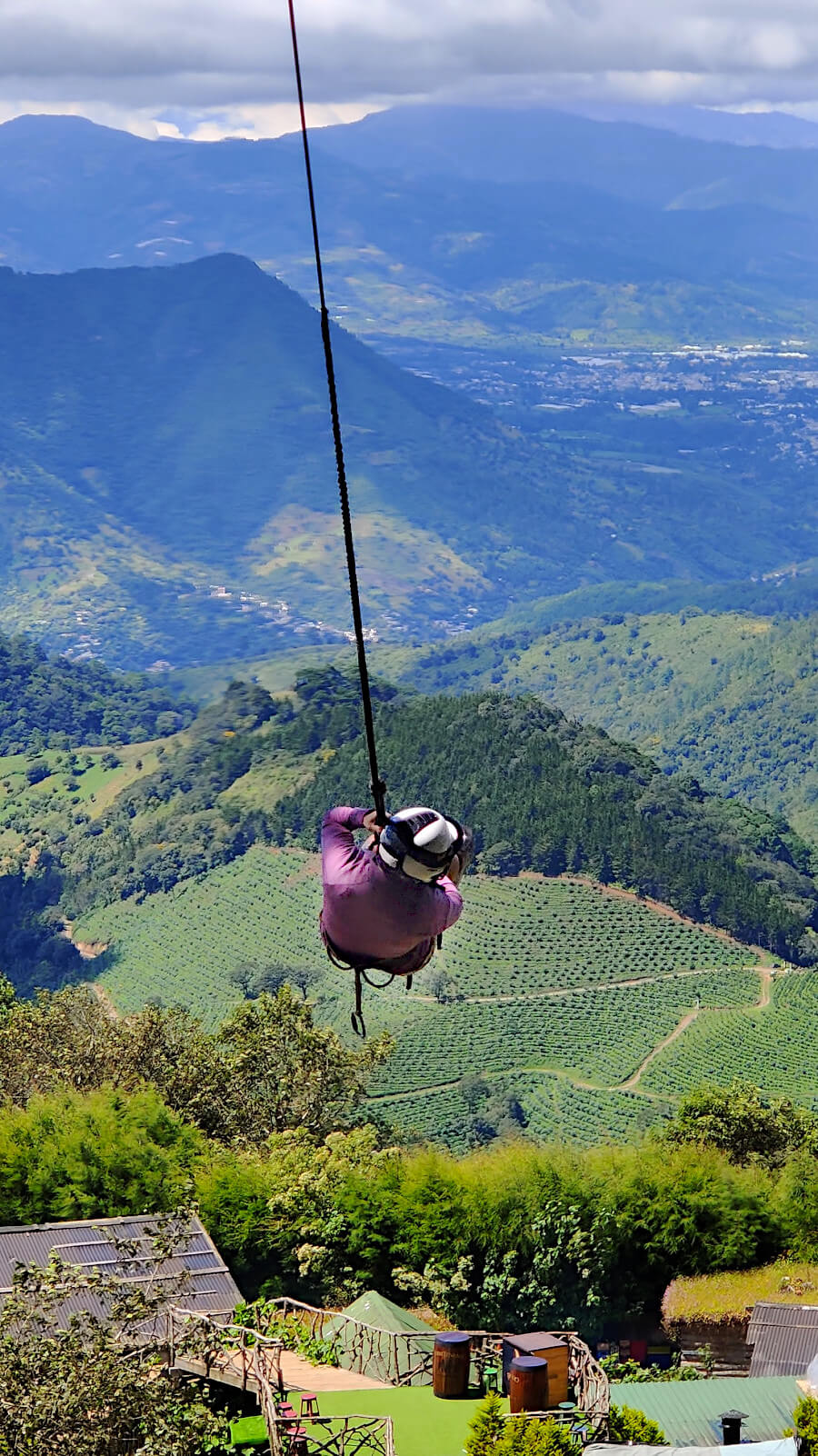 What's on offer at Antigua's Hobbit Land
You'll never be bored here, that's for sure. Between the hiking trails, games, viewpoints and bars, there are plenty of things to do at Hobbitenango Antigua Guatemala.
Games and activities
Don't forget, your entrance ticket to the park includes unlimited turns on all of these activities!
Archery, axe throwing and machete throwing
At busy times you'll need to choose between 3 bows, 3 axes or 3 machetes (or mix and max) per turn. Though you can queue up again to try another. Otherwise, you'll get to have a go at all of them, under the guidance of a member of staff.
Trust me, it's harder than it looks!
Hobbitenango Swing
This is perhaps the main attraction as it's definitely the most thrilling. After being securely strapped in, you'll be swinging through the air overlooking a skyline of volcanos.
The Hobbitenango swing has a weight limit of 200 pounds (90 kg) and you do need to sign a waiver beforehand.
As this is the most exciting activity at the site, it's also the most popular. You'll find the shortest queues early in the day, though you can normally always manage to find a quiet period. But, it's all totally worth it, this was by far my favourite activity at the park. Just one go on the swing feels like it's worth the entry fee alone.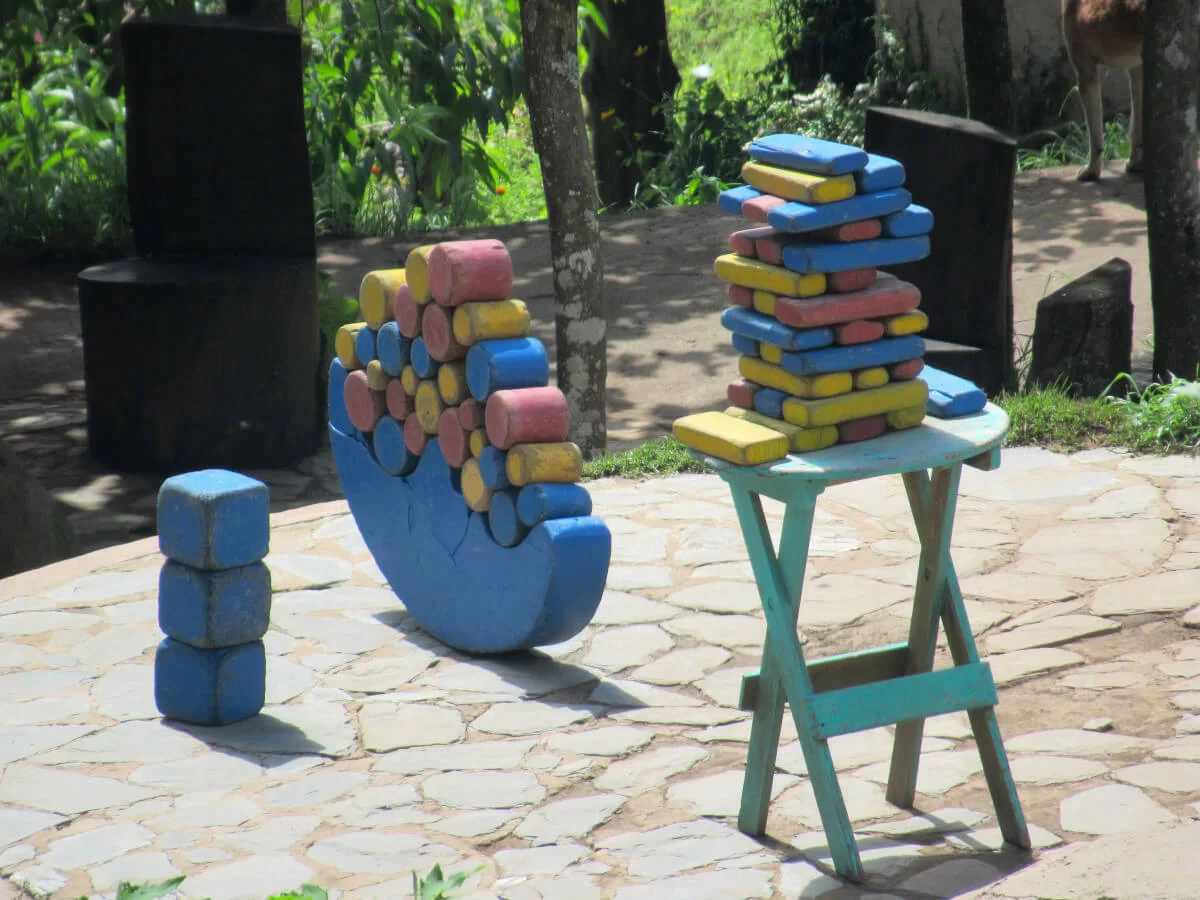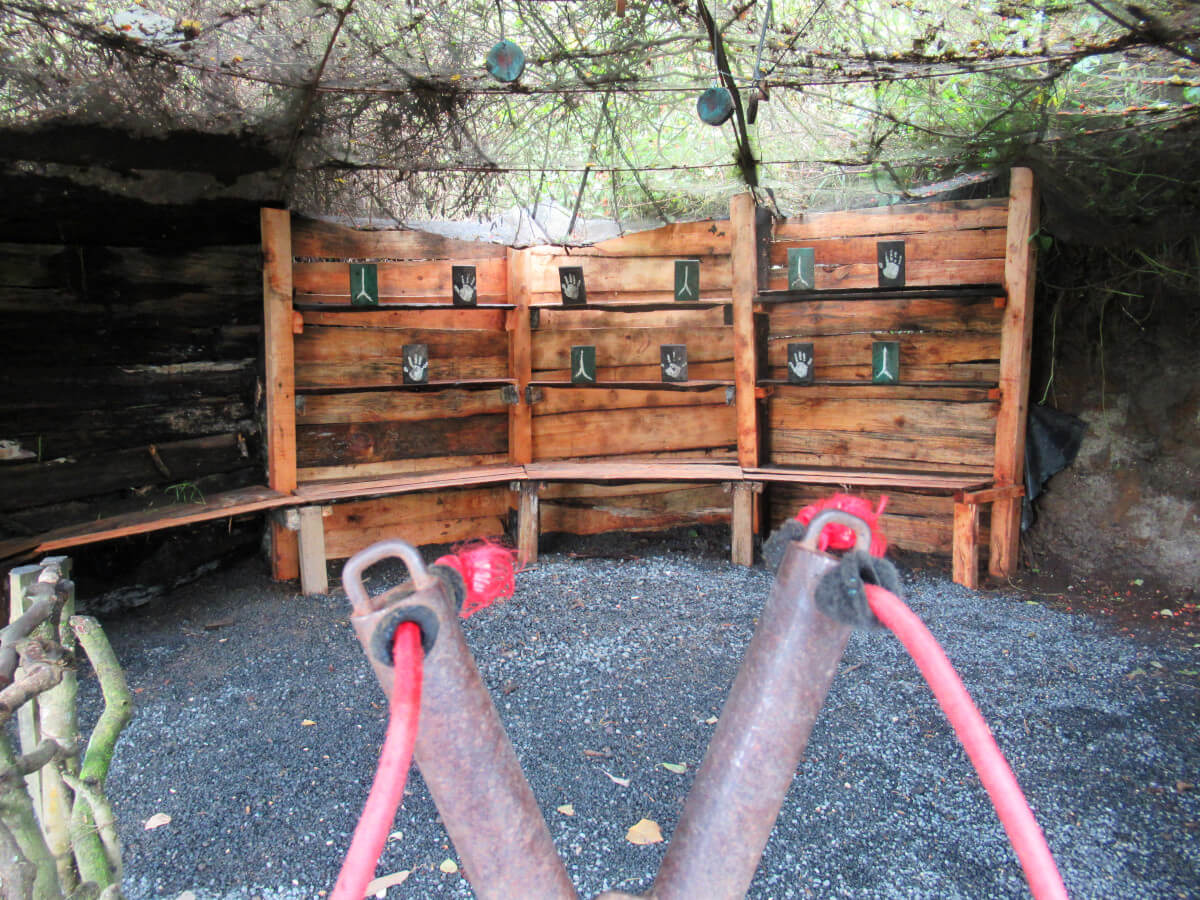 Mini-golf
Test your putting skills on the 6-hole mini-golf course. Simple, easy and fun for all the family!
Fair Games
A good selection of fair games such as giant Jenga, slingshots and bean bag throwing are located across the site. For these, simply go and have a go when they're free – there's no designated section or queue.
Artesanal Market
You'll find a few stalls selling crafts, gifts, jewellery, natural products and more around the park.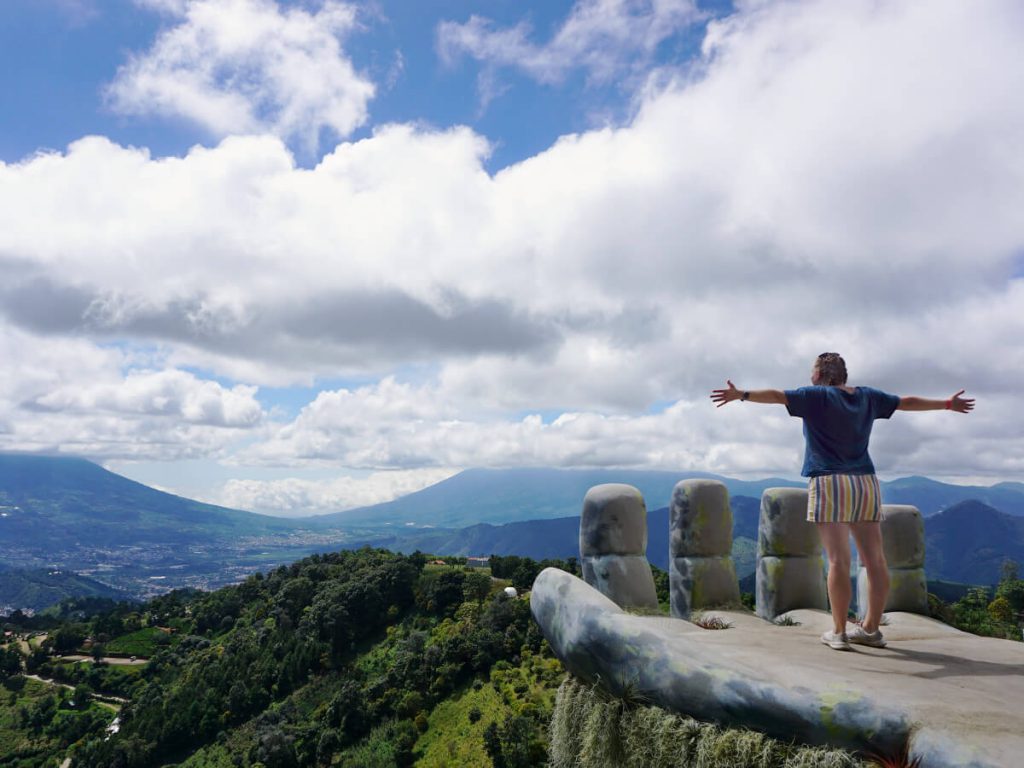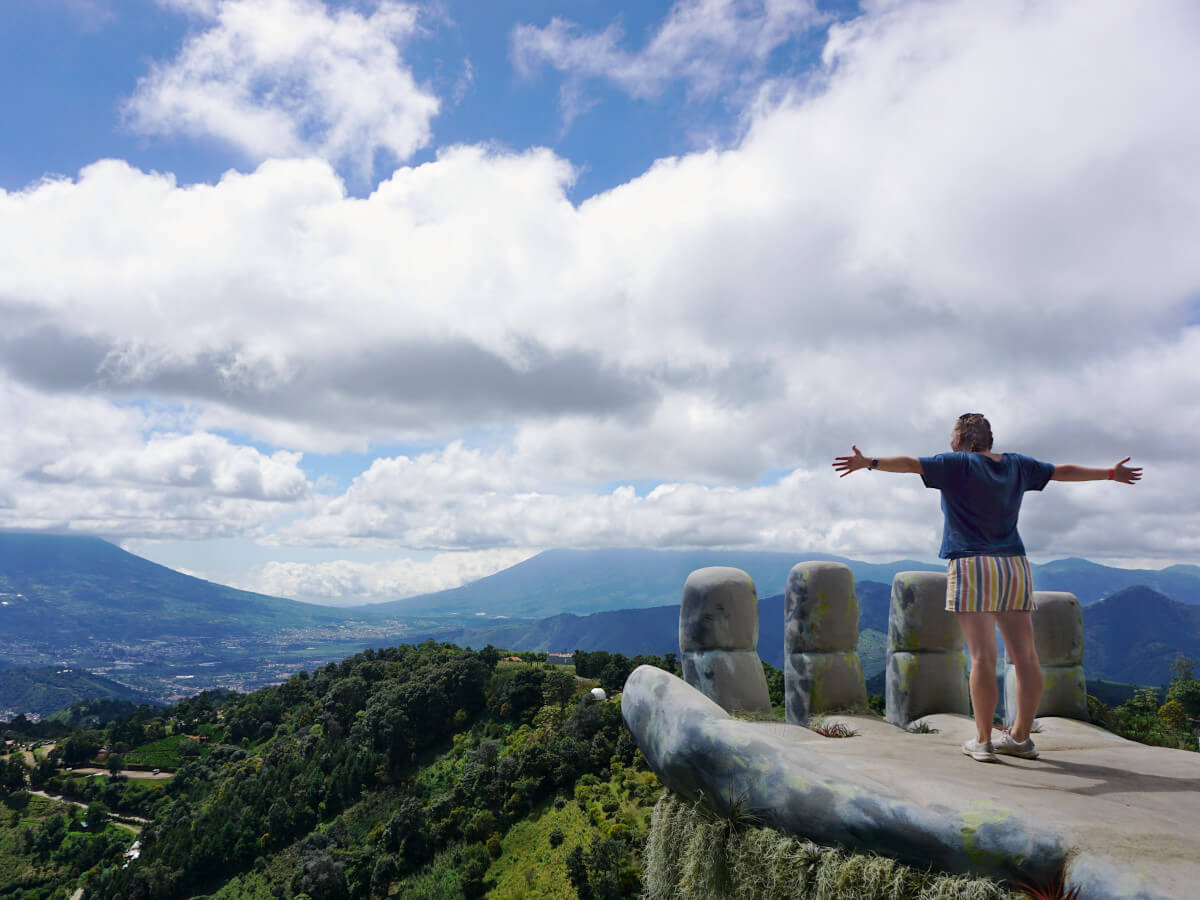 Viewpoints
With the volcano views on offer, it's not surprising that Hobbintenango is full of viewpoints and photo spots. You definitely don't want to forget your camera when coming here!
Hobbitenango Hand
Perhaps the most-photographed part of Hobbitenango Guatemala. The grey troll's hand hangs out over the green land below making for epic photos and cool views over the Panchoy Valley.
Expect a queue as this is a very popular place in the park. It's not uncommon to see wedding or quinceañera photo shoots taking place on the hand, which can take time.
For the best chance of getting clear views of the volcanos, make sure you're at the park early.
The Nest
The Nest – or El Nido in Spanish – is a seated lookout area that can also be booked for a private breakfast (9 to 11am), lunch (1 to 3pm) or dinner (4 to 6pm).
Bookings require a minimum of two people, up to a maximum of 12. The cost is 50 USD per person, of which, 25 USD is redeemable in food from the menu.
So whether it's a romantic dinner or group lunch you're after, you can book El Nido through the official Hobbitenango Antigua Guatemala website.
Other Instagram-Worthy Spots
Around the property, there are a handful of other photo-worthy spots. From angel wings to well-framed swings.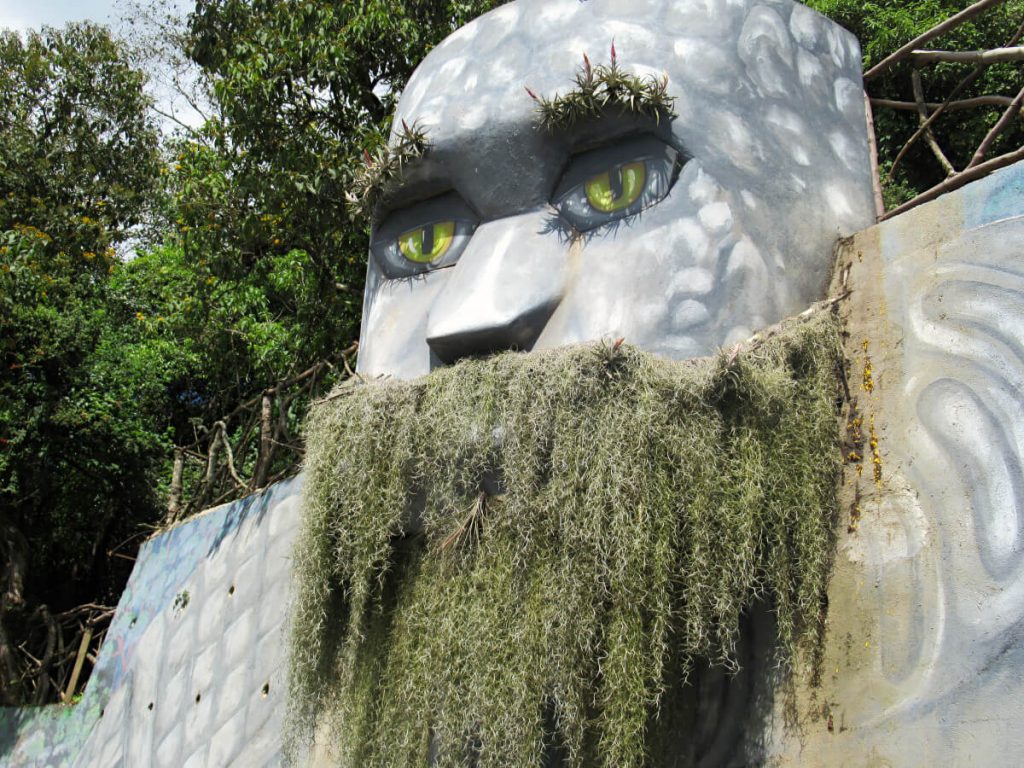 Restaurants and Bars
Within the park, you'll find a small selection of bars and restaurants. Breakfast is mostly Guatemalan cuisine, but for lunch and dinner, you can get pizza, pasta, burgers, steaks and a variety of main dishes. Both soft and alcoholic drinks (including beer, wine and cocktails) are served.
Prices are slightly higher than what you'll find in downtown Antigua, but not overpriced.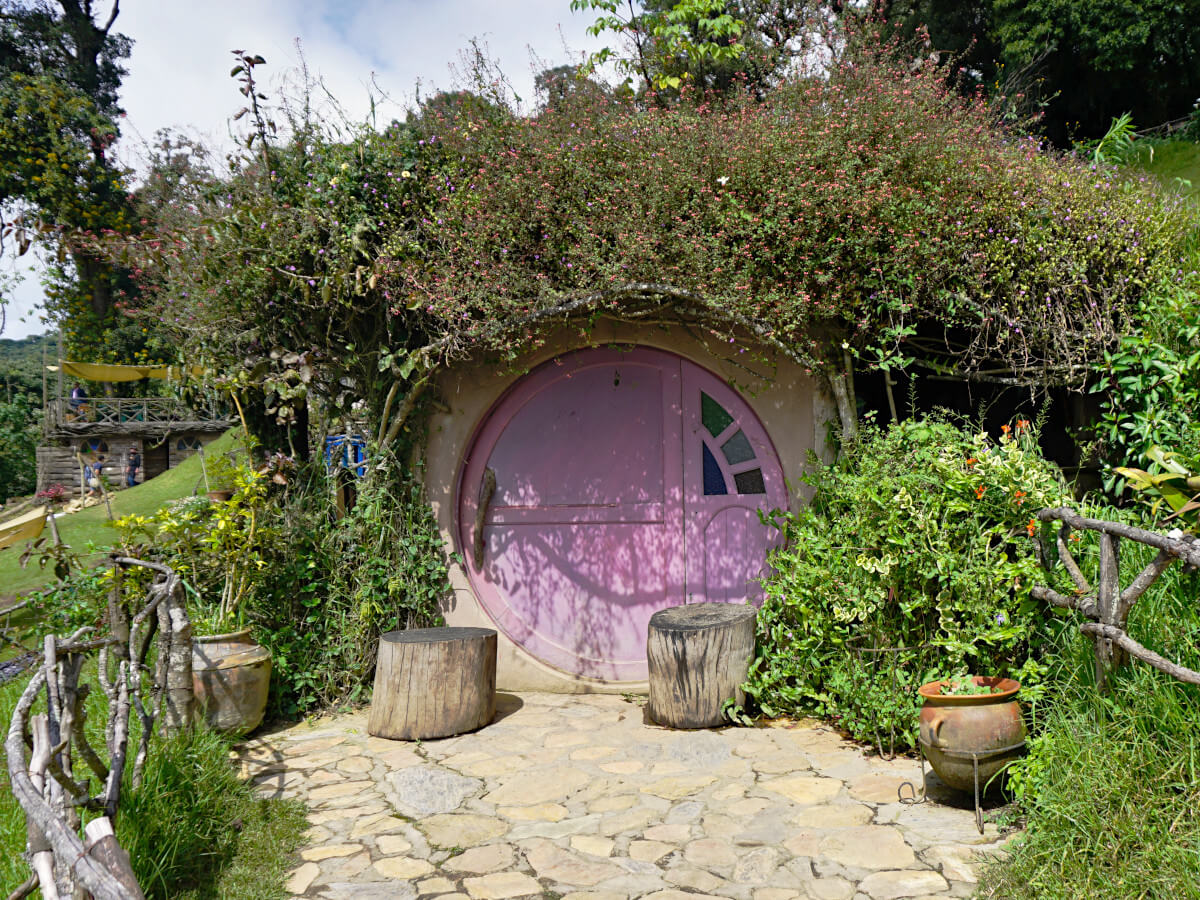 Staying at the Hobbitenango Hotel
The Hobbitenango Casitas (little houses in Spanish) form the park's hotel. There are 3 Hobbit houses available – one sleeps 2 people, one 4 people and one 6 people.
All casitas have their own private bathroom and each has a private outdoor space. Prices vary by room size and season but are typically around £84 (114 USD), £98 (133 USD) and £114 (155 USD) for the three rooms, respectively. For the best price, book directly on hobbitenangocasitas.com.
On a clear night, you'll be able to see the orange glow of lava erupting out of the Fuego volcano – not to be missed.
If the price is out of budget, check out the nearby Earth Lodge – just 1 mile from the entrance of Hobbitenango Guatemala. This eco-resort is cheaper but still has incredible volcano views, amazing properties like treehouses and forest huts, as well as a restaurant on-site. You can get an Uber from Earth Lodge to Antigua's Hobbit paradise for around 20Q.
For a closer look on those lava eruptions from Fuego volcano, you HAVE to do an Acatenango hike. Whether you opt for the one-night, one-day or two-day and one-night treks, this complete guide to Acatenango hikes has you covered.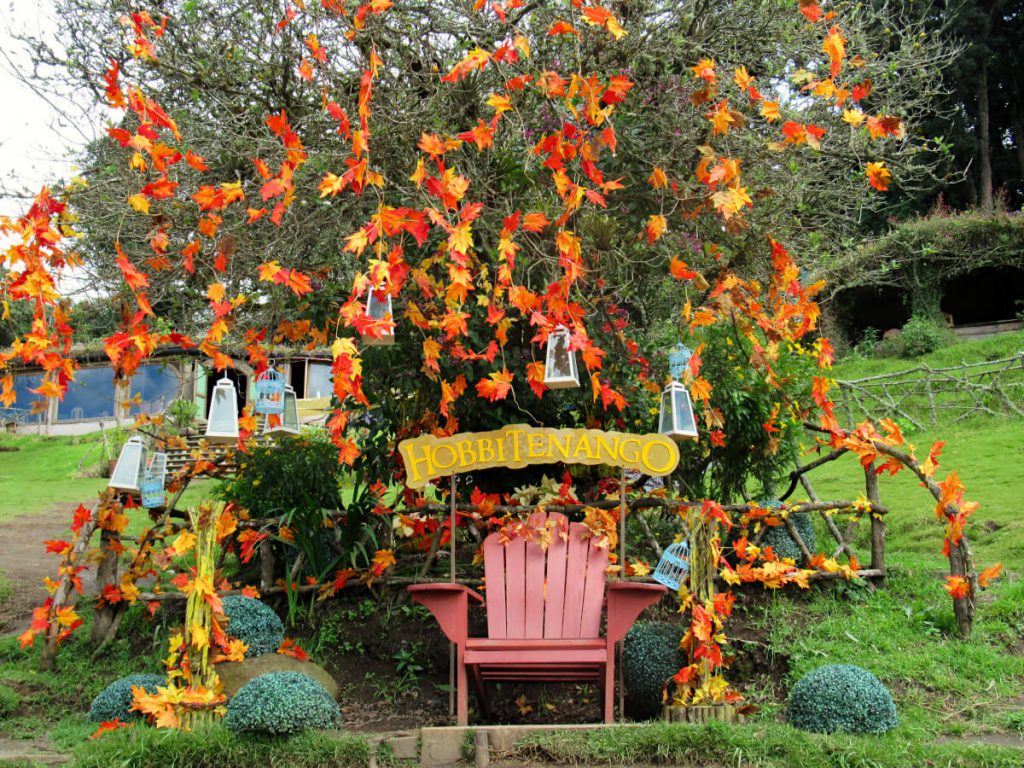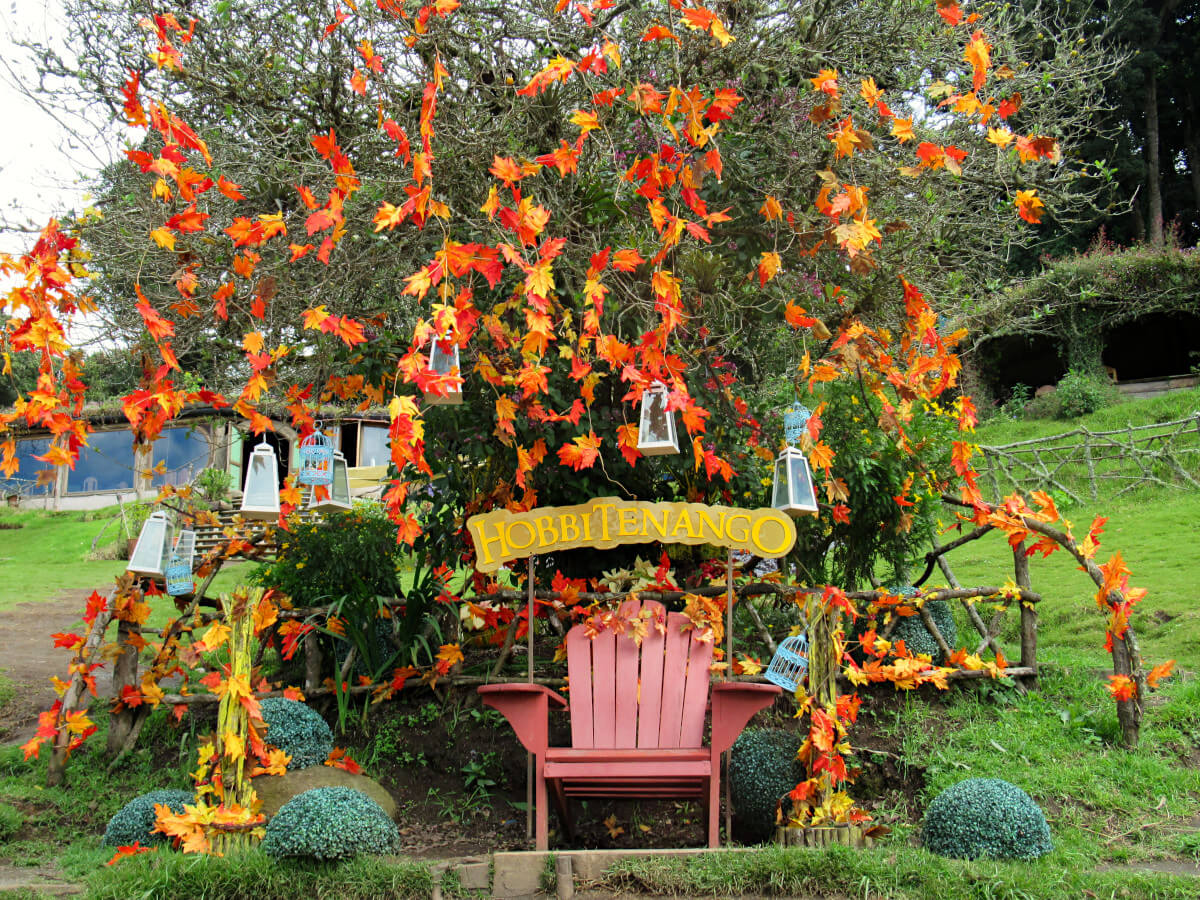 Do You Need to Like Lord of the Rings or The Hobbit to visit?
No – and take that from someone who doesn't but still loved Hobbitenango.
To be honest, if it wasn't for the Hobbit holes and doors, you'd never know this was supposed to be Hobbit Land. The theme is very subtle and there definitely could be more, but I think this way, it caters to everyone. I mean, maybe if you're a massive LOTR/Hobbit fan, you'd be disappointed, but I think you can still enjoy it for what it is.
Is Hobbitenango Worth Visiting?
Absolutely! There are so many things that make the short journey out of Antigua and the low entrance price worthwhile.
Firstly, the swing alone would cost you 50Q per go in other places. So, just having that included – let alone an unlimited amount of turns – makes the entrance fee worth it. Then you can enjoy all the other games to your heart's content (or until the park closes).
Secondly, the views are incredible. Even on overcast days, the clouds move quickly and you'll still likely get a view of the volcano peaks. Plus, the stunning panoramic views of the lush green fields and volcano slopes make a trip even more worthwhile.
And finally, it's just a fun, relaxing place to be. Away from the busy (and bumpy, cobbled) streets of Antigua, you get to feel like a kid again. Like how many times in your life do you get to go axe throwing followed by mini-golf followed by a tree swing – all under the shadow of active volcanos? I rest my case!
---
If you have any questions or want any more information, drop a comment below and I'll get back to you!
Information is correct as of January 2022 but is subject to change in future.
---
More Travel Guides
GUATEMALA: El Paredon: Ultimate Travel Guide
LAKE ATITLAN: Indian Nose Hike (Watch Sunrise Over Lake Atitlán): 2022 Guide
GUATEMALA: Acatenango Hike: Complete Guide to this Volcano Trek
GUATEMALA: Pacaya Volcano Hike, Guatemala (The Lava Flows are Gone!)
CHIAPAS, MEXICO: Visit El Arcotete Eco Park in San Cristobal, Chiapas [Complete Guide]
CHIAPAS, MEXICO: Incredible Waterfalls at Cascadas El Chiflón, Chiapas (Travel Guide)
HONDURAS: Pulhapanzak Waterfalls, Honduras: Complete Guide To Visiting
BELIZE: Caye Caulker Snorkeling: An Underwater Paradise (Need to Know)
---
PIN IT FOR LATER!