The Indian Nose hike Guatemala at sunrise is one of the best experiences around Lake Atitlán.
Requiring just a short walk although an early wake-up time, the whole trip takes just a few hours. Yet, in that time, you'll experience the best of nature and of Guatemala!
If this sounds like your cup of tea, this complete guide is going to be your best friend. Plan your trip with useful information on what to expect, how to book tours and what to bring with you.
Some of the links below are affiliate links, meaning, at no additional cost to you, I may earn a small commission if you click through and make a qualifying purchase.
Where is Indian Nose Guatemala?
This distinctively shaped peak is located on the western edge of Lake Atitlán.
The nearest town is Santa Clara La Laguna. Although San Pablo, San Juan and San Pedro are also close by.
Lake Atitlán itself is located in the south of Guatemala. It's around 3 hours from the coast, 4 hours from the capital of Guatemala City and about 12 hours from the famous Semuc Champey.
How do you do the Indian Nose Sunrise Hike?
Hiking Indian Nose Atitlán is a fairly easy yet spectacular activity suitable for people of varying ages and abilities. At its simplest, book a tour (more below on why I don't recommend going without a guide), get picked up early, hike to the viewpoint, watch sunrise and be back at your hotel before most people are out of bed.
Sunrise tours are the most popular and common from the towns on the western side of Lake Atitlán.
Generally speaking, you'll be picked up in a minibus at around 4 am. Then, you drive to Santa Clara La Laguna where you start the hike.
Next, you'll reach the viewpoint after around 30 minutes of walking. The route is not challenging, even in the pitch-black. By this time, there'll be a faint glow starting to emerge over the horizon.
Sit back, relax and get ready for a stunning sunrise! The photos below show a tiny snapshot of a Lake Atitlán sunrise, a complete sky show!
But, you'll spend over an hour at the viewpoint watching the sky change colour and the lake start to come to life. Plenty of time to take it all in and get photos!
If it's not cloudy, you'll see the orange glow of lava erupting from Fuego Volcano by night and smoke clouds once daylight comes. The volcanos of Agua, Acatenango, Fuego, Atitlán and San Pedro (left to right), make for a stunning horizon against the ever-changing sky.
Once the sky is blue, you'll make your way back to the minibus for the return journey to whichever town and hostel you're staying in. Though this time, you'll be able to enjoy the view out the window! Back in time for breakfast (and a nap)…
Booking your Indian Nose Hike Tour
It's easy to book your Indian Nose sunrise hike tour once at Lake Atitlán – particularly in San Juan and San Pedro. Simply head to one of the many agencies along the main roads in either town and book in person.
It's probably worthwhile asking for the price and details at a few agencies to make sure you're getting the best price. I enquired at 3 agencies and then booked with a small agency located opposite the health food store on the road toward Mandala's hostel.
Booking more than a day in advance isn't usually necessary.
But, if you're visiting around national holidays and peak times – such as Easter, Christmas and New Year – checking availability a few days in advance might be best. Especially, if you don't have much flexibility around dates.
Indian Nose Hike Cost
For Indian nose hike tours from the towns on the western side of the lake, the cheapest price you'll get is 80 or 85 Quetzales (Q).
Most tour agencies will charge between 80 and 100Q. This includes transport to and from the trailhead, entry, a guide and coffee or tea at the viewpoint.
These are shared tours that have roughly 6 to 14 people on them. However, each day a handful of tours go to Indian Nose Atitlán, so they'll be more people than that on the hillside.
But, as you're watching the sun creep above the horizon and the sky illuminate, you won't even notice!
Because of this, there's less value in taking a private Indian Nose sunrise hike tour. As ultimately, you will only end up watching the sunrise with strangers anyway as there are only a limited number of viewpoints.
That said, private tours are available for those that want them – like this sunrise trip on Get Your Guide.
Hiking Indian Nose from Panajachel
Climbing Indian Nose for sunrise from Panajachel isn't easy, but it is possible. The only real difference between Indian Nose hiking tours from Panajachel and the western towns is the initial transport.
Boats don't travel across the lake until first light. So to be there for sunrise, you'll need to take a 90-minute journey on narrow and winding roads to get to the trailhead.
Additionally, these tours certainly come at a price premium.
In fact, it's likely cheaper to travel to San Pedro la Laguna, stay overnight, do the Indian Nose hike Lake Atitlán, see the town and then go back to Panajachel. But, if you're short on time, it's an experience worth spending money on.
Another option is to go to Indian Nose Lake Atitlán during the day rather than at sunrise.
Selina Atitlán run tours that leave Panajachel at 6.30 am by boat. You have breakfast in San Pedro and then complete the hike, returning by boat later that day. The tour requires a minimum of 2 people and costs 75 USD per person (plus tax).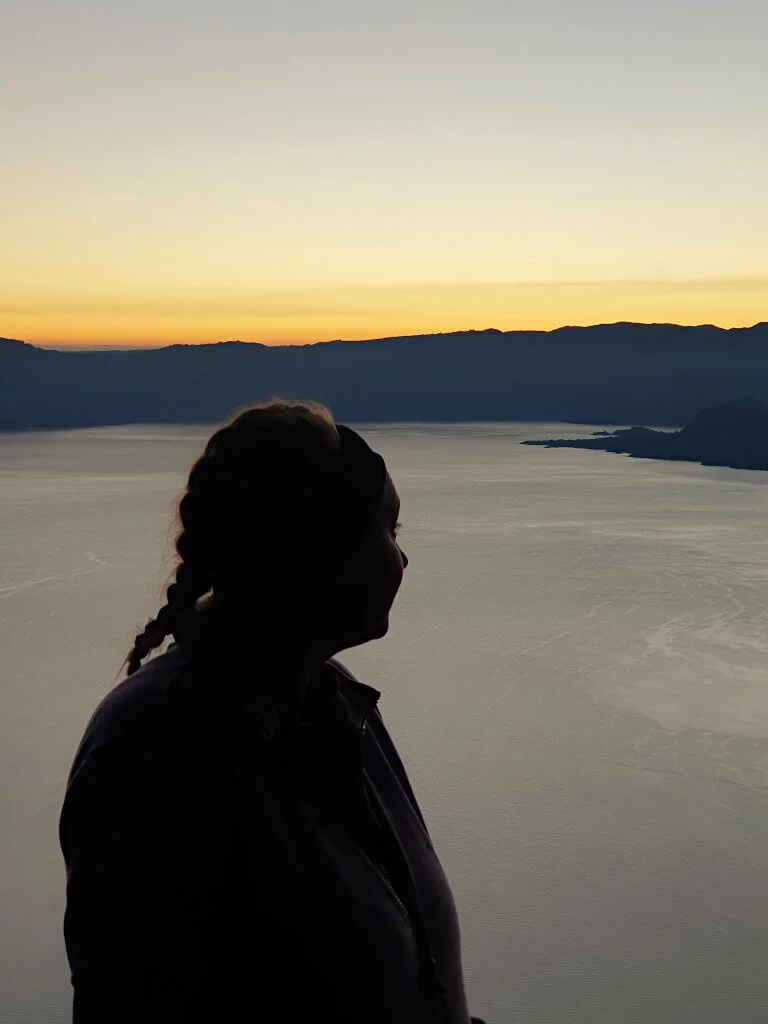 How long is the Indian Nose Hike Lake Atitlán for Sunrise?
In total, the walk is around 2 km each way from where you're dropped off in Santa Clara.
The walk from the trailhead takes around 30 to 45 minutes depending on which viewpoint your guide is taking you to. There are around 4 or 5 viewpoints with wooden shelters and seating located toward the top of the peak.
After walking to the viewpoint, you'll spend at least an hour if not 90 minutes here.
Then, it's a quick 30-minute walk back to your transport in Santa Clara. The drive from San Pedro to Santa Clara takes around 45 minutes each way.
So, expect the whole tour to last around 4 hours, and you should be back in San Pedro in time for breakfast!
DID YOU KNOW? With its position in the Tropic of Cancer and no daylight savings, sunrise in Guatemala is at roughly the same time all year round. In fact, the time of sunrise varies by less than 1 hour across the whole year!
How tall is Indian Nose Guatemala?
The peak of Indian Nose is at just over 2200 metres of elevation – or 7200 feet if you prefer imperial measurements.
Lake Atitlán Guatemala sits at an altitude of just over 1550 metres above sea level. However, if you're coming on a tour most of the elevation gain is achieved on the roads. The town of Santa Clara where the trail starts is around 2100 metres in elevation.
But, if you choose to start the hike on the trail from San Juan, you'll face a fairly steep ascent of 600 metres elevation gain to the summit of Indian Nose Lake Atitlán.
How hard is the Indian Nose Hike Guatemala?
Overall, the hike to Indian Nose Lake Atitlán isn't that difficult.
To start, there's hardly any elevation gain from Santa Clara. Although, the path does go up and down a fair bit.
Plus, as you're walking at night, it's fairly cool. So you don't need to worry about it being too hot.
Additionally, the route is easy to follow and well-trodden. Plus, in the couple of sections that are a bit more challenging, ropes and wooden handrails have been installed with tyres used to reinforce the path.
What's more, altitude sickness isn't likely below 2500 metres, which Indian Nose Atitlán is.
Although, you may start to feel the effects of altitude when walking uphill at this elevation. But, it shouldn't be anything more than getting out of breath quicker than normal.
If you've climbed Acatenango Volcano already whilst in Guatemala, you have absolutely nothing to worry about! This hike is a walk in the park, in comparison!
I'd also say it's quite a lot easier than the climb up Pacaya Volcano, especially the last viewpoint where you watch sunset. With the short hike duration, hiking Indian Nose is easier than climbing any of the volcanoes in Guatemala but you get just as good views!
Hiking Indian Nose Without a Guide
Is it possible to hike Indian Nose without a guide? Yes.
Would I recommend this? No. Here's why…
Firstly, sunrise is the best time to experience Indian Nose Lake Atitlán.
And, without a tour, you're gonna struggle to get to the trailhead for 5 am. But, even if you did manage to get a taxi there (booked in advance), you're walking in the dark with little idea of where to go.
Secondly, as a tourist without a guide, you're gonna get overcharged for entry onto the land.
All the land around Indian Nose Atitlán is private and to let you cross their land, owners typically charge a fee. With a tour, these charges are included (and likely reduced), but by yourself, you'll get quoted whatever they think you'll pay.
Importantly though, these landowners asking for money are not trying to rob you. As is the way in a lot of Central America, if you want to even walk across private land, you're gonna have to pay.
Everyone is just out to make a living in a place where locals and tourists live very different lives. Additionally, if you were hoping that walking in the dead of night might mean you miss out on paying, think again. Remember that it is often the guides who alert the landowners when they see unaccompanied tourists on the mountain.
Finally, while the landowners are not bandits, the risk of encountering robbers around Lake Atitlán is higher than in most places. Considerably so if you're without a guide. For the sake of 10 dollars, consider whether it's easier, cheaper and more convenient to join a tour.
Top Tips for Hiking Indian Nose without a guide
However… If you've read the above and still want to hike Indian Nose Guatemala without a guide, these are my top tips for a safe and enjoyable trip…
Only bring a small amount of cash. Enough to pay for transport and entrance fees, so you can't be robbed of your spending money for the next week…
Some of the entry fees and points are listed on Maps.Me, but there could be others depending on what route you take. Expect that the landowners will approach you for payment, and if they're asking for a relatively small amount of Quetzales, they probably aren't trying to rob you. Even if they have machetes.
Don't hike alone! This is certainly a great example of when more is merrier. Try to organise a small group for safety in numbers.
Leave unessential valuables at your hotel or hostel. And, those you do bring should be kept somewhere secure and out of sight.
Plan your route in advance including what transport you'll use to get to and from the start of the trail. You should save offline maps but avoid walking with your phone out constantly.
What to Bring and What to Wear
Temperatures in Lake Atitlan are stable most of the year round.
Highs are generally in the mid-twenties Celsius or high 70s Fahrenheit. With nighttime temperatures typically around 15 Celsius or 55 to 58 Fahrenheit.
As such, you don't need multiple outfits and the weather is rarely cold on Indian Nose Lake Atitlán.
Instead, you'll want to go with an outfit of layers. Layer up when you're sitting at the viewpoint or starting the walk, then lose layers as you walk and the sun comes up.
I'd recommend wearing the following for sunrise hikes:
Leggings, light trousers or thicker knee-length shorts
T-shirt and fleece or another light jumper
Comfortable footwear like trainers or walking sandals. No need for hiking boots on this route but I'd avoid flip-flops or backless sandals
Hat or headband if you're prone to getting cold easily
And, while you don't want to be carrying too much stuff, don't forget the following essentials:
Phone and battery pack
Camera and a small tripod for getting long exposure or low-light shots
Water and a couple of small snacks
Sunglasses for the walk back
---
Do you have any questions or want any more information? If so, drop a comment below and I'll get back to you!
Information and prices are correct as of February 2023 but are subject to change in future.
---
MORE GUATEMALA TRAVEL GUIDES…
EL PAREDON: El Paredon Guatemala: Ultimate Travel Guide
ANTIGUA: Hobbitenango: Worth Every Penny! [Complete Guide]
ANTIGUA: Acatenango Hike: Complete Guide to this Volcano Trek
---
PIN IT FOR LATER!