Despite the growing popularity and ease of access of Central America, few people make the journey to Honduras. Yet, the central mainland is a playground of adventure activities and stunning scenery waiting to be experienced. And, Pulhapanzak Honduras has the best of it all. Epic waterfalls, adrenaline-inducing zip lines and thrilling guided tours of the caves and area behind the waterfall.
So, if you're ready to plan your trip to the Pulhapanzak Waterfalls, then you'll want to read this complete guide…
Where Are The Pulhapanzak Waterfalls?
Just a few hours from both San Pedro Sula and Tegucigalpa, you'll find Cataratas de Pulhapanzak. The waterfalls are located just a few miles from the shores of Lake Yojoa. Which, is one of Honduras' most popular tourist destinations.
Popularity that is relative, of course. Many backpackers still opt to skip Honduras due to its reputation as dangerous with high murder rates. And, you'll be hard-pressed to find any international holidaymakers outside of the Caribbean Bay Islands of Utila and Roatan.
But, if you make the journey through Honduras' mainland, you'll be rewarded with lush green mountains and hills, adventure activities, low prices and friendly people. Tourism is bouncing back slower here than other Central American countries despite the country having simple entry requirements and few restrictions on daily life.
If you visit Honduras in 2022, you'll be sure to find an off-the-beaten-path charm to the small towns and villages. As well as uncrowded natural beauty spots, great value for money activities and a more authentic experience with the country.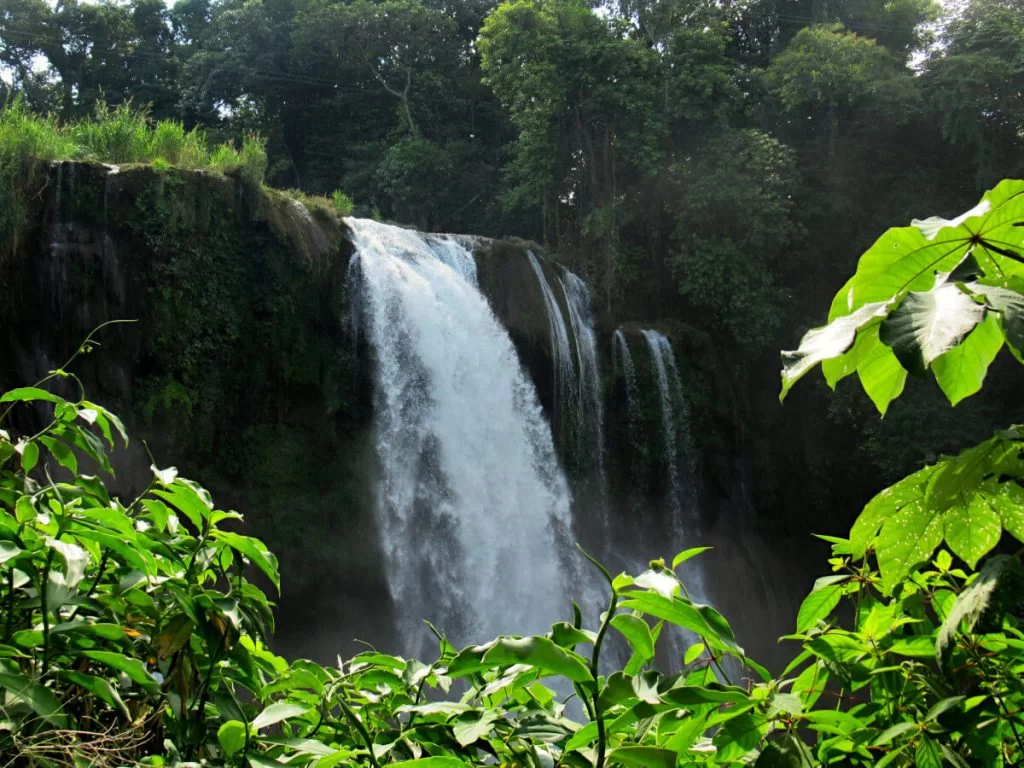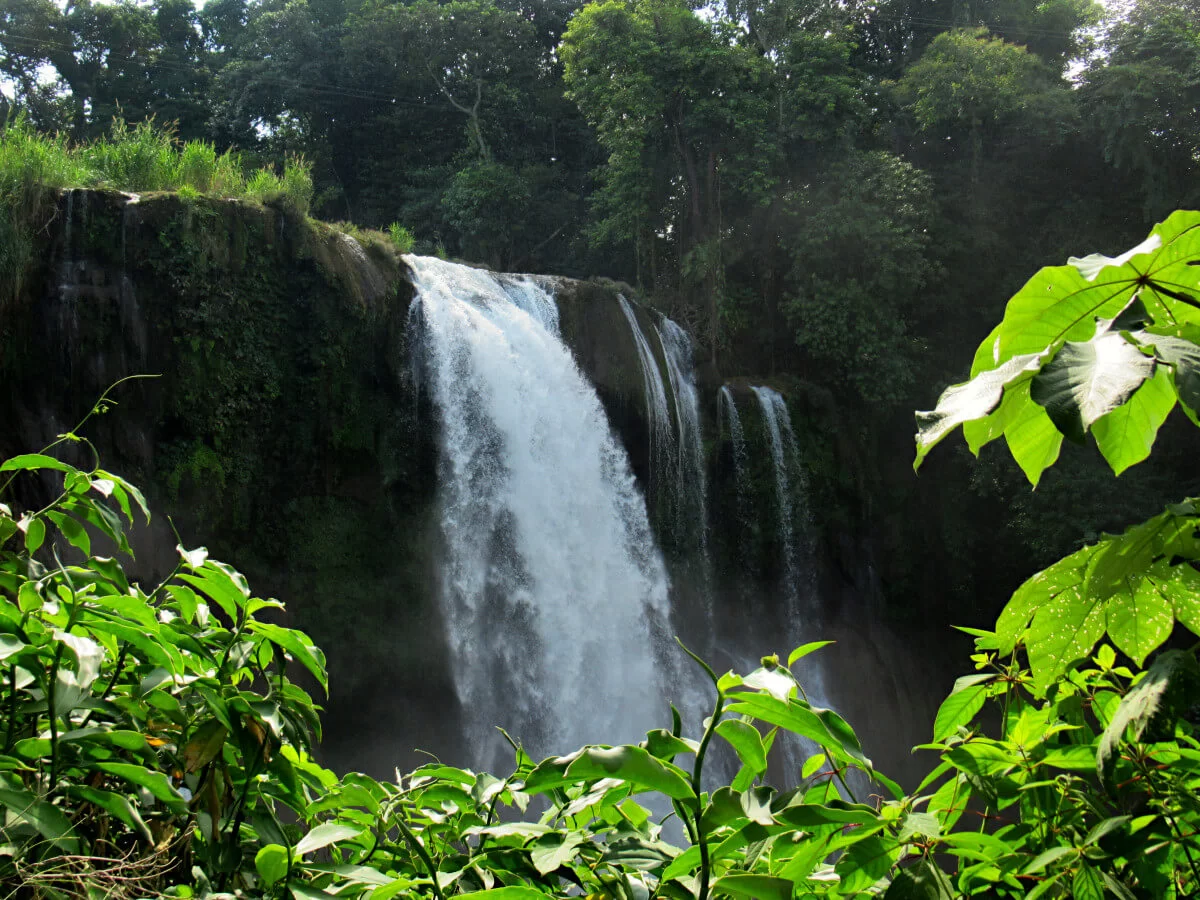 All About Cataratas de Pulhapanzak Honduras
While many waterfalls in Central America are called Cascadas, Cataratas is an alternative translation for the word waterfalls (although it can also mean cataracts!).
At a height of almost 45 metres, Pulhapanzak waterfalls are certainly impressive. Though, unlike many waterfalls in Central America, you cannot view them from the very bottom. Instead, you'll have to follow the steps down to a viewing platform opposite the falls and overlooking the river. This pathway can be hard to find, so look out for the 'Hacia el Mirador sign' past the Pulha letters and past the benches. Wear sturdy shoes as the spray makes the ground here very slippery and very muddy.
Rather, the best viewing areas of Pulhapanzak Honduras are from the walkway along the side. Here, there are two good areas without bushes and grass blocking your view of the waterfalls.
But, without a doubt, the best views of the waterfalls are from the zip lines above or the walkway behind…
Activities & Amenities
While most people visit solely to see the Pulhapanzak waterfalls, the site is also a playground for adventurous souls.
A series of 7 zip lines run back and forth across the waterfalls and river and into the trees. It's one of the activities that make Pulhapanzak Honduras unique versus other waterfalls in Central America.
While another adrenaline-inducing activity is to take a guided tour into the caves behind the waterfall. Expect to get very wet as you walk beneath the powerful falling water. If you're planning on adding this experience to your day, be sure to bring appropriate footwear, swimwear and a change of clothes.
And although you cannot access the pool at the bottom of the waterfalls, swimming is possible in the area above the waterfall. Fear not, lifeguards are on duty and the area around the drop over the waterfall is clearly marked and cordoned off. So, if you're looking to escape the blistering Honduran jungle heat, this is the way to do it.
For kids and kids at heart, there's also a small play area with a small ropes course. And, there are also picnic benches and palapas around the park. Perfect for snacks, picnics, all-day gatherings and more. Plus, there's also a small shop on-site selling souvenirs, light snacks and clothing as well as a restaurant.
While the site isn't large and there aren't too many activities, you can also stay at the on-site cabanas. The prices aren't cheap though. Both the 4-bed and 6-bed cabanas cost 118 USD per night. But, a cheaper alternative is available. It is possible to camp at the Pulhapanzak Waterfalls site if you have your own equipment. The cost of camping is 120 Lempira per adult or child, with no charge for children under 4.
Entrance Fees
Park entrance: 80 Lempira (70 for children)
Guided cave and back of waterfall tour: 300 Lempira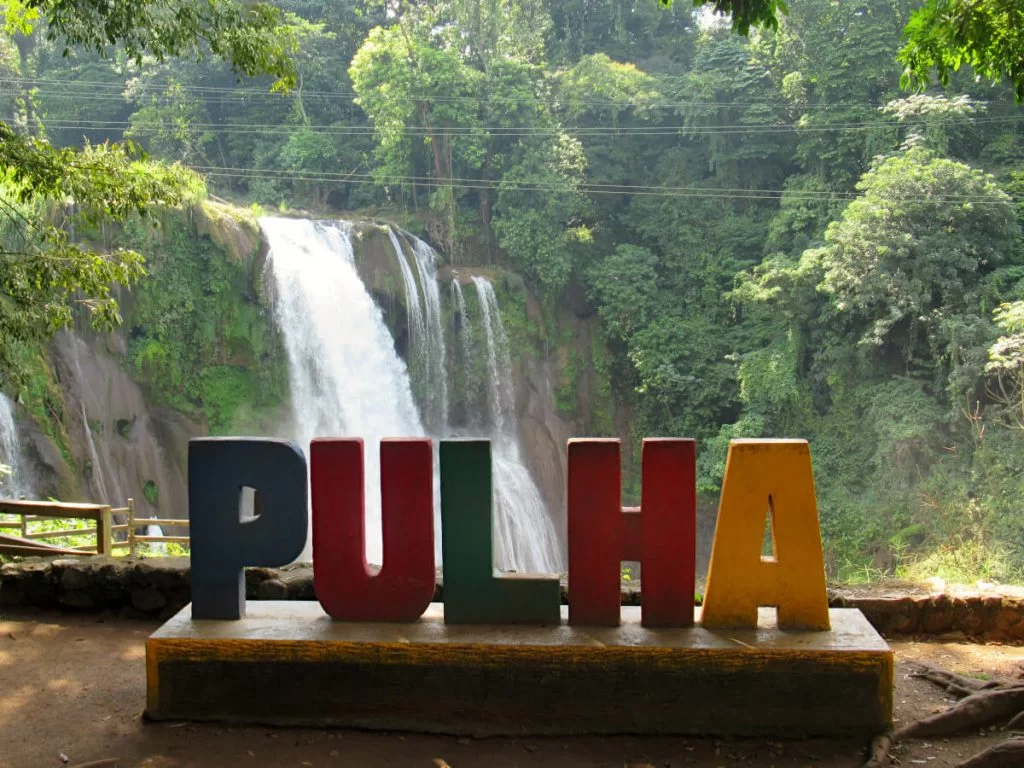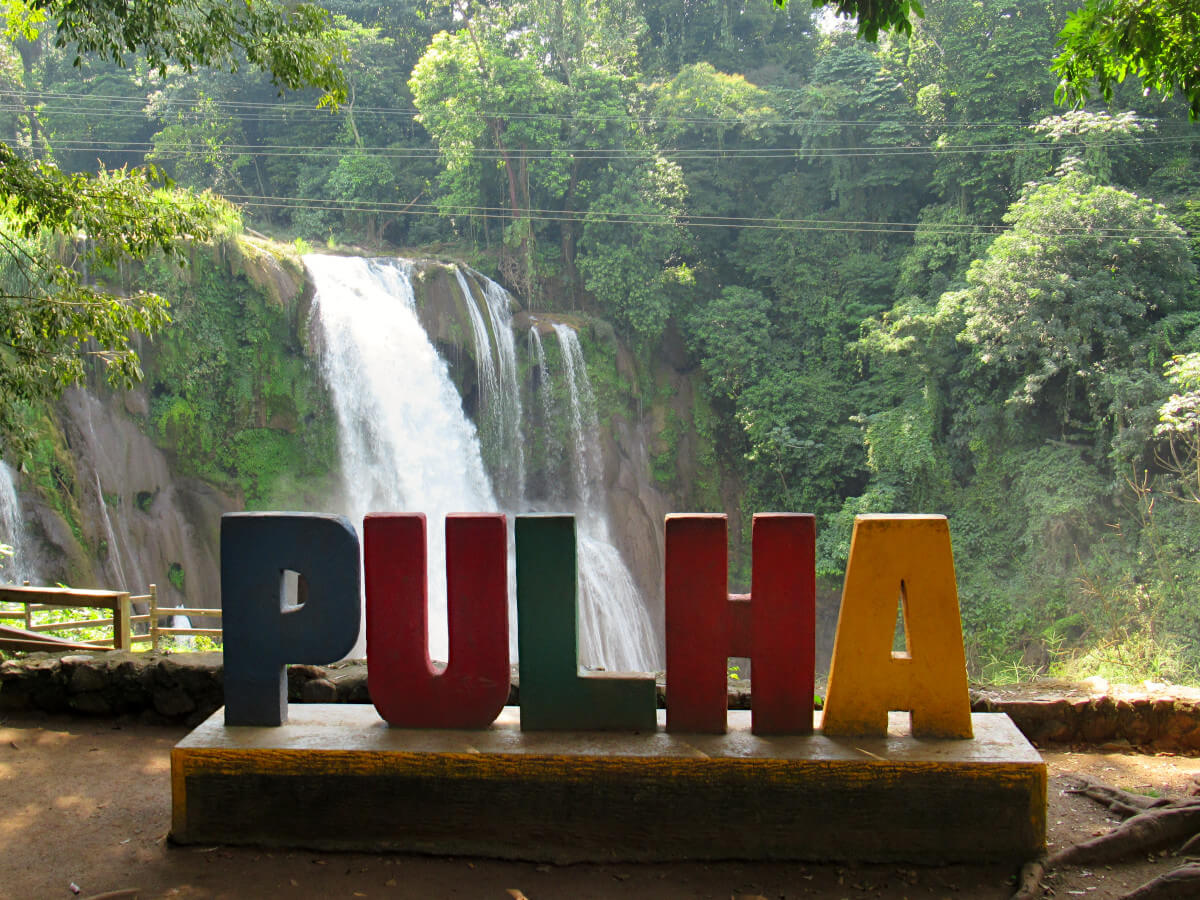 How to Get To Pulhapanzak Honduras?
If you're staying in Los Naranjos or Penas Blancas near Lake Yojoa, you need to take the chicken bus towards San Pedro Sula for the waterfalls. When you get on, simply ask for 'Las Cascadas' if – like me – pronouncing Pulhapanzak is too tricky for you.
The buses operate with a somewhat regular schedule of at least every half hour or so. But, since they're chicken buses there is not really any way of knowing what this schedule is!
There isn't a set fare for the bus. But, given that the cost of going the whole way between San Pedro Sula and Lake Yojoa is just 50 Lempira, you should not pay more than 25 Lempira. You may need to haggle and definitely ask the price before handing over money – as your change may not come.
The bus will drop you off at the main junction of San Buenaventura town (by Pollo Rico's). From here, follow signs for Pulhapanzak waterfalls uphill slightly and out of town. The walk is around 1 km and takes about 15 minutes.
For your return journey, simply head back to the main road and wait on the opposite side to where you were dropped off. Unlike in Los Naranjos, more than one bus passes this way, so make sure it's the one to Las Vegas.
Other Things to Do Near Lake Yojoa
Stay at

D&D Brewery

on the edge of the jungle and try their many different beers brewed onsite.
Go kayaking or stand-up paddleboarding on Lake Yojoa. Though, the waves and current are stronger than you might expect!
Follow hiking trails through the jungle at Bioparque Paradise.
---
If you have any questions or want any more information, drop a comment below and I'll get back to you!
Information is correct as of February 2022 but is subject to change in future.
---
More Central America Travel Inspiration…
GUATEMALA: Acatenango Hike: Complete Guide to this Volcano Trek
BELIZE: Snorkeling in an Underwater Paradise (All You Need to Know)
BELIZE: Koko King Caye Caulker (Beach Club Guide + Review)
EL SALVADOR: Salto de Malacatiupan (Hot Spring Waterfalls & River)
GUATEMALA: Hobbitenango (Antigua): Worth Every Penny! [Complete Guide]
GUATEMALA: El Paredon: Ultimate Travel Guide
NICARAGUA: San Ramón Waterfall, Ometepe: 2022 Guide (100% Worth The Hike)
---
PIN IT FOR LATER!