El Paredon Guatemala is a sleepy Pacific coast town with striking black sand beaches and impeccable surf. It's the perfect place to relax and escape the busier towns and cities of southern Guatemala.
The town's full name is El Paredon Buena Vista. And, it's a place that has changed a lot in the last couple of years.
Once a place with little mobile signal, a handful of guesthouses and few facilities. Today, the town is growing as a stop on the backpacker trail with a range of low- to high-end accommodation options, internet access and more infrastructure.
So, it's only right that there's a complete and up-to-date travel guide for 2023 to help you plan your visit.
This ultimate guide covers everything from getting there, shops, restaurants and the WiFi situation. Plus, how to find the new and only ATM in the town…
Some of the links below are affiliate links, meaning, at no additional cost to you, I may earn a small commission if you click through and make a qualifying purchase.
Where is El Paredon?
On Guatemala's southern Pacific coast is the small town of El Paredon Buena Vista, in the municipality of Escuintla.
The nearest major cities are Guatemala City and Antigua. While the nearest towns are Sipacate and Puerto San Jose. See it on Google Maps here.
All About El Paredon
As you drive towards the ocean from Antigua or Guatemala, the volcanos and hills will soon turn to the flat lands of the Pacific coast. Then, at the end of the road, you'll find the black sand beach of Playa El Paredon.
The name translates from Spanish as the big wall, good view. Because, slightly along the coast from where the town is today, the black sand is near-vertical acting as a barrier between the river and the Pacific Ocean.
And of course, the ocean views are wonderful.
Not so long ago this small beach town was little more than dirt roads, a handful of hostels and an area with no phone service.
Today, El Paredon Guatemala is still as rustic as beach towns come. Though there's now a tarmacked road, phone masts and a choice of accommodation.
This small fishing village is growing in popularity with backpackers. Travellers come to El Paredon for 3 reasons: to surf, to relax and/or to party on the weekends.
With its year-round fierce Pacific waves and hot Central American temperatures, it's always a good time to visit this small town.
Guatemala's rainy season runs from May to October. Though, this is typically short, sharp downpours than rainy days. In fact, some of the most intense lightning storms I've ever experienced were here!
The temperatures are consistently high all year-round on Guatemala's Pacific coast. Expect daily highs of between 32 to 34 Celsius (90 to 93 F), with lows in the mid-twenties at night (around 77 F).
The sizzling heat of this sea-level town means that it's almost a ghost town during the day, as everyone looks to keep cool. Then, come sunset, the town comes alive as people gather on the beach to watch the sky's illumination show.
Is El Paredon Guatemala safe?
Nowhere is 100% safe, all of the time. But, El Paredon must be one of the safest places in Central America.
As a small, sleepy town, crime is really minimal. You're probably more likely to have your food taken from a hostel kitchen or your drink swiped at a weekend party.
Of course, where there are tourists – rich by local standards – petty crime does seem to follow. Although often this is committed by opportunistic fellow international visitors.
The biggest danger in the town is the strong current of the Pacific Ocean. Even the most confident and able swimmers will find themselves struggling in the pull of the waves.
How to get to El Paredon Guatemala
The quickest, cheapest and most budget-friendly way to get to El Paredon Buena Vista is on a shared shuttle or by taking a taxi (if there's a group of you).
It is possible to make the journey from Antigua, Lake Atitlan or Guatemala City by chicken bus. But this requires changing buses and takes almost double the time – as well as being the same cost.
Shared Shuttles
From Antigua, Guatemala City and Lake Atitlan you can take direct shared shuttles to El Paredon. These are the quickest and most economical options.
There is a once-daily service from Guatemala City at 7am, going via Antigua (9 am departure). A second service runs from Antigua to El Paredon at 2 pm each day.
Shuttles arrive approximately 2 hours after departing Antigua. Book directly through NEWay Tours, the shuttle operator or through your hostel in Antigua.
Services from Lake Atitlan also run directly to the coast subject to demand. These generally leave from San Pedro la Laguna on the south of the lake in the afternoon.
Shuttles from Lake Atitlan should be booked through a hostel (even if you aren't staying there). They'll also be able to give you the current prices and departure times.
RELATED POST: Looking for a bucket list experience in Guatemala?

Then it doesn't get much cooler than climbing the 4000-metre Acatenango Volcano to watch fierce lava eruptions from Volcano Fuego up close. Check out the different Acatenango hike options in this complete guide.

Or for a shorter day hike, consider the Pacaya Volcano hike where you can roast marshmallows on volcanic rock!
Taxi or Uber
From Antigua or Guatemala City, you can also take a taxi or Uber to El Paredon.
But, these don't operate on the coast. So there won't be one available to take you back on the return journey.
Ubers are a lot cheaper in Guatemala compared with taxi prices. From Antigua to El Paredon, expect to pay around 480Q and from Guatemala City around 620Q.
These costs can be split by up to 4 people. Taxi prices can be around double this.
Things to do in El Paredon Guatemala
Despite being a small and sleepy town, there are still a handful of activities to do in El Paredon.
There are free activities and paid-for activities to suit everyone and every budget. From turtle watching and mangrove tours in the Sipacate-Naranjo National Park to local cooking classes.
Watch Sunset on Playa El Paredon
The black sand beach is not good for sunbathing. You won't find any beach clubs or any sun loungers and parasols.
Plus, there are a lot of sandflies. Cover up or use repellent!
Instead, the beach comes alive just before sunset as visitors flock to the sandy shores to enjoy the last light. Bring a towel, a beer and a camera for maximum enjoyment.
Surf the Pacific waves
El Paredon is the surf destination of Guatemala and most people are out in the water around sunrise.
For first-time or beginner surfers, you'll be able to find surf lessons through the different surf hostels and surf camps in the town. Expect to pay in the region of 180 to 200Q per hour.
However, the currents and waves are not the types that you should attempt to go out without a tutor. Bodyboard and surfboard hire are available by the day or week through the different surfing resorts along the coast.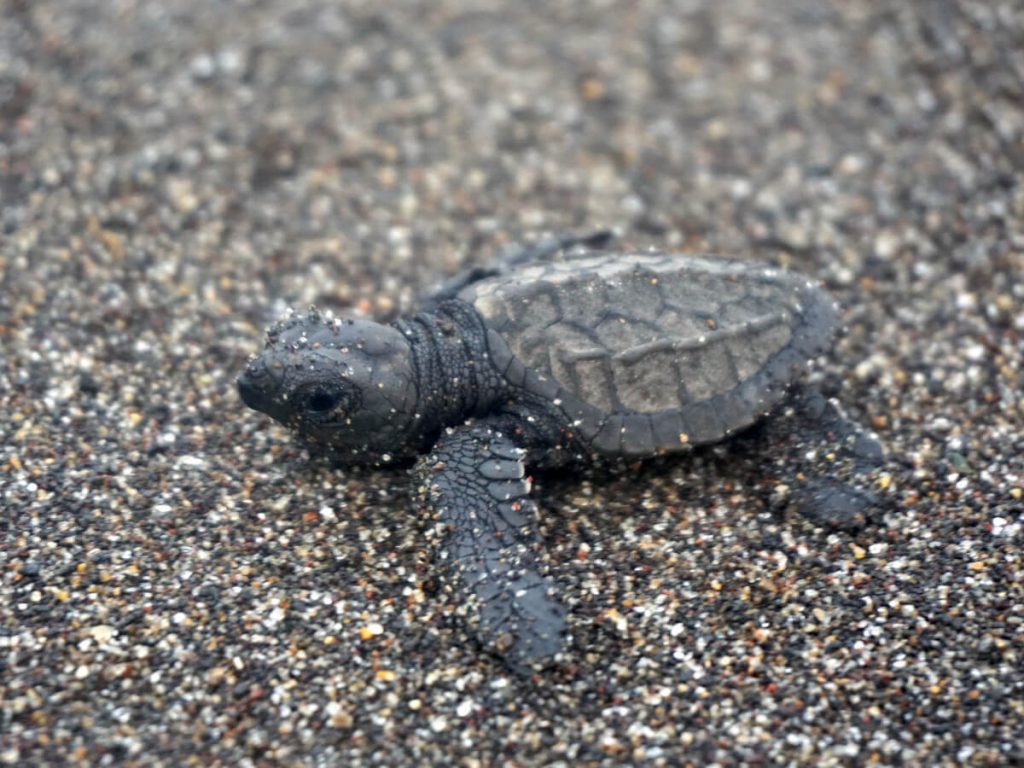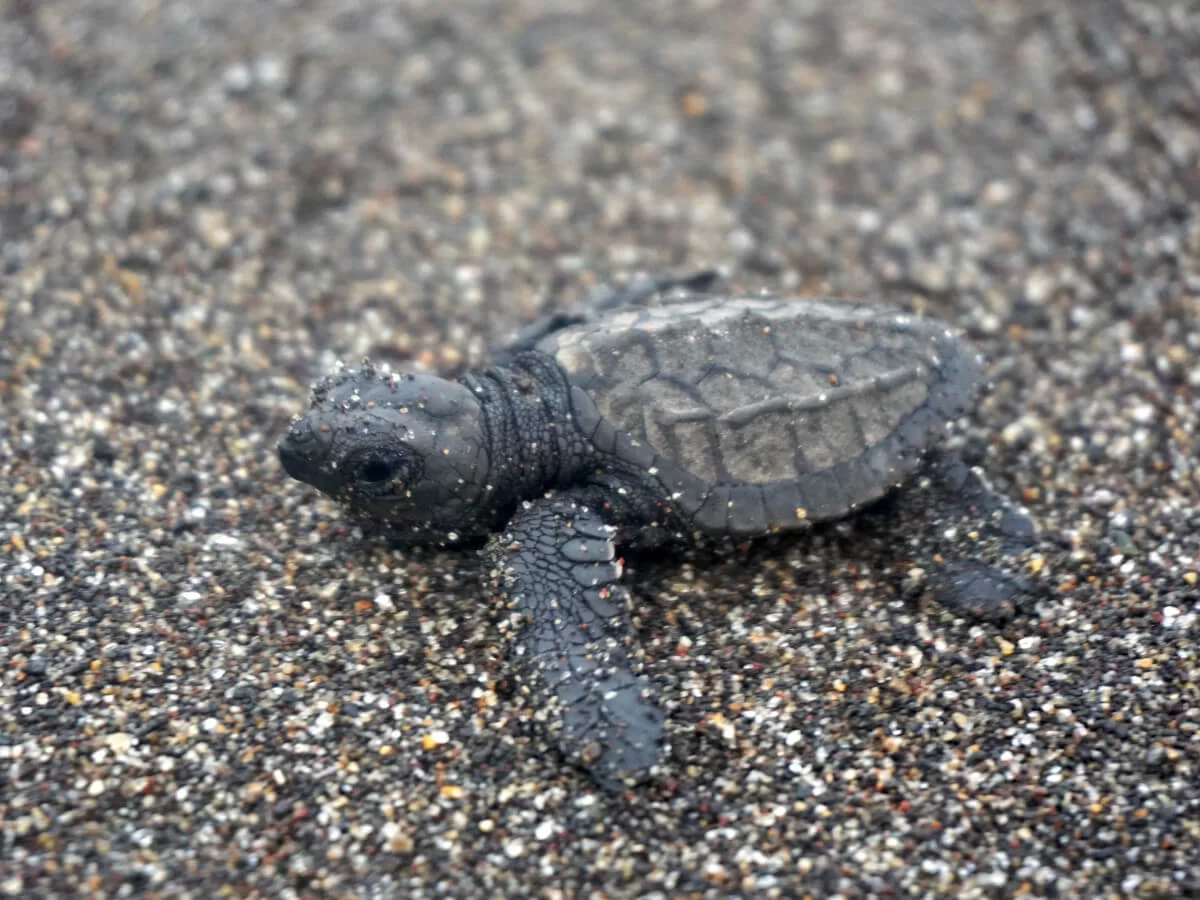 Turtle Release
From September to December, every morning at 5.45 am baby turtles are released into the wild from the Driftwood Conservation Project on Playa El Paredon.
Meet on the beach outside Driftwood Surfer Hostel at 5.30 am. Then, the staff will walk the group along the beach to watch the turtles reach the sea for the first time.
The number of turtles released depends on the number that hatch. And that depends on the weather. Fewer turtles hatch when it's rainy.
Unlike the turtle release on Playa Bacocho in Puerto Escondido, you don't get an individual turtle here. Rather, you just watch the whole release make its way into the waves.
This activity is busiest on the weekends as that is when most people visit El Paredon.
I visited on a Sunday and personally found it too busy for my liking. It seemed like weekend visitors were more fussed about taking photos and getting as close as possible to the turtles than caring about them getting to the ocean.
Many people were walking in front of the turtles and leaving footprints in the sand that the turtles then had to walk through. Which is hard when they're only a couple of inches long!
I also had to stop someone about to stand on a turtle as they weren't watching where they were walking despite being at a turtle release! So, remember to stay alert.
Enjoy a unique experience with Chula Tours
Chula Tours is an arm of the La Choza Chula non-profit that is working in the community to improve education in and the environment around El Paredon Guatemala.
Tours include a boat trip to turtle feeding grounds and a salt farm, as well as fishing tours, cooking lessons and bracelet making.
There's a minimum of 2 people needed for all tours and prices vary by activity. See their website for more information.
Additionally, the company has a small shop and office on the main road. Here, you can book tours or buy some of their sustainable products and gifts.
Can you swim in El Paredon?
This will really depend on the conditions in the ocean when you're there. But, the current is normally very strong with constant waves. It's what makes it great for surfing.
Playa El Paredon Guatemala doesn't have any lifeguards and even the locals don't go swimming here. Generally, you'll only see surfers in the water.
Surf beginners should make sure they take lessons with a teacher to ensure their safety. There are plenty of surf camps in the town and many places offer board rental and tuition.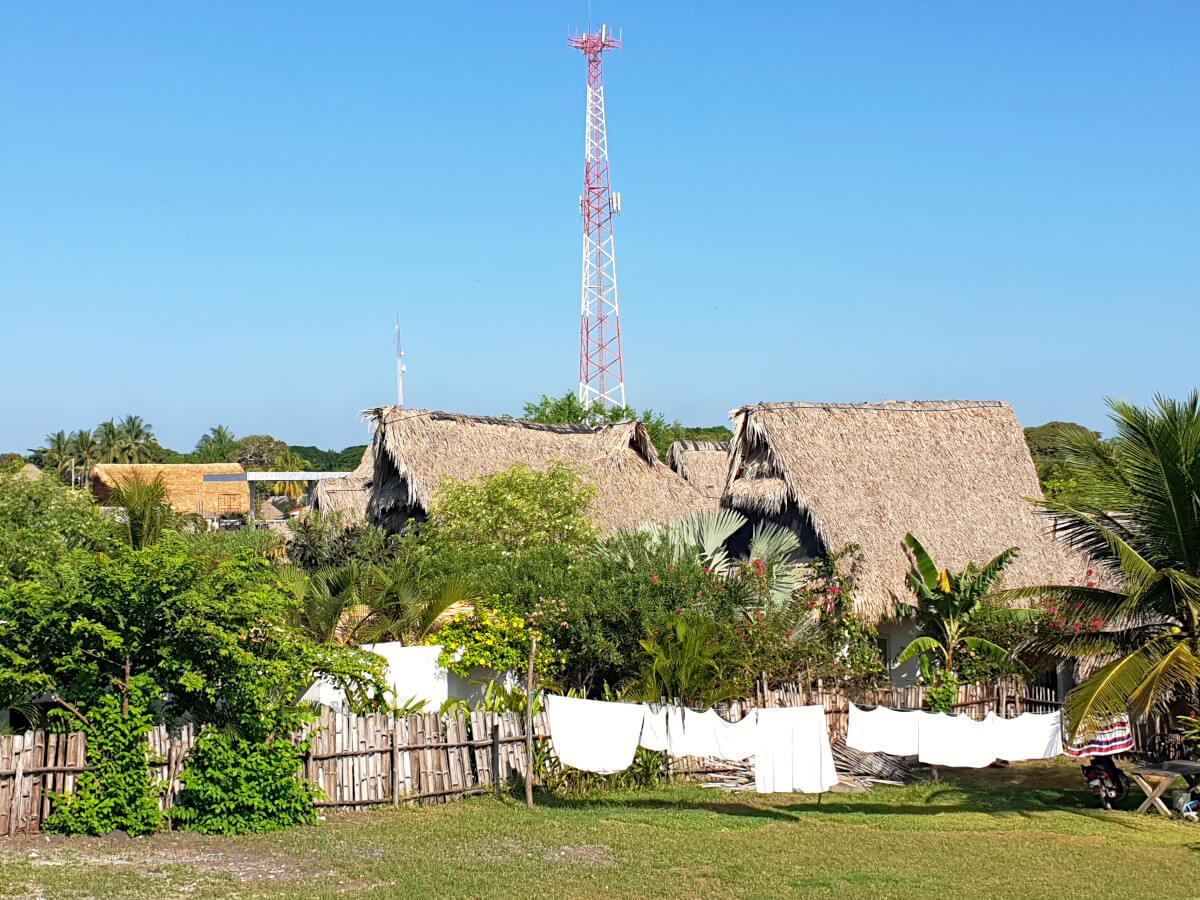 Accommodation in El Paredon Buena Vista
Gone are the days when there were just a couple of hostels and guesthouses.
Today, there are options for all budgets and preferences. It only takes one look on Google Maps to see the number of lodgings available.
Overall, the accommodations are basic and will get you up close and personal with a whole collection of insects. Most places do not have air conditioning despite the high temperatures.
If you're wanting to visit over the weekends or during national holidays, I highly recommend booking in advance. A week in advance as a minimum is needed in the peak season. And, for weekends, as early as possible.
Although there are more options these days, there is not an unlimited amount of beds. So, you don't want to have to end up travelling miles along the coast to the next town because there's nowhere to stay.
El Paredon Hostels
For hostels, the most popular options are:
To note, most hostels do not have kitchens and do not allow outside food to be brought in. This means that you'll need to eat at their restaurant or eat in a restaurant in the town.
Hotels & Surf Resorts
With its rustic vibes, you won't find any high-rise hotels or large resorts in El Paredon. There are plenty of places not on booking sites that can be booked on-site if you're happy to wait until you're in the town.
One popular option is Swell El Paredon, which offers a slice of luxury in this little town. The property boasts a pool, garden and terrace and all rooms have private bathrooms.
Similarly, Ka'ana Surf is just a few metres from the El Paredon beach with a beautiful pool and lounge.
A third stunning option is Hidden Wave Surf Resort, which has cabanas and tipis around a shared garden and pool. A unique aspect is that this property has a kitchen, perfect for those with dietary requirements or those wanting to save a little money. You can book direct on their website for the best rates or on Airbnb.
Airbnb
Another option is to book one of the many Airbnb properties in the town. Many of these are cabana-style homes with a living area, kitchen and separate bedrooms.
The cost can be higher but you can save money by cooking your own meals. Plus, buy your own drinks from the shops and keep them in the fridge rather than buying from the bar.
If you're looking for a recommendation, I stayed in this lovely little cabana just a stone's throw from the beach.
What you'll find in El Paredon
Shops
El Paredon has a good collection of shops for a town of its size. There's a Super24 small grocery store in the east of the town, which also sells beer, wine and spirits. Payment by card is accepted.
While to the west of the main street are a few locally-owned shops. These sell fruit, vegetables, meat and other items such as pasta, bread, eggs, snacks and more.
A couple of clothes shops, pharmacies and stationery shops can also be found in the town.
Prices are slightly higher than in Antigua or Lake Atitlan. In Guatemala, imported goods are typically more expensive than similar products in Western countries. Fresh fruit and vegetables are still cheap though.
Restaurants in El Paredon Guatemala
In addition to the restaurants that are part of hotels and hostels, there's a handful of standalone eateries in El Paredon Buena Vista.
Head to the main road for popular local options that aren't on Google Maps. Other highly-rated options include Soul food Kitchen, Zicatela and Chef in Flip Flops Beach Haus.
Are there ATMs in El Paredon Buena Vista?
There is now finally an ATM in El Paredon! But, it runs out of money quickly and doesn't get reloaded for weeks at a time.
It's a 5B ATM and is located inside the Super24 store.
Don't take the chance of running out of cash. If your stay is pretty short, try and bring all the cash you'll need with you.
A growing number of places accept card payments, however, cash is still the norm. And those that do accept card payments typically charge a fee to do so.
In Guatemala, BAC ATMs didn't work with our Monzo cards but 5B did. Though Starling cards worked in both. Withdrawing cash in Guatemala also isn't cheap, with the lowest ATM fee being 31.20Q.
Laundry
A family-run laundry operates in El Paredon on the main road, inside the Rinconcito de Dina restaurant. The clothes are dried on a washing line rather than in a tumble dryer. So, if the sun isn't out, then it can take a day or two to get your clothes back.
I paid 50Q for what I'd consider to be a standard-size bag of laundry for two people. Our laundry wasn't weighed, so I'm not sure how the cost is determined for larger or smaller loads.
Phone Signal
There are two unmissable phone masts, providing signal all across the town.
I had a Claro sim in Guatemala that included unlimited social media. So I always used mobile data for checking socials and loading basic web pages on my phone.
Is there WiFi in El Paredon?
WiFi is much more common in El Paredon than it was just a couple of years ago. Most hostels, hotels and lodgings offer WiFi of some sort.
However, there is no wired internet in El Paredon. Instead, properties use mobile data from a special sim card and distribute this through the router.
As such, the speeds are low and not particularly reliable. In places where many people are connected to the same router and internet connection, you may struggle to get access.
If you need to make any important calls or work from El Paredon, I'd recommend buying a sim card with a large data allowance. You'll be able to recharge your Guatemalan sim in El Paredon.
Essential Travel Tips
Bring bug spray. The mosquitos and sand flies here are like nowhere else I've been.
But, no amount of bug spray will keep them away altogether. Try to cover up in the evenings and sleep with a mosquito net or under a sheet to minimise bites.
Bring something to soothe the inevitable bug bites. You're never going to prevent bites entirely, so bring something to stop you from scratching your skin off.
I swear by an electronic, battery-operated bite pen that heats up the bite to stop the itching. But, you can also consider calamine lotion, anti-histamine creams or whatever works for you.
If there are any food items you can't live without, buy them in Antigua and bring them with you. The shops don't have much variety.
Is El Paredon worth visiting?
If you want to party, surf and/or relax, then it's well worth putting El Paredon on your itinerary for Guatemala.
For parties, visit on the weekends. Fridays and Saturdays are lively and you can hear the party from a few blocks away.
Surfing is great all year round. Stay at a surf camp or surf lodge for the complete package. Alternatively, most hostels also offer equipment hire and teaching sessions.
For the ultimate peace and quiet, visit on a weekday. It's a completely different world to the weekend, you wouldn't even think it could be such a party destination.
If you're after luxury, then El Paredon probably isn't for you. There are a lot of bugs and the facilities in the town are basic. If you're wanting to lay on the beach all day, I'd also recommend not coming here. It gets very hot and the sandflies will eat you alive!
How long to spend in El Paredon?
Most people visit for 2 or 3 nights over the weekend. Relax in the pool by day and party by night.
That said, I think you could spend a week in El Paredon before you maybe started to get bored of the relaxing. A local agency runs a handful of tours and classes, so there are things to do in El Paredon if you're easily bored.
If you're coming to surf, then a week is also probably a good amount of time.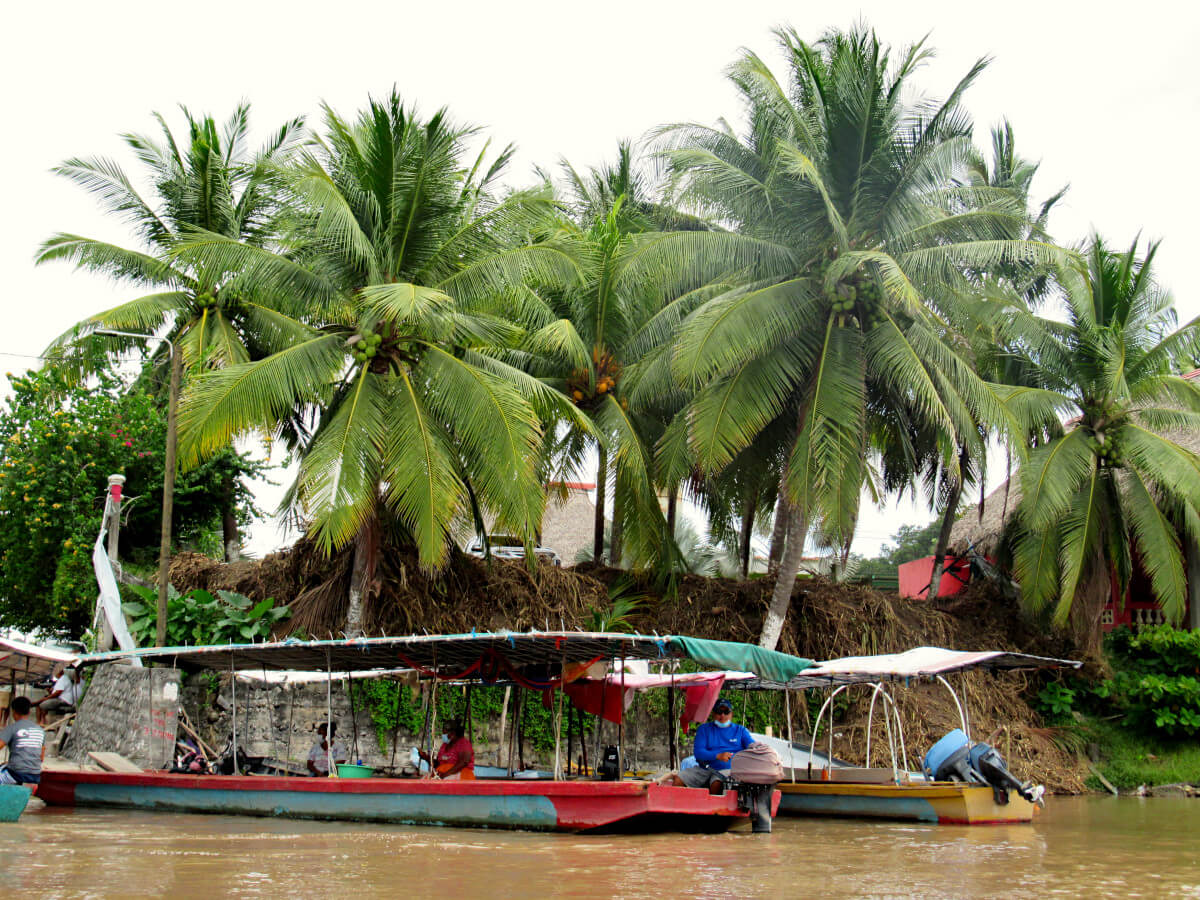 Travelling to Inland Guatemala
How do I get from El Paredon to Antigua or Guatemala City?
Shuttles run twice daily to Antigua – at 9 am and 3 pm. The cost of this shuttle is 110Q per person, one-way to Antigua and 165Q to Guatemala City. Journey time is around 2 hours to Antigua.
Book your shuttle with NEWay through their Facebook page and pay the driver on the day. You'll be collected from your accommodation in El Paredon Buena Vista and dropped off at your accommodation in Antigua.
Alternatively, it is possible to travel this route by chicken bus. But, the cost is the same and the journey takes twice as long.
If you are needing to travel to Guatemala City La Aurora International Airport, it is best to contact NEWay directly to see if they'll be able to drop you off there. Otherwise, you may need to take an Uber from the city centre.
RELATED POST: Visiting Antigua, then you have to check out Hobbitenango! Guatemala's own Hobbit Land with fun games, awesome activities and epic volcano views!
El Paredon to Lake Atitlan
Shuttles do run from the coast to Lake Atitlan. The best way to book these is through a hostel based around the lake.
They'll be able to give you the most up-to-date price and schedule as it really varies based on demand. Though typically, the journey time is around 3 to 4 hours and the cost is 250Q.
Most shuttles run to and from San Pedro la Laguna. If you're staying in another town, you'll need to take a water taxi. Generally speaking, the last ones of the day are around 6 pm.
If you're in San Pedro la Laguna, make sure you do the Indian Nose Sunrise Hike. Less than an hour's walk from where the van drops you off, an incredible sunrise over the lake awaits!
El Paredon to Semuc Champey
To get to Lanquín – the nearest town to the natural wonder that is Semuc Champey – you'll first need to travel to Antigua.
The journey from Antigua takes 10 hours. So, shuttles from Antigua to Semuc Champey leave early in the morning to travel during daylight.
As such, you'll need to spend a night in Antigua first before taking a second shuttle to Lanquín. There are no direct transport options.
In total, the journey will cost 110Q to Antigua and then a further 300Q from Antigua to Lanquín.
El Paredon to Flores
Night buses operate between Antigua and Flores. First, take a shuttle to Antigua and from there you will have time to catch a night bus the same day. In total, you'll pay 110Q to Antigua and then 400Q to Flores.
Alternatively, you can fly from Guatemala City to Flores. Take a shuttle to Antigua for 110Q and then take an Uber to Guatemala City Airport for around 130Q.
Flights to Flores operate 7 times a day and the flight time is just one hour. Prices start at around 660Q for a one-way flight. 4 kg of carry-on luggage is included in your ticket, a checked bag is extra.
---
If you have any questions or want any more information, drop a comment below and I'll get back to you!
Information is correct as of February 2023 but is subject to change in future.
---
More Central America Travel Guides
GUATEMALA: Hiking Volcanoes in Guatemala: The 5 Best (Complete Guide)
BELIZE: Caye Caulker Snorkeling: An Underwater Paradise (Need to Know)
HONDURAS: Pulhapanzak Waterfalls, Honduras: Complete Guide To Visiting
EL SALVADOR: El Tunco El Salvador: Ultimate Visitor's Guide
NICARAGUA: How To Get From Ometepe to Granada | No Stress, No Scams
---
PIN IT FOR LATER!