If you're visiting Guatemala, then climbing a volcano should really feature on your bucket list. And, the half-day Pacaya Volcano hike is the perfect experience. You'll see scorched rock, get incredible views and roast marshmallows on the volcanic heat.
You may have found out about Pacaya Guatemala from the well-photographed lava rivers that used to flow down from the crater. It's often what you'll see when searching on Google or Instagram. Sadly, they're gone now. But, nevertheless, Pacaya is well worth a visit.
This volcano really ticks all the boxes. It's an active volcano erupting for the last 23,000 years, close to Antigua, requires just a few hours of walking and doesn't cost much. Find out more about what to expect, how to book Pacaya Volcano tours and get the best price, plus all the information you need to know about Volcan Pacaya.
Some of the links below are affiliate links, meaning, at no additional cost to you, I may earn a small commission if you click through and make a qualifying purchase.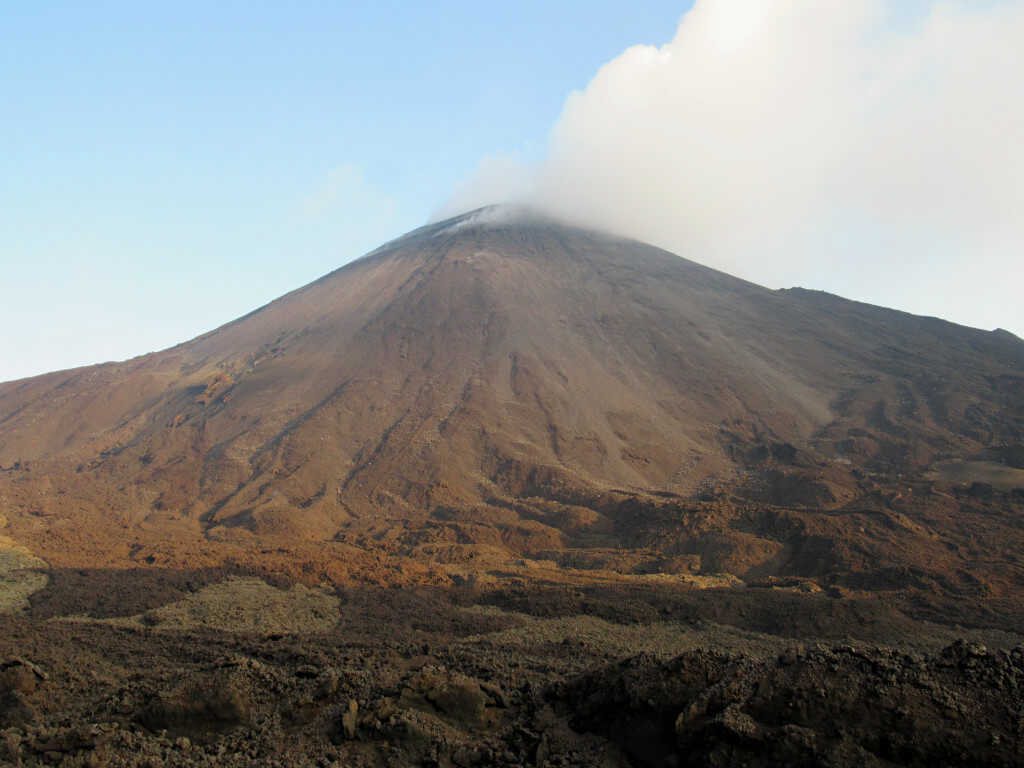 About Volcan Pacaya Guatemala
Pacaya is your typical, cone-shaped volcano located in southern Guatemala. The entrance to the volcano, situated in the aptly named Pacaya Volcano National Park, is around 50 km from both Antigua and Guatemala City by road. Driving times vary substantially throughout the day, taking between 75 and 120 minutes.
With its position on the Pacific Ring of Fire and almost a century of constant activity, Pacaya is considered one of Guatemala's most active volcanos. It is also the smallest of the 4 volcanos located around Antigua after Acatenango, Fuego and Agua.
The peak of the crater rim sits at an altitude of 2552 metres (8373 feet). However, as you don't actually (and unsurprisingly) walk to the crater edge of an active volcano, you don't reach this altitude on the Pacaya Volcano hike. As such, you shouldn't experience altitude sickness. Although, you may start to feel it by becoming out of breath quicker or uphill walking feeling a lot more difficult!
Instead of climbing to the top of Pacaya Volcano Guatemala, you'll likely head to a viewpoint called Cerro Chino. Here, you'll have great views of the volcano and scorched lava fields of hot rocks. Most tours also include time walking through the outer sections of the lava fields, which is where you roast marshmallows and play hot potato with volcanic rock.
When did Pacaya last erupt?
At the beginning of 2021, Pacaya was very active. Almost constant eruptions had created lava flows around 2 km long that snaked their way down from the crater edge to the lower ground.
However, the last of this activity was observed in August 2021 with a few ash clouds. Since then, the volcano has been in a quieter phase with no outward activity.
Is Pacaya Volcano still active?
Yes, Pacaya is considered an active volcano.
But, let's be clear. A volcano being classed as active doesn't mean that it's spewing lava and ash clouds morning, noon and night. The actual definition of an active volcano is one that has erupted recently and is likely to erupt again. Oh, and the definition of recent is in the last 10,000 years!
However, Pacaya does have a very recent history of eruptions (like 2021 recent). So, it definitely earns its active volcano title. But, as of August 2022, no lava or ash has been seen in at least a year.
Under-the-surface activity is still hugely evident though. Hot rocks and steam outlets are good indicators of volcanic activity underground. And, it's probably not going to be long until Pacaya erupts again based on recent form.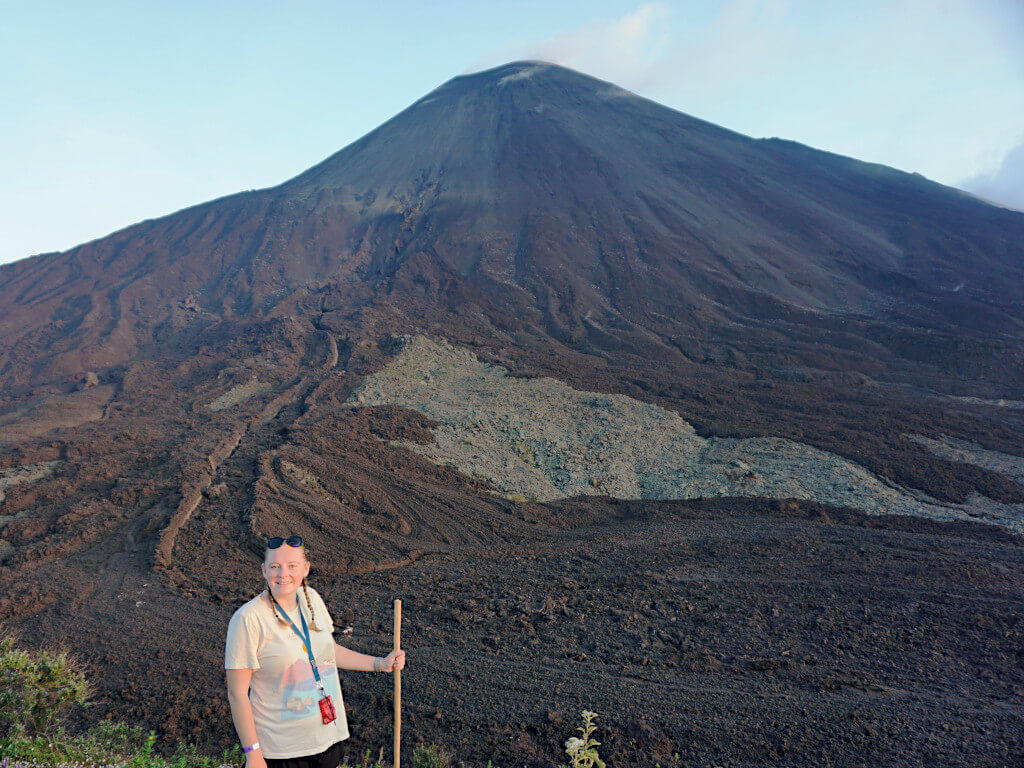 Will I see the lava flows or lava rivers at Pacaya Volcano?
Sadly not – the lava flows ended in May 2021.
If it's any consolation, you can easily see where the lava rivers were from a distance. At the Cerro Chino viewpoint, you'll see the look of a dried-out river bed running from the crater all the way to the edge of the lava field.
Of course, there is always the possibility that the lava flows will return one day. Although, it's not likely anytime soon. You can check for any recent activity changes on the Smithsonian Institute's Global Volcano Reports.
Instead, if you're wanting to see lava, you're gonna have to climb Acatenango to see (and feel) Fuego erupt up close.
How to hike Pacaya Volcano in Guatemala
The best, easiest and cheapest way is to do a Pacaya Volcano tour, as a half-day activity. In short, the tours include transport from Antigua (typically with hotel pick-up), a local guide, visiting the lava fields, roasting marshmallows (provided), visiting the viewpoint and then returning to Antigua.
The drive from Antigua Guatemala usually takes around 1.5 to 2 hours during the day, depending on traffic in the small towns on the route. Once you reach the national park entrance, marked by a small tent on the side of the road, you'll need to pay your entrance fee and receive a wristband. Then, it's back in the minibus to continue the drive to the trailhead.
At the start of the hike to Pacaya Volcano Guatemala, they'll be people renting walking poles as well as bathrooms and a small snack stall. Make sure you're prepared for your walk and you haven't left anything in the minibus, as there aren't any facilities until you get back here.
The Climb Up
The trail starts pretty steadily and you'll quickly pass the visitor centre, where they might check your wristbands. From there, it's a long, fairly slow slog to the lava fields. Along the way, you'll pass a small refuge, where a few makeshift benches allow you to rest your tired legs (and lungs).
The path is pretty easy to walk along and is mostly black well-trodden dirt. Depending on the weather, the two factors that make the walk hard are the heat and/or the humidity. When you're walking through the clouds, the air is so moist that it's almost impossible for your sweat to evaporate so you can't cool down. And, you'll literally be dripping.
The hike starts at an elevation of just over 1800 metres, just 250 more than Antigua. As such, there isn't much of a temperature change at first. As you climb higher, you can notice slight differences in the temperature when you stop – especially as your wet, sweaty clothes will cool you down. But, when you're walking, you'll definitely be warm enough in a t-shirt and shorts!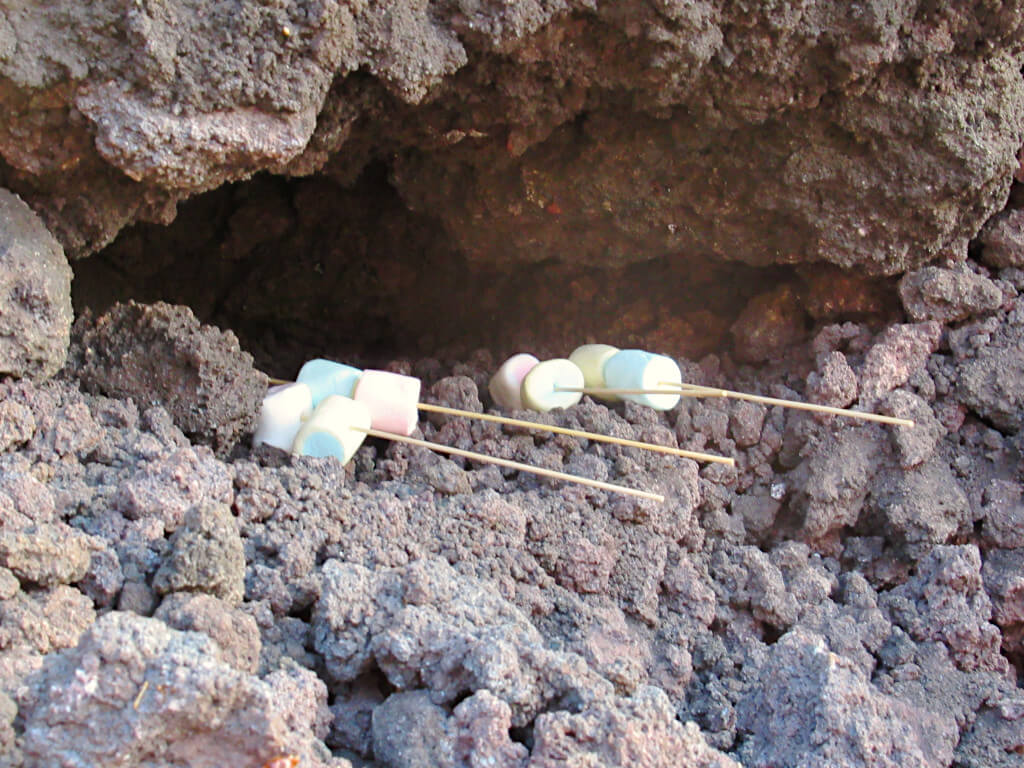 Roasting Marshmallows on the lava fields of Pacaya Volcano Guatemala
From the trailhead, it's 2.2 km until you reach the lava fields, which sit at an impressive 2100 metres of elevation. It's also here that Pacaya will start to come into view as you round the corner and start to hike above the clouds. This is what you've come here for!
It's here, that your guide will show you some hot rock – and probably find one hot enough for you to touch but not burn yourself. You'll see steam piercing through gaps in the rock in the distance and how the volcano creates its own cloud cover.
Of course, no trip to Pacaya Guatemala is complete without roasting marshmallows on the hot volcanic rocks. If your coming on a Pacaya Volcano tour, most guides will provide both the marshmallows and the skewer sticks. But, you can always bring your own if you're worried about missing this! Just be careful to remove any small stones that might get stuck to the melting goodness.
Watching sunset from Cerro Chino
If you've picked an afternoon tour from Antigua, then you'll likely get to watch sunset on your hike. From the lava fields, it's a steep but short climb to the ridge of Cerro Chino. Where, you'll get great views of Pacaya, the lava fields and the countryside towards Antigua.
On a clear day, it's easy to see Volcan Agua with Acatenango and Fuego behind. And although you can't see them when it's cloudy, you do get a magnificent colour show as the clouds start to glow.
Unfortunately, what goes up must come down. And, the quickest and easiest way to get down from Cerro Chino is by sliding steeply down the volcanic sand back to the refuge hut. Walking sticks come in very handy, I assure you. Plus, as a memento of the hike, you'll be finding black sand in your shoes for weeks!
The only thing left to do is walk back to your awaiting transport. A headtorch or phone with enough charge to run the torch is pretty handy here, as there's no lighting and the path can be slippery underfoot. On the plus side, it's a much easier walk downhill.
How long does it take to hike Volcan Pacaya?
The total Pacaya Volcano hike distance via the lava fields and Cerro Chino is 5.5 km. To reach the lava fields, it will likely take 60 to 90 minutes of walking dependent on your pace, fitness and number of breaks.
You'll spend a while on the lava fields, experiencing the unique landscape and roasting your marshmallows. As well as some time on Cerro Chino admiring the view, getting photos and seeing the sunset (unless you're there in the morning).
The walk back to the drop-off point is much quicker as you won't need to stop for breaks. This could take as little as 30 minutes, although, it will probably be around 45 to 60 minutes for most people.
In total, from leaving the parking area to getting back, the hike takes around 3 hours. Expect transport to and from Antigua to add another 3 to 4 hours to this. All in all, you'll probably be back in Antigua 7 hours after leaving.
How hard is Pacaya Volcano to climb?
The hike itself is not technically challenging. But overall, given the terrain, heat and humidity, the Pacaya Volcano hike difficulty is moderate. In reality though, it's one of the easier volcano hikes in Guatemala, none of them come that easy!
Physical fitness is a bonus to get to the top. But, ultimately, you'll also need the mental resilience to keep putting one foot in front of the other when you're sweaty, hot and exhausted. Especially, when you're walking in the clouds and there's no view.
The descent down from Cerro Chino on the steep, sandy path is also challenging to some. In reality, you need to slide down using your walking pole for stability. So, if you don't like feeling like you're out of control, you aren't going to enjoy this. Luckily, the guide will help you if you're struggling by walking down with you so you don't slide too fast.
Can you hike Pacaya Volcano on your own?
No, it is not possible to do the Pacaya Volcano hike without a guide.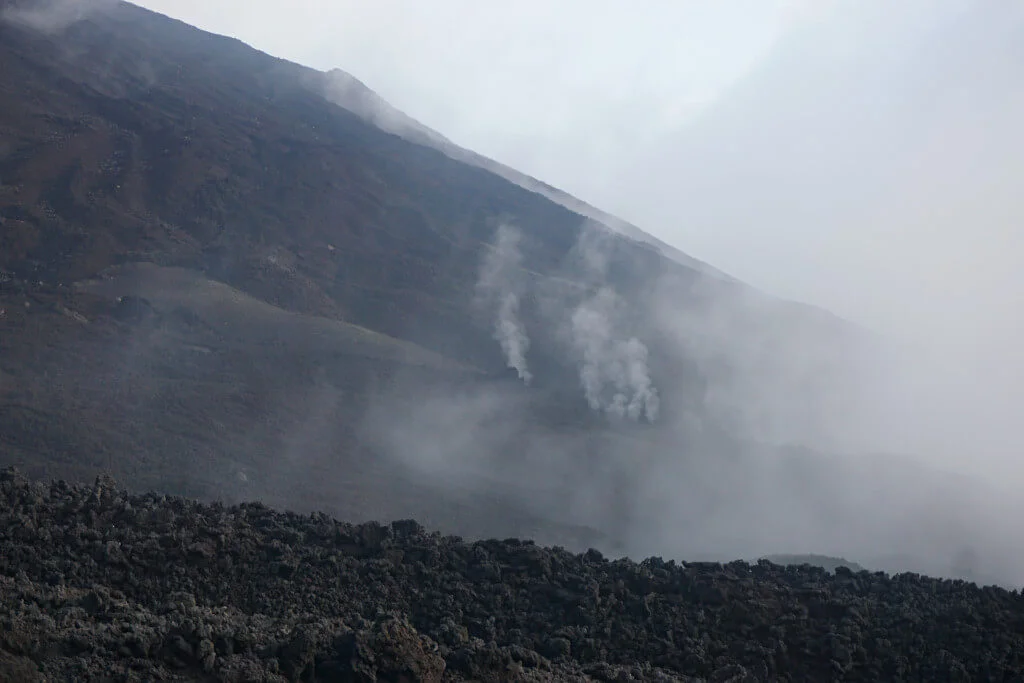 Do you need a guide to hike Pacaya?
Yes, a guide is needed for the whole time you're in the national park.
However, you don't have to visit as part of a tour. If you make your own way to Pacaya, it is possible to hire a guide at the entrance. But, these typically charge more than the total price for a tour (which also includes transport). Be sure to haggle, you're likely to be charged more as a tourist.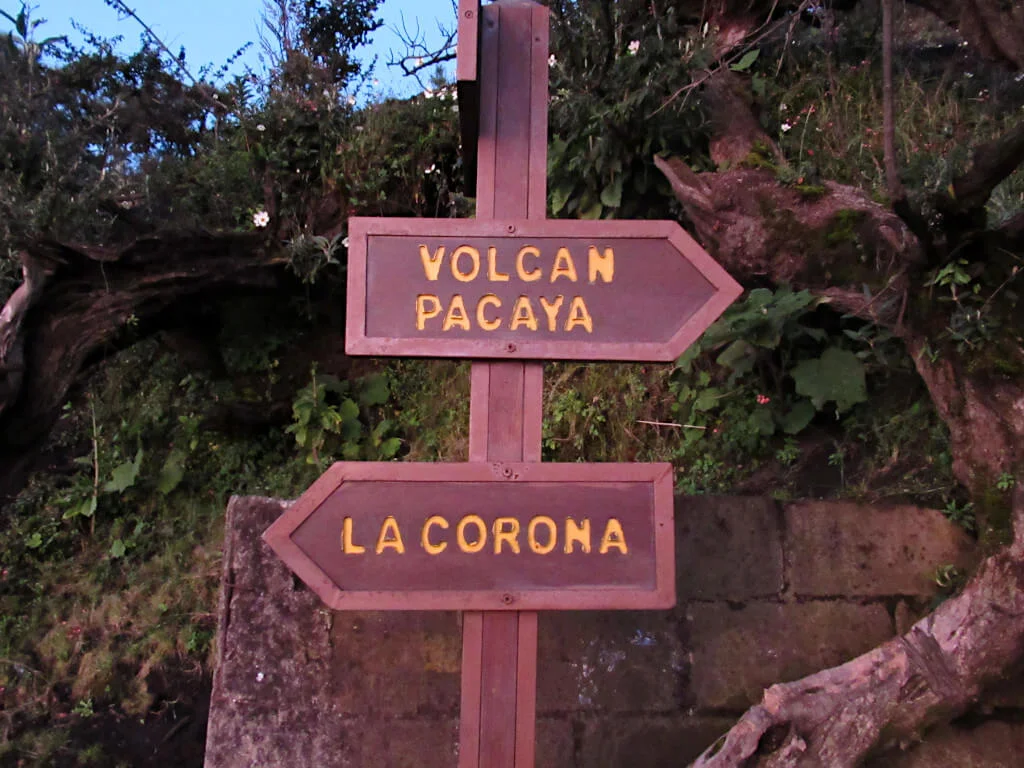 Pacaya Volcano Hike Tours
Tours are the easiest and cheapest way to climb Pacaya Volcano Guatemala, particularly for international visitors who generally stay in Antigua. Consider the following important points when booking your Pacaya Volcano tour…
Time of day
Most places offer twice-daily Pacaya Volcano tours. One in the morning (leaving Antigua at 9 am) and one in the afternoon (leaving at 2 pm). And, you generally start hiking around 2 hours after you leave Antigua. Some tours also leave at 6 am for those preferring an early start or needing to be back in Antigua for the early afternoon.
For morning tours, consider that you'll be walking during the hottest part of the day. However, during the rainier months, mornings typically have the better weather. For afternoon tours, you'll catch sunset but will have to walk down from the volcano in the dark. Additionally, there's also a greater chance of cloudier skies and possibly rain, especially in the wetter months.
Cost
Tours offered through agencies in Antigua don't vary hugely in price. However, you should check what is included in the price before booking. Most do not include the 50 Q national park entrance fee in the tour price. You'll need to pay this in cash at the park. Walking poles are another 5 to 10 Q to hire, payable directly in the park.
The typical price for a tour – including transport, guide and marshmallows – is 150 Q.
How to book a tour
To get the best price, book your Pacaya Volcano tour through either an agency directly or through a hostel (these generally have established relationships and don't take commission).
It's still possible to book through a hostel even if you're not staying there. Both Tropicana and Somos Hostels will book Pacaya Volcano tours for you at the going price.
If booking online through third-party sites, be sure to check what it includes and what extras you're getting for the price. However, this is often the best way to get a private tour, travel from further or have a multi-activity day.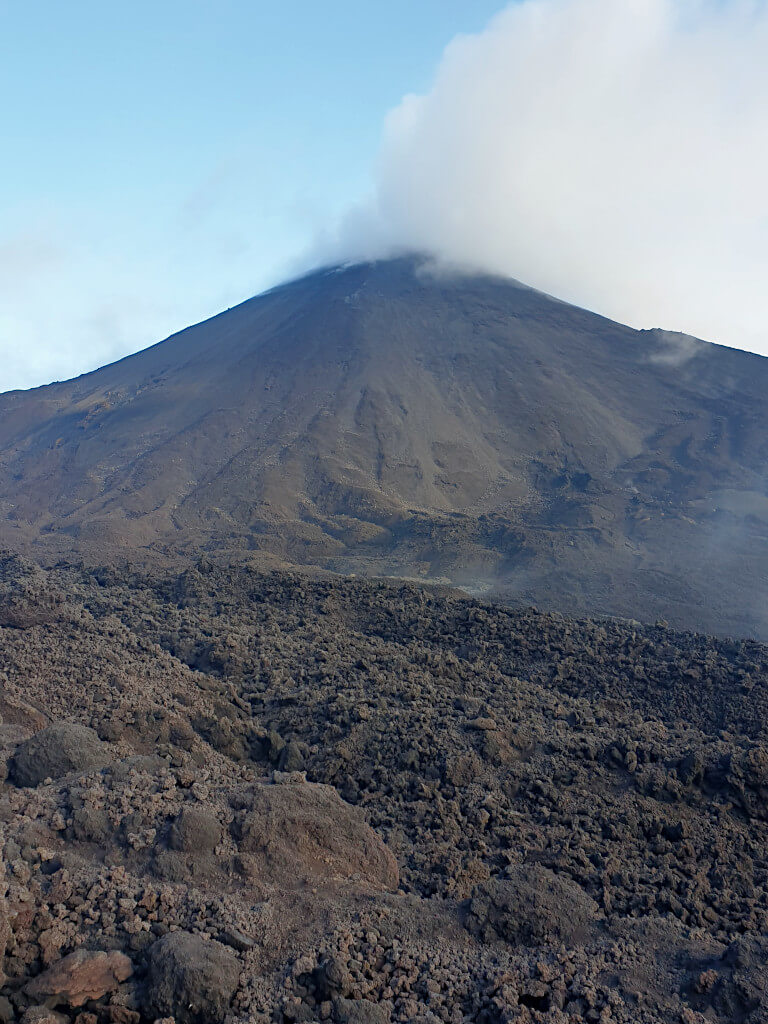 Is Pacaya safe?
Hiking a volcano – particularly an active one – always involves some element of risk. Is this activity 100% safe all of the time? No, but that's the way with most outdoor activities anywhere in the world.
But, with volcano monitoring, the national park rules, having a guide and applying some common sense, you can mitigate most risks. Follow the rules, dress appropriately, don't do anything stupid and respect that you're standing on one of nature's most volatile offerings. Oh, and let your marshmallow cool down for a second so you don't burn your tongue.
What to wear and what to bring
The following clothing would be my recommendation:
Hiking boots – if you have them – otherwise sturdy trainers
T-shirt and shorts (or lightweight trousers if you normally live in warmer climates)
A light jumper or jacket for the journey there and/or back
A cap to keep the sun out of your eyes and to absorb the head sweat!
Sunglasses
Additionally, I think the following items are essential for this trip:
At least 1.5 litres of water
Snacks – a couple of things that won't melt but give you a little pick-me-up
Phone, battery pack and camera (if you have one)
Headtorch for sunset hikes (or a phone will suffice, but you do have to hold that)
Cash for the park entrance and walking pole hire
---
Do you have any questions or want any more information? If so, drop a comment below and I'll get back to you!
Information and prices are correct as of August 2022 but are subject to change in future.
---
MORE GUATEMALA TRAVEL GUIDES…
EL PAREDON: El Paredon Guatemala: Ultimate Travel Guide
ANTIGUA: Hobbitenango: Worth Every Penny! [Complete Guide]
ANTIGUA: Acatenango Hike: Complete Guide to this Volcano Trek
LAKE ATITLAN: Indian Nose Hike (Watch Sunrise Over Lake Atitlán): A Helpful Guide
---
PIN IT FOR LATER!