Just 20 minutes from San Cristobal, El Arcotete Parque Ecoturistico, or just Arcotete, is a place to explore caves, hike trails and be surrounded by nature. Though not far from the city, you'll feel a world away from the hustle and bustle as you swap car horns for bird chirps.
Though the park is fairly small, plenty of activities are on offer – from zip lines to caves. All of which are detailed in this complete travel guide. There's everything you need to plan and enjoy one of the best San Cristobal de las Casas day trips. Find a friend or go it alone, either way, it'll be worth visiting.
Where is El Arcotete, Chiapas?
The Eco Park is approximately 4 km east of San Cristobal de las Casas. Though not far from the city, you'll find yourself surrounded by countryside. See it on Google Maps here.
San Cristobal is a popular backpackers town in Chiapas, Mexico's southernmost state that borders Guatemala.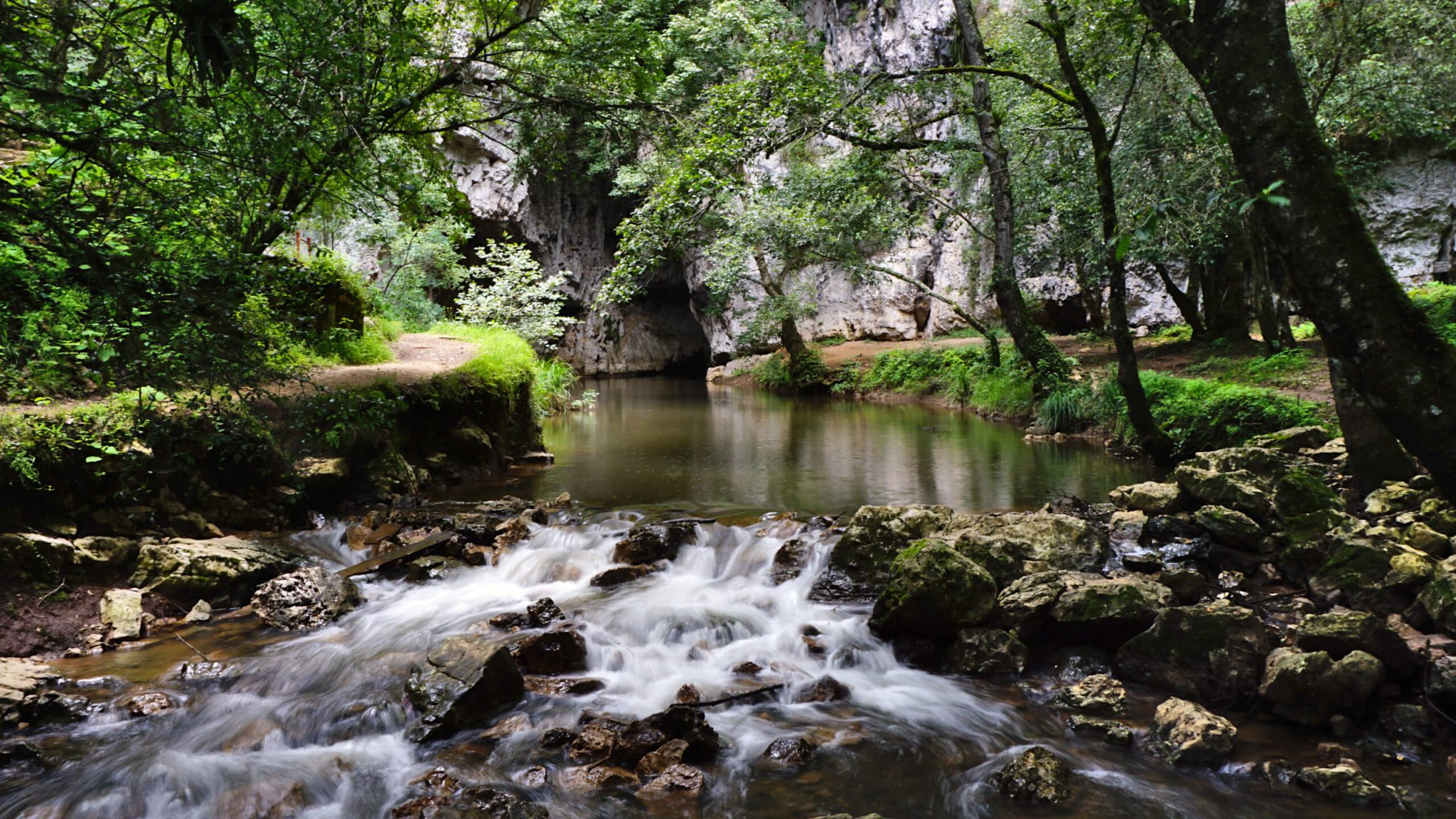 How to get to El Arcotete Eco Park
Colectivo to El Arcotete Park
The easiest and cheapest way to get to the Eco Park is to take a colectivo from San Cristobal de las Casas. These are recognisable by having 'Arcotete' written across the front window!
Catch the colectivo from two blocks north of the Guadalupe Church, at the junction of Nicolas Ruiz and Avenida Remesal. You can see the exact pin on Google Maps here.
At El Arcotete Chiapas, the colectivo will drop you off at the designated colectivo spot not far from the park entrance. There's a small shelter here, which makes it easy to spot when you need to wait for the colectivo back to San Cristobal de las Casas.
The colectivo ride costs 10 pesos per person each way and takes around 20 to 30 minutes. Let the driver know you are going to the Eco Park when you get in. And, remember to bring change as the drivers typically don't carry large amounts of change.
The colectivos run regularly throughout the day, so just turn up at the location above and flag down the first one you see.
Sit back and prepare for a bumpy ride! Particularly for the last 10 minutes or so, as dirt roads replace the tarmac ones!
Taxi from San Cristobal de las Casas
Taking a taxi is a good option if sharing with a group that will fill the taxi (ie 4 people total). Otherwise, a taxi can be quite a bit more costly than a colectivo.
Expect to pay at least 100 to 150 pesos each way. Though, this price can be higher during peak times around national holidays.
A return taxi service is available at the ecotourism park, operating between 10am and 6pm. You'll need to speak to the staff to organise this as they will call a taxi for you. Alternatively, you can pay your driver an additional fee to wait for you before driving you back to San Cristobal for another 100 to 150 pesos. The price is dependent on your negotiation skills.
By Car
Driving from the centre of San Cristobal with your own vehicle will only take around 20 minutes. And, parking is available at the Eco Park.
As a word of forewarning, once you leave the main road then it's pretty much all dirt roads until you reach El Arcotete Ecotourism Park. You don't need to hire a car just to visit the Eco Park as going by colectivo or taxi will be cheaper and easier.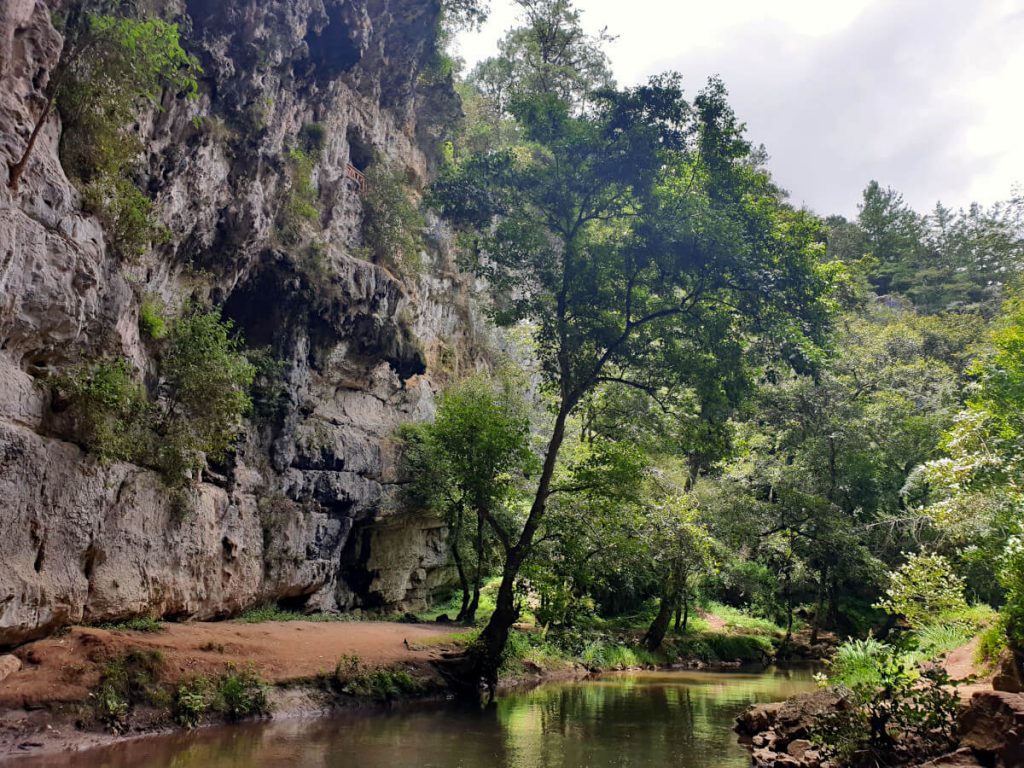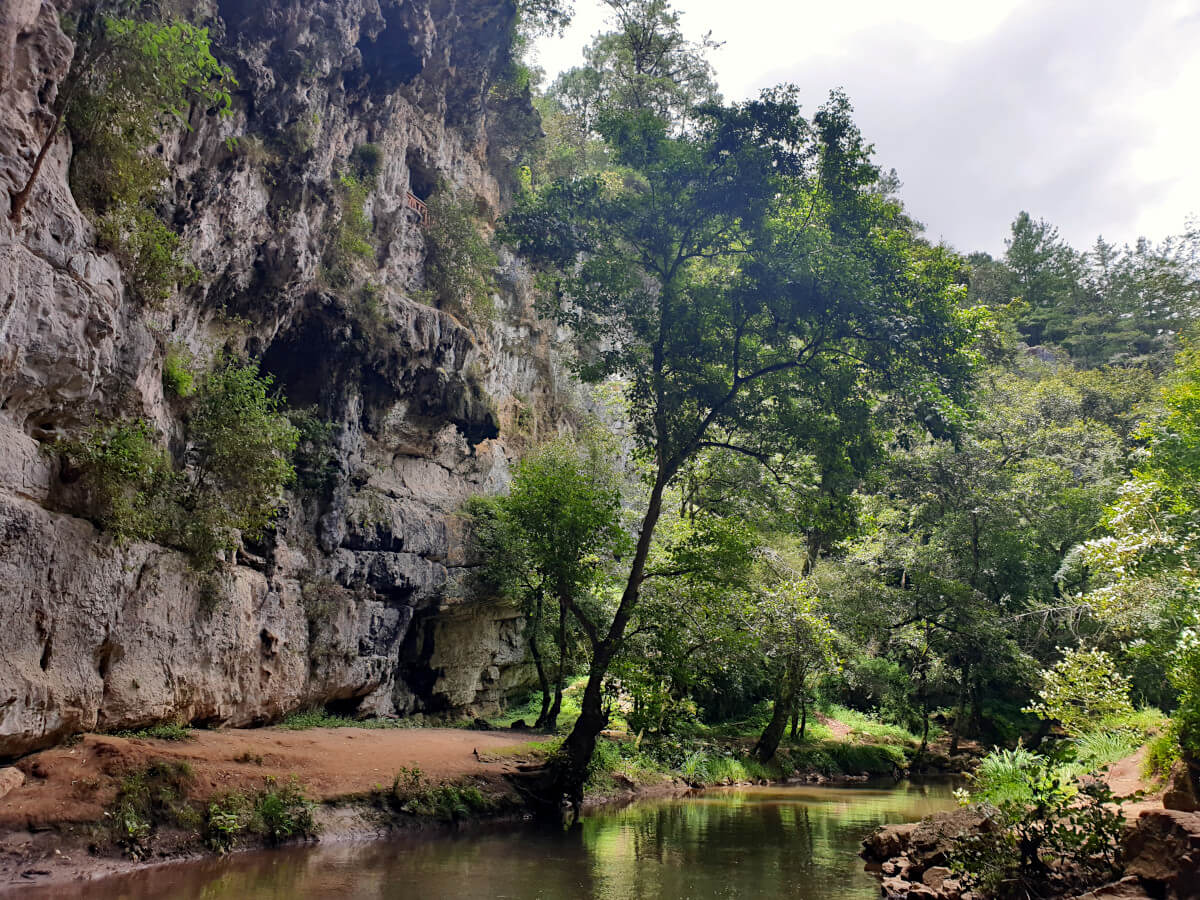 Entrance Fees & Opening Times
Entry fee: 10 pesos per person
Opening times: 8am to 5pm, 7 days a week
The entrance fee includes access to the park and hiking trails. Listed below are the other available activities and their small cost. You can't complain about paying extra per activity when the entrance fee is so low!
On-site Activities & Landmarks
The park is full of fun activities you can enjoy for a few hours. Aside from the hiking trails, which are included in the 10 peso entry fee, you can also Navigate the caves, get an adrenaline rush on the zip line, and sail calmly along the river.
You can also bring along a picnic and rent a palapa (thatched, fixed parasol normally with a table and chairs) for 30 pesos. Or, there's a restaurant and snack shop at the park, as well as an artisan gift shop.
Additionally, you can enjoy a photo session led by staff at the park for 250 pesos.
You used to be able to rent a cabana to stay onsite for a night, but when I visited in July 2021 this was no longer available. This will likely resume again in future, contact the park directly for more information.
There is also the option to organise your own rock-climbing activity. The park doesn't have guides but these can be hired externally in and around San Cristobal.
Caves (Grutas de Arcotete San Cristobal)
Venture through 400 metres of caves to see cool rock structures and views of the river.
For the faint of heart, you'll be pleased to know that the caves are not particularly enclosed and you can see out into the park in many places. That said, there are a couple of places where you need to duck or slide sideways through the rock. There are lights inside the caves so you definitely won't get lost or stuck! And, the route is very easy to follow!
Entry into the caves is an additional 15 pesos per person. There's normally a staff member waiting near the entrance to collect the fee. But, you can also pay after – as we did – if there's no one around as you enter.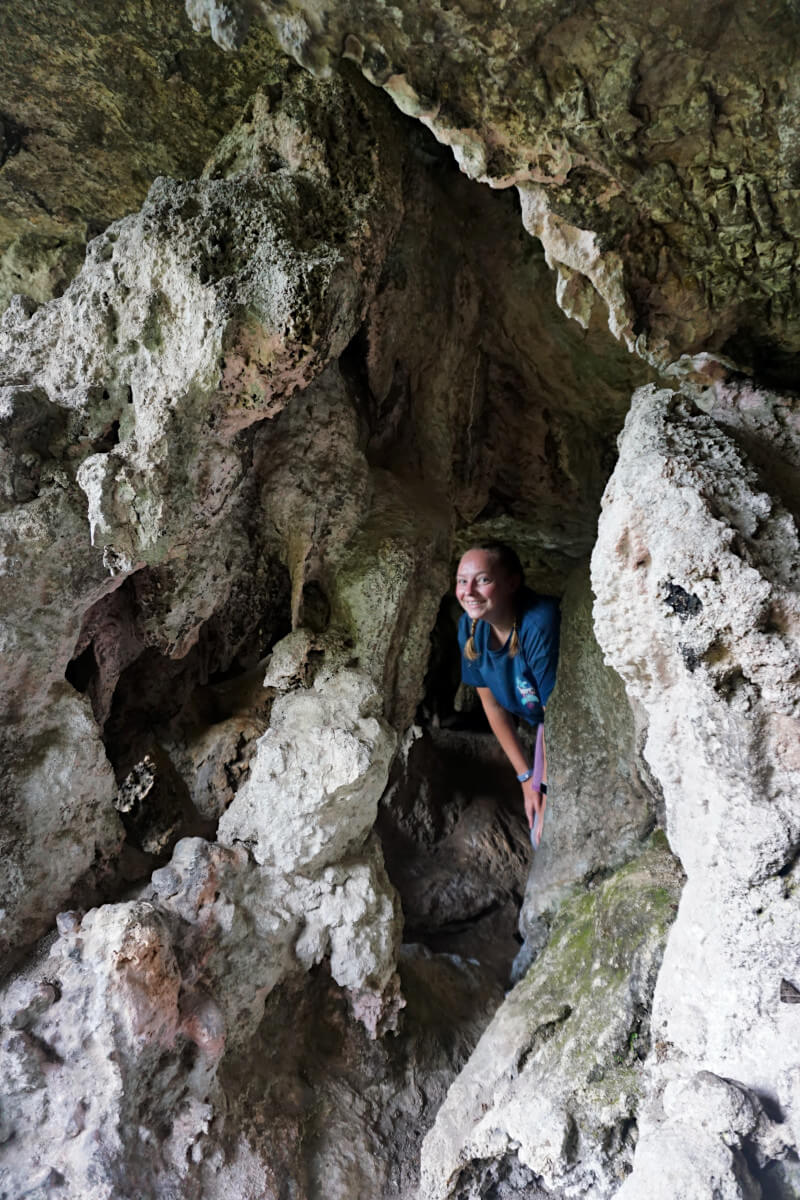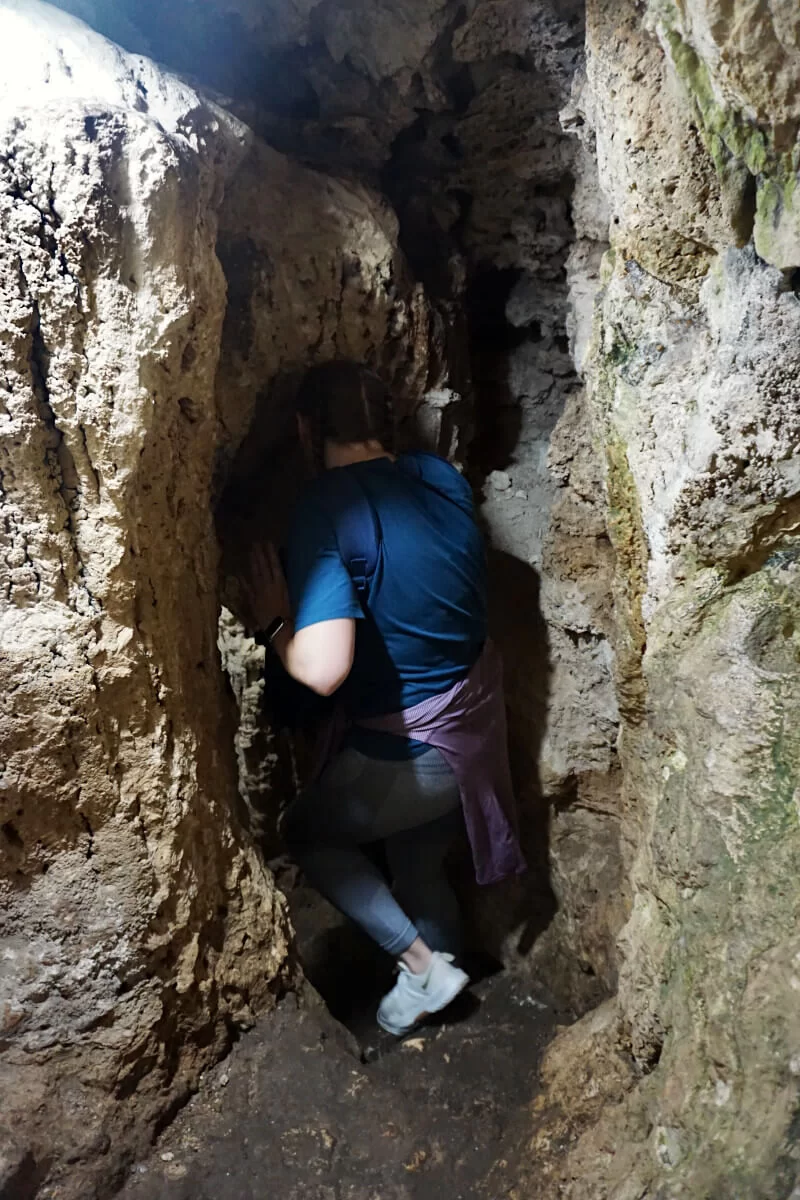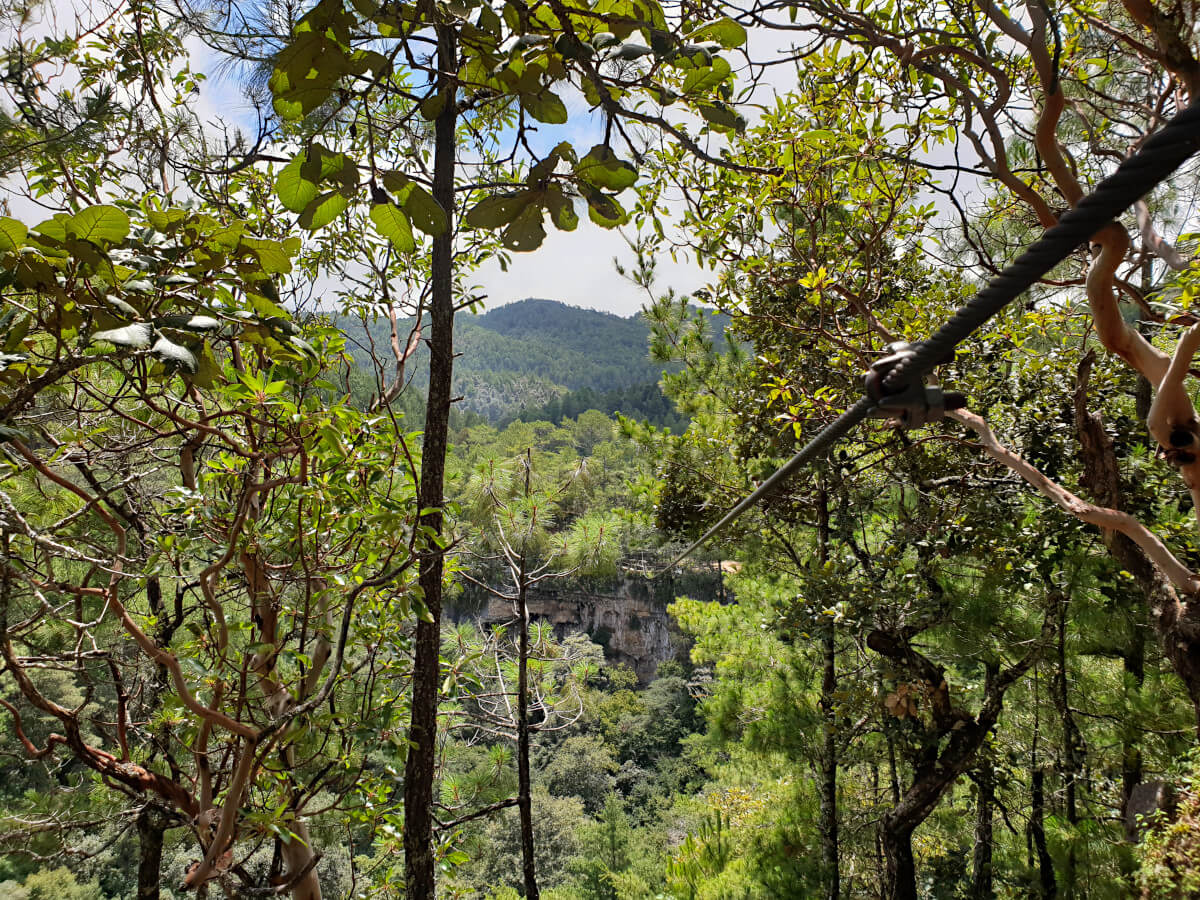 Zip Line (Tirolesa)
For just 100 pesos per person, you can fly across the treetops. The zip line is not the longest but the price reflects this. It's perfect for those looking to add some adventure to a day out in nature.
Ask to experience the zip line and pay at the entrance – as the zip line is not manned otherwise.
Even if you don't want to sail through the sky, you can walk up to the top part by following the signs for 'Tirolesa'.
Boat Ride (Lancha)
Cruise along the river for just 20 pesos per person on a lancha (boat) ride. Follow the sign from the entrance – note, that it's the opposite way to the trails and other activities. At the main signpost at the entrance head to the left past the palapas and restaurant, rather than right towards the hiking trails and other activities.
I tried to do this when I visited but didn't see a boat the entire time! Speak to staff if you can't find the boats, although they likely won't speak English.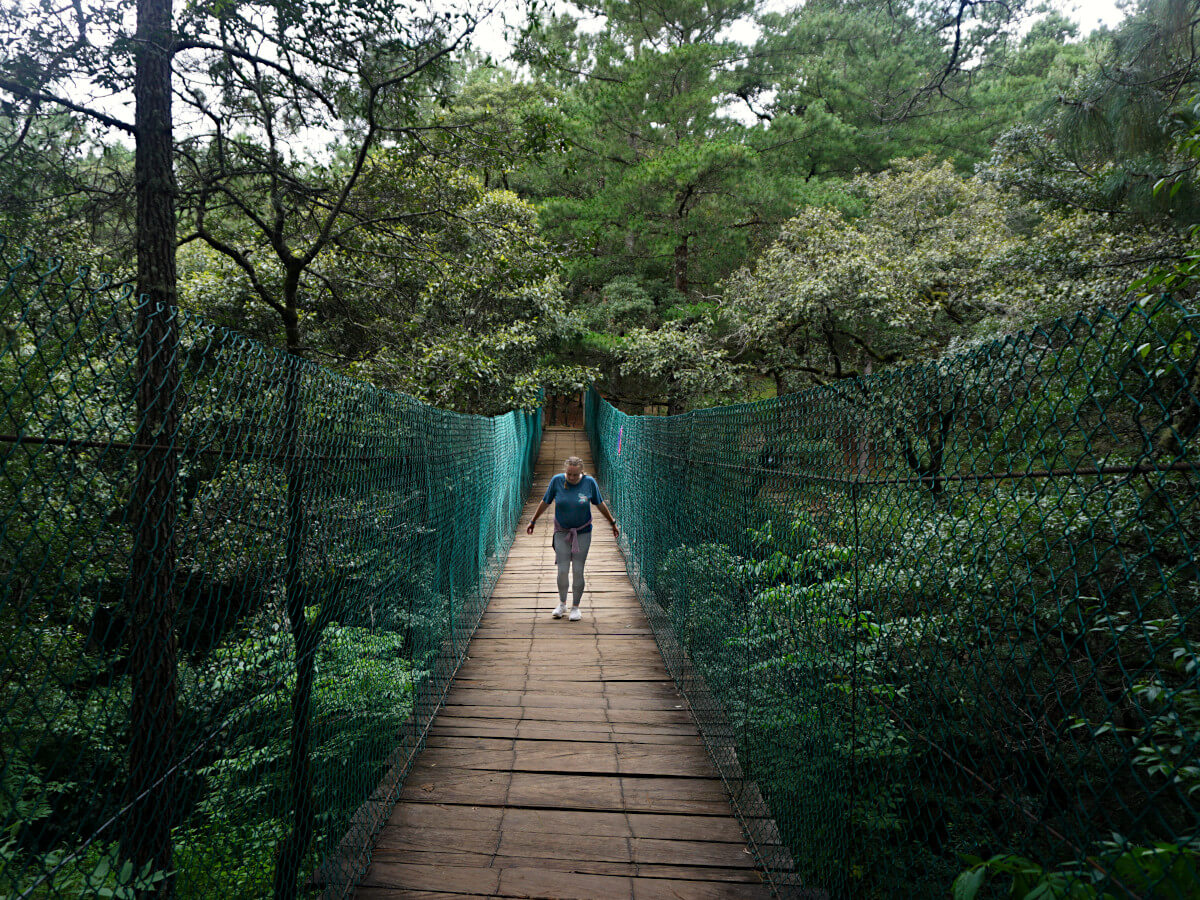 Hiking Trails
El Arcotete San Cristobal has a few easy-to-follow walking routes. None are particularly strenuous, difficult or long. Enjoy all of these at your own pace and in whichever order you choose.
There is a path up to the top of the zip line for views of the surrounding hills and dense forest. This walk is mostly uphill but does not take very long to complete.
Another route takes you across a small bridge and along the riverside. After a while, you'll reach a sign saying you're at the edge of the park. This is where the path ends and you should turn back.
A third route takes you around the Eco Park, across the larger (and wobbly) suspension bridge and to the large stone arch. This is where you look down on from inside the caves and is a good spot for photos. The river flows under the archway and there is a small beach area. Though, not one you'd want to get your towels and swimwear out for!
While the routes are easy to follow by having well-marked paths, the routes themselves are not well-signposted. Instead, you'll have to take a systematic approach to exploring the paths making sure you take all turnings to not miss anything! However, the park is not that big and if you find yourself back at the entrance, just loop round again.
Horse Riding
Previously, horse riding was available on-site for 30 pesos per person. However, when I visited in mid-2021, the sign advertising this had been removed and I didn't see any horses. However, it may resume in future when the current public health situation and tourist numbers improve.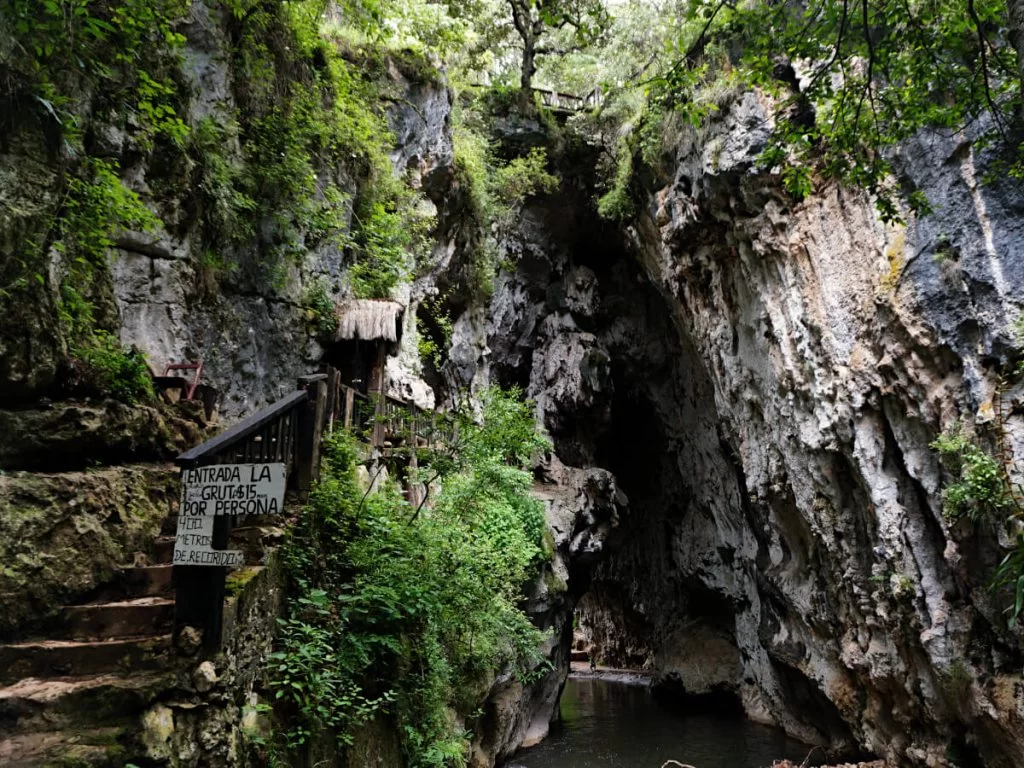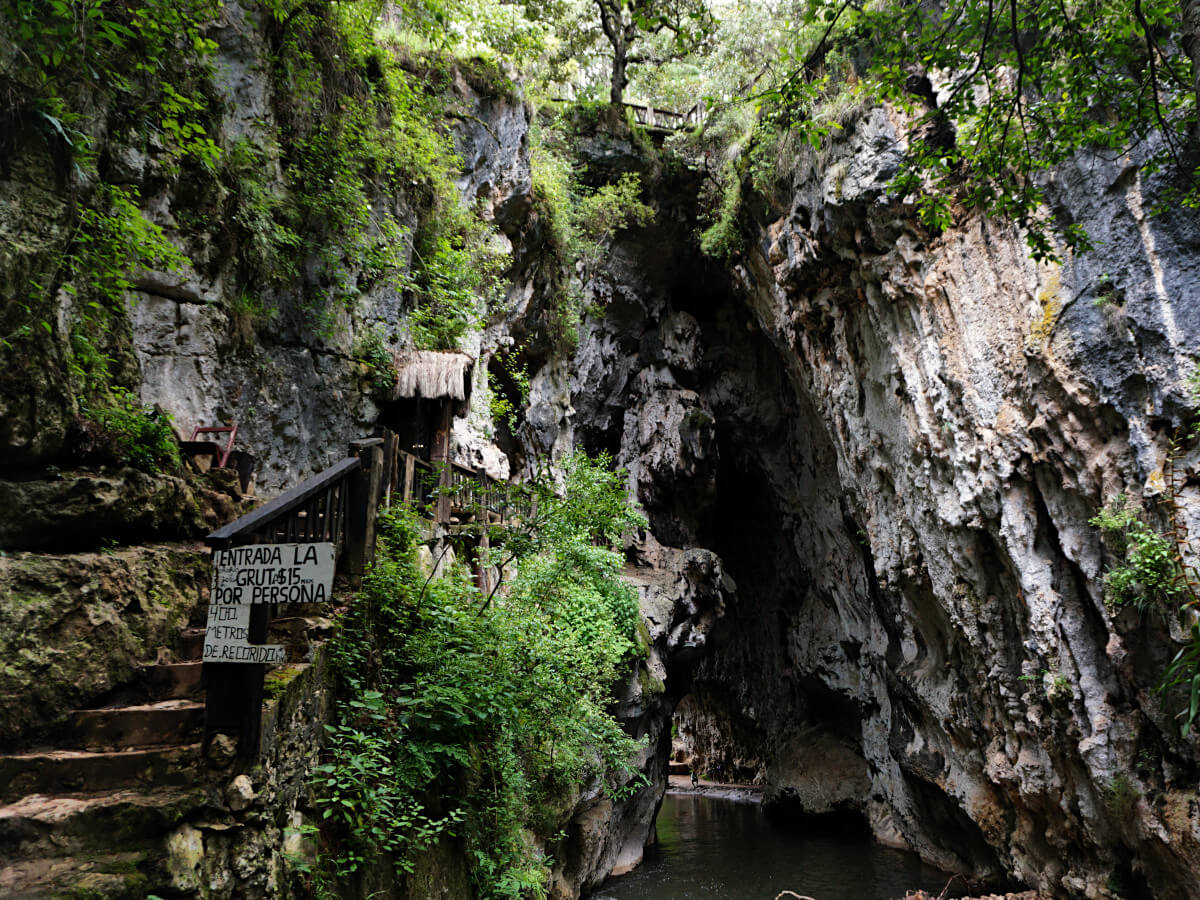 Travel Tips for a great day out
Be sure to bring: Lunch/snacks, drinks, change for entry fees/colectivo and a camera
While a few hours at El Arcotete Ecotourism Park is a fun few hours out, don't expect too much and you won't be disappointed. Remember, you're paying 10 pesos entry and just a few pesos more for the other activities and the size and scale of things reflects this. Nevertheless, it is still absolutely worth the visit!
Dress for the season and the weather. San Cristobal typically has mild weather all year round, though it can be cold in the winter, particularly early and late in the day. The rainy season in the summer months also brings sporadic afternoon downpours that may catch you out.
The park is popular with locals and domestic tourists, especially on weekends and national holidays. To enjoy the park with few people around, visit during the week and early in the day.
---
If you have any questions or want any more information, drop a comment below and I'll get back to you!
Information is correct as of December 2021 but is subject to change in future.
---
More Mexico Travel Guides…
OAXACA: San José del Pacifico, Oaxaca (Complete Travel Guide)
CHIAPAS: Incredible Waterfalls at Cascadas El Chiflón, Chiapas (Travel Guide)
CHIAPAS: Cascada Velo de Novia, Chiapas: El Chiflón's Most Epic Waterfall
OAXACA: Lagunas de Chacahua, Oaxaca (Ultimate Travel Guide)
OAXACA: Playa Bacocho, Puerto Escondido (Oaxaca Beach Guide)
CHIAPAS: Palenque Waterfalls: 6 Beautiful Cascadas You'll Want to Visit
QUINTANA ROO: Punta Mosquito, Holbox: Ultimate Visitor's Guide
PUEBLA: Ride the Teleférico Puebla for Panoramic City Views [Cable Car Guide]
And much more, check out all Mexico Travel Guides here!
---