If you're looking for a truly special adventure activity in Central America, then look no further than this Acatenango hike.
Most typically done as a two-day, one-night trek, you'll climb to 3700 metres of elevation. Where you'll watch the nearby Fuego Volcano erupt all night long.
Then, after watching one of the best sunrises of your life over Guatemala's volcanic landscape, you'll make your way back down in disbelief at what you've seen.
Climbing Acatenango is a true bucket list activity and a must-do when in Antigua Guatemala.
Intrigued? Keep reading for a complete guide to the volcano hike. Everything from accommodation, base camp toilets, meals, trek options, tour companies and a complete packing list.
Some of the links below are affiliate links, meaning, at no additional cost to you, I may earn a small commission if you click through and make a qualifying purchase.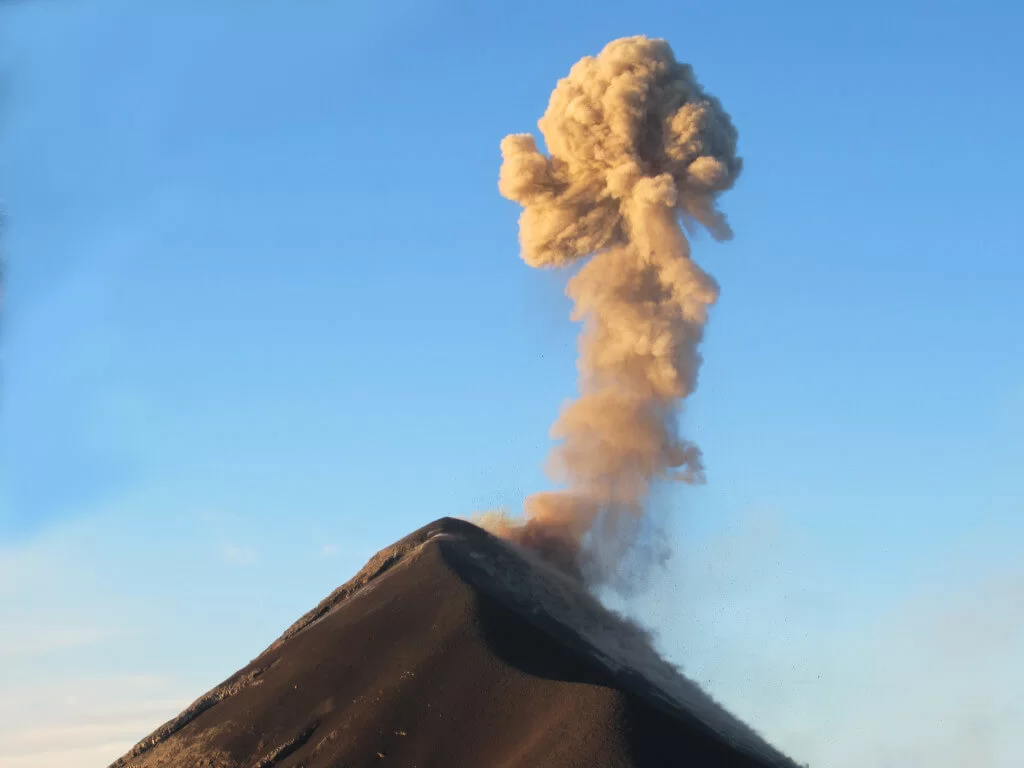 Acatenango FAQs
Where is Acatenango?
The peak of Acatenango is 16 km southwest of Antigua Guatemala in a straight line. On a clear day, you can see the top of the volcano from the city.
More easily recognisable as the peak next to the Fuego. You know, the one that regularly has a plume of smoke coming out the top.
The driving route to the Acatenango trailhead takes around 1 hour from Antigua, covering a slightly longer distance of 30 km.
How long is the Acatenango Hike?
You'll walk for around 6.5 km to the base camp and a further 1.5 km to the summit. For a total round trip distance of 16 km (10 miles).
The exact distance you walk will depend on what company you go with, as the base camp locations are all slightly different.
how long does it take to climb Acatenango?
The hike is usually completed over 2 days but can be done in 1 day. You can hike at your own pace, but generally, it takes 5 hours from the trailhead to base camp and another 1 to 1.5 hours to the summit.
To note, it is not 5 hours of walking on the way to base camp. This includes time stopping for breaks, snacks and lunch. All in all, you'll probably only walk for about 3 of the 5 hours.
Coming back down is much quicker! From the summit to base camp, you'll quite literally slide down the volcanic ash. Then, it's around 3 hours back to the trailhead, with just a couple of short breaks.
can you hike Acatenango in a day?
Yes, it's possible to do the Acatenango trek in one day.
For this, there are 2 options. The first is to start the hike through the night, arriving at the summit for sunrise before heading back by midday. Alternatively, you can start the hike early in the morning, reach the summit by early afternoon and return to Antigua the same evening.
How hard is it to Hike Acatenango?
Very! I'd been warned about the Acatenango hike difficulty and was expecting a hard climb. But, I was still unprepared mentally for how hard it was.
Hiking Acatenango is by far the toughest physical activity I've ever done and the most difficult of all the volcano hikes in Guatemala.
That said, it is still doable for people of all ages and abilities. The key is just to keep putting one foot in front of the other and breathing, nothing else matters for those few hours.
The difficulty is compounded by the altitude. The higher you climb, the more tired you become, yet the more challenging the altitude is.
What is the Acatenango hike elevation gain?
From the trailhead to the summit of Acatenango, the total elevation gain is 1550 metres (5085 feet).
The trail starts at an already soaring 2400 metres (7900 ft) above sea level. While the base camp area is around 3700 metres (12100 ft) and the peak is at a dizzying 4000 metres (13100 ft). Well, 3976 metres to be exact.
How do I prepare for the Acatenango hike?
First, stay at altitude for a couple of nights before starting the trek. Second, make sure you have good footwear and appropriate kit. And third, prepare your mind for it to be tough but doable.
Do I need hiking boots for Acatenango?
Trainers are fine, but worn-in hiking boots are better. Don't go out and buy them especially, you'll get blisters and struggle to finish the climb.
The route up is not technically challenging, it's just steep and long. Coming back down is when you'll really feel the benefit of hiking boots, as the terrain is loose rock on which you easily slide.
But, trainers with good grip are fine – and probably what most people wear.
When is the Best Time to Hike Acatenango?
The best time is during the dry season months of November to April. The second best time to hike Acatenango is whenever you're in Antigua and have 2 free days.
Climbing the volcano during the dry season increases the likelihood that you'll have unobstructed views of Fuego erupting. As well as not getting completely soaked in a rain shower on your way up.
But, as is the way in the tropics, there is never any guarantee of good views – especially at 3700 metres. Unfortunately, there's always a risk that you'll climb all the way up only to be surrounded by clouds.
My second piece of advice would be to climb Acatenango after you've spent at least 2 or 3 days in Antigua (or at a similar altitude).
Sadly, I know of people who attempted Acatenango Guatemala after travelling from the coast (sea level) the day before and had to turn back mid-hike due to altitude sickness.
So, spend some time in Antigua. You can visit Pacaya Volcano or Hobbitenango, both at slightly higher altitudes, in preparation.
Is Acatenango Safe?
Yes, Acatenango is safe in terms of the risk of volcanic eruption, criminal activity and the quality of the hiking trail.
Let's break it down because typically, 'Is Acatenango safe?' is asked in three ways. Is the volcano safe to walk on? Am I going to get robbed/mugged/kidnapped on the volcano? And, is the hiking route safe?
So, is the volcano safe to walk on?
Yes. Acatenango hasn't erupted since 1972, and today volcanos are constantly monitored for any signs of activity.
The nearby Fuego Volcano erupts as often as every 15 minutes. Yet, the prevailing winds blow the smoke, ash and debris in the opposite direction to Acatenango.
In regards to crime on the volcano, Acatenango is a safe place.
Given that most people visit with guides from the local communities and do not carry many valuables, it's unlikely the area would seem attractive to would-be criminals. Plus, climbing up the volcano is hard work, seriously hard work. I can't imagine anyone wanting to do it on the off-chance they might find some belongings laying around.
Finally, the path to base camp is well-trodden and easy to follow. The route is mostly a dirt path with some steps in places.
The route from base camp to the summit is much more slippery as it's made from fine, loose volcanic rock. Though, that's also the reason you can come down in 10 minutes or so, as you just slide down!
One of the biggest risks to climbing Acatenango is cold exposure. Make sure to pack appropriate clothing, rent or use additional supplies from your tour agency and check in advance what kit is provided for sleeping.
Do you Need a Guide For The Acatenango Volcano Hike?
It is not mandatory to hike Acatenango Volcano with a guide and you can walk up and down without one.
But, unless you know the route and are very experienced with the altitude and camping in these conditions (and have the necessary kit), I'd recommend going with a guide for an overnight trip.
Private and group tours are available, so you'll be able to find something that suits your travel preferences.
What makes climbing Acatenango so special?
The main reason it's special is being able to watch Fuego Volcano erupt from up close, under the dark of night.
In part, the fact that the climb is so hard, means you get such a special sense of satisfaction once you make it to the top.
Then, there's the fact you get to camp on top of a volcano. Base camp is the perfect vantage point to watch Fuego as well as watch the sunset and rise.
All of this whilst being above the clouds, feeling 1000 miles away from normal life below!
Weather & Conditions on Acatenango
The higher up Acatenango Guatemala you climb, the more predictable the weather becomes.
At the start of the trail, any type of weather is possible. Fog, heavy downpours, drizzle, bright sunshine and wildly varying temperatures to match.
But at the top, there are normally only two weather conditions. You'll either be in the clouds or above them. And no matter what, it'll be cold.
Climbing Acatenango in the dry season reduces the chance of experiencing all-day showers. But bad weather is still possible year-round.
In the wetter, rainy season months of May to October, rain can really add misery to an already hard climb.
And, there's an increased chance of being in the clouds at base camp. Meaning, you'll have no view of Fuego – or of anything, really.
I did this Acatenango hike tour on the last day of October and the weather was perfect. It was overcast during the ascent but the clouds were low and as a result, I had clear views of Fuego, Agua and across Guatemala.
I'd consider the shoulder seasons a great time to hike Acatenango.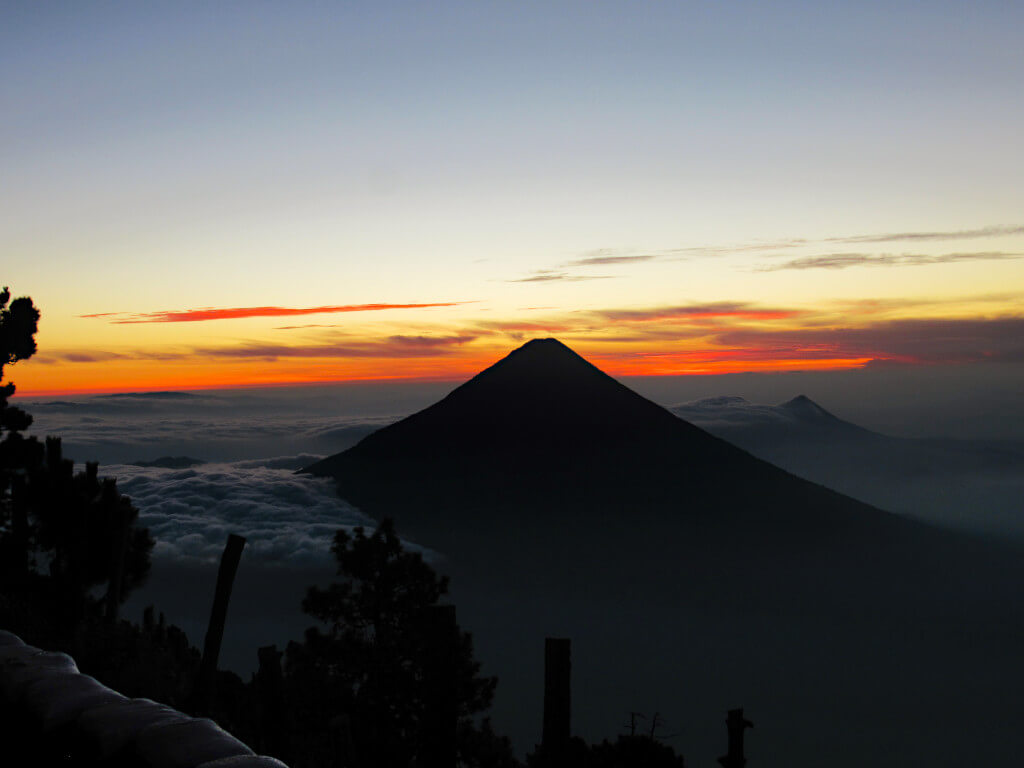 The Three Volcanos: Acatenango, Fuego & Agua
In short, you hike Volcan Acatenango, watch Fuego erupt and see the sunrise over Agua.
Acatenango is the volcano you climb on this hike.
The summit is almost 4000 metres above sea level and the volcano hasn't erupted in 50 years. From base camp at around 3700 metres, you can see Fuego, Agua and (if it's clear) Pacaya in the background behind Agua.
Volcan Fuego is the star of the show, the main attraction, the main reason you've dragged yourself up the side of a volcano.
The volcano erupts very regularly, like every 15 to 30 minutes. And, once the sun sets, you'll be able to the bright orange lava spewing out into the sky.
You have to make sure you're watching though. The slower speed of sound means that by the time you hear the eruption, the best bit has passed.
Agua Volcano is the one that the sun rises behind.
This is also the volcano that you'll see from just about everywhere in Antigua, as it's much closer to the city. The tops of Fuego & Agua Volcanos are only a few metres higher than Acatenango's base camp area (all around 3700 metres). So you'll have the most incredible view of both!
As a bonus fourth volcano, Pacaya is also visible at times behind Agua from the base camp area. You can see it poking its top out of the cloud in the photo above.
Acatenango Overnight Hike
The two-day, one-night is the most popular Acatenango hike option. Here's what you should expect…
Day 1
Pick Up Supplies & Travel to Acatenango
Each company does this part slightly. You might have a pre-departure briefing. Or you might meet earlier on Day 1 to get the information and supplies you need.
Ultimately, how this part is done does not matter too much. And, most groups arrive at the trailhead around 10 to 11 am ready to start walking.
The drive from Antigua to the start of the Acatenango trek takes around 1 hour depending on traffic, police checkpoints and animals in the road, etc. You'll spend the time getting to know more about your tour company, the volcano and the people hiking with you.
Hike to Base Camp
It sounds so simple typed out as 4 words, right? Unfortunately, it's not that easy to hike to base camp.
From the time you set off from the roadside, it takes around 5 hours to reach base camp. But, not all of this is walking.
You'll stop for lunch, drinks breaks and any other stops you need to catch your breath. In total, you'll be walking for around 2.5 to 3 hours.
Everyone says the first 2 hours are the most difficult and then the route gets easier. But, after 2 hours I was still left wondering when it was going to get easier because it felt like it never did!
So, yes, the first 2 hours are really tough. But, so is everything other than the last 45 minutes or so when you're walking on the flat section!
Luckily, you can break the trek down into smaller sections.
You'll first stop after about 20 minutes when you reach the wooden huts selling snacks and drinks. And then you'll stop again at the park entrance where you'll need to fill in a form and pay the entry fee if it wasn't included in your tour price.
After this, you'll stop for lunch around 2 hours into the hike and then press on all the way to base camp. The route flattens out towards the end as you walk around to the side nearest Fuego.
Optional Fuego Climb
Once you reach Acatenango's base camp, you'll have the option to add on an additional hike towards Fuego.
Most of the time, you don't have to decide straight away, as this often happens after dinner. The guides have to first decide if the weather conditions are good enough for the hike and then you can decide.
Typically, the Fuego hike has an add-on cost of around 200Q (25 USD) – but can be upwards of 40 USD. And this can be paid to the agency once you finish the trek.
The land between the base camp and Fuego is in a V-shape.
And, hiking towards Fuego involves descending from base camp and then walking back uphill towards the viewpoint. Which is the closest point you can get to the crater.
It also involves another 2 hours or so of walking, finishing with a long uphill climb back to base camp.
No one in my group decided to do the Fuego trek. Instead, we happily watched another group do it from above. Seeing the small flashes of light from a line of head torches easily in the darkness from those who did.
Day 2
Summit Climb for Sunrise
The guides wake up around 3.30 am and check the weather. If it's looking good for seeing sunrise, you'll be woken up at 4 am to start climbing so you don't miss day break.
Climbing to the summit can take up to 90 minutes. But not because it's far. In fact, it's only 300 metres in elevation above base camp.
The catch is though that the terrain is all fine, loose volcanic rock that's very slippery. Luckily though, this material makes it easy to slide straight back down to base camp in 10 minutes!
You'll want to be wearing pretty much all the clothes you have with you. As the summit is bitterly cold at this time of day. Bring your mug and teabag too for a brew on top of the world.
The ascent to the summit is optional and you can just as easily and awesomely watch the sunrise from base camp.
In our group only about half climbed to the summit, the rest of us (including me) watched from base camp. In fact, it may have been even more blissful as we were the only people around. Almost everyone from every group as well as their guides was on top of Acatenango Guatemala!
To note, first light is around 5am, so skipping the summit doesn't mean you get a lay-in! And trust me, you don't want to miss a second of this sunrise.
Return to Camp
After watching the sunrise, it's time for breakfast and packing up your things.
Remember, anything you brought up the volcano needs to go back down with you. Even food waste – as it doesn't degrade well in cold temperatures and at high altitude.
Take in the last views of Fuego and Agua from above before starting the descent.
Hike down Acatenango
Even though it takes 5 hours and a whole lot of pain to get up the volcano, I was still surprised that it took 3 hours to get down.
Honestly, I didn't even recognise half the route on the way down. I must have been in a zone of self-loathing and blocked it all out!
The first 45 minutes are flat before you steeply start heading down the volcano. Here, it really helps to have sturdy shoes as the terrain is loose and unstable.
You won't take any big breaks on the way down. And the group will come back together on the roadside as you wait for the bus to pick you up.
In the later stages, you'll pass the people heading up Acatenango. They'll look fresh and you'll look dishevelled. But at least you'll be in a shower and bed in a couple of hours and they'll still be climbing!
Return to Antigua
Whether you head directly back to Antigua or via your tour company's equipment hub, it won't be long before you're enjoying a warm shower and a comfortable bed.
Spend the hour's drive back to Antigua reconnecting with the world as your phone connects to the internet for the first time in almost 24 hours. I'd suggest napping but the roads are far too bumpy for that.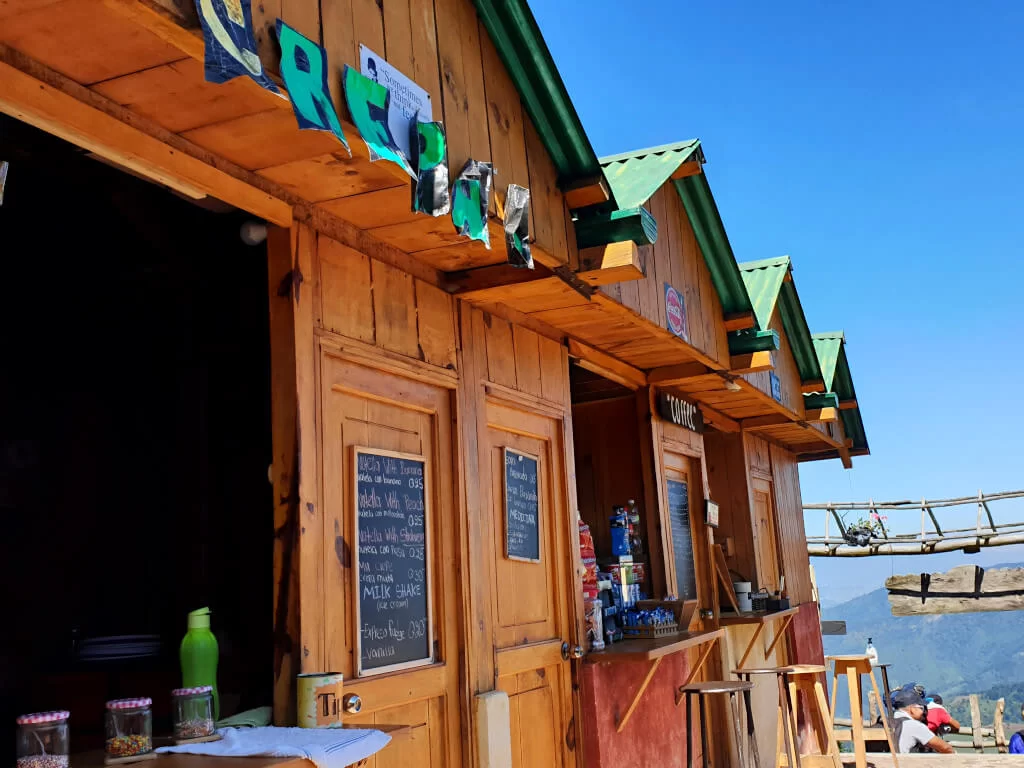 Eating & Drinking on Acatenango
Most tour companies will provide you with 3 full meals and a range of snacks. You'll get lunch and dinner on Day 1 and breakfast on Day 2.
The quality of the food does seem to vary quite a lot between companies and you will need nutritious meals to get you the hike.
As an example, here's what I had from CA Travellers (vegetarian options are available):
Lunch: Chicken with rice and salad
Dinner: Spaghetti bolognese with garlic bread
Breakfast: Toast, cereal and tea
Extras: Hot chocolate on arrival to base camp. Marshmallows at the campfire and wine after dinner on Day 1 and a fruit smoothie when returning our kit after the hike on Day 2
You can also bring your own snacks, ideally something that doesn't melt or get crushed easily! Nuts, cereal bars, sweets, etc are all good options.
Buying Food & Drink on Acatenango
Perhaps surprisingly, you can buy a small selection of snacks on the volcano around 15 to 20 minutes into the hike.
Prices are higher than you'd usually expect and you'll need to pay in cash. But if you're stuck wondering whether you should have brought something extra, here's your chance to pick something up.
After this small store (next to the I heart Acatenango sign) there are a couple of vendors at the park entrance selling an even smaller selection of drinks and snacks.
This is your last chance to buy anything on the volcano until you pass back the next day.
Drinking Water
Make sure you have enough water for both days of the Acatenango overnight hike.
Check to see how much, if any, your tour company is providing and how much they expect you to bring.
You can buy drinks at the first snack stop and then again at the park entrance, but these are the only two places. There is no running water elsewhere on the volcano – including at Acatenango base camp. So you won't be able to top up any water bottles either.
Acatenango Base Camp Facilities
Each company has their own base camp area. But facilities are pretty similar across all of them.
There's no electricity, no showers and no WiFi at base camp.
The lack of showers really isn't a problem since it's so cold you won't even want to take your coat off, let alone the rest of your clothes! Plus, you'll be too busy watching Fuego erupt to even think about checking social media.
A battery pack is necessary as there are no power sources at base camp. And you don't want to miss out on sunrise photos because your phone ran out of battery!
I also recommend sleeping with your phone in your sleeping bag. Otherwise, the cold temperatures can cause it to malfunction and/or drain the battery.
Most camps also have a campfire and an area to sit, eat and socialise.
Don't expect anything fancy at Acatenango base camp, this is more tree trunks than benches. So, you'll probably have a numb bum quite quickly!
I would've loved a proper chair at base camp, especially after the long walk. But, everything that is at base camp has been carried up the volcano, so I can understand why there are only tree trunks!
Accommodation at Acatenango Base Camp
Different companies have different options. And, you'll need to pick your company based on what accommodation you want to stay in.
There are two options: tents or cabins.
Staying in tents is cheaper. Plus, they're smaller so you don't share with strangers – only the person you've come with or alone. And you get more privacy.
However, they're generally a bit colder and not very spacious.
Cabins come at a price premium. And while private cabins are available at cost, most cabins are shared by large groups, so you'll be sleeping next to strangers, with little privacy.
The more solid structure of the cabins does mean you're more protected from the elements. But they aren't heated and are still cold.
I literally slept in all the clothes I brought. Including the buff up to my mouth and my hat down over my eyes to keep as much of my face warm as possible. It did take me about 2 hours to get to sleep as I was so cold, but once I was asleep, all was well.
Acatenango Base Camp Toilets
The toilets are basic at base camp, but most are not as horrific as I was warned about. If you've been to a nightclub toilet near the end of the night, then these will still probably be nicer. But again, some companies have much better toilets than others.
With CA travellers, there was a wooden building, with a door, a roof and a toilet seat at a normal height. Photos I've seen of others suggest having 4 walls, a door, a roof and a toilet seat can be considered a luxury!
Acatenango Overnight Hike: Tour Companies & Prices
Volcano Acatenango Tour Companies
Hiking Acatenango Guatemala is one of the most popular activities in Antigua. So it's no surprise that there are many different companies offering tours.
But, if there's one thing I've learnt from doing the hike and meeting lots of other people who have done it too, it's that all the companies offer pretty much the same thing.
Each of the companies seem to like to claim they are the best for supporting their workers or providing quality accommodation or good food. Yet, they seem to all do this.
Of course, there are minor differences. But ultimately, you're not going to have that much of a different experience based just on which company you go with.
I went with CA Travellers and I really recommend them for the Acatenango Volcano hike. Everything felt well organised, there was good communication and the food was good. Plus, at base camp, they have about ten 2-person tents and if you come alone, you don't have to share with a stranger. The only people sharing were couples, friends and families.
Other popular agencies include Tropicana Hostel, Charlie & Wicho and OX Expeditions. Plus, there are lots of smaller tour companies in Antigua that you'll easily find in small shops in the cobbled streets of the town.
What's the Price of the 2-day Acatenango Trek
Prices vary between companies depending on what they include and don't, but overnight tours start at around 500Q (65 USD). With most tours costing between $65 and $100.
For example, some companies include the park entrance fee and camping fee in their upfront cost whilst others require you to bring cash to pay it on the day. For the most accurate and up-to-date pricing, contact the companies you are interested in hiking with.
What's included in the Price of The Acatenango Volcano Hike?
With most companies, the price will include transport, meals, accommodation and a few clothing essentials. Some companies include the national park entrance fee and camping fee, but not all. Porters, the hike to Fuego and tips are not included.
Not all tour companies include or exclude the same things, so it's very important to check in advance. But, generally speaking, the base price will include:
Transport: pick up from your hostel and drop off at your hostel
Meals: Lunch, dinner, breakfast, extra snacks and (possibly) some water
Accommodation: Tent, sleeping bag, sleeping bag liner, blanket, mattress, pillow
Clothing essentials: Headlamp, gloves, jacket/coat, buff or scarf, hat (some companies do not include this)
Other costs to climb Acatenango
National Park entrance fee and camping fee (this is included in some companies' prices)
Wooden trekking poles. These can be hired when you get off the bus at the trailhead and I'd highly recommend using one. The cost is 10Q each.
Use of a porter. For around 150Q per day, you can hire a porter to carry your bag to base camp and back. If paying for both up and down, the cost will be 300Q. The price does rise if your bag weighs over a certain amount.
Tips for your guides. An optional gratuity at the end for your guide if you feel they are deserving.
Important to note, since the end of 2021, the use of animals like horses and mules to transport people and cargo is now prohibited on Acatenango Guatemala.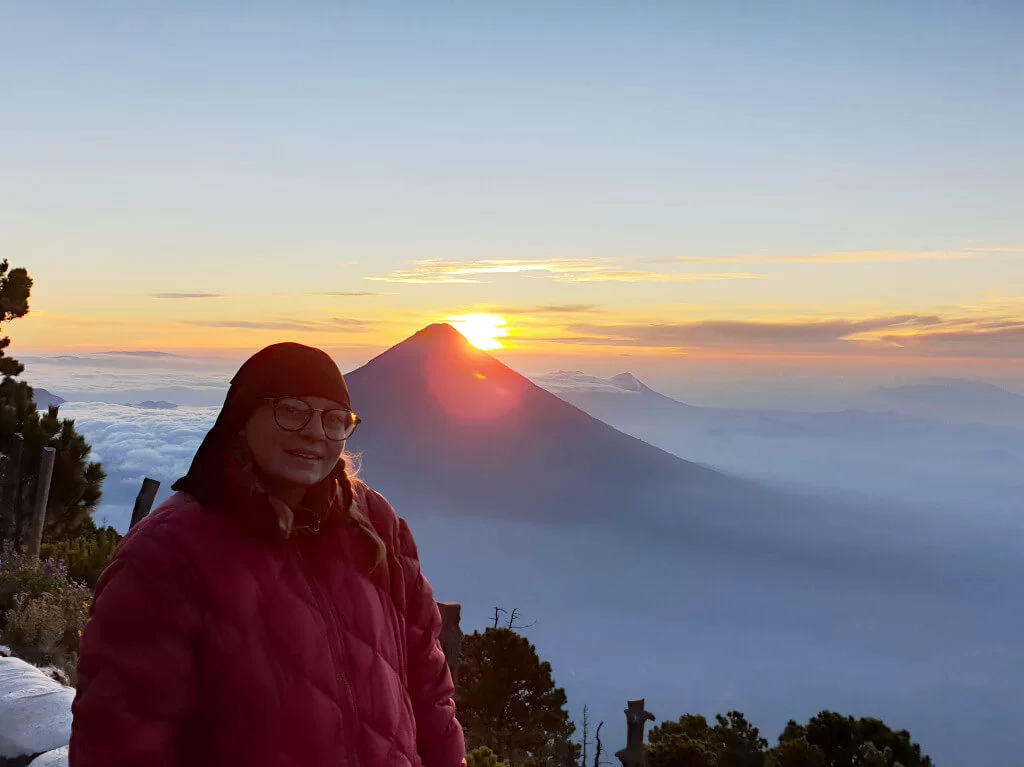 What to Bring to Hike Acatenango
Once you book your tour, it's important to check with the agency what they provide and what you'll need to bring.
Each company is slightly different with different mandatory items and suggested items. But, generally speaking, this is what you'll need and what I recommend.
Clothing
Trainers or walking shoes. Trainers are fine, but walking shoes are better. Don't wear new shoes or you'll get blisters.
Clothes to wear on day 1: t-shirt, shorts or leggings or trousers, a thin jumper (and underwear, obviously). A hat if you have one is useful, but not essential.
Spare clothes for base camp and day 2: A second t-shirt, a thick jumper, leggings or trousers or tracksuit bottoms, change of underwear (including socks and bra), thermal layers (such as a long-sleeved t-shirt or base layers).
Sunglasses. Polarised ones are the best and I wouldn't use any others now. I guess, once you go polarised, you don't go back.
Other Essentials
40-litre rucksack. This is the minimum size you'll need to fit in your personal belongings and the items issued by your tour company. I thought this would be way too big, but honestly, it was a tight squeeze getting everything in! Leave any other belongings at your hostel or hotel.
Water and extra snacks. Check what is provided and pack anything else you'll want – remember there's no running water on the volcano, so bring plenty.
Toilet roll. Self-explanatory.
Electronics: Camera, phone, GoPro, battery pack and/or headphones.
Toiletries: Glasses and contact lenses (if appropriate), any medication, toothbrush and toothpaste, sun cream. Just don't overpack.
Cash. A small amount to cover any costs not included in the tour cost you've already paid such as park entry and camping fee. Plus, enough for a tip for your guide, the porters (if you're using one) and any drinks or snacks you want to buy on the volcano.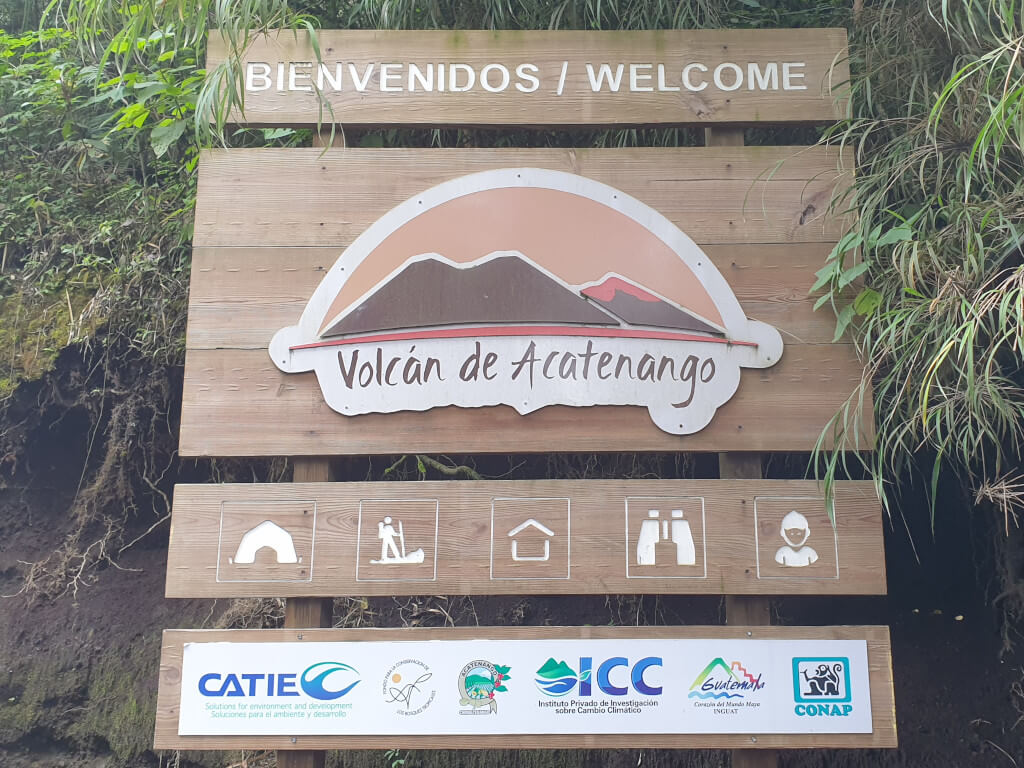 Hiking Acatenango in One Day
There are two types of one-day tours.
Firstly, a single-day option where you set off early in the morning, climb up and down Acatenango and get back to Antigua in time to have dinner.
Secondly, there are the one-night tours, where you leave Antigua around 11pm, climb through the night and watch the sunrise from the summit of Acatenango. Then hot-foot it back down the volcano and return to Antigua all within 12 hours.
Let's discuss both options for hiking Acatenango in one day in more detail…
Daytime Volcano Hike
This is the Acatenango trek to do if you're really short on time. The tours generally leave Antigua around 5 am and return to Antigua around 5 pm.
Hiking Acatenango in one day by climbing from 2400 metres to 4000 metres of elevation and back will be tough. What's more, you'll only get around 30 minutes to enjoy the views from the summit (and eat lunch at this time too).
Personally, I wouldn't recommend this tour unless you absolutely can't spare two days from your itinerary.
For me, the best part of this trek is getting to watch Fuego erupt at night and then watching the sunrise. And, on the daytime trek, you'll get to see neither of those. It's also not that much cheaper for all the things you miss out on.
If you're interested in this option, check out OX Expeditions or Tropicana Hostel for the Acatenango one-day tour.
Acatenango Night Hike
Trekking through the night doesn't really save you any time but it does mean you don't need to camp on the volcano. So, if you're not one for a cold night's sleep in a tent, this may be the option for you.
For a night hike, tours typically leave around 11 pm from Antigua and you'll start hiking at around 1 am.
This does create a time pressure to get all the way to the top in time for sunrise. So, if you know you're a slow hiker, lacking fitness or just someone who doesn't cope well with exercise at altitude, this probably isn't the trek for you.
After spending around 30 to 45 minutes at the summit watching the sunrise (and hopefully seeing Fuego erupt), you'll climb straight back down and get back to Antigua by 11 am.
Ultimately, this trek doesn't save you time as you'll need to prepare for and make up for lost sleep by doing little the day before and sleeping most of the day after.
The last thing you're going to want to do after no sleep and hiking for around 8 hours is to be awake all day, do another activity or get on a bus somewhere else. Take the day to relax in your hotel or hostel!
Tropicana Hostel runs an Acatenango Volcano overnight trek, so check with them if you're interested.
Hiking Acatenango Without a Guide
It is possible to hike Acatenango without a guide. But for an overnight trip, I would only recommend this if you are extremely experienced in hiking at altitude, navigating on the volcano and camping in high-altitude weather conditions.
If you're only interested in this option because you prefer not to join group tours, then this isn't for you.
The guides are all experienced and qualified in managing altitude sickness and keeping safe in different weather conditions.
In addition, the tour companies provide weather-appropriate camping gear to keep you safe in cold weather. This is essential given that exposure is one of the biggest risks to climbers on Acatenango.
Sadly, just a few years ago in 2017, 6 people died of hypothermia on the volcano. Deaths that were entirely preventable if not for the lack of correct equipment and knowledge on dealing with the weather.
Without a guide or tour company, you'll need to source your own transport to and from the volcano, clothing & accessories, camping gear, a first aid kit, a plan for your route, food, water, a fire and a camping spot.
Honest Review of Climbing Acatenango…
The Acatenango Volcano hike was the best thing I did in the whole of Central America. But, it was also the hardest thing I did, well, ever.
Physically, this is as demanding as it gets. Heat, altitude, humidity, walking distance, weight to carry. It's tough.
But equally so, this is mentally demanding. When you're gasping for breath and taking two steps before having another break wondering if you'll ever get to the top, you just have to keep going.
One foot in front of the other, again and again and again.
My advice would be to go at your own pace and have as many breaks as you need. That, and keep breathing and keep drinking.
The most important thing is to get to base camp safely, how long that takes is irrelevant.
As soon as you reach base camp, the pain of the last 5 hours will vanish and you'll be mesmerised by the incredible view of the volcanos.
Don't panic if it's cloudy when you arrive. Nighttime and mornings tend to be clearer here. And that's when you most need a view from base camp.
But, holy moly, I could have sat on top of Acatenango for days watching the world go by and Fuego erupt. I'm not sure there's another experience in the world that brings you as up close and personal with an erupting volcano as this Acatenango hike does.
The rumble of the eruption and the bright orange lava thrown high in the sky are astounding enough. But then, when you lay in your tent to go to sleep, you'll feel the earth shake with the next big eruption. One, that you can watch through your tent door. This is special.
I can't recommend Acatenango enough, it's bucket list special. And, it really is accessible to people of all ages, varying levels of fitness, different budgets and travel preferences. If you do one thing in Guatemala, make it this.
Top Tips For Climbing Acatenango
Make sure you have a good hotel or hostel booked for the night before and the night after climbing Acatenango. You'll want to get a good night's sleep beforehand and you'll want to be somewhere comfortable when you return. I recommend

Somos Hostel in Antigua

. I stayed here for 8 nights in total and their hot tub is perfect for soothing your sore muscles post-hike!
Get a good night's sleep and a wholesome breakfast before you set off for Day 1 of the hike.
Walk at your own pace, take as many breaks as you need and don't feel pressure from your group to do the Fuego or summit hikes if you don't want to.
Make use of the porters. It's not cheating and no one is ever going to discredit your achievement of getting to the top if someone else carried your bag for you. If it makes your life easier and makes it easier for you to reach the top, go for it. Plus, you're supporting local people making a living.
Be prepared for the difficulty but don't let it put you off. Those incredible volcano views are waiting for you at the top!
---
If you have any questions or want any more information, drop a comment below and I'll get back to you!
Information is correct as of March 2023 but is subject to change in future.
---
More Central America Travel Guides…
GUATEMALA: Hobbitenango (Antigua): Worth Every Penny! [Complete Guide]
GUATEMALA: El Paredon: Ultimate Travel Guide
LAKE ATITLAN: Indian Nose Hike Guide (Watch Sunrise Over Lake Atitlán)
EL SALVADOR: Hiking Santa Ana Volcano (Complete Guide)
GUATEMALA: Lake Atitlán to Semuc Champey (Inc. San Pedro & Panajachel)
BELIZE: Caye Caulker Snorkeling: An Underwater Paradise (Need to Know)
HONDURAS: Pulhapanzak Waterfalls, Honduras: Complete Guide To Visiting
---
PIN IT FOR LATER!